The Best Elopement Packages in Ohio
Exchange vows in the Buckeye State's most bucolic surroundings.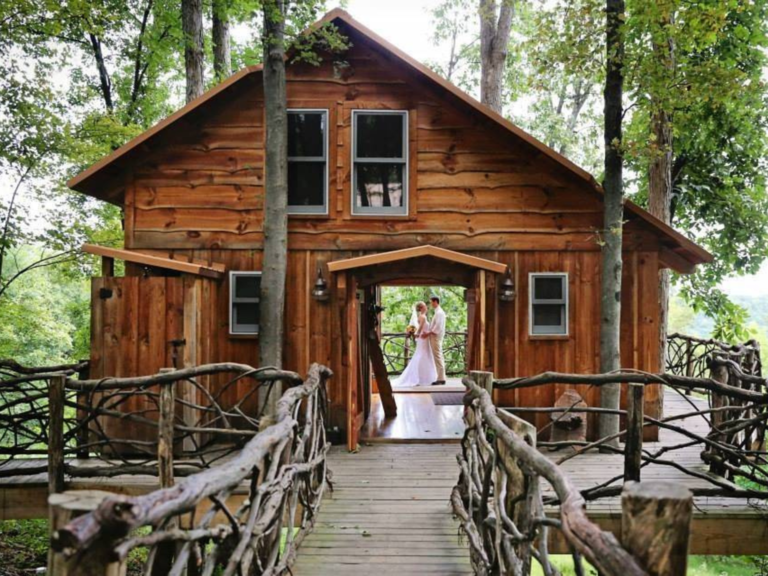 Photo: The Mohicans Treehouse Resort and Wedding Venue
We have included third party products to help you navigate and enjoy life's biggest moments. Purchases made through links on this page may earn us a commission.
They say love doesn't cost a thing, but weddings certainly can. The average cost of a wedding in Ohio is $26,000—not as bad as the $40,000 couples on average drop in Washington, DC, but more than a pretty penny. The truth is that getting legally married in Ohio merely requires adults to get a marriage license. But you can have your wedding cake and a bit of pomp and circumstance without the price tag. Eloping can help you save money and—more importantly—focus on what counts: One another.
Ohio has numerous backdrops for stunning, private nuptials. Are you hoping for an open-air affair in Hocking Hills State Park? Totally possible. Ditto for nuptials near jaw-dropping lakefront surroundings. Regardless of what style celebration strikes your fancy, the elopement packages in Ohio make planning a breeze—something you might be hoping for if you're skipping the 300-person bash in favor of a more private affair. These Ohio elopement packages from wedding planners and venues take the cake.
Deluxe Elopement Package, The Lakehouse Inn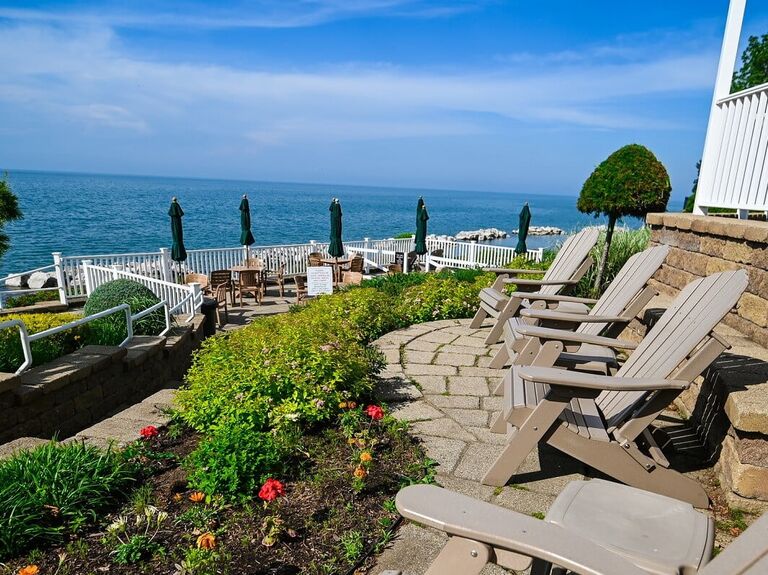 Set on the southern shore of Lake Eerie and a short drive from Geneva State Park, The Lakehouse Inn offers quintessential Great Lakes appeal. The Deluxe Elopement Package comes with a two-night stay at the cozy B&B. Snuggle together and indulge in a basket of goodies with a bottle of vino from the inn. Up to 10 guests can listen to the most personal vows, and a non-denominational minister can pronounce you married for life. The newlyweds and guests get to raise a flute in a post-ceremony Champagne toast. And no need to leave the room the next day—gourmet breakfast is delivered to the couple's door during the stay. Prices range from $1,126 to $2,616.
5653 Lake Rd E, Geneva, OH 44041
5.0 Star Rating | Read Reviews
Elopement Day, Mane Barn at Nickajack Farms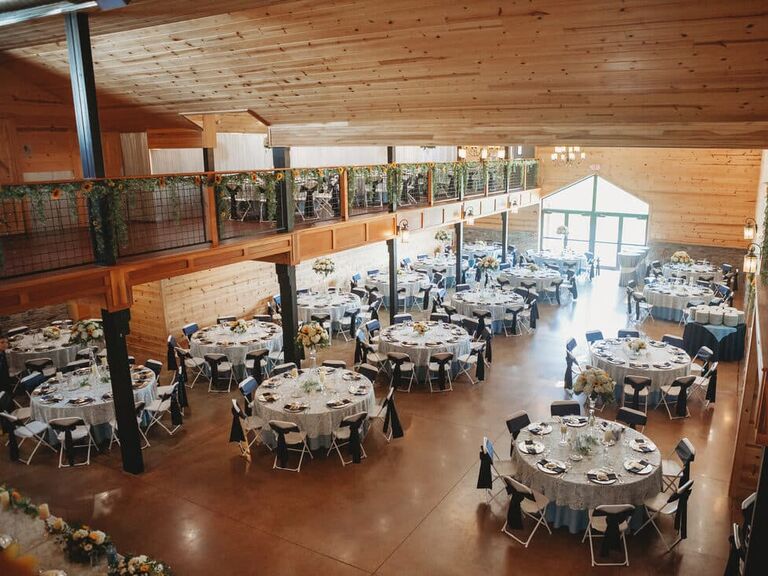 This family-owned farm offers a relaxed, personalized vibe from the very first email outreach to the last time you step outside the stunning wedding barn—a former horse facility brimming with rustic elegance. The temperature-controlled space fits 200, but Nickajack Farms offers an elopement package for 50 of your nearest and dearest from January through April. The package includes use of the indoor venue for two hours, a first dance and a bouquet toss if desired. Couples and their elopement photographer can explore the grounds, which is perfect for taking beautiful photos you'll always remember. Rates start at $1,000.
2955 Manchester Ave NW, North Lawrence, OH 44666
5.0 Star Rating | Read Reviews
Elopement Package, Welsh Hills Inn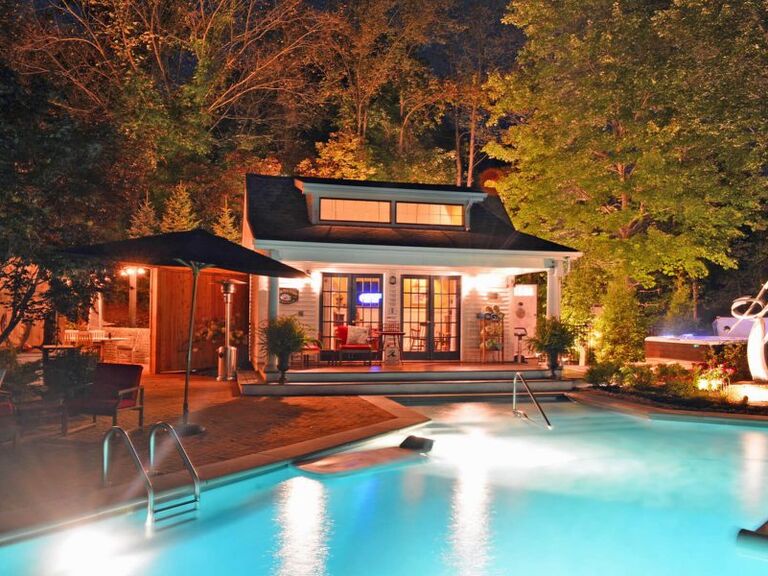 An idyllic B&B surrounded by woodland area, Welsh Hills Inn feels like a truly quiet destination—the perfect setting for an intimate elopement. A special Elopement Package pulls out all of the stops for couples with a two-person guest list. There will be cake, sparkling wine and a four-course, private candlelit dinner for two. They even took care of the wedding favor by sourcing hand-blown glass from the Louisville Glass Studio to create a memorable keepsake. The elopement package starts at $1,495. To-be-weds can combine it with a photography package for a more all-inclusive deal.
2133 Cambria Mill Rd, Granville, OH 43023
5 Star Rating | Read Reviews
Elopement Plus Package, Cherry Ridge Retreat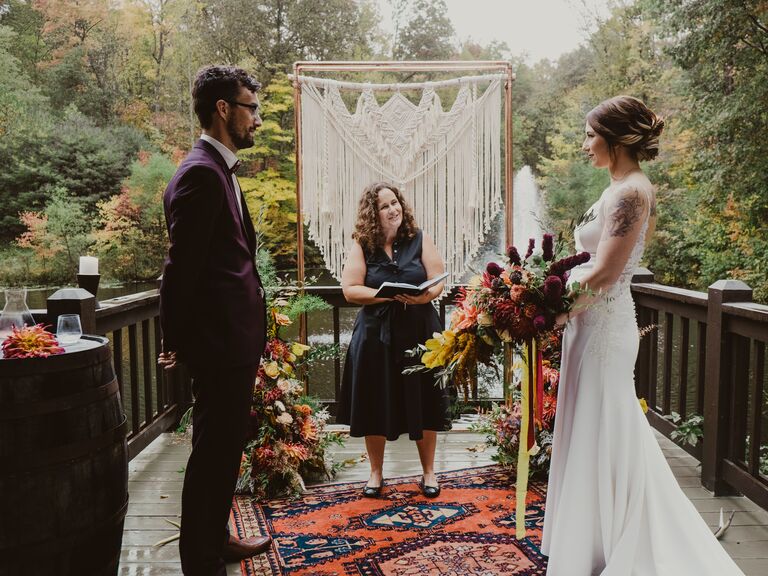 A destination for more than two decades, Cherry Ridge Retreat's luxury Hocking Hills cabins epitomized glamping before it was cool. The woodland surroundings make for a perfect backdrop for an al fresco fete for two. This Ohio elopement package includes an officiant, photography, a bouquet and some simple decorations (the scenery does the talking in these parts). After you've said "I do," take your pick of a bottle of Champagne or cider, plus a cake perfectly sized for you and yours. All told, the package is under $1,000 ($979 to be exact).
22097 Cherry Ridge Rd, New Plymouth, OH 45654
5.0 Star Rating | Read Reviews
Let's Get Hitched Package, At Boulders Edge Cabin and Tipi Retreat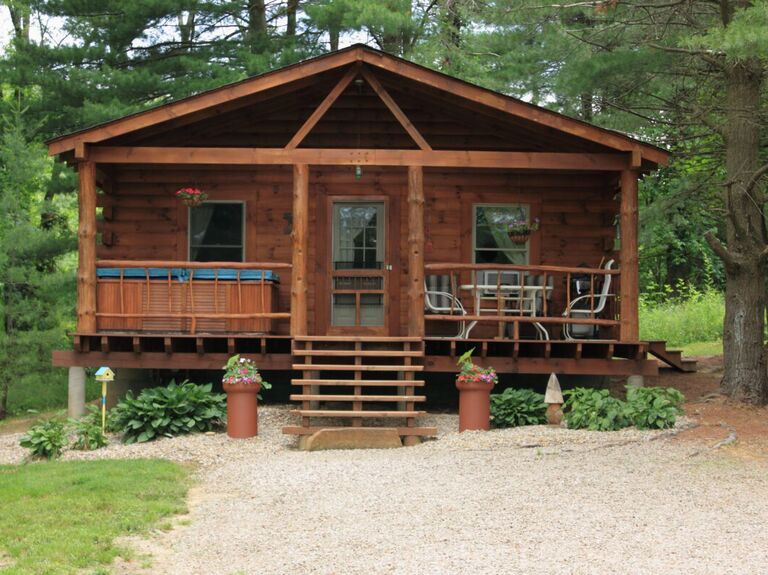 At Boulders Edge Cabin and Tipi Retreat in Hocking Hills offers a Let's Get Hitched Package for under $500, making it one of the most affordable spots to elope in Ohio. The package costs between $375 and $475 and includes a reverend who will perform your private ceremony. The package prioritizes sweet touches you'll save forever, including keepsake vows, photography and 40 cropped photos.
11470 Dalton Rd, Rockbridge, OH 43149
4.5 Star Rating | Read Reviews
Elopement Package, Cabins by the Caves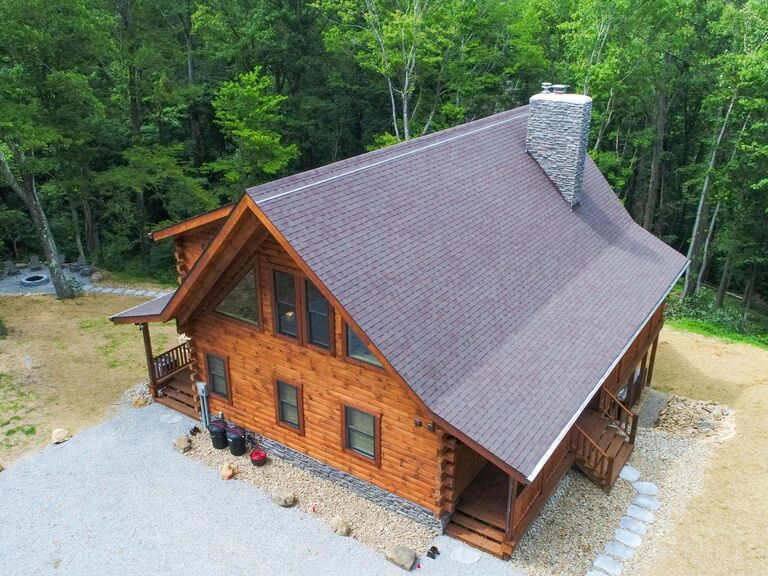 Tap Hocking Hills as the scenic backdrop for your elopement. Cabins by the Caves performs elopement ceremonies at the appropriately named "Hitching Post," a gazebo within the park. The package provides a few key vendors, including a wedding officiant. No need to search for an elopement photographer in Ohio, either—Cabins by the Caves has one who will provide newlyweds with 12 photos. Packages start at $450, but couples can choose from an array of add-ons. One of the most special options? An offer for $50 off a two-night stay at the property. Other additions may include wildflower bridal bouquets and boutonnieres, a cake and in-cabin spa treatments like a hot stone massage.
Rocky Fork Rd, Logan, OH 43138
4.5 Star Rating | Read Reviews
Basic Treehouse Elopement Package, The Mohicans Treehouse Resort and Wedding Venue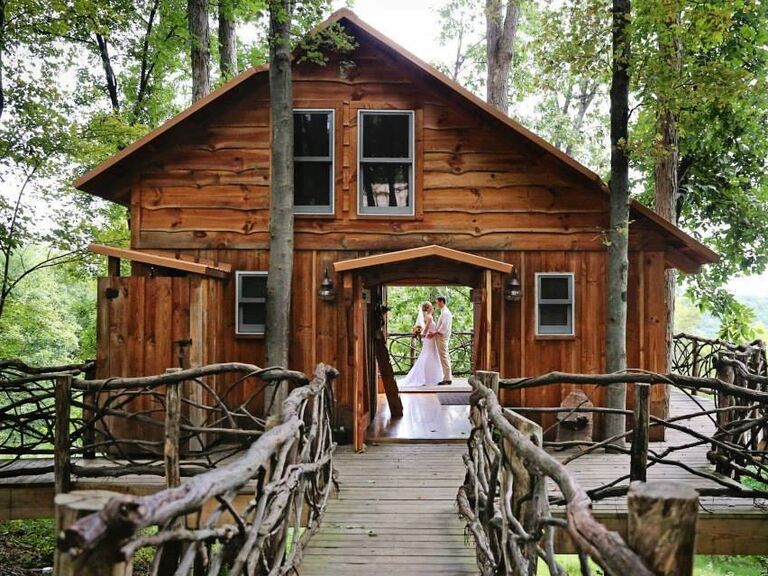 A family-run and owned business in Glenmont, Ohio, The Mohicans Treehouse Resort is conveniently nestled between Cleveland and Columbus, and is built with eco-friendly, reused and repurposed materials, including century-old barn siding and hand-sewn barn beams. A basic elopement package starts at $1,000, though it's anything but basic. The deal allows for up to 12 guests, including a ceremony with an officiant, Champagne and an overnight stay in a treehouse of the couple's choosing. The Nest—a honeymoon suite with cathedral windows, a domed roof and whimsical charm—is a popular pick.
23164 Vess Rd, Glenmont, OH 44628
4.9 Star Rating | Read Reviews
Just for Two Hocking Hills Elopement Package, Valley View Cabins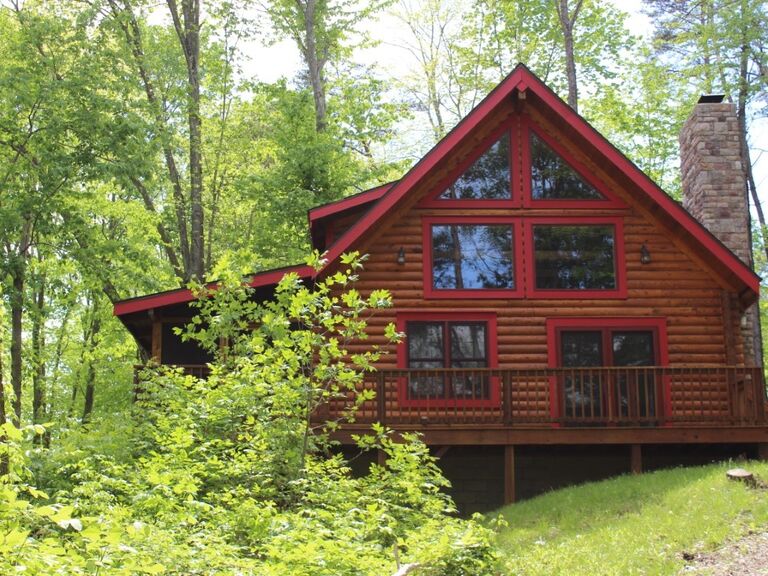 A cozy respite in the sprawling Hocking Hills region, Valley View Cabins are loved for their cozy accommodations, scenic surroundings and a recently added winery. The Just for Two Hocking Hills Elopement Package is as intimate as it gets. Couples can choose between a log gazebo or an outdoor stone fireplace for their ceremony, which will include a minister and music. A small round wedding cake to be shared by the newlyweds, a bouquet and a boutonniere are also part of the deal. Once the cake has been enjoyed, couples can retreat to their secluded honeymoon cabin with a three-sided wood-burning fireplace and a full kitchen. (A two-night stay is included.)
29176 Klump Rd, Sugar Grove, OH 43155
5.0 Star Rating | Read Reviews
Elopement Package, Inn at Honey Run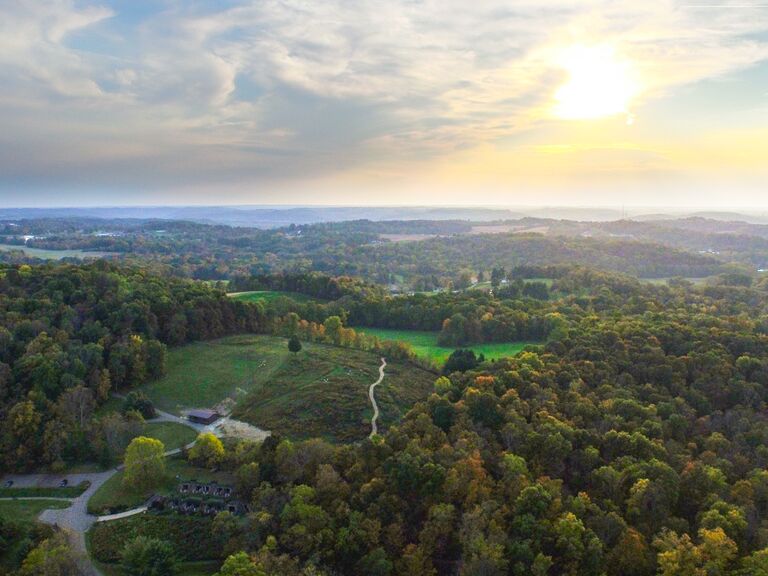 A stylish, upscale retreat in Amish Country's wooded hills, the Inn at Honey Run offers the perfect blend of a secluded hideaway and chic ambiance. The inn's all-inclusive Elopement Package includes a vow location, a wedding officiant and dining credits for a meal at the contemporary American restaurant, Tarragon. Couples also receive an overnight stay at the inn. During their stay, they can enjoy a stroll along the seven biking and nature trails and complimentary breakfast the following day.
6920 Co Rd 203, Millersburg, OH 44654
5.0 Star Rating | Read Reviews
Elopement Ceremony Package, Cedar Springs Pavilion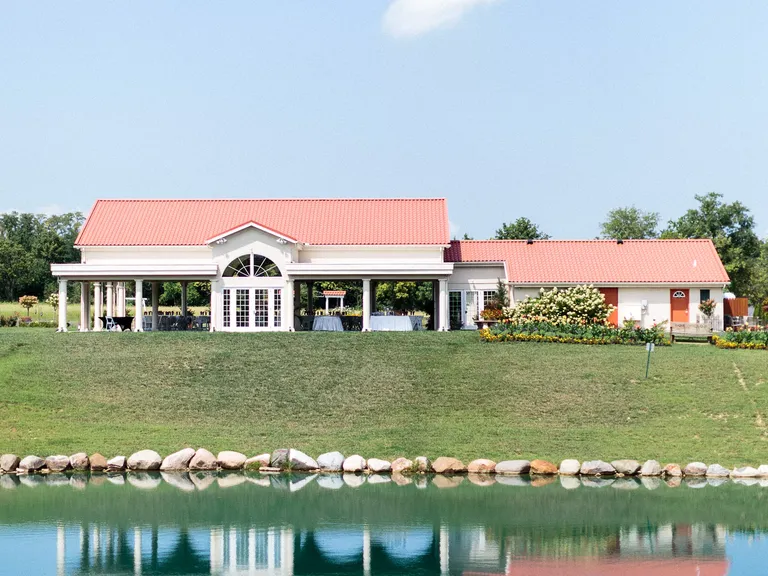 A tranquil oasis in the Ohio woodlands, Cedar Springs Pavilion's open-air, Italian-style pavilion offers 360-degree views of the property's scenic surroundings. The ambiance gets a boost from sprawling acres of native wildflowers, a pond with waterfalls and a whimsically charming forest. The elopement package allows you to choose your ceremony location—the pavilion, the woodlands, a waterfront gazebo or a butterfly house. A professional wedding officiant (included) will perform the ceremony, which up to 10 guests can witness. Afterward, toast to new beginnings with a tropical beverage—a unique alternative to Champagne.
7951 S Co Rd 25A, Tipp City, OH 45371
4.6 Star Rating | Read Reviews
The White Oak Elopement or Vow Renewal Package, White Oak Inn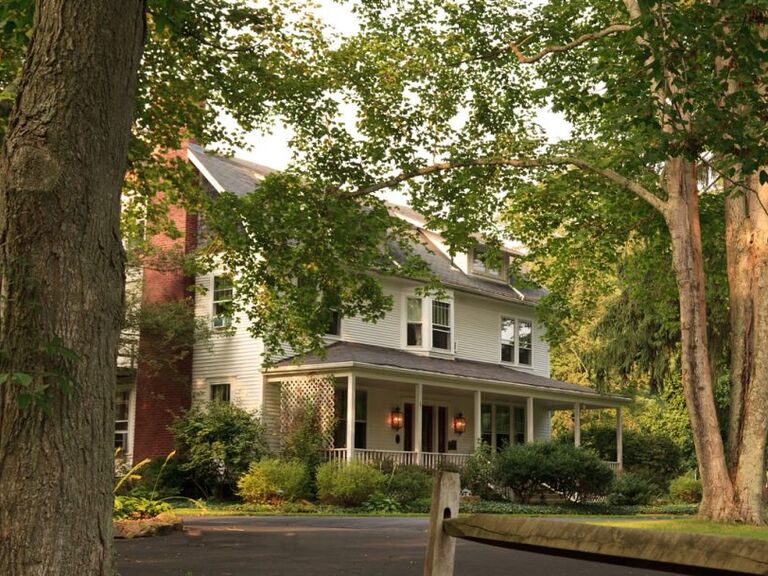 This just-for-two package is all-inclusive, making eloping in Ohio as stress-free as possible. White Oak Inn's elopement package includes a ceremony with an officiant. During the nuptials, the innkeepers will snap photos, and newlyweds will receive a disc of them after. Once the knot is tied, couples can indulge in a wedding cake for two and choose between an intimate in-room dinner or one in the Amish Country inn's dining room. A two-night stay with a full breakfast each morning is also included. The package starts at $1,025. Though generally just for two, guests can be added for an additional fee.
29683 Walhonding Rd, Danville, OH
4.5 Star Rating | Read Reviews