The Complete Guide to Planning a Destination Wedding in Aruba
Find gorgeous beaches, perfect weather and affordable wedding planning on the island.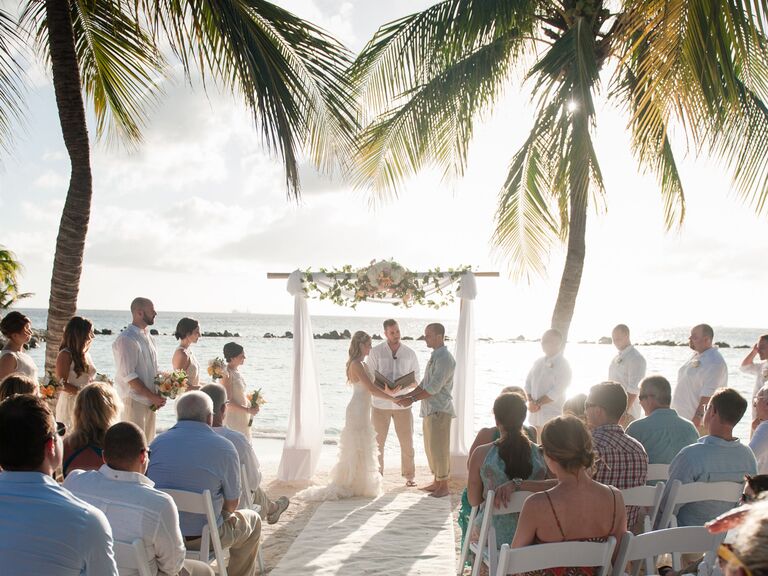 We have included third party products to help you navigate and enjoy life's biggest moments. Purchases made through links on this page may earn us a commission.
While many couples dream of a Caribbean destination wedding, there are concerns about the sometimes-unpredictable hurricane season. If that's the case for you, an Aruba destination wedding might be the ideal option. This island, situated outside the Caribbean's hurricane belt, provides picture-perfect weather throughout the entire calendar year. And it's not just the weather that leaves couples raving on their big days.
Easy access from the United States, budget-friendliness and beautiful beaches will delight both couples and their guests. In fact, Aruba is the most revisited island in the Caribbean Sea with half of all travelers returning year after year. If you're even slightly considering planning a destination wedding in Aruba, keep reading. We're covering everything you need to know to make your dream wedding a reality, with a little help from the wedding planning pros.
Why Couples and Guests Love Aruba
As mentioned, the weather, budget-friendliness and easy access from the United States are all benefits working in Aruba's favor when it comes to attracting destination wedding planning couples. According to Tamara Lidbom at Anytime Travel Agency, though, couples might choose to plan an Aruba destination wedding or an Aruba honeymoon for an additional reason.
"The calming trade winds will keep you cool in the pleasant and 82-degree weather, year-round, and Aruba is famous for its white-sand beaches. [It's] picture-perfect for couples looking to have a beach wedding," she says. "Aruba is also ranked as one of the safest of the Caribbean Islands." In addition to island safety, her clients often comment on the warm hospitality found on Aruba. "Arubans are a mix of over 90 nationalities and the local culture and cuisine make this island undoubtedly unique," she adds.
The Best Places to Get Married in Aruba
Beach weddings are a top pick, naturally, and they're not the only setting offered by Aruba. The geographical landscape creates a unique distinction between oceanfront or rugged island landscapes. See the best places to get married below.
Eagle Beach
Aruba is only 19 miles long and six miles wide, but that doesn't necessarily mean you'll be limited in your options for a wedding venue. Eagle Beach is a popular pick for destination weddings in Aruba. One of the top three beaches in the world according to TripAdvisor, the destination is also home to Aruba's often-photographed and famous Fofoti trees. Here, couples can find supremely stylish, low-rise boutique hotels for guest accommodations, along with pristine white sand steps away.
Palm Beach
Lidbom also recommends considering Palm Beach as a beach-set wedding alternative. As one of the top, family-friendly beaches in the world, Palm Beach provides a setting your guests will enjoy. Its seven miles are dotted with high-rise resorts and easy access to town, meaning you're within easy reach of other venues and attractions.
Oranjestad
If, however, you're not terribly keen on a beach wedding, you can also find venues in Aruba's capital city of Oranjestad. Filled with colorful colonial architecture, nightlife, historic museums, galleries and high-end shopping, downtown Oranjestad will keep your guests busy and enchanted, even if you do decide to go with an inside, hotel or resort wedding.
Aruba Wedding Legal Requirements
Compared to other international destinations, the legal requirements for a wedding in Aruba are relatively straightforward and simple. If you choose to get married with the help of a resort planner, they can also assist with any additional questions you and your spouse-to-be might have. In addition to the below information, you can find plenty of additional help by way of the Aruba Tourism Authority.
Legal Weddings vs. Symbolic Weddings
You can choose to have either a symbolic or a legal wedding in Aruba. A symbolic ceremony, Lidbom explains, is simply where couples legalize their marriage in their home state, and then host a symbolic ceremony with friends and family in their destination of choice. However, you can also hold a legally-binding wedding in Aruba, with requirements differing according to the type of ceremony held. These differences primarily only apply if you're considering holding a religious wedding ceremony in a church, versus a secular ceremony.
Required Legal Documents
According to the Aruba Tourism Authority, if you're holding a legal wedding in Aruba, all couples are required to provide:
Copies of long-form birth certificates for both individuals, with raised seals and state certification or an apostille (which is basically an additional authentication of a document before use in another country, as the U.S. Department of State explains)
Passport picture pages or valid, state-issued picture IDs for both individuals (both individuals must be over 18 years of age)
A witness's (18 years of age or older) passport picture page or valid, state-issued picture ID (you must have two witnesses at the wedding)
A certificate of no impediment for both individuals (also referred to as a single status report and, in some states, called a negative statement of marriage); apostilles are required for a negative statement of marriage
If either party has been divorced, a copy of the first and last pages of the divorce decree(s)
If either party is a widow(er), a copy of the death certificate
An Aruba Declaration of Marriage Intent form and an Aruba Declaration of Single Status form (both of which you can obtain via a wedding planner)
All legal ceremonies are held at the Historical City Hall, during designated days and times; dress codes also apply. For this reason, if you're wanting more of a "traditional" wedding, in the place and at the time of your choosing, you may opt to only hold a symbolic wedding in Aruba.
Additional requirements apply if you're holding a religious wedding ceremony. For example, if you're holding a Catholic ceremony, you must show proof of permission from your priest to get married in Aruba. You can find full details on these religious requirements on the Aruba Tourism Authority's website.
Legal Marriage Timeline
Once you have all of your legal documents compiled, there's no residency requirement or waiting period in Aruba. However, you do have to fax or email all documents to the Aruban government for review ahead of time; after they're approved, you'll be required to mail them to the same government office at least one month ahead of your wedding date.
You'll also want to take into consideration the time required to pull all of your needed documents together. Obtaining an apostille for your birth certificates may take a few business days. Likewise, you'll want to keep in mind some religions also require wait periods ahead of your wedding, if you want a religious ceremony; the Catholic Church in Aruba, as an example, requires all your extra documents be submitted to the local priest at least four months in advance of your wedding date.
Legal Marriage Cost
A legal wedding at the Historical City Hall is $100 to $150, depending on the day of the ceremony. A religious ceremony may also require an additional fee.
Aruba Wedding Planning Tips
But once you have all of the legal requirements out of the way, it's time to get into the fun stuff: actually planning your destination wedding trip. Here are a few other things you'll need to know as you begin planning.
How to Get There
You can find an array of flight options between the United States and Aruba, from just about every city with an international airport. Flights are frequent from the US (under three hours from Miami and under five from New York) and it's often affordable. Once in Aruba, you'll find taxi, trolley and public bus services, all readily available and budget-friendly; however, for the greatest flexibility and privacy, we recommend a rental car.
Aruba Weather
The weather is nearly always pleasant in Aruba. It's why the locals say it's 82-degrees (specific) the entire year. You may find a bit of rain in the fall and winter months, October to January, but even then, it's not enough rain to really ruin your time, so long as you're flexible and willing to wait for the occasional shower to pass. If, though, you want to avoid any chances of rain whatsoever, plan your getaway for February or March. These are the most desirable months to travel to Aruba, weather-wise, Lidbom says. If, though, you'd like to save a little on room rates and airfare, travel between April and August.
Choosing Your Venue and Vendors
"When you're considering a hotel for you, your guests and potentially your destination wedding, it is all going to come down to your travel preferences and wishlist. Most resorts offer dedicated wedding planners that will cater to your every need, to ensure your wedding day is flawless, from start to finish," Lidbom says. Popular options that immediately come to mind include Aruba Marriott Resort, The Ritz-Carlton Aruba, Divi Aruba (an all-inclusive resort), Hilton Aruba Caribbean Beach Resort & Casino and Barcelo Aruba. There's also the recently-renovated Renaissance Wind Creek Aruba, which has its own private island dotted with flamingos.
Of course, for more information on pros who specialize in Aruba destination weddings, check out The Knot Marketplace for a comprehensive overview.
Budgeting Tips
Lidbom calls rates for an Aruba destination wedding "relatively moderate." Most couples find they can plan an Aruba destination wedding for less than what they might spend in the US, especially when they book a resort's wedding package or stay in an all-inclusive resort. The cost is comparable to what you might experience in other, nearby Caribbean destinations. A pro tip is couples can save on their Aruba destination wedding budget by holding their nuptials from April to August.