The Ultimate Guide to Planning a Destination Wedding in Mexico
Your dream wedding will be a cinch with these tips.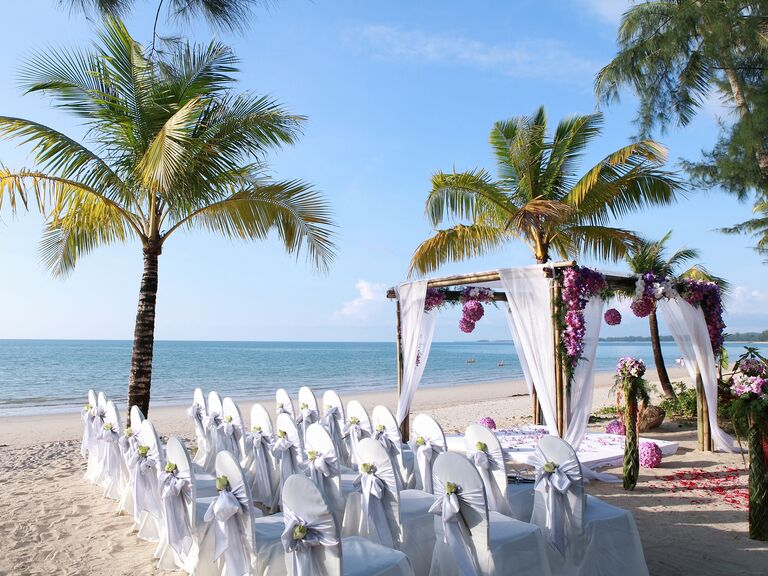 wandee007 / Shutterstock
From Playa Mujeres and Playa Del Carmen to Puerto Vallarta and Los Cabos, Mexico has some of the most dazzling wedding venues in the world, including beachfront spots that will blow you away with their beauty. No matter what city you choose for your Mexico destination wedding, you and your soon-to-be spouse are bound to have an incredible wedding and capture some gorgeous photos to last a lifetime. Can you say dream wedding day?
As with all destination weddings, planning your big day in another country has its challenges. Questions will likely arise, including the legalities of getting married in Mexico, what the weather is like and the cost of a wedding in Mexico compared to other countries. To answer all of these questions and help you navigate the planning process for your special day, we turned to Apryl D. Roberts, owner of design and production company Memorable Events by Apryl, for some expert intel.
Why Couples and Guests Love Mexico
If you've ever fallen down a Pinterest rabbit hole and stumbled upon images of Mexico destination weddings, it's easy to see why so many couples opt to tie the knot there. Mexico is the epitome of paradise. The food and culture are rich. The nightlife is lively. The natural scenery is beyond gorgeous (hello, turquoise waters, cenotes and white-sand beaches) and the tropical climate lends itself to a great getaway for your nuptials.
Another reason couples love Mexico? The cost. Roberts says destination weddings in Mexico are much cheaper compared to weddings in the United States or other destinations abroad.
The Best Places to Get Married in Mexico
Mexico has no shortage of beautiful places to get married. According to Roberts, these are the top spots.
Riviera Maya
Riviera Maya is a top destination wedding location for couples opting to get married in Mexico, Roberts says. It's located right outside of Cancun and it's known for its lush beaches and all-inclusive luxury wedding resorts.
If you're looking for an oceanfront wedding location that's dreamy and divine, look no further than Tulum, a town on the country's Yucatán Peninsula. "It's enriched by the Mayan culture and known for its pure white sand and natural parks," Roberts says.
Baja Peninsula
The Baja Peninsula, which includes stunning Cabo San Lucas, is another beautiful spot to add to your list. "It's on the western coast of the country and does not have major hurricane seasons," Roberts says. "This region is also known for luxury villas and great beaches."
Cozumel
Roberts says Cozumel is a budget-friendly location that boasts all-inclusive resorts and all-inclusive wedding packages.
Mexico Wedding Legal Requirements
Legal Weddings vs. Symbolic Weddings
As with all destination weddings, couples have the option to get legally married in the country where they're hosting their destination wedding or getting legally married in their home country prior to their wedding date. (For the latter, the ceremony on the day of their wedding would be symbolic.)
The benefits of having a symbolic over a legal ceremony include not having to deal with the paperwork, legalities and fees associated with getting legally married in that country. For a destination wedding in Mexico, Roberts notes that couples will need four witnesses at their legal wedding ceremony.
Required Legal Documents
To get legally married in Mexico, Roberts says there are a few legal documents required from you and your partner, including a valid passport, a birth certificate, a tourist permit and locally drawn blood tests and chest X-rays. (She notes that not all wedding locations require chest X-rays.) "Mexico requires blood tests to detect syphilis and HIV," she says. "The chest X-rays, if required by that state, are just an additional measure."
Legal Marriage Timeline
The process of getting legally married in Mexico begins once you enter the country. "The couple must visit the local registry office to obtain the application forms," Roberts says. "Once the paperwork is filled out, the couple will pay the marriage license fee. Depending upon the jurisdiction, the application may be processed anywhere between 30 minutes to a couple of days."
If one of the partners has Mexican citizenship, they'll also need a foreign marriage permit, which can take up to two weeks. After the ceremony, Roberts says you'll need to obtain a certified copy of the marriage certificate from the registry office.
Legal Marriage Cost
A Mexican marriage license will run approximately $26, Roberts says. You'll also need an Apostille stamp that authenticates the marriage, which costs approximately $7. Some states in Mexico also require a national marriage permit, which can run around $175.
Mexico Wedding Planning Tips
Some other logistics to think about as you're planning your destination wedding include transportation, weather, venues, vendors and budgeting. All that and more is covered below.
How to Get There
Flights from the US to Mexico range in cost from $250 to $500 round trip. "Once in the country, you may arrange transportation directly with the resort or hire a local transport company," she says. "There are many at the airport, but I recommend arranging transportation prior to your arrival with your wedding planner or travel agent."
Mexico Weather
Wedding season in Mexico runs from October to July. "The weather is milder, yet still warm," Roberts says. "Summer months are plagued by extreme heat and storm season."
Choosing Your Venue and Vendors
As you do the legwork to find your dream wedding venue in Mexico, Roberts offers up one piece of advice, and that's practicing patience.
"Mexican culture is very laid-back," she says. "Responses may not be as expedient as you would hope for or experience stateside." However, she says, the results are always executed well. The Knot Marketplace is a great resource for finding wedding coordinators that specialize in planning destination weddings in Mexico.
Budgeting Tips
"The currency rate of the US dollar in Mexico has been going upward," Roberts says. "You get more value for your money there." For instance, she says, a wedding that costs $35,000 to $40,000 in the US would cost an average of $5,000 to $8,000 at a four-star resort in Mexico
That said, cost will vary and depend on the region and the resort where you get married. But generally, destination weddings in Mexico tend to be less expensive than weddings of the same caliber in the States.
To save money, Roberts recommends booking an all-inclusive resort. Most resorts have wedding packages that include everything you need for a dream wedding, including decor, rehearsal dinner options, cuisine and accommodations for you and your wedding guests.