Everything You Need to Know About Getting Married in Ohio
Look to The Knot for local details about getting married in Ohio, from choosing your wedding venue to getting your marriage license.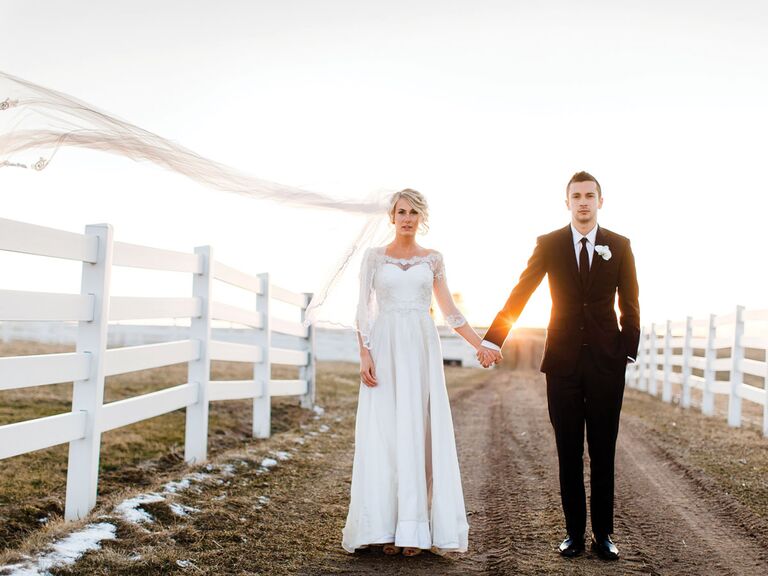 Jenny Haas Photography
Ultimate Guide to Getting Married in Ohio
With its 312 miles of magnificent Lake Erie shoreline, spacious landscape, Appalachian influence and three major metropolitan areas, Ohio is a state that offers couples a large variety of wedding options. Living up to the nickname, "The Heart of it All," places to get married in Ohio range from rustic barns to sophisticated ballrooms, offering something for everyone. Whether you are a native Buckeye who bleeds scarlet and gray or a transplant looking to establish roots in this midwestern state, Ohio has plenty to offer to-be-weds.
Because it is the seventh most populous state in the US, Ohio is the wedding destination of choice for many couples. As you read through our comprehensive guide you'll find everything you need to know about getting married in Ohio, from obtaining your Ohio marriage license, to how much you can expect to spend, to some of the most popular cities to tie the knot. Whether you need ideas for wedding locations in Ohio or are looking for ways to entertain your guests once they get here, we'll help you plan a successful wedding. Follow along with your wedding checklist to make sure everything is done on time.
Top Trends in Ohio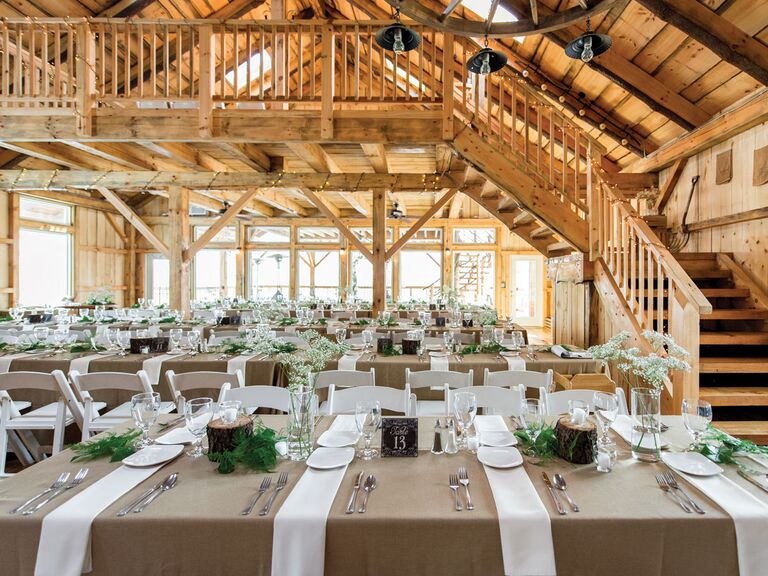 Wedding venues in Ohio range from casual to sophisticated, but couples are a bit more consistent in the type of wedding they throw. In fact, The Knot 2015 Real Weddings Study revealed that 88 percent of couples in the Cleveland and Columbus areas chose to host a semi-formal or black tie event, with 81 percent of Cincinnati couples following this trend. While in the minority, casual-minded folks aren't alone, with 18 percent in Cincinnati and 10 percent in Cleveland opting to keep things low-key. Whether you are looking for barn wedding venues in Ohio or beachfront properties, chances are you can dress any location up or down to get the wedding you desire.
While there aren't too many wedding traditions that are unique to the Ohio area, you might want to include a cookie table at your reception, especially if you are getting married in the eastern portion of the state. While there is dispute as to whether this tradition originated in Youngstown or Pittsburgh, PA, there is no question that it is big deal among many Ohio families. Typically friends and family members of the bride and groom bake cookies for weeks before the wedding day in an effort to provide a truly elaborate display for the reception. If you plan to partake in this time-honored tradition, don't forget to provide take-home containers for your guests.
Ohio Marriage Rates and Wedding Costs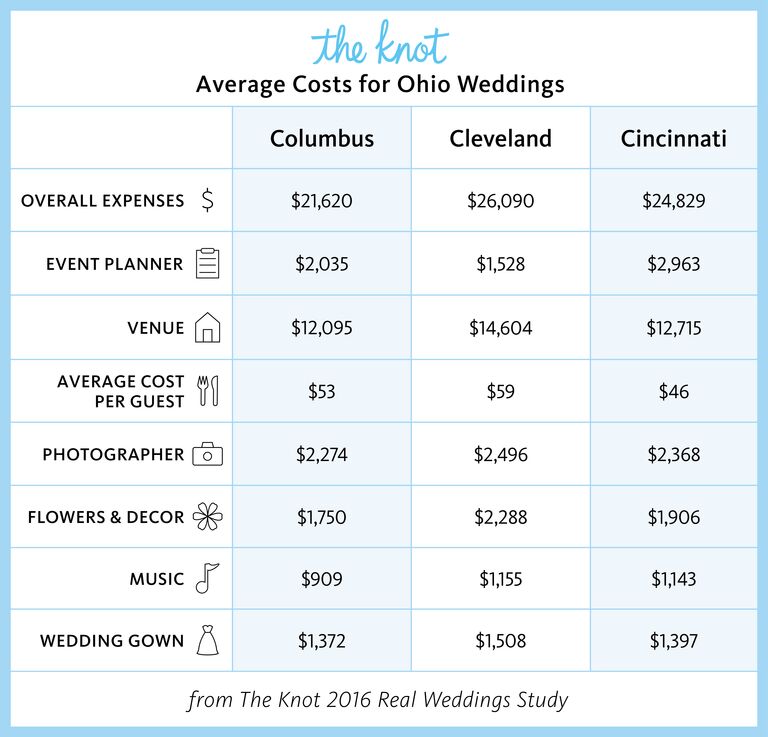 Planning a wedding can be a lot of fun, but affording it is another story entirely. No matter which type of wedding venue you choose or what type of theme fits your personalities, make sure you've created a budget and that you're sticking with it. The Knot Budgeter can help keep you on track! But before you take that important step, here's a little background info on how many couples are tying the knot in Ohio, plus what you can expect to pay for common wedding costs in Ohio, as reported by The Knot 2015 Real Weddings Study.
Ohio Wedding Stats
So how many couples are actually getting married in Ohio? Overall, marriages in Ohio are slightly down from the national average of 6.8 out of every 1,000, with Buckeyes coming in at 5.8 out of 1,000. While this indicates that there are fewer couples getting married, they are also spending less than others nationwide. The national average for a wedding in 2015 was $32,641, and Ohio's metropolitan areas all fell below that number, with average costs ranging from $23,935 to $28,822.
Budget Breakdown
Getting a sense of what you'll pay for your wedding day expenses will make it easier to budget and negotiate with vendors. Above you'll find average costs in some of the state's biggest wedding destinations: Columbus, Cleveland and Cincinnati.
Top Cities in Ohio to Get Married
While there are plenty of wedding locations in Ohio, there's no doubt that the big cities hold a major attraction. These cities all offer a variety of venue options for every type of wedding. The most popular destinations include:
Make It Legal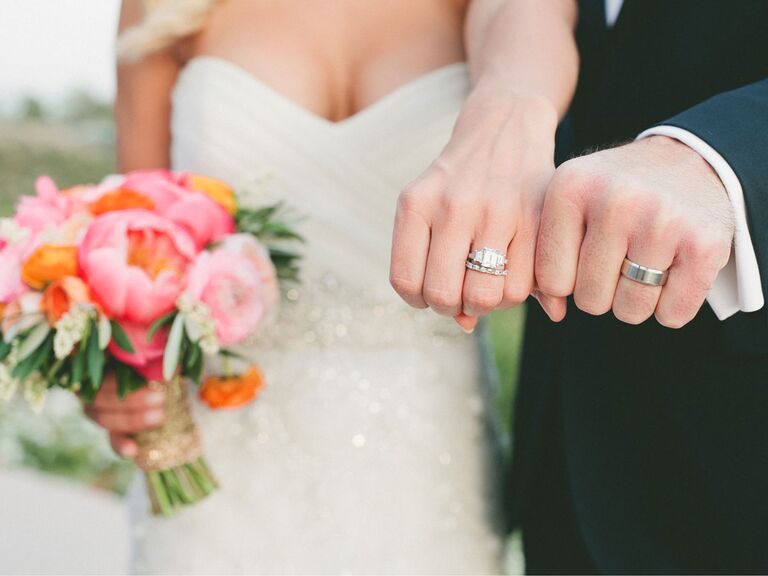 While planning a wedding involves plenty of fun elements like shopping for the perfect gown and cake tasting, don't forget about the more tedious details that are necessary for your wedding to go off as planned. Getting your Ohio marriage license, finding an authorized officiant and preparing to change your name are all important steps in making the marriage legal.
The Basics for Obtaining a Marriage License
Ohio marriage licenses are obtained at the probate court located in each county. In order to get the license, one of you must live in the county where you are seeking the license, or, if neither of you are from Ohio, you must go to the county where you are getting married.
Both of you must go to apply for the license together. You may be asked to provide the following:
Birth Certificate
Photo Identification
You are asked to state the following information, under oath:
Name
Age
Address
Social Security number
Occupation
Place of birth
Father's name
Mother's maiden name
Name of expected officiant
Each county probate court sets their own marriage license fee, so this amount differs from place to place. Once you receive your marriage license in Ohio, it is good for 60 days.
In order for a marriage to be valid, it must be conducted by a recognized officiant. Ordained or licensed ministers of any religion, specified judges and mayors are all authorized to perform a marriage ceremony.
Other Important Legal Requirements
There may be other permits you need to get, depending on where you want to get married. For instance, if you want to take advantage of one of Ohio's beautiful state parks as a ceremony or reception spot, you need to secure the necessary permits beforehand. Nine of the state parks offer resort lodges that are perfect for holding weddings and receptions, and with the right advance notification, it is generally easy to have the wedding of your dreams at one of these spots.
How to Change Your Name in Ohio
If changing your name is on your post-wedding to-do list, don't let fear of the process overwhelm you. Use the HitchSwitch professional name change service for help with the process. If you decide to do it on your own, you need to change both your driver's license and Social Security card. Report the name change to the Social Security Administration before attempting a change at the Bureau of Motor Vehicles. There you need to present:
Marriage certificate
Application for Social Security card
Driver's license
Birth certificate
Once you have your new social security card, bring it along with your marriage certificate to the Bureau of Motor Vehicles to receive a new driver's license or photo ID.
It's All About the Timing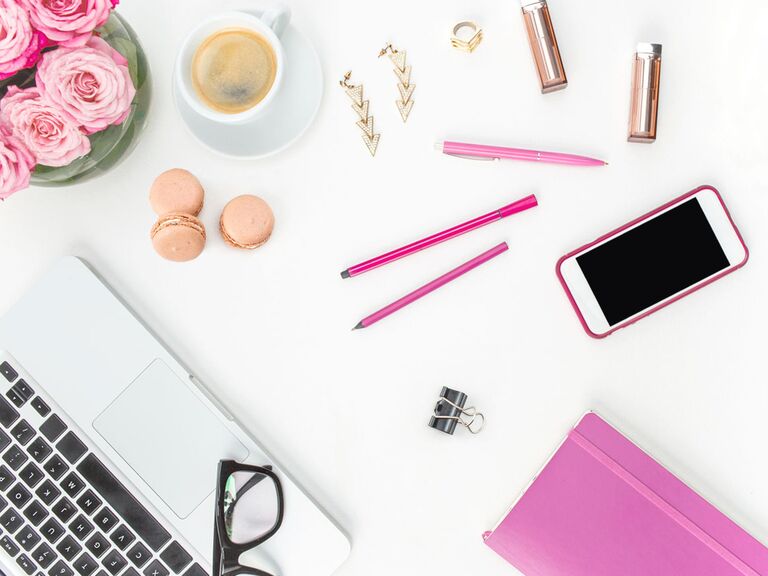 While the summer months are traditionally considered wedding season, Ohio couples are bucking the trend, showing a clear preference for fall over any other season. In fact, 44 percent of Cleveland couples and 41 percent of Cincinnati couples opted for a fall wedding in 2015, with just 36 percent and 29 percent of couples choosing a summer wedding. Columbus also gives fall a slight advantage, with 39 percent of couples choosing autumn and 38 percent picking a summer wedding date. This is no big surprise—with Ohio State football the undisputed king of Saturdays in the Columbus area, couples should consider whether they want to compete with the home team (or offer big screens at the reception!)
The Four Seasons of Ohio
When you look at the above statistics, you notice that winter does not rate as a season of choice, and for good reason. Cleveland sees an average high of 34 degrees in its coldest month of January, while Cincinnati's average January temperatures hover right around 38 degrees. While summer is always nice, the 87 degree average July high may be a bit too hot for many couples, especially with Ohio's typical high humidity. This is likely why autumn is a wedding season favorite. With October temperatures averaging 67 degrees in both Cincinnati and Columbus, there is no better time to host an Ohio wedding.
Ohio Wedding Dates to Avoid
One of the first things you should do when wedding planning—before nailing down the date—is to check and make sure there are no major events planned for the same weekend. There is nothing worse than finding out after it is too late that your guests can't get a hotel room, or traffic and parking is a nightmare. Many Ohio wedding venues should be able to give you a good idea of any local events that are happening before you book, but the more knowledge you have ahead of time, the better off you are.
Budget-conscious couples find that holiday weekends are almost always some of the most expensive dates to choose. Check out our comprehensive guide for 2016–2018 to find out more about these dates.
While statewide there are often many things going on, here are some of the biggest festivals, which you may want to take into consideration when planning your wedding:
Duct Tape Festival, Avon (June) 
Columbus Pride Festival (mid-June)
Macy's Music Festival, Cincinnati (late July) 
Ohio State Fair, Columbus (late July - early August) 
Twins Day Festival, Twinsburg (early August)
Oktoberfest Zinzinnati, Cincinnati (mid-late September)
Circleville Pumpkin Show (late October)
Great Guest Experiences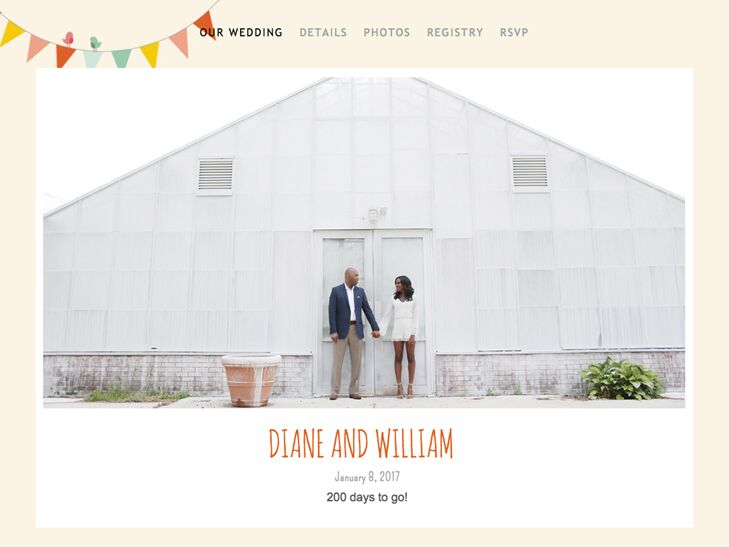 Almost every couple wants to throw a wedding that guests will remember for years afterward. One of the best ways to do this is to pay close attention to your guests and make sure that they feel welcome when they come to your wedding. Whether you throw an all-out affair or are working to pinch the pennies, you can make your guests a fun part of the action. The first way to do this is to make sure they are well informed. Once you decide which Ohio wedding venue you are going to use, create a website using our wedding website function. This gives your guests a special glimpse of what to expect ahead of time, and it provides a place for them to get all the information they need when traveling to your wedding.
Ohio Travel Information
Ohio officials weren't joking when they dubbed the state "The Heart of it All." Travel to and within the Buckeye State is easy from almost anywhere. With five international airports, including those in Cleveland, Columbus, Dayton and the Cincinnati/Northern Kentucky International Airport in Hebron, Kentucky, as well as an extensive interstate system that includes I-90, I-76, I-70, I-75, I-77 and I-71, your guests should have no problem getting to whichever wedding location in Ohio you choose.
Around Town: What to Do and See in Ohio
Ohio's diverse population and varied landscape means that this state has a lot to offer visitors from near and far. Wedding guests traveling to your event have no reason to be bored, and many may want to make a full vacation out of the trip and take advantage of some of Ohio's most popular destinations.
Top tourist attractions include:
Cedar Point, Sandusky
Rock and Roll Hall of Fame, Cleveland
Cuyahoga Valley National Park
Pro Football Hall of Fame, Canton
Cincinnati Museum Center, Cincinnati
Hocking Hills State Park
Franklin Park Conservatory, Columbus
Go Local: Food and Favors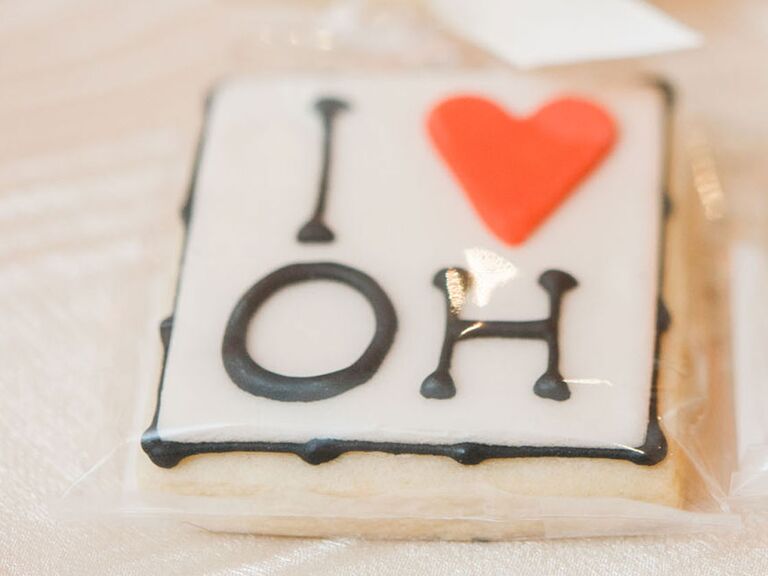 If you are throwing an Ohio wedding, incorporate elements unique to the state to appeal to guests and show your Buckeye pride. Adding special Ohio food to your celebration helps make your wedding a memorable one, especially for those guests who may be traveling from elsewhere in the country. Check out The Knot Shop for other personalized favors.
Ohio Flavors: Unique Regional Foods for Your Wedding
No Ohio wedding celebration is complete without the addition of Ohio buckeye candies. Peanut butter wrapped in chocolate, these tasty treats are designed to look like the nuts that come from the state's signature tree, the Buckeye. If you want to offer some real Ohio cuisine at your reception or would rather direct guests where to get some true Ohio food on their own time, suggest Cincinnati chili or goetta for Cincinnati visitors, or Jeni's Ice Cream for those visiting the Columbus area. As for Cleveland guests, the Polish Boy is a must-try.
Ohio-Inspired Take Home Favors
Food isn't the only way to show your Ohio pride. Send your guests on their way with Ohio wedding favors, or add some Ohio memorabilia into your guest welcome bags. Whether you are a die-hard Ohio State fan, root for the Browns or simply love the state that you call home, you can't go wrong with adding some Ohio flair to your wedding favors. Here are just a few fun ideas:
Small, meaningful tokens are a wonderful way for guests to remember your wedding and the state of Ohio. These wooden, engraved states are the perfect memorabilia, and guests appreciate that they don't take up too much luggage room.
If you have a lot of guests traveling from out of state, consider placing an Ohio welcome kit with snacks and memorabilia to greet them at their hotel. Labels like these dress up any bag while offering an Ohio greeting.
Make or purchase buckeye candies to include in gift bags
Ohio City Guides
Columbus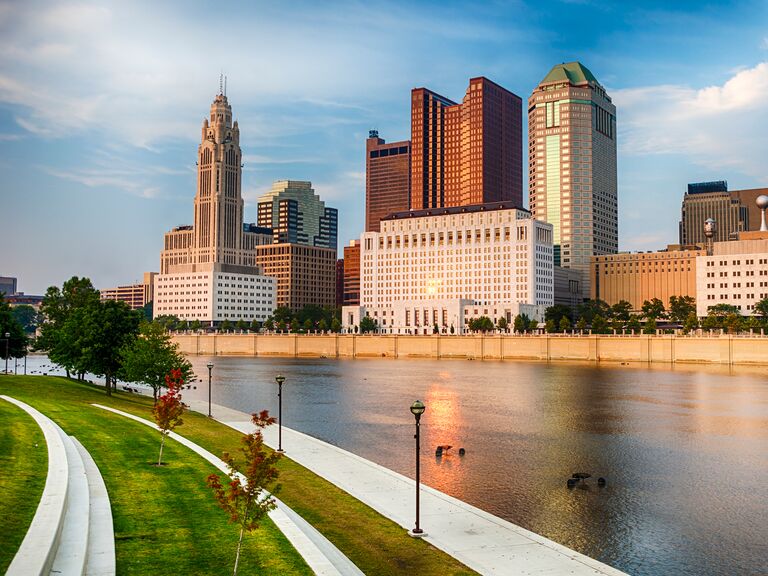 As the state capital and largest city in Ohio, Columbus has plenty to offer prospective wedding couples. Some of the most popular wedding venues in Columbus include The Westin Columbus, The Dawes Arboretum, The Bluestone and The Columbus Athenaeum.
Guests have a variety of things to see and do when they come to visit the Buckeye capital. The Center of Science and Industry, the Kelton House Museum and Garden and the Franklin Park Conservatory are all popular tourist destinations, while the Columbus Symphony Orchestra, Columbus Jazz Orchestra and BalletMet Columbus are additional attractions for guests visiting the area. If there are any sports lovers among your friends or family, be sure to direct them to Ohio Stadium, which is one of the largest football stadiums in the country and home to The Ohio State Buckeyes.
If you are getting married in Columbus, take advantage of the unique and beautiful settings for unforgetable wedding photos. The Columbus Zoo and Aquarium, Columbus and Franklin County Metropolitan Park District and Big Darby Creek are all beautiful locations for stunning photographs.
For local Columbus vendors, check out the following:
Cleveland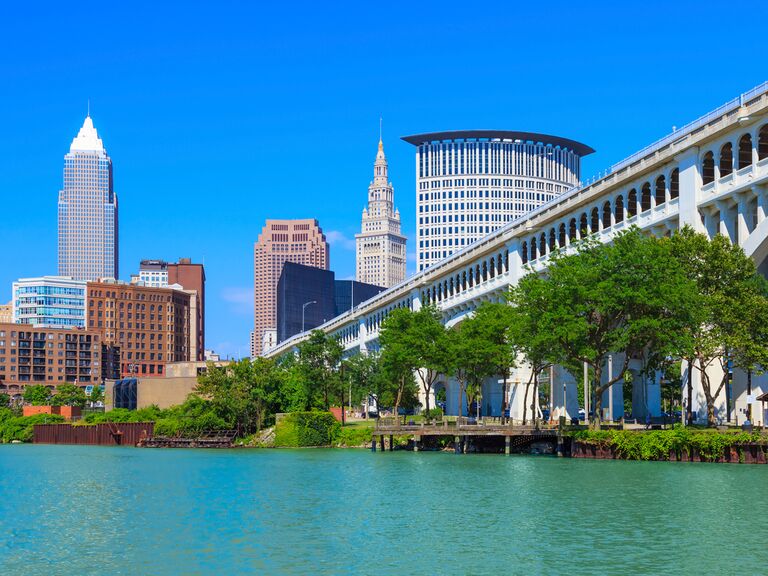 Nestled on the shores of Lake Erie, Cleveland offers couples a variety of wedding venues, from gorgeous lakefront facilities to suave city banquet halls. As the "Rock and Roll Capital of the World," Cleveland is well known for its music, which may be an element that you want to incorporate into your own wedding.
Even if you aren't planning a beachfront wedding, the Lake Erie backdrop provides plenty of gorgeous photo opportunities, as does the city skyline. Try a post-nuptial photo shoot at Edgewater Park or Wendy Park, which are locations that offer views of both the lake and city skyline. The Cleveland Botanical Garden also offers picturesque scenery with luscious gardens, a waterfall and a fountain, while the Cleveland Cultural Gardens offers a different vibe with landscaping and sculptures. For a truly unique experience, the Cleveland Metroparks Zoo is an ideal venue for animal lovers, and its Rainforest and Butterfly Garden provide a stunning backdrop for any wedding. The Zoo even offers wedding packages to help make your day stress-free.
Guests visiting from outside the area find plenty of cultural activities to take up their time. A trip to the Rock and Roll Hall of Fame and Museum is a must for music lovers, while the Playhouse Square Center is the second largest performing arts center in the U.S. and is the host of many concerts, Broadway musicals and other events. The Cleveland Orchestra also offers many performances that appeal to people of all ages.
Find Cleveland vendors to make your wedding planning a success:
Cincinnati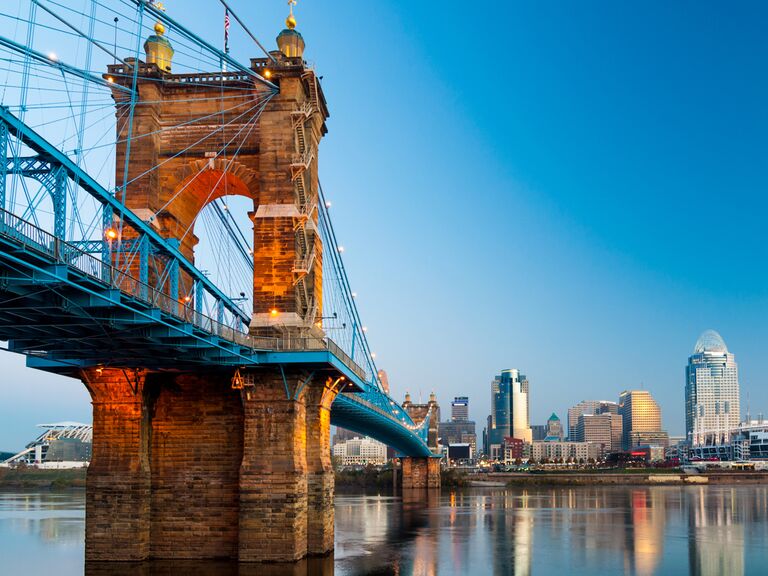 Located on the banks of the Ohio River, Cincinnati is a city known for its rich, historical architecture. Many Cincinnati wedding venues take advantage of the gorgeous buildings and incorporate old-world charm into modern facilities. Some examples include The Phoenix in downtown, and The Monastery Event Center in Mount Adams.
Visitors find no shortage of things to see and do in Cincinnati. It is one of the few U.S. cities that offer professional companies in the five major arts of opera, ballet, fine art museums, theater and symphony. Popular tourist destinations include the Contemporary Arts Center, Cincinnati Art Museum and the Creation Museum.
Find all the vendors you need for your Cincinnati wedding:
Check out more Ohio wedding inspiration here.
Don't forget to download The Knot Wedding Planner app—it's a must-have for on-the-go planning.
Download for iOS: Wedding Planner App by The Knot

Download for Android: The Knot Wedding Planner