How Every Enneagram Type Should Tackle Wedding Planning With Their Partner
The popular personality test could be key to strengthening your relationship while minimizing stress.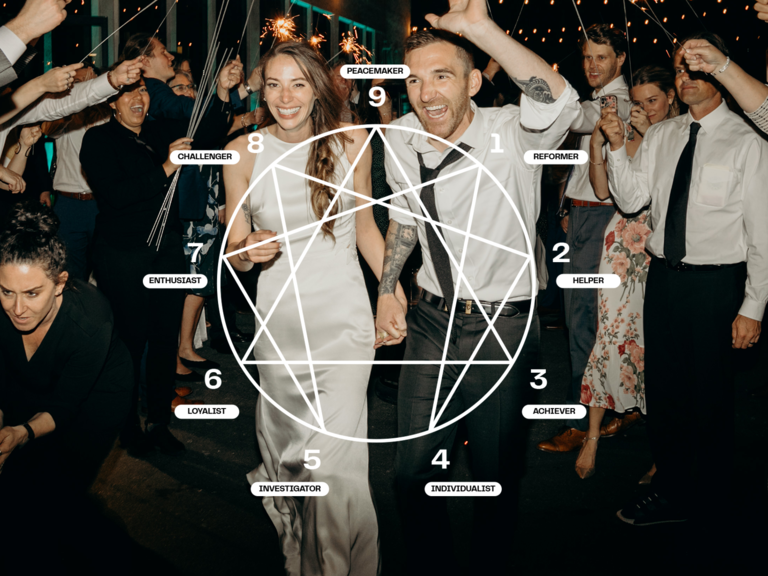 Melissa Ergo Photography; Design: Tiana Crispino
We have included third party products to help you navigate and enjoy life's biggest moments. Purchases made through links on this page may earn us a commission.
Everyone plans differently. Some swear by spreadsheets, others go with the flow, but somehow everyone manages to get it all done and make it down the aisle. But what if you could take the trial-and-error out of learning what works best for you? Finding your Enneagram type can provide insight into our behavioral patterns, relationships—even how to wedding plan.
For expertise on the Enneagram personality profile system, we tapped Jacqueline H. Sherman, Ph.D., a Licensed Clinical Psychologist and Certified Intimacy and Relationship Coach. According to the TikTok-famous intimacy expert, by understanding your or your partner's Enneagram type and what traits and challenges are typically associated with it, you can better support yourself and your fiancé while wedding planning. (And throughout your marriage, too!)
In this article:
What Is an Enneagram?
Who can resist a personality test (or sending them to the group chat after taking one yourself)? And the Enneagram system is an incredibly popular one at that: "The Enneagram is one of the most popular typologies used in the US to help us [better] understand our personality," says Dr. Sherman. "It includes nine very different personality types, each characterized by common motivations, desires, strengths and areas for growth."
As Dr. Sherman explains, as each Enneagram type comes with its own set of traits and core needs, it can be a useful tool in discovering and reflecting on behavior and how you interact in relationships—as well as how to roadmap your routine and productivity.
And with a clearer understanding of yourself, you just may be able to plan your bash with minimal stress, learn what you need from your partner and how you can better support them according to their Enneagram type. (Sounds pretty good, right?)
How to Find Your Enneagram
So, "What is my enneagram?!" you wonder? Fair enough. With more than one million tests taken each month, Truity's free Enneagram test is one of the most popular in the US and is even psychologist-reviewed.
Find out your Enneagram type by taking Truity's short and simple Enneagram quiz here. Then, read on to discover tips for how each Enneagram personality can adjust wedding planning to fit their needs, as well as how to support your partner throughout the process.
Type One: The Reformer
If you want a bach party or table chart planned in record time, give it to a Type One: They're known for being self-disciplined hard workers with a strong moral code—and a relentless inner critic. This could lead a Type One to taking on more than they could chew.
If you're a Type One, commit to having at least one hour of screen-less time before bed. This could help you unplug from the self-imposed perfectionism of planning and focus on relaxing with your partner.
If your partner is a Type One, remember that they may try to power through all the heavy lifting of planning themselves. Remind them that you're there so you can take on challenges together, and ask for detailed tasks you can tackle to help support them.
Type Two: The Helper
Optimistic and giving, no one can deliver a pep talk like a Type Two. Nurturing their relationships and caring for others rank high on their priority list. (Think: Olivia Benson from SVU.)
Type Twos often find it difficult to focus on themselves and address their own needs. If you're a Type Two, be diligent about setting boundaries when it comes to things like family involvement and the guest list. It's all too easy to let yourself overspend on extra guests to avoid hurt feelings!
If your partner is a Type Two, shift the focus to them: Plan activities or surprises that put the spotlight on their happiness, such as a much-needed massage or weekend minimoon.
Type Three: The Achiever
OFC, everyone wants their wedding to look off-the-charts stunning—but no one quite like Type Threes. This ultra-adaptable Enneagram type is conscious of image and appearance. Motivated by set goals, they're highly ambitious but can sometimes find it difficult to maintain a healthy work-life balance (or work-life-wedding-planning balance, in this case).
Avoid burnout if you count yourself among this group. Ask for help with smaller tasks, while you focus on your logistical planning strengths.
As it goes in any relationship, it's important to keep the lines of communication open if you're in a partnership with a Type Three: Since they have a tendency to run forward with their vision, ensure your voice is being heard, too.
Type Four: The Individualist
From candy-colored gowns to over-the-top after-parties, unique details are of high importance to Type Fours. Categorized as free-spirited and expressive, this Enneagram type tends to be well-attuned to their emotions and their strengths often lie in creative pursuits.
While it's important to not get too hung up on making every detail of your day one-of-a-kind, a Type Four's favorite part of wedding planning is making the event their own. Don't second guess your vision or let the more traditional tastes of friends or family affect you.
Due to their sensitive nature, it's easy for a Type Four to feel overwhelmed. Sherman recommends they utilize healthy outlets for stress, such as gratitude journaling or diaphragmatic breathing, especially during busy times. You can support a Type Four partner by taking organizational to-dos off their plate: If they're happiest getting creative with The Knot's wedding invitation designs, do your part by keeping the RSVP list up-to-date.
Type Five: The Investigator
Sherman describes Type Fives as being extremely innovative and intense. Unlikely to ask for help from others, their inquisitive and self-reliant nature may lead them to isolate when stressed.
If you're a Type Five, delegation is the name of your wedding planning game: Recruit wedding party members if you and your partner are drowning in details or DIYs.
This personality type appreciates their alone time, too, so be understanding if your Type 5 partner requests the space to recharge their social batteries. A solo coffee date or an hour with the book can help them relax and reset.
Type Six: The Loyalist
Steadfast Type Sixes are motivated by safety and security. Since they're likely risk-aversive, they're less inclined to drop a deposit on a florist or venue without shopping around first.
While wedding planning, Type Sixes should remember that they can't control every last detail or plan for every unexpected event. Real talk: As long as you marry the love of your life, the day is a success!
If your fiancé is a Type Six, keep them from fixating on worst-case scenarios by planning the backup logistics—like what happens in case of rain. Your partner will feel supported, as they're likely the ones always putting out fires.
Type Seven: The Enthusiast
Elle Woods, meet your Enneagram. Fun-loving Type Sevens are full of energy and are always willing to try something new. They're the ultimate maids of honor with the goal of getting everyone out on the dance floor.
Type Sevens should lean into their positive nature while wedding planning. You can make anything a party, so turn envelope stuffing into an at-home date night with tunes and take-out.
If your partner is a Type Seven understand that they may have trouble processing their feelings amongst all the excitement. Be consistent with emotional check-ins and schedule regular quality—and quiet—time together.
Type Eight: The Challenger
According to Sherman, Type Eights are self-confident, decisive and bold. Experts at negotiating vendor contracts and wrangling family members for photos, they're less comfortable with public displays of vulnerability.
If you or your partner are a Type Eight, prioritize scheduling special wedding-day moments just for the two of you, such as a first look or a private last dance.
Moments like these will allow you and your love to comfortably bask in the emotion of the day together—sans the anxiety-inducing flashes of 50+ iPhones!
Type Nine: The Peacemaker
"Type Nines are very easygoing, receptive and agreeable," notes Dr. Sherman. "But they can be a bit of a pushover."
Peacemaker Type Nines tend to avoid conflict. So, as planning stress or family drama rears its head, Sherman says to utilize assertive, clear and controlled communication skills regarding your and your partner's decisions.
Since Type Nines are used to accommodating others, frequently check in with a Type Nine partner to ensure they feel that their voice is being heard—in both your relationship and when it comes to the nuptials.