Designer Spotlight: Enzo Custom
The brand that's taken the suiting world by storm has a lot to offer to-be-weds and guests alike, allowing customers to go bespoke without going broke.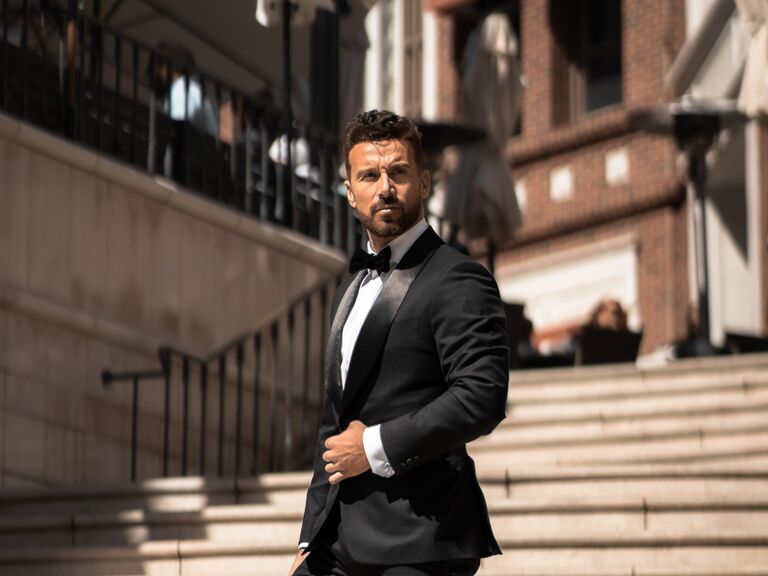 Photo: Enzo Custom
In the world of custom men's wedding suits, the bespoke suit reigns supreme. It's the Corvette of the sartorial space. It's a made-from-scratch work of art designed from the ground up to the exact fit, style, and specifications of the person who'll be wearing it. As such, bespoke suiting tends to be something you have to go a little bit out of your way for. Whether it's figuring out how to finance the suit (they tend to run up a bill of at least $2000 if not more) or finding the right craftsman to make it for you, accessibility isn't always easy. Enter Enzo Custom, a menswear hub that's made bespoke suiting available to anyone, anywhere–and at prices that are tough to beat. Whether you're gearing up to get married or just need a go-to suit for your next few years of wedding invites, Enzo Custom is one of the best investments you can make in your wardrobe.
In this article:
Why We Look to Enzo for Custom Suits
I could talk for days and days about the differences between tailored suiting, made-to-measure, and bespoke and the individual merits of each route. Long story short: all three options can make for a great wedding look. Made-to-measure is often the most accessible route in the space, providing a customized suit made to your exact measurements and oftentimes not requiring an in-person visit to a flagship store to get you there. Bespoke is indisputably the highest quality of the three and differs from made-to-measure in that a suit made via the latter process is often cut from a preexisting pattern. With bespoke, there's no preexisting pattern. From the moment shears touch fabric, every single piece of the suit from the lining to the stitching is totally unique to the person who'll be wearing it.
As a result, bespoke suiting tends to be on the expensive and time-consuming side. It's with good reason–you're paying for the time, service, and insight of experts in the suiting field. Still, between the sometimes prohibitively expensive cost and the lack of access for in-person fittings (bespoke suiting hubs tend to be concentrated in major cities), it's not always a viable option for those looking to get a custom suit made.
Where Enzo Custom differs from other bespoke retailers is in making price and accessibility far less of an issue for customers. The brand, which was founded in 2011, takes bespoke to a macro scale, offering online fittings and in-person ones alike and drawing on a wide well of craftsmen to build customers' dream suits. Enzo Custom also sources their fabrics from some of the more notable mills in menswear, including Loro Piana (the brand of choice for the Roys on Succession) and Zegna.
Suits cut from those designer fabrics may run you a pretty penny, but Enzo Custom's secret sauce is their in-house fabrics (which are of an incredibly high quality). A garment made from one of these will often ring up in the triple digits rather than quadruple, which instantly makes a bespoke suit more attainable to the masses.
You no longer have to book a flight to London's Saville Row for an incredible bespoke suiting experience. With Enzo Custom, the suit you order from your couch will be as stunning as one ordered from their metropolitan showrooms.
The Enzo Custom Suit Experience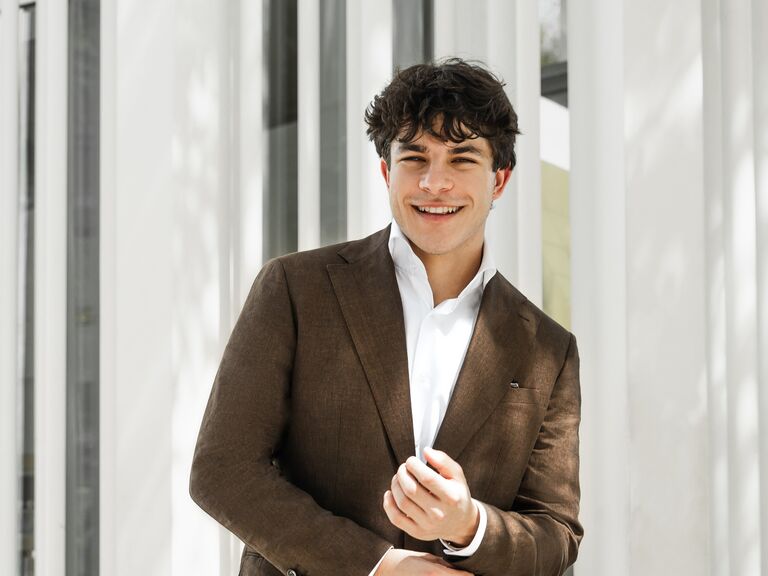 It's first important to note that the experience I can speak to with Enzo Custom is limited to that offered by the showroom, though by all accounts their website delivers the same exceptional customer service and attention to detail. Additionally, if you get measured in a showroom and then opt to buy a different suit after some time has passed, the brand keeps your measurements on file. This means you don't have to re-take them unless you feel the need to do so.
Outside of price, one of the biggest deterring factors when buying a bespoke suit is the investment of time it requires. Most classic bespoke suitmakers take three to four fittings at least to put together a suit. Now, to be clear, it's often an investment well spent. Still, when you consider that some of the world's premiere bespoke suitmakers are limited to in-person appointments and located in major metropolitan areas, it can put up a big wall between the people who want to buy a bespoke suit and the people who actually have the time and proximity necessary to get one.
Enzo Custom breaks down that barrier by making bespoke suiting time and cost-effective. Your journey through the Enzo Custom showroom starts with a preliminary appointment and fitting, often set for around an hour. The brand is very particular about their scheduling and their showrooms are small, so you can trust that when you show up for yours you'll have the full attention of the brand's on-site representatives.
The biggest decision to make in your Enzo experience is the fabric from which your suit will be made. The brand's fabric books are vast and the options can feel a little overwhelming, but their employees are excellent at pulling selections for you based not only on your sartorial needs but also your budgetary ones. Building a suit during your fitting isn't as straightforward as a checklist. Options can be tossed around, changed, and reconsidered as you're measured (the brand will take over 30 individual measurements to piece together your suit) and the vision for your suit comes together. Your design options are truly limitless, as bespoke fittings should be–lapel widths, for example, can be measured down to a fraction of an inch rather than being available in narrow, standard, and wide. If you've come into the showroom with a clear vision of what you want, the brand's representatives will help you piece it together. On the other hand, if you're a bit more keen to improvise (or just haven't put together a vision board), they're also great at guiding you to the suit you're looking for and discovering it alongside you.
A suit of the quality that Enzo Custom provides can often take months to make and multiple visits to a showroom. With the brand's internal structure (they're vertically integrated and utilize a streamlined wholesale business for their textiles) and scale (they've got an army of expert suitmakers on staff) you can get your suit in less than two months–a timeline far closer to that of a made-to-measure suit rather than a bespoke one. Suits are generally ready five weeks after your first fitting. It's always pertinent to factor in a couple of weeks for a round of alterations after it's ready, but if the changes are minor there's usually someone on hand in the showroom who can take care of them before you leave.
Top Enzo Custom Suits for Weddings: Editor's Picks
While bespoke is the bulk of Enzo Custom's business, the brand also has an array of predesigned suits available via their website. These can still be made to bespoke measurements, mind you–you aren't losing that quality in purchasing them. Rather, they're well-designed pieces that take the pressure off of customers who maybe want a few decisions made for them in the suitmaking process. Here are some of my personal favorites in the brand's arsenal.
Super 150's Wool Black Tuxedo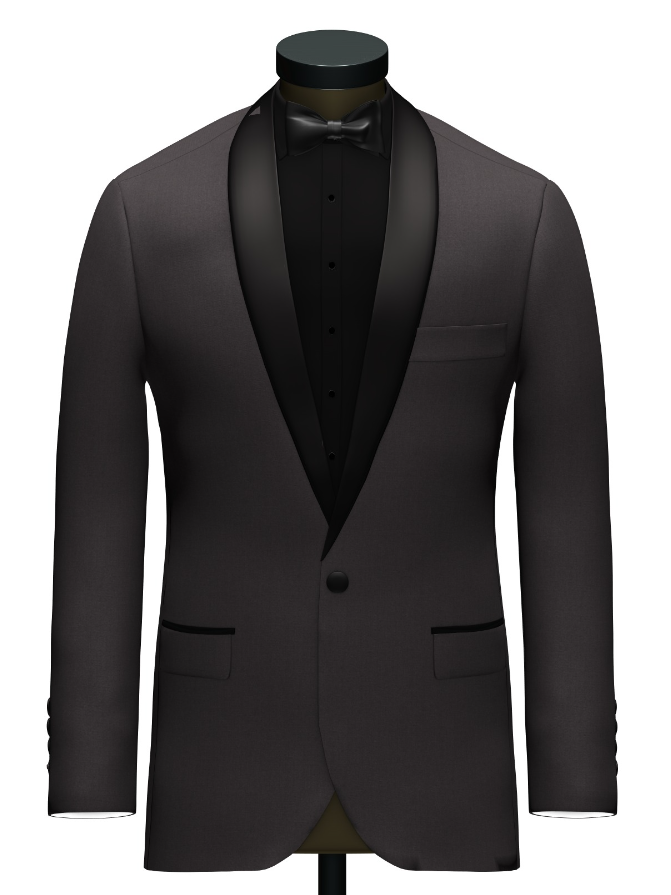 Going black tie for your wedding? This shawl-collared tux comes with a ritzy old money aesthetic and is sure to have you looking your best.
Starting at: $1,040
Orange and Black Check Veneto Suit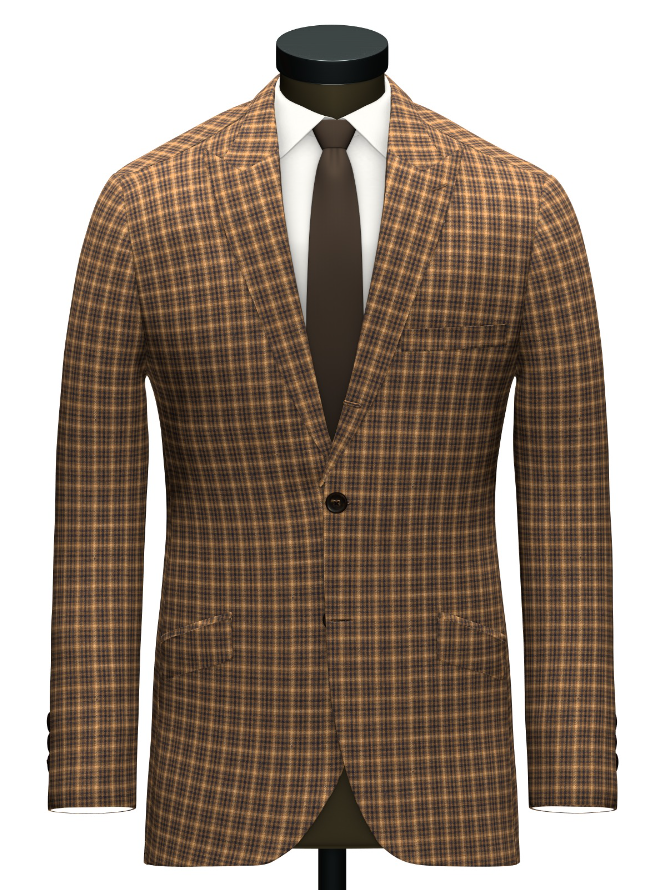 With burnt orange and shades of brown, this checked suit is perfect for autumnal ceremonies whether you're walking down the aisle or watching the ceremony from your seat. Plus, it'll look great at holiday parties in the months that follow.
Starting at: $925
Cotton Blend White Zurich Suit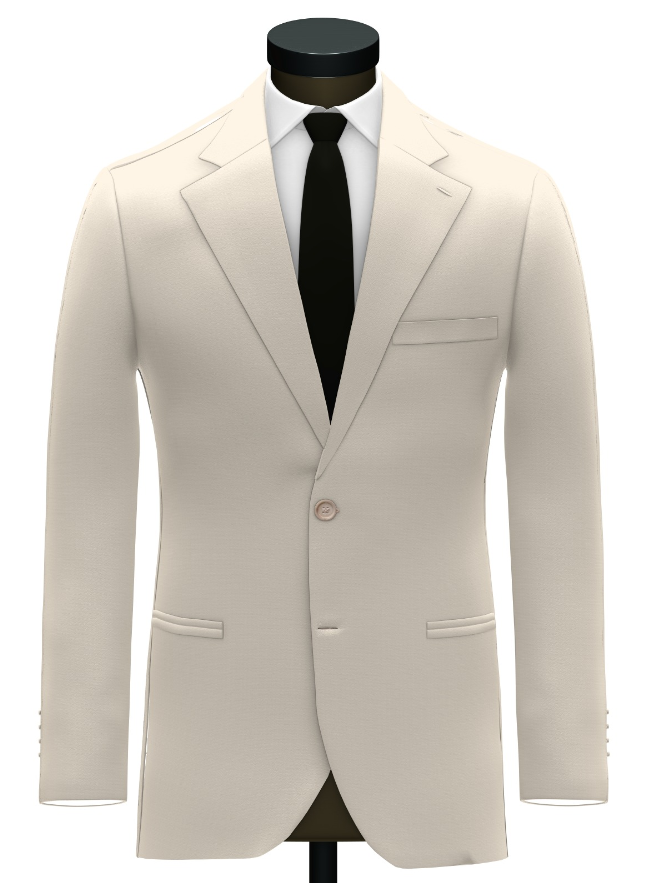 A breezy white suit is great for a beachfront destination wedding and summer ceremonies alike. This one, cut from beautiful Loro Piana lightweight cotton, will have you looking hot without breaking a sweat during the hottest months of the year.
Starting at: $1290
Super 130's Wool Blue Zurich Suit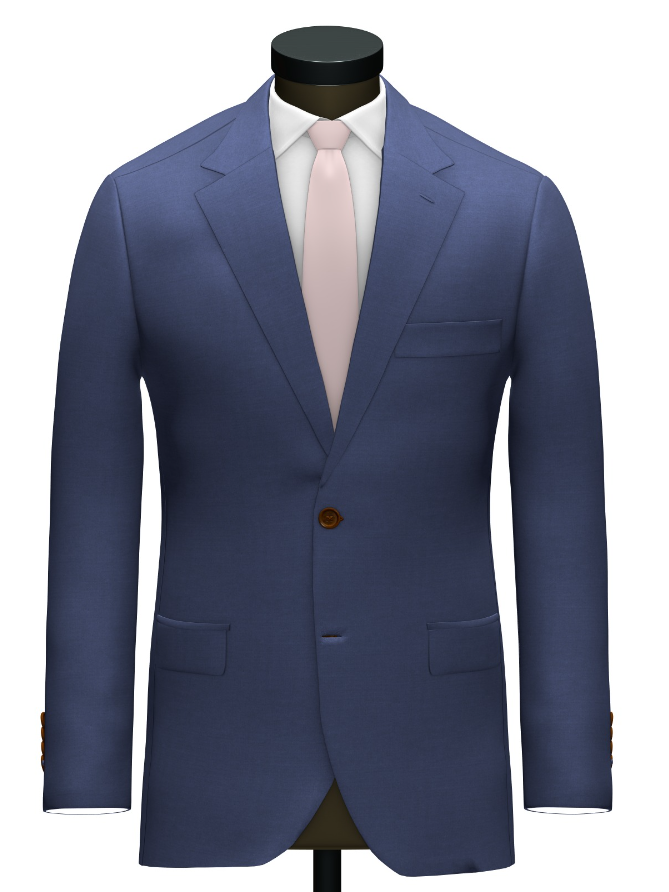 Dusky blues are perfect for spring and summer weddings–plus they can be dressed up or down, making for a versatile suit that can get you through every occasion the seasons have to offer. Rock this one at a semi-formal wedding with an open collar or dress it up with a tie and french-cuffed dress shirt for more formal affairs.
Starting at: $1,495
Cotton Green Sydney Suit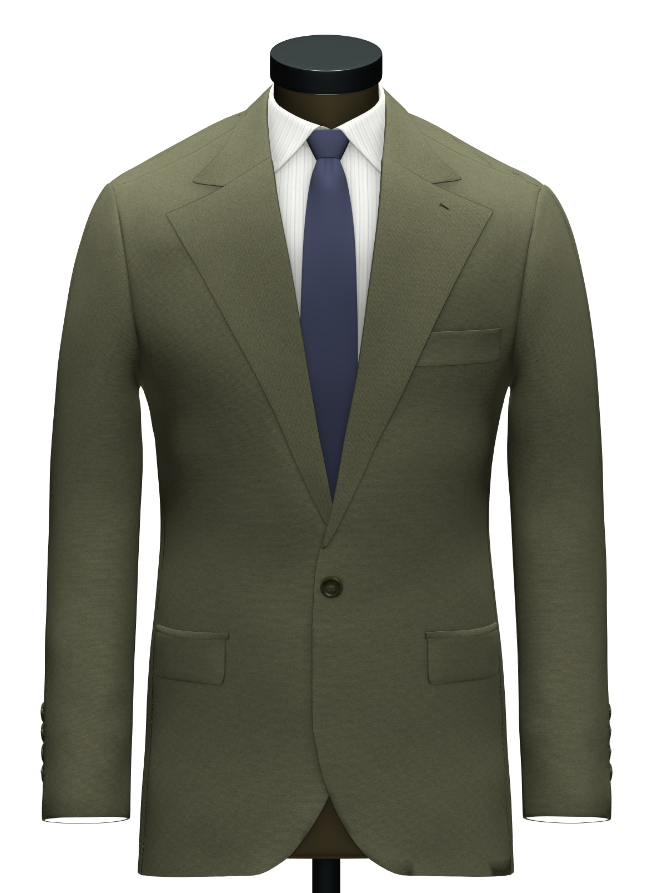 Wide lapels? Yes, please–they're one of my favorite suiting trends in 2023. Lean into the vintage vibes they provide with this lovely earthy green suit in the brand's Sydney cut.
Starting at: $1290
Wool Navy and Blue Chalk Stripe Veneto Suit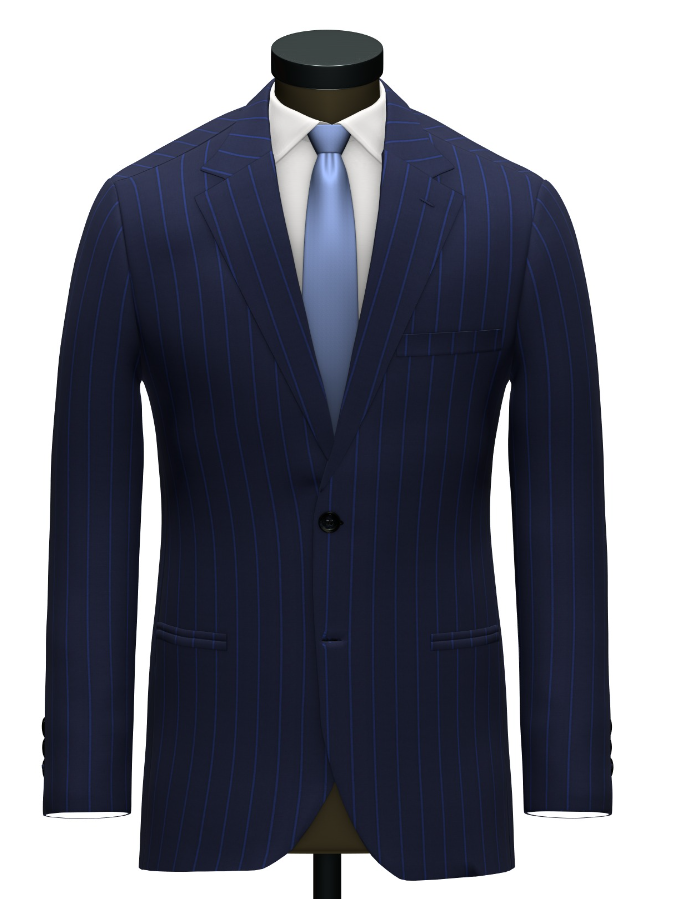 Pinstripes make a powerful statement, and blue pinstripes are all the more singular a take on the popular pattern. This suit will have heads turning at the wedding–in a good way.
Starting at: $1990
Blue Seersucker Atlantic Suit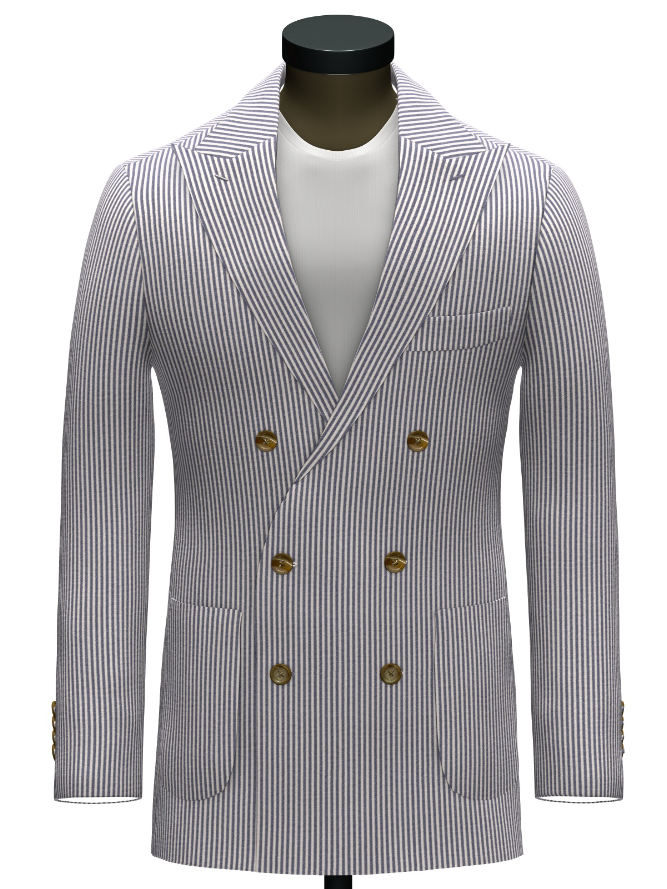 Seersucker is slept on when spring and summer weddings roll around. The longtime preppy staple looks great and keeps you cool during the hotter months of the year. Enzo Custom's take on the fabric comes in a killer double-breasted design and is made with Loro Piana seersucker cotton.
Starting at: $1895
Plum and Pink Windowpane Zurich Suit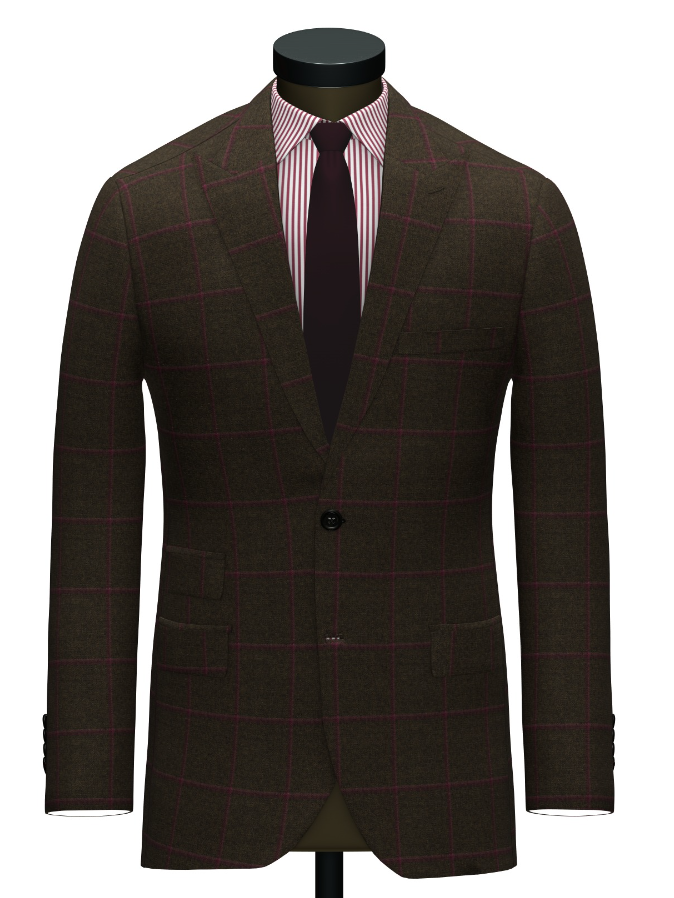 With peaked lapels and a unique purple plaid print, this suit makes a statement. The brand's fabric library is vast and full of unique gems like this one, with this suit standing as a testament to the sort of singular suiting Enzo Custom provides.
Starting at: $1990
Wool Navy Plaid Veneto Suit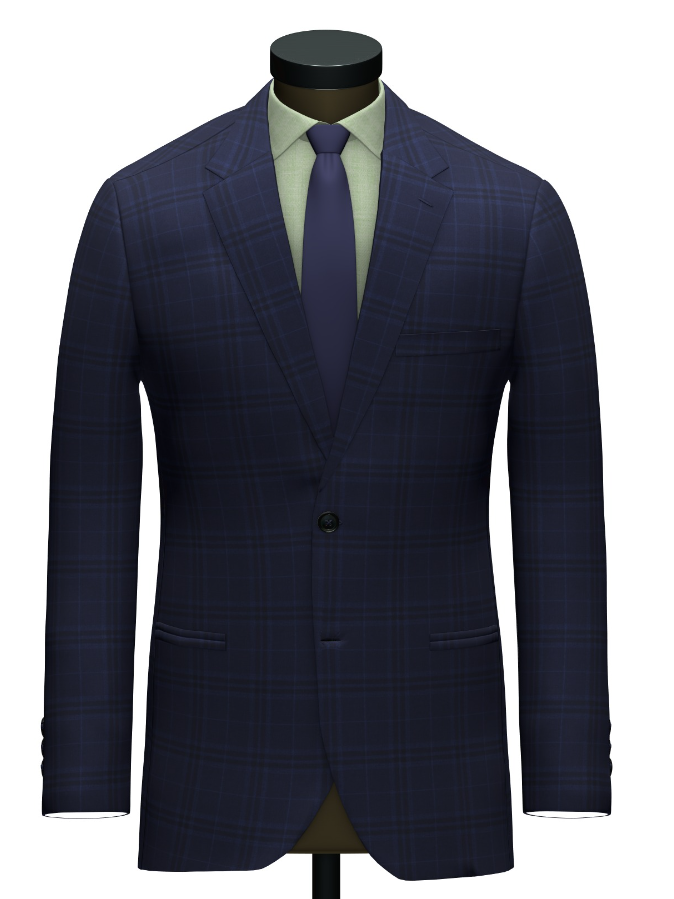 Upgrade from your standard navy suit with this subtle plaid pattern. It'll have you standing out wherever you wear it–to a wedding or just to the office.
Starting at: $895
Cotton Blend Black Atlantic Suit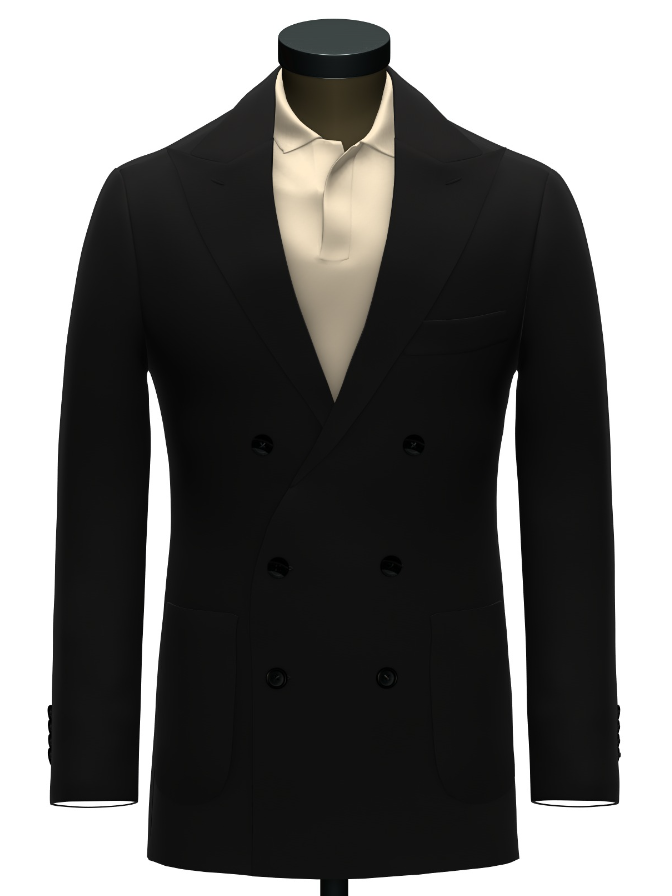 There are black suits and then there are bespoke black suits. There's a difference. Find out for yourself with Enzo Custom's sleek, debonair take on this sartorial staple.
Starting at: $1745
How Much Are Enzo Custom Suits?
The price of an Enzo Custom suit is going to depend on the fabric it's cut from and the customizations you request. Suits made from the brand's in-house line of fabric range between $800 and $1000 as a starting point. Fabric from mills like Loro Piana and Zegna skew more expensive, usually around $1700 at the bare minimum and sometimes peaking up near $2500.
How to Buy an Enzo Custom Suit
You can buy an Enzo Custom suit online or at one of their showrooms, which are located in New York, California (Beverly Hills and Palo Alto), Miami, Washington DC, Boston, Philadelphia, Chicago, and Charlotte. Head to their website to schedule an appointment in-person.
Additionally, you can take your own measurements at home and apply them to your account on the brand's website. From there you can customize your suit using all of the same methods the showroom offers thanks to their handy online design hub.