Everything You Need To Know About Kermit and Miss Piggy's Lavish Wedding
by Ivy Jacobson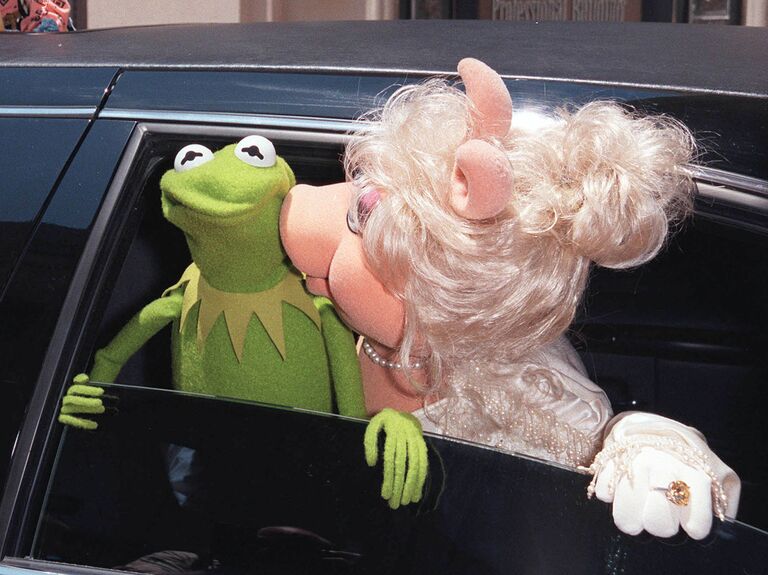 When you've been dating for nearly 40 years, your wedding is probably going to be a huge affair — which is just the way Miss Piggy wanted it. In the new Muppets movie, Muppets Most Wanted, Miss Piggy and her beloved Kermit decided to take the plunge and get married after dating for four decades, and the world's most fabulous pig told People all about her wedding day.
"This day, even more than most, was all about moi! A real shame you can only do this once, at least if you're doing it right," Miss Piggy told the outlet. Based on all of the details from she and Kermie's wedding, we're pretty upset we weren't invited.
The Guest List
"Yes, all the Muppets were there," says Miss Piggy. "Kermit insisted." The outlet also pressed for any celebrity guests. "Celebrities!" she responded. "Sweetie, if you weren't there, you got kicked of the 'official celebrities' list."
The Wedding Dress
Miss Piggy wore a beautiful custom made Vivienne Westwood Couture wedding dress, complete with a tiara, veil and elbow-length gloves.
The Wedding Party
Surprisingly, the couple decided to forego bridesmaids or groomsmen, according to People. "It was just Kermie and moi," Miss Piggy told the outlet. "That's the only party I care about. Oh sure, I want others there to witness the greatest moment in history. But at this point in our relationship, who needs a wingman?"
The Wedding Cake
It sounds like Miss Piggy's cake concerns were relatable to those of any bride. "I wanted a wedding cake that was a work of art that would symbolized Kermie and moi's love for each other. But mostly I wanted a cake with loads of chocolate and gobs of creamy white icing. It was art. Art you can eat – and that's the best kind," she said.
The Music
Even though Miss Piggy could have had the pick of any Grammy-winning artist she desired, she generously kept her reception band in the Muppet family. "I have so many musical friends – Céline Dion, Lady Gaga,Tony Bennett. So it's really strange that we went with Nicky Napoleon and His Emperor Penguin Orchestra. But they were good."
Want more? Right here!
10 signs your friend is jealous of your engagement
First look at Miss Piggy's wedding dress for muppet sequel