30 Thoughtful 25th Anniversary Gifts Worthy of the 25th Marriage Milestone
We've found traditional and meaningful anniversary gifts for any spouse or couple.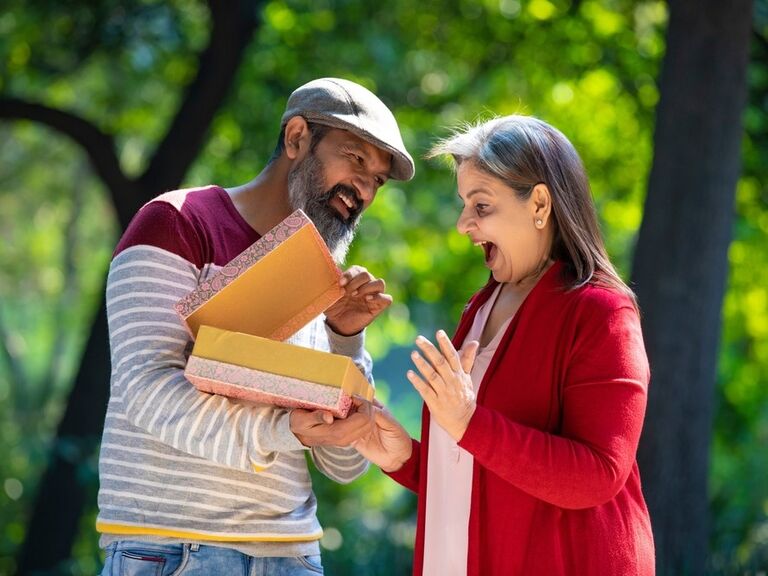 PRASANNAPIX / Shutterstock
We have included third party products to help you navigate and enjoy life's biggest moments. Purchases made through links on this page may earn us a commission.
Being married for 25 years is a pretty big deal and definitely a cause for joyful celebrations. Picking out a meaningful 25th anniversary gift for your spouse or the happy couple is a lovely way to mark the occasion and get them in the party mood. Whether you're looking for a traditional-themed gift or something more unusual, we're here to help you find a special present for your spouse or favorite duo. Our list covers a wide range of options, from sweet and sentimental gifts to practical, everyday items they can use year-round. Keep reading to learn more about what's traditionally known as the silver wedding anniversary.
In this article:
Traditional 25-Year Anniversary Gifts
The traditional 25th wedding anniversary material is silver, a shiny precious metal that represents the radiant love between two people in a long, happy marriage. It's also indicative of a strong, unbreakable bond forged by a couple who have been committed to each other for a quarter century. Silver is the 25th anniversary color, too, meaning your gift doesn't have to be made out of metal to fit the theme. If you want to honor tradition, we've found plenty of thoughtful 25th anniversary gifts for your wife, husband, friends or parents. From sterling silver jewelry to personalized art prints, our round-up includes something for everyone.
Silver Sheet Music Art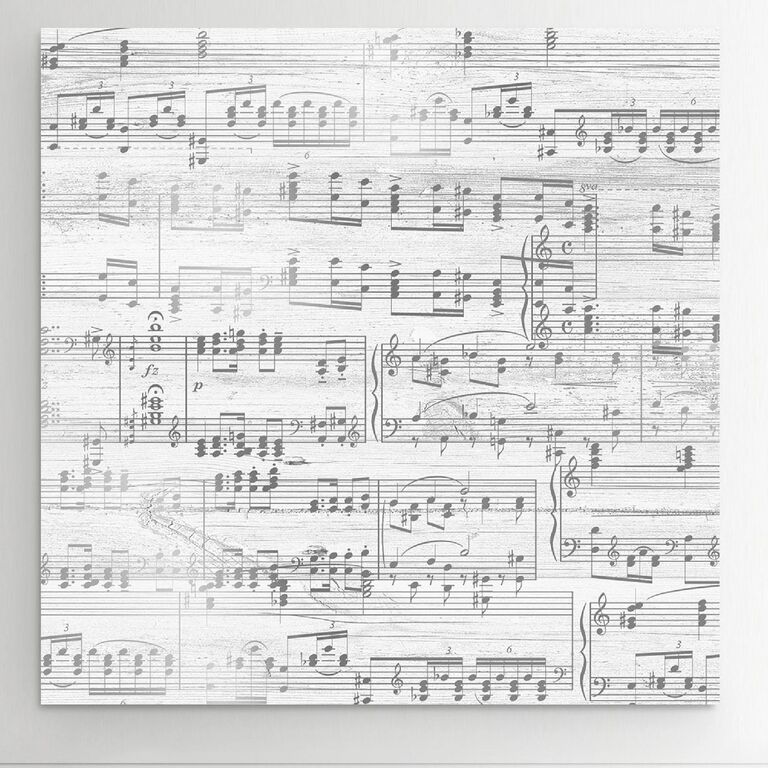 It's no surprise that some of the most meaningful gifts for the 25th anniversary are a throwback to the wedding day, like the moment you and your spouse had your first dance as newlyweds. Turning your first dance song into wall art is a lovely way to commemorate this special moment in your lives and decorate the home you share together. This printed canvas features the sheet music from your chosen tune printed in silver on canvas for a thoughtful take on the traditional 25th anniversary theme.
Custom Wall Art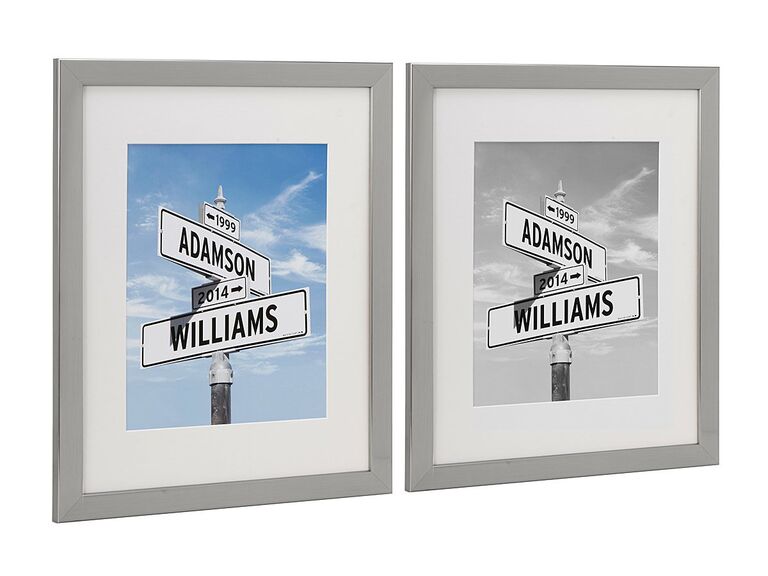 Celebrate how far you've come with a print that pays tribute to two important moments in your relationship: the year you met and the year you got married. This contemporary photo uses custom street signs to capture where your lives first intersected, marking the start of your romantic journey together. It's framed in the year's traditional silver color for a stunning 25th anniversary gift you'll both be happy to show off.
Personalized Silver Memento Tray
If you're looking for a special silver anniversary gift for your parents or married friends, this elegant silver tray fits the bill. It's engraved with their names, wedding date and a 25th anniversary motif for a milestone-worthy keepsake they'll cherish forever. Pair it with a metal support easel so it's ready to display on their hall table or in their dining room hutch.
Symbolic Sterling Silver Bracelet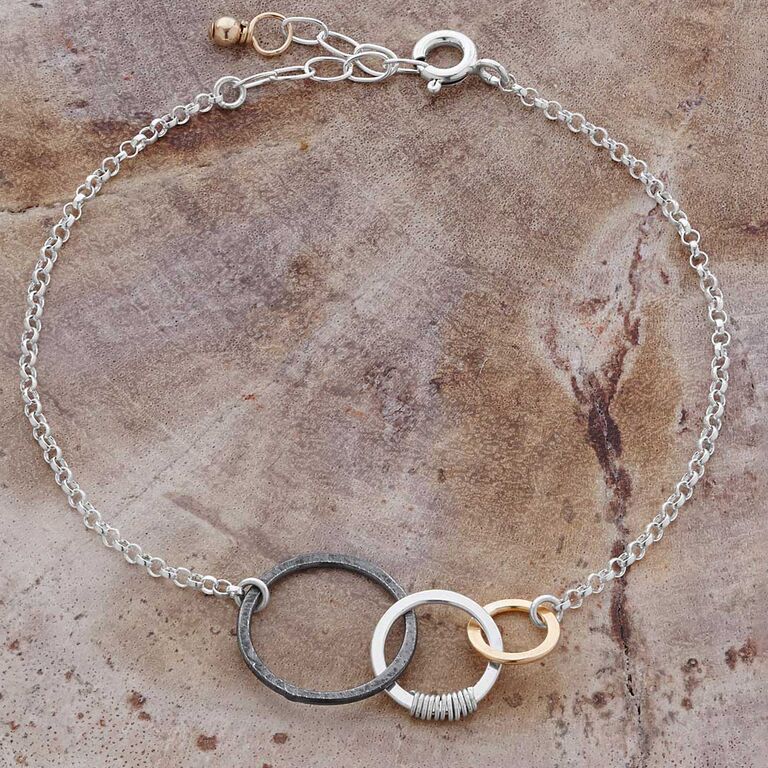 This sterling silver bracelet isn't just a beautiful accessory; it also symbolizes the passage of time. The three interlocking rings represent the past, present and future to encourage wearers to live in the moment. It's a unique 25th anniversary gift that'll remind your spouse to celebrate every day you spend together and to look forward to the ones still to come. Pair it with a matching necklace for an elegant combo they can rock with every outfit.
Silver Pavé Eternity Ring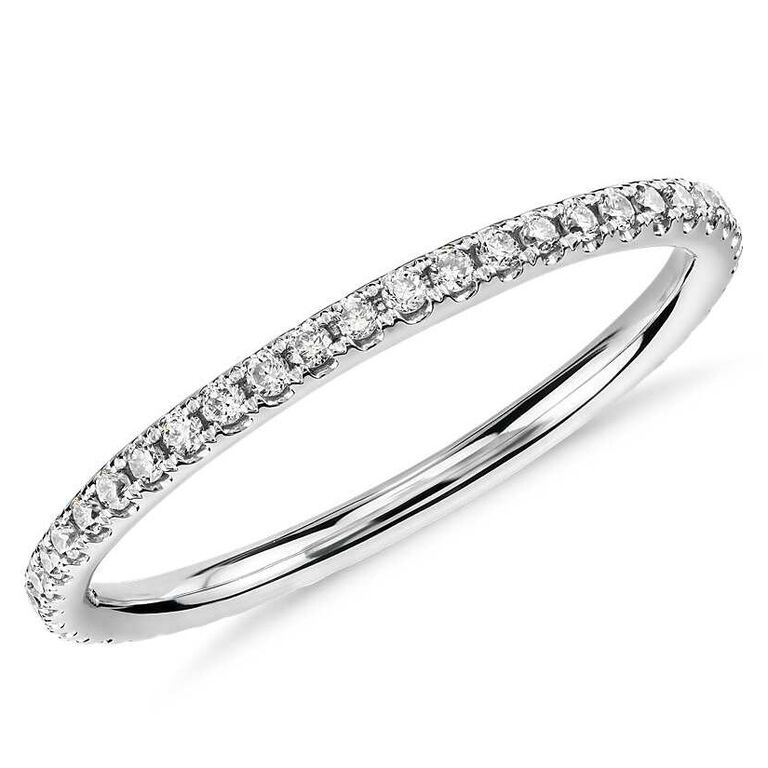 If your wedding day was the last time you gave your partner a ring, it might be time to treat them to some new bling. This sparkling eternity ring is made from micropavé diamonds and white gold or platinum for a silvery finish. Whether they wear it alongside their wedding band and engagement ring or on another finger, they'll be dazzled by your love all over again. With a gesture this grand, don't be surprised if your spouse sheds a happy tear or two.
Stainless Steel Watch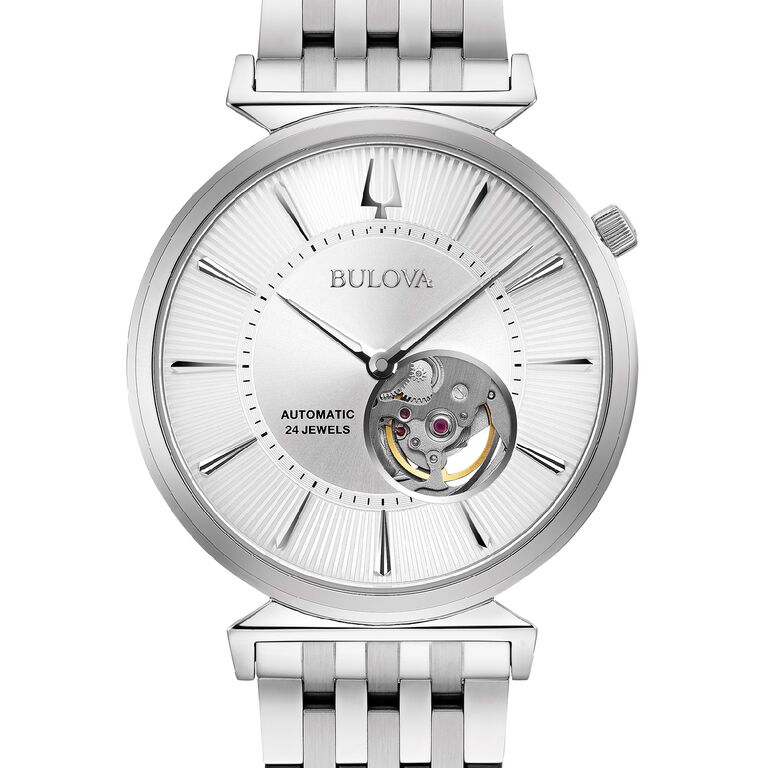 Watches are a beautiful way to commemorate all the time that has passed—and 25 years is a long time. Splurge a little on your spouse's gift with this sophisticated watch from Bulova. It boasts a stainless steel band and an open aperture silver dial for an on-theme accessory they'll be wearing for the next 25 years. Even better, the exhibition back offers a glimpse into the intricate inner mechanisms, which is bound to please anyone who likes to see how things work.
Personalized Anniversary Material Art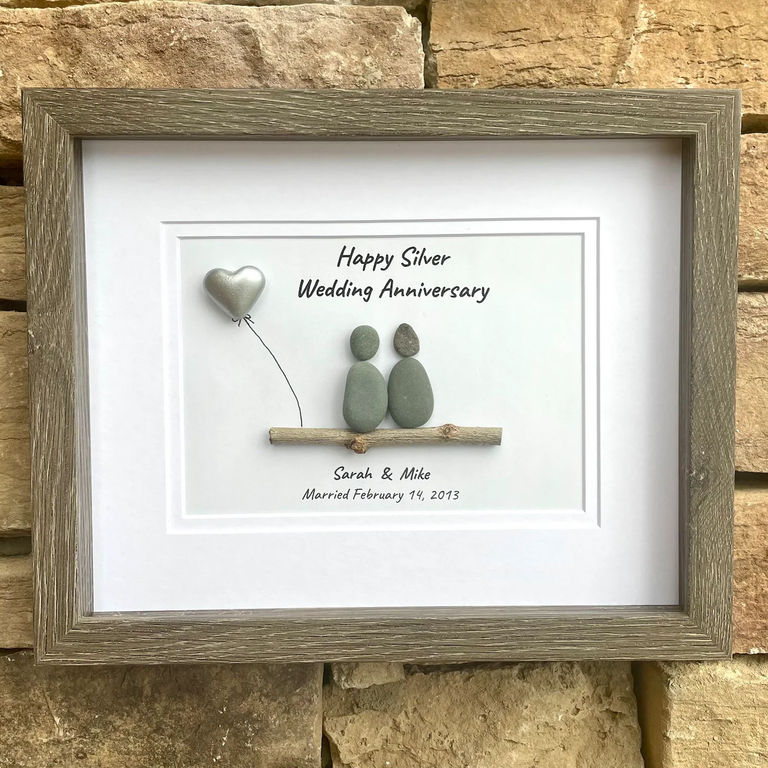 If you're shopping for a couple who appreciates handmade art, this personalized gift ticks all the right boxes. In the center, two pebble figures appear on a wooden twig under a message reading "Happy Silver Wedding Anniversary." The silver heart-shaped balloon reflects the 25th anniversary material and brings a touch of romance to the scene, while the lovebirds' names and wedding date appear underneath the branch. It's a thoughtful and charming tribute to a couple who have loved and supported each other for a quarter century (and counting).
Silver Key Pendant Necklace
Let your spouse know they still hold the key to your heart with this sterling silver necklace. It features a dainty key pendant engraved with the word "Love" to remind them of the love they give and receive. Sweet yet simple, this 25-year anniversary gift will leave your partner in no doubt about how much you adore them.
Monogrammed Silver Ice Bucket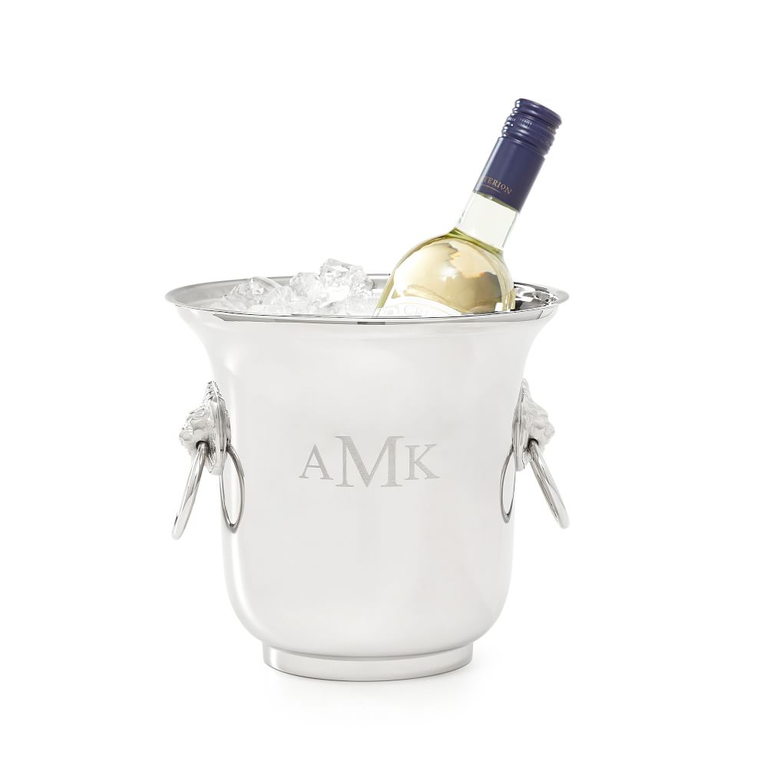 With such a big marriage milestone to celebrate, it's probably time to crack open a bottle of bubbly. If the lucky couple likes to indulge in a glass of fizz or two, this silver-plated ice bucket will bring stylish service to the party. The laser-engraved monogram adds a sophisticated touch for a practical and pretty gift they'll use for every big occasion.
Silver Metal Soundwave Art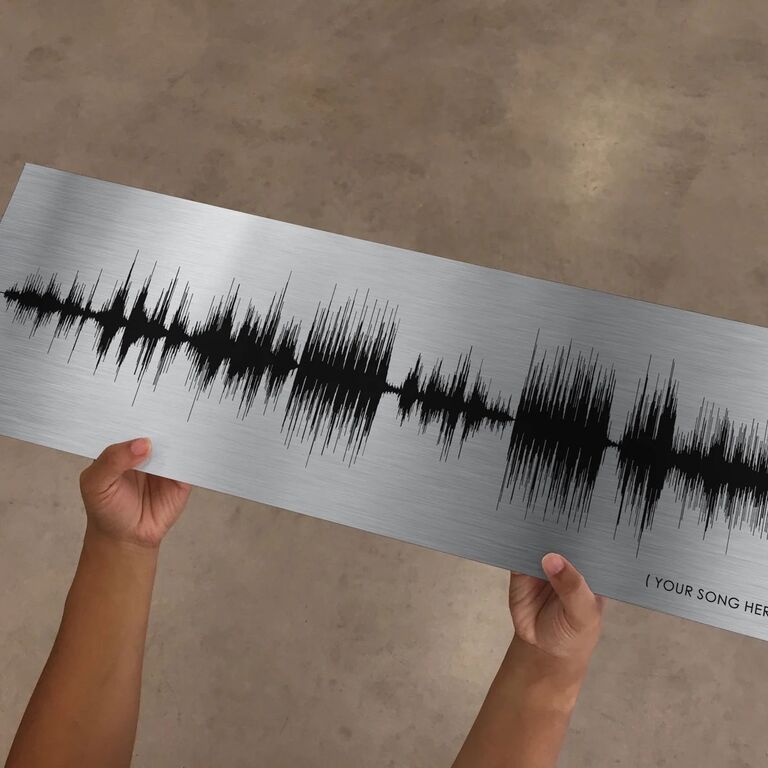 Listening to music is strongly associated with memory and reliving some of life's precious moments. While this silver-toned aluminum wall art doesn't actually play music, it's modeled off the soundwaves of your favorite song. Whether it's the track that was playing when you first met your spouse or a tune from your wedding, this sentimental piece is a unique way to celebrate your musical tastes.
Silver Cutlery Set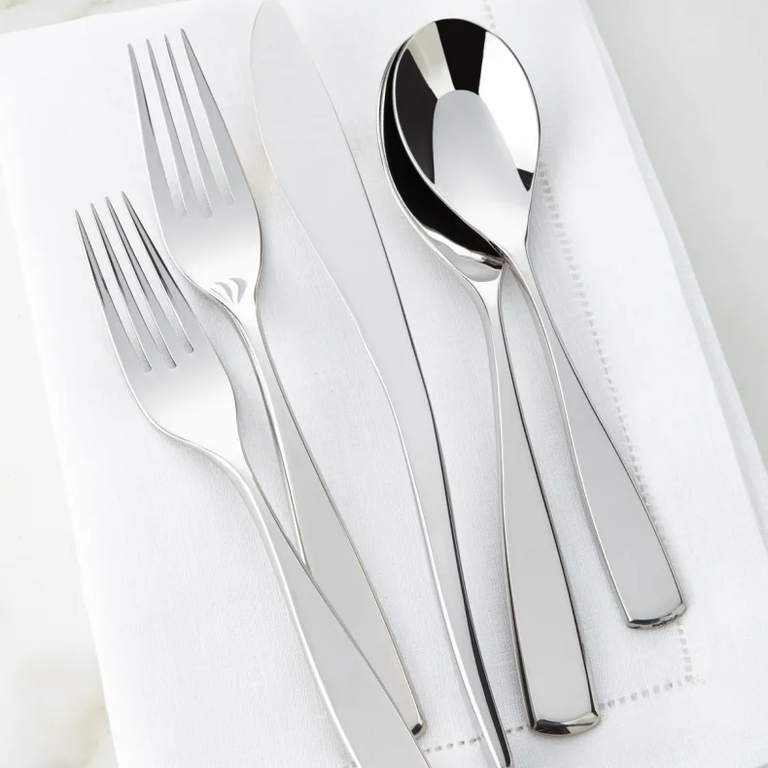 After dining together for 25 years, it may be time to upgrade the lucky couple's silverware. Elegant and timeless, this 45-piece cutlery set is made from hardwearing stainless steel and will make any tabletop sparkle and shine. It includes eight five-piece place settings (salad fork, dinner fork, dinner knife, teaspoon and place spoon) along with a five-piece serving set (serving spoon, cold meat fork, pierced serving spoon, butter knife and sugar spoon). It'll make any home-cooked meal feel like an occasion worth celebrating.
Novelty Cuff Links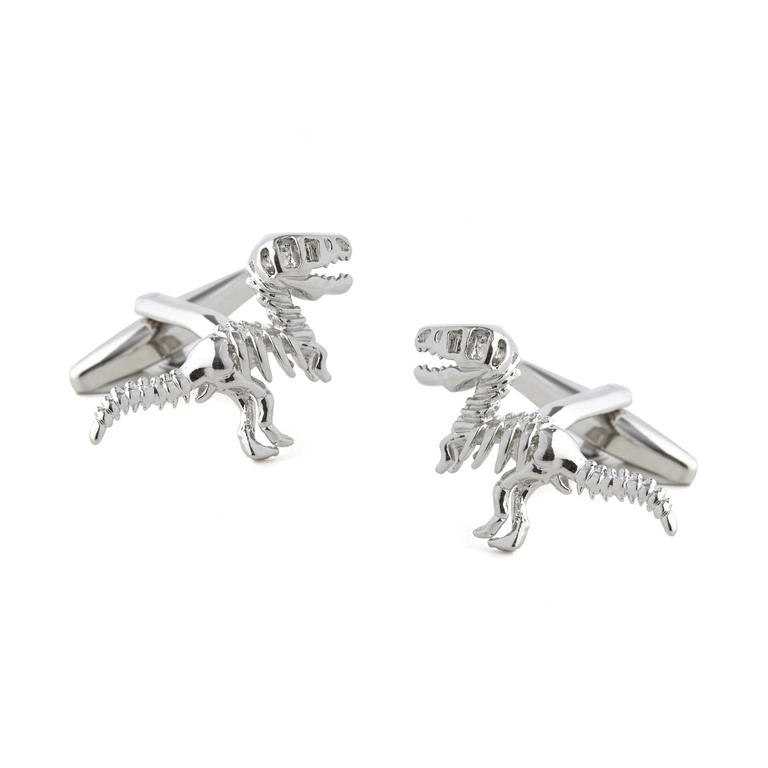 If your spouse is always goofing around, a funny anniversary gift is a great tribute to their sense of humor. These silver dinosaur cuff links are made for someone who doesn't take life too seriously and are bound to elicit a cheeky chuckle (or maybe even a roar of laughter) from your light-hearted love. They'll add a playful touch to a simple shirt and will draw plenty of compliments at their next work event or family celebration (like your 25th anniversary party, perhaps).
Silver Ring Carving Kit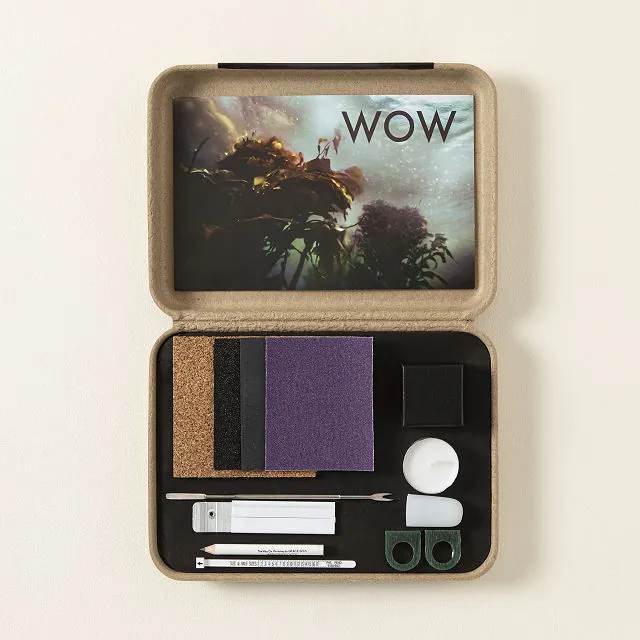 While buying jewelry can be very romantic, what about actually making it? If your spouse has a creative side, they'll love this ring carving kit. It comes with everything they need to make their own piece of jewelry, including a link to an online instructional video, a ring sizer, a tealight, carving tools, sandpaper and a finger cover. Once they've shaped their wax ring, they can send it to the artist's studio, where it'll be cast in sterling silver according to their specifications. Cool, right?
Silver Hoop Earrings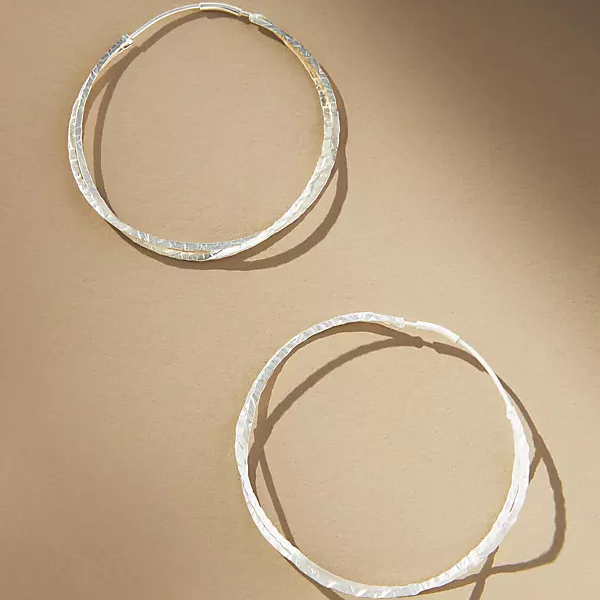 Simple hoop earrings never go out of style and are an easy way to elevate any outfit. If your spouse favors these types of classic accessories, we've found an elegant pair that won't break the bank. These twisted silver-colored hoops are made from iron and are very lightweight, making them a suitable choice for everyday wear. They're a thoughtful, 25-year anniversary gift you won't have to jump through hoops to get your hands on.
Personalized Silver Wind Chime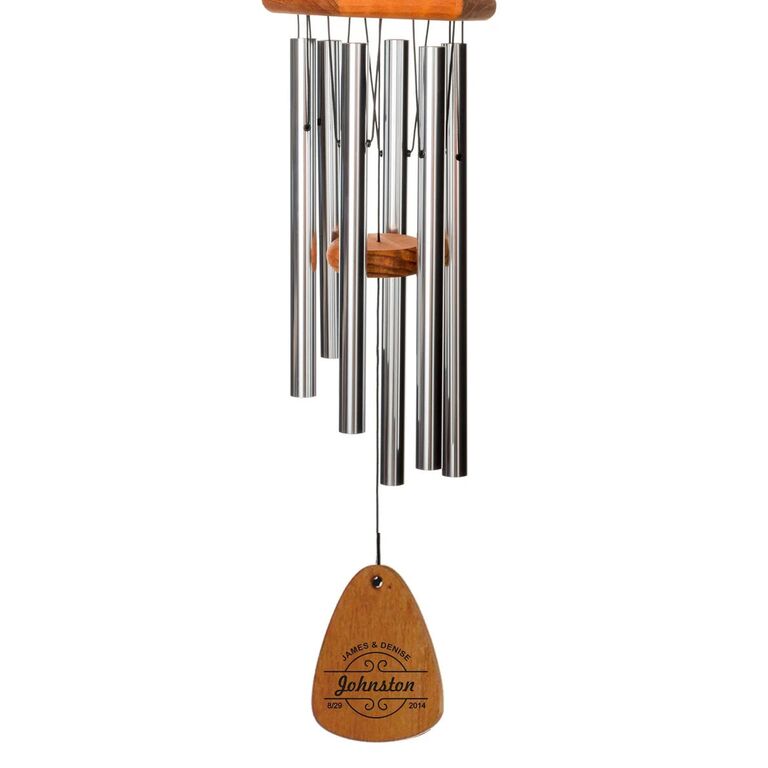 Liven up the couple's outdoor space with a silver wind chime that'll jingle whenever the wind blows. This one can be personalized with their names and wedding date on an American redwood pendant. The hand-tuned anodized aluminum tubes create a beautiful display and sound for a traditional 25th wedding anniversary that's simple yet thoughtful.
Unique 25-Year Anniversary Gifts
If you're not taking a shine to silver-themed presents, we've got a few more unique anniversary gift ideas to share with you. You could take inspiration from the 25th anniversary flower, the iris, to surprise someone who appreciates pretty blossoms. This striking purple flower symbolizes faith, hope and admiration, making it a fitting tribute to a love that's bloomed over 25 years. Alternatively, you can say goodbye to the themes altogether and take an alternative route to find the perfect 25th anniversary gift. Whatever way you decide to go, we're here to guide you through the shopping process.
Beach Sand Bracelet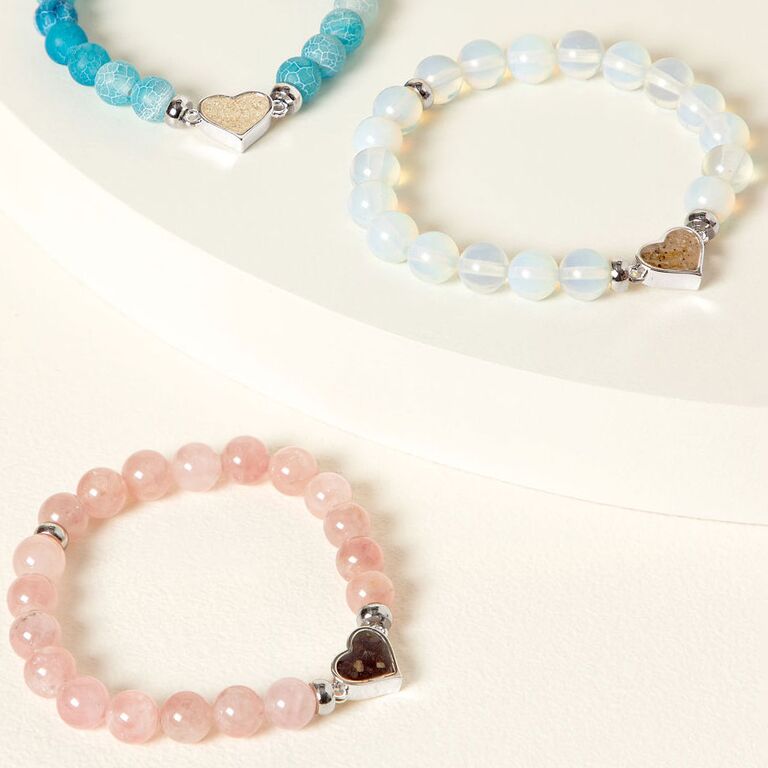 If you married a beach lover, give them an elegant accessory made with sand from their favorite shoreline. This beaded bracelet features a sand-filled heart that can be personalized with grains you've collected yourself. Whether you use sand from where you got married or holidayed together, this unique 25th anniversary gift will bring them back to the beautiful ocean.
Once-in-a-Lifetime Experience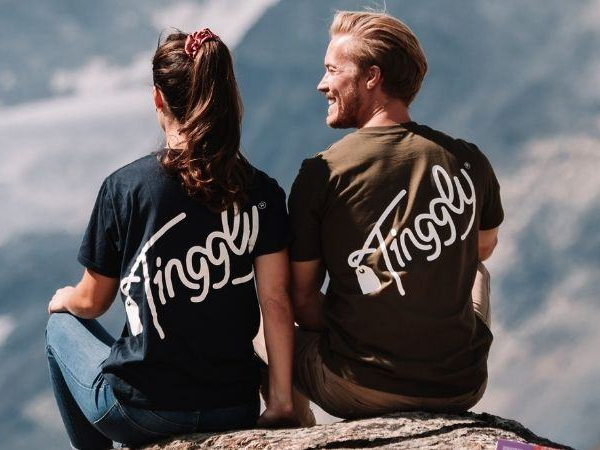 After being married for 25 years, we think the happy couple deserves a special vacation. Whether you're treating your spouse or parents to a surprise trip, Tinggly's "Happy Anniversary!" gift will ensure they have an incredible time. They can choose from more than 800 two-person experiences in over 100 countries, from guided city tours to vineyard wine-tasting sessions and so much more. Whatever they decide to do, they'll have a blast making new memories and seeing new places.
Custom Reel Viewer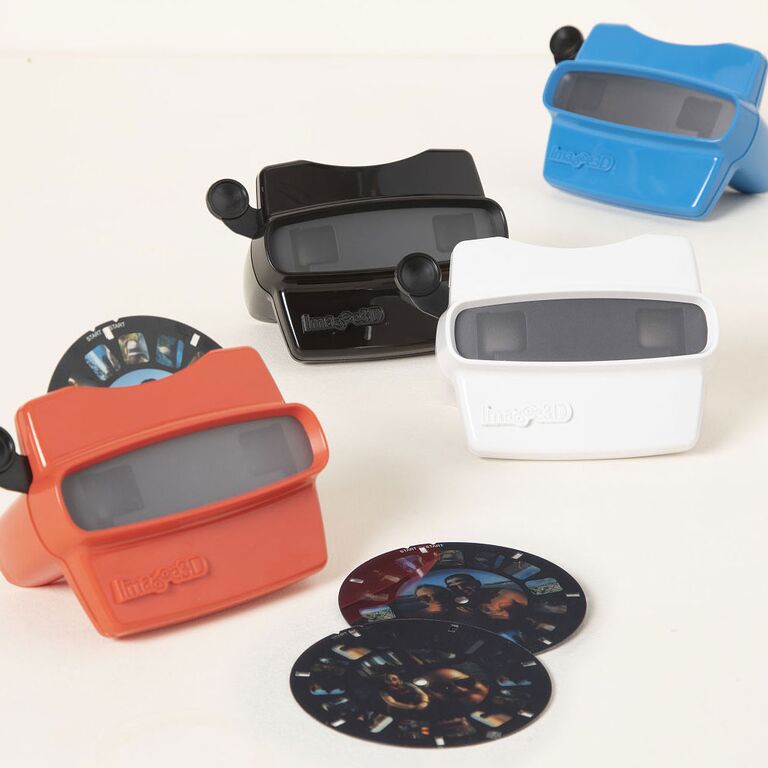 Looking for a unique photo gift that isn't a standard printed album? This reel viewer isn't just a fun way to reminisce on the last 25 years—it's also a throwback to the beloved children's toy. Choose your favorite memories of you and your spouse to create a reel, then pop it in the viewer for a gift of endless enjoyment and nostalgia. It's a sweet, sentimental gift that'll have you traveling down memory lane and marveling at all the great moments you've shared.
Personalized Decanter Set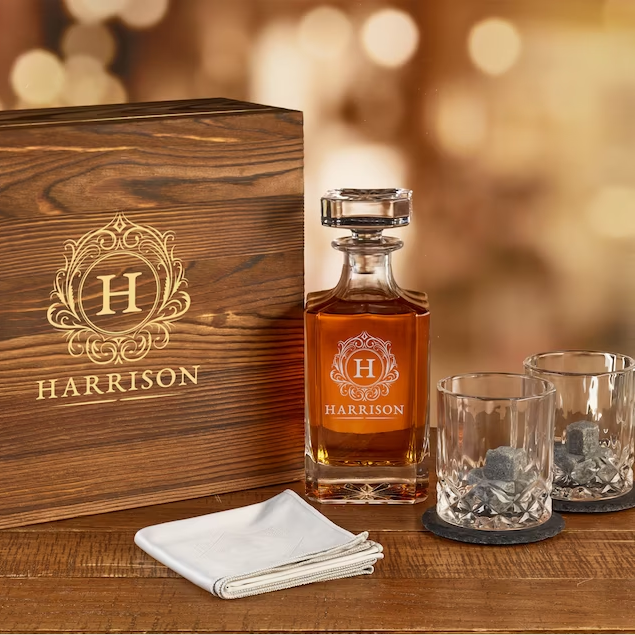 Toast to the 25th anniversary in style and get the celebrations underway with this personalized decanter set. The beautifully presented wooden box contains a glass decanter, two whiskey glasses, two coasters, a set of eight whiskey stones and a polishing cloth to keep everything in top condition. It's an excellent gift for anyone who loves sampling different whiskeys or rounding off a busy week with a little nightcap. If you're really out to impress, add a bottle of their favorite bourbon so they can try out their new glassware straight away.
Electric Pizza Oven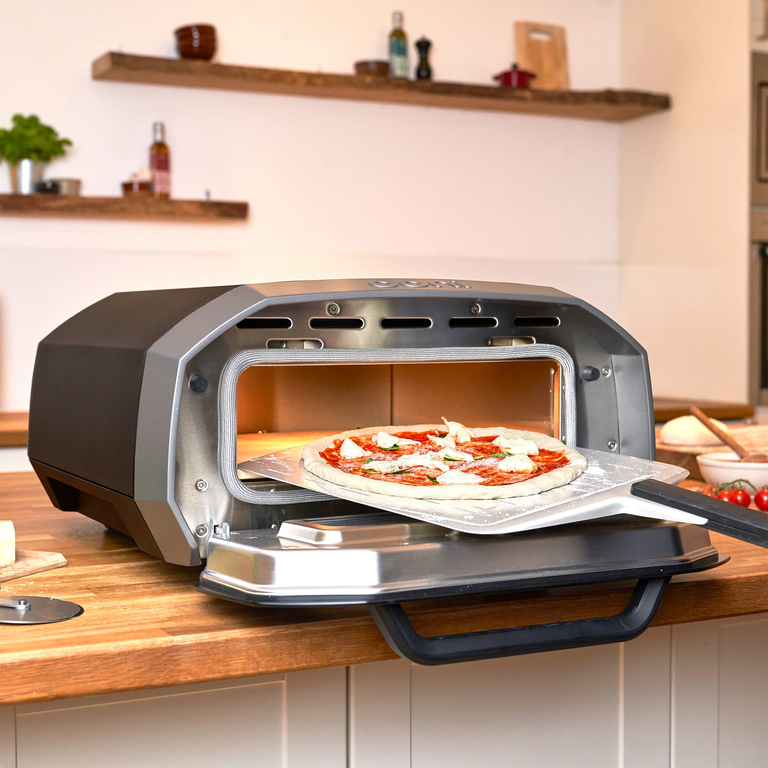 The 25th anniversary only comes around once, so it's understandable if you want to splurge to mark the occasion. Ooni's electric pizza oven is a worthy investment, especially if you and your spouse love making your own pizza. Suitable for indoor and outdoor use, it features heating-retaining glass, adjustable dials and a built-in timer to help you fire up the perfect pizza every time. All you have to do is preheat it for 20 minutes before cooking fresh stone-baked pizza in as little as 90 seconds. Yum! The brand also offers wood-fired and multi-fuel ovens at a lower price point if you're on a budget.
Personalized Metallic LP Record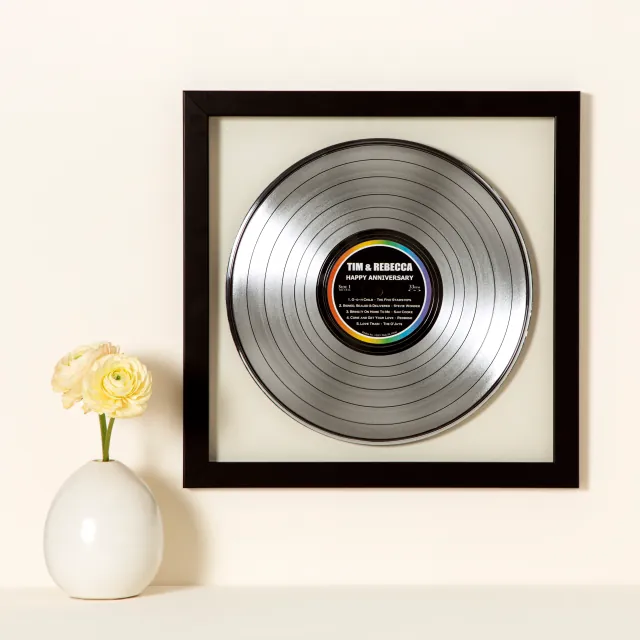 If you're shopping for a music-mad partner or couple, this personalized LP record is bound to be a smash hit. It's made from a recycled vinyl record that can be customized with their names and up to five of their favorite tracks for a retro-inspired anniversary gift that'll top the charts. Choose from two metallic options of gold or silver-toned platinum as a nod to the 25th anniversary color.
Self-Dimming Bedroom Light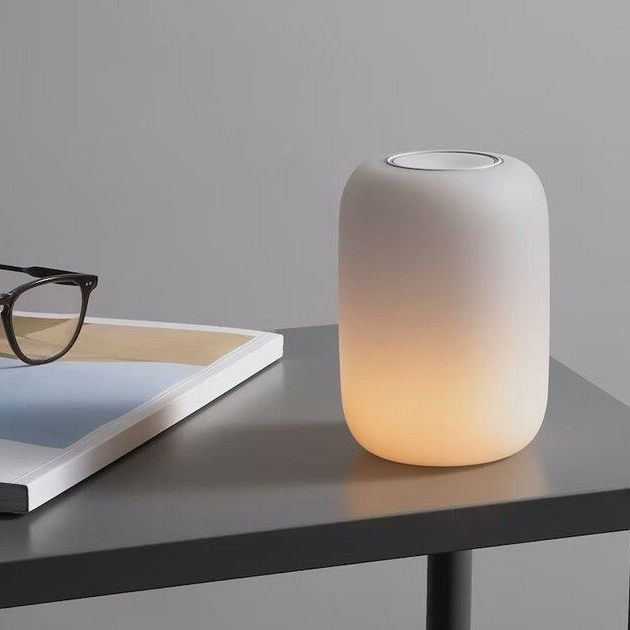 Practical gifts can be as sweet as romantic ones—especially if they improve the length and quality of their sleep. The Casper Glow Light is a must-have gadget for the bedroom, emitting a warm glow that gradually dims and brightens so your partner can drift off and wake up easily. It's also app-compatible so that they can schedule waking times tailored to their schedule. They'll appreciate your commitment to helping them slumber soundly and dream deeply.
Iris Coffee Mug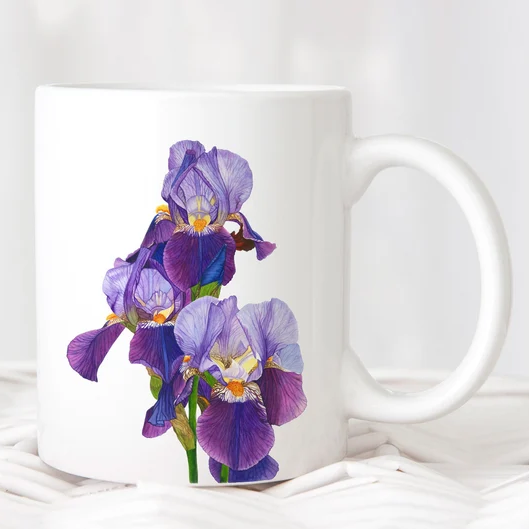 You don't always have to blow the budget to find a meaningful gift for your other half. Sometimes a simple gesture is the sweetest way to show appreciation for all they do for you. This pretty floral mug takes inspiration from the 25th anniversary flower, the iris, which signifies faith and admiration. You can have it personalized with your partner's name or a heartfelt message for a thoughtful finish. Use it to serve them coffee on the morning of your 25th wedding anniversary for a gift that's extra sweet.
Portable Drinks Cooler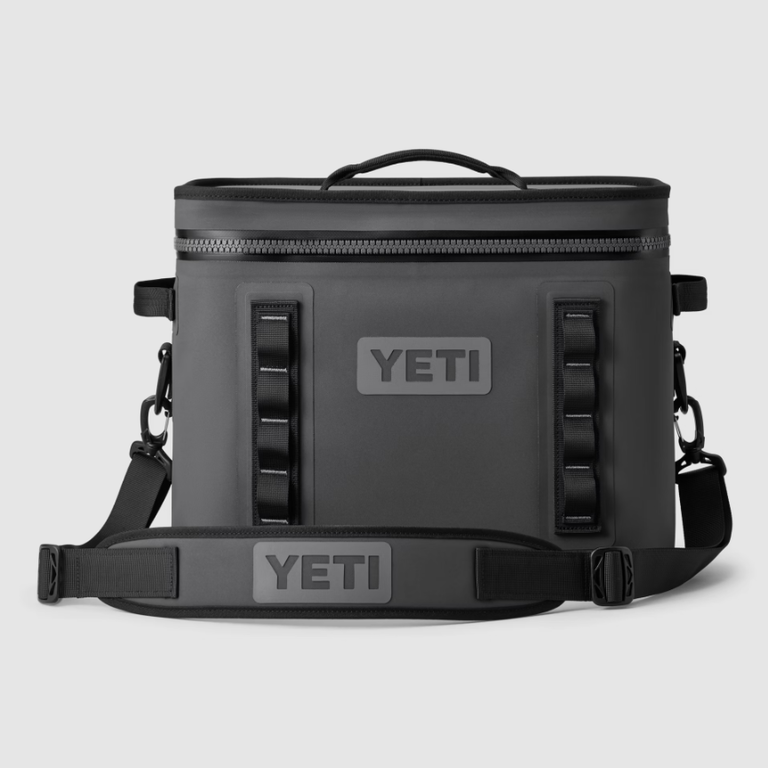 Shopping for an outdoorsy spouse or couple is no longer a chore, thanks to YETI's range of portable coolers. This soft drinks cooler can fit up to 18 cans of beer or soda and is ideal for anyone who takes regular camping trips or mountain hikes. The long shoulder strap makes for easy carrying, while the insulated rubber walls keep drinks cold for ages. Our prediction? They'll love it so much that they'll start planning a romantic excursion to test it out right away.
Leather Crossbody Bag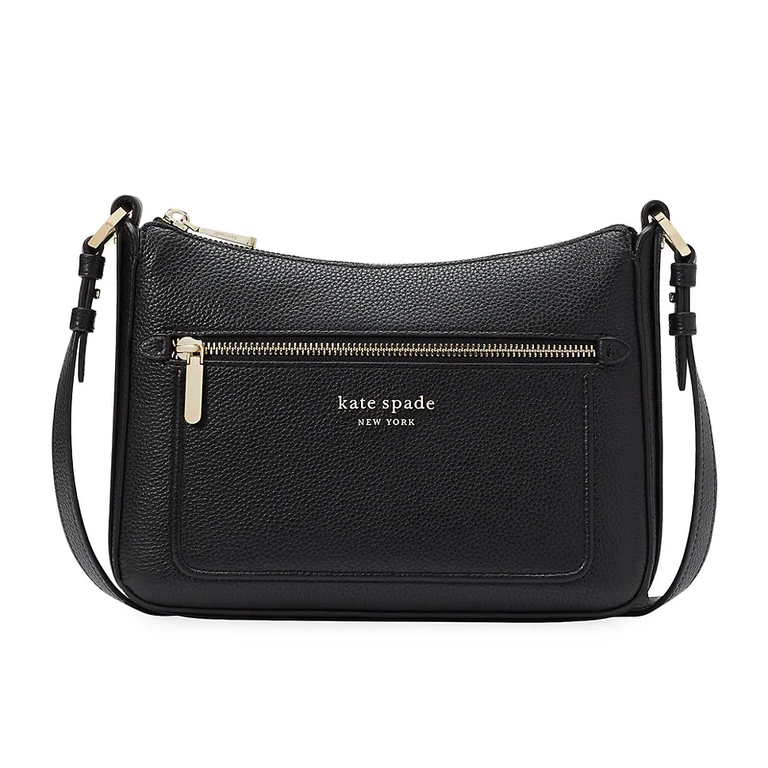 If you're shopping for a spouse who values practicality and style, this classic crossbody bag from Kate Spade will win them over. This little number is crafted from pebbled black leather finished with contrasting gold details for a timeless accessory they'll wear for years. It has a top zipper closure, two interior pockets and a long crossbody strap that's perfect for out and about. To score some extra brownie points, stash a secret surprise inside, like a piece of jewelry or tickets to their favorite show.
Personalized Embroidered Blanket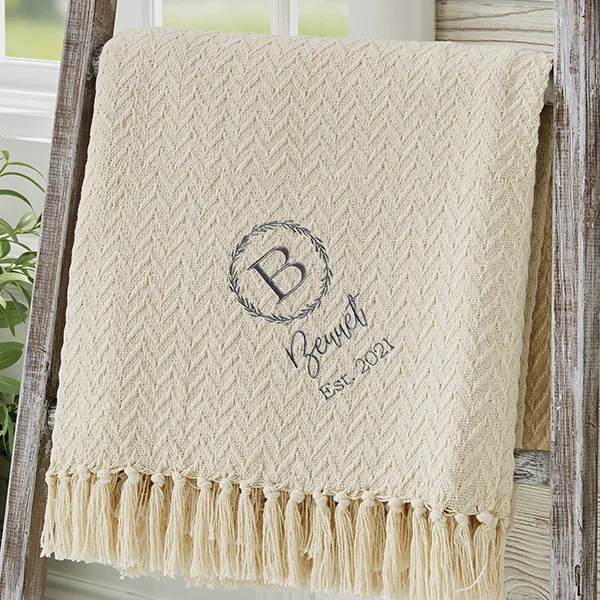 Personalized gifts are always a win, especially when you're commemorating a significant milestone like the 25th wedding anniversary. This gorgeous cream blanket is woven from 100% cotton that can be embroidered with the couple's monogram for a thoughtful touch. You can also add their wedding date or a short personal message wishing them well. Choose from a variety of colored embroidery threads to make this meaningful motif really pop.
Musical Anniversary Clock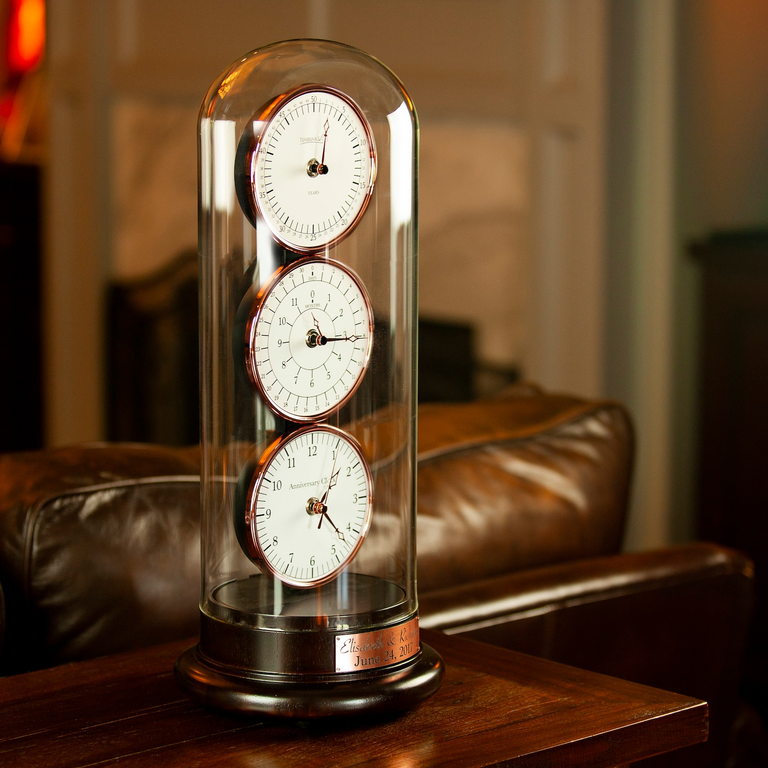 This personalized anniversary clock is a sentimental gift worth splashing out on. Whether you're gifting your spouse, parents or married friends, this special timepiece will blow them away. It has three round dials that count the years, months, days, hours, minutes and seconds since the wedding day—but that's not all. Every year on the anniversary date, it plays the couple's favorite song thanks to a built-in MP3 player. Have the plaque engraved with their name and wedding date for a stunning 25th anniversary gift they'll always treasure.
Designer Men's Belt
If you're married to someone who loves expressing themselves through fashion, a designer belt is a 25th anniversary gift they'll want to wear. This black leather one from Versace features a gold plaque buckle with the brand's logo for a statement accessory that'll elevate even the plainest pair of jeans. Choose from seven different waist sizes to ensure the perfect fit for your stylish spouse.
Organic Cotton Bedding Set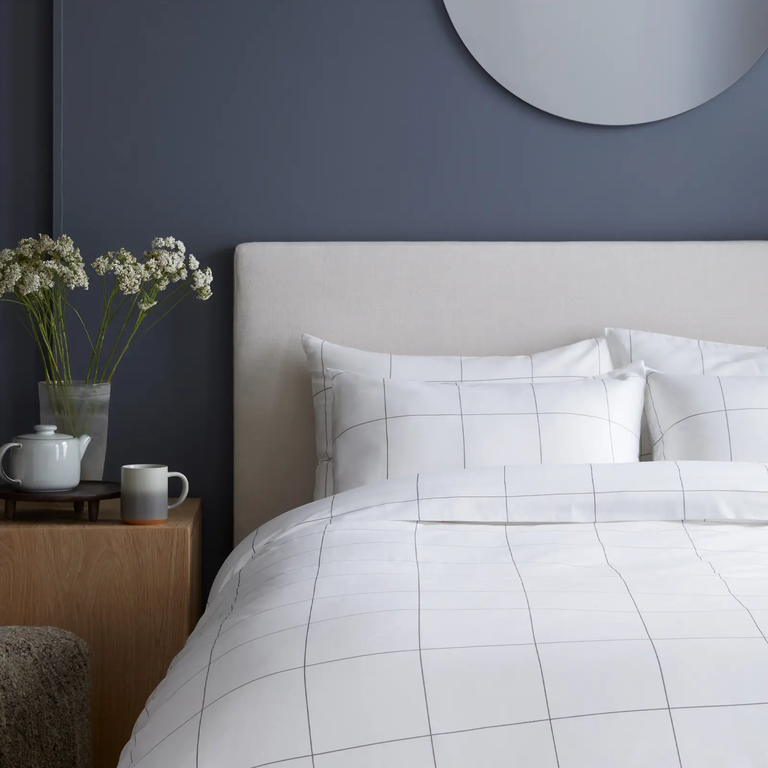 Any gift that promotes a good night's sleep is a winner in our book, which is why we love this stylish bedding set from Quince. Made from organic cotton, it includes a duvet cover, two shams, a flat sheet, a fitted sheet and one or two pillowcases, depending on the size. The soft sateen finish makes these sheets a dream to sleep on, which is sure to please anyone who loves sleeping in on the weekends. We love the classic windowpane pattern, but the set also comes in various solid colors, so you can pick a style that suits your bedroom scheme.
Roses and Strawberries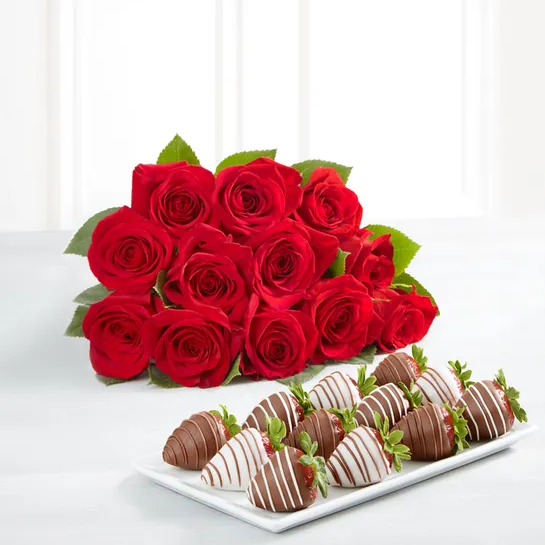 Red roses are synonymous with romance, but why not take things up a notch by adding some sweet, drizzled strawberries? This delightful combo includes a bouquet of a dozen roses (or more) paired with delicious chocolate-dipped strawberries for a partially edible anniversary gift that'll wow your spouse. There's even an option to add a clear vase so they can display their pretty red blooms immediately.