27 Bridesmaid Robes Your Squad Will Love (And Definitely Wear Again)
Hello, Insta-worthy getting-ready photos.
We have included third party products to help you navigate and enjoy life's biggest moments. Purchases made through links on this page may earn us a commission.
In the hours before your ceremony, you'll create lasting memories with your wedding party. It's also when your photographer will capture those getting-ready shots that you'll cherish forever (and 'gram repeatedly). If you're looking for matching outfits to unite your crew, bridesmaid robes are a classic choice. First, they're easy to take on and off—preserving your party's freshly done hair and makeup. Wedding robes also make excellent (and actually useful) bridesmaid gifts—especially if they're as comfy and chic as these ones.
Before we dive into our picks, we're sharing the top places to shop for robes for your besties. Then, check out our favorite functional bridesmaid robes for every style and season, from super-soft satin wraps to warm flannel cover-ups. And don't forget to buy yourself a bridal robe while you're at it—bride and bridesmaid robes go hand in hand!
In this article:
The Best Places to Buy Bridesmaid Robes
Shopping online for bridesmaid robes? With so many styles, colors and fabrics on the market, the options can get overwhelming. To make finding the dreamiest robes easier, we've done the research so you don't have to. Read on for our go-to places to buy wedding party robes for your entire crew.
The Knot Shop: The Knot Shop, our e-commerce store, offers luxurious and affordable satin bridesmaid robes, all under $25. Whether you picture your BFFs in solid colors or floral prints, you'll find cute, photo-ready styles that are all personalizable with their name, monogram and more.
Etsy: Etsy carries one of the largest selections of bridesmaid robes in so many styles, fabrics and hues—all while supporting small businesses. For your convenience, some shops sell bridesmaid robe sets in bulk at a discounted rate, which is especially useful if you have a large wedding party.
Birdy Grey: With satin and velvet options, Birdy Grey offers a lovely collection of floral and solid-colored bridesmaid robes. You can choose your favorite from a rainbow of dreamy hues, plus you'll be impressed with their personalization options and inclusive sizes, which range from XS to 3X.
The Best Bridesmaid Robes in Every Style
There's nothing like bridesmaid robes to make your besties feel glamorous. We've gathered the best wrap styles, from luxurious silk and shiny satin to cozy cotton and timeless lace. Keep reading to get inspired, then shop your favorites.
1. The Knot Shop Women's Personalized Embroidered Floral Satin Robe with Pockets in Light Blue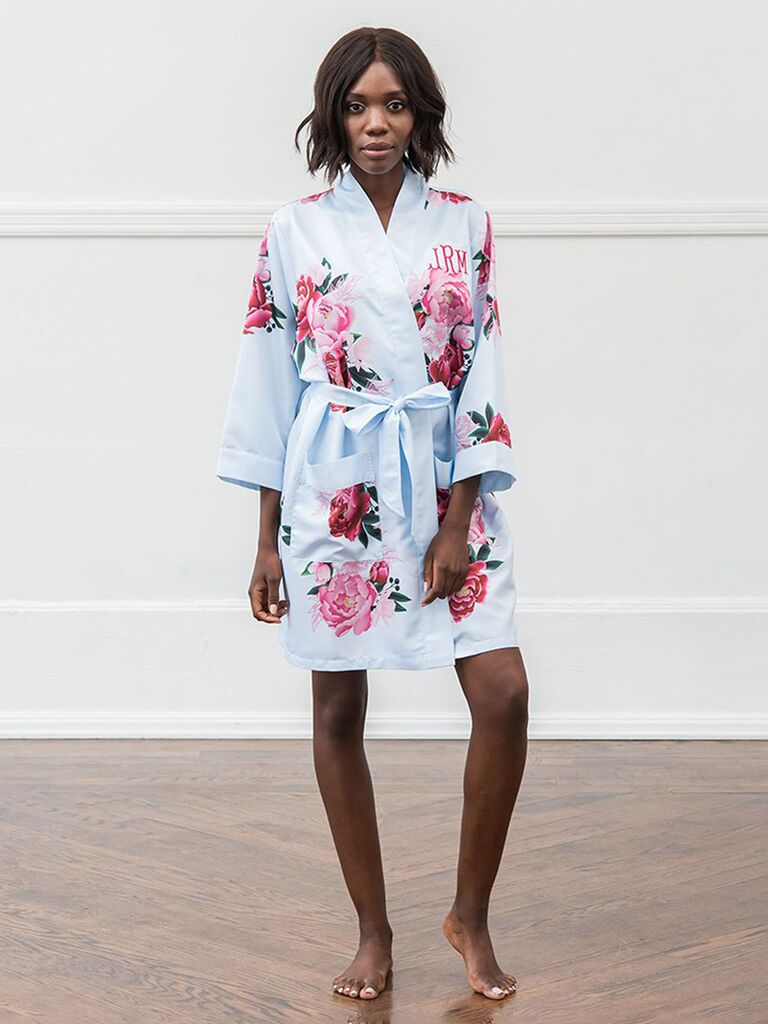 Searching for bridesmaid getting-ready robes that are comfortable and stylish? These floral satin wraps are loose-fitted and have working pockets, plus they can be monogrammed with each bridesmaid's initials in the thread color of your choice. The robes come in sizes XS to 4XL, and there's a matching flower girl robe.
2. Champagne Bubbles Shop Plus-Size Lace Bridesmaid Robe in Violet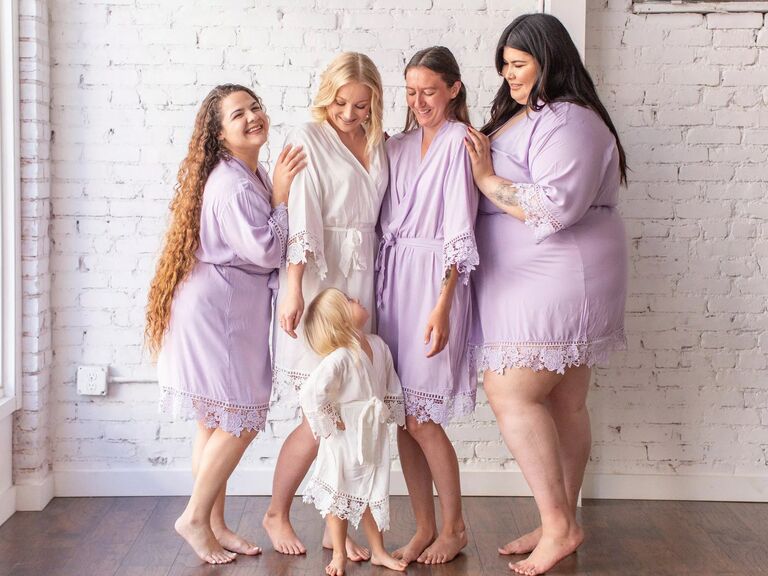 If you're looking for a cost-effective option, these chic bridesmaid robes are right up your alley. The super-soft robes feature a lovely V-neck design and intricate lace accents. They're bound to leave all your bridesmaids (and your flower girl) feeling their best before the ceremony.
3. Hill House Home The Drew Robe in Bubblegum Gingham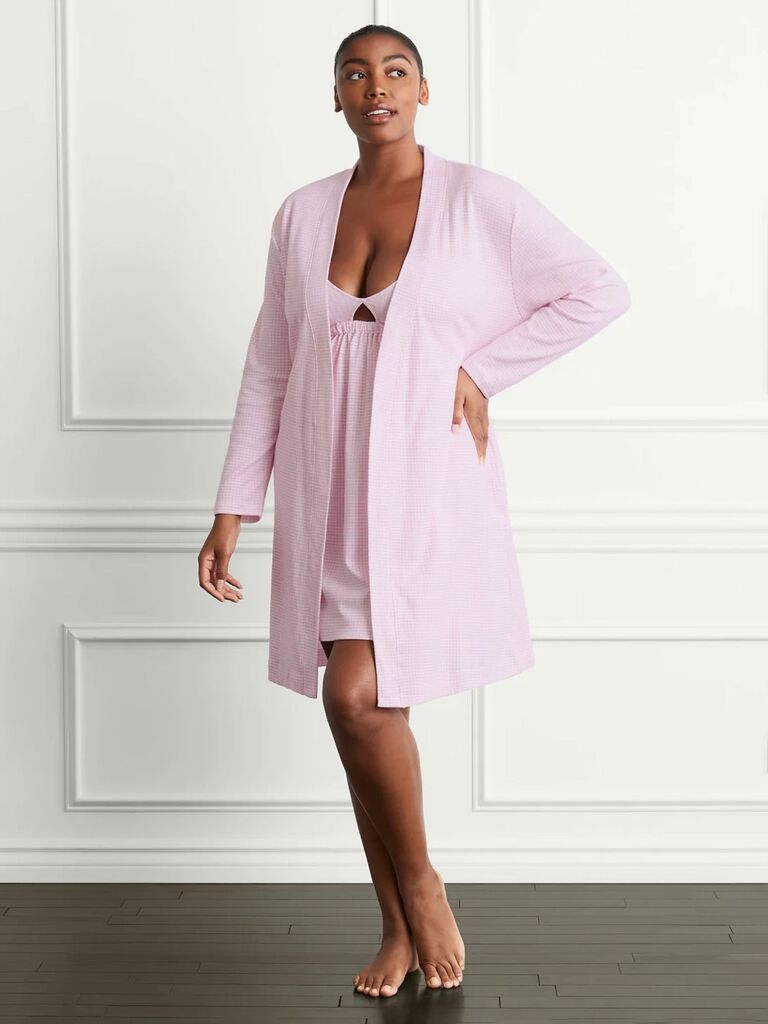 You can't go wrong with classic cotton; the material is comfortable, breathable and gentle on sensitive skin—making it ideal for hours of lounging. Your besties will love lounging in this ultra-cozy pink gingham robe. Made from 100% lightweight organic cotton, it's perfectly suitable for prewedding festivities and casual postwedding wear. You can even add their monogram to make it extra-special.
4. Pretty Robes Shop Bridesmaid Satin Robes in Champagne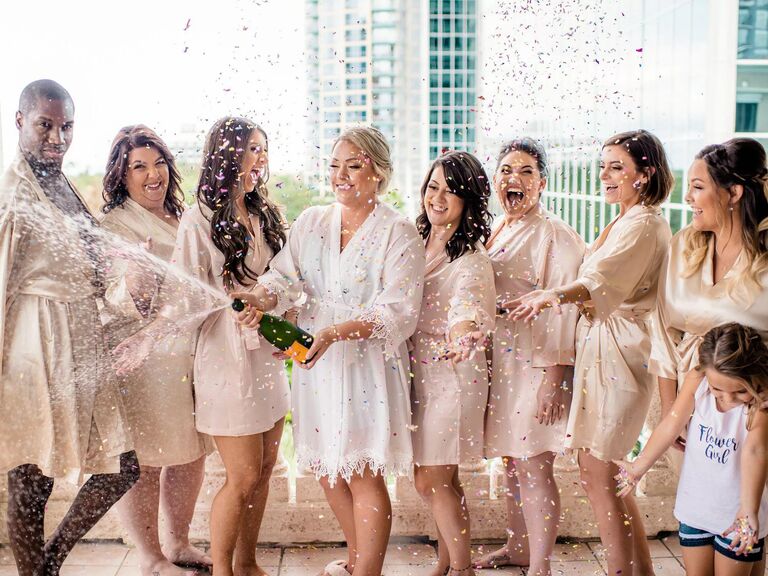 What can we say? These satin bridesmaid robes are too cute to handle. They're available in 27 shades—including Hot Pink (hello, Barbiecore), Champagne and Tiffany Blue—so you'll definitely find a style that suits your color scheme. Choose from a range of youth and adult sizes.
5. Mod Party Tropical Bridesmaid Robe in Leaf Print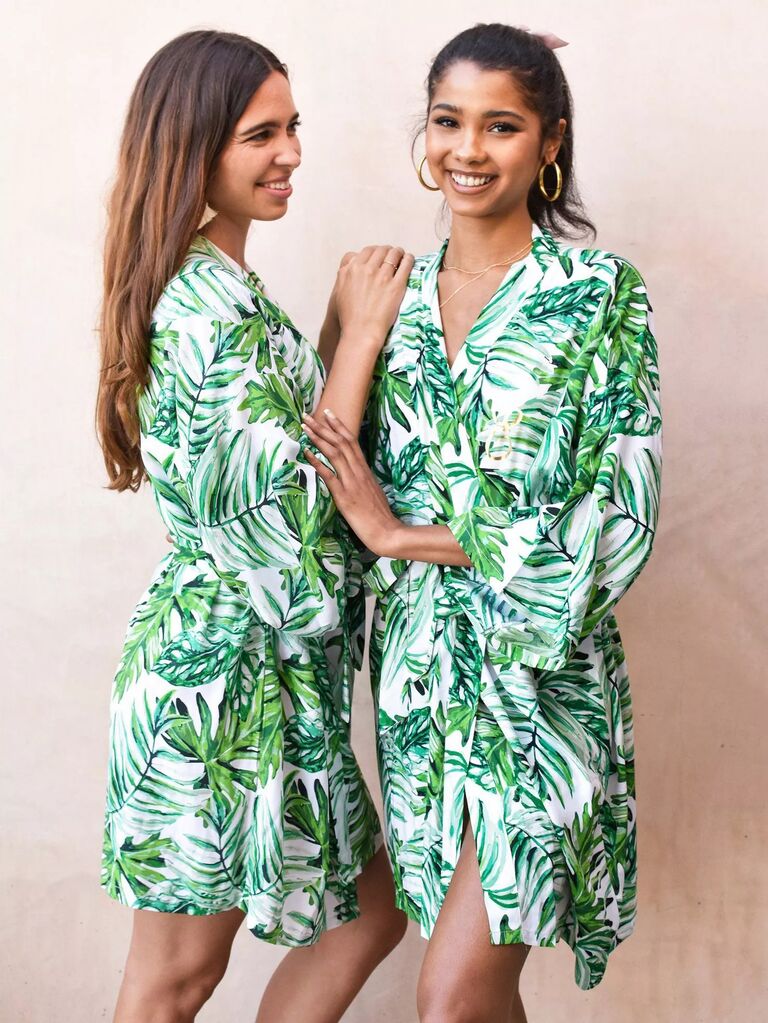 Hosting a tropical destination wedding? Look no further than these palm-pattern cotton bridesmaid robes, available in standard and plus sizes. You can customize them with each attendant's first initial in stunning gold foil. Your best gals will look beach-ready in these unique getting-ready robes.
6. The Knot Shop Women's Personalized Embroidered Fleece Robe with Pockets in Navy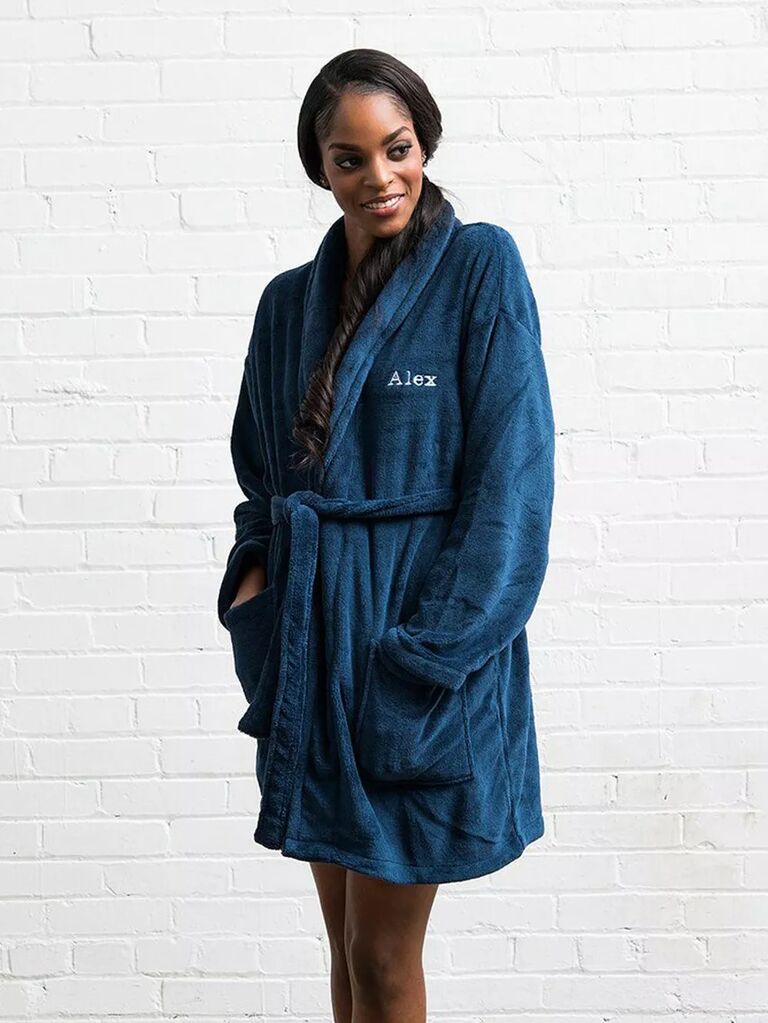 Okay, how adorable are these soft personalized fleece robes? We can picture your bridesmaids snuggling in this ultra-warm loungewear for your fall or winter wedding. We're big fans of the rich Navy color, the monogram detailing and the functional pockets!
7. Mod Party Plus-Size Bridesmaid Robe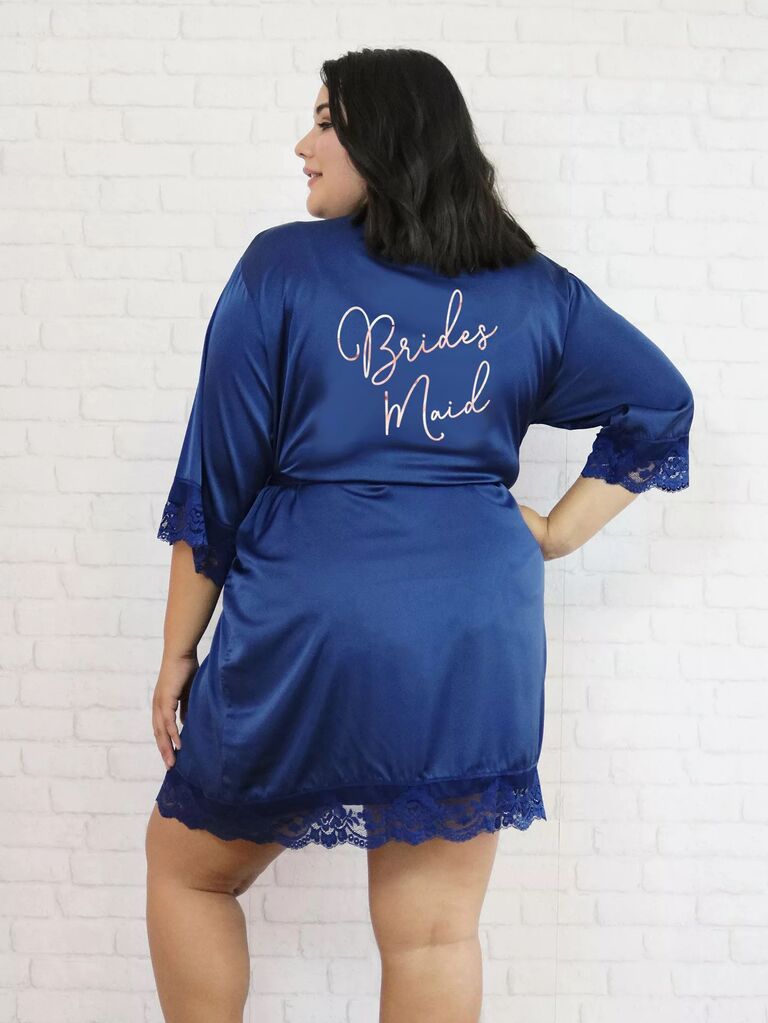 These plus-size getting-ready robes for your bridesmaids combine everything we love: satin, lace and personalization. Choose from a few different bridal party titles to print on the back of each robe, including Bridesmaid and Maid of Honor.
8. Pretty Plum Sugar Flutter Bridesmaid Robe Set of Four in Eden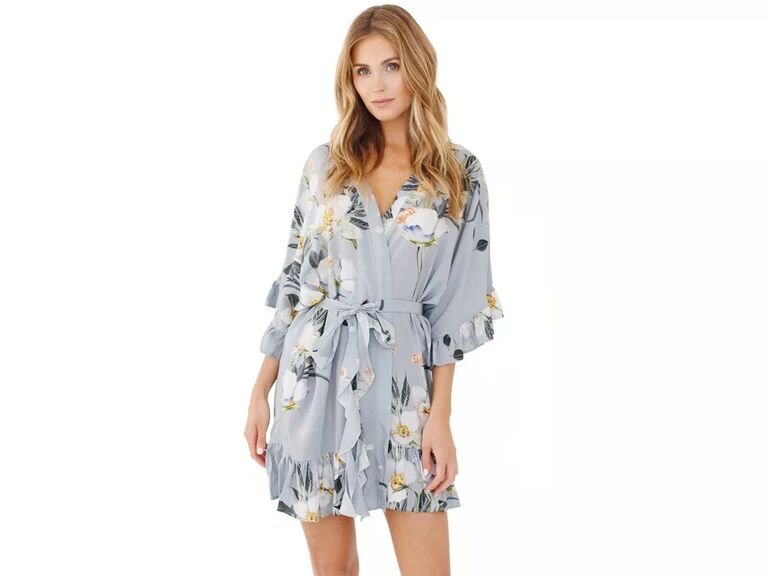 We love these floral cover-ups because they're sold individually or in bridesmaid robe sets of 2 to 10. And take a look at those dreamy flutter sleeves! Play around with the different floral patterns for a mismatched wedding party look your BFFs will seriously love.
9. Birdy Grey Karen Robe in Terracotta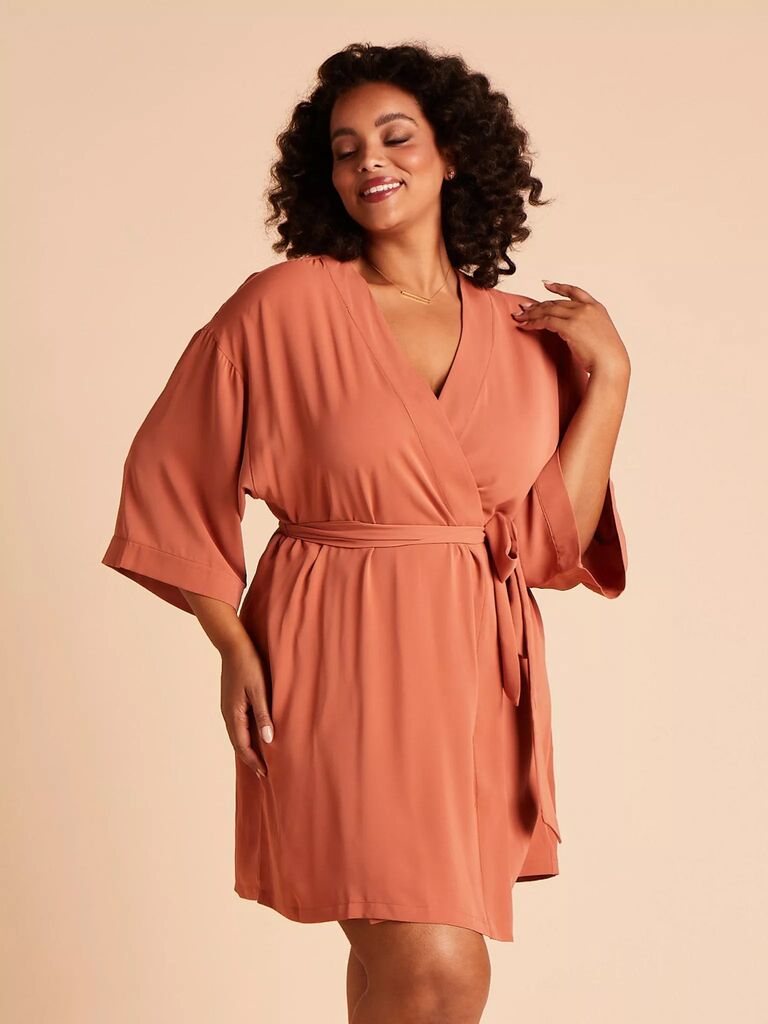 These minimalist wedding robes will add a little bit of luxury to the getting-ready process. They're available in 15 on-trend colors, including Lavender, Terracotta and Sea Glass. (Psst: You can match them to your Birdy Grey bridesmaid dresses!) For more options, check out the brand's ruffle and satin lace robes.
10. ASOS Liquorish Satin Robe in Pastel Marble Print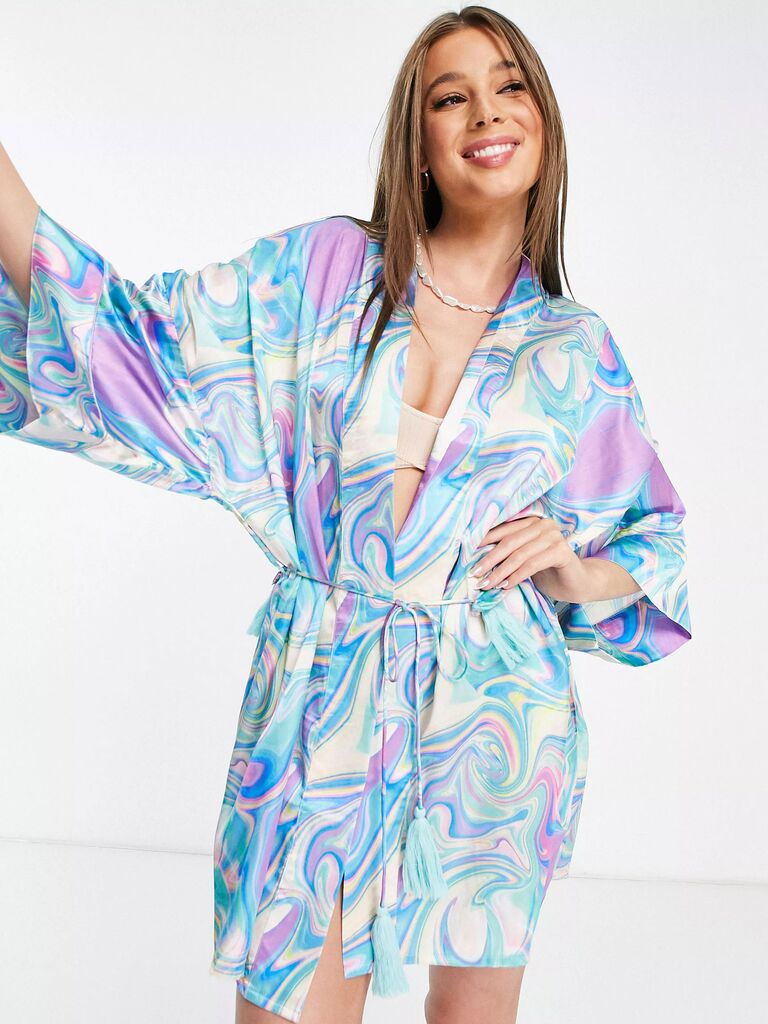 Wrap your besties in robes they'll want to wear over and over again. These pastel marble-printed satin bridesmaid robes will stand out beautifully in your getting-ready photos. They even have cute matching belts to tie the look together.
11. The Knot Shop Women's Personalized Embroidered Waffle Spa Robe in Grey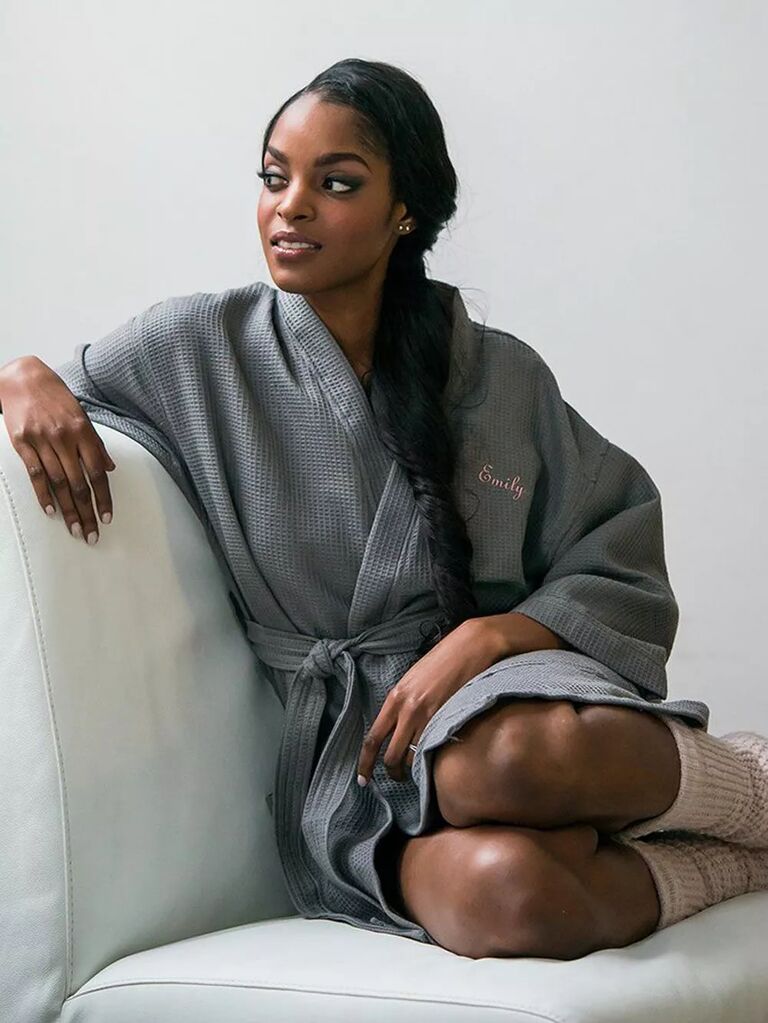 Want to bring the spa to your wedding party? These waffle spa bridesmaid robes are the ultimate pick for comfort, not to mention they're also fashion-forward and perfect for everyday wear postwedding.
12. Blush Brides Co Bridesmaid Flannel Robes in Red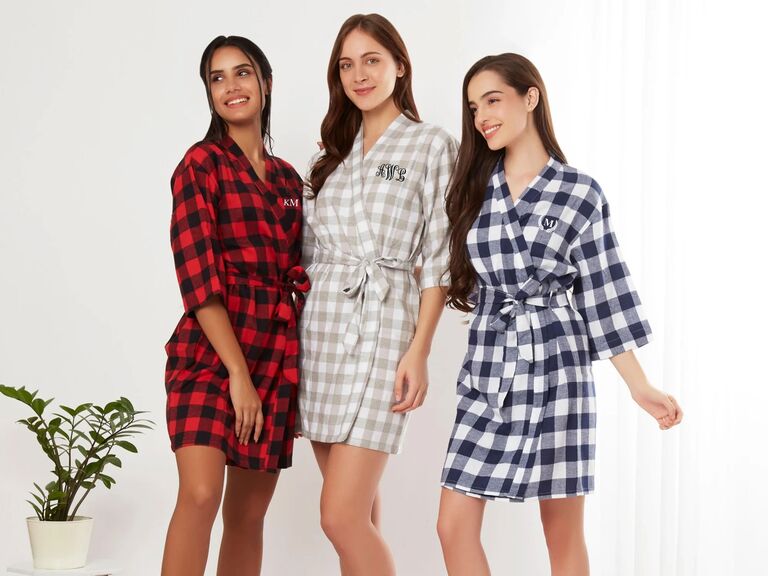 Your bridesmaids will cuddle up in these cozy plaid cover-ups every time it gets cold outside. But for the wedding, you can personalize them on the front and back with everybody's names and wedding party roles. There are adult sizes (XS/S to 3XL) as well as children's sizes.
13. The Knot Shop Women's Personalized Jersey Knit Robe with Lace Trim in Powder Blue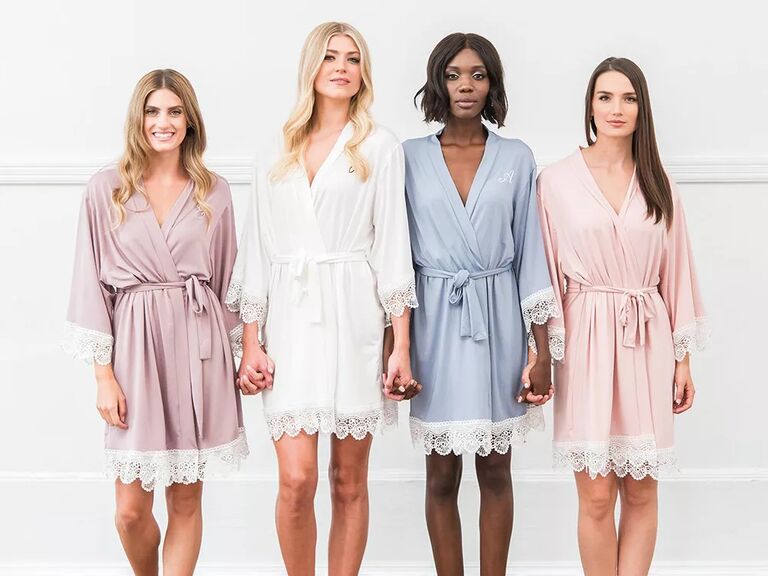 These jersey and lace bridesmaid robes are available in a few different shades, but our favorite has to be the Powder Blue color (hello, something blue). Personalize each robe with your bridesmaids' embroidered monograms for a sweet addition. This style comes in four different sizes, from Small/Medium to 3XL/4XL. There's also a matching robe in White for brides.
14. La La Confetti Bridal Party Robe in Dusty Blue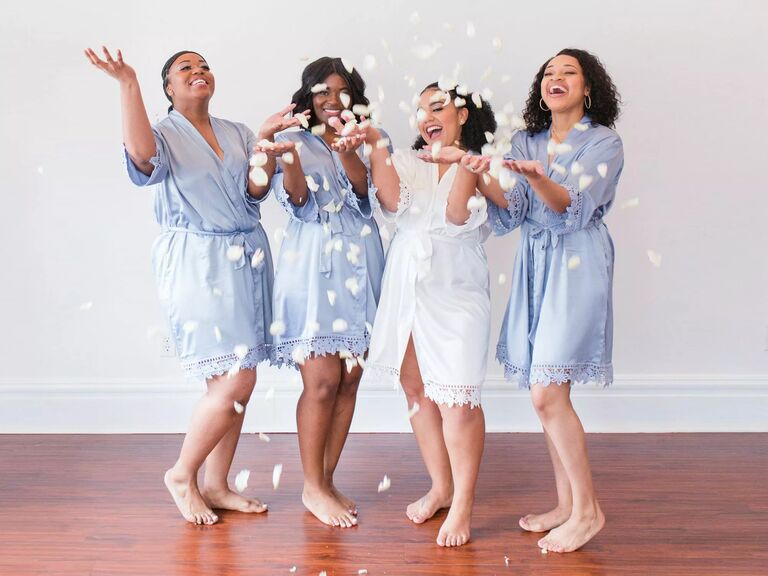 How simple yet timeless are these lace-trimmed bridesmaid robes? Select from a range of charming colors, from Dusty Blue to Copper. And like many other bridal party robes, they come in youth and adult sizes.
15. My Lovely Pjs Plus-Size Cotton Bridal Bridesmaid Robe in Burgundy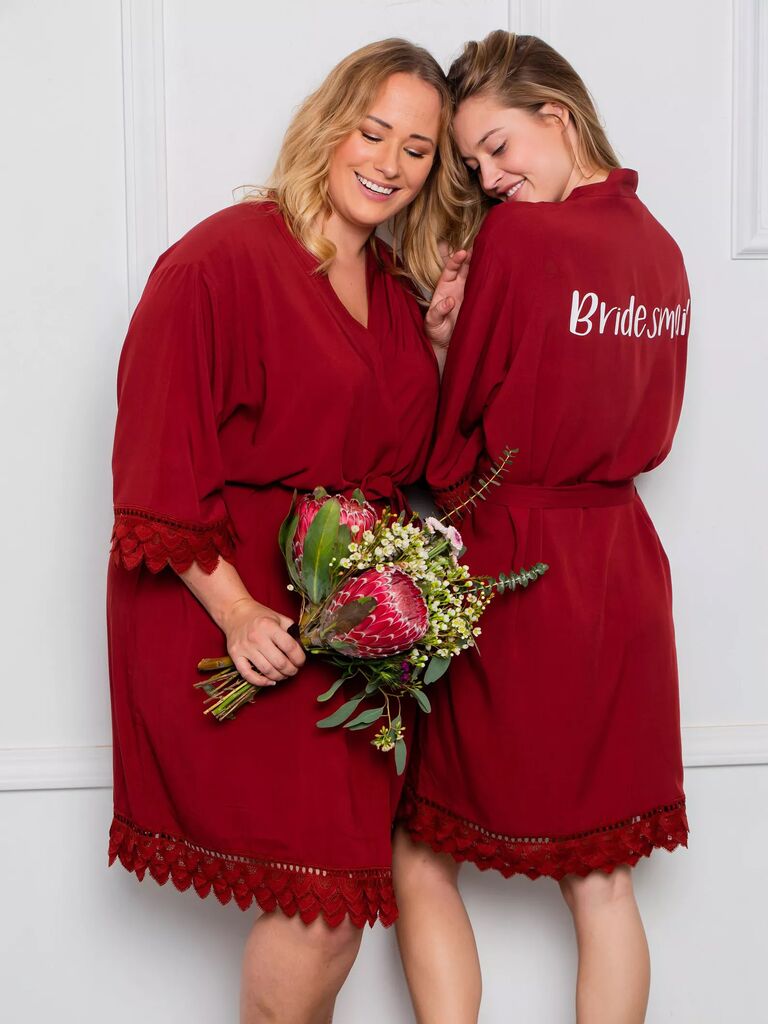 Personalize these cozy cotton bridesmaid robes with each bridal party member's title—so you can buy bride and bridesmaid robes all in one place! And they come in so many solid colors (Sage, Burgundy, Green, Rose—you name it). Oh, and we adore the lace sleeve details too.
16. The Knot Shop Women's Personalized Embroidered Satin Robe with Pockets in Plum Purple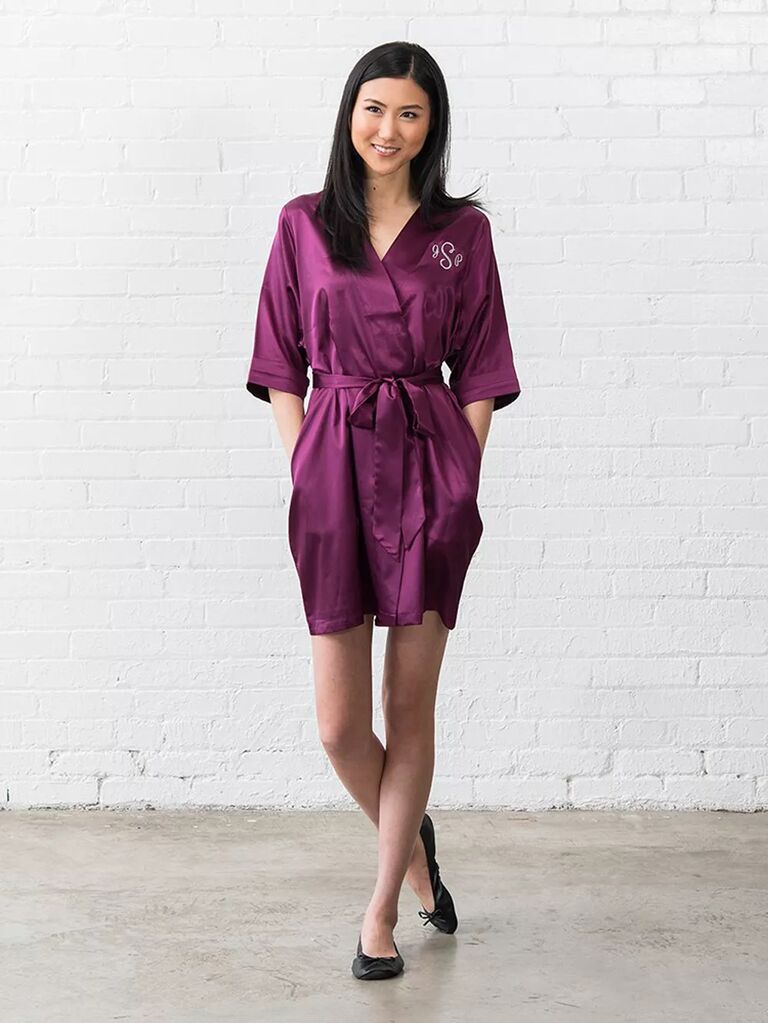 Did you know our very own The Knot Shop sells satin wedding robes in 15 different solid shades? Better yet, these impressive faux-silk cover-ups can be customized, too. Your besties will look for any excuse to wear these personalized robes after the wedding.
17. Le Petit Mariage Velvet Bridesmaid Robe in Burgundy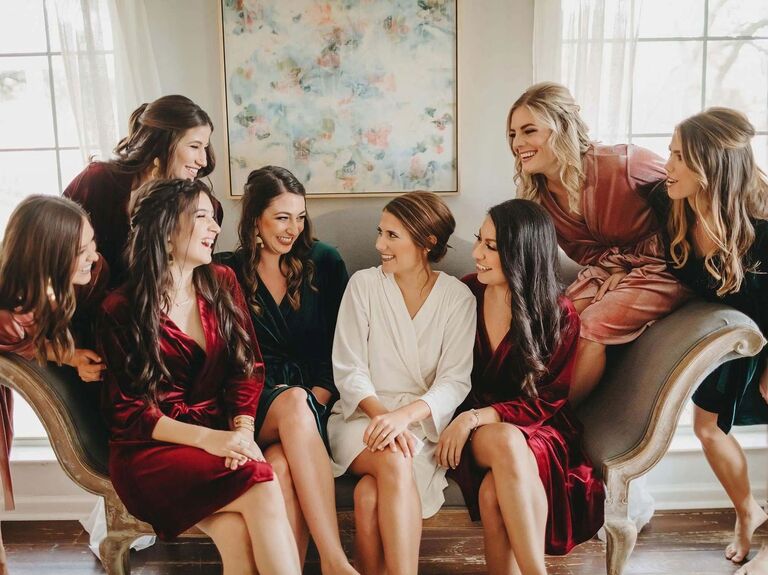 Super-soft velvet robes are a great alternative to traditional silk or satin wraps. These sultry cover-ups come in loads of different colors and offer sizes for flower girls for an adorable photo opportunity. You can even have the robe length and sleeve length customized. How cool!
18. Vera Bradley Plush Fleece Robe in Hope Blooms Light Pink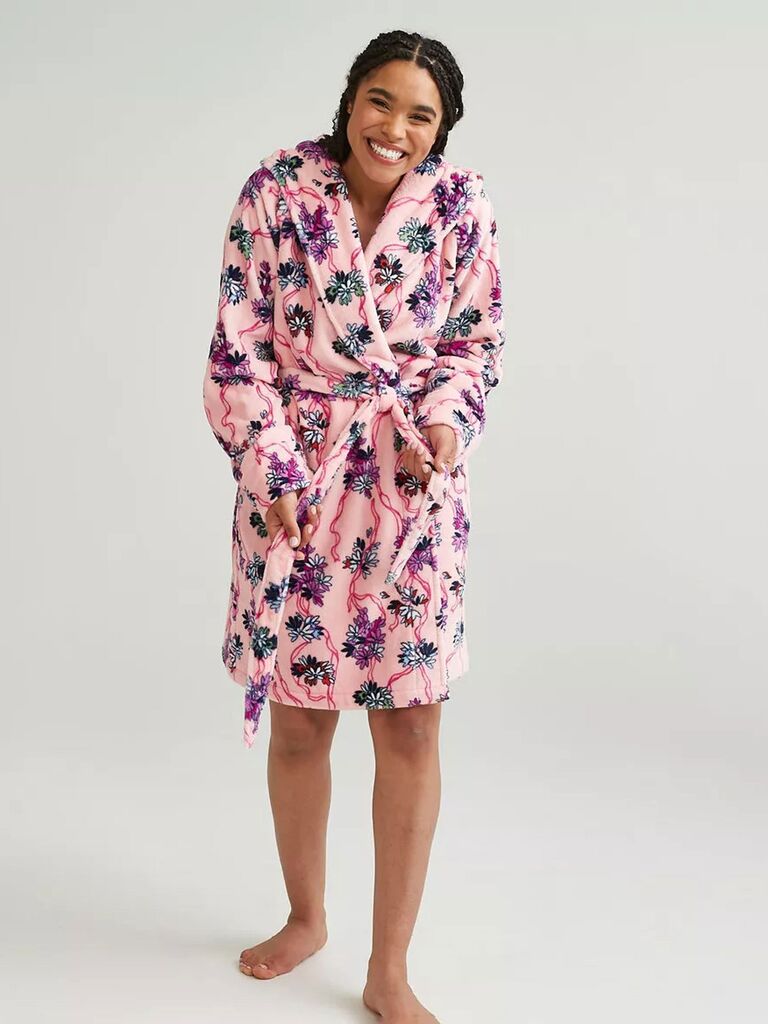 Searching for something colorful? Try these knee-length, lightweight fleece bridesmaid robes. They're sold in a stunning pink floral pattern (and they have cool hoods, too!). They'll not only look great in getting-ready pictures, but they'll also last way past the wedding day—so it's a win-win.
19. Sweet November Gift Personalized Bridesmaid Robe in Oat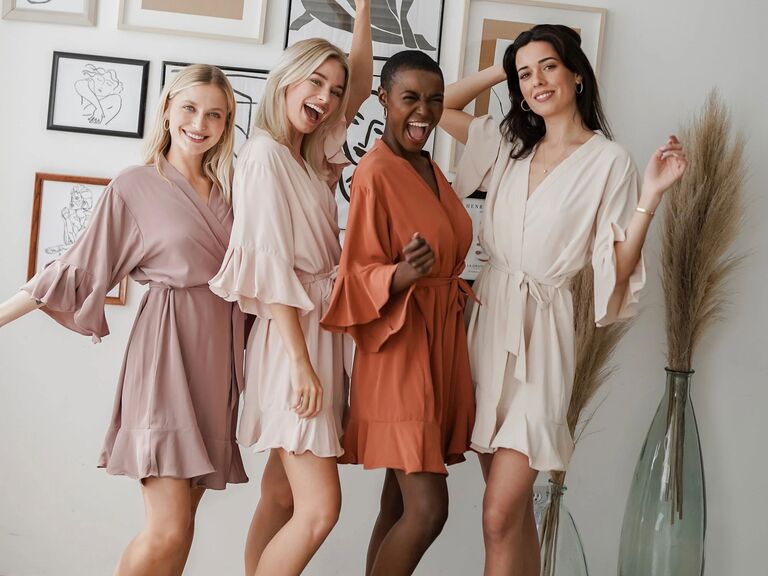 We're obsessed with anything ruffled—including these custom satin-chiffon bridesmaid robes. They come in 11 lovely colors, including new fall shades like Terracotta, Oat and Mauve, as well as both kids' and adult sizes. Personalize the front with each person's initials and the back with their role in your wedding party.
20. BHLDN Matine Robe in Light Green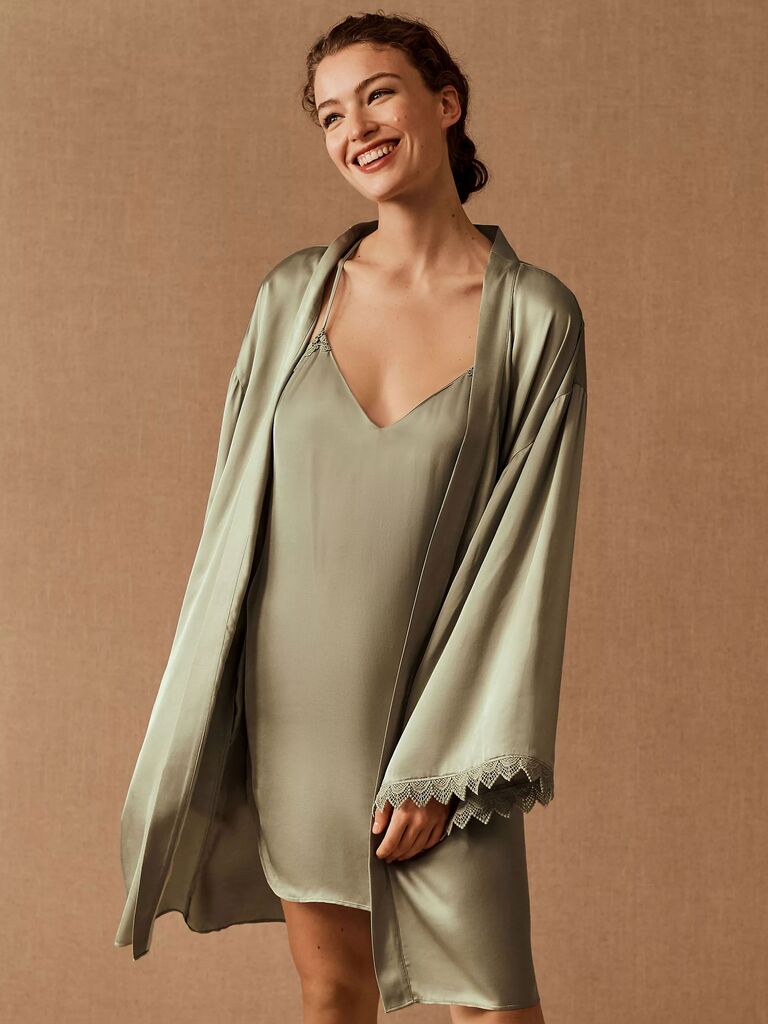 These silky lace robes are getting-ready outfits they'll never want to take off. Just look at those elegantly draped sleeves! Plus, the mossy green hue is a unique and gorgeous shade for weddings all year round. (You might even want to buy a matching one for lounging yourself.)
21. Parachute Tencel Sleep Robe in Surplus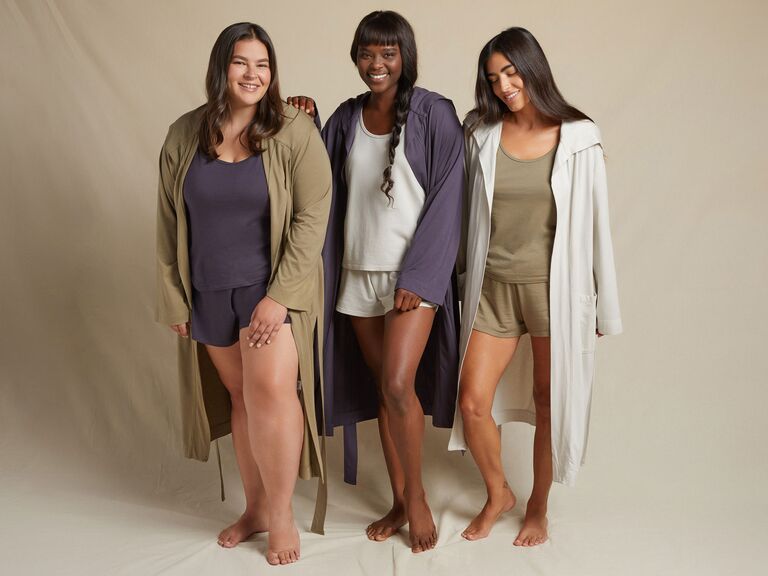 Available in sizes XS to 3X, this lightweight tencel and cotton bridesmaid robe is pure comfort. It features a double-layered hood, extra wide sleeve cuffs, functional pockets (score!) and a removable tie belt. Trust us: This comfy piece is worth the splurge.
22. David's Bridal Embroidered Bridesmaid Satin Robe in Blush/White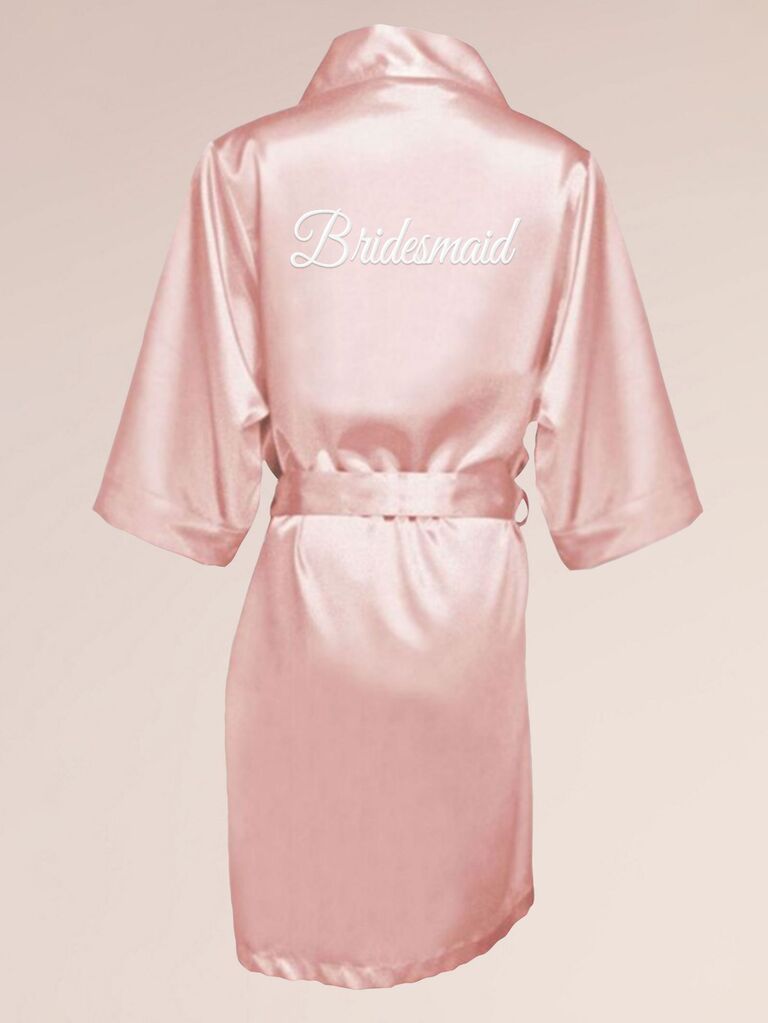 Surprise your wedding party with these thoughtful embroidered bridesmaid robes. For the "bridesmaid" script color, choose from gold, white, or gray embroidery against a blush or navy background. No matter what color combination you choose, they will look so chic and fun in your morning-of photos.
23. Birdy Grey Velvet Ribbed Robe in Dark Rose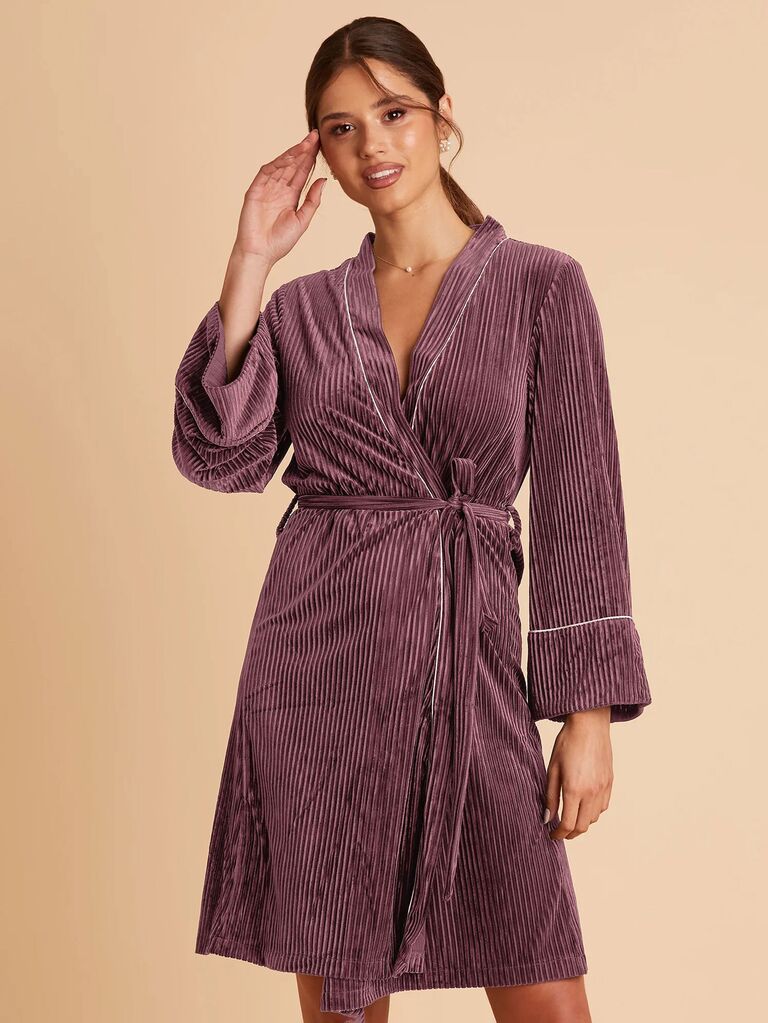 Want another soft velvet option for your best gals? Populate your bridal suite with these wedding party robes, then get ready for lots of excitement from your crew. From the soft ribbed detailing to the inclusive size range, you'll be happy you ordered these cozy pieces. And check out all those jewel tone colorways (perfect for fall or winter weddings).
24. Gentle Sateen Personalized Satin Bridesmaid Robes in Champagne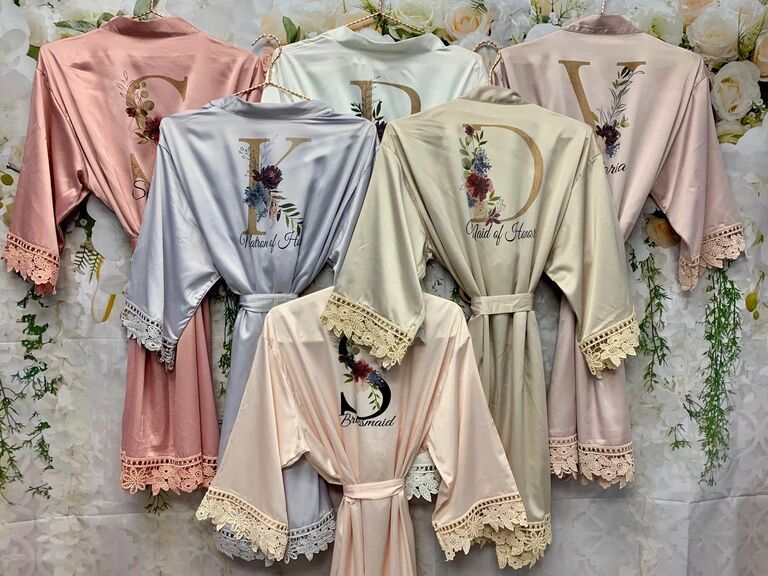 These high-quality satin bridesmaid robes are absolutely stunning, and your crew will appreciate their own custom floral monograms. And did you see those lace accents? We can't believe they're so affordable (and check out all those stellar reviews!).
25. L.L.Bean Women's Scotch Plaid Flannel Robe in Black Watch
These long plaid robes aren't specifically made for bridesmaids, but they'll certainly do the job. They're wonderfully seasonal and irresistibly cozy (especially if your wedding is in a cooler climate). We prefer the green and black pattern, but there are also red and white options. You can even add monograms for a personal touch. This robe is available in sizes XS through 3X, as well as petite sizes.
26. Quince 100% Washable Silk Robe in Black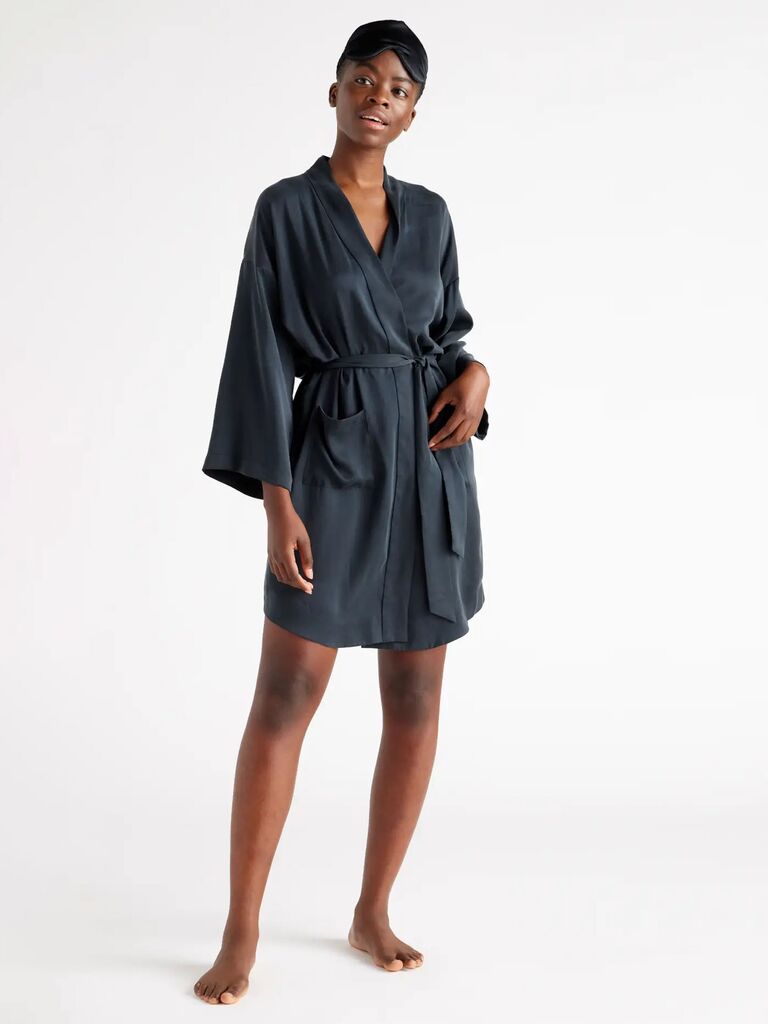 Bridesmaid robes aren't reserved for the wedding day! For luxurious, high-quality bachelorette robes they can wear over and over again, try these black 100% washable silk robes. Each silky wrap has three-quarter sleeves and an adjustable tie waist. Choose from three beautiful hues: Black, Indigo or Toasted Almond.
27. Kennedy Blue Satin and Lace Bridal Robes in Blush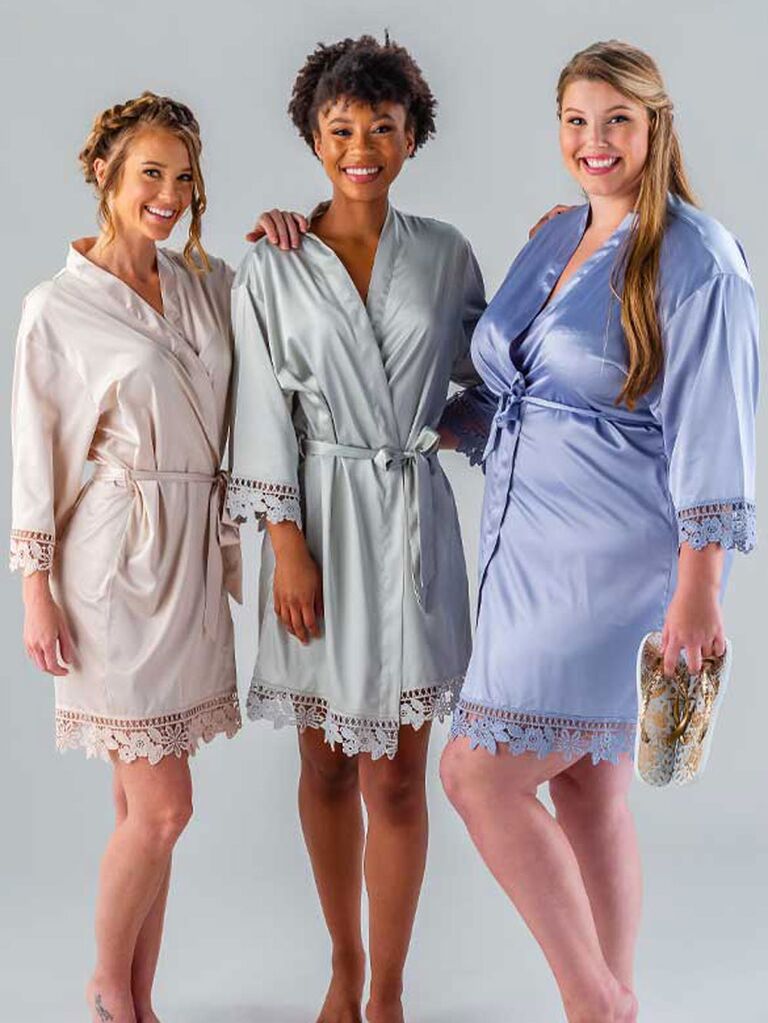 How about these whimsical blush lace bridesmaid robes? Each sleek wrap is made from a lightweight satin material—so your bridesmaids will feel comfortable and fancy while getting ready. Plus, they're a little longer than standard robes for extra coverage.