The Complete Guide for a Fiji Honeymoon
We review this far-flung, dreamy destination.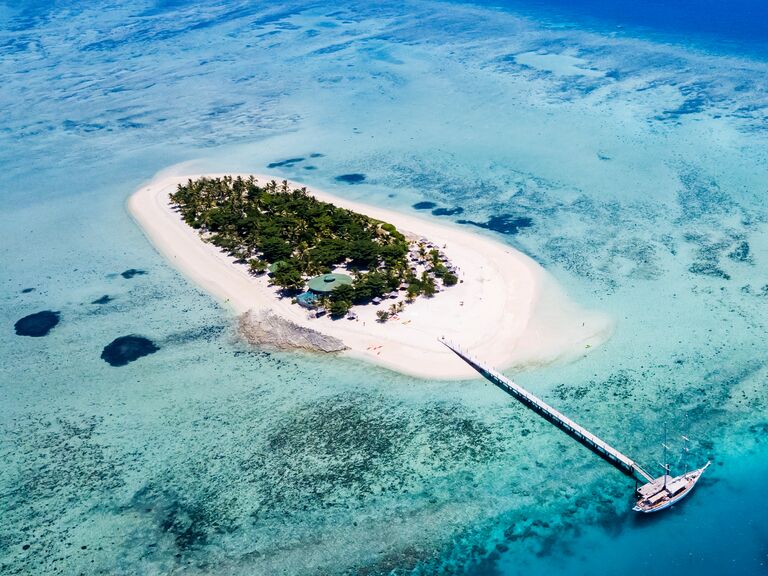 Ignacio Moya Coronado/Shutterstock
We have included third party products to help you navigate and enjoy life's biggest moments. Purchases made through links on this page may earn us a commission.
If you're considering a honeymoon in Fiji, your heart might be set on adventure, dreamy experiences and luxurious honeymoon resorts. This South Pacific Ocean hotspot is a bucket-list honeymoon destination for couples who enjoy traveling. Fiji isn't just a singular island. It's an archipelago made up of more than 300 Fijian islands, making it a honeymoon destination with plenty to do and see.
Building a Fijian honeymoon itinerary requires a good amount of decision-making and it's not a honeymoon destination for a shorter getaway. Not only will you want to give yourself plenty of time to explore and enjoy the islands, but the extent of travel to reach Fiji's Nadi International Airport alone is a large undertaking. Non-stop flights from New York City to Fiji take nearly 17 hours. If that doesn't deter you from determining Fiji as your dream honeymoon destination, keep reading.
Is Fiji Good for a Honeymoon?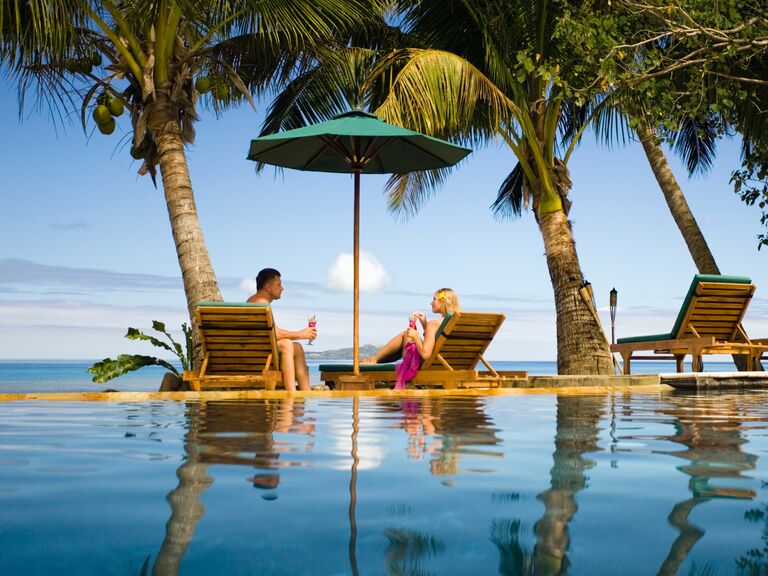 Pros of a Fiji Honeymoon
There are so many reasons to honeymoon in Fiji: The natural beauty is unmatched, while Fijians are warm and hospitable. The luxury resorts are unprecedented and island-hopping opportunities are endless. It's truly a paradise awaiting you and your sweetheart. If you were to envision a picturesque, luxury getaway or the perfect honeymoon on a private island, Fiji will most likely live up to your dreams.
Cons of a Fiji Honeymoon
Fiji isn't exactly a budget-friendly honeymoon destination, even if you book a honeymoon package. Additionally, the travel time to Fiji and costs for flights, transfers and more can be a hassle and equally pricey. For culture or history fanatics, Fiji isn't the type of destination that offers a ton in that arena. For the most part, the primary honeymoon activities in Fiji revolve around relaxation (think: spa treatments and beach visits) and on-the-water adventure. If those activities don't appeal to you, Fiji might not keep you entertained for very long.
The Best Times of Year to Go on a Fiji Honeymoon for Good Weather
Fiji offers pleasant weather all year round. The peak Fiji travel season is July through September, the destination's dry months. The wet season lasts from November through April, when you can expect a lot of humidity.
Places to Visit in Fiji for a Honeymoon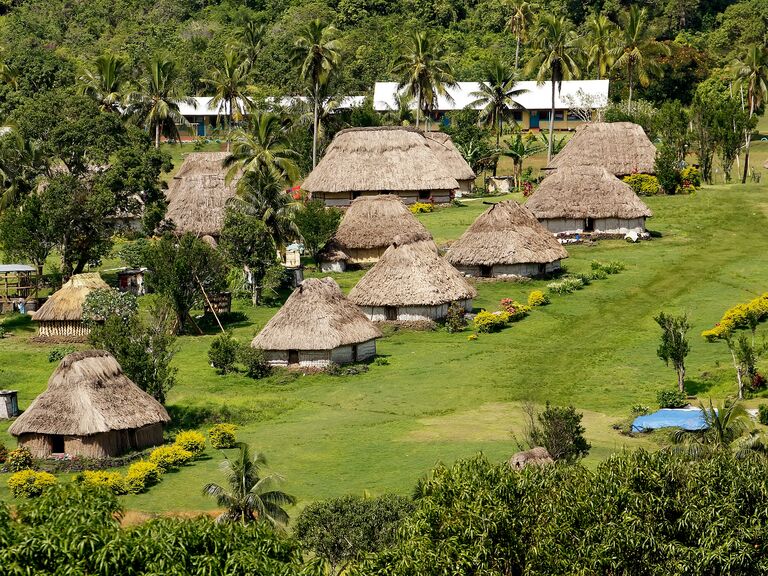 You won't have to pick between 300 islands and islets when choosing where to stay in Fiji for your honeymoon. Instead, the main properties are located across a few main islands, which you'll likely refer to as your base for the majority of your trip.
Viti Levu is one of the main Fiji islands and offers copious hotel options. Couples will find a range of dining and shopping options, along with plenty of adventure activities (scuba diving and snorkeling) while staying on Viti Levu.
Vanua Levu is another main Fiji Island, similarly outfitted with hotel and resort options. The same adventure activities abound, including some that keep your feet firmly planted on dry land, such as hikes and four-wheel-drive excursions.
The Mamanuca Islands are a series of islands within the Fiji archipelago known for their renowned beauty. Whether you want to surf, snorkel, kayak or lounge, you can do it all during your romantic getaway. The scenery is so pristine and remote they Fiji was the filming location for 2000's Cast Away.
Things to Do During a Fiji Honeymoon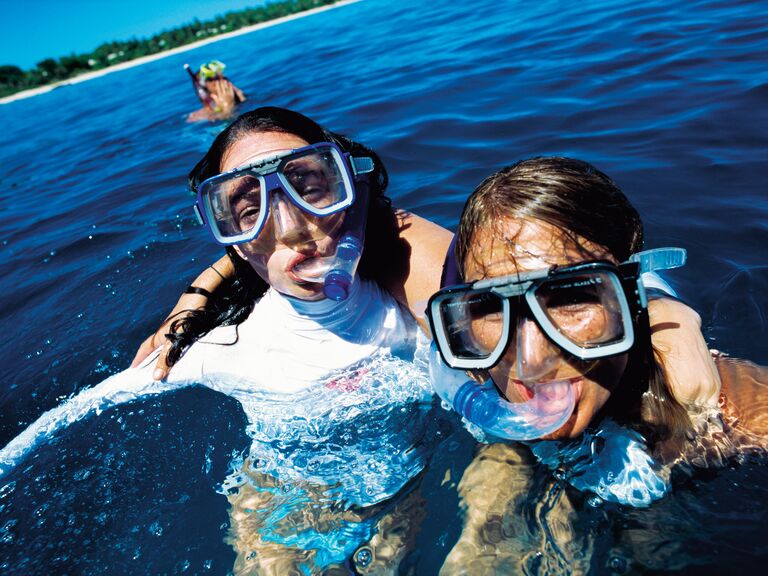 Enjoy the water
As you've probably gathered by now, Fiji's activities revolve around the water. Whether you simply enjoy water sports like paddleboarding or kayaking, you'll have plenty of aquatic adventures to select from. Couples also rave about snorkeling above the coral reefs, surfing some of the hardest waves in the world, or even scuba diving with sharks. Plus, if you don't actually want to be in the water, a catamaran excursion might be a better fit.
Head to the Spa
Most hotels and resorts in Fiji offer their own spa with specific packages for honeymooners. Options include couple's massages or open-air massages on the beachfront with views of the water from a private beach.
Drive Along the King's Road
When visiting Viti Levu, drive along King's Road for a day-long road trip around the island. Stops include secluded beachside hideaways, ancient villages and gorgeous oceanfront lookouts.
Explore Bouma National Heritage Park
To further explore Fiji's dry land, visit Bouma National Heritage Park, where nearly 40,000 acres of rainforest cover breathtaking mountains and valleys. Hiking and a waterfall excursion are must-adds to the itinerary.
Best Hotels and Resorts in Fiji for a Honeymoon
The Six Senses brand of resorts is known for combining luxury, wellness and sustainability travel. At the Six Senses Fiji honeymoon resort, you'll enjoy adventure opportunities, but also ample ways to relax and enjoy the good life. There's an adults-only pool and fine dining too. If that isn't enough of a draw, the white sandy beaches and lush private rooms will have you booking immediately.
This island resort on Viti Levu allows you to enjoy as much adventure or quiet time as you'd like. For the latter, simply stick to your secluded villa. If you'd like to pack in activities, however, your personal butler will arrange everything on your behalf, from guided hikes to scuba dives to cultural experiences.
Your villa sits right on the water at this resort, providing you with spectacular views at every angle. The adults-only setting ensures a relaxed, quiet time, no matter how often or little you leave your overwater bungalow and private pool.
If you're not a fan of the Bali-style cottages you'll find at many Fiji resorts, opt for the Fiji Marriott Resort Momi Bay, where you can enjoy rooms that lead to the white sand beaches dotting the property. (For others: the overwater cottages are still an option). There's also a swim-up bar and spa.
What to Pack for a Fiji Honeymoon
The highest recommendation is to pack reef-safe sunscreen, hats and watersports-ready clothing. A swim shirt and water shoes are also a good idea. For everything else to bring along on your honeymoon, check out our full honeymoon checklist, suitable for just about any destination.