25 Luxe Ideas You'll Love
Whether you're looking to create a lavish ceremony space or an over-the-top centerpiece, some of Hollywood's hottest wedding planners chime in with their best luxury wedding ideas.

Floral and Crystal Chandelier Tree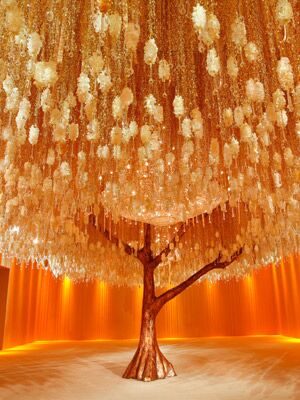 Preston Bailey has planned weddings and events for the likes of Oprah Winfrey, Uma Thurman, Jennifer Hudson and Ivanka Trump. "My favorite way to wow the guests is to create something that they have never seen," he says, such as this floral and crystal chandelier tree. "Ultimately, I always try to push the limit of what's new and different."
Garden-inspired Ceremony Indoors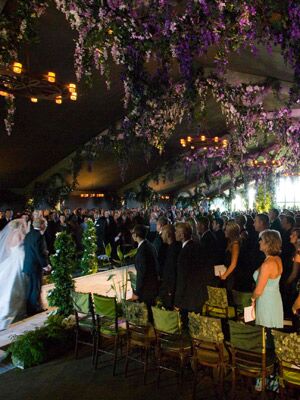 Colin Cowie is one of the industry's top lifestyle experts, boasting an A-list client roster including Jennifer Lopez, Demi Moore and Nicole Kidman. By stepping out of the creative constraints of typical altar arrangements and aisle baskets, he transformed a relatively bare space into a whimsical garden by hanging flowers from the rafters and running ivy up the walls. Topiary trees lined the aisle, surrounded by green satin-covered chairs, to complete the lush look.
Floral and Vine Huppah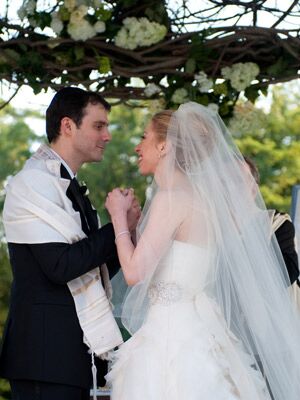 When Chelsea Clinton married Marc Mezvinsky outside Astor Courts in Rhinebeck, New York, Bryan Rafanelli (high-profile political event planner to the likes of the Obamas) and famed florist Jeff Leatham played up the gorgeous Hudson Valley scenery by creating a wisteria-vine huppah accented with green viburnum, white stock, and pale-lavender roses.
Oversize Aisle Arrangement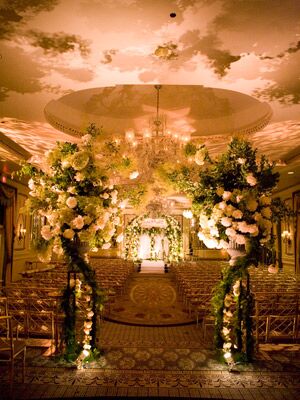 David Beahm is a staple on the New York social scene -- with a resume including the Plaza Hotel wedding of Catherine Zeta-Jones and Michael Douglas in 2000. Here he used oversized aisle arrangements to wow guests as they walked into the ceremony space.
Floating Ceremony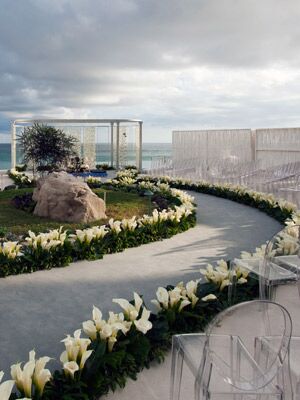 For this wedding in Los Cabos, Mexico, Colin Cowie wanted to create the idea of a floating ceremony. Within an infinity pool, he fashioned a serpentine-like aisle, lined with calla lilies and surrounded by clear ghost chairs.
Jeweled Stationery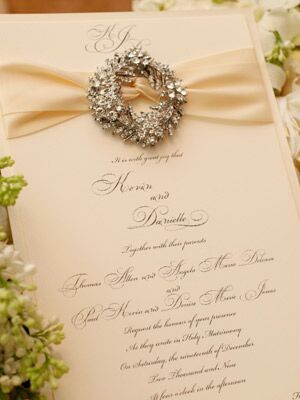 When Kevin Jonas married Danielle Deleasa at New York's Oheka Castle, wedding planner Michael Russo took traditional stationery to a whole new level, by adding ribbons and jewel brooches to each invitation for a truly glamorous feel. Michael then incorporated similar jewel accents into other aspects of the decor, from the centerpieces to the cake.
Vintage Handkerchiefs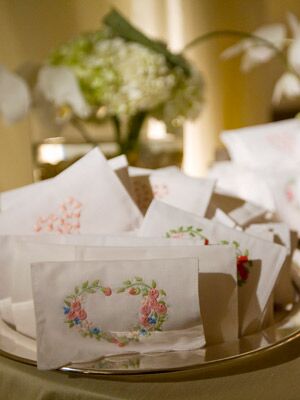 Mindy Weiss is the go-to wedding planner in Hollywood (we're talking clients like Nicole Richie, Eva Longoria, Gwen Stefani, Katy Perry, Fergie, Heidi Klum, Jessica Simpson, and Ellen DeGeneres, among many more). For Jenna Dewan's wedding to Channing Tatum, Mindy collected 80 different vintage handkerchiefs to hand out to the female guests before the ceremony. Jenna even helped Mindy find the handkerchiefs over the course of a few months.
Floral-covered Candelabras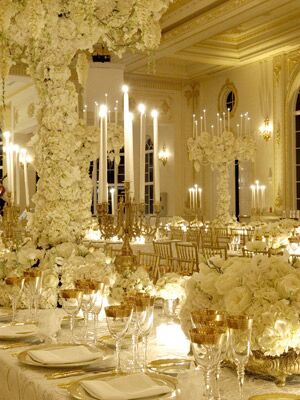 Preston Bailey worked with a monochromatic color scheme of ivory and hints of gold, and added texture with floral-covered candelabras.
Floral Sculptures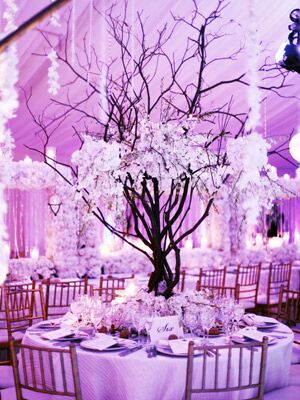 Michael Russo used variety of tablescapes for Kevin Jonas' wedding: Half of the round tables featured dramatic bare-branch centerpieces, while the other half showcased rounded floral sculptures. Long banquet tables formed the outer edges of the reception space, where Michael had created oversize floral frames.
Creative Lighting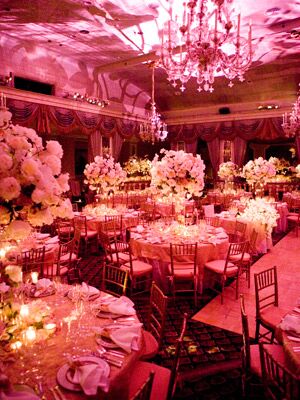 Monochromatic palettes like whites and golds get turned up a notch from creative lighting like this bright-pink tone, used by David Beahm.
Retro Wedding Decor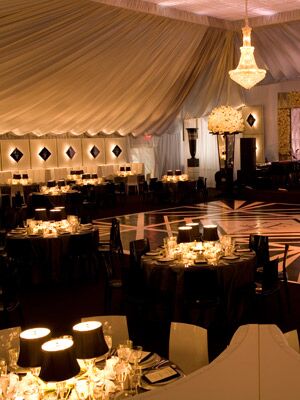 Although this was an island destination wedding, David Beahm and the bride wanted to bring the spirit of Manhattan to the location. He created a tented lounge space in the vein of a New York supper club by incorporating Art Deco elements, like a hand-painted dance floor and club lamps for centerpieces.
Secret Garden Wedding Decor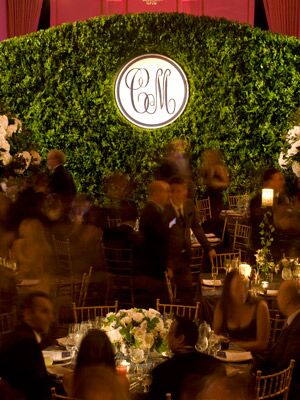 David Stark (who has designed weddings and events for the likes of Jon Stewart, Glenn Close and Beyonce) gave The Plaza ballroom a secret garden feel by constructing full hedge walls around the perimeter of the dining area for this New York City wedding.
Crystal Centerpieces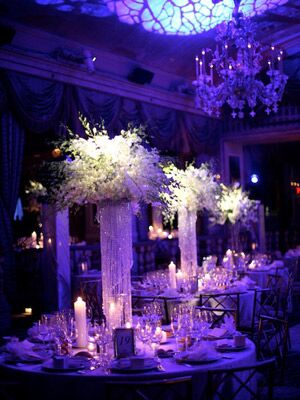 Pillar centerpieces of cascading crystals were the perfect luxe touch to this Pierre Hotel ballroom wedding in New York City, designed by Michael Russo.
Vintage Opera Programs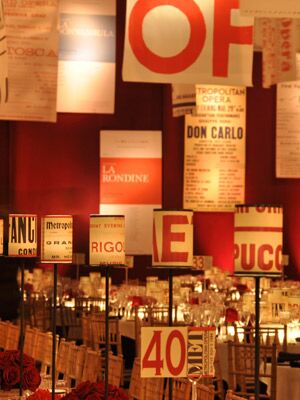 Over-the-top social events provide gorgeous inspiration for wedding decor. For the Metropolitan Opera's 125th Anniversary Gala, David Stark covered everything from chandeliers to table lamps with vintage opera programs, accented by rich red-rose centerpieces.
Paper Lanterns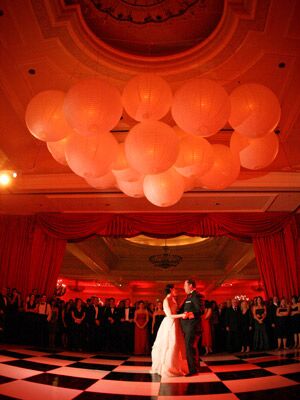 Marcy Blum has paved the way for high-profile wedding producers the country over, with a client list including Kyra Sedgwick and Kevin Bacon, Katie Lee and Billy Joel, and Padma Lakshmi and Salman Rushdie. Here she used clustered paper lanterns for an unusual but surprisingly chic accent to this black-tie formal Palm Beach reception.
Elevated Dance Floor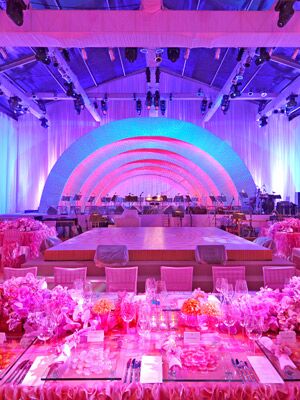 Preston Bailey says to focus your wedding design around what is most important to you as a couple. He built this reception space around an elevated dance floor, a clear priority of the bride and groom.
Tuscan Farmhouse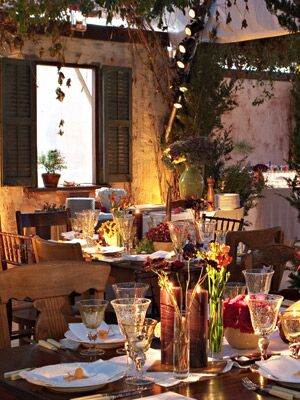 For Katie Lee and Billy Joel's wedding, Marcy Blum created a quaint Tuscan farmhouse feel on the couple's 15-acre Long Island, New York, estate.
Quality Table Linens
Bryan Rafanelli highly recommends investing in quality linens, a detail often overlooked. Luxurious lace, brocade, or embellished fabric completely transforms not only your tables, but your overall wedding feel.
Art Deco-inspired Vases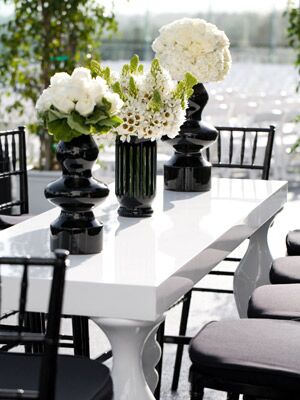 Colin Hanks and his bride Samantha Bryant opted for a less formal, more lounge-like reception with a food-station dinner. Marcy Blum brought in crisp-white lacquer tables and Art Deco-inspired vases for the guests to sit around as they pleased. "There were enormous amounts of celebrity guests that felt comfortable and stayed really late," she says. "It was fun to see Bruce Springsteen on the dance floor when the DJ played one of his songs. I got a big kick out of that."
Crystal Chandelier Cocktail Tables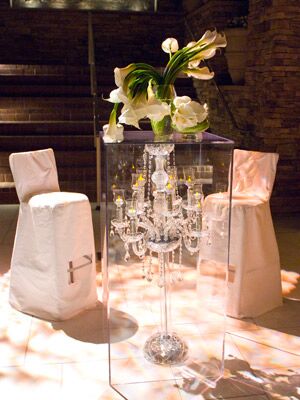 Crystal chandeliers within clear cocktail tables, like what Mindy Weiss did here, are an ultra-modern idea guests are sure to remember.
White Paper Flower Banners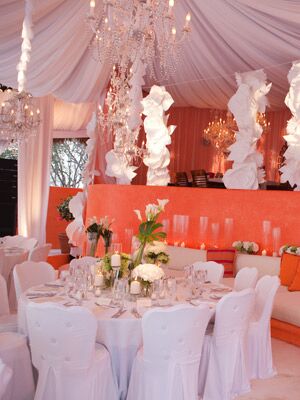 For Heidi Klum and Seal's vow renewals in Mexico last year, Mindy Weiss created banners of white paper flowers to pop against the orange banquettes.
Inventive Outdoor Lighting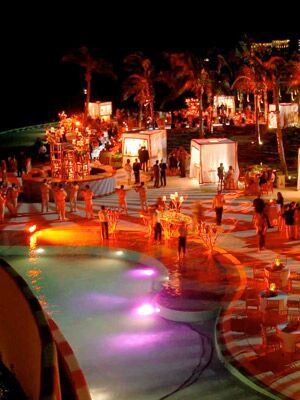 Inventive lighting creates the illusion of additional decor in expansive outdoor spaces. Colin Cowie designed this rehearsal dinner space with the dance floor as the focus by lighting it with ever-changing patterns and movement.
Local Culture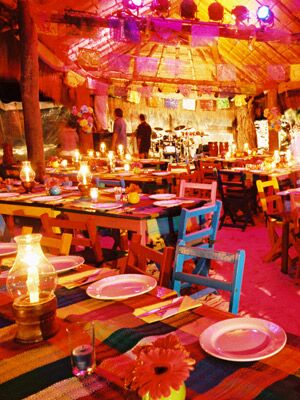 If you're hosting a destination wedding (like this David Beahm-designed event), consider embracing the local culture in everything from the menu and music to the furniture and decor!
Mixology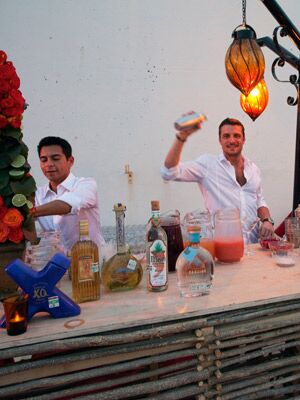 When it comes to destination weddings, Colin Cowie is a firm believer in bringing your own staff to ensure the highest quality of service. "Some people take American Express [with them abroad]; I take the mixologist," he says.
Breakfast Bar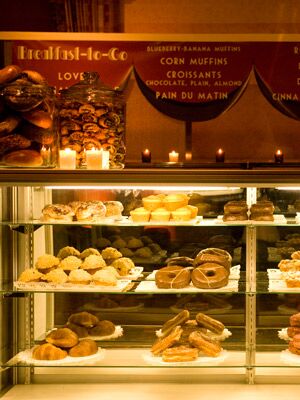 Because this bride opted out of a morning-after brunch, Marcy Blum devised a lavish breakfast-to-go bar, where guests built their own takeout bags of pastries and organic Bloody Mary mix.