13 Perfect Wedding Car Decorations For That "Just Married" Ride
We picked out the best wedding car decorations so your first ride as a married couple can be special and memorable.
by The Knot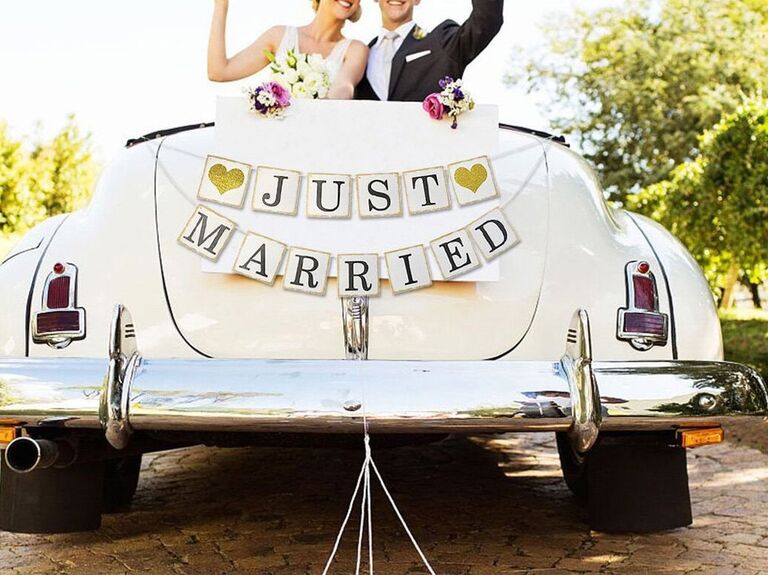 You've seen it in all your favorite wedding movies: tied-together tin cans trailing off the bumper and "Just Married" scribbled on the back window. But wedding car decorations don't have to stop there—they can be as unique as the couple themselves. For instance, if the newlyweds had a Greek ceremony, an "Opa!" banner may feel appropriate, or for more rustic "I dos," a sweet arrangement of wildflowers could be the perfect touch. Feel free to get creative with whatever wedding or decoration (or mixture of decorations) you choose. (The Knot Shop is full of decorations, from stick-on decals to car-safe markers to help you spruce up the wedding car.)
It's also important to take a few safety precautions into consideration with your wedding car decoration process. Here are the logistics of decorating the "just married" car, as well as our favorite wedding car decoration picks.
When to Do It
Every wedding timeline is a little different, so you'll want to consult with the planner or coordinator to find out when the best time is to say your goodbyes. No matter when the newlyweds are making their grand exit, allow plenty of time to get the car decorated.

Materials
This depends on the type of vehicle. If it's a rented limo, ask the driver about any decoration restrictions before unintentionally adding a cleaning fee onto the couple's bill.
Why Decorate?
If you've ever seen a convoy of cars drive by decorated for a wedding day, you know the commotion it causes: People honk their horns, yell their congratulations out their car windows or wave from the sidewalk. It's a fun way to exit the wedding reception or to arrive there from the ceremony.
If it's a car that belongs to a member of the wedding party or the couple, feel free to have a little more fun, but don't use materials that will damage the car's finish. The avoid-at-all-costs list includes spray paint, whipped cream (anything containing sugar will ruin the paint) and electrical and masking tape. Also, remember that tin cans will spark against pavement, which may be dangerous (and it's even illegal in some areas). If you want to write on the car, use a safe option, like liquid chalk. This one from The Knot Shop wipes off with a damp cloth and can be applied to the windows and doors of cars.
What else can you use? Write on windows with bar soap, shaving cream and even white shoe polish. Attach plastic soda bottles (no sparks) or streamers to the rear bumper. You can also tie streamers to the antenna and front bumper. Just stick it on with tape—but don't be surprised if some décor flies off as the couple makes their move. Another word of advice: Don't hide the license plate. Nothing will put a damper on an otherwise Instagram-worthy moment like getting pulled over by the police.
Shop our favorite wedding carwedding car decoration ideas, below.
Just Married License Plate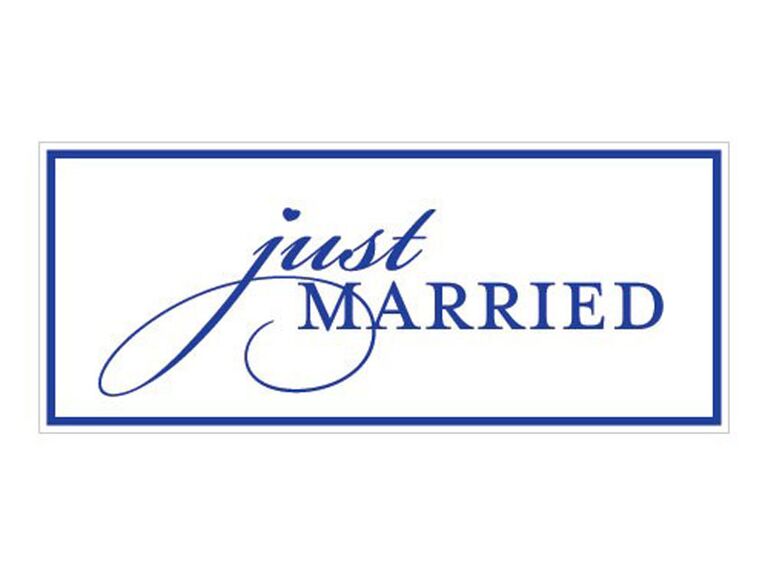 You can add a front license plate to the car that says "Just Married," so passerby will know they're in the presence of a newlywed couple and congratulate them. This plate is simple but gets the message across and will look great paired with other wedding decorations.

The Knot Shop Just Married license plate, $10, TheKnotShop.com

Colorful Tulle
Drape the sides or front of the getaway car in a colorful tulle—perhaps one that matches the edding theme or wedding colors. This tulle comes in a variety of colors to mix and match.
The Knot Shop tulle by the bolt, from $52, TheKnotShop.com
Custom Mirror Frame Cling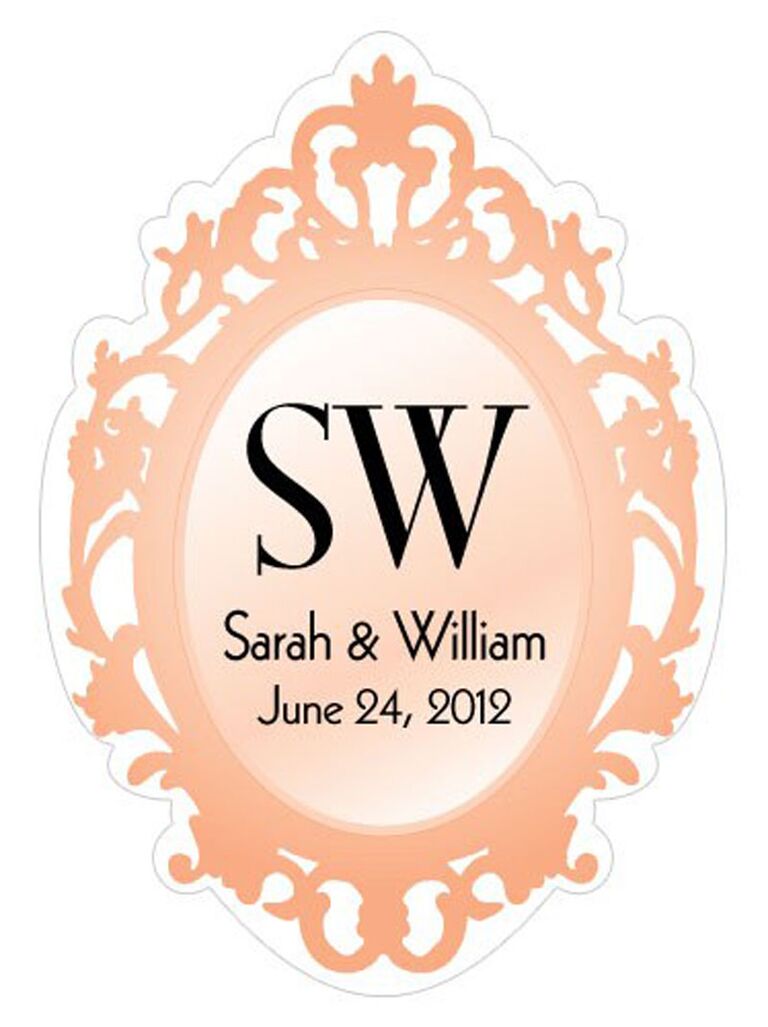 Instead of writing directly on the car with materials that could potentally damage the car, opt for stick-on decals. You can personalize them in a variety of ways to get your message across. This one can show off the couple's initials, names and wedding date.
The Knot Shop mirror frame cling, $10, TheKnotShop.com
Set of Window Clings
Get an entire set of cling signs so you can decorate every side of the happy couple's getaway car. This set includes signs with phrases like "Just Married," "Together Forever," "Newlyweds" and more.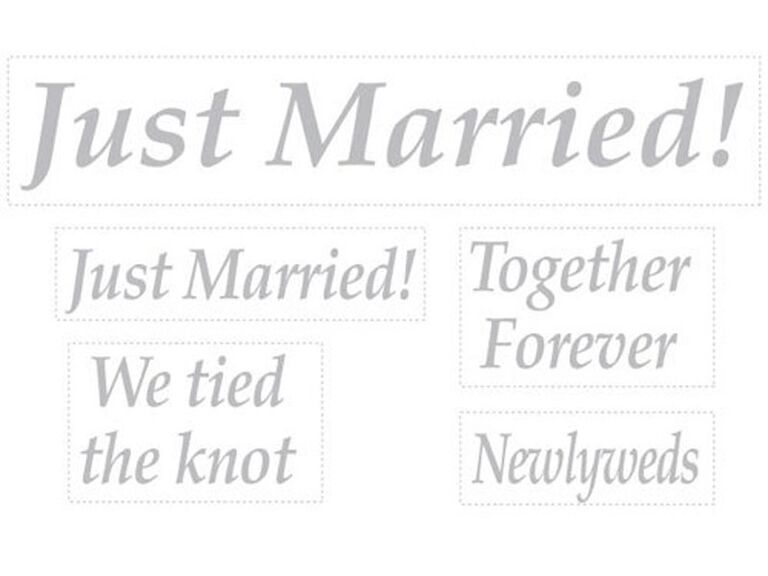 The Knot Shop auto window clings set, $10, TheKnotShop.com

Colored Pom-Poms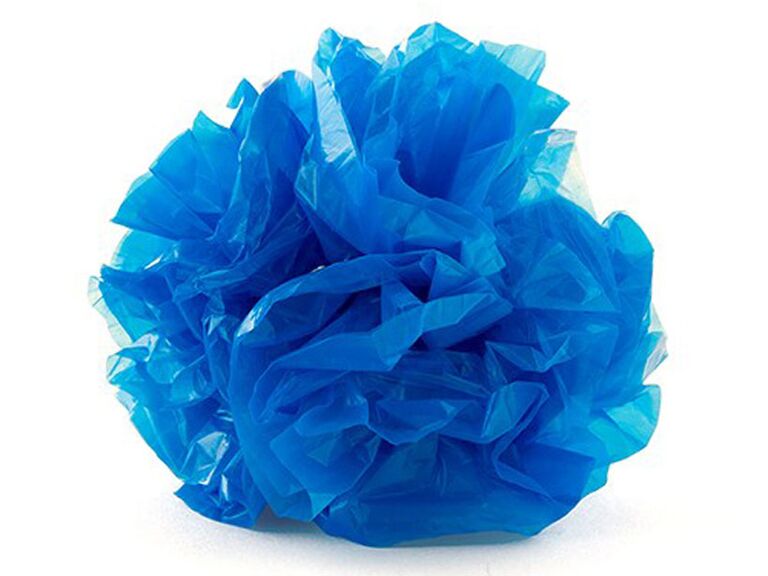 Pom-poms can be used to decorate signs or be placed on the wedding car as-is for a pop of color. Choose from lots of colors to spruce up the car however you see fit.
The Knot Shop Just Fluff colored plastic pom poms, from $8, TheKnotShop.com

"Just Married" Glitter Banner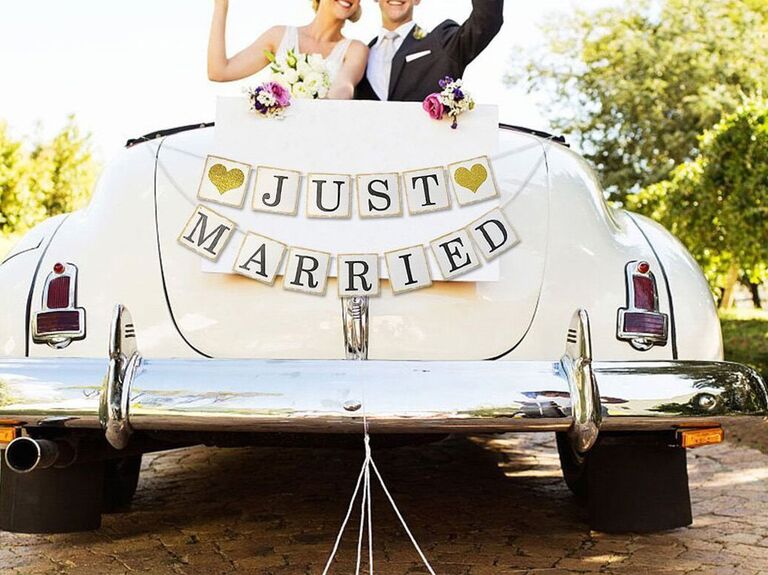 The best way to announce newlyweds is with a big "Just Married" sign, like this one. Tie it to the back hit of the car or use tape for a sweet surprise that can be accented with other decorations.
Partypops Just Married banner gold glitter sign garland, $10, Amazon.com
Flower Bows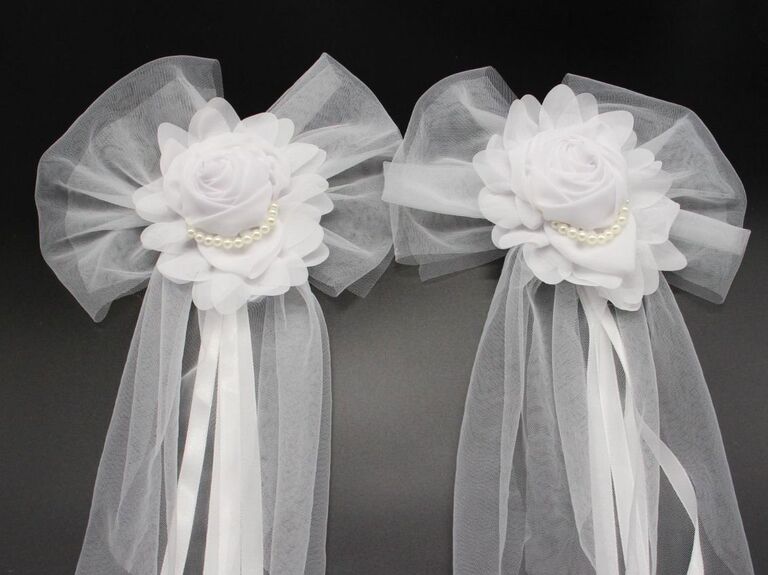 These pretty white bows adorned with flowers can be attached to the back of car mirrors or door handles. When the couple hops in and drives away, they'll flutter in the wind.
Junxia pearl bud silk ribbon flower for wedding party decoration, $9, Amazon.com
"Just Married" Balloons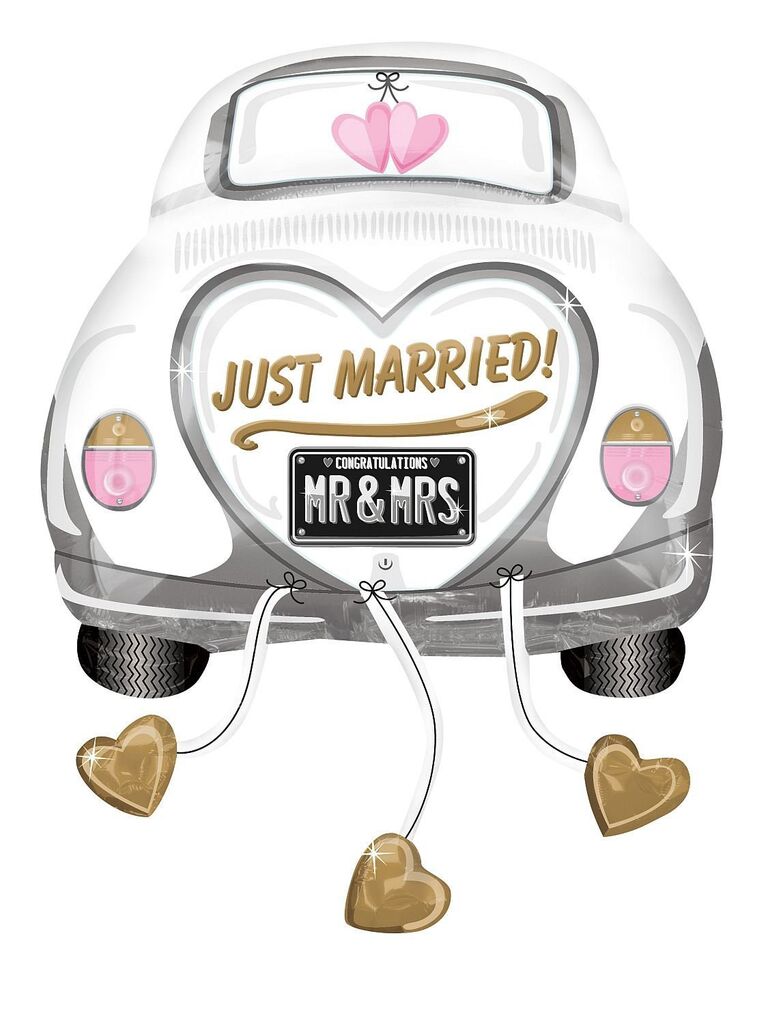 Since cans aren't the safest to tie to the back of a car (hello, sparks), opt for these harmless balloons instead. They're aptly shaped like hearts.

Anagram International Just Married wedding car balloon pack, $18, Amazon.com
"Just Married" Window Sticker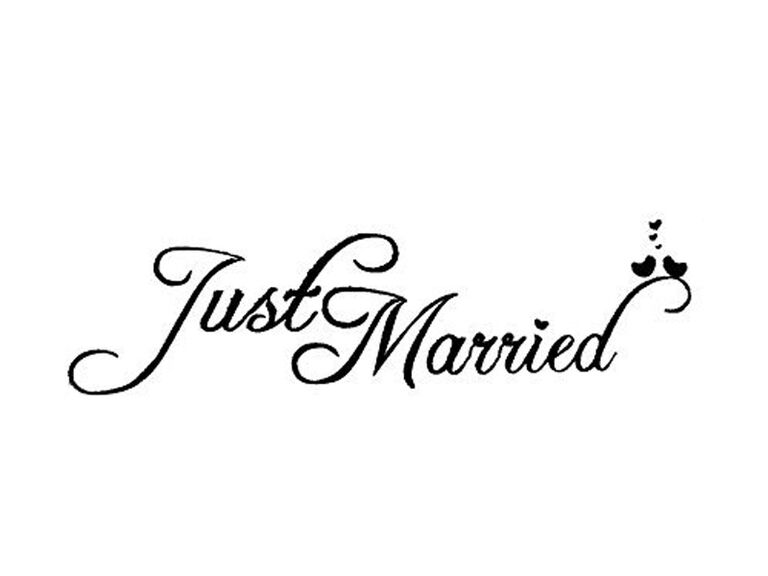 Fill the back window of the newlywed couple's vehicle with this sweet "Just Married" decal. It's easy to attach and detach from the car and is written in an elegant script font.
DorAn Just Married car decal window sticker, $10, Amazon.com
Decorating Kit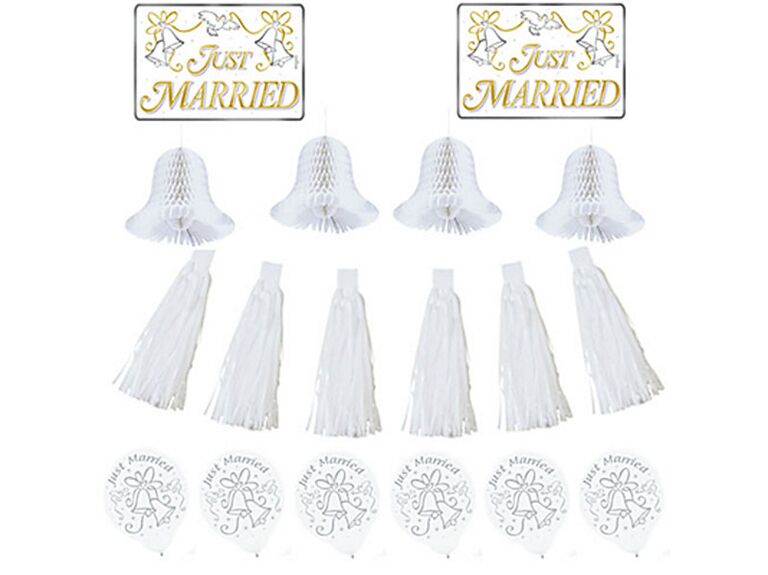 Get all of your wedding car decorations in one place with this set. it includes cut-outs, paper wedding bells, pom-poms and more to deck out the car.
Party City Just Married car decorating kit, $10, PartyCity.com
Car Flag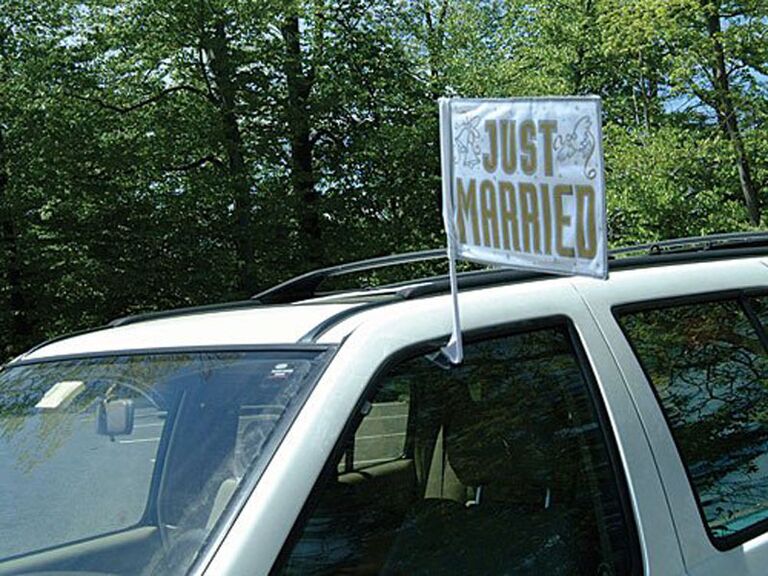 If going all-out with decorations isn't your (or the couple's) thing, this simple flag is a great way to celebrate without going overboard. Simply use the clamp to stick it out one window as if to say, "Hey, we just got married!"
Amscan classic wedding "Just Married" gold print car flag, $8, Amazon.com
Latex Balloons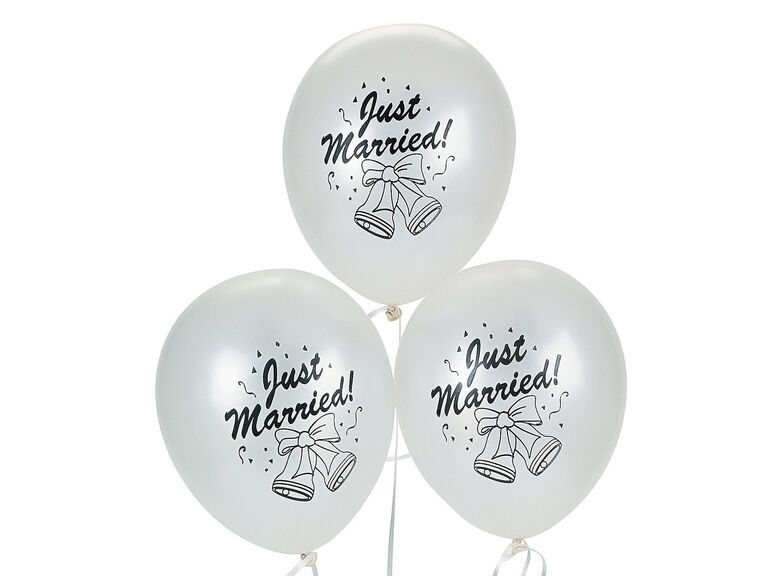 Balloons are a classic celebration decoration item, and it's no different for weddings. Inflate these "Just Married" balloons and attach them to the car, or pop them inside for a fun surprise for the newlyweds.
Fun Express DOMAGRON novelty "Just Married!" latex balloons, $7, Amazon.com
Custom Floral Stickers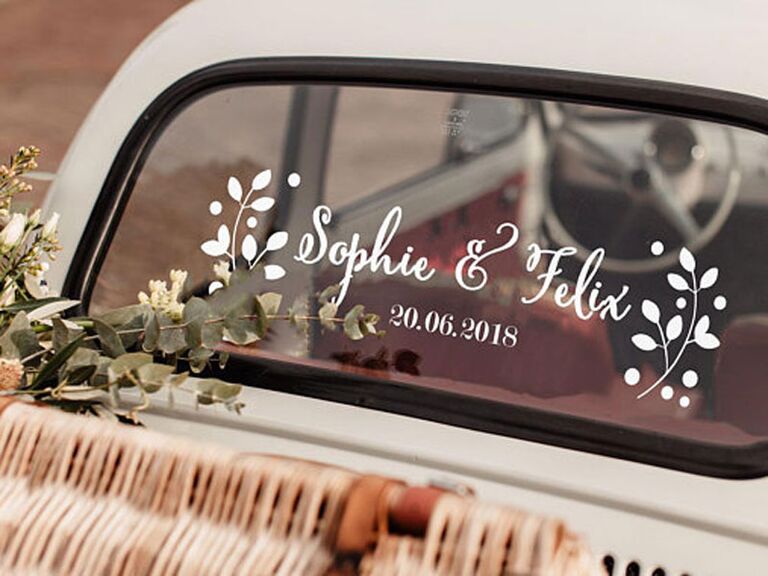 For a wedding car decoration that's one-of-a-kind, this decal is perfect. Add the newlyweds' names to it along with their wedding date. The minimal floral arrangement detail around the sides make it the perfect decor for an outdoor or rustic-themed wedding.
MatchSetLove customised floral sticker, $37, Etsy.com
Disclosure: This post contains affiliate links, some of which may be sponsored by paying vendors.