21 Wedding Car Decorations That Tell Everyone You're Married
We picked out the best "just married" decorations so you can spread the good news wherever you go.
We have included third party products to help you navigate and enjoy life's biggest moments. Purchases made through links on this page may earn us a commission.
You've seen it in all your favorite wedding movies: tin cans trailing off the bumper and "just married" scribbled on the back window. But wedding car decorations don't have to stop there—they can be as unique as the couple themselves. Whether you're planning for a drive-by wedding or simply want to spruce up the getaway car, there are tons of ways to make the happy news known. (To help, The Knot Shop is full of decorations for decking out any vehicle, from stick-on decals to colorful tulle.)
It's also important to take a few safety precautions into consideration along the way. We've broken down the who, when, how and why of wedding car decorations below, along with our favorite decorative picks.
Who Does It?
Traditionally, decorating the wedding car is done by the wedding party, but that's not to say it has to be a total surprise. Nowadays, lots of couples want in on the action, and they're also free to take matters entirely into their own hands. (Some even enlist the help of a decorator or event stylist!)
When to Do It
Every wedding timeline is a little different, so you'll want to determine when the grand exit will be. If you're the couple, a planner or coordinator can help you pick the right time. Otherwise, ask around or use the invite details as your guide. Then, plan to decorate the car well in advance.
Don't forget to confirm which car you're decorating, as well as where it'll be. When in doubt, talk it out to make sure your plan aligns with the rest of the day's organized schedule.
What to Use
This depends on the type of vehicle. If it's a rental, ask the driver about any decoration restrictions before unintentionally adding a cleaning fee onto the bill. If it's a car that belongs to you or a member of the wedding party, feel free to have a little more fun, but don't use materials that'll damage the car's finish. The avoid-at-all-costs list includes spray paint, whipped cream (anything containing sugar could ruin the paint) and electrical and masking tape.
When it comes to tin cans behind the car after the wedding, proceed with caution. These can spark when they're dragged against pavement, which may be dangerous (or even illegal in your area). The good news is, there are plenty of other materials you can use to make the car stand out. Think: tissue paper flowers, organza ribbon and burlap bows. You could also write on the windows with markers made just for cars. Don't be afraid to get creative with your wedding car decorations.
Why Decorate?
Of course, you don't have to decorate the wedding car. But if you've ever seen one drive by, you know the commotion it causes: People honk their horns, yell their congratulations or wave from the sidewalk. It's a fun and exciting way to exit the wedding reception or to arrive there from the ceremony. Plus, it makes for yet another Instagram-worthy photo op.
Our Favorite Wedding Car Decorations
There are lots of things to consider when it comes to wedding car decorations, including the wedding theme, colors and even the season. Not sure where to start? That's what we're here for! We've done the work for you and gathered our top picks from floral garlands to wedding car pom-poms. Shop our favorite decoration ideas below to help make the job a breeze.
Custom Floral Stickers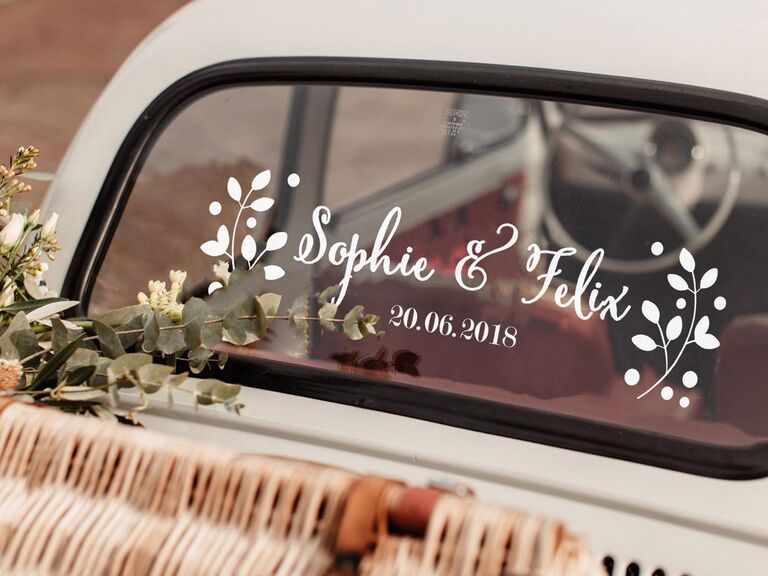 For a wedding car decoration that's one of a kind, this decal is perfect. Add the newlyweds' names to it along with their wedding date. The minimal botanical details around the sides make it the perfect decor for an outdoor or rustic-themed wedding.
Match Set Love floral sticker car decoration for wedding, from $43, Etsy.com
Just Married License Plate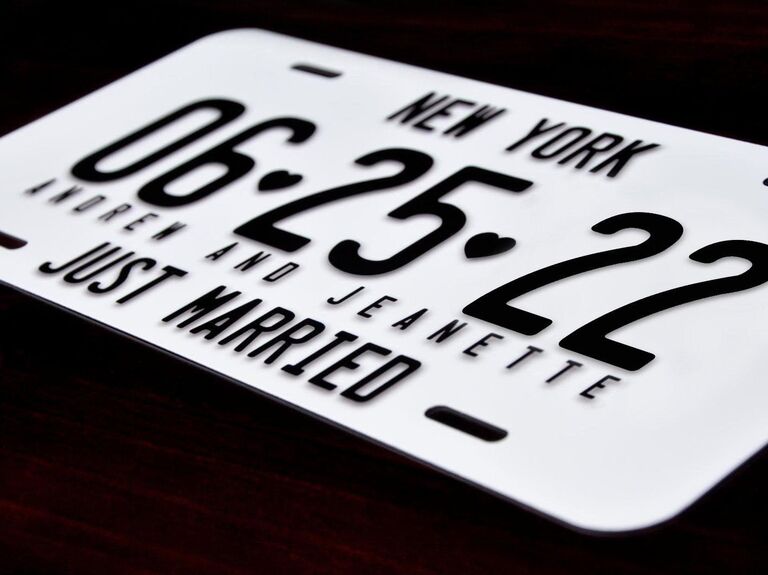 A "just married" sign like this will pop in wedding photos. We suggest fastening it with ribbon or string rather than adhesives—there's no need to damage a good paint job. (Just make sure not to cover the vehicle's original license plates when it comes time to actually drive!)
Paper So Pretty Gifts personalized Just Married license plate, $20, Etsy.com
Custom Initials Cling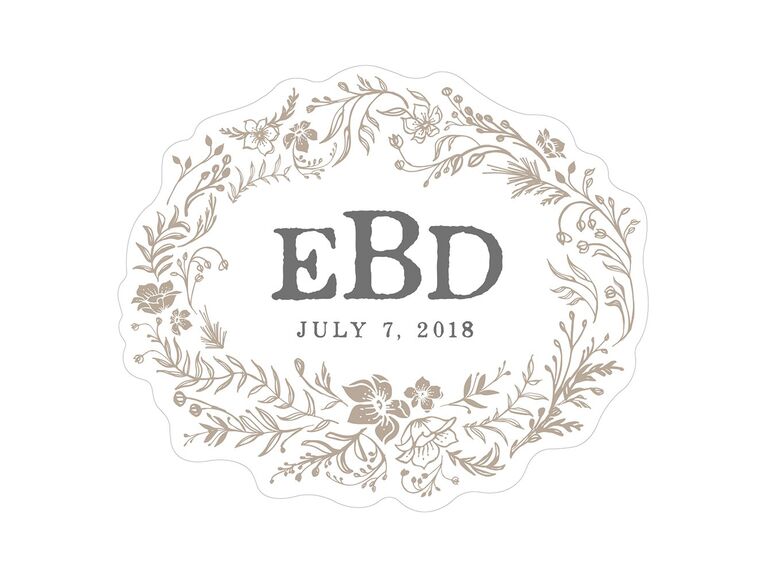 If "just married" car decorations aren't your style, there are plenty of elegant alternatives. Window clings are a no-fuss way of embellishing a vehicle without running the risk of paint damage. This one will showcase the couple's initials and wedding date in a modern, romantic way. Want a tip? Try using a credit card to gently smooth out any bubbles after sticking.
The Knot Shop Modern Fairy Tale large cling, $15, TheKnotShop.com
Just Married Banner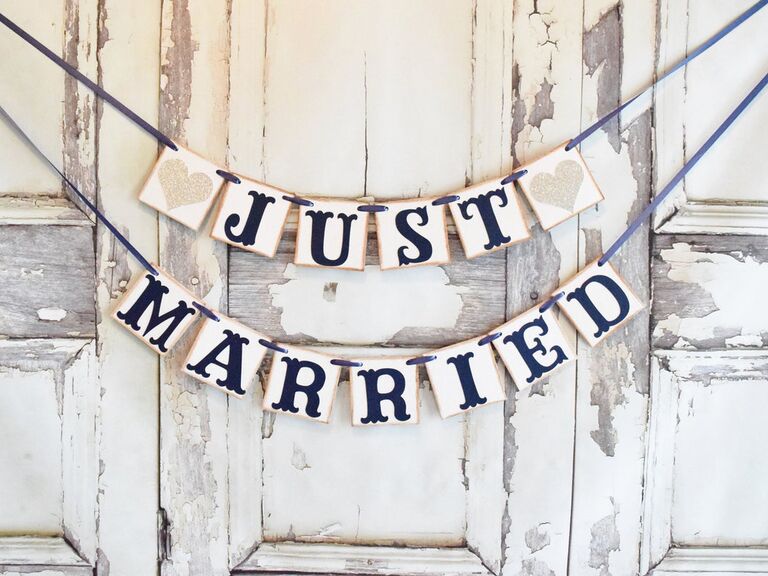 What better way to tell the world the exciting news than with a sign that spells it out? We've got no shortage of "just married" car decoration ideas, like this stylish banner. Fasten it to the back of the car with some string or ribbon—you could even tie in some streamers for an extra-special touch.
lola & company Just Married banner, $22, Etsy.com
Just Married Magnet
If the banner and license plate weren't enough, here's another "just married" decoration idea. Simply place this stylish magnet on the body of the vehicle and remove again afterwards. Easy peasy!
Darice Just Married heart car magnet, $8, Amazon.com
Tin Cans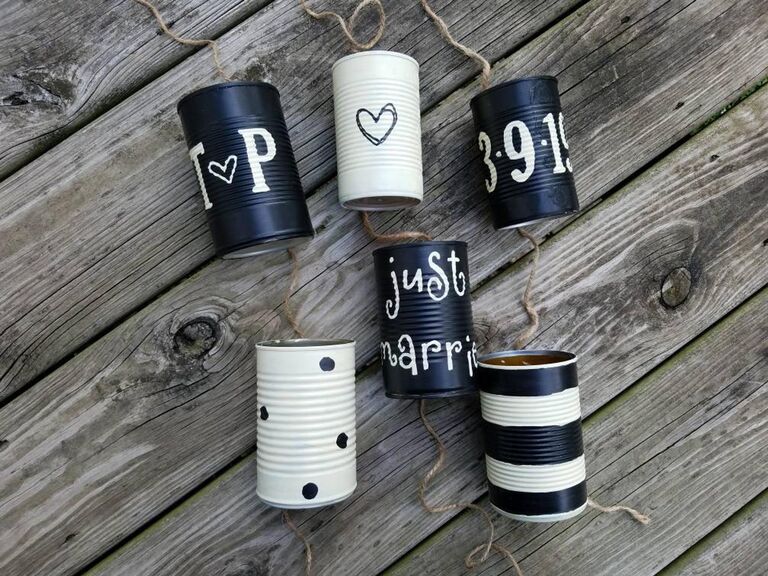 If you're really set on wedding car cans and don't want to DIY, we've got your back. This adorable set of "just married" car cans can be customized to match the wedding colors. (We recommend confining the festive trip to a driveway or parking lot to avoid any on-the-road mishaps.)
Freckles and Whiskers Just Married tin cans, $30, Etsy.com
Colored Pom-Poms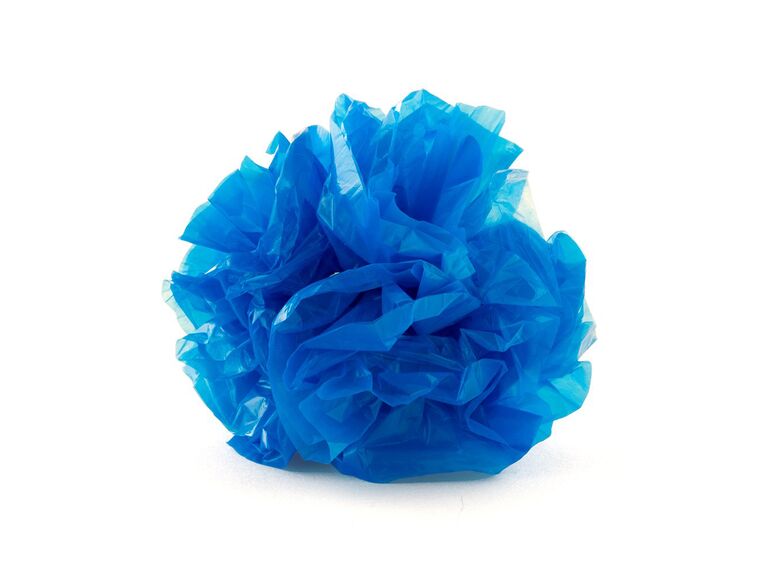 Pom-poms can be used to decorate signs for a pop of color. Choose from lots of different shades to spruce up the car however you see fit.
The Knot Shop Just Fluff colored plastic pom poms, from $1 for a set of 25, TheKnotShop.com
Just Married Window Sticker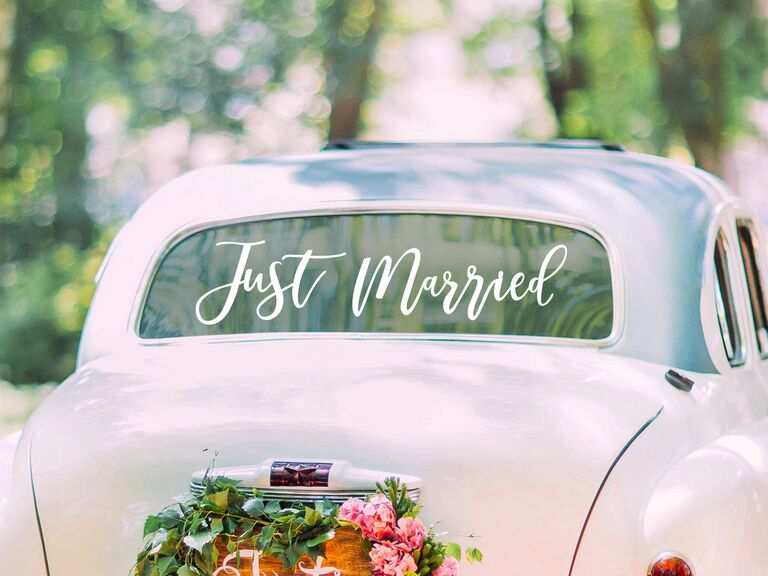 Fill the back window with this sweet "just married" decal. It's easy to attach and detach from the car and it's written in an elegant script font.
Ginger Ray Just Married decal, $13, PartyCity.com
Love Balloons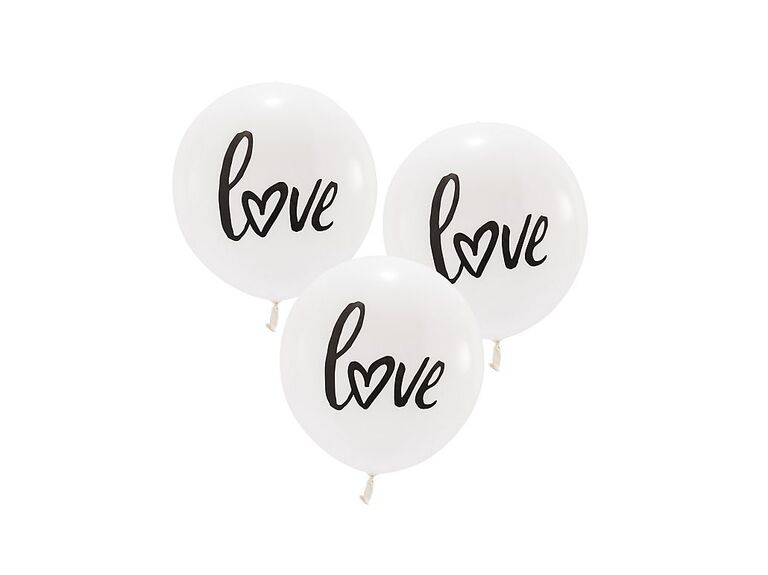 You can never go wrong with balloons at a party, and weddings are no different. Inflate these "love" balloons and secure them to the vehicle with some twine, or if they're for the getaway car, pop them inside to give the newlyweds a fun surprise.
David's Bridal 17 inch white round Love balloons, $6 for a set of 3, DavidsBridal.com
Flower Bows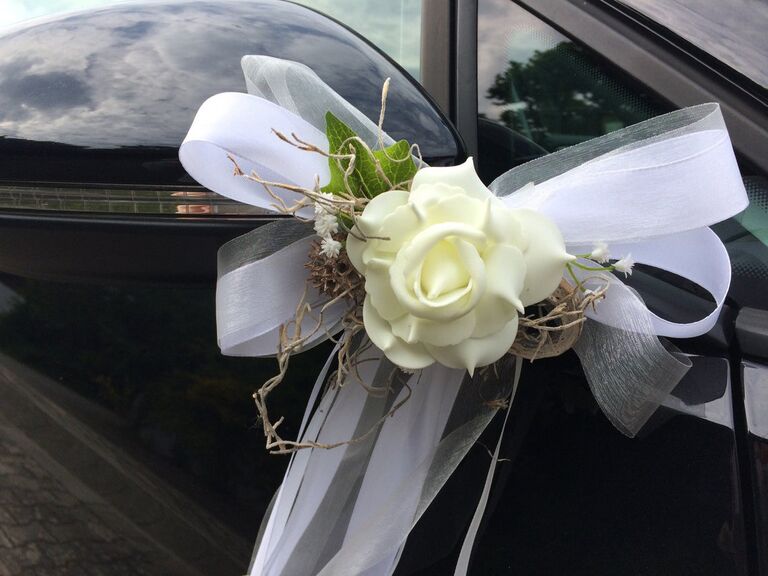 If you're still stumped on how to decorate the wedding car, here's another one of our favorite embellishments. These pretty white bows adorned with flowers can be attached to the back of car mirrors or door handles. When the vehicle drives away, they'll flutter in the wind.
Sarah's Flower Studio car loops for side mirrors, $25 for a set of 2, Etsy.com
Just Married Bumper Sticker
Bumper stickers don't always have to be funny. This wedding car decoration idea is a simple way to vamp up their vehicle on the big day.
The Silly Happy rustic Just Married bumper sticker, $4, Zazzle.com
Personalized Ribbon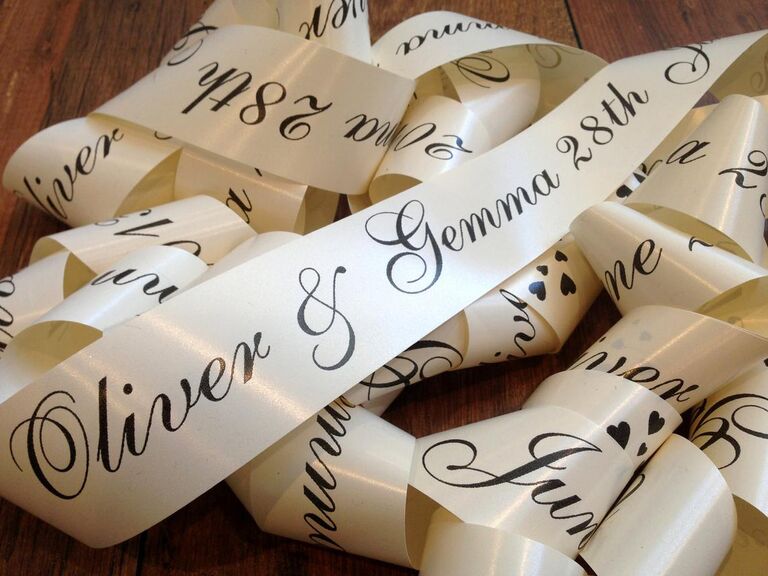 On the hunt for sophisticated wedding car decorations? This gorgeous ribbon works for guests' vehicles and getaway cars alike. The newlyweds will be extra impressed if you choose a color that matches their wedding theme.
All Tied Up UK personalized wedding car ribbon, from $8, Etsy.com
Floral Garland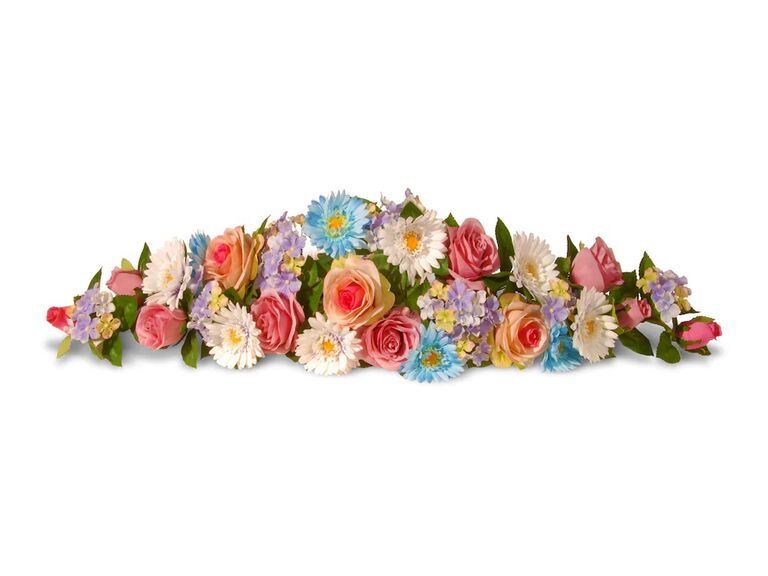 If it's a spring or summer affair, why not choose a wedding car decoration with flowers? This colorful garland is right on theme for seasonal celebrations. Fasten it to the front of the car by carefully tying string around the wing mirrors.
National Tree Company artificial spring flowers swag garland, $70, Kohls.com
Burlap and Lace Bow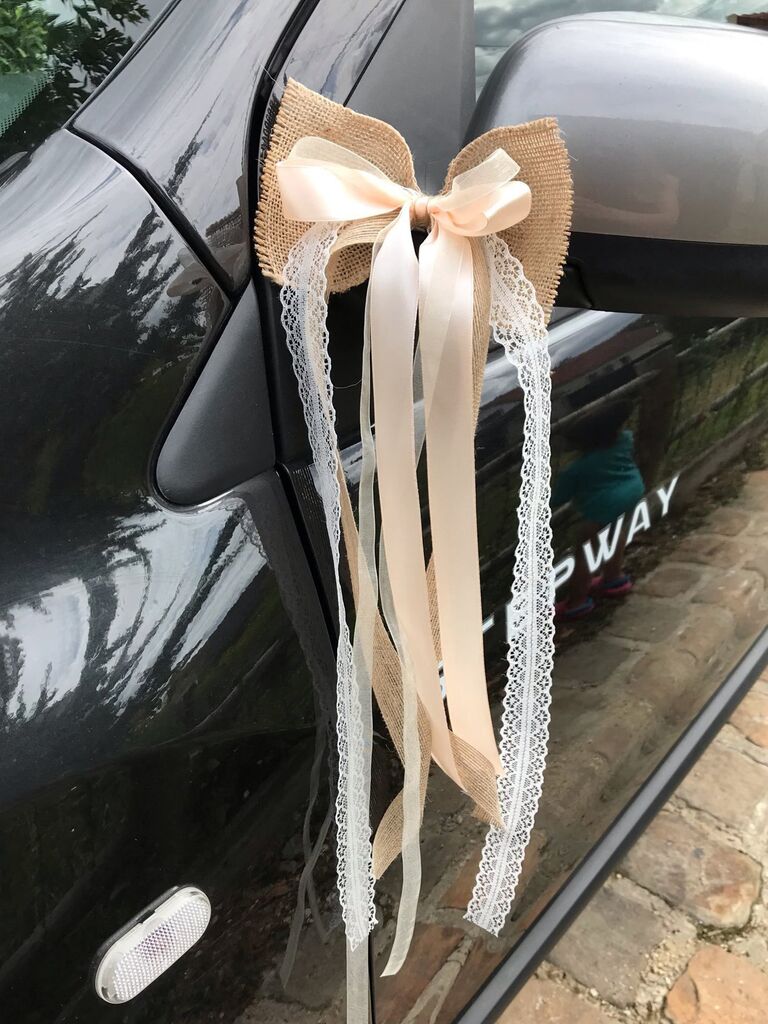 Wondering how to decorate the wedding car for rustic celebrations? Burlap is your best friend. These elegant bows easily attach to antennas and wing mirrors.
ideaTatyart CHABBY lace bow tie for the wedding car, from $5, Etsy.com
Colorful Tulle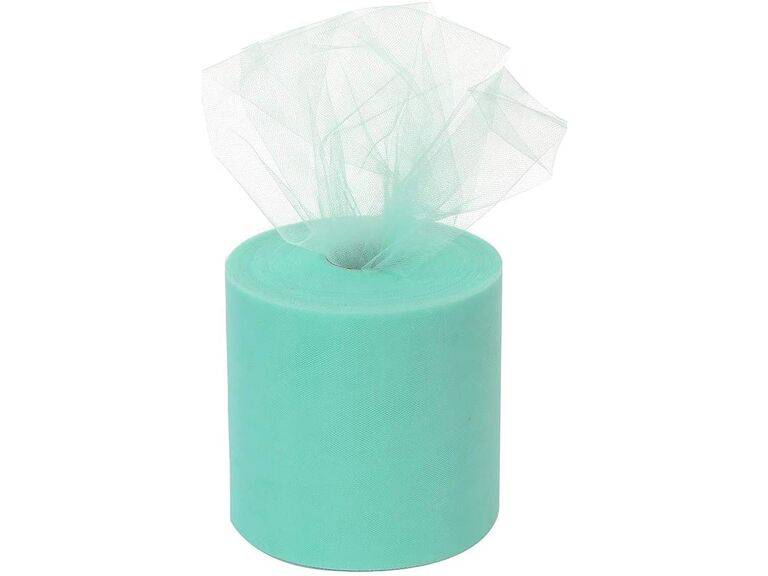 Drape the sides or front of the getaway car in colorful tulle for an unforgettable farewell. Bonus points if your wedding car tulle matches the wedding colors!
POCOLOR 600ft tulle roll, $13, Amazon.com
Tissue Paper Flowers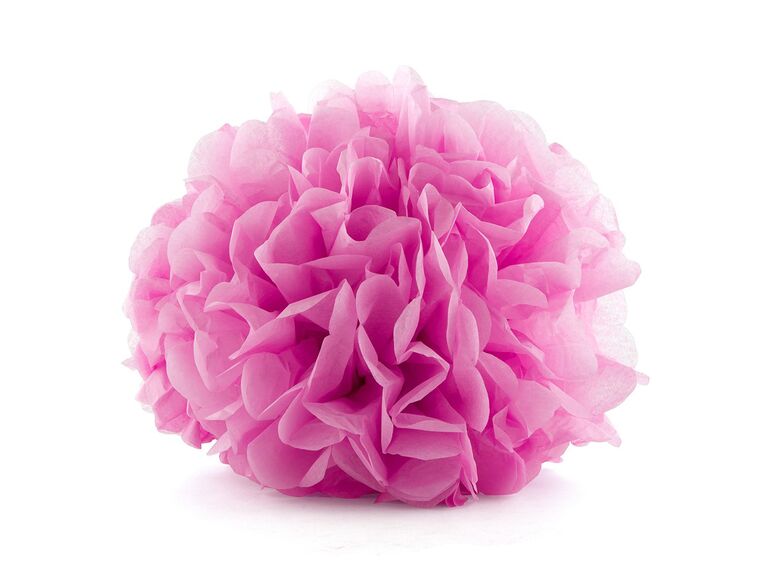 Create your very own wedding car decoration with these tissue paper flowers, which you can use to design colorful streamers that hang from the car. Easily keep them in place by attaching them to the inside of the trunk.
The Knot Shop Celebration Peonies tissue paper flowers, from $2 for a set of 2, TheKnotShop.com
Elegant Organza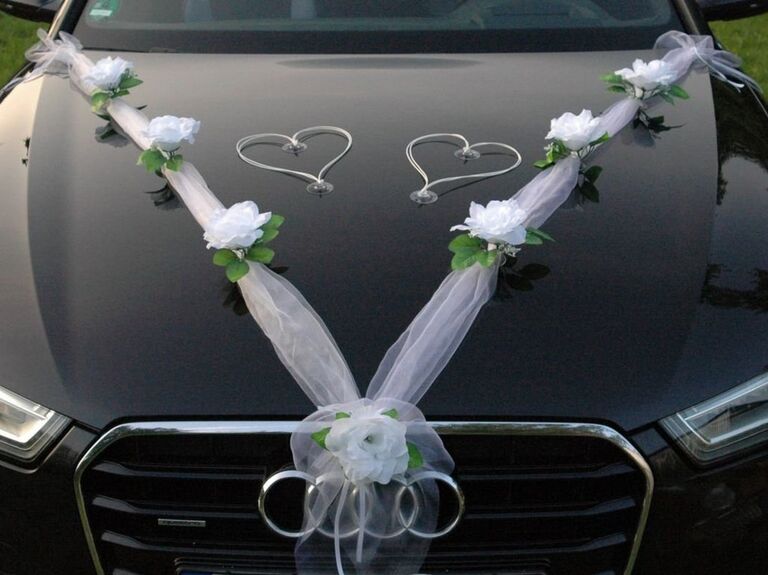 What's a list of wedding car decoration ideas without a little organza? Adorned with faux white roses, this gorgeous decor will make any car stand out from the crowd. Better yet, it stays in place with silicone suction cups so there's no tape needed.
Velvet Wedding white roses and organza wedding car decoration kit, $46, Etsy.com
Personalized License Plate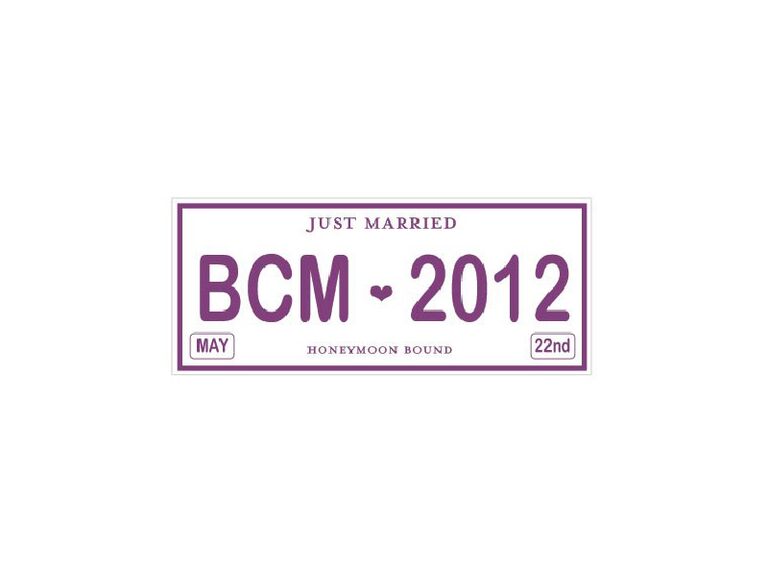 "Just married" license plates are so popular we've included them twice! This one can be personalized with the couple's initials and wedding date for a memento they can hold onto afterwards.
The Knot Shop personalized printed license plate, $9, TheKnotShop.com
Just Married Wooden Sign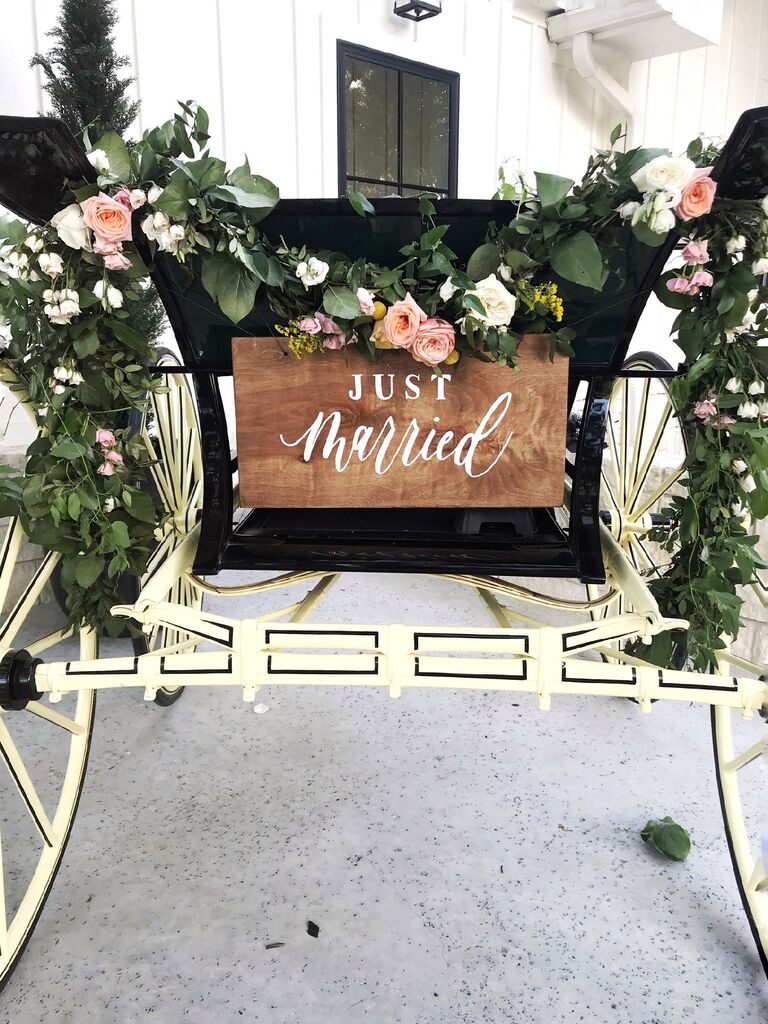 Not every couple makes their getaway in a limo or vintage Rolls Royce. For the lovebirds planning a fairytale wedding, consider this rustic wooden "just married" sign. The convenient holes at the top make it easy to hang from the back of a carriage.
Lonestar Letter Just Married getaway sign, from $60, Etsy.com
Liquid Chalk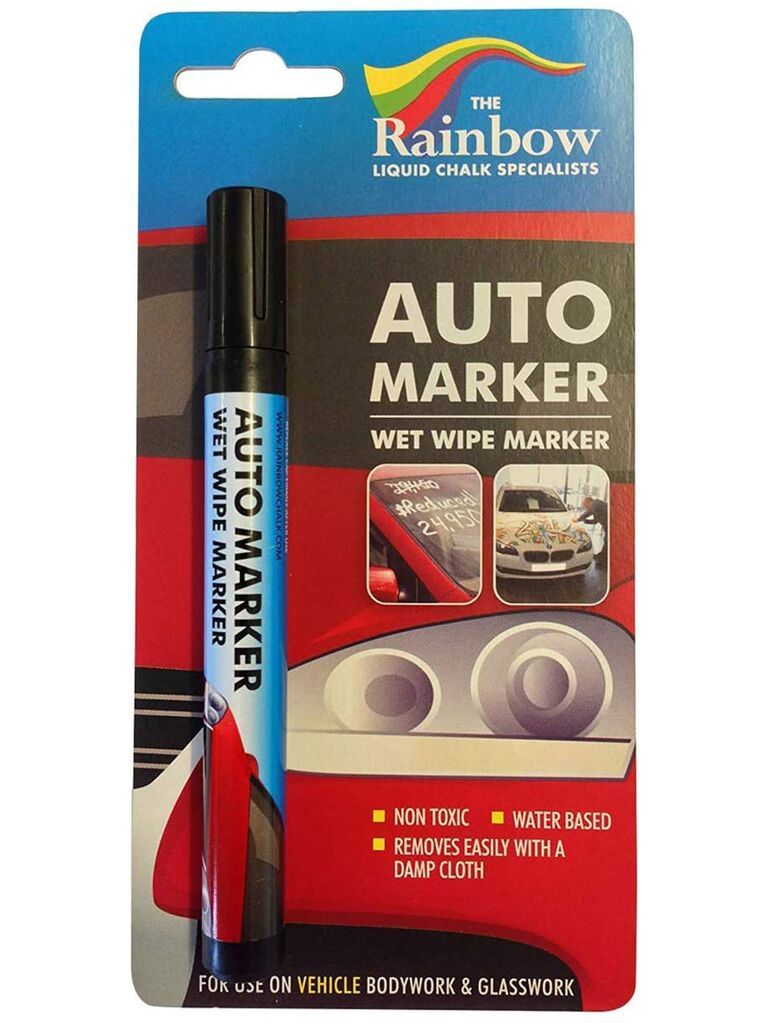 Write your own message with this handy auto marker. Whether you're decorating your own vehicle or sprucing up the newlyweds' getaway car, this neat marker is a safe and simple decoration idea. The best part? It'll wipe right off with a damp cloth afterward.
AUTOwriter car paint marker pen, $8, Amazon.com
Just Married Car Flag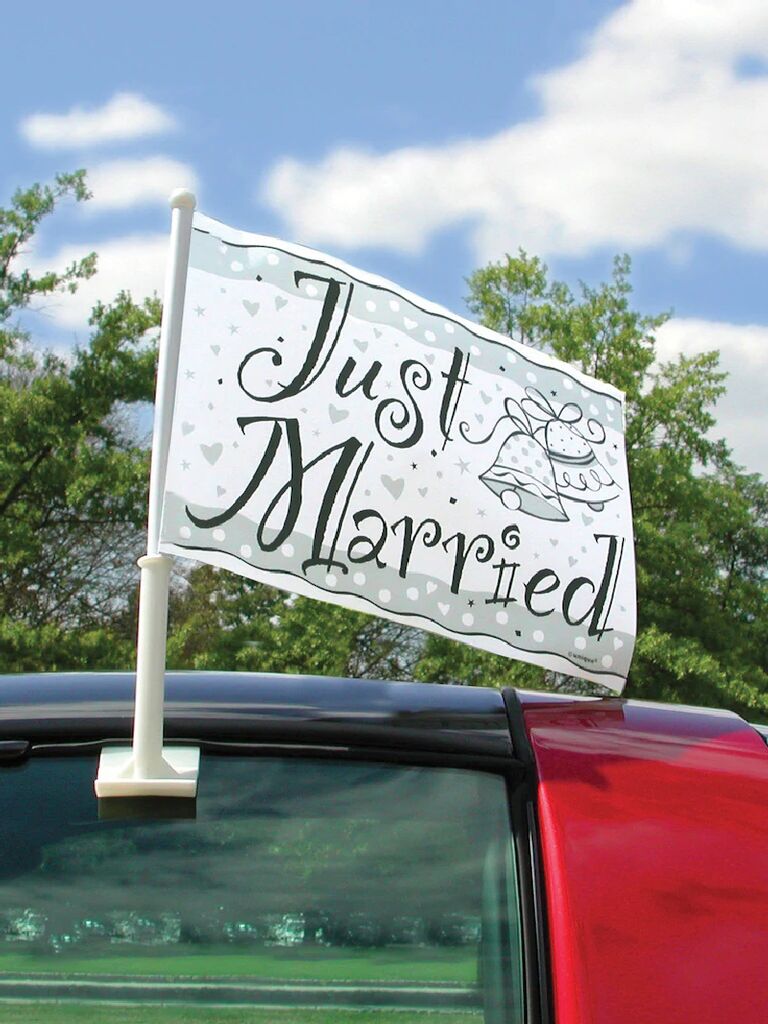 If going all-out with decorations isn't your (or the couple's) thing, this simple flag is a great way to celebrate without going overboard. Simply use the clamp to attach it to a window and you're done!
Michaels plastic Just Married car flag, $5, Michaels.com