97 Beautiful Wedding Pictures That Move Us to Tears
These are just what we need in quarantine.
The coronavirus pandemic has caused many couples to postpone their weddings, downsize their original ceremonies to "minimonies," or simply elope. With many to-be-weds likely feeling upset about the change in plans, we rounded up 97 wedding pictures to lift your spirits. These photos show more than creative ideas for personalizing your wedding—they also show the most important part of weddings: the love. When you look at these stunning pictures, you can actually feel the love the couples share. If you ask us, there's nothing better to see. So, if you need a switch from watching romantic comedies on Netflix, take a look at this heart-warming roundup. What's more, you can use these wedding pictures as inspiration for your own special day. Get ideas for different poses or candid shots you might want to capture on your day, and then work with your wedding photograher to make it happen.
These 97 wedding pictures will lift your spirits in quarantine—and remind you that love is not canceled. Can someone pass the tissues, please?
"You can't have a wedding in New Orleans without a second line," says photographer Moesia Davis, owner of Mo Davis Photography. She says this was the only wedding she's photographed that didn't have a timeline for formal family pictures. "The couple just wanted me to capture their day without any formalities, and that's exactly what I did. The energy from the crowd fuels a second line. So many people were screaming 'I love your dress.'"
Sometimes scoring the perfect wedding picture is about letting loose. Forget about the camera and focus on each other.
With the help of his children and grandchildren, Michael planned a 50-year vow renewal ceremony for his wife, Rose, whom he started dating in high school.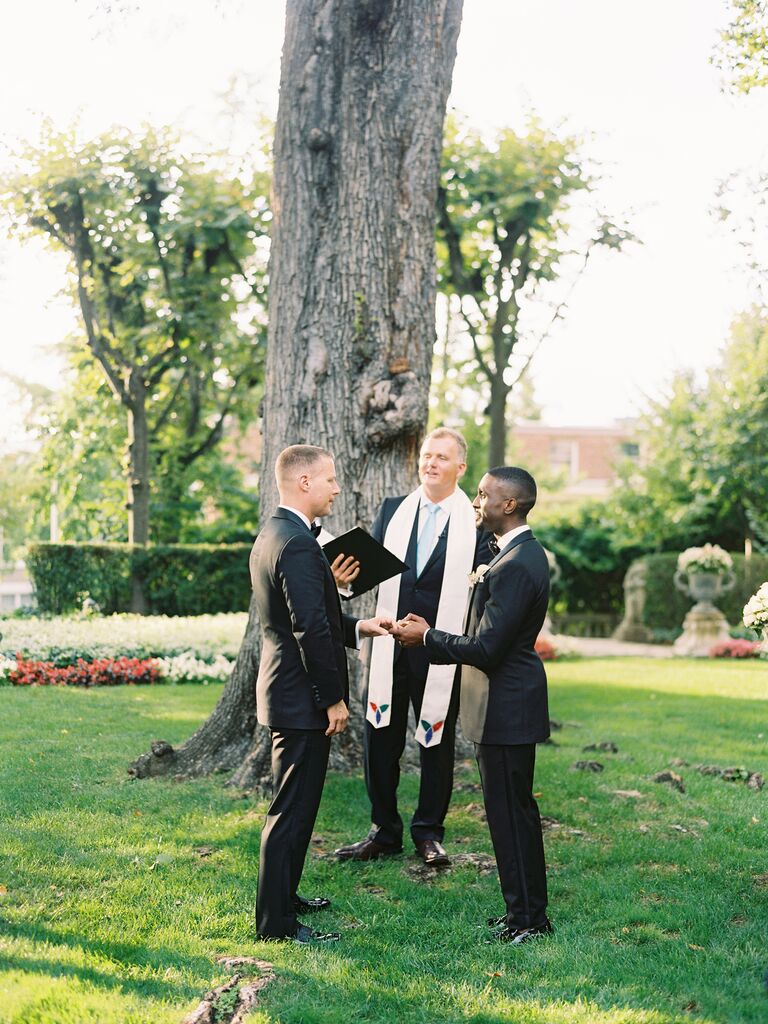 "They created a space where the love was so thick among guests it was like you could reach out and touch it," says photographer Abby Jiu of Abby Jiu Photography.
"Showing deep relationships in photos is one of my favorite parts of being a wedding photographer," says photographer Iryna Shostak, owner of Iryna Shostak Photography. "I am always looking to create photos for my clients that will evoke special memories of their wedding day for decades to come."
There may be tears at your wedding—that's OK! They will create stunning pictures you'll love to look back on down the road.
Add movement into your poses for an absolutely stunning wedding photoshoot.
"Using theater lights, I wanted to create a silhouette of these two coming together securing their bond of marriage with a romantic touch of the skin," says photographer Jermaine Horton, owner of Jermaine Horton Photography. "When you know your couples, you know exactly how they react to each other, so I knew this was the perfect moment and shot for me to capture."
Don't forget: love isn't canceled. If you're planning a wedding during the pandemic, check out our shoppable guide of wedding masks that will actually look cute in your photos.
If you and your partner can tell what each other are thinking without saying anything, this kind of picture is a perfect way to showcase your strong relationship.
Happy tears on your wedding day can make for the fondest memories down the line.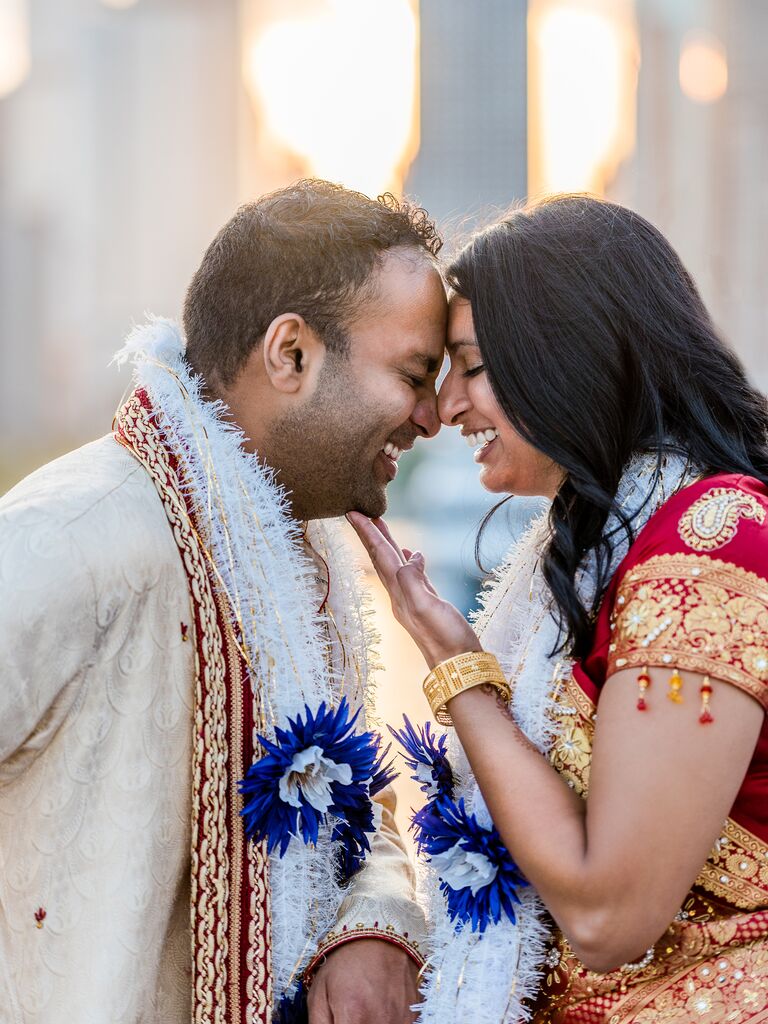 "The one thing I know about [this couple] was that they are both silly and have huge senses of humor," Horton says. "I just simply asked them to come close and see who could stare at each other the longest—and they burst in to laughter after five seconds. I knew this would happen, so it was a genuine moment and easy to capture. Sometimes couples will give you their genuine nature, and that's what I love to get. "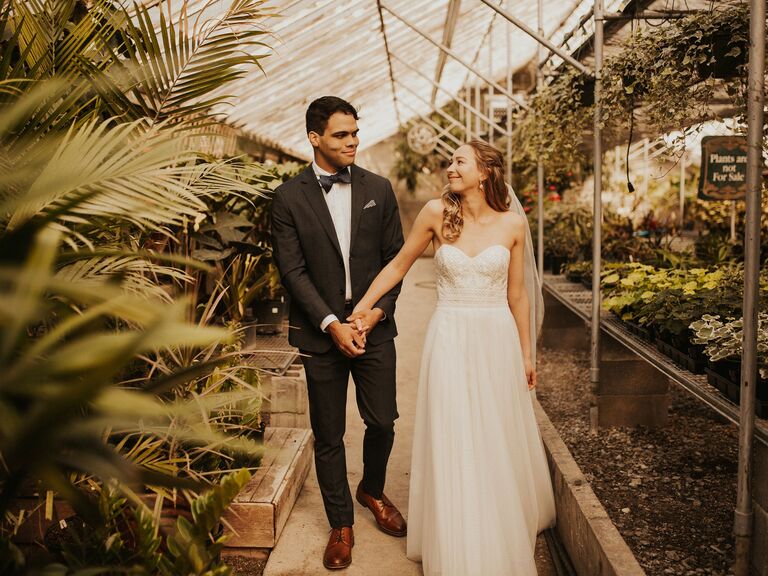 Anna and Drew decided on a greenhouse in Michigan for their nuptials because the outdoorsy vibe felt authentic to their love story. "We both love camping, and it felt like home," Anna told The Knot.
"Thanks to Knockaz Brass Band, I experienced the best second line ever," Davis says. "I've never seen so many people come off the streets and just dance or join in! It was electrifying and contagious. I had no idea just how much and how hard my bride had danced until we entered the reception. She partied so hard we had to take her wedding dress off and apply cold towels all over her body. The groom kept it cool underneath an umbrella."
A forehead kiss is such a simple gesture that can make for a gorgeous picture.
Jiu says this couple chose to break the mold and share every moment of their wedding day (breakfast, getting ready and driving to the venue). "It was refreshingly different and totally them," she says.
"You are usually crowded by family and friends [at your wedding], so you never really get to have you time with your partner," Horton explains. "As the rain fell, I knew that this wold make for a 'love story photo.' Oh …and they got their time to themselves—all I did was snap away!"
"I've known Peter for years and he's always had this quiet demeanor," Davis says. "Well, his wife Emma has that same quality. There were subtle displays of affection all day: cheek kisses, hand holding... that loving gaze that newlyweds have. All of a sudden, Emma's affection became not so subtle."
This sweet pose looks like it belongs on the cover of the most romantic novel in the world.
Jiu says for this wedding, the saying "when you know, you know" applies perfectly. They planned their wedding in just three months.
Candy and Max's ultra-personal Jewish wedding also incorporated special touches to pay homage to Max's Mexican heritage.
"One of my favorite couples—they just could not keep their hands off of each other," Horton says. "This Ghanian wedding was a two-part wedding in one day, and it was full of love and romance. It was easy to get these two together and show some love and affection. His adoration for his wife truly showed, and the forehead kiss is as intimate as they come."
Those small, in-between moments could become some of your favorite wedding couple pictures down the line.
That "I-can't-believe-how-amazing-you-look" moment. We're not crying.
Kaylee and Karl wedding paid tribute to Kaylee's late grandmother. "When she would talk about me getting married, she would say, 'I can't wait for you to be married so I can see your beautiful dress. You could even wear my wedding kimono if you wanted, you would look so elegant,'" Kaylee told The Knot. She honored her grandmother by wearing the kimono during the reception.
"Keia and Nick's first look was magical," Davis says. "It was such a beautiful and sweet moment between them. My goal is to be non-invasive during these moments, so I normally shoot with a long lens. My second shooter and I perform a well-choreographed dance; making sure we're not invading the other's space, or blocking a shot all while attempting to get the perfect shot."
"The most beautiful part of my job is to be there to capture those moments of quietude and love that happen between two people who are just meant to be," Jiu says. "Like Darby and Kaitlyn—we could just feel it."
Troy and Ian planned a glamorous, glittery New Year's Eve disco celebration for their wedding. In addition to their rhinestone cowboy motif, they also added sweet personal touches to the day. They incorporated a bee motif as a nodf to their parents (who are beekeepers in their free time) and used baby pictures as inspiration for their nail art. "I wanted something totally extra and super special," Ian told The Knot.
Shostak says she carefully selects lenses to capture portraits with dramatic backgrounds.
Don't be hesistant to show your emotions at your first look. You'll have some amazing pictures after the fact.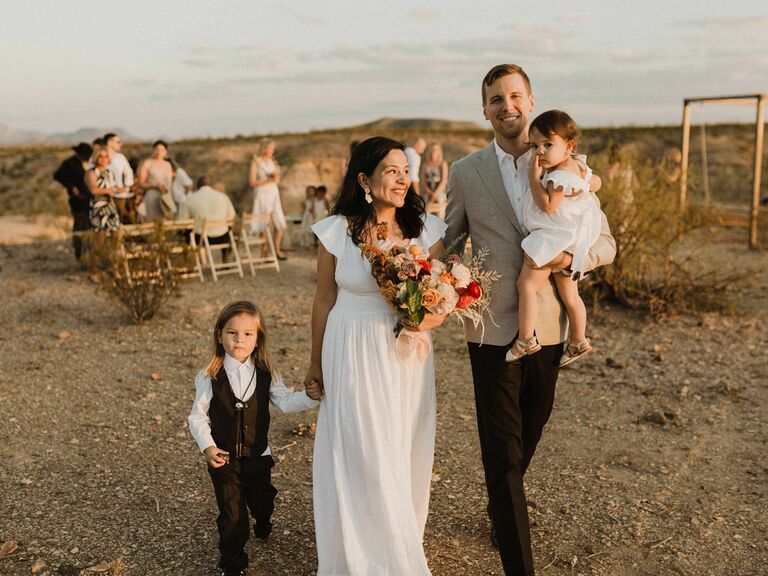 Nicole and Michael settled on an intimate, 17-person wedding in Texas. The focus of the day was love and connectedness: All of the guests took part in a handfasting ceremony with the couple and Nicole and Michael's children walked them down the aisle. "Having Landon and Luna (our kids) participate in the wedding made the day feel complete," Nicole told The Knot. "They look through our wedding album weekly and talk about 'our wedding.' It brings us so much joy."
Hold hands and look deep into each other's eyes—it'll make for a magical moment.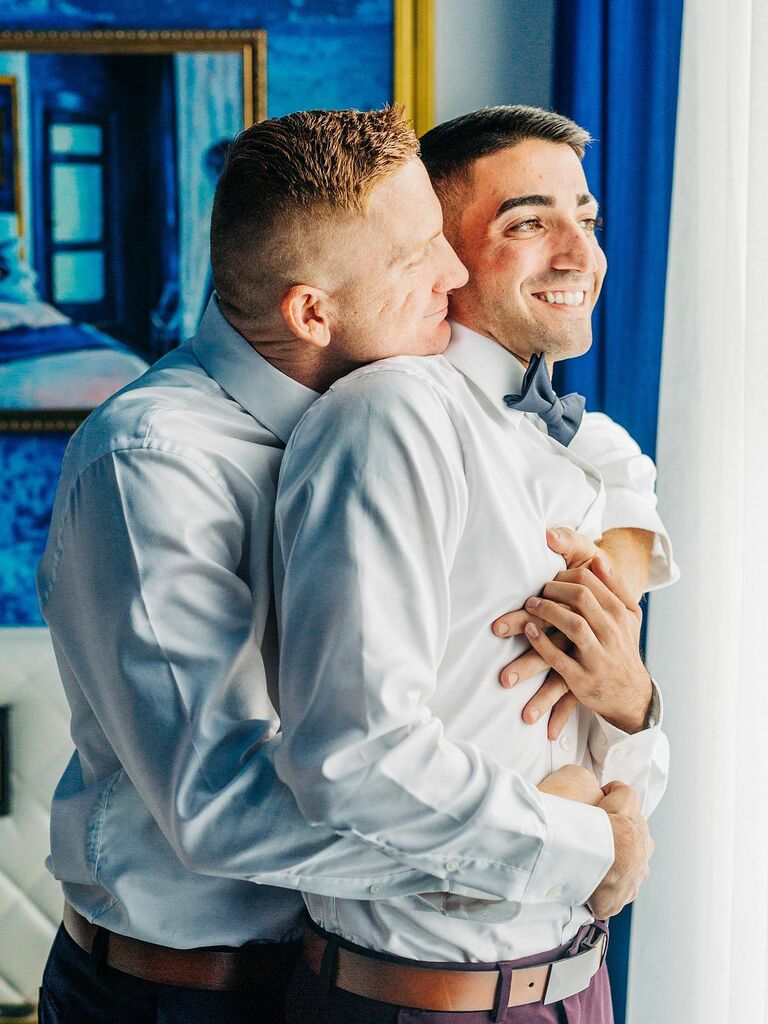 For Alex and Ryan, the wedding was all about family. Eight nieces and nephews served as wedding attendants, Ryan's sisters threw pre-wedding festivities, and the entire family broke out into a dance at the reception. The couple also wore butterfly pins to honor Ryan's late mother. Our biggest joy throughout the entire process was growing even closer to our families, and watching our two families become one," they told The Knot.
You can't go wrong with locking eyes with your partner. The picture looks incredible every single time.
Jiu tells The Knot that this wedding couple picture made her heart bust into "239024 pieces." (It did the same thing to us.)
Even a moment as simple as reading your written vows can turn into a picture that makes you smile years later.
Is there anything more adorable than that "we did it" moment in the aisle?
Allie and Kayla both grew up in the Pine Barrens and feel most comfortable outside, so they planned an outdoor ceremony. "It was important for the natural beauty of the venue, and us, to be the focus," Allie told The Knot. For their first dance, they chose a song they typically jam out to at home: "Somebody Loves You" by Betty Who.
A picture of you laughing together will capture the joy and love you feel on your wedding day.
Between the sheer drapes, the colorful lights and the neon sign, this shot is downright dreamy.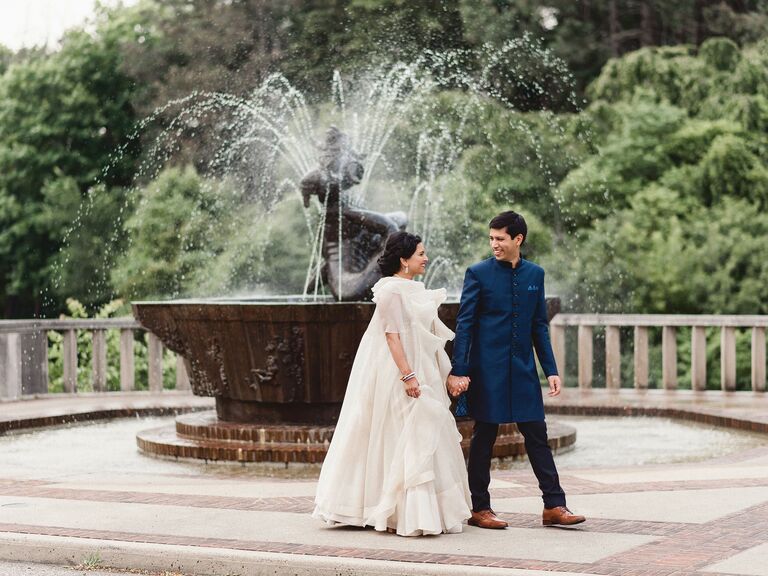 "Indian weddings put a heavy emphasis on two families coming together," Priya and Debmallo told The Knot. They honored both of their families and their Bengali heritage by planning a celebration that focused on tradition and sentimentality.
Jiu says one of the more rewarding parts of photographing a couple on their wedding day is staying in touch later on.
"Whether I am using natural light to enhance a photo, or I am setting up carefully-controlled lighting situations such as a night portrait, my goal is always the same: to create a photo for you that you will consider magazine-worthy, fresh, and artistic," Shostak says.
We love the idea of placing the veil over both you and your partner. It creates a moment for just the two of you.
Mona and Eliot skipped the traditional wedding planning process and ended up making decisions days before the wedding. Still, it ended up being a huge success. "Mona and I took a moment together to take in the scene of all these people we love together in one place," Eliot told The Knot. "We had actually pulled off quite a fun event."
A candid photo showing your post-ceremony joy is something you'll treasure for years to come.
Just before you kiss, look at the camera. It's a unexpected pose that captures the joy you feel perfectly.
Matthew and Phillip made their own tradition by re-inventing many Jewish wedding traditions. "Our wedding was a custom ceremony derived from Judaism, but stripped of its hierarchical, patriarchal, gendered dynamics and language. We wrote interpretations of each ritual and how it brings meaning and enrichment to our connection," they told The Knot.
A kiss from afar is the ultimate romantic shot.
Jiu says this wedding was "a day filled with Chinese traditions, a change into a red dress and this floral structure."
Franny and Justin paid homage to Franny's Scandevaian roots by throwing a Hygge-inspired wedding. How cute and cozy is this pose?
Pause right before you kiss. The picture will capture your unconditional love for each other.
Even with your eyes closed, your body language can communicate the love you share.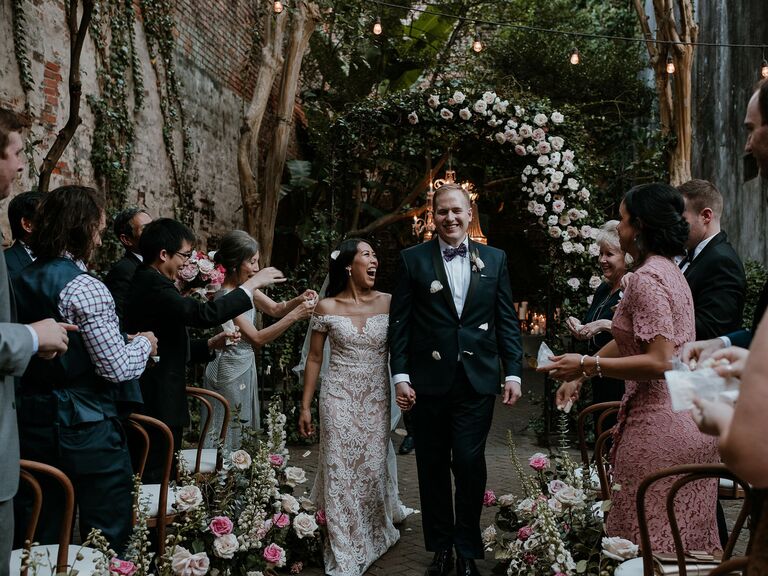 Thi and Nick wanted their guests to experience all everything New Orleans has to offer, so they hosted a romantic ceremony at the New Orleans Pharmacy Museum. "It felt fairy-tale-like," Thi told The Knot.
With a colorful and dramatic background, pausing to focus on each other will heighten the romance in your pictures.
Take a moment with each other on the dance floor. It will create a gorgeous picture you can smile at in the future.
Leave a little to the imagination. Communicate your love for each other with other details, like your shoes (shown here) or your rings.
A straight-face makes a simple gesture like holding hands seem more intense and romantic. (We're also totally here for a statement-making black wedding dress.)
If you're feeling nervous during your ceremony, look at your partner and smile. Not only will it instantly make you feel at ease, it will also create a great picture.
"Roy is Syro-Malabar Catholic, so our wedding respected both American and Syro-Malabar Indian traditions," Rachel told The Knot.
Let loose and let yourself laugh. It will make for an absolutely adorable wedding couple picture.
"We used several Indian elements in our otherwise traditional American ceremony," Sarah told The Knot. "We said our vows around a fire, lead each other around the fire and wore flower garlands around our neck—all important aspects of Indian weddings."
Take a "couple picture" with your friends in the background to feel all the love.
Feeling nervous in front of the camera? Let out a little laugh. The result is equal parts stunning and adorable.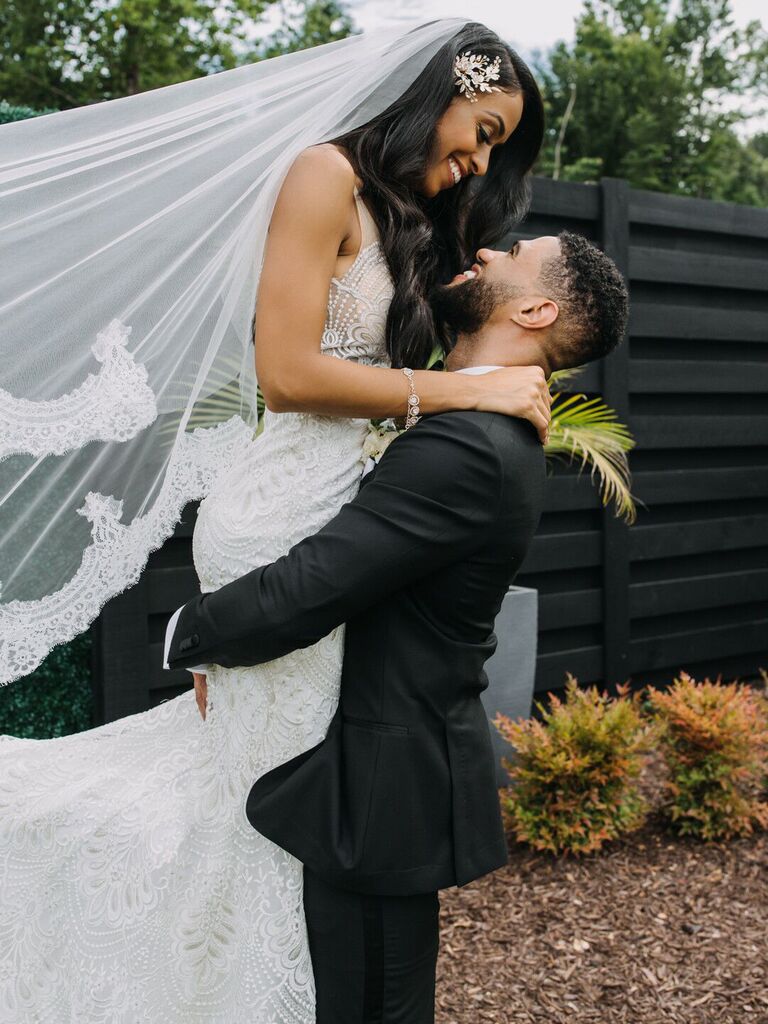 Feeling adventerous? Lift your partner up or jump up and down together.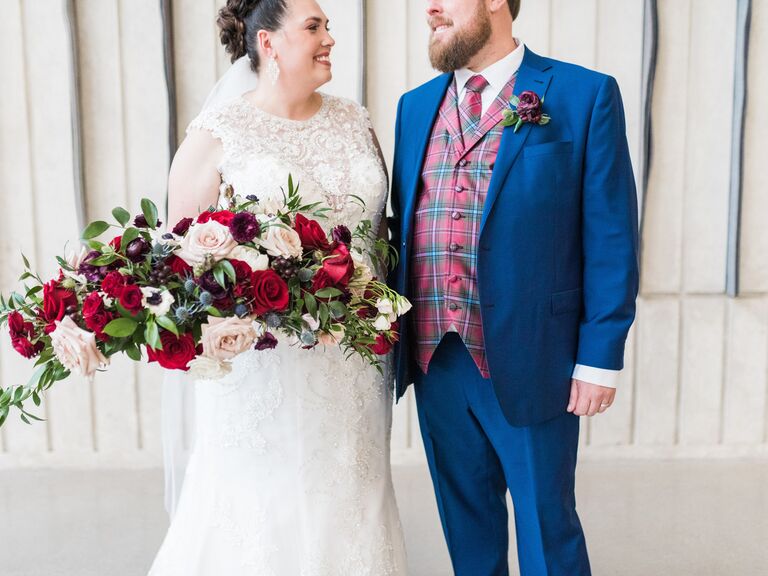 Have your photographer get creative with the framing for an unexpected shot that's incredibly sweet.
Nirali and Ray planned a two-part wedding that focused on their different cultures. "We wanted to have a day that celebrates not only us as a couple, but the union of our families. Our hope was to illustrate our amazing Indian and Korean cultures, as well as Hindu and Christian traditions," Nirali told The Knot.
Jeffrey and Robert turned their wedding reception into the live music event of the night. They had billboard cut-outs of each groom, 150 lighting instruments, and a surprise concert from Betty Who.
Add confetti of your choice (flower petals, glitter or paper) to the picture for a photo that's equal parts stunning and romantic.
Heta and Courtney decided to have a wedding that was authentic to their love story. "Our main focus was good food, good drinks and lots of dancing," Heta told The Knot.
Ayesha and Brian put thier own spin on Pakistani-Muslim traditions to make their wedding day unforgettable. "We both knew we wanted traditional Pakistani outfits but I was not so convinced that I wanted to wear red, which is what brides normally wear," Ayesha told The Knot.
"Being first-generation born Canadians by immigrant parents from Hong Kong and Fiji, our upbringing was the heritage and traditions from Hindu and Chinese cultures," Ashlyn told The Knot. "A Hindu wedding ceremony and prayer along with a Chinese Tea Ceremony was performed to incorporate both our backgrounds."
Neela and Nathan planned a two-day wedding that celebrated their Western and Indian cultures. They changed into Western wedding outfits after they celebrated in their traditional Indian attire.
A coy kiss on the cheek is both sweet and sulty.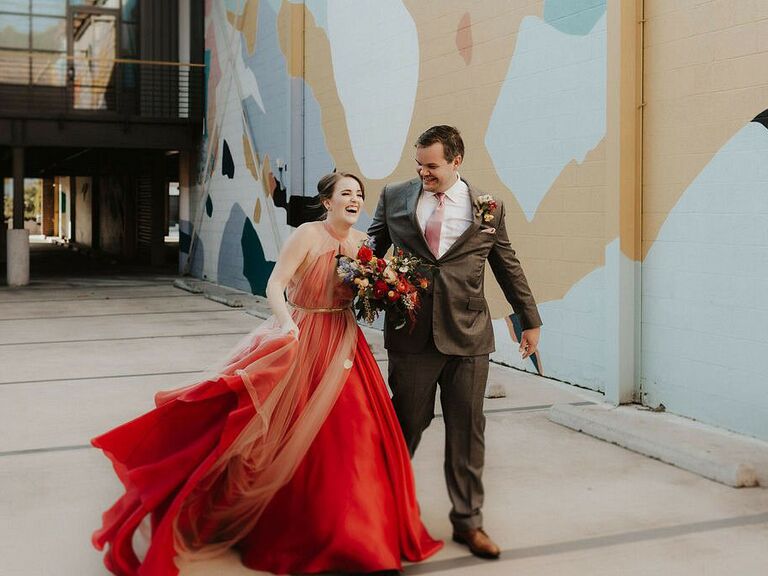 Break the tension by laughing with each other. There's nothing like the perfect candid shot to score all the likes on Instagram.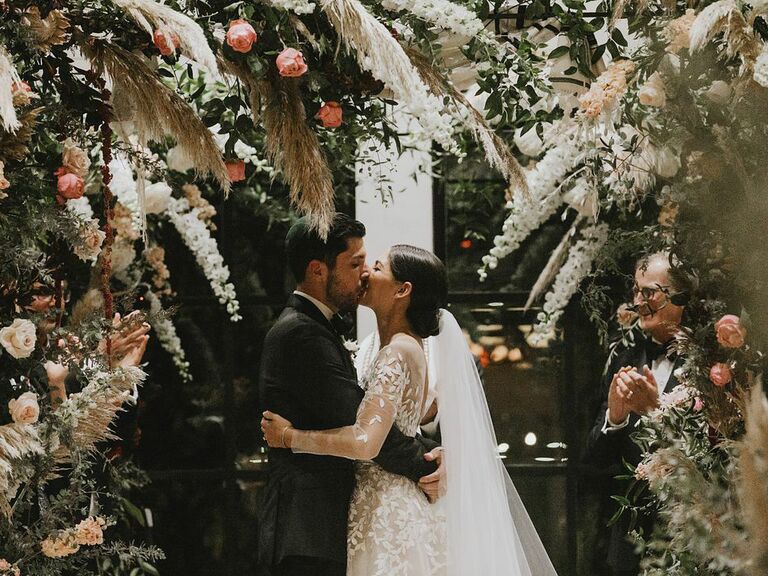 A little smile in between kisses makes for the ultimate couple wedding photo.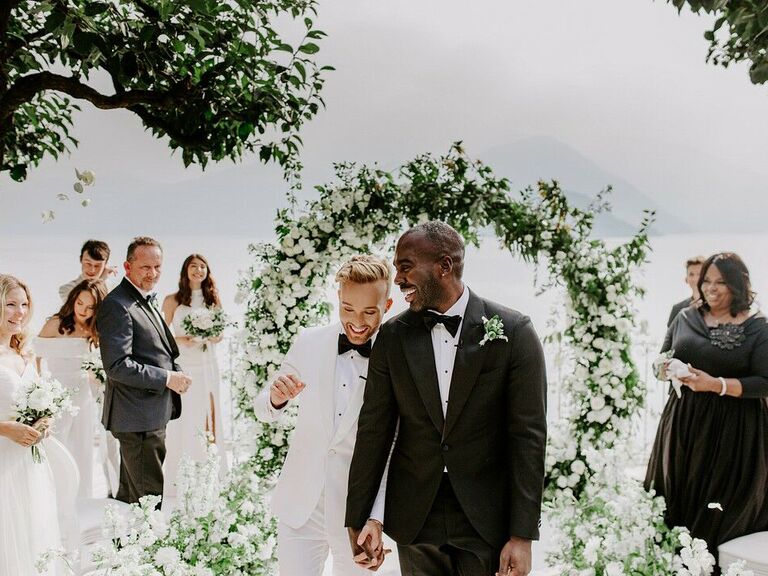 Jay and JJ planned the ultimate destination wedding in Italy (fitting, since JJ is Italian). "As an immigrant and a traveler, it's been difficult to gain a sense of home," JJ said in his vows. "Not anymore. My darling Jay, home is in your arms."
Trent and Todd planned an intimate wedding, including only siblings and siblings-in-law in their wedding parties.
Geneva and Anne celebrated their love at a cozy winter wedding. Their reception featured a neon sign that read "Love is Love" as a reminder that there are no restrictions on love.
After 11 years of dating, Anna and Russell made it official at their Pennsylvania wedding. "Our high school prom photo was our save-the-date," Anna told The Knot.
Aly and Matt their a casual, elegant affair in Bonita Springs, Florida. "When I turned around and saw her, I was overwhelmed with emotions. Our family was one step closer to becoming complete," Matt said of his first look with Aly and their son, Alyjah.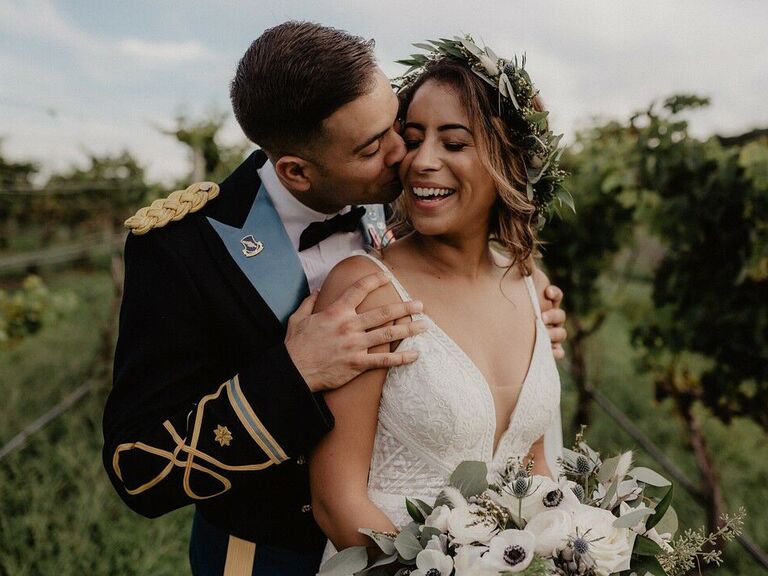 Despite Maddie and Ernesto's stunning picture here, they admit they had trouble holding it together at their ceremony. "I cried basically the entire way down the aisle, and when I saw his face, it took a lot of strength not to sob uncontrollably," Maddie told The Knot.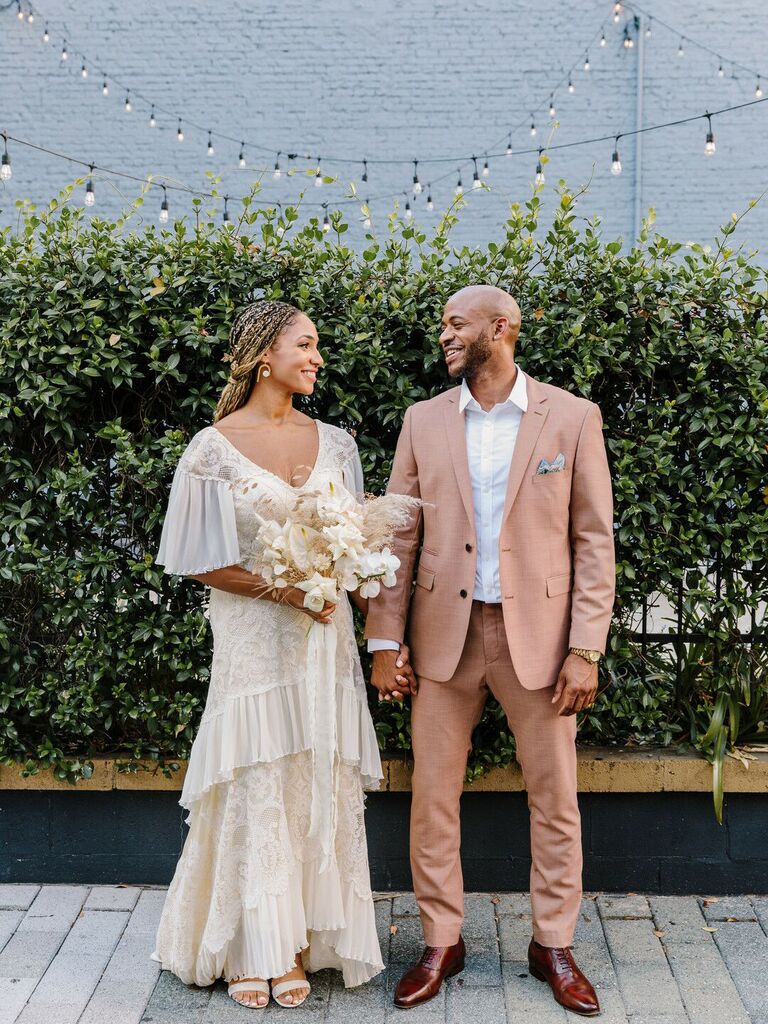 Lori and Sebastian planned a "vintage-meets-modern and minimal aesthetic" for their wedding day. Lori rocked a vintage dress she bought for one dollar and Sebastian wore a terra-cotta-colored suit.
Family is so important to Laura and Lauren that they chose a reception date significant to both sides: Laura's parents' anniversary and Lauren's late mother's birthday.
Caitlin grew up in New Mexico and brought Phillip there after they started dating (he loved it). "We wanted our wedding to be an immersive experience, as most of our friends and his family had never been to the Southwest," they told The Knot.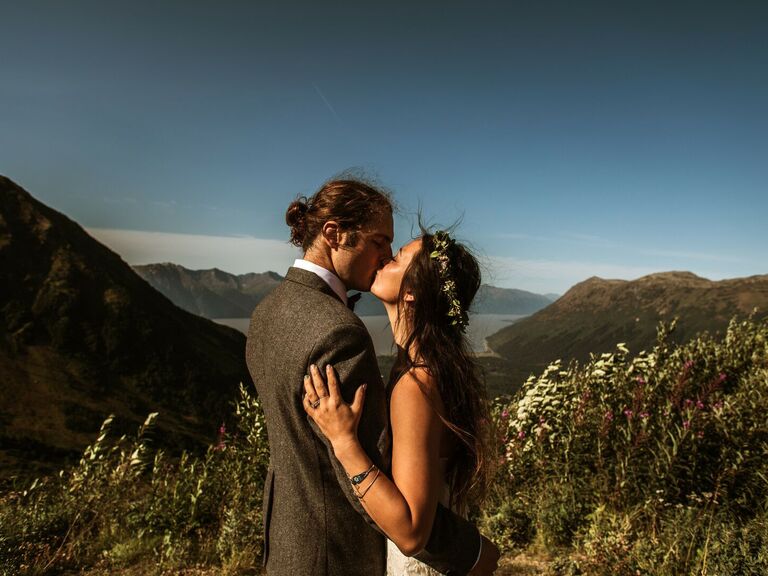 Casey and Daniel got married in Alaska because they're avid travelers and Casey is native Alaskan. "Tying our wedding to the land where my ancestors come from was important to me and provided some of the world's best protein to many guests who weren't from Alaska," Casey told The Knot.
Segi and Gabe had two separate celebrations: a Western wedding at the Detroit Institute of Arts and a traditional Yoruba ceremony at the Sheraton Detroit Novi. The latter was a nod to Segi's Nigerian roots.
Despite getting married in D.C., Allison and Korey included a special tradition. "At our wedding, we continued a New Orleans tradition of a second line exit celebration led by a six-person brass band," Allison told The Knot. "The brass band played traditional second line songs while guiding our guests in dance to Sequoia's terrace overlooking the Potomac."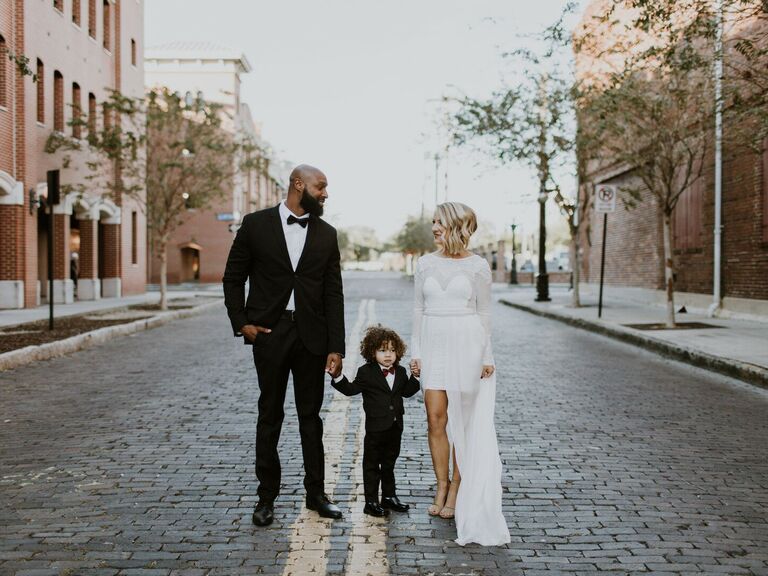 During Samantha and Craig's first dance, their two-year-old son, Tristan, ran up and hugged their legs. "It was a really sweet and unexpected moment," Samantha told The Knot.
"By far the most special moment of our wedding day was our ceremony and exchange of vows," Mandy told The Knot. "As a gay couple, it was incredibly moving to share our love and commitment in front of family and friends. Our moms read a poem and an excerpt of the Supreme Court decision Obergefell v. Hodges, the court case that legalized marriage equality in the US in 2015."
Samantha and Skye exchanged vows in Los Angeles while honoring Samantha's Iranian culture.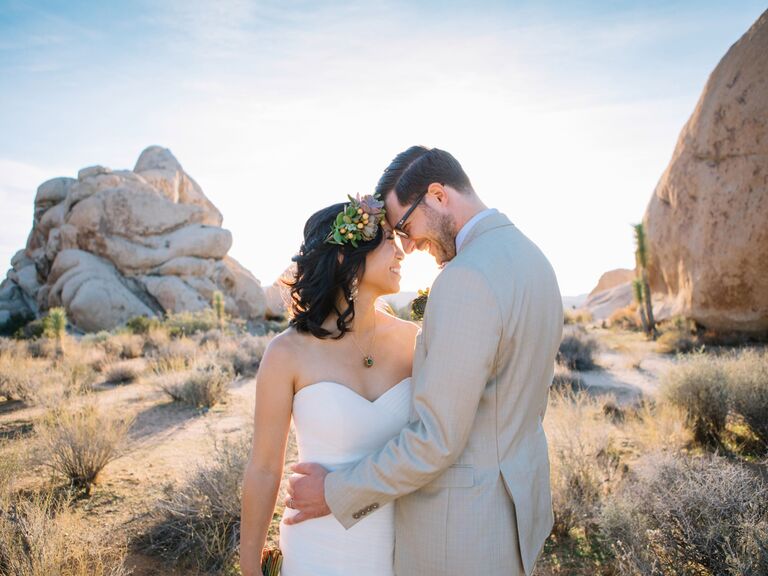 Outdoor enthusiasts Kristine and Leon got married at their favorite destination in Southern California: Joshua Tree.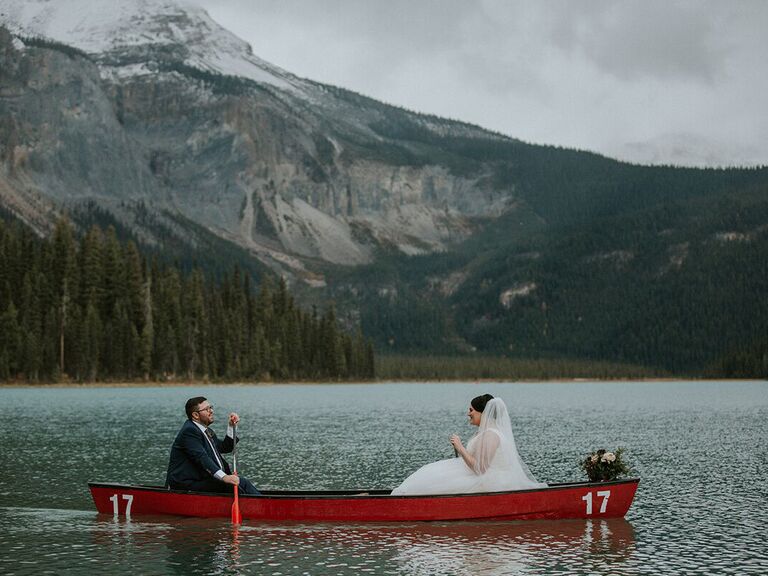 The gorgeous venue—Emerald Lake Lodge in British Columbia, Canada—took center stage at Christina and Adam's wedding.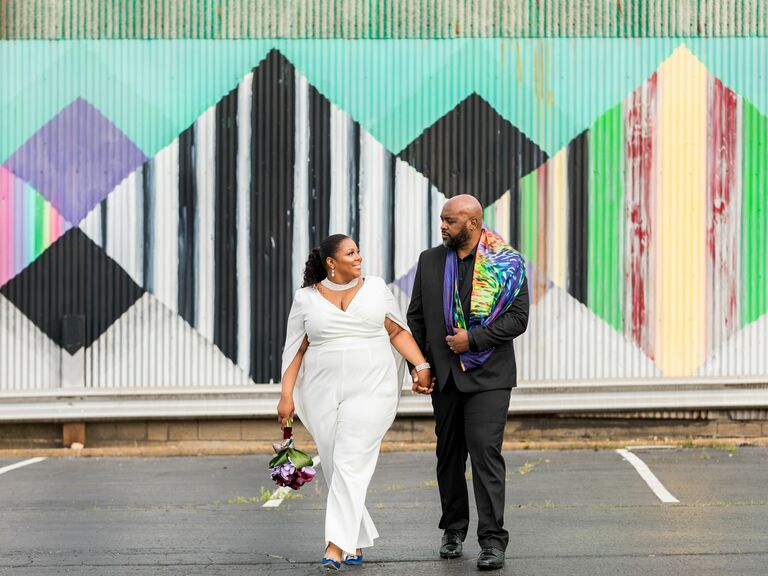 Jameeta and Lee paid homage music (the one thing that's gotten them through the ups and down of life) in their wedding vows. "I feel that everyone was expecting the normal vows that you hear at most weddings, but were able to use music in place of words to tell our love story," Jameeta told The Knot.
Jheraud and Richard planned a highly-personalized wedding in Florida."We wanted to include every aspect of our lives into the design—from adventures we've taken together to various foods we've enjoyed," Richard told The Knot.
Jenna and Peter planned an ultra-personalized, DIY wedding. "We created everything ourselves," Jenna told The Knot. "It was exhausting, but we saved a lot of money and had full control over every detail, which was important to us."
Get the ultimate exit picture by going all-out for your final kiss leaving your reception.