What to Do If You're Invited to a Wedding During COVID
Here's how to stay safe, based on your own comfort level.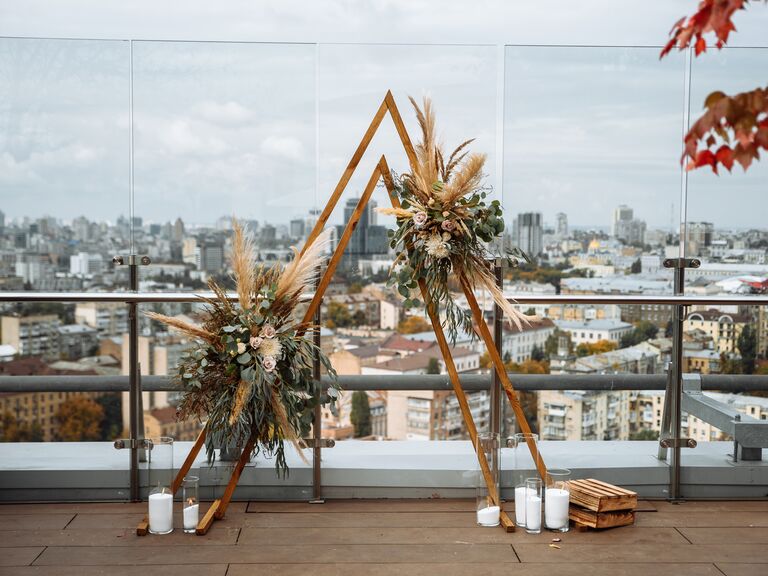 Vadym Pastukh/Shutterstock.com
While many couples are postponing their weddings amid the coronavirus pandemic, about half of all to-be-weds through 2021 are now opting to move forward with a minimony or microwedding instead. If you're considering attending a wedding during COVID, here are a few suggestions to help you focus on the health and safety of yourself and others.
First and foremost: If you don't feel comfortable attending a wedding during this time, it's more than OK to politely decline the invitation. According to our 2020 COVID Guest Study, nearly half of wedding guests reported not attending a wedding in 2020—so you're certainly not alone in your decision. The majority of those guests said they declined the invitation because they felt like attending a wedding during COVID was an unnecessary risk. Psst: this is where sending a gift comes in handy.
Still, if you've been invited to a wedding during the pandemic, it's best etiquette to send a gift. In these unprecedented times, a guest should still only be expected to give one wedding gift. We recommend gifting on the original date or the date of the minimony, as it's a sweet way to help the couple celebrate (or cheer them up if they've decided to postpone). Plus, it helps the couples start their life together when they had originally planned to.
If you're on the fence about attending a wedding during COVID — and likely wondering "Is it even safe to go to a wedding during COVID?" — we've pulled together factors to consider as you make your decision. Furthermore, if you've decided to attend, we've listed all the ways you can be a responsible wedding guest. After all, you don't want to put others at risk of getting sick (and you certainly don't want to get sick either). The event you attend won't be like weddings you've been to in the past, but it will be lovely in its own unique way. Remember how lucky you are to be able to celebrate at all—even if it's from a distance.
In this article:
How to Be Safe If You're Attending a Wedding During COVID
So, is it safe to go to a wedding during COVID? It boils down to the health and safety measures in place, and the communication of said measures. If you're attending a wedding during the pandemic, it's perfectly reasonable to ask the couple about precautions they're taking. According to our study, 71% of guests say it's important to receive health and safety info prior to your RSVP. Our study found guests prefer to receive COVID information via email (especially popular with guests 40 and over) and text message (a favorite of guests 18-34 years old). Thirty-three percent of guests said they'd like to get updates on the couple's wedding website, so don't forget to check for new information there too.
Remember That Mask
Wearing a mask is one of the most effective ways you, as a wedding guest, can ensure the safety of yourself and others. Even if you're outdoors, comply with CDC guidelines and wear a mask if you're within six feet of another person. Sporting a protective face covering actually puts you in the majority of wedding guests, as our study found 66% of attendees want masks to be required at the events they go to.
While couples are encouraged to supply masks should this be the case, bring your own face covering for good measure. Check out our shoppable roundup of wedding masks that will actually look cute in photos. When you look back on the pictures, you'll be glad to see you took extra precautions to keep those around (and yourself) safe.
Keep Your Distance
Unfortunately, coronavirus spreads easily from person to person, so it's imperative you keep your distance from others. We know it's sad you won't be able to give your loved ones a congratulatory hug, but it's more important to keep everyone safe. Remember: you can always hug once it's safe again. As a wedding guest, it's best not to put the couple in an uncomfortable situation by encroaching on their personal space. This goes for other guests too. Remain six feet apart for as much of the wedding as you can (during the ceremony, during dinner and during the reception). It may be challenging, but with a little extra care, you can still celebrate with your friends and family from a safe distance.
Wash Your Hands Often
Some health experts believe coronavirus can be contracted from surfaces, so it's important to wash and sanitize your hands as often as possible. If you use the bathroom, wear a mask and wash your hands with soap and warm water for 20 seconds. We recommend keeping a hand sanitizer nearby so that you can clean your hands throughout the celebration. Some couples are handing out hand sanitizer as a welcome gift or as a favor, but like masks, we recommend bringing your own just to be safe.
Stay Outside Whenever Possible
Health experts have said it's safer to be outside whenever possible. If the ceremony is indoors, time your arrival so you come right when it starts and leave immediately once it's over. Additionally, make your trips to the bathroom as quick as possible (read: skip the chit chat until you're outside again). If the couple is indoors for some reason, wait until they come outside to speak with them. The couple, the vendors and the other guests will appreciate your thoughtfulness around this precautionary measure.
Socially Distance as Much as Possible Beforehand
If you're attending a wedding during the coronavirus pandemic, it's also a smart idea to socially distance before the event. That means limiting any unnecessary contact with others for about two weeks ahead of the event. Skip the outdoor happy hours, dates to restaurant patios or trips to the store unless they're absolutely essential. That way, you can feel confident that you've lessened your chances of contracting the virus and spreading it at the wedding. You can also go get tested before the event to confirm whether or not you have the virus (just give yourself enough time to get the results back).
Monitor Your Symptoms
Leading up to the wedding, keep track of how you're feeling. Do you have a fever, stuffy nose or bad cough? If you're suffering from any of these symptoms, it's best to skip the wedding. Even if it's not coronavirus, you don't want to be spreading any kind of sickness to other guests (or to the happy couple for that matter). Your friends and family will understand. Contact the couple and let them know what's going on, and send them a gift to let them know you're thinking of them.
Be Aware of (and Respect) Signage at the Wedding
While you're at the wedding, respect the signage that the venue, vendors or couples provide. If there's a lane of one-way traffic, walk in the assigned direction. Similarly, follow guidelines on programs, menus, seating charts or any other signs at the wedding. The couple and their team likely put a lot of time and effort into making the wedding as safe as possible, so be sure to respect their wishes.
Be Respectful of the Vendors
Wedding vendors are going above and beyond to try and make COVID weddings as special as possible. Be mindful of the pros throughout the day so they can do their work in a safe manner. Some basic rules to bear in mind include keeping your mask on when you're near anyone working, being mindful of seating arrangements, limiting contact at the bar and at other decor areas. Doing so will make vendors feel safe and able to focus on the couple's day and your guest experience.
Unsure About Attending a Wedding During COVID? Here's How to Decide.
If you're on the fence about being a wedding guest amid COVID, here are some factors to consider.
Communicate With the Couple
If you're nervous about attending a COVID wedding, we encourage you to check the couple's FAQ page on their wedding website to get more information. Additionally, you can call the couple and ask them about the measures they're taking to keep everyone safe. As our study found, most guests think it's essential to know about the safety and health measures being taken at weddings during the pandemic before they RSVP. (Read: there's no need to feel embarrassed about asking the couple about their plan.)
Ask questions about if the venue will be indoors or outdoors and if social distancing will be enforced. Perhaps hearing about the masks they're handing out, signage they're putting up, or the number of guests they're inviting (whether it's 10 or 100) might make you feel more comfortable attending. Conversely, it might confirm your hesitation to go. Either way, more information will help you make a decision confidently.
Consider Your Recent Schedule
Have you been hanging out with a lot of other people? Have you frequented the grocery store, shopping mall or another crowded place more often in the last two weeks? Have you traveled recently? Before making your decision, consider where you've been. If you want to be sure you haven't contracted the virus, get tested before attending the event. Pro tip: it can take days to get your results back, so plan accordingly.
Understand the Risks
Even though wearing masks, washing hands and social distancing help curb the spread of the virus, there's still a chance of contracting it from someone who is asymptomatic if you attend a gathering. Make sure you understand this before going to a wedding and gage your comfort with the level of risk involved.
Take Travel Into Account
If the wedding is too far to drive to, you'll have to fly. Take it upon yourself to read about the risks associated with flying during the pandemic. If you don't feel comfortable flying and it's too far to drive, tell your loved ones that you're unable to attend and send a gift. On the other hand, you can always drive to the destination if it's nearby with little to no risk involved.
Assess Your Trust Level
Ask yourself if you trust the social distancing efforts of other guests. Do you think they've spent the past two weeks limiting contact? Do you think they'll respect your space at the wedding? Do you think they'll wear a mask? If the answers to these questions make you feel uneasy, you might want to skip the event. If you trust the other guests in attendance, then feel free to go to the wedding.
Know You Have Options
Just because you pass on physically attending the wedding doesn't mean you can't celebrate with the couple. See if they're planning a way for guests to attend the event virtually. Or, set up your own online meeting with them to personally congratulate them.
Additionally, if you decide to attend a wedding during COVID, know you can leave if you feel uncomfortable at any time. If other guests (or the couple) aren't following social distancing guidelines, you're within your rights to politely excuse yourself from the gathering.
What to Do If You Don't Feel Comfortable Attending a Wedding During COVID
Deciding to skip someone's wedding during the pandemic doesn't make you a bad friend or family member. Coronavirus is a serious health concern for many people, so it's important to decide what's best for you. Our study found that nearly seven out of 10 people who declined an invitation did so because they think attending a wedding during COVID is an unnecessary risk. In addition, nearly half of those who didn't attend a wedding said they don't feel comfortable being around a group of people. You're not alone in your concerns, so be honest with the couple and respectfully decline the invitation. Your friends and family members will understand.
Connect With the Couple Directly
Before you tell anyone you've decided to skip the event, lovingly connect with the couple first. Tell them how much you care for them and how excited you are for their marriage before explaining that you don't feel comfortable attending given the pandemic. See if there's a way to watch the event online—that way you can participate from the safety of your own home.
Send a Gift
Help the couple start their new life together by giving them a thoughtful gift from their registry. It will show how much you care for them even if you weren't able to attend their wedding or minimony.
Schedule a Virtual Celebration
If you're upset you can't celebrate with the couple on their wedding day, organize a virtual party of your own. Send the couple champagne or cake (or another small gift) and celebrate their union from afar.
Have Confidence in Your Decision
Once you've made your decision to skip the festivities, stick to it. While people may be upset about you not attending, you're protecting your personal health and wellbeing. Don't let outside opinions sway you or make you feel guilty.