24 Wedding Face Masks That Will Actually Look Cute In Photos
Plus, get inspo from real couples who rocked them.
We have included third party products to help you navigate and enjoy life's biggest moments. Purchases made through links on this page may earn us a commission.
As couples continue to plan their nuptials amid the coronavirus pandemic, wedding masks will become an integral part of celebrations for the foreseeable future. Both the Centers for Disease Control and Prevention and World Health Organization recommend the use of face masks at indoor and outdoor gatherings to help stop the spread of COVID-19, noting that many kinds of coverings—including medical grade and cloth—can be effective. Wearing a mask is a simple way to protect those around you, and it's a small way to do your part in helping stop the spread. If you'll be hosting (or attending) a wedding in the coming months, plan to wear a mask when in close proximity with others.
Here's the good news: There are plenty of wedding masks that will actually look great in photos. (We promise.) Keep in mind that it's best to reference the CDC, WHO and local government guidelines for specific gathering rules and mask requirements before attending a wedding. Since face coverings are part of the new normal in the midst of the pandemic, we've done the shopping for you and compiled our favorite reusable, non-medical wedding masks for couples and guests. And, for extra inspiration, we've rounded up photos of real couples, wedding parties and guests who rocked face masks at their events. Whether you're ready to purchase or you're looking to get some creative ideas, you'll find all the wedding mask inspiration you need here.
In this article:
Wedding Masks for Couples
A wedding mask may not have been part of your original fashion vision, but don't stress. There are plenty of elegant and witty coverings that will enhance your wedding day look. Here, shop our favorite wedding masks for couples.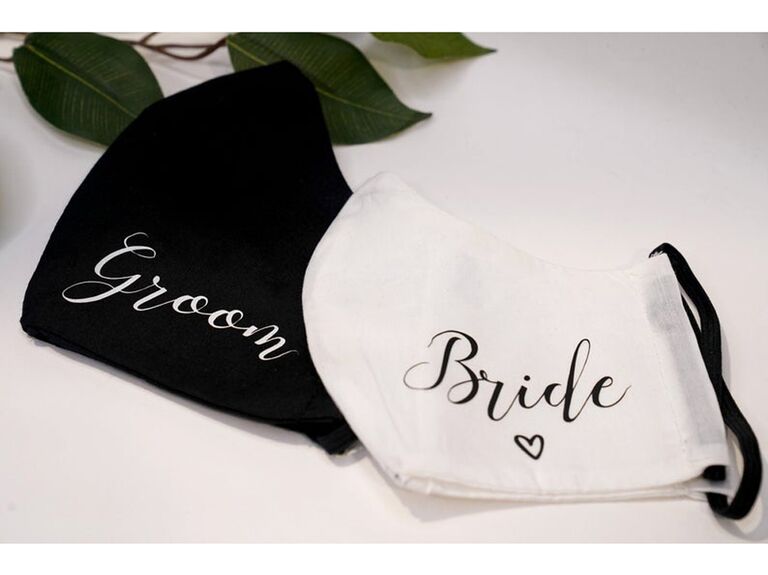 Mark your status as the couple of honor with these calligraphy face masks. Choose from the seller's list of titles, or customize the wedding mask with your own text. You can also choose the color of your mask if you and your S.O. want to match or sport alternating hues.
Ava Reign Creations cotton face mask, from $16, Etsy.com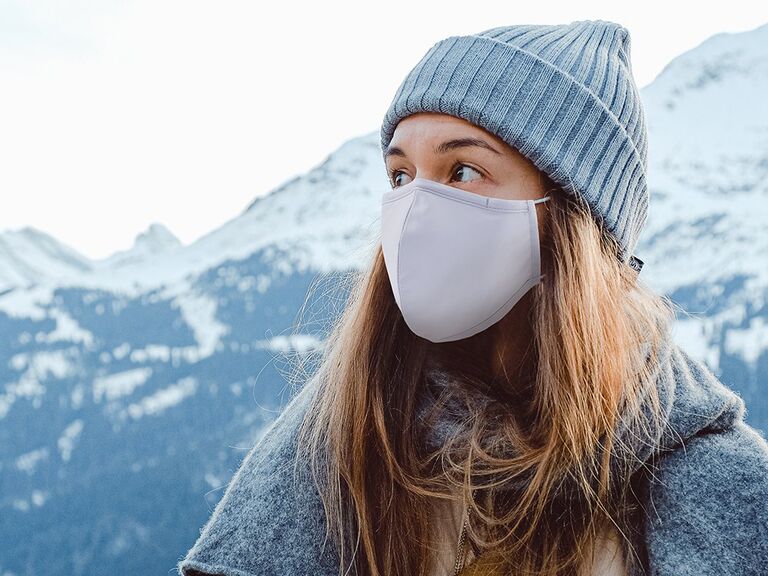 These comfortable face masks come in a variety of colors and prints to match your style. Keep it simple in black and white, or go for a bright floral print or fun donut collage to add a thoughtful element of personalization to your look. The cloth covering has a pocket for a protective filter, which you can purchase separately from The Knot Shop.
The Knot Shop adult protective cloth face mask, $16, TheKnotShop.com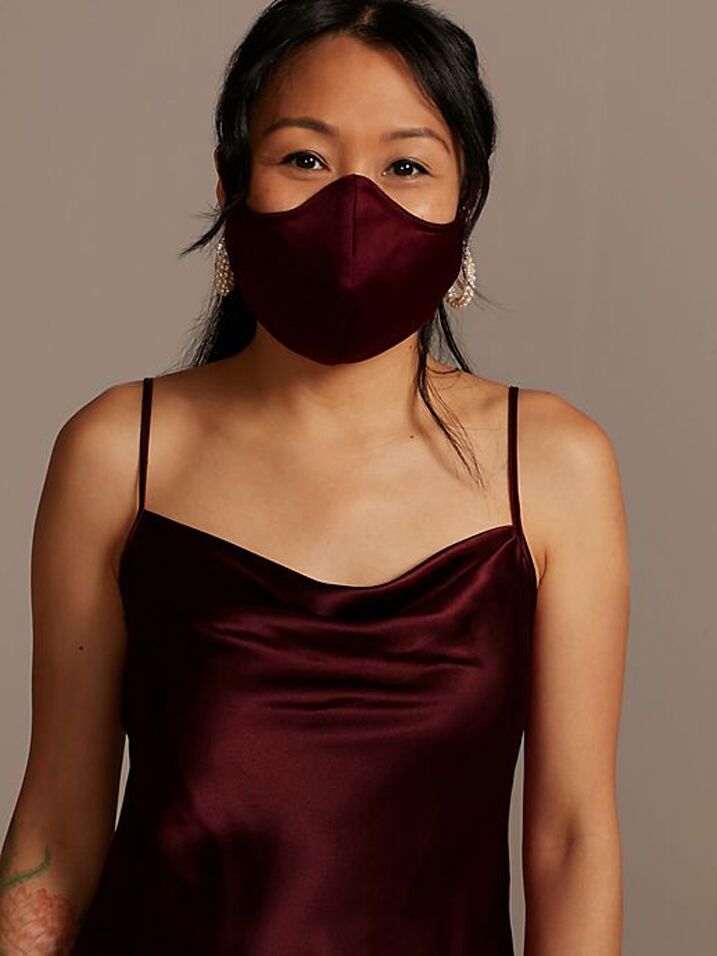 No, you're not dreaming—David's Bridal has wedding masks. If you're looking for a simple face covering that's chic, consider this style. It's a satin fabric and comes in 13 different colors, so you can pick the shade you prefer most.
David's Bridal satin adjustable loop fashion face mask, $10, DavidsBridal.com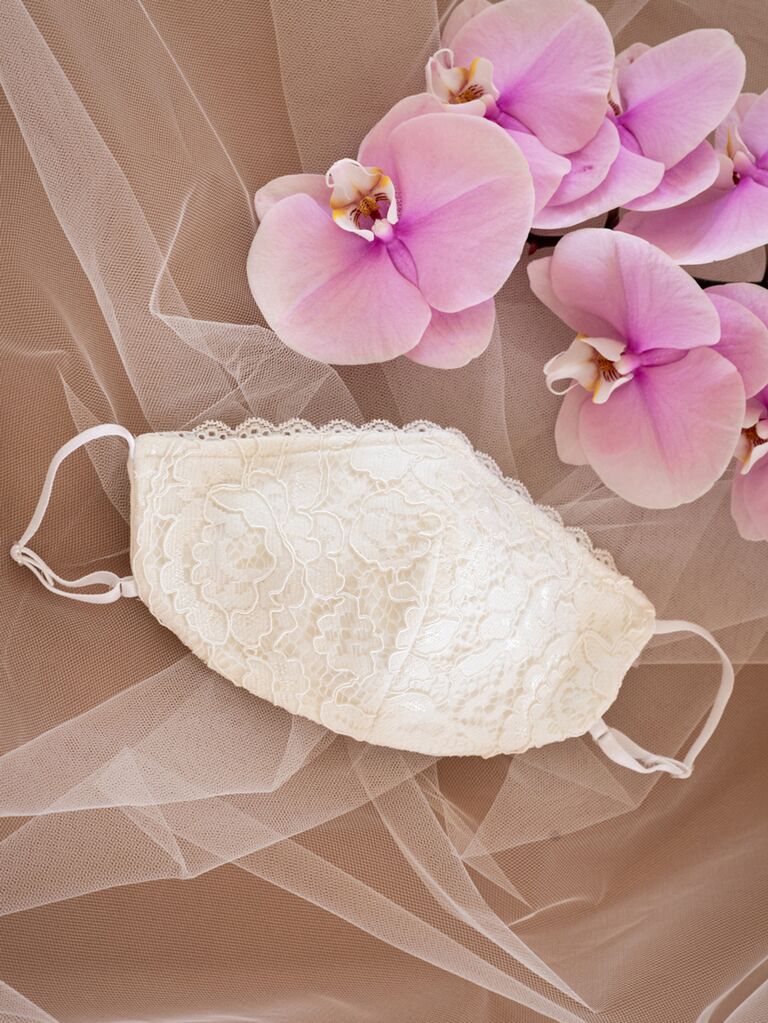 Thanks to adjustable ear loops and a nose wire, this pretty face mask is just as functional as it is elegant. With an outer layer of delicate ivory lace, your mask will elevate your chic bridal look.
Tadashi Shoji Lylah embroidered face mask in Ivory, $42, TadashiShoji.com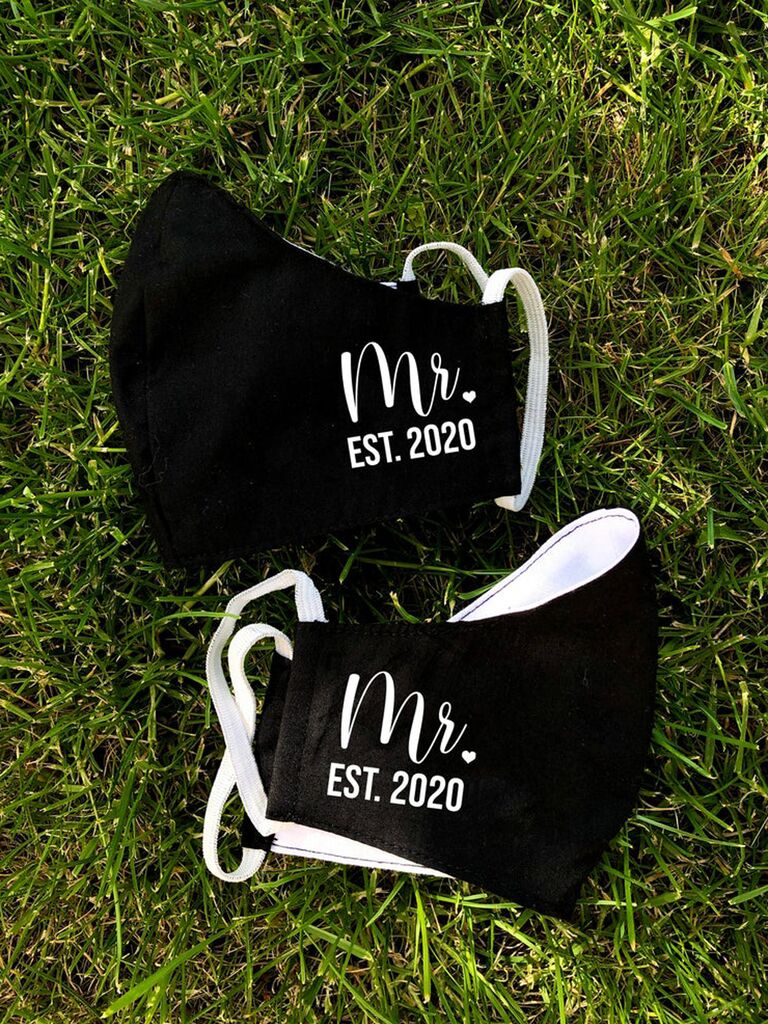 Mark your wedding year by getting it inscribed on your face mask. You can buy a mask individually, or get them in a custom set for you and your S.O.
Nik Naks by Nik Est. 2020 face masks, from $15, Etsy.com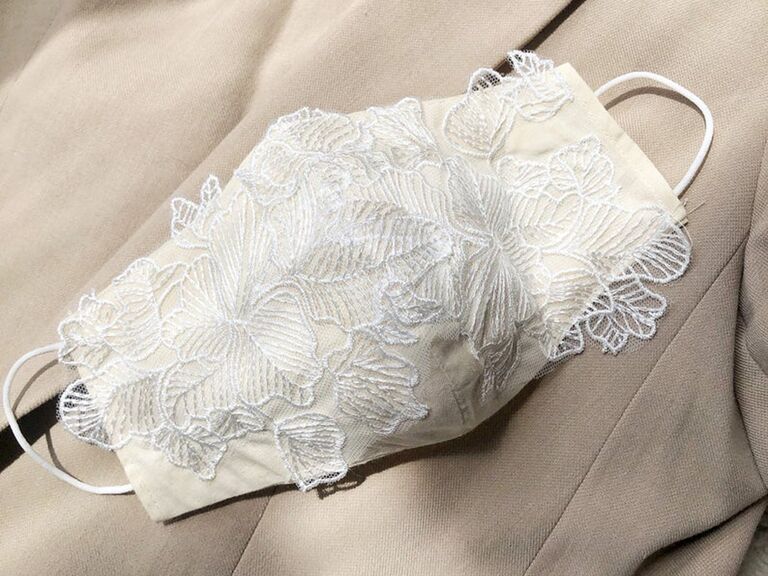 Looking for an elegant wedding mask? Go for a romantic lace design like this one. The three-layer ivory mask has a delicate hand-stitched lace overlay, meaning no two masks will look alike. It also includes soft, extra-stretch ear loops for maximum comfort and long-term wear.
Zinare bridal lace mask, $20, Etsy.com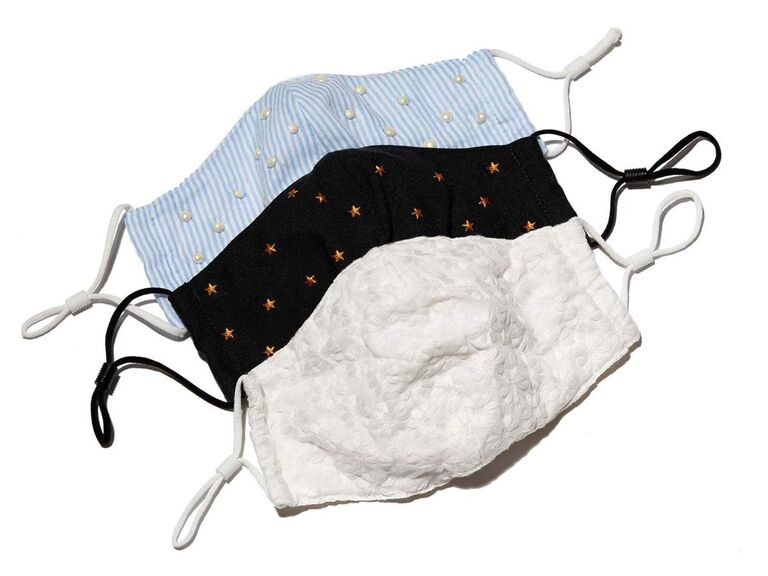 Looking to splurge on a high end wedding mask? Go for a set from accessory designer Lele Sadoughi. This pack of three includes one with embroidered flowers, one with pearl embellishments and one with gold stars. If you're indecisive, this set will give you options on the wedding day. Plus, the soft elastic ear loops include rubber adjusters for utmost comfort.
Lele Sadoughi reusable face masks in Pastel Multi, $40 for a set of 3, BHLDN.com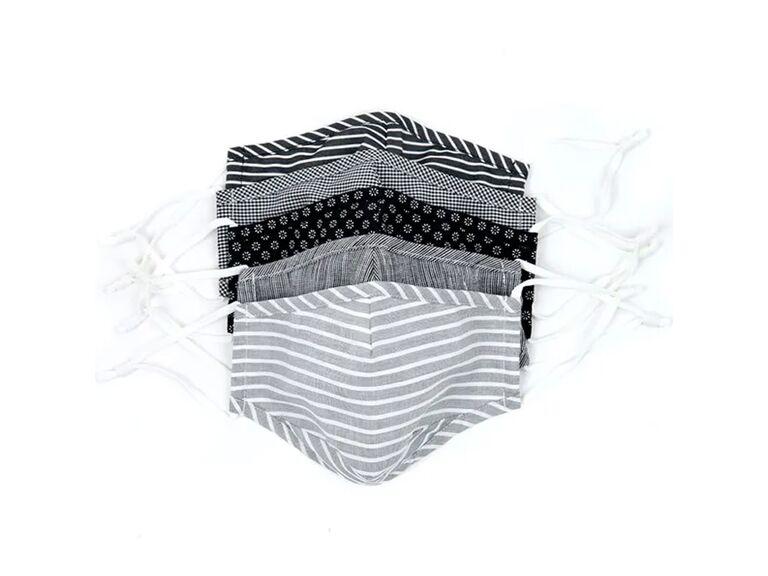 Need wedding face masks for him? The Tie Bar has an extensive collection of groom face masks in a variety of colors and prints, allowing you to choose a set that best fits your wedding day look. Keep it simple in a gray or black mask from this Charcoal set, or experiement with different colors like Classic Blue or Lavender.
The Tie Bar 5-pack cotton face mask in Charcoal, $30, TheTieBar.com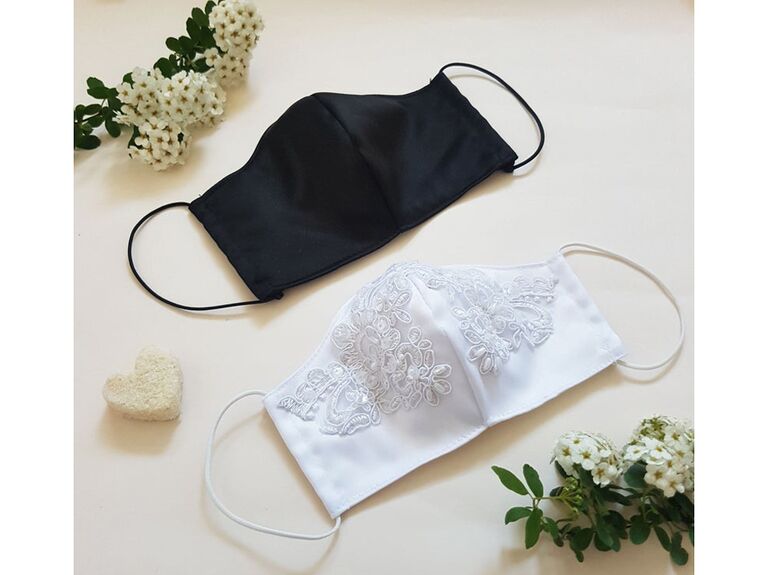 If you and your S.O. want coordinating wedding face masks, this set is for you. Get one black and one white mask, or snag two of one color to complete your wedding day look. The white mask features lace and pearl embroidery to accent any wedding dress. (P.S.: If you only want one, you can easily purchase one mask without getting the full set too.)
Eco Friendly Gift Finds black and white face mask set, $36 for set, Etsy.com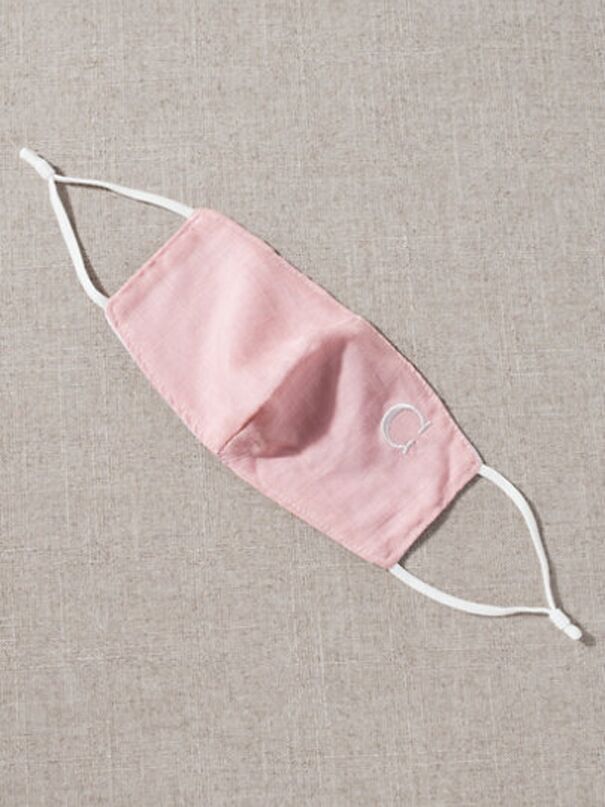 Embrace your monogram with this personalized face mask from BHLDN. The minimal style also comes in Navy, so you can pick the shade that best matches your wedding vibe.
Violet and Brooks monogram reusable face mask in Blush, $10, BHLDN.com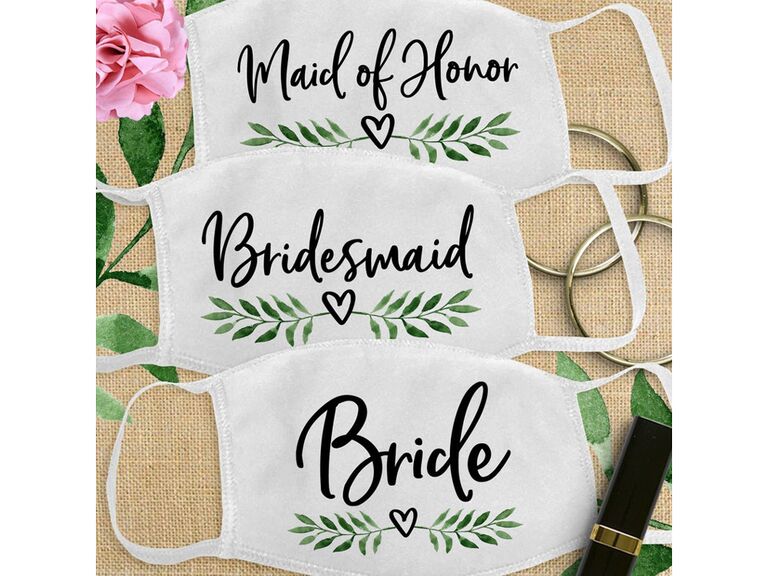 Want a matching wedding party? Treat your squad to matching comfortable face masks with an ethereal leaf print. Pro tip: Since these can be printed with titles, the masks can serve as an additional wedding gift. (But we still recommend getting them a traditional present too!)
Joy and Chaos leaf wedding party face masks, $10 , Etsy.com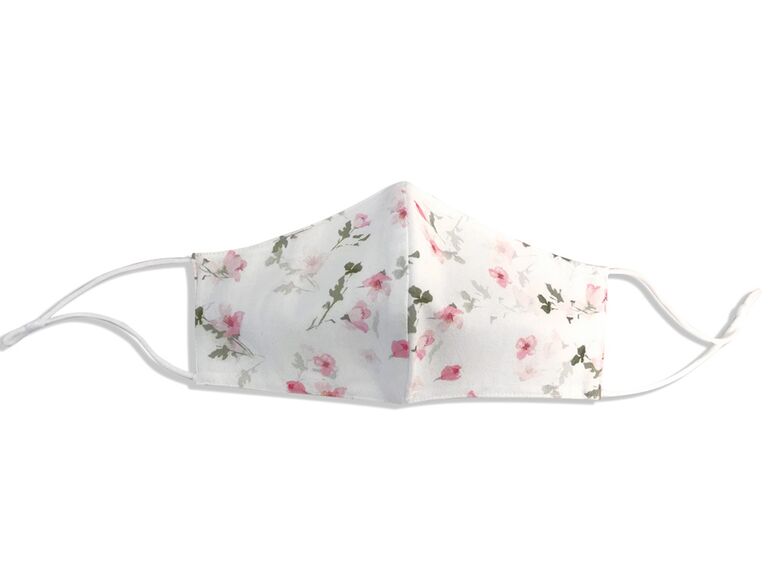 Bridesmaid brand Azazie has face masks too. If pink and florals make your heart sing, go for this romantic cotton face mask to accent your look.
Azazie non-medical reusable cotton face mask in Blushing Pink, $2, Azazie.com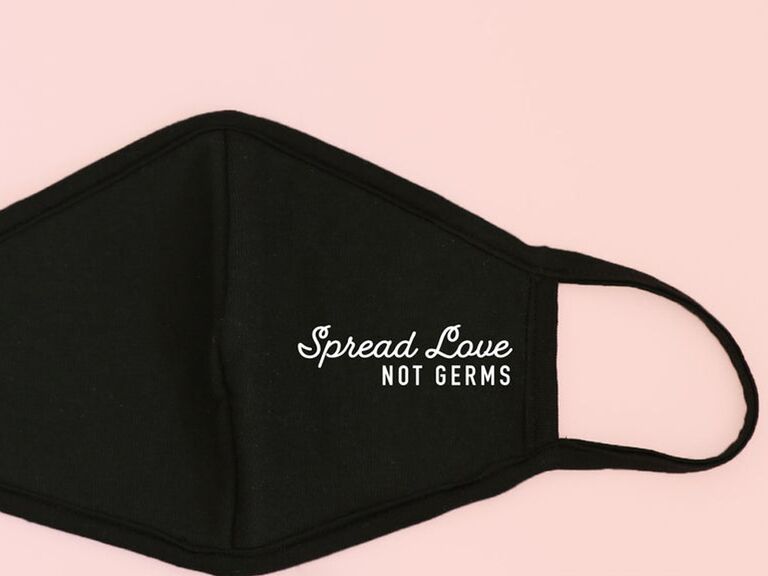 Give a witty nod to the times with this cheeky wedding mask. After all, spreading love is more important than anything else. The machine washable-mask also has three layers with a pocket for an additional filter for more protection.
Everyday Bestday Spread Love face mask, from $13, Etsy.com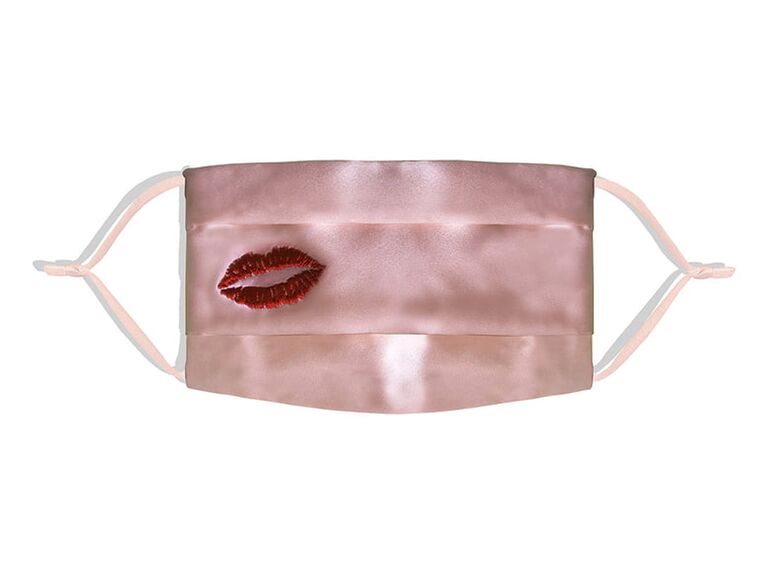 Embrace the spirit of love with this chic kiss print face mask. The mulberry silk fabric will be extra-comfortable to wear for a long period of time, and it'll feel luxurious against your skin.
Slip pleated silk face covering in Kiss, $39, Nordstrom.com
What's better than one luxury face mask? Multiple! This set from Robed With Love comes with two floral embroidered wedding face coverings, allowing you to change masks throughout the day or wear them for separate bridal events. As an added bonus, each RWL purchase donates five percent of profits to charities benefitting women in the United States.
Robed With Love Forever face mask in White, $39, RobedWithLove.com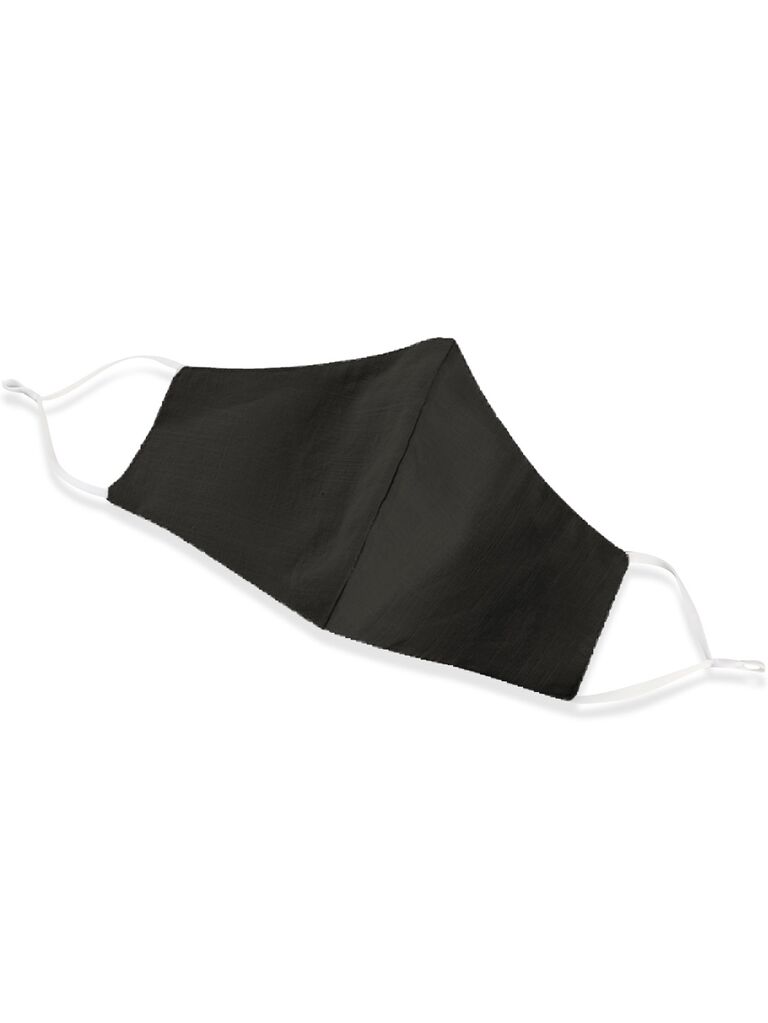 Bright colors aren't for everyone. If you'd rather keep it simple, go for a breathable black cotton face mask. At the price, it can't be beat.
Azazie non-medical reusable cotton face mask in Black, $2, Azazie.com
Wedding Masks for Guests
If you're attending a wedding, it's best to come prepared with a mask. To help enhance your guest attire, we've rounded up the best wedding masks for guests. After all, if you're going to wear one, you should go for a style that you love. From simple patterns to bold colors, just about anything goes when it comes to your covering for a wedding. See our top picks here.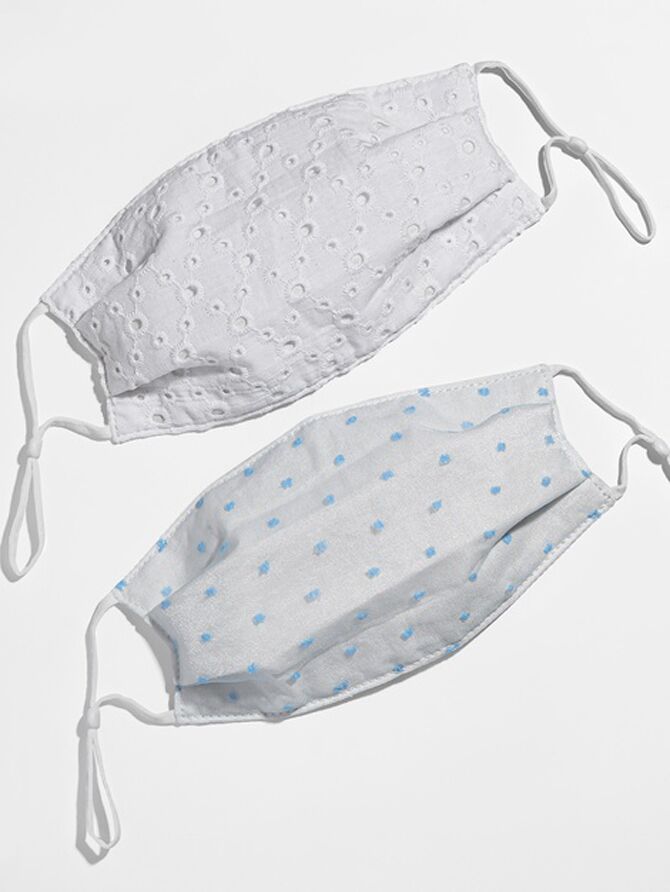 With five different color combo options, you've got plenty of choices for your wedding mask. And with two masks in each set, you'll be prepared for multiple weddings if you have a busy schedule of backyard ceremonies and minimonies.
BaubleBar adjustable face masks, $12 for a set of 2, BaubleBar.com
If you're looking for a fun wedding mask that's not too flashy, go for a style like this. With subtle polka dots and muted color shades, your mask will add to your look—not distract from it.
Violet and Brooks Ellina reusable face mask, $10, BHLDN.com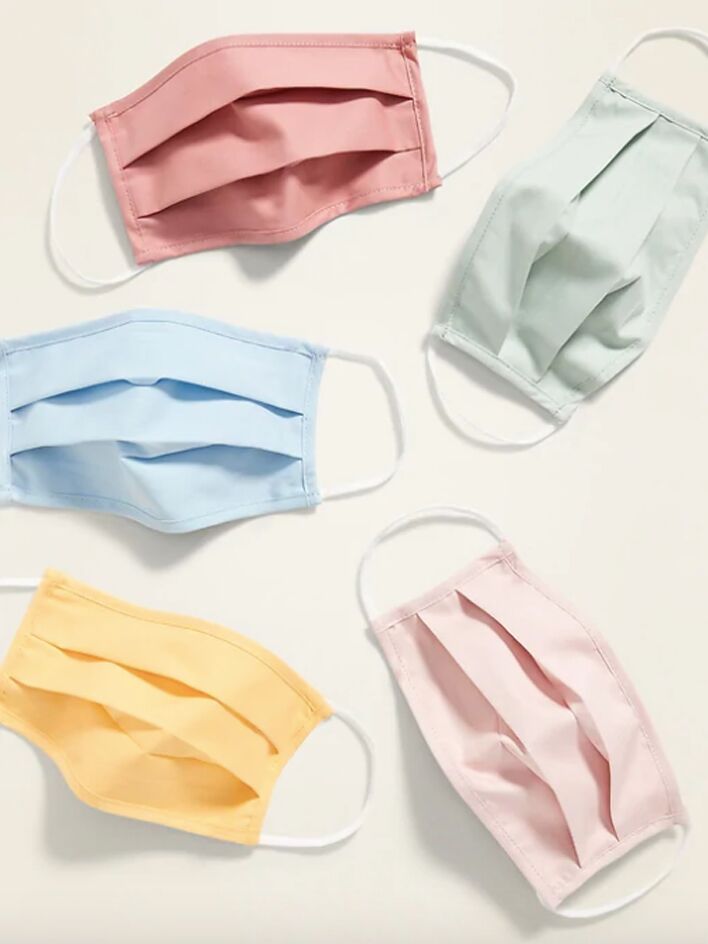 Get the most bang for your buck with a value pack of face masks like this from Old Navy. With 19 color sets to choose from, you can find one that works for your entire group. Plus, three layers allow you to add in filters for added protection.
Old Navy variety pack of triple-layer cloth face masks, $13 for a set of 5, OldNavy.com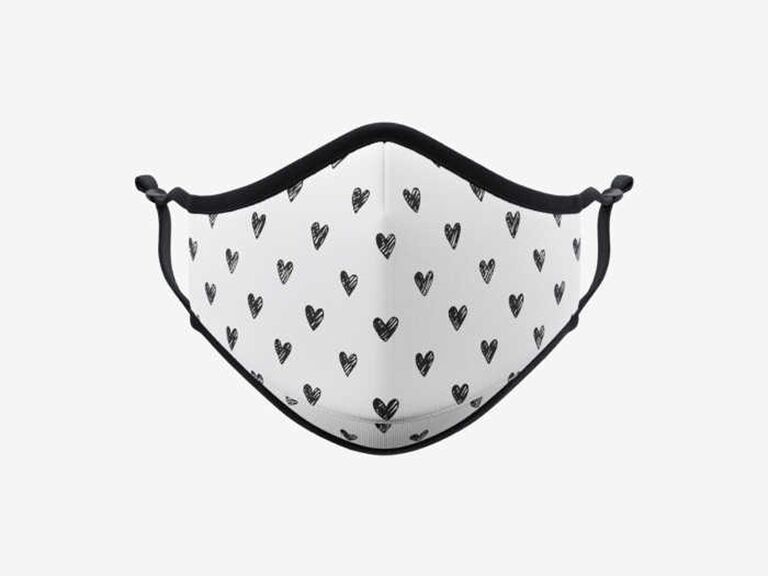 Get in the spirit of love with this heart sketch face mask. This lightweight material wicks away moisture, which is great for outdoor ceremonies. The machine-washable style also has extra stitching, meaning you won't experience wear and tear if you plan to use this mask for multiple events.
Vistaprint heart sketch face mask, $18, Vistaprint.com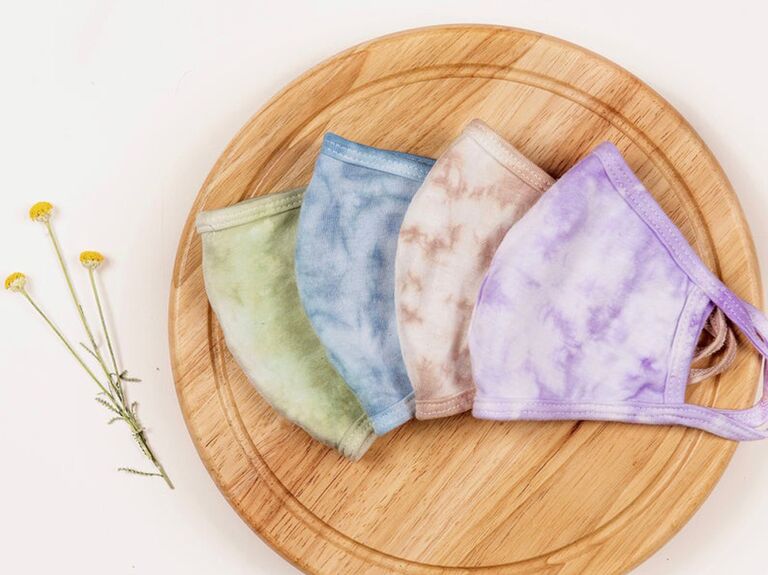 If quarantine has left you obsessed with tie dye, invest in a few tie dye face masks for your wedding events. Since the colors are light, the mask serves as a fun way to spice up your outfit. You can purchase just one mask, or get up to eight in a pack. Since these err on the side of casual, we recommend wearing it to a laid-back wedding.
SHERINME tie dye face mask, from $12, Etsy.com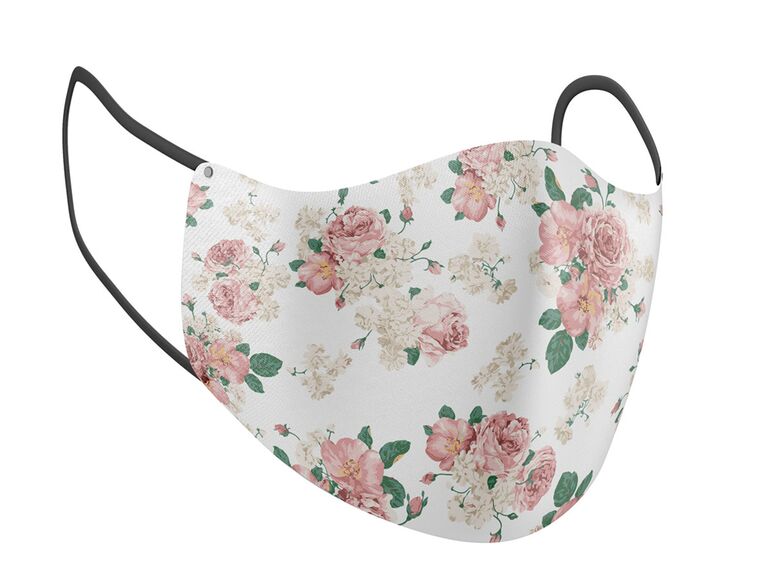 Floral-lovers, this is the mask for you. This triple-layer cotton and polyester blend mask has the ability to contour to your face, making it one of the more comfortable face masks on the market. For even more comfort, get a pair of mask extender hooks to relieve any discomfort after long-term use.
Mask Market flower print adult face mask, $14, MaskMarket.com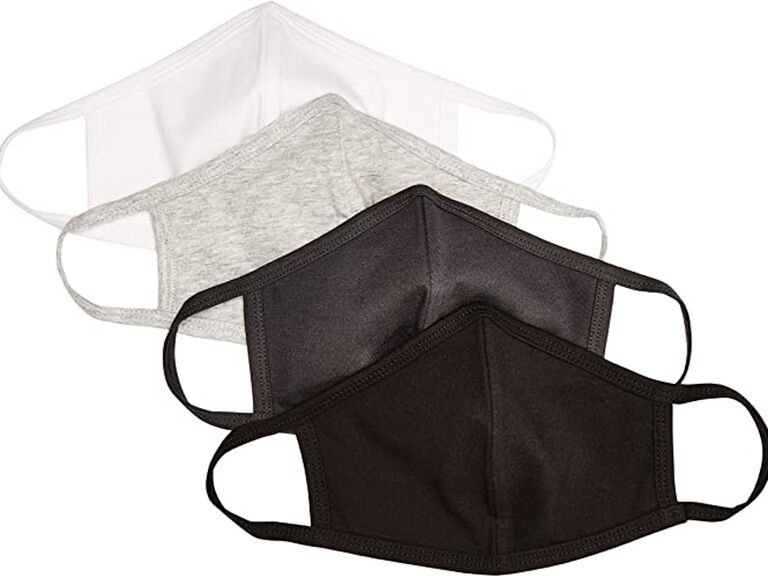 If you need a mask in a pinch, don't panic. This set of four face coverings is available on Amazon Prime, and it comes in multiple sizes and colors to simply your shopping process.
Quality Durables adults and kids 4-pack reusable face covering, $18, Amazon.com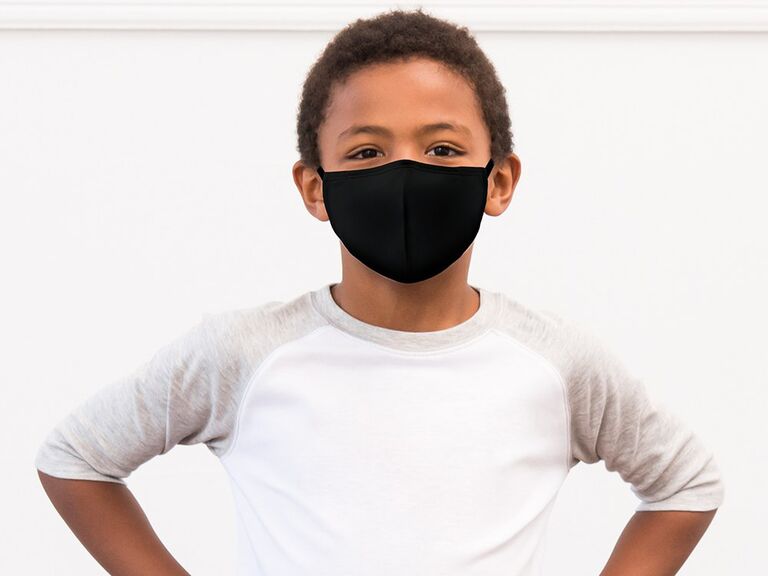 Don't forget a mask for your little ones if they'll be attending too. This face mask has cloth straps, making it extra comfortable for kids. You can also purchase it in a variety of colors and prints to help them get excited about wearing a mask. Add a filter in the internal pocket for extra coverage.
The Knot Shop kid's protective cloth face mask, $15, TheKnotShop.com
Real Couples and Guests Who Rocked Wedding Masks
Inspiration doesn't stop here. Below, see how real couples and guests styled their wedding masks. Since face coverings will become part of the new normal for weddings, these photos will help inspire your fashion choices for the big day.
These masks are as simple as can be—ideal for minimalist couples. The unique hand lettering adds an element of personalization to both wedding masks.
Mark your status as the couple of honor with elegant masks like these. The simple font is strikingly chic, and doesn't distract from the duo's wedding outfits.
Wedding masks don't have to be boring. If bright colors and fun patterns are totally your style, take a cue from this couple and go for matching statement masks.
This bride made custom masks for herself and her S.O. with material that matched their outfits. If you're particularly crafty (or know a loved one who is), create wedding masks with extra fabric from your dress or suit so they're truly one-of-a-kind.
Matching face masks like these are as cute as can be. Add a letter board to your wedding photos like this couple did for a sweet personal touch.
Wedding masks can be chic—take this couple's set for proof. By getting styles that matched the dress and tuxedo, these masks made their wedding day look unforgettable.
While it's not necessary, custom face masks for your guests will help encourage everyone to follow recommended safety guidelines in style. Plus, they'll serve as cute take-home favors for loved ones to remember the day.
If you want a uniform look, supply your wedding party with specific mask styles or colors for the big day.
Go all out with matching wedding masks for your bridesmaids and groomsmen. This couple took it a step farther by getting their dog a matching bandana too. Having fun with designs and colors will make wearing a mask more enjoyable.
Another way to integrate your masks into your wedding theme is to get colors that match your overall palette, like this couple. Their coverings complement the hues of their outfits and floral arrangements to create a cohesive look that's utterly chic.