So, What Happens to Registry Gifts When a Wedding Is Postponed?
We talked to the experts to find out.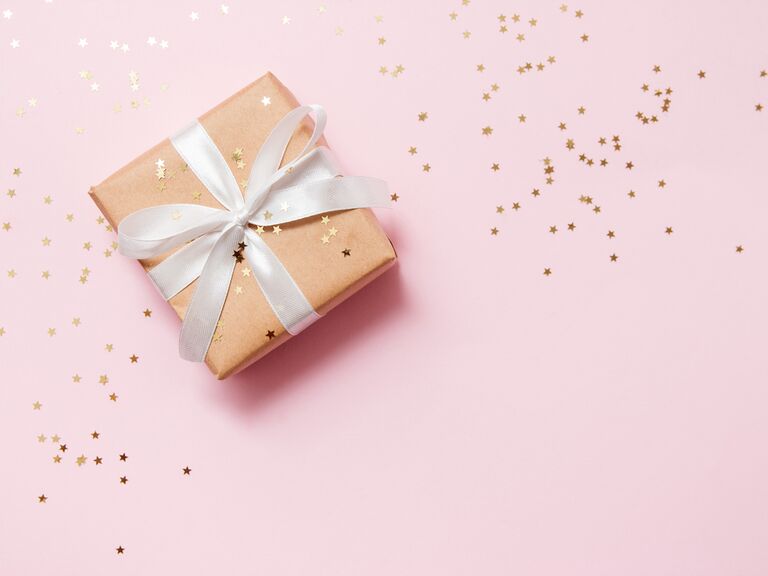 KatePh/Shutterstock.com
Sometimes, weddings have to be postponed. While it's not an ideal situation, circumstances beyond your control may require you to move the date of your nuptials. In addition to working with your vendors to make appropriate adjustments, you'll also have to think about your registry and how it may need to change based on your new wedding timeline.
Or, from a guest's perspective, you may be wondering if you even need to give a gift at all when a wedding date is moved. We've compiled the top registry etiquette questions from both couples and guests in relation to postponed weddings. Find the answers below, along with tips from etiquette and industry experts to help you navigate this tricky situation.
In this article:
Postponed Wedding Registry Etiquette Questions From Couples
It can be challenging to make a decision about what to do with your wedding gifts while managing other postponement planning tasks. Here, we answer couples' most common registry gift etiquette questions.
Do we need to take our registry down if we postpone the wedding?
No, you do not need to take down your registry. It includes gifts to help you kick off marriage—and since you'll eventually say "I do," you don't have to take it down if you're just postponing the ceremony date. "It can feel like one more defeat to take your registry down," says The Knot Senior Style and Planning Editor Alyssa Longobucco. "You may be surprised at the number of loved ones that want to send you a little token of love and well-wishes off your registry during this time."
Should we return physical gifts we received before the wedding?
There's no need to return your gifts. Typically, gifts are only returned if the wedding is canceled because the couple is no longer together. Since your intent is to host the wedding at a later date, you don't have to return gifts you've already received.
What about cash gifts?
Like physical presents, you aren't required to give back monetary gifts if you've postponed your wedding, especially if you plan to reschedule. The gift was given as a gesture to support you as a newlywed—and since you'll still be married eventually, the money is still going toward the same cause.
However, if a guest is asking for money to be returned, they may be experiencing a personal issue and it might be best to return it. "If a person goes so far as to ask for their money back for your gift, then they might be in dire strain," says Elaine Swann, a lifestyle and wedding etiquette expert. "[Giving the money back] will help alleviate hardship on that person and any friction in that relationship. If they ask for it back, just oblige them without any trouble. Then, send the money back to the person using a peer to peer service so that it's documented."
Should we take down our honeymoon cash fund?
If you still plan to go on your scheduled honeymoon, you do not need to return any donations made toward your trip. But, if you'll be canceling and rescheduling it, consider giving the money back to your guests. While some will insist you keep the funds they've already given, others may appreciate the opportunity to reevaluate their monetary gift in regard to your new honeymoon.
How can we communicate registry changes to our guests?
The best way to share wedding updates is through your wedding website, since it's the universal hub to answer guests' questions. However, if you know certain people don't have access to your site (or won't be checking it frequently), reach out directly to make sure everyone receives important information. "Be very thorough in how you make your announcements," Swann advises. "Make sure you touch every person who was invited through the means where they most readily communicate."
Swann says this is a great opportunity to have your wedding party help out. While you may be preoccupied with other postponed wedding tasks, they can assist by sharing updates with your loved ones.
Postponed Wedding Registry Etiquette Questions From Guests
As a guest, you likely have plenty of questions about the status of your wedding gift for a postponed event. Below, find answers to the most common FAQs.
I'm attending a wedding that got postponed. Do I still need to get the couple a gift?
Yes. You'll have more time to purchase a gift for a postponed wedding, but you should still plan to get the couple something to help them celebrate their marriage.
How long do I have to purchase a gift for a postponed wedding?
Traditional gifting etiquette says you have up until two months after the wedding to send a gift. This timeline applies to the new date the couple chooses after postponing their original one.
Can I ask for my physical gift back if the wedding is being postponed?
If the wedding is not canceled, it's best to not ask for a physical gift to be returned. "That gift was meant for the start of their life together," Swann shares. "If they are still getting married, they should keep the gift."
"Each circumstance is going to warrant its own thoughtful consideration," adds Lizzie Post, a representative for The Emily Post Institute. "Typically, though, once a gift is given, you don't usually request for it to be given back."
What about cash funds that I already donated to?
It's often not appropriate to ask for money to be returned once you've already given it away. "Think about the effort and purpose behind your monetary gift," says Swann. "Your cash gift was given to help the couple begin their marriage. Even if the wedding ceremony is postponed, they'll still be getting married eventually… Once you give a gift, whether it's a physical gift or a monetary gift, you typically don't ask for it back."
If I need cash returned to me, how can I politely have that conversation?
Perhaps the wedding was postponed for a reason that affects guests as well, like a global health crisis. If you find yourself facing a financial burden and want to ask for your monetary gift back, Swann suggests using this general phrase to guide your conversation: "I'm sorry you've had to have your wedding postponed. I'm wishing you all well. Right now I'm experiencing a hardship so I'd like to know if you can return the gift of money that I sent to you. Once the wedding is rescheduled, I'm happy to extend the same gift again."
Post also encourages guests to find the right time to ask for a cash gift to be returned. Since money can be an emotional topic, it's best to have the conversation when you're calm and prepared to handle all outcomes. "If you're feeling like you don't have your best self there to have the conversation, find a way to talk another time," she advises. "The more that you can prepare yourself to deal with the range of reactions from people, the better."
Remember to be empathetic toward the couple. After all, it's likely that they weren't expecting to postpone their wedding, which means they'll be working hard to make alternative plans. "First and foremost, be patient," suggests Longobucco. "Do your best to show support through words of encouragement and above all, patience—don't expect them to have all the details on 'Plan B' for you right away."
A couple postponed their wedding, and their new ceremony is limited to immediate friends and family. Should I still get a gift if I'm not invited or if I won't be attending?
You should still consider purchasing a wedding gift, especially if the wedding was postponed for reasons out of the couple's control. Their new, smaller ceremony likely wasn't their original plan—and since they did want you to join in the celebration, getting them a wedding gift is a nice gesture. "The smaller wedding may not be the best choice but it may be the only thing that they were able to attain," Swann says. Even if you won't be attending their new ceremony, it shows that you're still thinking of them as they begin married life together.
Postponed Bridal Shower Gift Etiquette Questions
Like registry purchases, bridal shower gifts may also come into question for a postponed wedding. Below, we answer the top questions from couples and guests.
Am I required to get a bridal shower gift if the event was postponed?
Yes. If the bridal shower date gets postponed and you'll be attending the new event, you should still plan to get a gift.
What if I already gave a bridal shower gift? Can I ask for it back if the wedding is postponed?
The same etiquette for registry gifts applies to bridal shower gifts. Typically, guests should not ask for gifts to be returned once they've been given.
I'm the bride—should I still have a bridal shower if our wedding is postponed?
Yes! Even if you're postponing your wedding, you're still a bride-to-be. There are plenty of options to make your wedding events feel special even with unexpected changes. You can push back the bridal shower date so you can celebrate with your guests in person, or host a virtual event to mark the occasion. Regardless of what option you choose, remember that celebrating with your loved ones is what matters most.
Should I give back gifts I received at my bridal shower if we're postponing the wedding?
Returning gifts is up to your discretion. Offering to give back presents, especially cash funds, may take a burden off of your guests. However, you are not required to return gifts if the wedding will still occur. While gifting etiquette for postponed weddings can feel unclear, it's important to use your best judgement to come to a decision that's best for you and your fiancé.