How to Let Guests Know About COVID Health and Safety Measures
Here's how to prepare for a deluge of questions.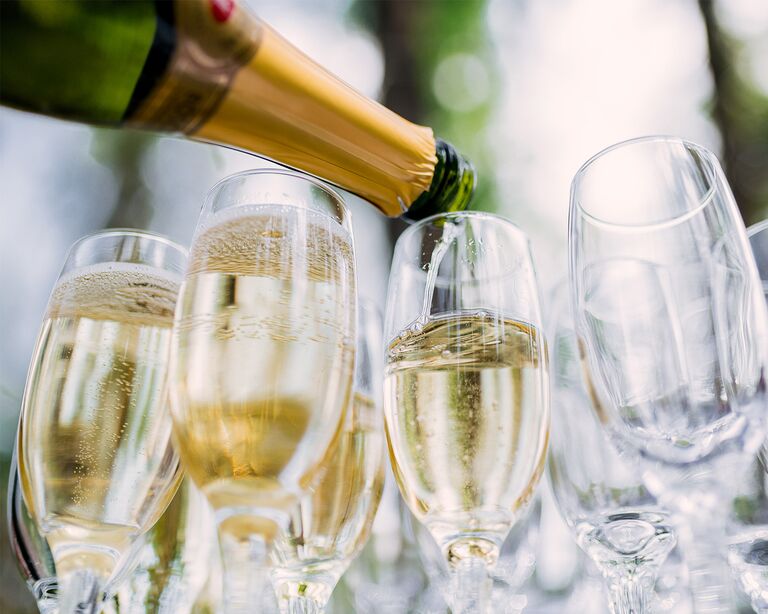 Shutterstock
Throughout COVID, couples have prioritized the health and safety of their loved ones by setting expectations before the wedding. Many threw smaller-size ceremonies and provided hand sanitizer and masks; others even measured guests' comfort levels before the festivities. The majority of to-be weds (97% to be specific) have thoughtfully incorporated modifications to assure and protect their loved ones.
Nearly 18 months after the pandemic's arrival stateside, the Delta variant, evolving vaccine requirements and an uptick in events are again prompting couples to diligently prepare their health and safety plans. According to The Knot 2021 Guest Optimism Study, about one in three guests said they had mixed feelings about attending a wedding, teetering between anxiety and excitement. The same survey revealed 20% of attendees were, in fact, concerned about COVID and health and safety at weddings.
"On the hosts' shoulders rests the responsibility of the entire group and their residual impact outside of the wedding," says etiquette and stationery expert Heather Weiss Alexander of BellINVITO. "Because we're dealing with a viral outbreak, each guest really has the same responsibility as well. The truth is we all have a lot to consider and we likely will square up to disappointing news at some turn. Etiquette in this situation serves best as the guide to how we handle the uncertainty, awkwardness, or disappointment so that we can move past it swiftly and get on to the joy that's right in front of us." Here's what to do to inform your loved ones about COVID health and safety precautions at your wedding.
In this Article:
How to Create a Health and Safety Plan
Safely throwing an event during COVID means creating a health and safety plan with your vendors. You'll want to first discuss logistics (guest count, hand sanitizers, socially distanced layouts, seating charts, testing and masks). Then, you'll want to talk through your wedding budget as the average cost of COVID modifications in 2020 was $280.
Some counties are now requiring vaccinations for entry to indoor restaurants, museums and entertainment spaces. As of August 2021, about 22% of couples also said they're now requiring all guests be fully vaccinated to attend their wedding. If this is the case for your event, or your hotel or venue requires a negative COVID test for entry, you'll want to communicate each specific "rule" to your loved ones. The easiest way to share updates, given ever-evolving guidelines, is through your wedding website paired with emails.
"Asking the vaccination status of guests is a real conundrum each host has to deal with individually," Alexander explains. "Fundamentally, it's not the place of etiquette to establish a right or wrong on this subject. It is the place of etiquette to guide everyone as to how to handle what they are faced with individually, and to protect the health of ourselves and each other."
How to Address COVID on a Wedding Website
Consider the wedding website as the home for all information related to your nuptials, including COVID-related intel for guests. To-be-weds are highly encouraged to create a wedding website FAQ page that lists all pandemic-related concerns, including information about socially distanced layouts, hand sanitizing options, mask information, and mandatory testing and vaccination requirements.
In fact, 63% of wedding guests were informed about health and safety details prior to the wedding. Most commonly, these attendees were updated about the type of venue (indoor or outdoor), the guest count, and any related health and safety protocols. Another area of opportunity to leverage your wedding website is by storing RSVP responses, as well as guests' vaccination statuses (among other related COVID questions).
How to Word a Health and Safety Invitation Insert
You may be exploring COVID wedding stationery templates, as well as specific vaccine wording for your invitation. Many couples prefer to separate the basic invitation from health and safety information. One way to approach this is by including a health and safety insert that points to your wedding website and shares specific rules. On it, couples can request information about vaccination status and varying comfort levels.
"For someone who is concerned a guest will miss the information card, I might recommend this written small at the bottom or inside a folded reply card," she notes. "It will read: ' An information card is included explaining our decisions regarding the considerations for all guests during these questionable times.'" Alexander shares several templates below to consider for your wedding invitations.
Formal (Vaccinations Required)
For the safety and comfort of all our guests
and in compliance with the authorities in our area
we respectfully request all guests present proof of full vaccination status
to our attendants who will greet you upon arrival

Informal (Vaccinations Required)
We love you guys!
Because each of you are precious to us
we respectfully require proof of full vaccination upon arrival.
To ensure we are in compliance with regulations, an attendant
will check each guest in upon arrival.
Creative (Vaccinations Required)
So this is happening…
The health of each of you and your loved ones are what matters most.
Bring your dancing shoes and vaccine card
so we can party all night safely together.
And YES! We have a vax bouncer in case you're wondering.
How to Collect Digital RSVP Responses
Whether you're collecting paper or digital responses, there is etiquette involved. "I don't recommend asking a guest to RSVP 'no,'" suggests Alexander, who reveals ways to collect this information.
Scenario: You're unsure at the time of the mailing if vaccinations will be required.
____ accepts
____ regrets

____ If vaccinations are required at the time of the wedding, how many guests will be able to attend?

Scenario: You're certain only vaccinated guests are welcome.
____ fully vaccinated guests accepting
____ regrets
How to Ensure You've Communicated With Every Guest
If you haven't heard back from your cousin twice removed, you may need to resort to other methods to track down the necessary responses and information. The first option is to email your guests. Here, you'll share health and safety expectations, as well as modifications. In the email, you'll request each guest fill out a form on your wedding website or respond to you directly with the requested information. (Interestingly enough, the majority of guests prefer email for updated communications about COVID.)
A phone call or a text is another popular alternative for passing along safety information. Alternatively, if your friends prefer social media as the communication route of choice, slide into those DMs. For your older guests (or perhaps, friends of your parents), picking up the phone or having your loved ones make these calls will help alleviate any concerns or stress factors. Find a reliable way to contact those guests who may feel discomfort with the internet or social media.
What's most important is that you're checking in with your guests and putting their health and safety first.