Here's Why Wedding Gifts Are More Important Now Than Ever During COVID-19
It's the thought that counts.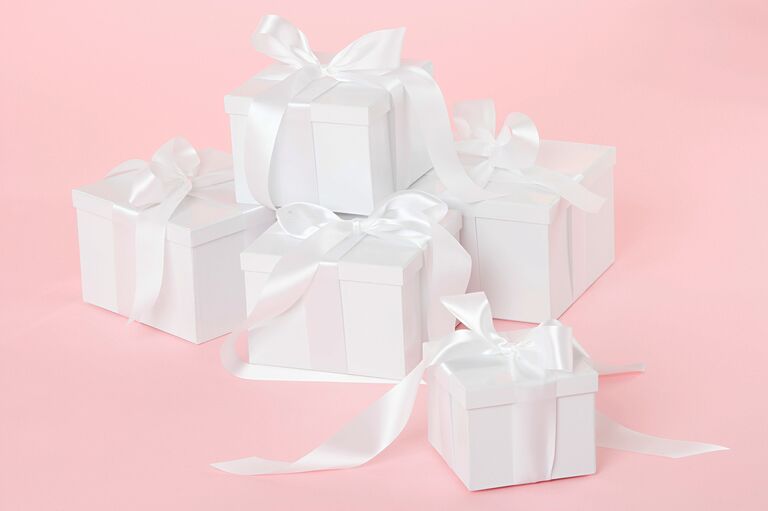 Getty Images
One delightful aspect of planning a wedding is registering for gifts to build out your newlywed lifestyles. But—what happens when the coronavirus hits? With just under a million couples postponing their nuptials in 2020, some hundreds of millions of guests are also impacted by the mass shift in events to a later date, resulting in confusion around wedding registry gifting etiquette in the time of COVID.
The rule of thumb remains unchanged even during a pandemic: always gift from the couple's designated wedding registry. To-be-weds have specifically registered for items that'll enhance their lives as newlyweds—whether it's a contribution to a puppy fund or the addition of a state-of-the-art espresso machine to their homes. "Gifts should always come from the registry," affirms wedding planner and Slowdance registry expert Jung Lee. "Couples spend a tremendous amount of time picking out what they want: the bed linens, decorative items, picture frames, how they want to do Sunday brunch. They spend so much time figuring out what their new lifestyles will look like that guests should go off their registry; and that registry should be comfortable and inclusive."
Given how circumstances have evolved amid COVID, much of the etiquette surrounding registries remains the same. "We always give gifts to express gratitude for being invited to a wedding," says etiquette expert Myka Meier. "Even if you don't go to a wedding, but we're invited, you'll still want to send a gift. Even during COVID." Below, read through common scenarios experienced by both couples and guests, along with advice on how to proceed with wedding gifting—which, it turns out, is more important than ever in 2020.
In this article:
The Knot Editors recommend gifting on the original date of the couple's wedding, even if the newlyweds have postponed their larger party to a later date. That way, the couple will not only get to celebrate their newlywed status—as originally intended—but they'll experience the cheer of receiving wedding gifts after having dealt with multiple setbacks while planning.
"It's recommended to give a gift during the time frame of the first, originally-planned wedding," says Meier, the founder of Beaumont Etiquette. "It's a special date the couple had in mind, and many couples are actually still getting married at a courthouse or having a civil ceremony on that date."
"If you gift with the original date in mind, your gift will be spotless," Lee adds. "To be home quarantined with your fiancé and to receive a gift during this time from whomever? It really will stand out. To couples, this is meaningful. While the guest isn't attending the wedding right now, they're still recognizing and acknowledging that the couple is getting married."
If the Couple Is Having Multiple Weddings
A common question amid COVID is whether guests should send more than one gift if a couple is moving forward with multiple weddings, including an anniversary reception. In short: one gift is sufficient. "Double gifts are not needed. Only one gift to celebrate the marriage is recommended," says Meier. "The pressure is off."
Ultimately, it's up to the giver if they plan to extend their generosity beyond that point. If you've already sent a gift, your thoughtfulness was likely appreciated by the couple. If, however, the original wedding date is approaching or has gone by and you have yet to consider a gift, refer to their registry to encourage the pair.
In this slow-paced time, taking the step to be thoughtful will make a greater impact. "Prior to COVID, people's lives were incredibly busy across the board, and certainly, post-this, it'll also be as busy as before," explains Lee. "During this pause time, to say a guest looked through the registry and gifted them is that much more meaningful and sentimental for the couple."
If the Couple Is Eloping
Again, COVID has uprooted so many plans and celebrations in 2020 and a gift will certainly encourage any couples who've dealt with pivoting plans, especially those who've ultimately decided to elope. (After all, many are getting married without their original guest lists due to gathering restrictions.) In such scenarios, a good guest will consider sending a congratulatory present off the couple's registry.
If you're struggling financially, there are multiple ways to navigate a situation. "You could also contribute to a group gift," says Meier. "And sometimes the thoughtful gifts are the most impactful! The most thoughtful gift I received, for example, was a painting of the restaurant where my husband and I met… If you don't have the funds to spend right now, perhaps send a nice card with a note that the gift is coming soon. It's an acknowledgement of the special day—and that you haven't forgotten."
Ultimately, as with every other scenario, it is up to the giver to determine the size and amount of the gift.
If the Couple Is Having a Virtual Ceremony
A wedding, at the end of the day, is a wedding, even amid COVID. If a couple has decided to move forward with their original date with a virtual ceremony component, it's still considered a wedding. While the event format might differ, a good guest would attend the wedding and experience it as if there, toasting to the couple, in person. (Some to-be-weds are even having experiences delivered to guests' homes, including packaged meals and cocktails among other virtual components.)
"Even if it's a virtual wedding, and you were invited, you still send a gift," Meier says.
If the Couple Is Having a Minimony/Microwedding
With more couples making it official with minimonies and microweddings in 2020, guest list sizes have also declined with group gathering restrictions. While not all originally invited guests will be able to attend a minimony (a small ceremony with virtual components) or a microwedding (an intimate gathering of a few dozen loved ones), it is important to express support for the couple by extending a gift.
If, however, your financial picture has changed as a guest or you're not attending in person, there are ways to navigate the situation. "It always boils down to intention," Lee explains. "'What does the gift giver want for the couple?' Couples during this time have endured all sorts of frustration and sadness." In short, a gift will brighten their day since they've already had to forego their ideal ceremony.
If the Couple Has Yet to Secure a New Date
If the couples' plans still appear to be up in the air, consider sending a gift from their registry close to their original date to cheer them up. Likely, they've endured a set of setbacks and discouraging situations. It'll be nice to feel loved by their loved ones, especially with many to-be-weds social distancing and entertaining from home.
"Most couples choose what speaks to them and their personalities, whether they're bowls or wine glasses," says Lee. "Those things will last. I feel like people will appreciate it more today because they're at home today."
If Your Guests Aren't Sending Gifts
"Obviously the etiquette is that nobody should ask for a gift, as it's understood and accepted in our culture with wedding gifts," Lee explains. "It's never right for the couple to do it, but during this time, there are different things going on… Have ambassadors within your circle of friends and family let the guests know what's going on. ('They're feeling down right now and their spirits would be lifted with gifts. Let's go in together.') It's about starting the dialogue. It feels natural that way."
If your guests aren't sending gifts, lightly find a way to direct them to your wedding website as you announce your elopement or change-of-plans. With The Knot, your registry is linked to your wedding website making it easy for guests to navigate all your wedding details in one place. If you have an FAQ page on your wedding website pertaining to COVID-19, include a section about gifts and where to direct them (especially if you're in the process of moving). Finally, friends and family are your greatest asset when it comes to gifting.
If, however, your guest is in a difficult financial situation, exercise patience and kindness. "Brides and grooms certainly don't want to impose financial strain on their guests," notes Lee, who explains how to approach your registry with finesse. "Within a thoughtful registry are varying points from affordable items to luxury, higher price tag pieces. Certainly along with the registered gift, a personalized note—wishing them the best and a thoughtful letter, a personal sentiment along with the gift—speaks volumes more than a gift that's super expensive. It's really the thought that matters."
If Your Guests Aren't Gifting Off Your Registry
This is another tricky scenario where it's not recommended to request a gift off your registry, though it's implied. If you're receiving unwanted or unwarranted gifts, consider enlisting your "wedding ambassadors" for help in this scenario too. By having friends pitch into gifts together, guests will purchase the bigger ticket items off your registry first. (Pieces you may need for your new lifestyles together.) "That's what's so nice about The Knot. Couples spend hours and days going back to their registries and refining it," explains Lee. "This is their wishlist for their new lives together… and we should honor that."
If, however, the price range of your wishlist is a bit steep or the majority of items have been purchased, perhaps it's time for a registry refresh. "When choosing a registry, make sure you have multiple price points for gifts," says Meier. "During COVID, you want to be thoughtful especially so that you're not just listing gift items that are at one high price point."
"The etiquette is to be inclusive and mindful of people's financial situations, which are all over the place more than ever before," concludes Lee. "We have a couple who has ice cream every Friday night together, so picking out their ice cream bowls was special. They weren't even expensive, but it had huge sentimental value. What's nice is that the couple is enjoying it not only now, but for a lifetime together. It's about how they will cherish it."