Everything You Need to Know About Planning a Hen Party
Compared to a bachelorette, a hen party just hits different.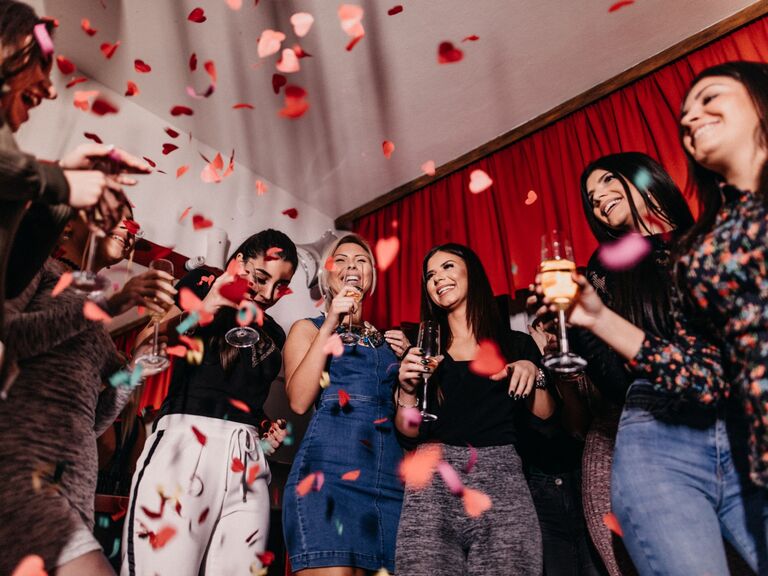 StefaNikolic | Getty Images
Whether you're a member of the wedding party or getting married yourself, you may have heard the phrase "hen party" tossed around—especially if you're from or have friends or family across the pond. It sounds like a bachelorette party, but is it? Are you wondering what the difference is between a bachelorette party and a hen party? Well, you're not alone. Both are an exciting chance to shower the bride-to-be in love and create some unforgettable memories as she embarks on the next phase of her life. Read on for more information, plus tips on throwing the most epic hen party.
In this article:
What is a Hen Party?
A hen party is a celebration held for a bride-to-be in the weeks or months leading up to her wedding, where she can enjoy quality time with her closest friends and family members before embarking on married life. Hen parties often involve fun activities, opportunities for celebration, and hopefully, lifelong memories.
"Traditionally, hen parties were seen as the bride's last night as a single woman, but today, we view them more as an opportunity for the bride to be surrounded by love and support," says Allison Odhner, CEO and Bach Boss of Bach to Basic, a luxury all-inclusive destination bachelor and bachelorette party planning service.
Like a bachelorette party, a hen party can involve a full day or weekend of events, including spa days, adventure outings or theme parties.
Why Is It Called a Hen Party?
The term is believed to have originated in the UK in the early 20th century, where it was used to refer to the group of female friends "flocking" together in celebration.
Hen Party vs. Bachelorette Party
You may have heard the terms "hen party" and "bachelorette party" used interchangeably, and they are very similar. However, there can be some subtle differences based on cultural context. In the United Kingdom and European countries, the term "hen party" is more commonly used, whereas "bachelorette party" is more prevalent in the United States.
Compared to bachelorette parties, hen parties tend to be more relaxed affairs, with a focus on spending quality time with the bride and participating in activities that reflect her interests. Bachelorette parties, especially in the United States, tend to involve wilder activities, like nights out with an emphasis on drinking and partying.
Hen Party vs. Bridal Shower
While hen parties tend to be a bit tamer than bachelorette parties, they're still not as formal as many bridal showers tend to be. First of all, a hen party typically involves a wider range of activities over a longer time period than a bridal shower. Also, bridal showers tend to include a bigger group, including female guests of other generations, like grandparents, aunts or guests' children, whereas hen parties typically include friends and family members in a similar age group as the bride.
Do You Bring a Gift to a Hen Party?
Another difference between hen parties and bridal showers is the gift-giving aspect. Typically, hen parties don't revolve around gifts like bridal showers do. The focus is more on spending quality time and celebrating. However, especially recently, some guests may choose to give the bride a group gift at a hen party.
Do Mothers Go to Hen Parties?
While hen parties are traditionally attended by the bride's close friends, family and wedding party members, it has become increasingly common for mothers to participate as well. Including Mom (and possibly even the future mother in law!) can be a great way to strengthen relationships, but it's important to consider everyone's personal comfort and preferences.
What to Do for a Hen Party
Now that we've established the ground rules, let's discuss some theme ideas for a great hen party.
Water Wonderland
One of the most common hen party activities is one that's sure to make a splash. Spend time on a body of water, either a boat, beach or pool day. "The majority of our groups like to get out on the water, so book a yacht, catamaran or pontoon or even tubing," says Odhner.
One Last Rodeo
Wrangle the bride's closest cowgirls for a wild western adventure. From live country concerts to mechanical bull riding, there are tons of rodeo-themed activities to choose from. Break out the matching cowgirl hats and saddle up for a night of fun!
Spa Retreat
Help the bride escape the stress of wedding planning and find her zen. Pamper yourselves by spending a day at a bougie bath house with hot and cold plunge pools, or indulge in scrubs, soaks, facials, massages or other special treatments.
Outdoor Adventure
Celebrate the bride's wild side with an outdoor adventure. Spend your days taking in breathtaking views on hikes, and nights bonding by the fire at your glamping compound. It's time to let the adventure begin.
Bride-chella
Rock the bride's world with a music festival-themed hen party. "In 2023, we've seen a lot of groups requesting a music experience–going to a concert or music festival, or even songwriting," says Odhner. The crew can wear matching shirts with the "festival lineup" as they party the night away.