24 Appetizer Ideas Your Guests Will Love
From prosciutto-wrapped persimmons to grilled cheese and tomato soup shooters, these apps are sure to delight.
Ask any event planner and they'll tell you that the food you serve at your wedding is one of the last places you'd want to cut budget on (but we do have a few secrets to saving). The presentation of the menu helps to set the ambiance, and the smell enhances the culinary experience while the taste is, well, just plain delicious.
Appetizers don't have to be limited to a sit-down dinner, either. Consider starting the celebrations with a pre-ceremony cocktail hour with small bites, or follow the "I dos" with a cocktail hour so guests can stay active while you and your wedding party pose for photos before the reception meal. (Pro tip: A lot of these apps are also perfect for a late-night snack too.)
Here are our 24 favorite bites to keep guests happy until dinner.
1. Mini Gazpacho Soups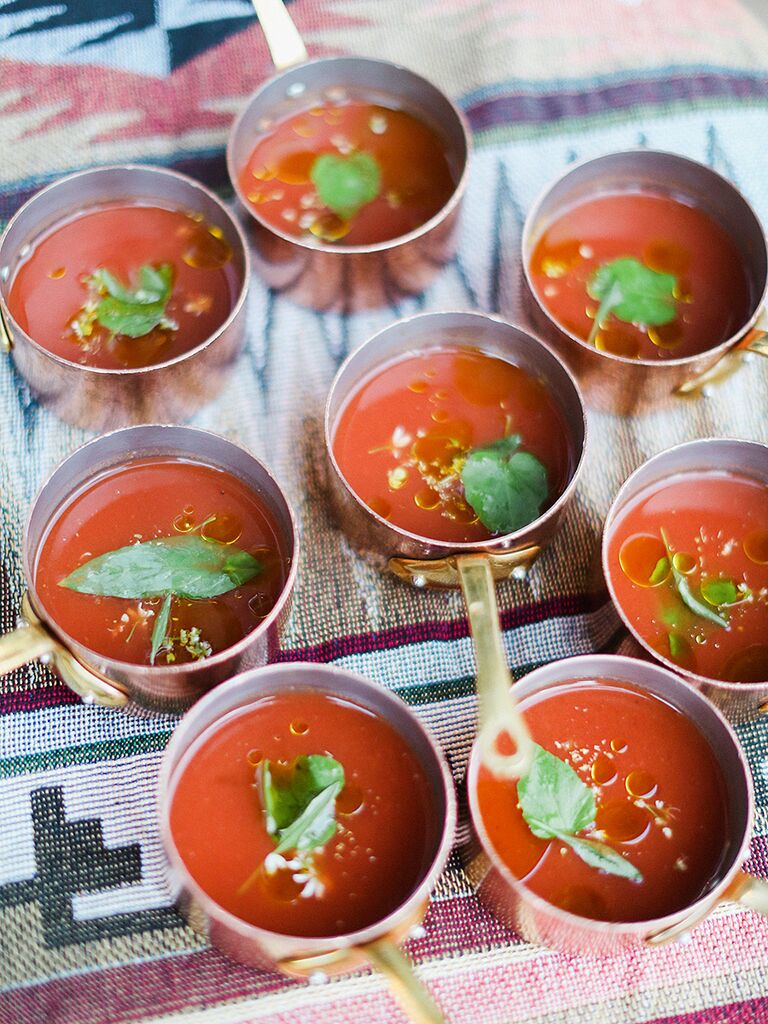 From: A Plaid Mountain Wedding at Beano's Cabin in Avon, Colorado
Your guests will be absolutely delighted with this chilled soup wedding appetizer.
2. Fresh Oyster Raw Bar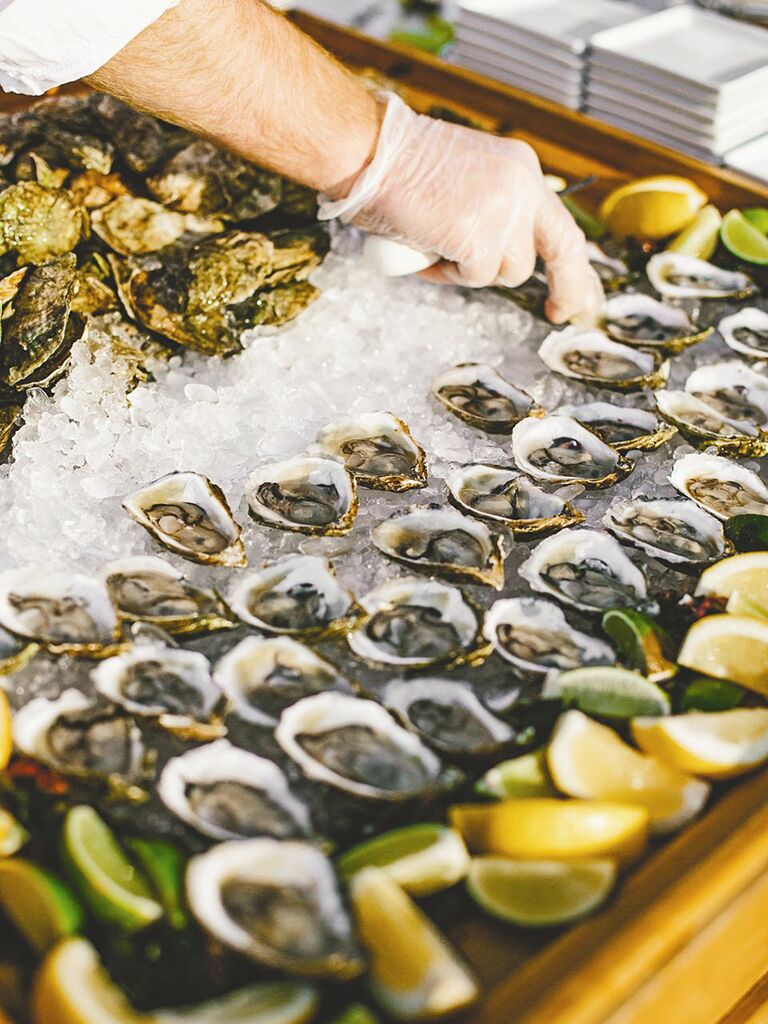 From: A Castle Hill Inn Wedding in Newport, Rhode Island
Watch out! Some believe oysters are aphrodisiacs. Whether you believe the myth or not, a fresh oyster raw bar is the perfect wedding appetizer idea.
3. Slider and Mini Beers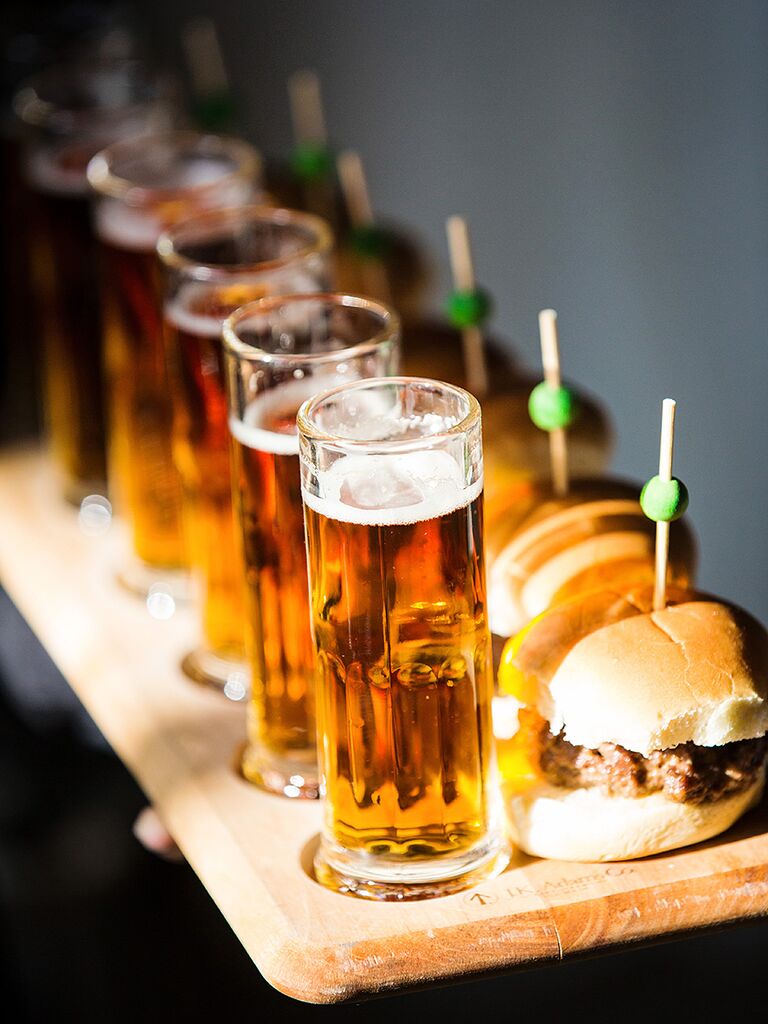 From: A Funky Wedding at Aria in Minneapolis, Minnesota
You can't go wrong with this pairing. Everyone will love these wedding hors d'oeuvres before the main meal.
4. Fresh Veggie Platter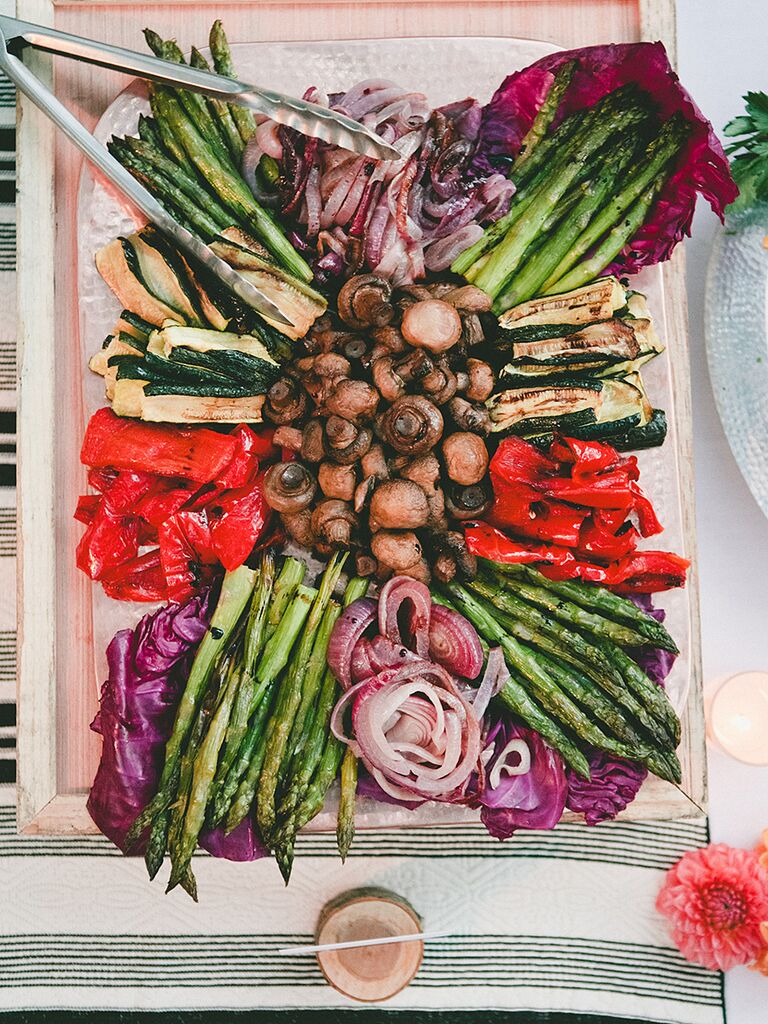 From: A Rustic Backyard Wedding With an Elegant Twist at a Private Residence in Santa Barbara, California
Design a pretty looking veggie platter and everyone will be eager to dive in. Pair this wedding appetizer with a side of assorted dips, like hummus, tapenade and ranch.
5. Tuna Tartare Cones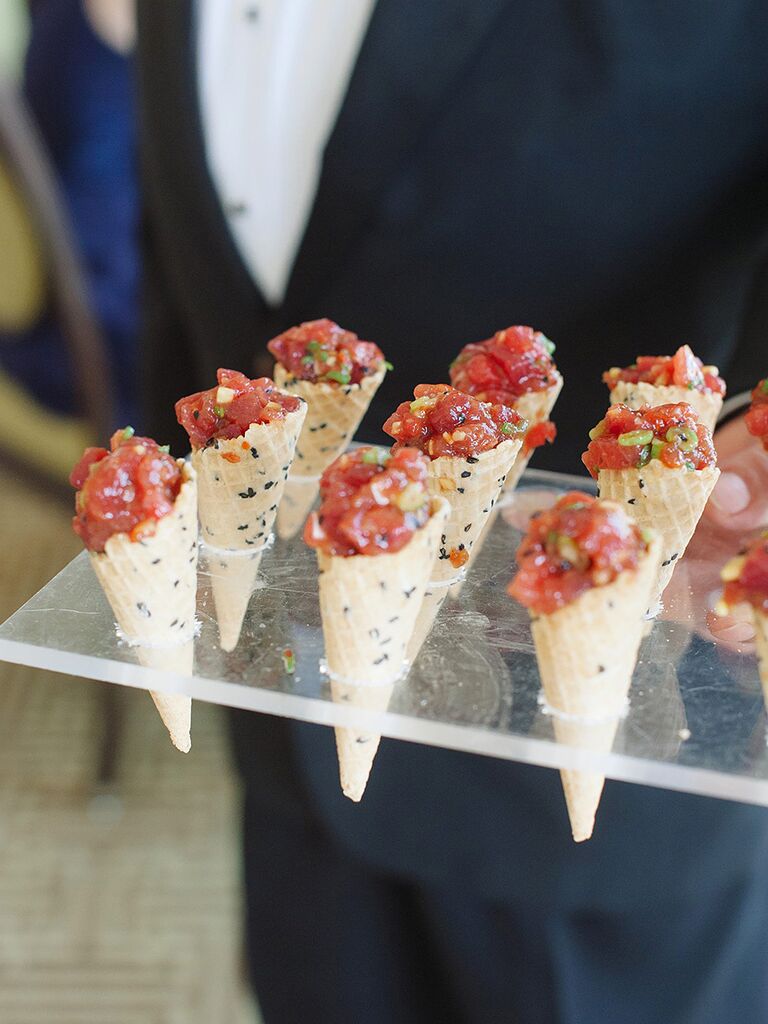 From: An Elegant Traditional Wedding at Hay Adams Hotel in Washington, DC
How cute (and convenient) are these tuna tartare cones? Your guests can easily grab and go as they mingle at your reception.
6. Meat Skewers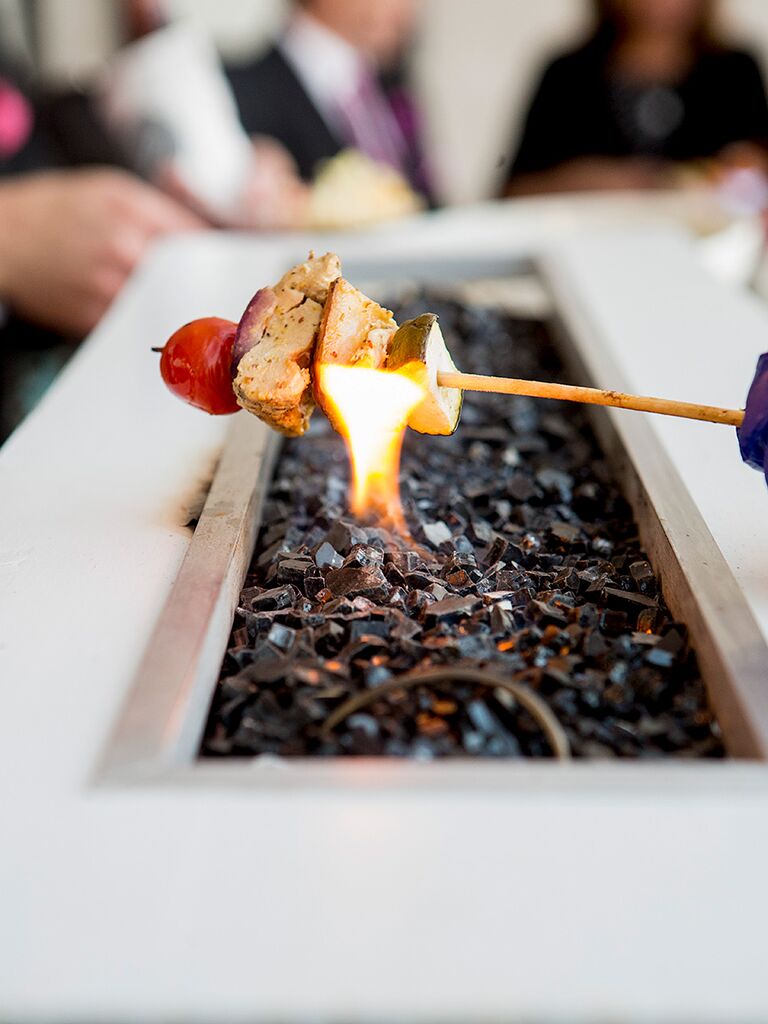 From: An Elegant Formal Wedding in Mount Vernon, Colorado
Some of the best wedding appetizer ideas include those that won't get your guests' hands dirty. These skewers are perfect because they won't make a mess--and they're tasty.
7. Mini Hot Dogs and Pickles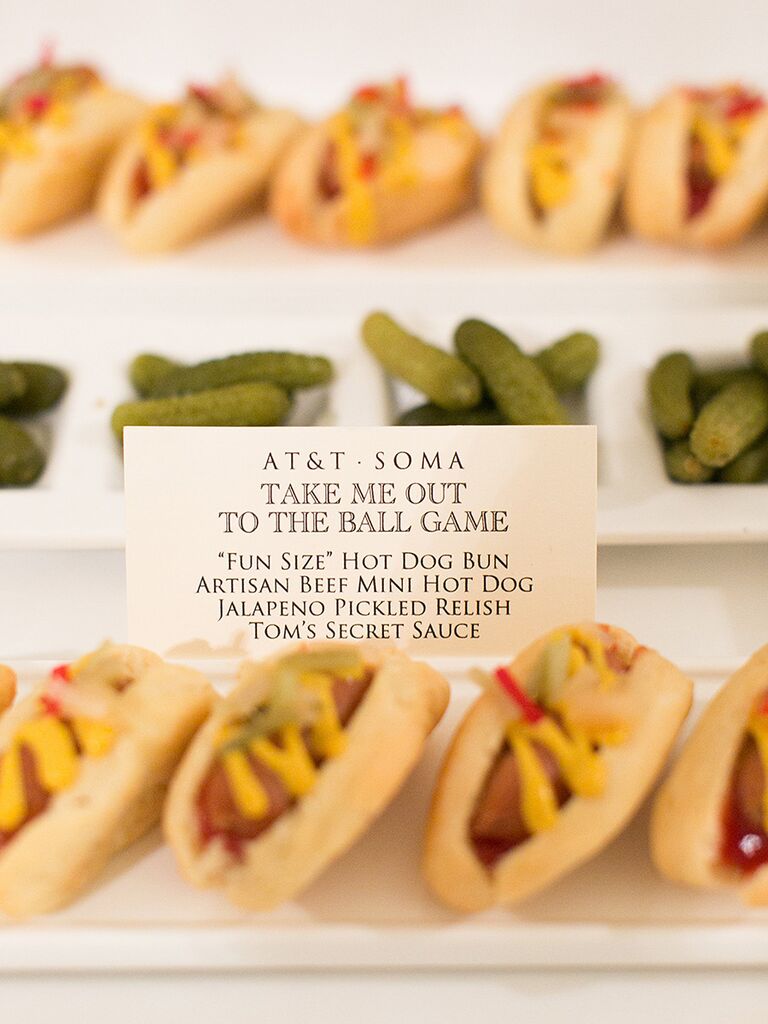 From: An Elegant Wedding at San Francisco City Hall in San Francisco, California
Hosting a backyard reception or a laid back affair? These wedding hors d'oeuvres are ideal for a casual setting.
8. Prosciutto-Wrapped Persimmons With Goat Cheese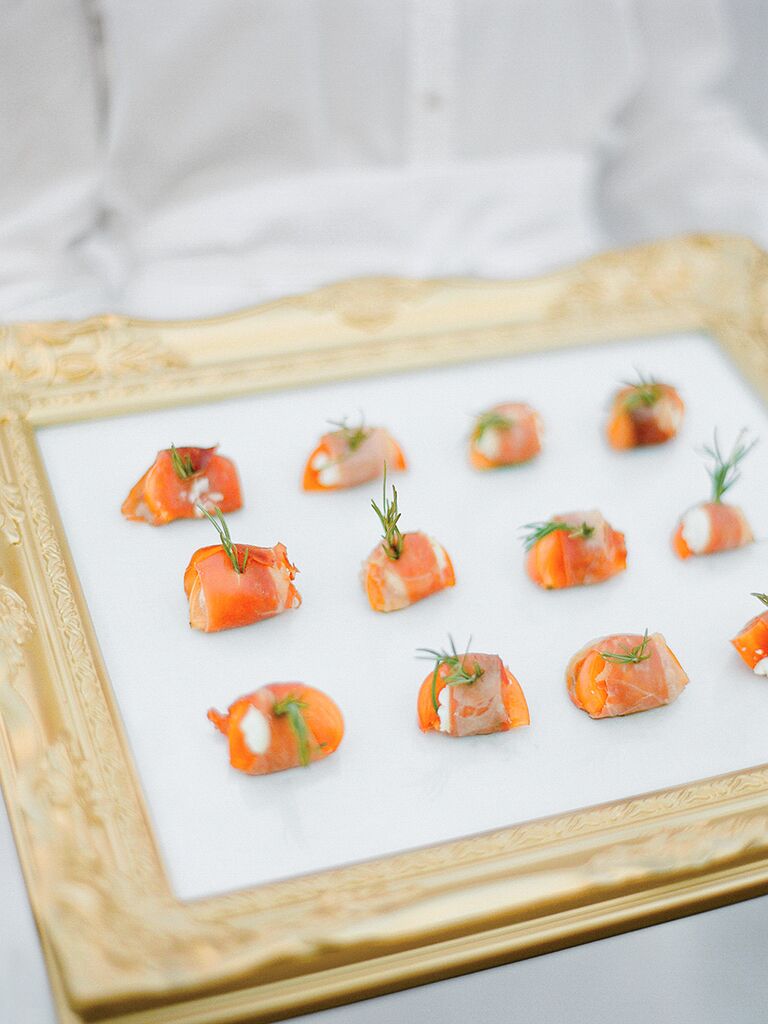 From: An Eclectic Wedding at Miller Nurseries in Canandaigua, New York
Just looking at these lovely wedding appetizers makes our mouths water. Your guests will love snacking on these before the main entree.
9. Biscuits Topped With Chipotle Sauce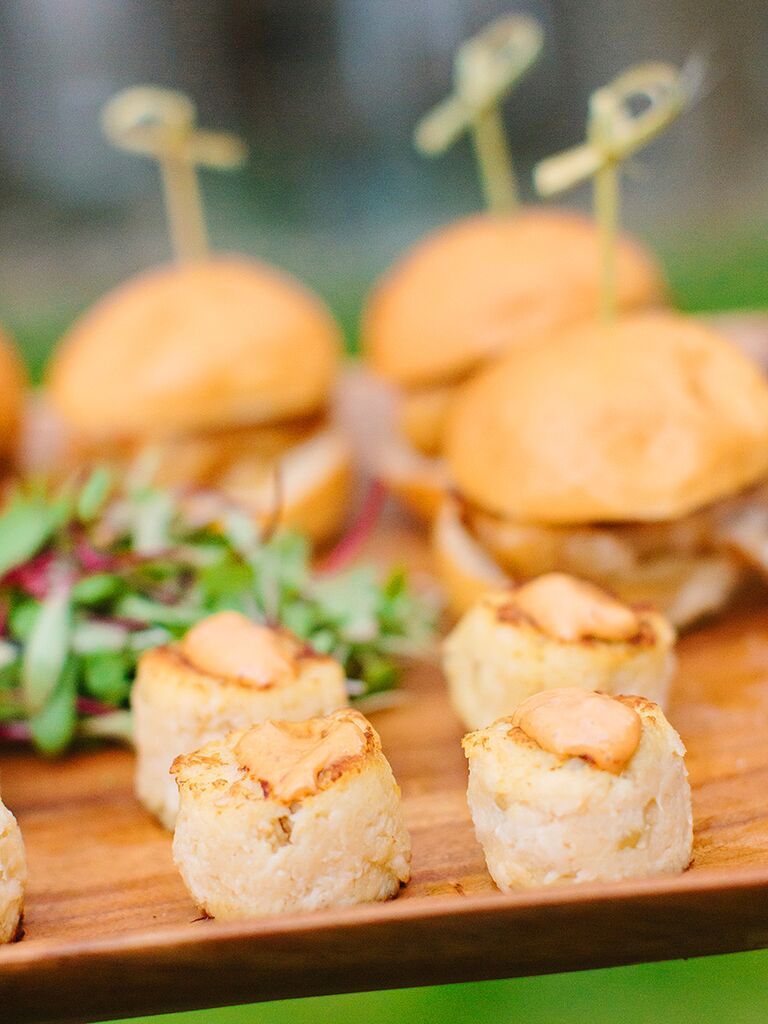 From: A Romantic Wedding at Stonehouse Villa in Driftwood, Texas
Biscuits are a staple in the south. If you're hosting a southern wedding, consider adding these delicious baked goods to your appetizer spread.
10. Fried Chicken and Biscuit Sliders
From: A Hip, Vintage Americana Wedding at TBD Brooklyn in Brooklyn, New York
If you're not careful, your wedding guests may fill up on these delectable fried chicken and biscuit sliders before the main course.
11. Tacos and Tequila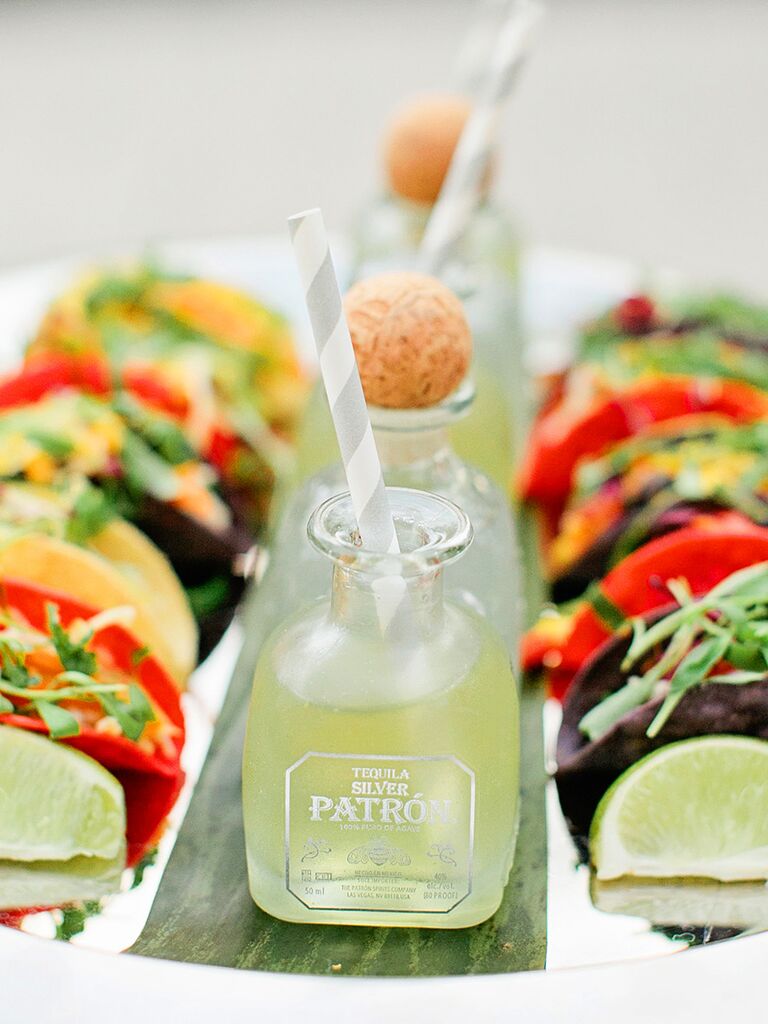 From: A Romantic Formal Wedding in Nashville, Tennessee
Eating tacos just doesn't feel right without a sip of tequila on the side. Chances are, this taco wedding appetizer idea will be the talk of your wedding reception for all the right reasons.
12. Shrimp Cocktail Shooters
From: A Playful Classic Wedding at the Spoleto Festival USA Building in Charleston, South Carolina
Your guests will get a kick out of this fun wedding appetizer idea, but they're not for the faint of heart. Be sure to warn your guests that they include spicy hot sauce and alcohol.
13. Soft Pretzels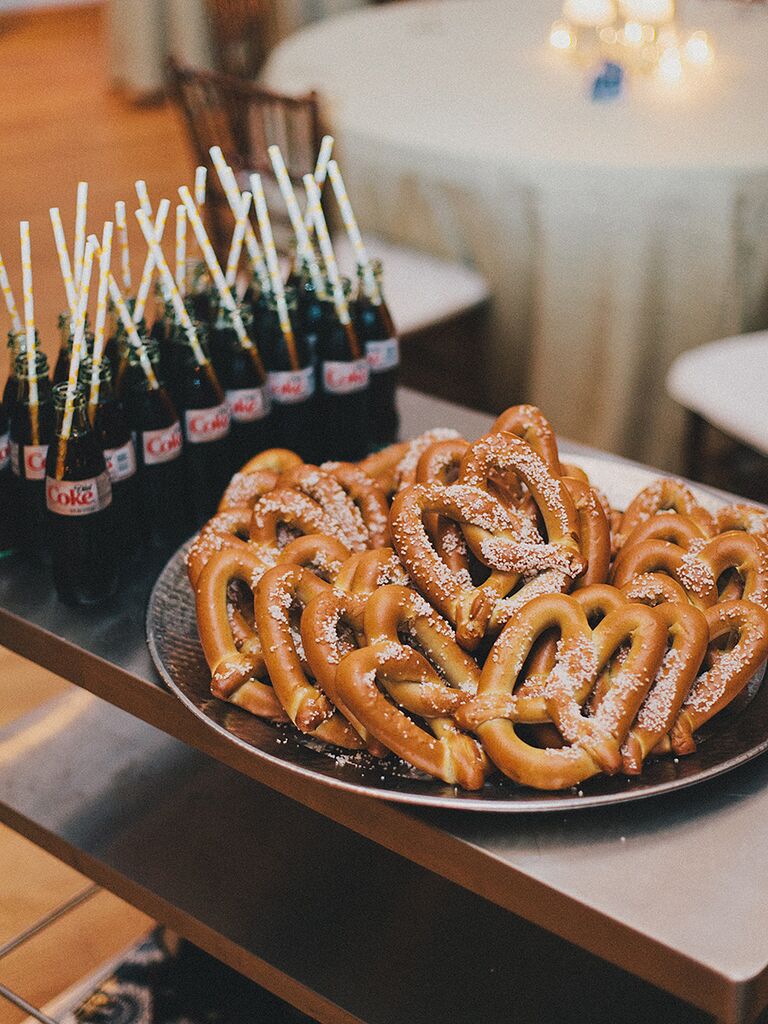 From: A Creative, Movie-Inspired Wedding in Durham, North Carolina
You can't go wrong with some salty soft pretzels as your wedding hors d'oeuvres. They're simple but totally delicious.
14. Stuffed Peppers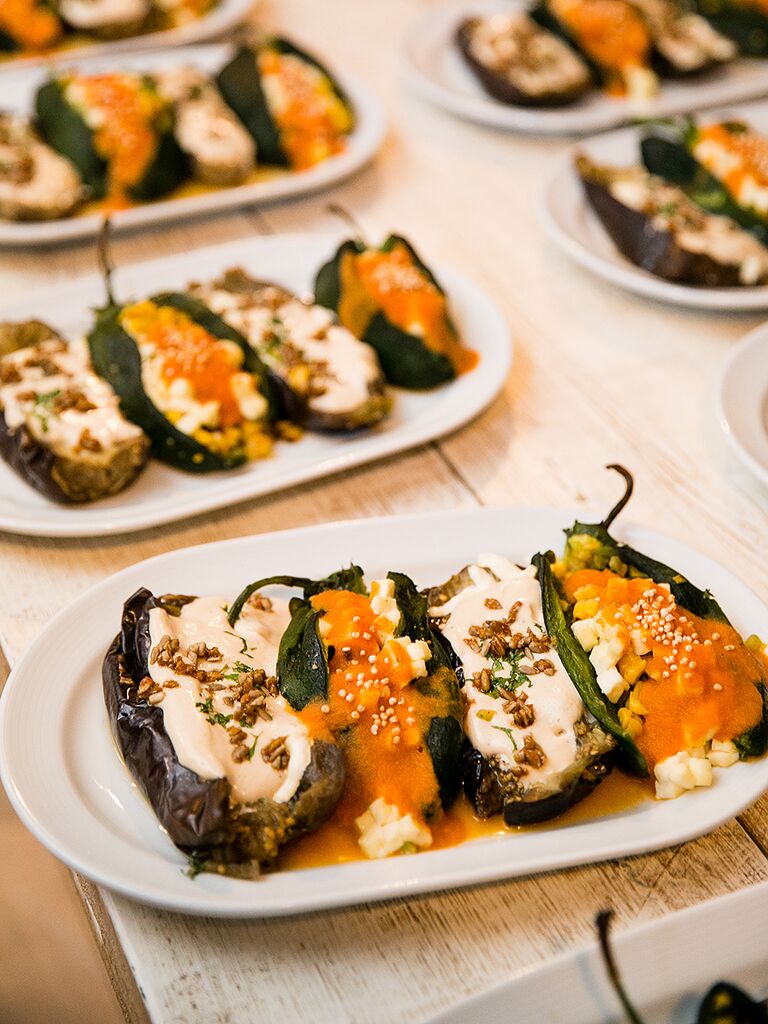 From: A Beach Destination Wedding at Casa Malca in Tulum, Mexico
If your wedding hors d'oeuvres look this good, your guests are going to be extra excited to see the main course.
15. Fried Mac and Cheese Bites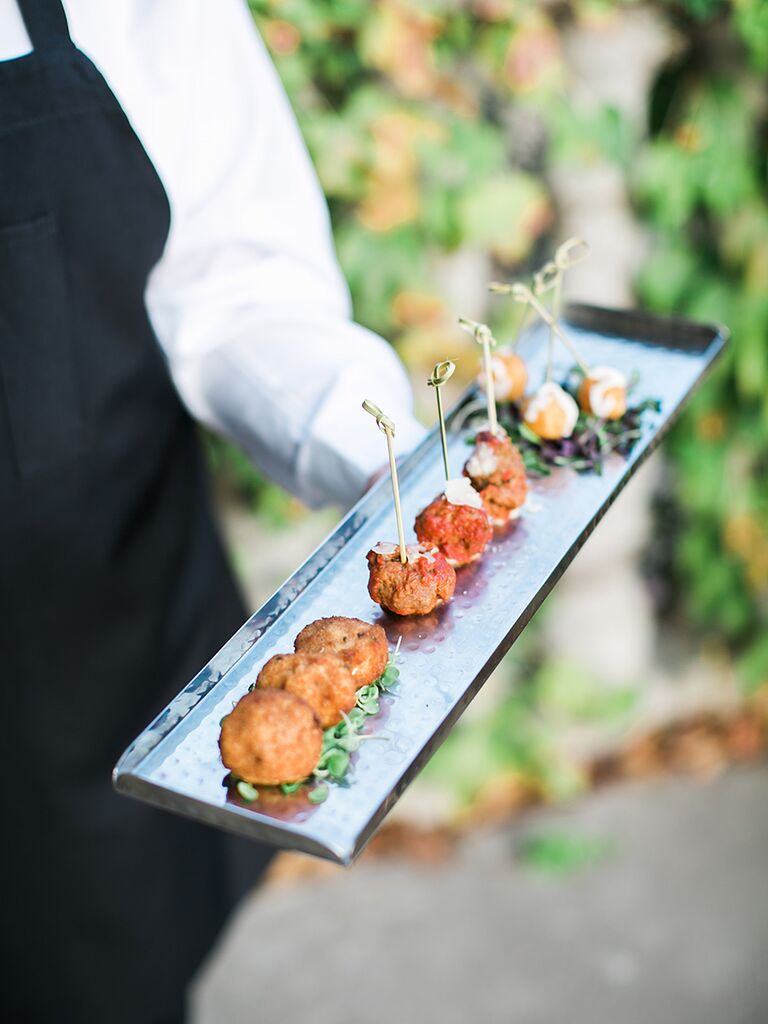 From: An Elegant, Burgundy Wedding at the Windsor at Hebron Park in Carrollton, Texas
Everyone loves mac and cheese. With this amazing wedding appetizer idea, they won't even need a fork to indulge.
16. Bacon-Wrapped Snacks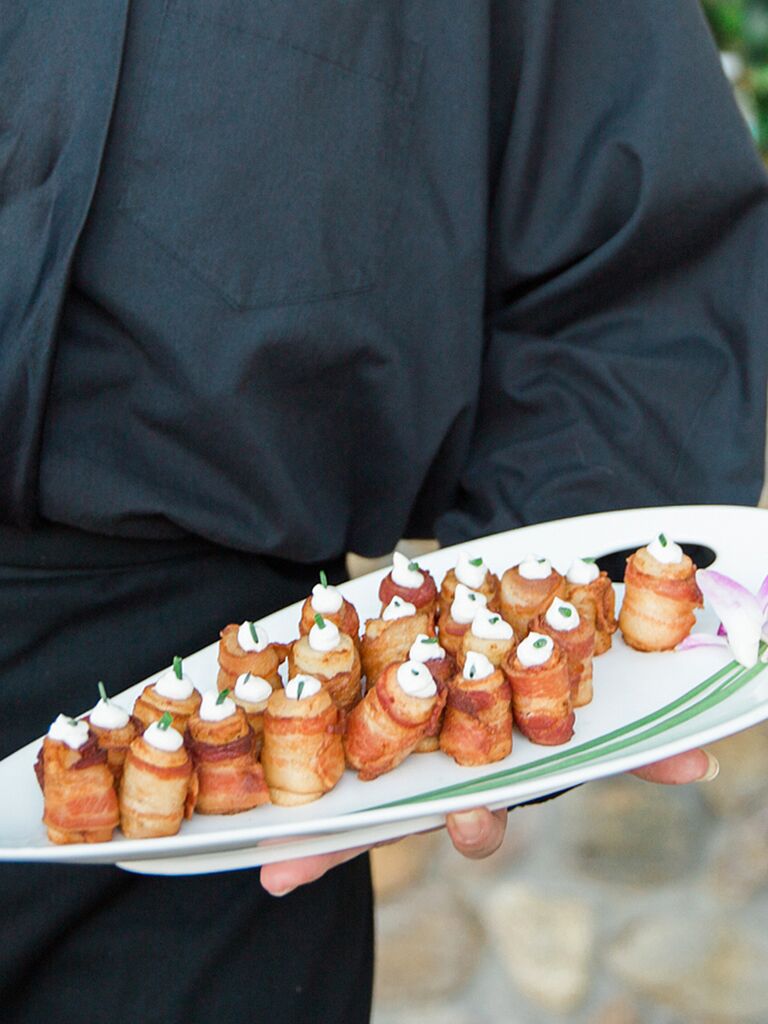 From: A Rustic Farm Wedding at Lange Farm in Dade City, Florida
Bacon makes everything better. Consider adding this bacon-wrapped treat to your appetizer selection.
17. Family-Style Caprese Salad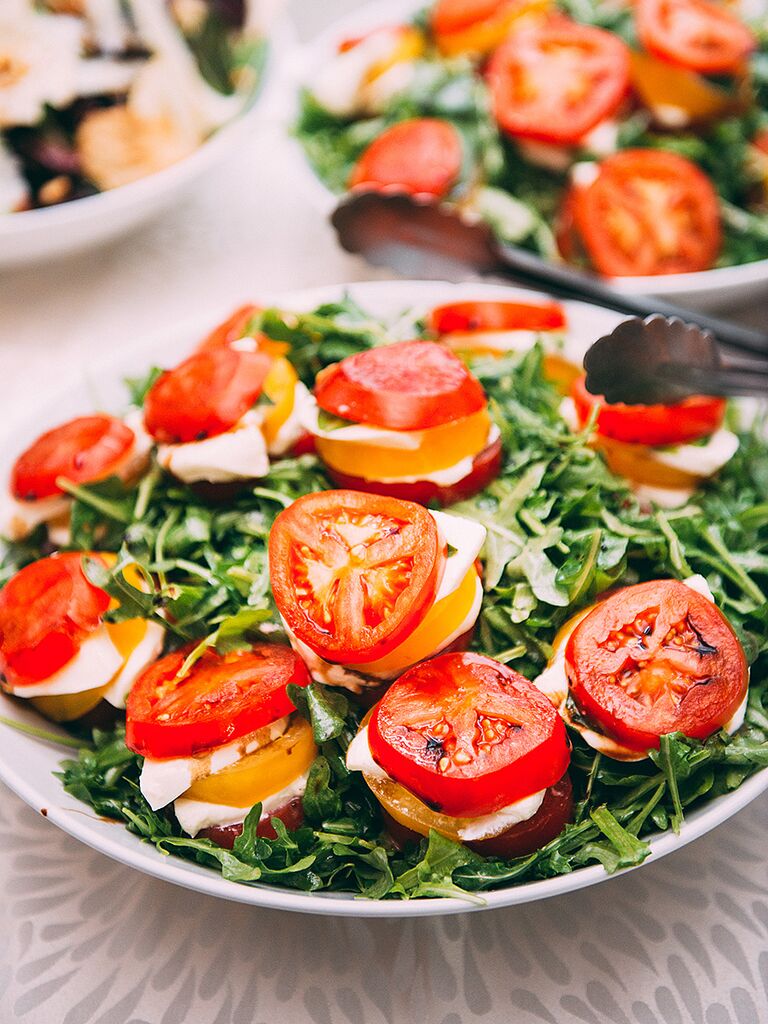 From: A Modern, Rustic Wedding at Berkeley Fieldhouse in Toronto, Ontario
Everyone will be eager to dig into this fresh Caprese salad. Serve it at the dinner tables before the main entree comes out.
18. Veggie and Meat Skewers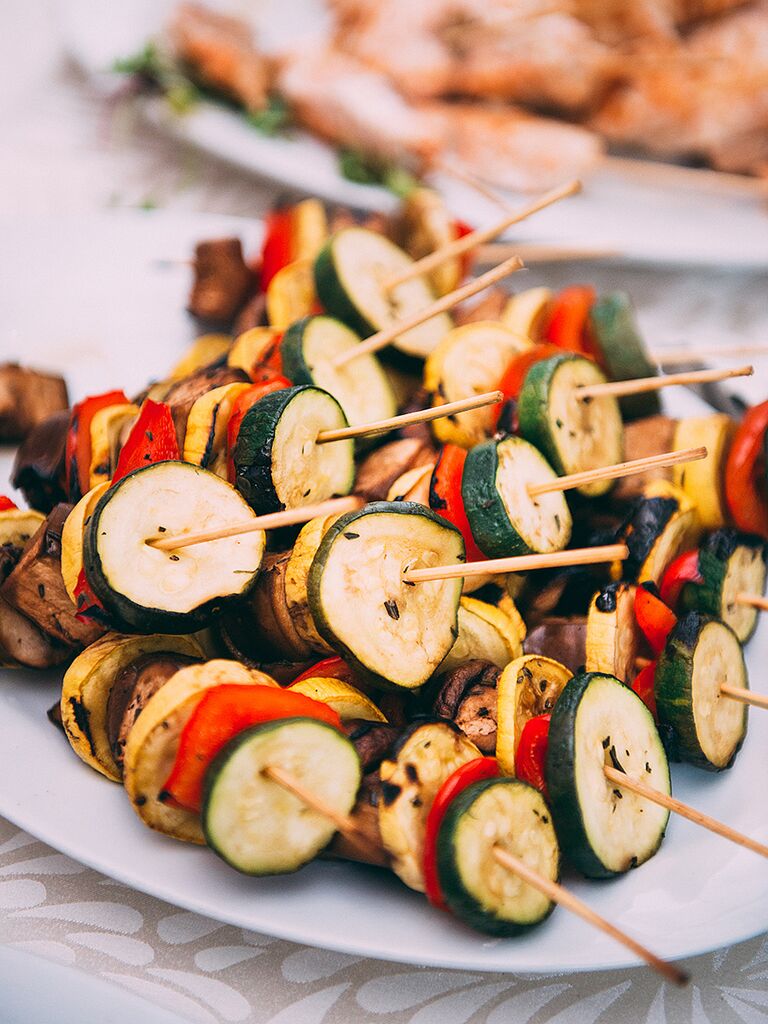 From: A Modern, Rustic Wedding at Berkeley Fieldhouse in Toronto, Ontario
Invite your guests to nosh on these delectable skewers as they wait for a chance to chat with the newlyweds.
19. Fresh Fruit Station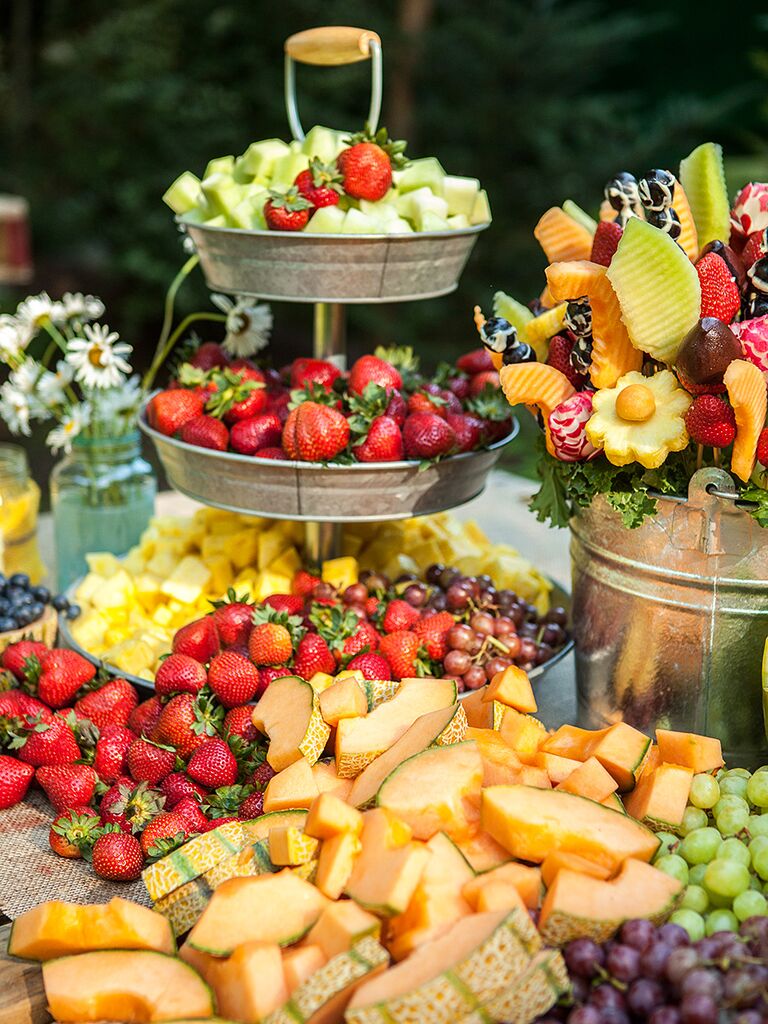 From: A Yellow Backyard Wedding at a Private Residence in Maple Valley, Washington
Not only is fruit delicious, but it makes for a beautiful, colorful display. If you're hosting a summer wedding, serve all the summer favorites like watermelon and strawberries.
20. Spinach Balls With Dipping Sauce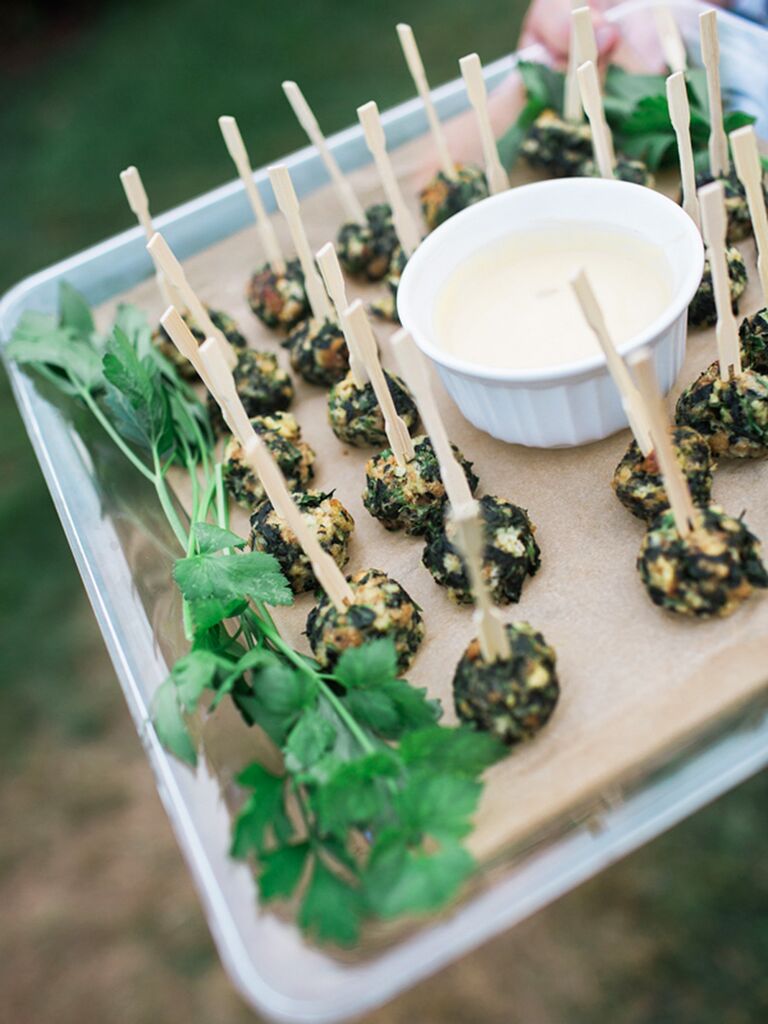 From: A Rustic, Outdoor Wedding at a Private Home in North Yarmouth, Maine
Spinach balls are the perfect addition to your wedding hors d'oeuvres.
21. Moroccan Chicken Skewers With Mint Yogurt Sauce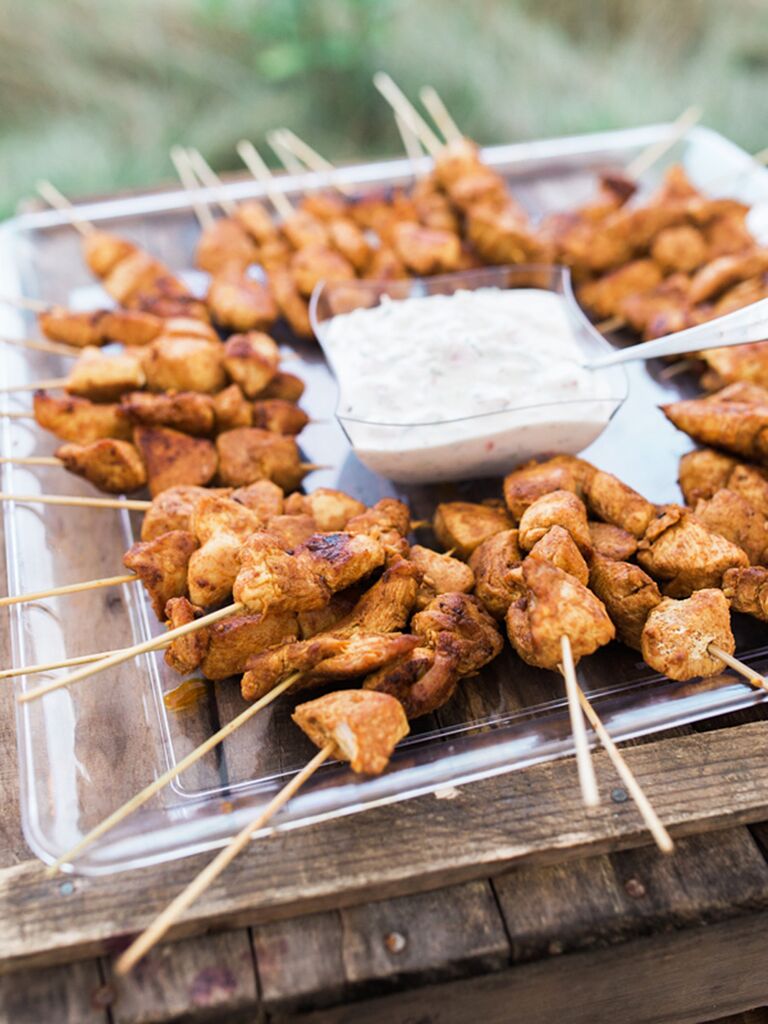 From: A Rustic, Outdoor Wedding at a Private Home in North Yarmouth, Maine
If you're looking for your wedding guests, they're likely swarming your display of these incredible Morrocan chicken skewers.
22. Grilled Cheese and Gazpacho Soup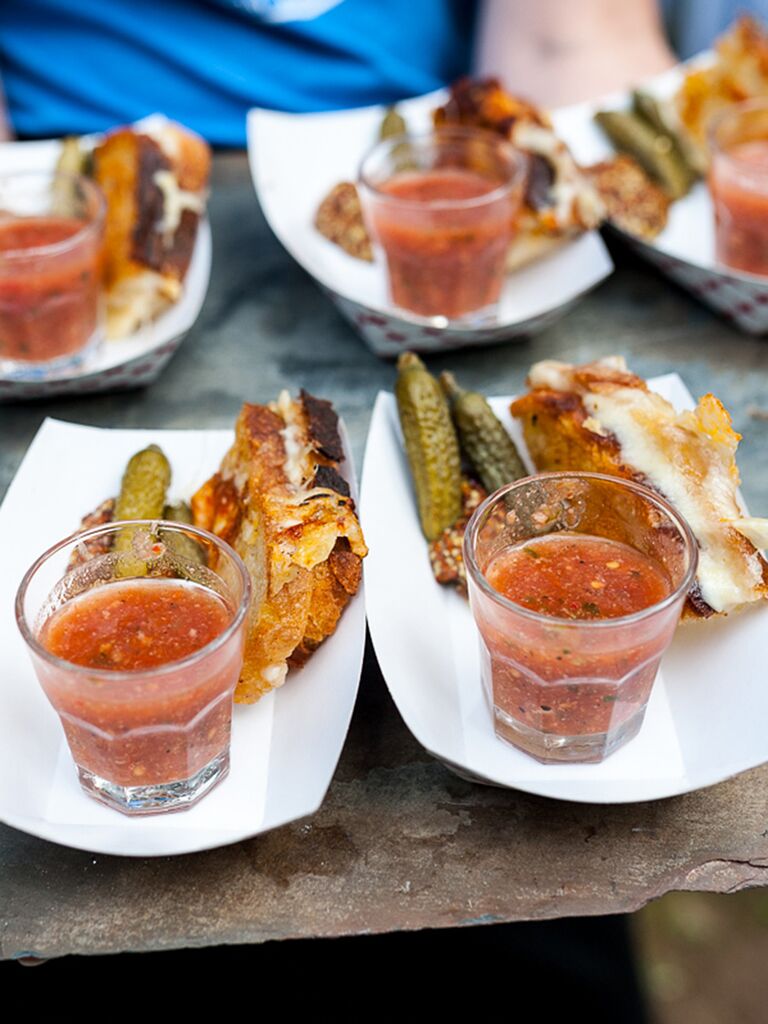 From: An Intimate, Garden-Party-Themed Wedding at Kentford Farms in Stonginton, Connecticut
Who needs a main course when you have these cute sandwich soup combos?
23. French Fries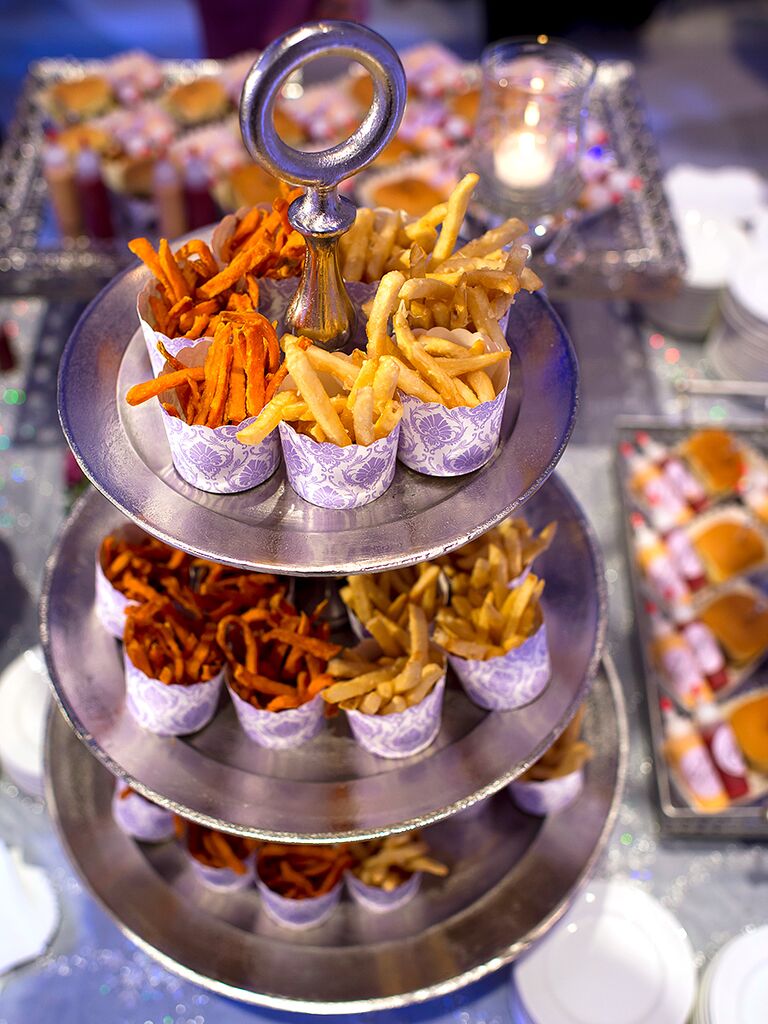 From: An Enchanting, Ultra-Sparkly Wedding at Milwaukee Art Museum in Milwaukee, Wisconsin
French fries can be fancy, too. Add these potato sticks to your wedding appetizers and your guests will thank you later.
24. Mini Sliders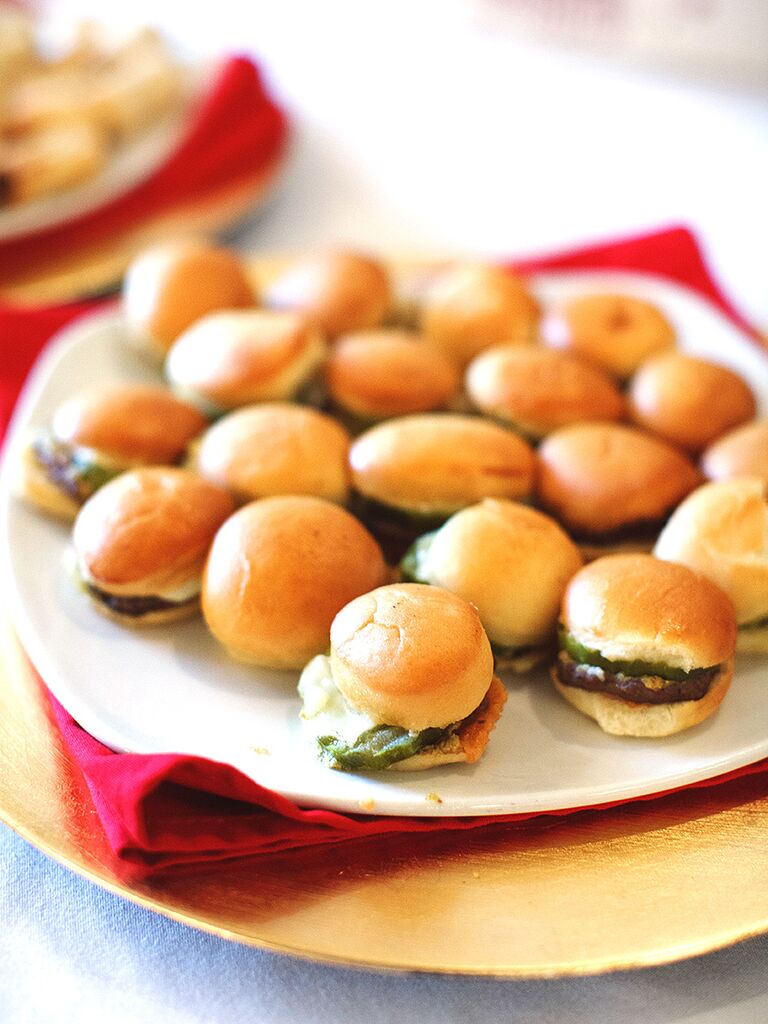 From: A Fourth of July County-Fair-Inspired Wedding at Publick House Historic Inn in Sturbridge, Massachusetts
These mini sliders are perfect for a casual wedding reception. Pair them with french fries or tater tots and you'll be good to go.