Challenge Your Love to These 17 Board Games for Couples
From connection-building games to classic favorites.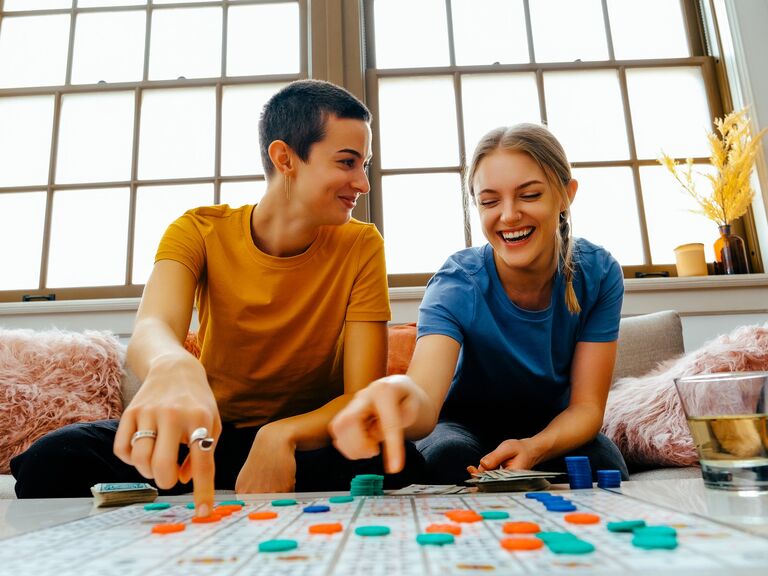 Photo: CarlosDavid.org | Getty Images
We have included third party products to help you navigate and enjoy life's biggest moments. Purchases made through links on this page may earn us a commission.
While exploring your city (and beyond) with your love is grand and all, there's something to be said for at-home date nights. Staying in and cuddling up? Certainly nothing to complain about there. And, in addition to trying new recipes and streaming your favorite flicks, board games for couples are a great itinerary option for your next night-in.
An interactive activity that'll get you both talking and laughing, a one-on-one game night offers the opportunity for plenty of healthy and fun competition. From connection-building games to classic favorites, we've rounded up the best board games for couples below that'll have you facing off with your favorite person.
As a bonus, many of these board games for couples can be played with more than two players—meaning they're great for dinner parties and get-togethers, too. (Bridesmaid wine and game night, anyone?)
Below, find the 17 best board games for couples. Winner choses the takeout cuisine!
Asmodee Wavelength Board Game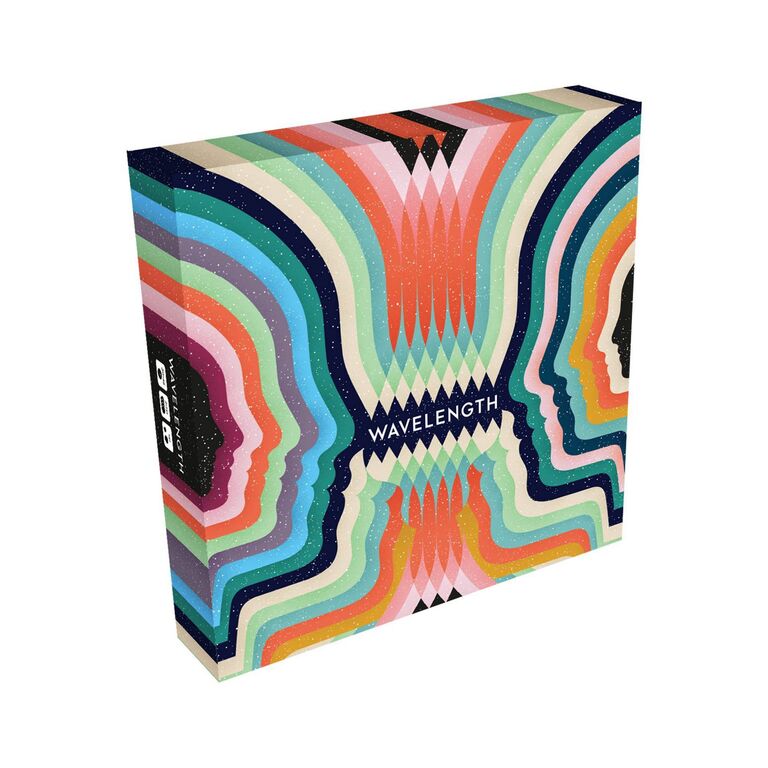 Are you and your partner on the same wavelength? This board game puts you both to the challenge—in the most fun possible way, of course. For each round, one player guides their partner to a hidden target, using only clues based on a given spectrum (think: hot-cold, bald-hairy, etc.). The highlight here? This game will get you both talking as you try to get on the same page! Plus, it can serve as both a 2-player board game for couples and as a party game for up to 20 people, too.
Custom Engraved Wood Folding Mancala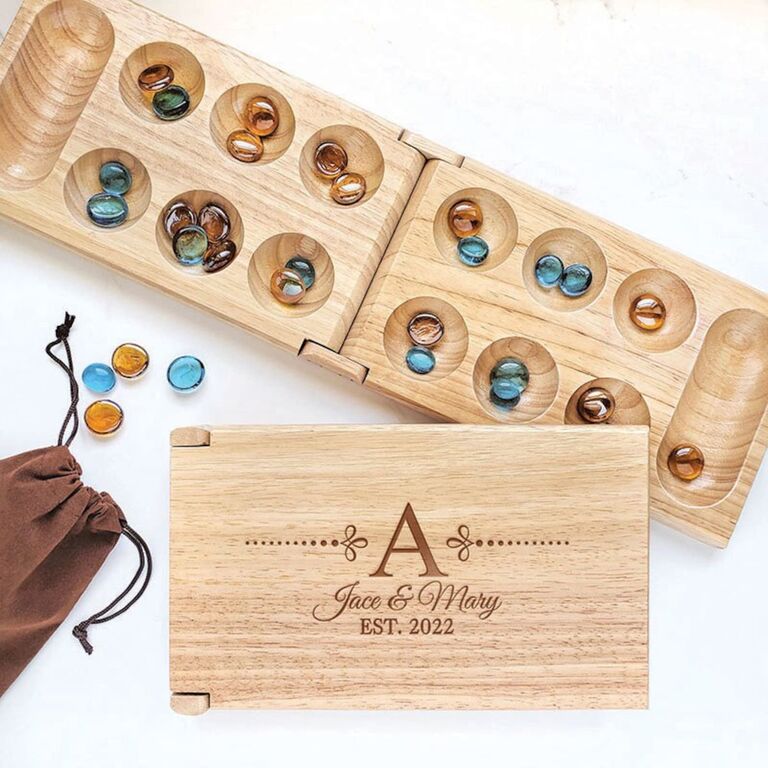 Classic games can actually serve as a unique couples gift, housewarming gift or even wedding gift when elevated with details like gorgeous wood construction and classic engraving. Designed to be used for generations to come, this wood mancala game features naturally hued birch wood, comes complete with 48 glass marbles and can be personazlied with a monogram, first names and anniversary date.
Scrabble Personalized Vintage Bookshelf Edition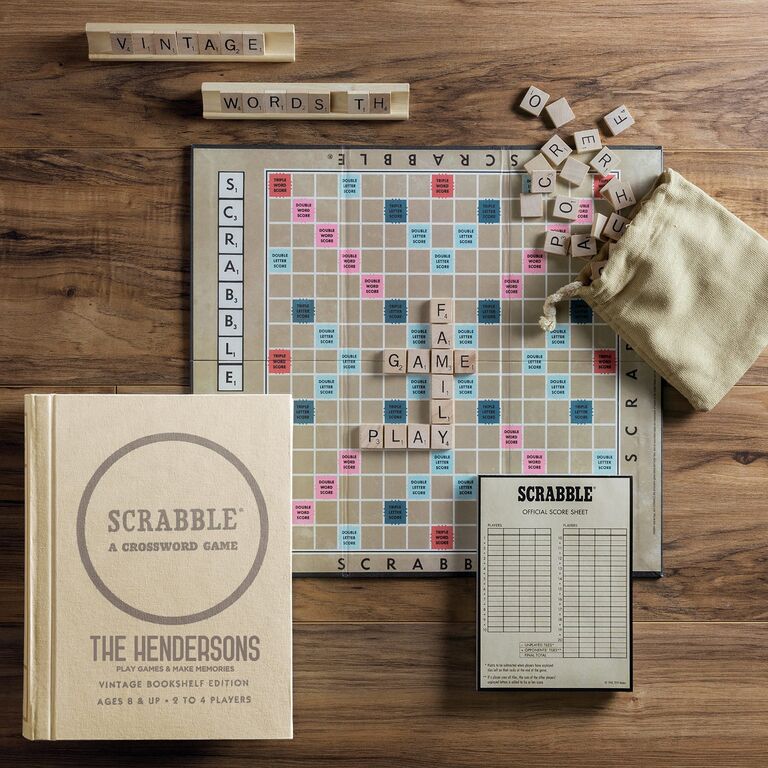 Another game you know and love (and will always leave you lovingly arguing over whether certain words are really words), this traditional Scrabble game gets a makeover that's the very definition of "quiet-luxury." With premium game pieces included, the game comes housed in a vintage-inspired book box that can be customized with a last name. (How stunning would it look sitting on your living room book shelf?)
Personalized Hearts Four-Across Game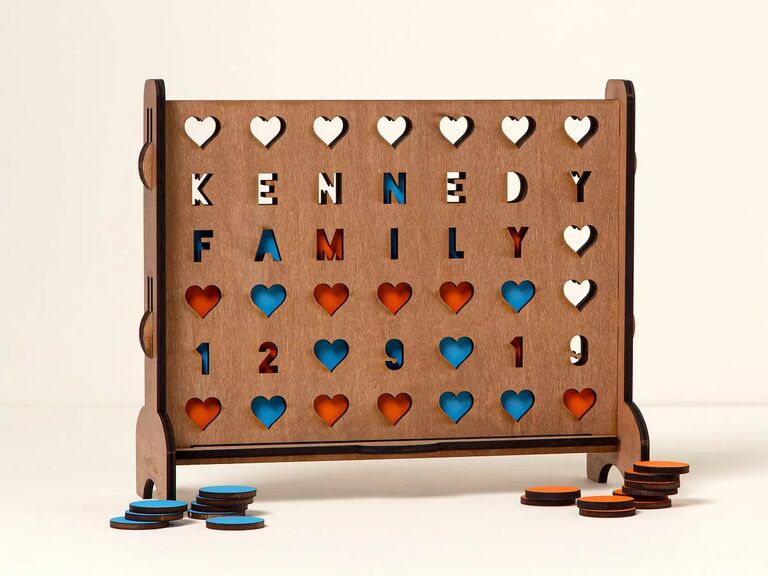 This personalized four-across game couldn't be any cuter if it tried. Handmade in Greensboro, North Carolina, the maple plywood features rows of incised hearts with space for up to four lines of text (with seven characters each). You can add your love's name, your anniversary date or any other meaningful bit of text. Alternatively, you can wrap it up as the most one-of-the-kind wedding gift the couple is guaranteed to get.
Wood Chess/Checkers Game
Beautiful enough to be considered just as much home decor as a couples board game, this thoughtfully designed piece combines both classic games of chess and checkers. With geometric detailing, unexpected pops of color and a maximalism aesthetic, it comes complete with the brightly checkered board, storage drawer and 32 work-of-art chess pieces and 32 checker pieces.
Backgammon and Ludo 2-in-1 Game Set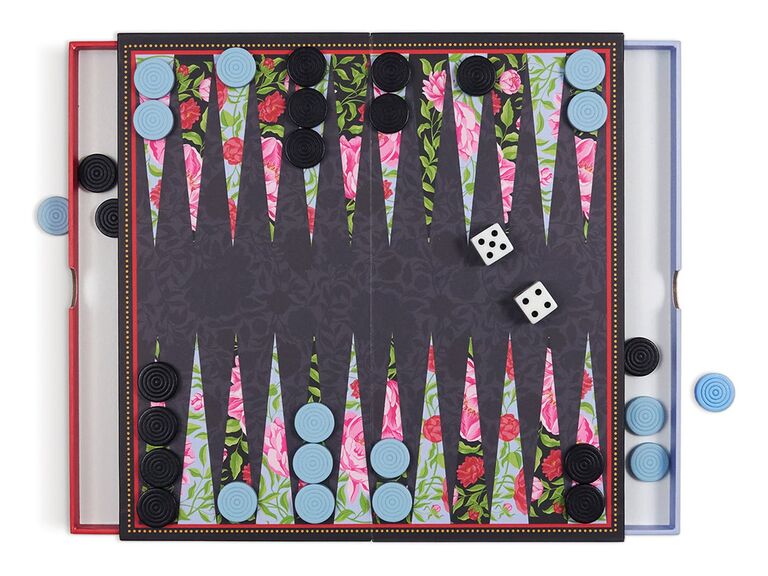 Another two-in-one pick, this game doubles the fun with all the pieces and board to play both backgammon and ludo. But what makes this pick a standout is the lovely collection of patterns adorning the portable box that opens up into the game board itself—which is also decorated with painterly florals, naturally.
Backgammon Wine Picnic Table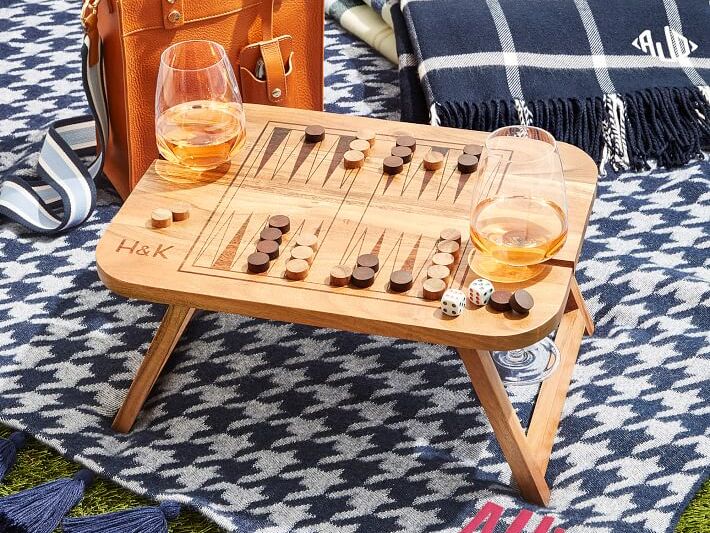 While you may already have backgammon on your shelf (see previous pick, in fact), this version marries the classic game with a bonafide picnic table. The fair-trade-certified arjun wood is engraved with a backgammon board, and the portable and foldable table even features slots for a pair of wine glasses. Will a glass or two make you better competition for your honey? Time will tell.
Happily Everest After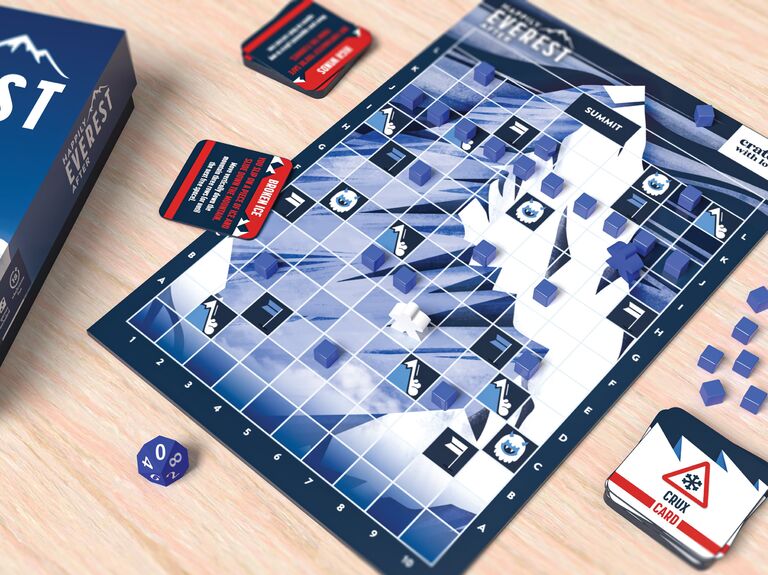 This 2-player board game for couples comes with everything you need to plan a date-in with your love: Along with the game board and pieces, the fun find includes a pair of gratitude journals, a themed dinner recipe and Spotify playlist, plus some bonus mini games. The star of the show though is certainly the game itself, the objective of which is to climb the mountain on the game board, avoiding the icy blocks and obstacles in your path.
Zazzle Custom Anniversary Photo Jigsaw Puzzle
If puzzles are one of your and your partner's favorite pastimes to share, then surprise them with a custom one that puts your love front and center. Simply submit a photo (such as one of those engagement session shots!) and Zazzle will transform it into a 30 to 1014-piece puzzle that can measure up to 20" x 30" and is totally fit for framing after completion.
Board Game Score Keeping Journal for Married Couples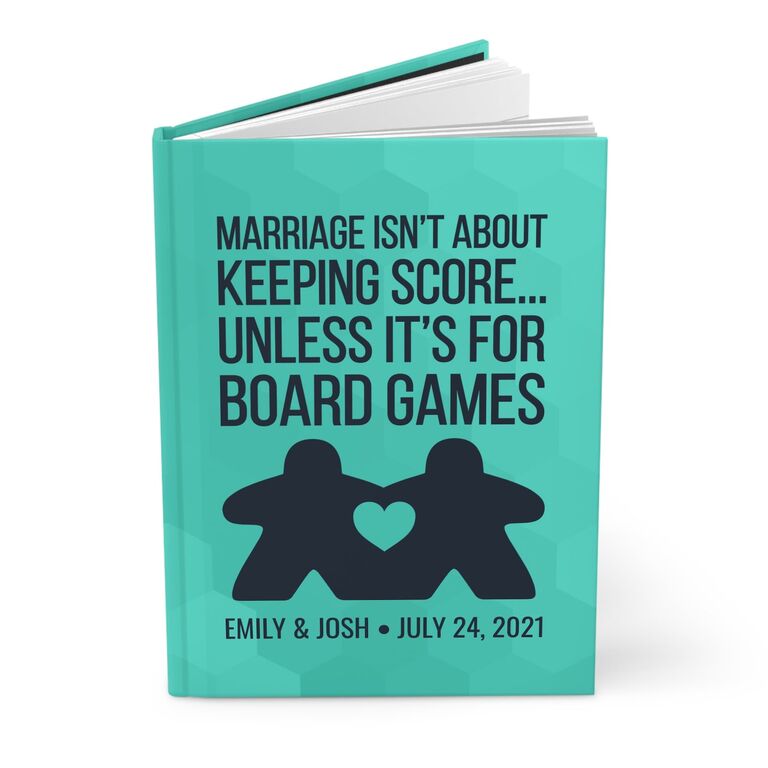 While not technically a couples board game, this score keeping journal is just one of those things you didn't know you needed—especially if you and your partner are board game aficionados. The journal is filled with 75 pages to keep track of who owes who a massage, and the hardcover can be customized with first names, last names and/or a wedding date.
Lucite Aurora Tic Tac Toe Set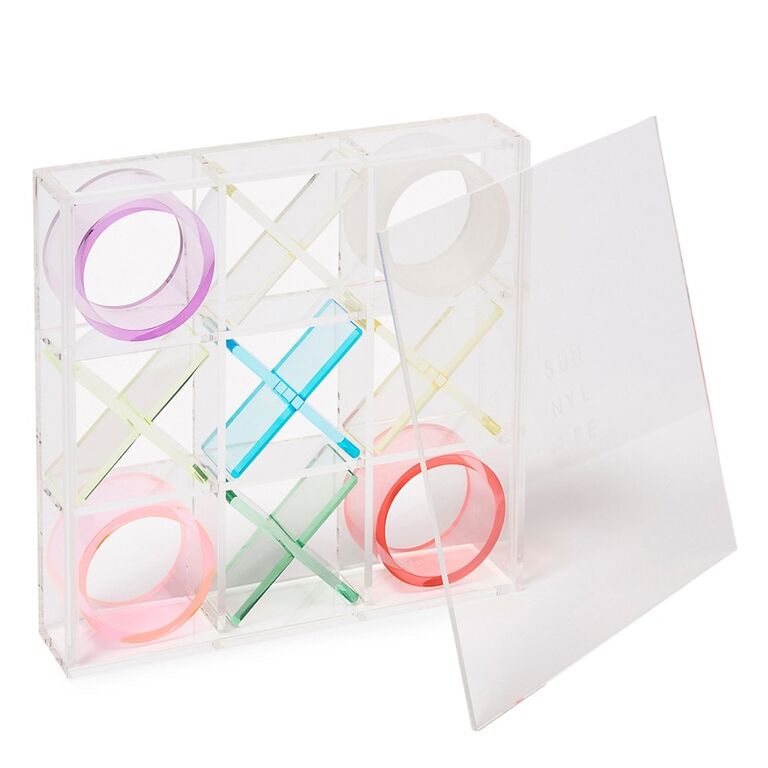 Bold and modern, this certainly isn't the tic tac toe board you've hastily drawn on napkins and scrap paper. This lucite set arrives with a 100% acrylic tic tac toe board and clear box, plus candy-colored Xs and Os. Pull it out the next time you're deciding what to stream or whose turn it is to take out the trash, and display it as a piece of art when not in use.
Custom Couples Monopoly-Style Printable Game Board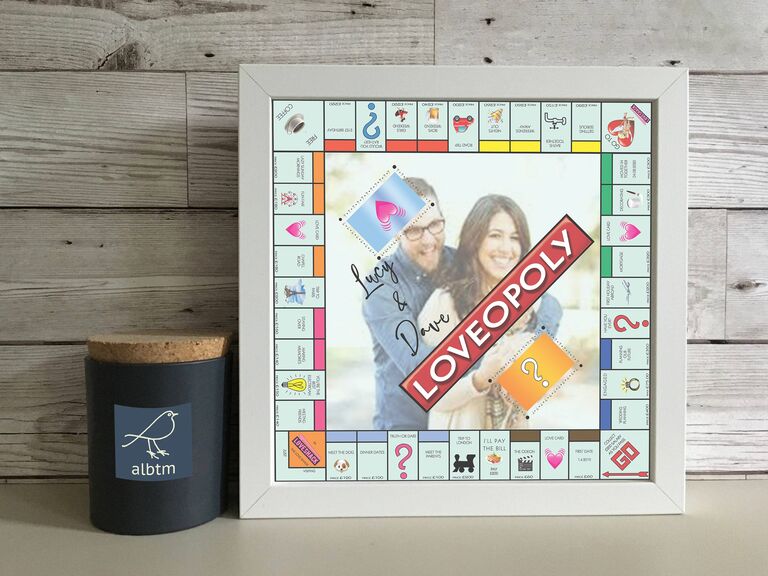 If your partner always has a hotel on boardwalk and never lets anyone out of paying rent, gift them a one-of-kind version of their favorite game. This designer can create a custom Monopoly-style game board featuring a photo, as well as details of your love story (such as the day of your first date) along the relationship-themed spaces. Once completed, it can easily be printed at home for you to adhere to cardstock or cardboard to play upon—or simply frame to display.
Leather Poker Set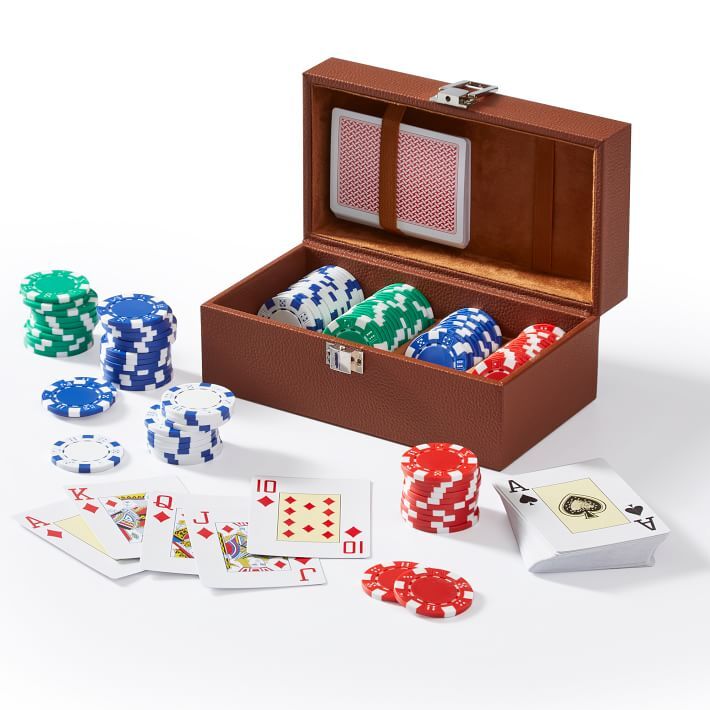 While not a traditional board game, this custom poker set is a no less worthy addition to your and your partner's game shelf. The beautifully crafted pebbled leather box is available in both tan and midnight blue hues and features foil debossed monogramming. Inside, you'll find soft suede lining, 100 poker chips and a deck of cards.
Sex Blocks: Intimate Tumble Tower Game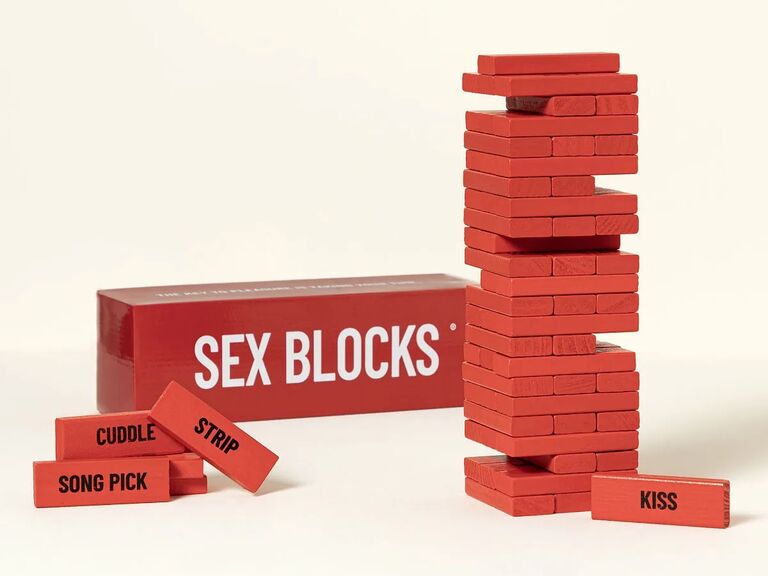 Bet you didn't know that the classic block tower game could be sexy, did you? This iteration's blocks are printed with an array of sensual prompts that'll turn up the heat on game night. As each person pulls their block, they can perform the wild dare, with prompts including dancing, massaging, kissing and more.
Why Not? Fun and Romantic Board Game for Couples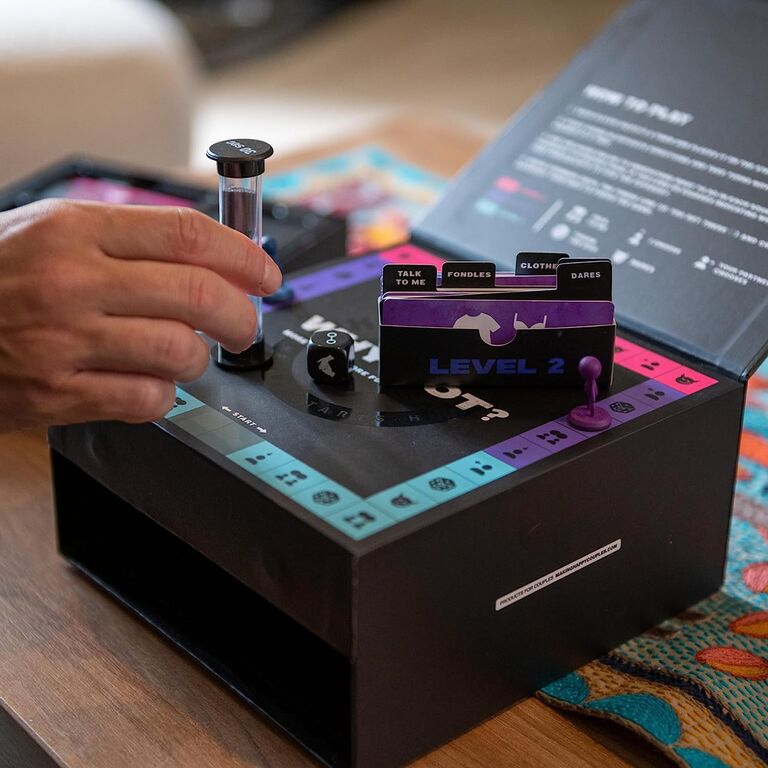 Designed to deepen your connection and intimacy, this board game for couples includes conversation-sparking questions and sexy challenges that you'll undertake as you move your pieces around the board. Throughout the multi-leveled game, the prompts and actions (that range from the silly to the sweet to the sensual) should encourage both open communication and physical desire.
Monopoly Luxury Edition Maple Board Game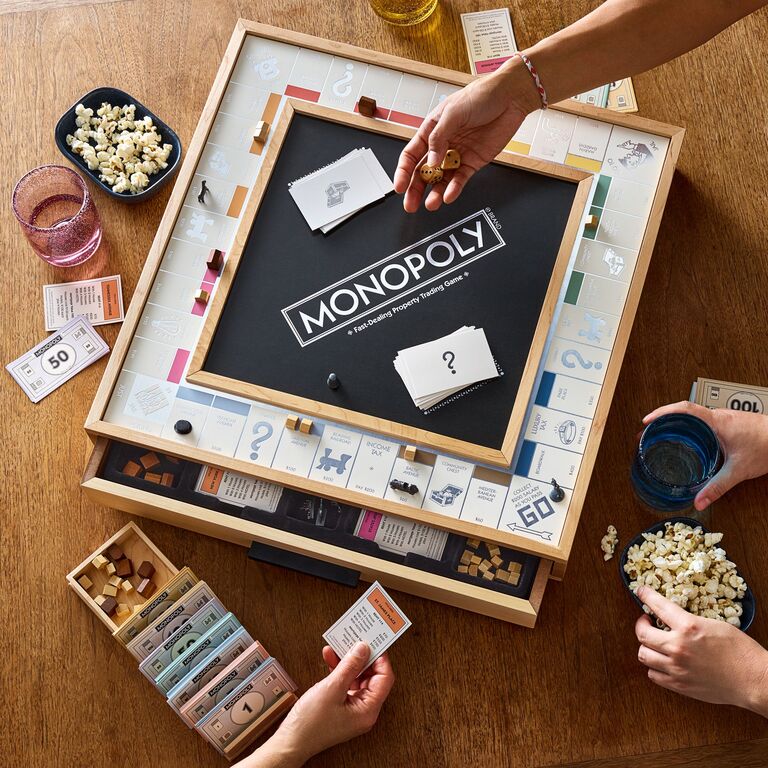 Worthy of a spot on your wedding registry, this Monopoly game is guaranteed to be the most luxurious edition you ever did see. The game board is set within a maple wood frame that features a storage drawer to stash the cash, gunmetal pieces and wooden houses and hotels. Go on. Pass go. Treat yourself.
Drunkopoly Couples Edition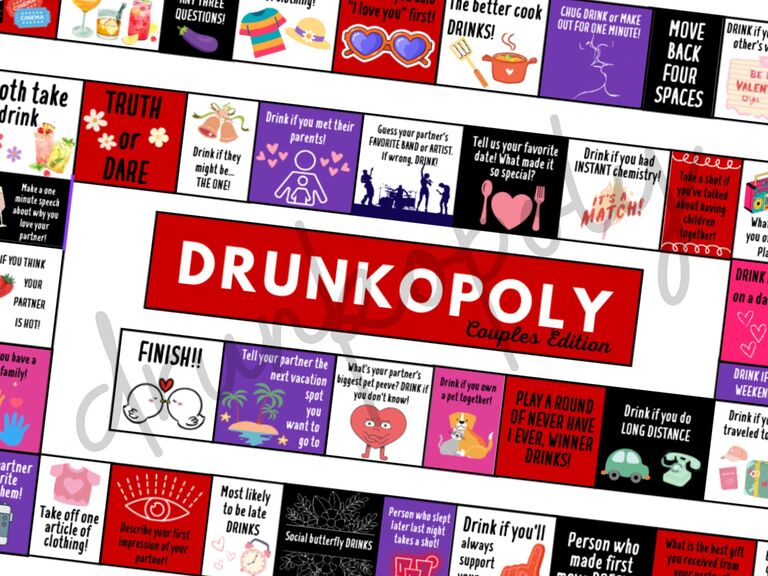 A wine night and date nigh combo? Yes please. This drinking board game features 66 spaces, each of which touts a cheeky dare or instruction, such as "Drink if you met their parents," "Take off one article of clothing," and "Describe your first impression of your partner."
Of course, remember to drink responsibly, legally and not to excess or to the point where either partner can no longer consent to intimacy.