Up the Wedding Photo Fun Factor with the Best DIY Photo Booth
Capture the silly antics of your wedding guests in a DIY photo booth that's a snap to create.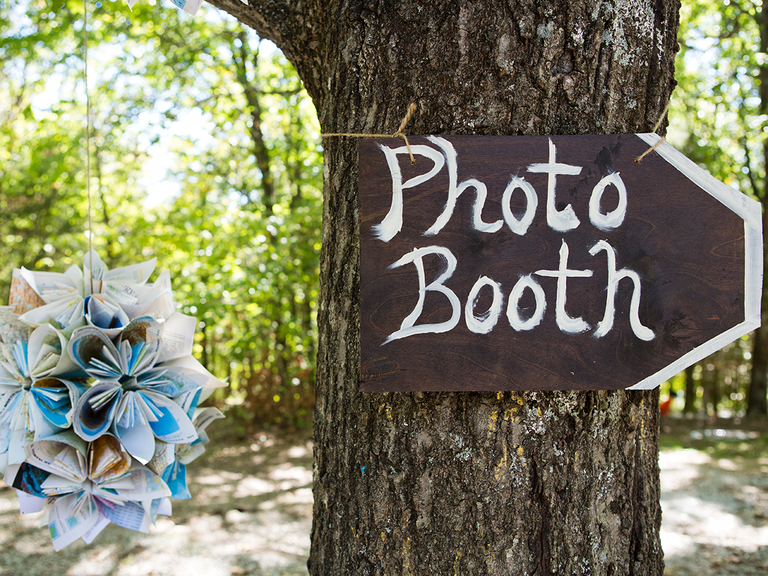 iStock
We have included third party products to help you navigate and enjoy life's biggest moments. Purchases made through links on this page may earn us a commission.
Let's face it, when wedding guests are in the celebratory spirit, they need little help to ham it up (okay, an open bar doesn't hurt). The last thing you want is to miss out on all of those memorable moments simply because, logistically speaking, photographers and videographers can only be in so many places at the same time. With a DIY photo booth, you can encourage your guests to let loose and have fun, all while capturing the entertaining antics you and your other half might otherwise miss.
Wedding days are made possible in part by all of the amazing professional vendors and the expert services they offer. It's no different for photo booths. For a photo booth experience with all the bells and whistles, leave it in the hands of the professionals. However, if a casual vibe (and lower cost) is more your shutter speed, then take the route of a DIY set-up. We've got all the tips and tricks on how to make a photo booth so that your homemade photo space can be just as special.
1. Find the Perfect Spot for Your DIY Photo Booth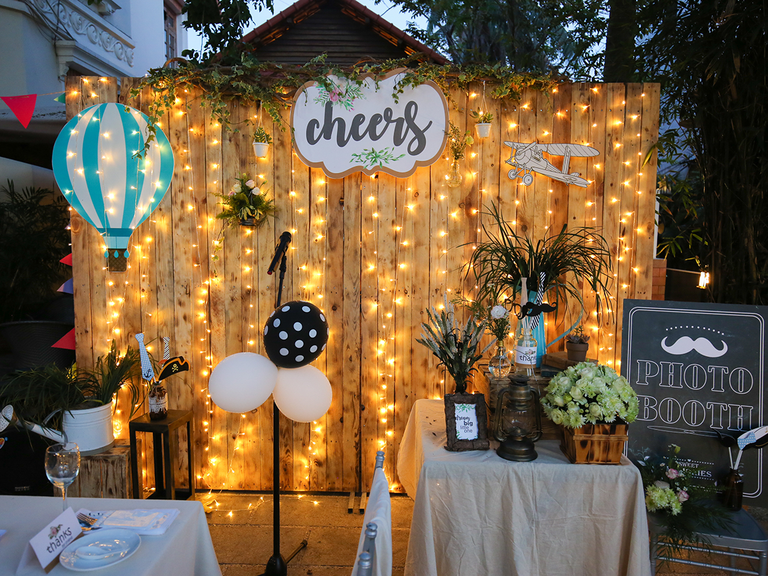 Start with staking out a spot at your wedding reception. Your DIY photo booth location should be one guests can easily find, but not one that interrupts the flow of your event. Dance floor corners, unused coat closets or the wide open spaces of the great outdoors are all great options. Once you find a suitable space, take a few measurements and let the picture planning begin.
2. Build a DIY Photo Booth Backdrop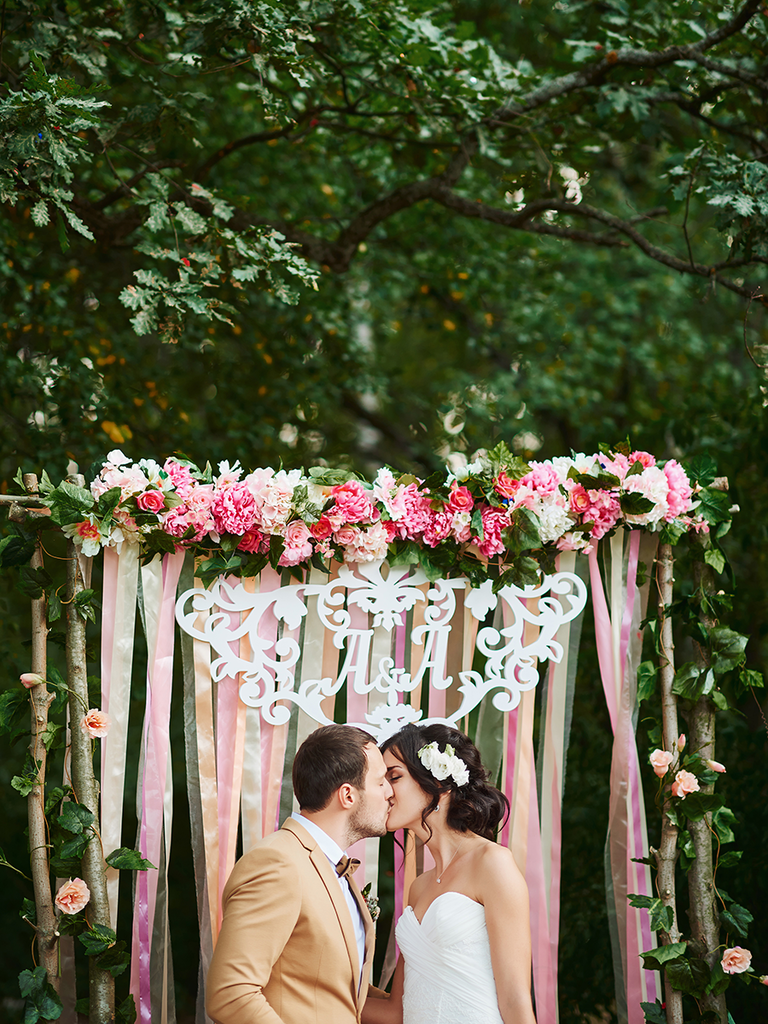 The faces of your family and friends having fun are sure to be picture perfect all on their own, but a styled backdrop can make photos even better. If you've never wielded a hammer or drilled a hole, the thought of constructing a DIY photo booth backdrop may seem above your skill set. Don't fret! Simply select a simpler setup.
Ribbons, fabric, balloons, streamers, flowers and just about anything you can find at a craft store can transform a plain wall into the DIY photo booth backdrop of your dreams. If you're renting a reception space or using a friend or family's home, get permission on what you can and cannot hang on the walls (you don't want to be docked for damages when the wedding day is done). If you get the go-ahead, stick with easy-to-remove paper tape (sometimes called "washi" tape) and temporary hooks and fasteners that leave walls damage free. Want to leave the artsy expertise to someone else? Purchase a premade backdrop that's as simple as order and hang.
3. Brighten Pics with DIY Photo Booth Lighting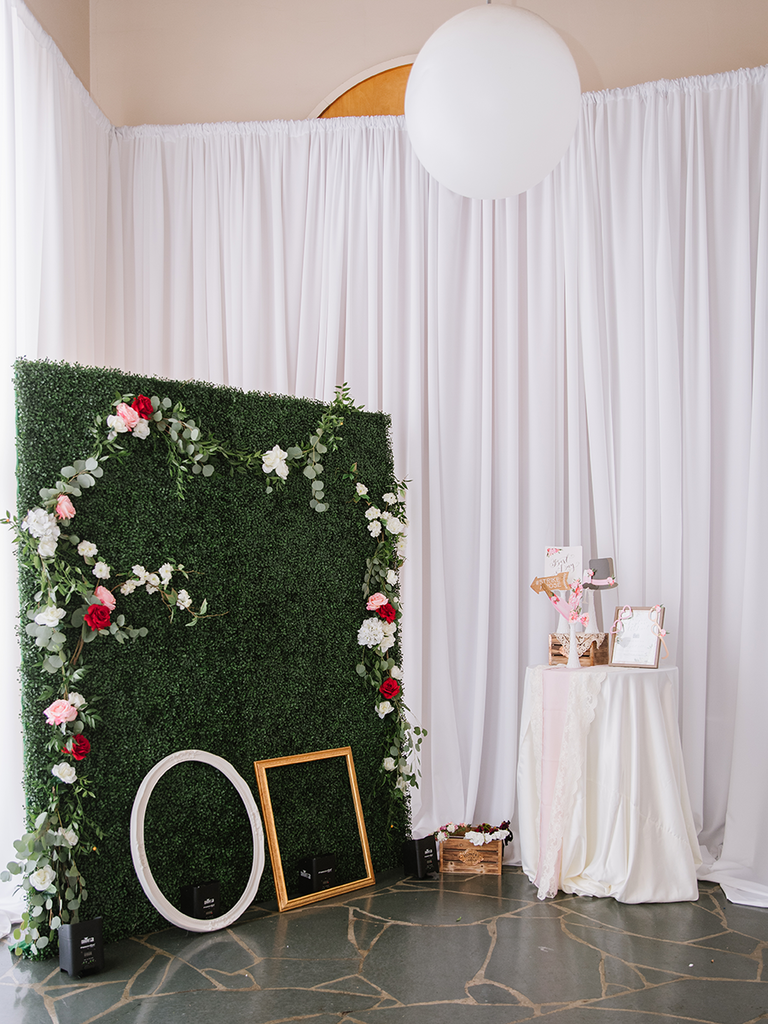 What good is a funny photo if you can't see the faces? Lighting can make or break your DIY photo booth, so don't be dim with your approach. A camera flash is an option, but since guests are left to their own devices (quite literally), the end results may be amiss. Instead, look for location opportunities that provide lots of natural light. When it gets dark outside or for rooms with little-to-no windows, plug in lamps. Inexpensive floor lamps lit with daylight-style bulbs can brighten up the space and shine the right light on all of your guests. For a foolproof plan, request lighting be provided by your photographer or venue, if available.
4. Make Pics Playful With DIY Photo Booth Props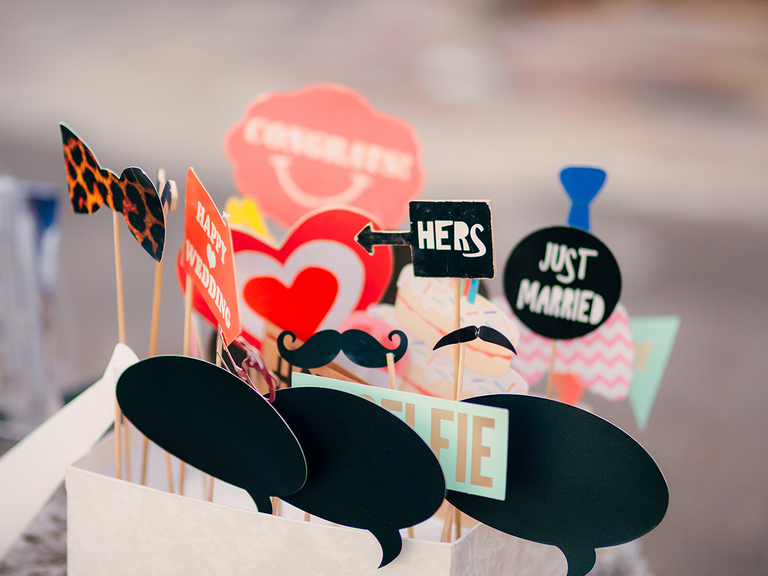 The vibe of your DIY photo booth should be the very opposite of prom-style "stand here, pose, and smile" pics. That's where props come in. Costumes, sunglasses, toys, hats, masks, paper speech bubbles and anything else your creative mind can imagine can help guests let loose and get silly.
If you're not the crafty type, a computer, printer, some precut dowel rods, and glue or tape will be your best friends. Purchase downloadable photo booth prop designs (Etsy has lots!) to print out and stick to dowel rods. It's really that easy. Even easier—find a crafty friend or family member and ask for their help making your DIY photo booth props.
5. Add a DIY Photo Booth Frame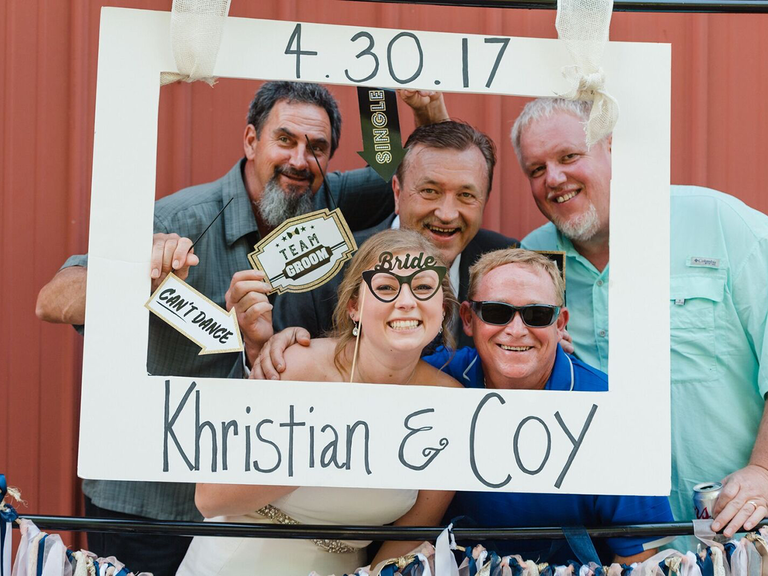 Frames aren't just for displaying your photos—in a DIY photo booth they're also good for getting a great shot. Without the glass, behind a large photo frame creates a unique place for wedding guests to strike a pose. Purchase a few frames in different sizes (bigger is better, in this case), remove the glass and backing, and you have another easy DIY photo booth prop.
Want a photo booth frame that's more personal to your occasion? Try one of the following ideas:
Polaroid perfection: Use white foam core (available at craft stores) or cardboard covered in white paper to create an extra large frame styled after a Polaroid picture. Use a marker to write the date of your wedding at the bottom.

Cardboard creative: Cut a frame shape from cardboard, than decorate it with faux flowers, ribbons and other embellishments matching your wedding day décor.

Get twisted: Who said a photo booth frame has to be square or rectangular? Circle your wedding guests with a round frame made from a hula hoop. Wrap the hula hoop in yarn, ribbon, rope or decorative tape, and then stick on embellishments.

Holiday spirit: If you're getting married during the holidays, use the seasonal décor to create a festive frame. Wreaths decorated with ornaments or a cardboard cutout wrapped up like a present are perfect.
6. Instantly Shoot and Share Your DIY Photo Booth Pics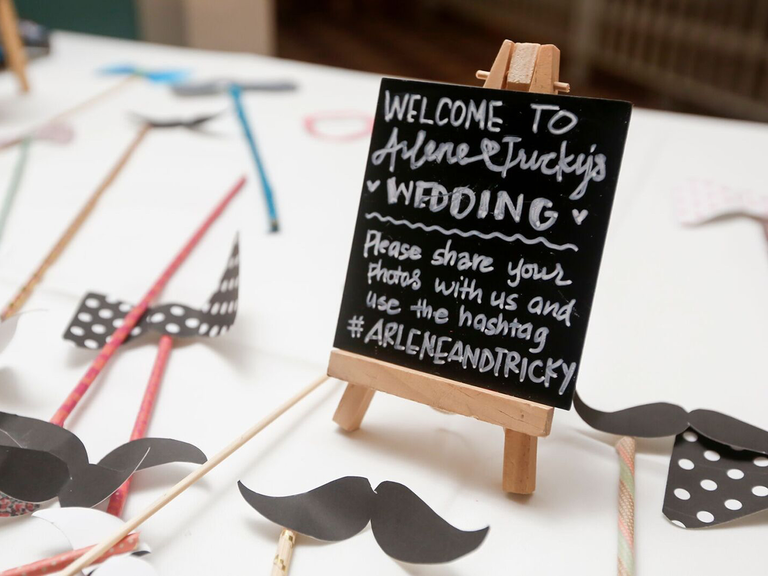 Let your photographer focus on the special shots, and have your wedding guests use your DIY photo booth as a selfie station. This approach allows you to ditch disposable cameras that run out of film and have no picture preview, as well as avoid the possibility of theft or loss when leaving out your personal camera or tablet. Everyone is already armed with a smartphone anyway, so leave it in your guests' capable hands to play amateur photographer.
Worried your guests won't share the shots? Enter The Guest app, an auto-sharing app that leaves hashtags and uploading to social media in the proverbial dust. You simply sign up and set up your event (it's fast, affordable and easy!), and then invite others to the event by importing your guest list. Prior to your wedding day, guests can download the app (iPhone or Android) and sign up—it's free for them.
The Guest app will notify the guests when the event is beginning, then any pics or videos they take are automatically uploaded to your event's album unless the guest pauses the auto-sharing by tapping within the app. DIY photo booth photos with prop malfunctions or guests gone too goofy can be immediately deleted instead of available for all to see. What's great is The Guest will not only get you all of the DIY photo booth shots, but also all of the priceless moments in between.
Armed with everything you need to create your one-of-a-kind DIY photo booth, the only thing left will be to smile and say, "I do."