The 2024 Wedding Color Trends and How to Use Them
How bold will you go?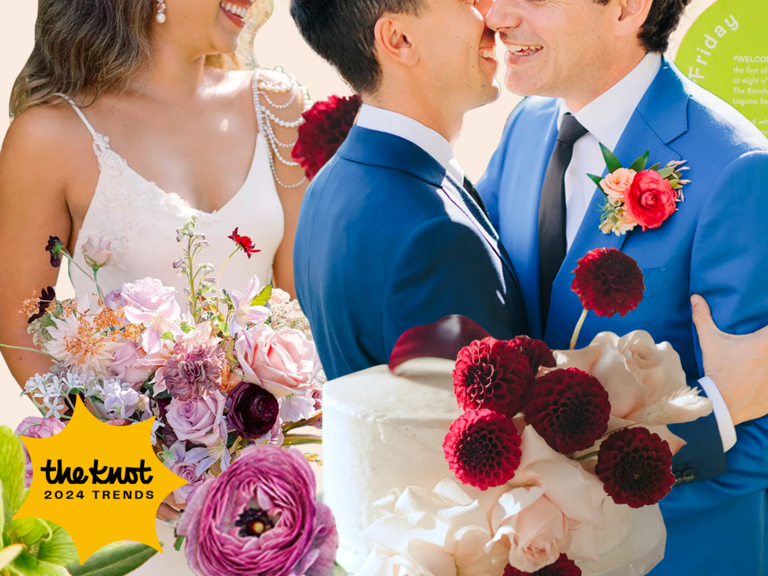 Photos: La Vie En Rose, Stetten Wilson, Alexandra Celia Photo, Todd Danforth Photography, The Nichols,Design: Tiana Crispino
If you're recently engaged, one of the first things to focus on when you start wedding planning is choosing your color palette and decor aesthetic. Planning to get married in the coming months? The 2024 wedding color trends are here to inspire your next move. We spoke with industry experts and took note of other 2024 wedding trends to pinpoint this list of colors that will dominate the year.
"In 2024, we will be seeing much more bold color combos," says Aimee Monihan, founder of Destination Occasions, an event planning company specializing in destination weddings around the world. "Palettes are now made to strike joy, with mixes like blue, lilac, yellow and coral, to even more impactful colors like Barbiecore bold pink, bold yellows, emerald green, purple, and shades of reds."
Like what you hear so far? Get the scoop on the latest wedding colors for 2024 and see how you can use them for your own wedding day.
2024 Wedding Color Trends
From table settings and flower arrangements to the cake, decor and beyond, your color palette influences almost every aspect of your wedding day. Brushing up on the newest wedding colors is a great place to start, but remember that this list isn't the be-all and end-all. "If choosing the right colors intimidates you, don't stress about being trendy and choose colors that simply make you happy and that you love," says Monihan. "Being original is the best trend of all."
1. Red
The 2024 wedding color trend that we're most excited about is *drumroll please*...red. This fiery hue is already a popular choice for wedding color palettes in many cultures—for example, at Chinese weddings, red symbolizes fertility, luck and is believed to ward off negative energy. But the bold color is also synonymous with passion, love and romance, making it a natural choice for weddings of all kinds. And red isn't just trending for weddings in 2024—you may have heard of the red nail theory or the pop of red trend, which stem from the idea that adding red to your beauty routine or wardrobe will increase attraction and make a statement. Red is a classic color that looks good year-round, and all you need is a hint of it here and there to give your color palette an instant boost.
2. Lilac and Periwinkle
Airy, cool tones like lilac, periwinkle and lavender are bringing a breath of fresh air for 2024. These delicate hues naturally blend with other pastels for spring and summer wedding palettes, but for fall and winter weddings, you can add depth and contrast by using dark blue, emerald or black accent colors. At a time when bold palettes are dominating the top wedding colors for 2024, these softer options feel extra-romantic and sweet.
Find your kind of venue
From barns to ballrooms, discover reception venues that feel like you.
"In general, we have been seeing so many European-inspired weddings in the past year, and we believe this aesthetic is here to stay," says Kelsey Connely, owner, creative director and principal planner and designer at Downey Street Events in San Francisco, California. "Whether the events are physically located in Europe or in the States, the feminine, garden party aesthetic will carry on into 2024."
For a garden wedding, you'll easily find hydrangeas, delphinium, allium, wisteria, and dozens of other flowers in pale purple and blue tones. Add silver metallic pieces to your decor for an ethereal, celestial look.
3. Lime Green
Call it dopamine dressing for your wedding color palette. Lime green brings a sense of high energy, vibrancy and drama to your wedding day—after all, this neon hue is nearly impossible to miss. Use it to create an exciting, party-ready vibe complete with maximalist decor details, like spray-painted floral arrangements, shimmering confetti and disco balls. If you're all about the nostalgic '90s look, you can lean into it by pairing lime green with other highlighter-esque brights like hot pink, yellow and orange. On the other hand, we know this color is a commitment, so consider a slightly less-jolting alternative, like pear green or a matcha-inspired hue for a similar effect.
4. Cobalt Blue
Middle-of-the-road blues, like denim, cobalt and royal blue, are on our list as trending wedding colors for 2024. Blue is always a top wedding color, but the pattern tends to flip-flop between very light and very dark blue from year to year. For 2024, the focus will shift to strong and saturated mid-spectrum blues that make a statement. Pair this watery hue with crisp white and black for a modern, tricolor palette.
5. Brown
Calming, earthy neutrals are here to stay as some of the most popular 2024 wedding color trends. Tonal browns, like chocolate, latte-inspired beige and grayish brown (think portobello mushrooms) are cozy alternatives to bright white and cream, bringing richness to your color palette. For inspiration, turn to interior design concepts like Japandi style (a combination of Scandinavian and Japanese aesthetics) or the trending western wedding aesthetic. Both styles focus heavily on using primarily neutral colors, with only one or two non-neutrals in the palette (if any). With these trending wedding colors, it's important to mix in different textures and materials to keep them from falling flat. Metallic accent pieces, fringe trims, leather details and luxurious natural linens are just a few ways to incorporate visual interest and dimension.
6. Pink
The Barbiecore trend brought a wave of pink along with it, and we expect the peppy color to stick around for 2024. Super-saturated pink tones, like fuchsia, cerise and hot pink are perfect for spring and summer wedding colors in 2024, but we also have our eye on the return of softer iterations, like millennial pink and blush. These pale pinks dominated the 2010s, and since time is a flat circle, we wouldn't be surprised if they started making their way back into the latest wedding color palettes for 2024. When you think of popular TikTok aesthetics like cottagecore and Regencycore, it's easy to see why pale pink hues are coming back into favor for wedding colors and beyond.
"Showcased at New York Bridal Fashion Week were many gowns with details like bows, floral appliques and vintage lace," says Connely. "This trend of course trickles down to the color palette, as brides wouldn't want to wear a soft, romantic gown with a harsh color palette as the backdrop. As a result, we're continuing to see muted color palettes that lean feminine."
7. Yellow and Orange
Warm yellows and oranges make a cheerful, welcoming combo for your 2024 wedding colors. While they seem loud at first, these two hues actually offer a lot of variety. Soft butter yellow and coral orange are pretty together as spring wedding colors. On the other end of the spectrum, shades of deep mustard yellow, citrine and terracotta will be having their moment as fall wedding colors in 2024. And you don't have to go all-in with these colors unless you want to—add little touches of yellow and orange to your tablescapes with taper candles, linens, gold flatware or colored glass accents.