The 5 Trending Wedding Colors for 2023 and How to Use Them
Barbie pink, coming right up.
If you're recently engaged, one of the first things to focus on when you start wedding planning is nailing down your color scheme and decor aesthetic (hint: check out The Knot's Style Quiz for ideas). Planning to get married in the coming months? These trending wedding colors for 2023 are here to inspire your color palette selection. Thanks to industry experts, we have a first look at the most popular wedding colors you can expect to see everywhere throughout 2023, from table settings and trending flowers to wedding cakes, wedding fashion and beyond.
"Couples are clearly embracing color moving into 2023," say Lauren Anderson and Rachel Bridgwood, co-founders of Sweet Root Village, a floral design company in Alexandria, Virginia. "We have noticed a heavy lean towards softer shades of purples with really dynamic palettes that bring in chartreuse or blues and moody peaches. While 2022 seemed to focus on truly tasting the rainbow, the palettes for 2023 feel further refined and curated."
No matter your wedding vision, the top 2023 wedding colors are all about making a statement and tuning into your own style. Get the scoop below and see how you can use them for your own wedding day.
2023 Wedding Color Trends:
1. Pink Wedding Colors
By now, you've probably heard about the Barbiecore trend—aka anything and everything pink. And with the upcoming release of the much-anticipated "Barbie" movie, we don't expect the color pink to take a back seat anytime soon. That's why it's at the top of our list as one of the most popular wedding colors of 2023, but we specifically have our eye on super-saturated pink tones, like fuchsia, cerise and hot pink. These bright pink colors are perfect for spring and summer wedding colors in 2023, especially if you're looking to create a fun, celebratory vibe on your wedding day. Adding to the pink trend is the 2023 Pantone Color of the Year, Viva Magenta, a berry-hued pink that's a little more sultry and romantic—and surprisingly adaptable. For the springtime, focus on using magenta as an accent for a pastel color palette. For fall and winter weddings, pair it with deep red or purple tones to reflect the season.
If pale pinks are more your style, turn to light peach, coral and mauve tones as an updated alternative to the popular powder blush hues of years past. These are pinks with brown undertones that give your color palette an overall sense of richness and warmth.
"Shades of rose will also be blooming in 2023," says Kathy Sanders, event and wedding specialist at Historic Hotel Bethlehem in Bethlehem, Pennsylvania. "Spring and summer couples are opting for dusty pinks in dresses, flowers and decor. This romantic color is truly timeless. Plus, it flatters every skin tone."
2. Brown Wedding Colors
Modern, earthy neutrals are here to stay as some of the trendiest wedding colors for 2023, but you can expect to see darker accent tones bringing depth and contrast to these palettes. Instead of bright white acting as the base color, the trend is shifting toward other neutrals, like chocolate brown, latte-inspired beige and rust or copper tones.
"While a white wedding will never go out of style, we are finding that a lot of our brides are attracted to more color and palettes that incorporate an array of bright tones and shades, or soft pops of color," says Nancy Park, founder and principal planner at So Happi Together in Southern California. "Even our classic white weddings can be described as a combination of more 'neutrals' than just whites and incorporating a variety of creams, beiges, oatmeals and even hints of nude blush to accent the primarily white wedding."
For inspiration, turn to interior design concepts like Japandi style (a combination of Scandinavian and Japanese aesthetics) or contemporary coastal. Both styles focus heavily on using various ivory, taupe, natural oak hues and other neutrals. Remember that with a lack of bright colors in your palette, mixing different textures and materials will be even more important as a way to bring visual interest and dimension into your decor. Incorporate bleached greenery, metallic accent pieces or luxurious linens to a palette of brown wedding colors in order to keep the aesthetic from falling flat.
3. Dark Wedding Colors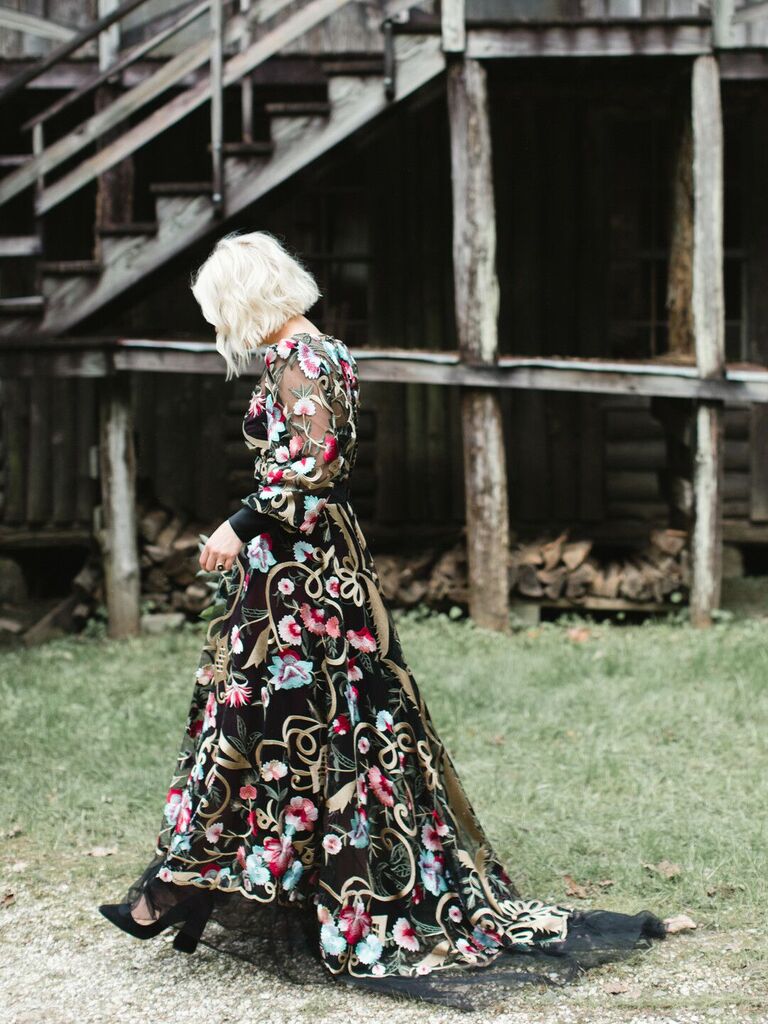 You'll love this 2023 wedding color trend if you're looking for something with a little more substance and contrast compared to neutrals or pastels.
"Surprising and dense color palettes are on the table for 2023," says Lindsey Shaktman, destination wedding planner at Mavinhouse Events. "There was a time and place for the English garden soft palettes, but moving into 2023 we'll see a lot more use of colors like deep reds, bright blues and purples that provide a moody tone to a wedding design."
The trend is a twist on classic jewel tones, which are typically more vibrant and glamorous. For 2023, there will be a bigger emphasis on playing up the mysterious, smoldering aspect of dark wedding colors by adding black as the primary accent hue in the palette. Pastels will be offset by their darker counterparts, such as pairing a pale green alongside deep turquoise or a light dusty blue with midnight and sapphire.
4. Green Wedding Colors
Expect to see green wedding colors everywhere in 2023, from actual greenery to color palettes that feature green as the primary or accent tone. "We are seeing a lot of green in our 2023 [wedding] color palettes, with emerald in the lead," says Sanders. "This rich jewel tone represents abundance and life. It also pops in photos and ties in beautifully with many of the elegant holiday weddings we host."
As appropriate as emerald is for the holiday season, it also looks stunning year-round depending on how you style it. At a summer wedding, decorate with lush, hanging greenery installations accented with pastel flowers and whimsical ribbons. If you're planning a winter wedding, emerald green tones add a festive, seasonal flourish.
Olive green and avocado green are two more options to add to your color palette. These hues are inspired by retro palettes from the '60s and '70s—pair them with other colors like mustard yellow, cherry red and teal for the full effect. And if you're not shy about using neon colors, incorporate pops of chartreuse green for the wow factor.
5. Wedding Color Families
One final wedding color trend we're excited about for 2023 is the shift away from strict color palettes in favor of color groups or color families instead (more on this in a minute). What it means in a nutshell: Rather than limiting yourself to two or three specific colors and matching every detail to them, you can focus on descriptors like 'cool, calming colors' or 'modern, bold hues' to influence your palette. The idea is to think less about how you want your wedding to look and more about how you want it to feel. Then, you can choose colors to support that goal, even if they seem like an unexpected pairing or wouldn't traditionally match your wedding theme.
"It's all about accenting and complementing big, bold colors in the new year," says Natali Williams, a New Hampshire-based wedding planner at Mavinhouse Events. "Telling a story, connecting with guests and creating an experience through shades and depth of a palette."
If you're looking for wedding color palette inspiration, it can be helpful to start by referencing an actual color wheel. Choose a base color, then figure out what other shades are in the color family. If your base color is red, then pink, scarlet and burgundy are all part of your color family. Another approach is to think of colors as warm or cool tones—in general, yellow, orange and red are warm, while blue, purple and green are cool. If you have a palette consisting of hues that are all from the same color family, an accent color from a different grouping will stand out even more.
Williams gives the example of a nontraditional beach wedding color palette. You might expect light blue and green colors to be the obvious choice for a coastal setting, but you can take it to the next level by tapping a different color family for something unexpected. A palette of dark turquoise, terracotta and sandy beige with a hint of ruby red feels distinctive and eye-catching for a beach wedding.