The 5 Trending Wedding Colors for 2022 and How to Use Them
Pastels and neutrals are both getting a refresh for this year's wedding boom.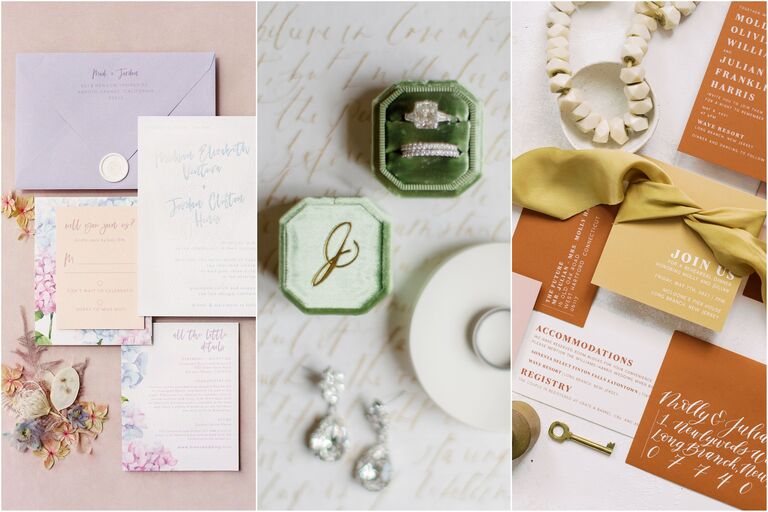 If you're recently engaged, one of the first things to focus on when you start wedding planning is nailing down your color scheme and decor aesthetic (hint: check out The Knot's Style Quiz for ideas). Planning to get married later this year? These trending wedding colors for 2022 are here to inspire your color palette selection. Thanks to industry experts, we have a first look at the most popular wedding colors you can expect to see everywhere throughout 2022, from table settings and floral arrangements to wedding cakes and beyond.
The overarching theme: As a result of the pandemic, couples are turning to lighter, mood-boosting hues and going back to the basics for their 2022 wedding colors.
"As we move out of the pandemic and back into the planning process, couples will want to showcase who they are more than ever," says Jaclyn Watson, principal planner at Jaclyn Watson Events in Hyde Park, Vermont. "Their color palettes will not only set the tone for the wedding but will encompass their family and friends with warmth and joy."
See this year's top wedding color ideas—and how you can use them for your own wedding day—below.
1. Green
Expect to see green colors everywhere in 2022, from actual greenery to color palettes that feature green as a primary or accent tones. For the last couple of years, green has become extremely popular thanks to the tropical wedding theme trend, but as one of the top wedding colors in 2022, green will take on a much more ethereal, calming tone.
"It's with no surprise that greens are here to stay, though this time with light and airy hues," says Watson. "Sage green mixed with blush, peaches or gold will be popular."
Another reason to love green tones: They look stunning year-round. At a summer wedding, decorate with lush greenery installations and overflowing greenery centerpieces to enhance an outdoor venue. If you're planning a winter wedding, green tones adds a festive, seasonal effect.
How to Use It
Use this nature-inspired hue to bring a serene effect to your 2022 wedding colors. Green is a universally flattering color (it looks amazing on fair, olive and dark skin tones), so it's an easy addition to your wedding attire. Jazz up your ensemble with a sage green jacket or patterned tie, or outfit your bridesmaids in sleek green slip dresses. Emerald green engagement rings are another way to rock this color, and luckily, emerald gems are trending for 2022 (Megan Fox's toi-et-moi engagement ring is a perfect example). And of course there are your flower arrangements—English ivy, ferns and olive branches are a few options to try if you're looking for greenery other than eucalyptus and philodendron leaves.
2. Light Blue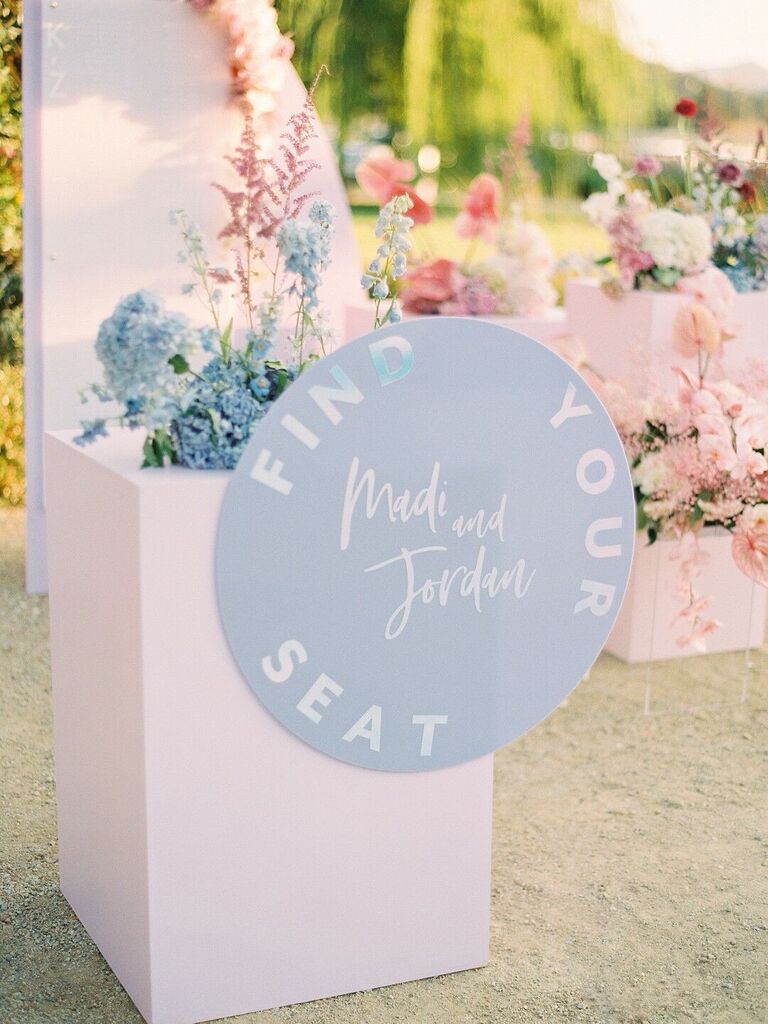 As one of the most classic wedding colors, blue is always a staple in many couples' palettes and aesthetics. But dark hues, like navy blue and sapphire, will be less present this year as lighter blue tones become a big 2022 wedding color trend. And we can't forget about Very Peri, the brand-new hue that the Pantone Color Institute created and named as the 2022 Color of the Year. This periwinkle-inspired color is already making strides in wedding attire and decor, from bridesmaid dresses to wedding invitations and bouquets. "This wildly vibrant shade is described as a modern take on periwinkle blue and was chosen to represent imagination, joy and creativity," says Bri Marbais, bridal stylist at The Bridal Finery in Winter Park, Florida. "We see bright colors on the rise for weddings [in 2022], and this color is perfect for those looking for something with a purple and blue feel all in one."But Very Peri isn't the only light blue color that will be trending in 2022. "Blue has always been a color palette mainstay, but for 2022, quirky, uncommon and more fine art-leaning shades of this hue are turning up everywhere," says Kristy Rice, founder and wedding stationery artist of Momental Designs in West Wyoming, Pennsylvania. "So instead of a basic periwinkle, we're seeing cerulean instead of navy, we're seeing French ultramarine."
How to Use It
The great news is that light blue is one of the easiest wedding colors to adapt for any season or style, from rustic weddings to beach weddings. Periwinkle and other light blues look fresh and whimsical with other pastel colors (for example, blush and lilac) if you're looking for spring wedding colors in 2022. On the other hand, light blue is just as pretty when paired with burgundy, mustard yellow or terracotta orange for fall wedding color palettes. And if you're going for a highly vibrant look, add iridescent and holographic accents to a dusty blue palette (think Taylor Swift circa Lover). You can incorporate light blue into your 2022 wedding colors by using details like chinoiserie plates, silk bouquet ribbons, colored glassware and of course flowers, such as hydrangeas, sweet peas, forget-me-nots, delphinium and scabiosa.
3. Peachy Pink
Move aside, blush. Pale pink is carrying over as one of the trending wedding colors of 2022, but this year, peach and light orange tones will be more in demand than the rosy blush and mauve hues of years past. One stunning addition to a light peachy color palette: Very Peri. With this duo, you'll be combining two color trends in one."Since peach and periwinkle go so well together, couples will ultimately be able to go as light as they want to as bold as they want with deep shades of peach," Watson says.
Another stylish wedding color combo we're into: pale peach and mint green. This soft palette is perfect for spring and summer wedding colors in 2022. By keeping your decor streamlined and minimalistic, you'll achieve an updated version of the sage green and blush color scheme that's popular for garden venues and vintage-themed weddings. Hello, Bridgerton fans.
How to Use It
Whether you use it as a main color or an accent hue, light peach looks equally beautiful as part of your palette. For an ultra-romantic vibe, focus on using it heavily in your wedding flowers, attire (such as bridesmaid dresses or pocket squares) and tablescapes. When it comes to peach-colored flowers, you'll have a wide variety to choose from—roses, dahlias, ranunculus, alstroemeria and tulips all bloom in pretty peach tones. If your wedding style is less garden fairytale and more contemporary trendsetter, you can pair peach accents with elements like arched signage (a big 2022 wedding trend) and rattan furniture.
4. Yellow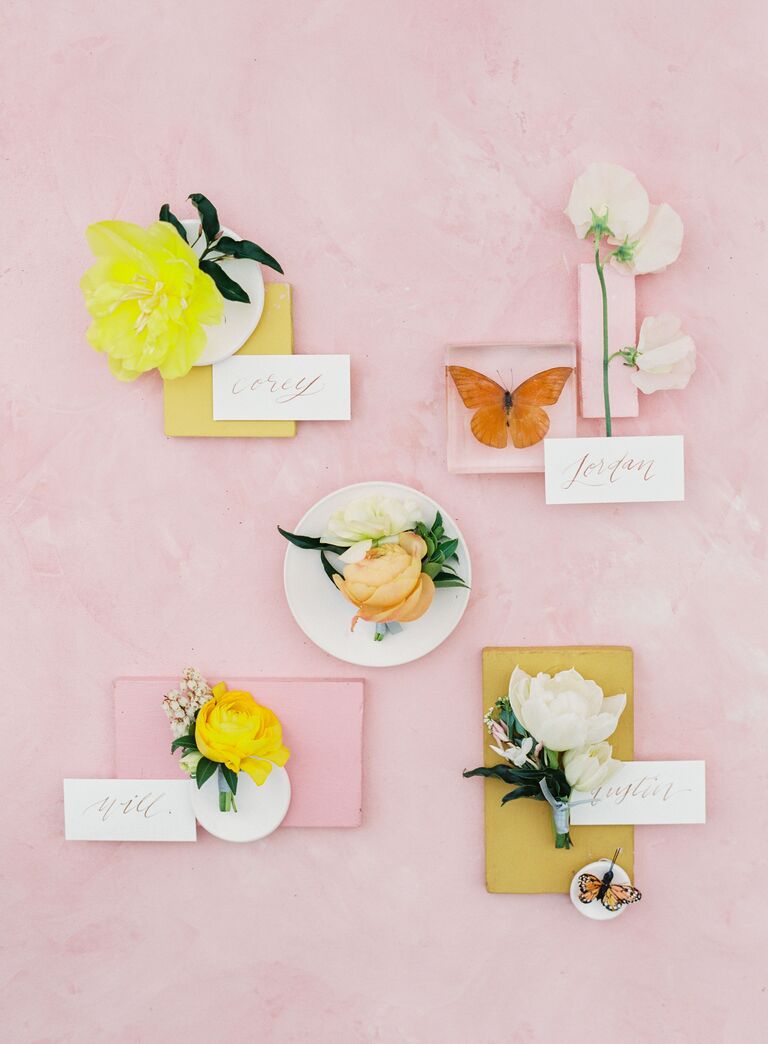 Yellow is coming in hot as one of the biggest wedding colors for 2022, especially if you're in search of a palette that feels new and lively. This cheerful color is an unexpected choice that's flown under the decorative radar for years, but you can expect that to change in the coming months.
"We are seeing a big uptick in the use of yellow as a secondary color in wedding color palettes, from soft buttery tones to deep rich mustards and burnt yellow," says Samantha Leenheer, creative director of Samantha Joy Events in Cincinnati, Ohio. "It really brightens up any color palette and, when used as a secondary tone, it really changes how the main color is featured."
How to Use It
Energetic yellow makes the perfect accent color if you have a mostly white or neutral color palette, and it doesn't take much to make an impact. Add yellow to your tablescapes with taper candles, linens, gold flatware or colored glass accents. Muted yellow flowers, like peonies, cream-colored carnations and heirloom roses, are all gorgeous options for creating a garden-inspired wedding aesthetic if you're not into other pastel tones.
5. Earth Tones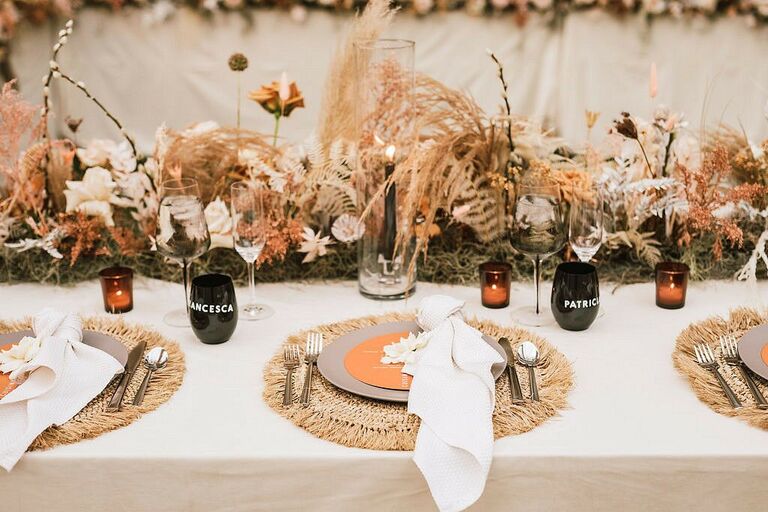 Minimalistic and boho neutrals are here to stay as popular wedding colors for 2022, but expect to see darker accent tones adding depth and richness to these earthy palettes.
"The color palette we're seeing emerge (and not a totally new one) is earth tones—nude, beige, soft white, dusty rose and rust (a big one!)," says Nora Sheils, founder of Bridal Bliss in Portland, Oregon. "Pretty in its own right, it has been rumored to be making more of an appearance due to an increased focus on the environment post-pandemic."
Instead of bright white acting as a base for these neutral color palettes, beige, khaki and other brown tones are growing in popularity. This brings a desert-inspired vibe to your wedding decor, which is ideal if you love the warm glow of golden hour and want a free-spirited aesthetic.
"The use of the tans and beiges over ivories and whites has been shifting, and it makes for a much richer and sophisticated color palette overall," says Leenheer. "It also means [you can use] flowers that are heartier and don't show bruising as well, which is a win-win. Desert tones are also continuing strongly with muted greens, terracotta, rosewood, burnt oranges and khaki tones."
How to Use Them
Our take? With a lack of bright colors, mixing different textures and materials will be extremely important to add visual interest and dimension to a palette of earth tones. If your wedding decor consists of primarily beige and muted desert tones, details like bleached greenery, metallic pieces and luxurious linens (velvet, silk, faux fur) will keep the aesthetic from falling flat. You can also incorporate black as an accent color to give your wedding a more formal, dramatic look.