Your Complete Guide to Choosing Wedding Jewelry
Shine bright like a diamond.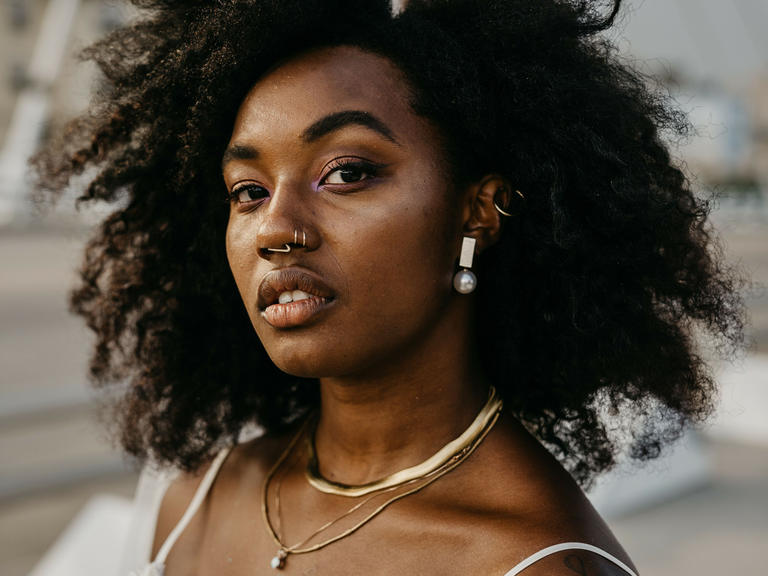 KAITLYN LUCKOW & ALEXANDER KANASTAB
So you've picked out your wedding outfit, your wedding shoes, and your hair and makeup. But there's one missing wedding accessory you'll also want to consider: your wedding jewelry. You may be wondering if you need wedding jewelry. The answer is no—you don't have to wear anything you don't want to. But it's a fun way to celebrate the special occasion.
Whether sparkly, matte or colorful, your day-of jewels are a big part of your overall look. Not only will they tie your outfit together, they'll also show off your personality. Bright, bold jewels will add a playful touch to your outfit while an elegant diamond necklace will give a glamorous feel to your look. But how do you choose your wedding jewelry? Pull inspiration from your wedding day outfit, your wedding venue and your personal taste. Pro tip: Set a budget beforehand so you don't wind up with unexpected costs.
Ready to get started? Here's everything you need to know about choosing your wedding jewelry.
How to Choose Wedding Jewelry
Narrowing down your wedding jewelry options is tough. Not to worry, though—we're here to help. We spoke to experts to find out different ways to choose your wedding jewelry.
Set a Budget
As with every other aspect of your wedding, setting a budget is crucial. Not only will it keep the rest of your wedding-related expenses in check, it will also whittle down your options. Before purchasing wedding jewelry or signing a rental agreement, take unexpected costs into account. (Think: taxes, security deposits and more.) That way, you can get sparkly day-of jewelry (whether a crystal bracelet or a pearl earring set) without breaking the bank.
Take Your Outfit Into Account
One of the most effective ways to narrow down your wedding jewelry options is to consider your outfit.If you're wondering what jewelry to wear with your wedding dress or outfit, look at the design of the clothing. "You may want to play up the romance of a lace [garment] with vintage-inspired jewelry featuring filigree and milgrain," says Lorraine Brantner, gemologist and sales manager at James Allen. "An outfit with clean lines and structure could be nicely complemented by diamond hoops or an airy, ethereal outfit by a whimsical necklace."
Of course, you'll also want to take your personal style into account as well. "Don't purchase something just because it looks good with your outfit if you truly don't think you would wear that piece any other day," Brantner says. "You can never go wrong with classic diamond or gemstone stud earrings or subtle dangles—and those are pieces you may be more likely to wear often after your special day."
And, of course, don't forget to consider comfort. You'll be wearing these items all day—through pictures, dancing, hugging and more. "Make sure whatever you choose is comfortable and functional for your celebration," Brantner says.
Pull Inspiration From Your Venue
Another source of inspiration? Your wedding venue. A tropical wedding venue might lend itself to something playful (like colorful statement earrings or a diamond choker) while a black-tie event at a ballroom might call for something more classic (such as chandelier earrings or pearl drop earrings). You can rock luxe items like a freshwater pearl necklace too.
Consider Different Colors
Yellow gold and sterling silver aren't your only options. Other metallics like rose gold or brass are options too. Don't be afraid to get creative and experiment with color. Bonus: You can get your "something blue" covered with this mentality. But if matte hoop earrings, a pearl bracelet or a bright-colored bangle feels more authentic to your style, go for it. At The Knot, we believe your wedding should be a reflection of who you are—from your vows to your venue to your wedding jewelry. Express yourself and choose jewelry that makes you feel like your most authentic self. Psst: Don't forget about hair jewelry either. Make a statement with a sparkly comb, a rhinestone headpiece, a pearl headband or a Swarovski crystal tiara.
Choose One Statement Piece
It can be tempting to load up on jewelry for your big day, but Olivia Landau, founder and CEO of The Clear Cut, says it's best to stick to one statement piece. "For example, if you have statement earrings, maybe skip the necklace and do a bracelet. If you do a statement necklace, maybe go for studs instead of bigger earrings," she says." You don't want your jewelry pieces to compete with each other or with your [outfit], so focus on choosing pieces that are complementary." If you're unsure of what to purchase, consider getting a wedding jewelry set (like a necklace set with a tennis bracelet). It takes the guesswork out of shopping since they're matched together.
Where to Buy Wedding Jewelry
Ready to get shopping? Here's where to buy (or rent) your wedding jewelry.
Here's the deal: Wedding jewelry can be expensive. If you don't wear necklaces, earrings or bracelets regularly, you might want to rent your jewels instead. "Renting your jewelry is a great idea if you do not wear jewelry often or you want to experience the luxury of higher-end items that are typically out of budget," Brantner says. "Of course the items will need to be returned, but the special moment can live on in memory and photos."
It's also a budget-friendly option. "If you know that you will only wear a specific piece for one special occasion and never again, you will save a lot of money by renting," Landau says.
However, there are some drawbacks to renting your wedding jewels. "Jewelry can hold a lot of sentimental value and this is especially true for wedding jewelry," Landau says. "You may want to hold onto your wedding jewelry after wearing it to pass it down—wedding jewelry has a story and a special emotional moment tied to it."
If you're learning towards renting your wedding jewelry, you have several options. There are companies dedicated to rentals, like Happily Ever Borrowed, Verstolo and Switch. But many jewelry retailers offer rentals, like The Clear Cut.
Browse Options From Different Retailers
Interested in buying your wedding jewelry? "Investing in the purchase of bridal jewelry gives you a physical reminder of your special day for years to come—many of these pieces end up becoming family heirlooms and passed down to future brides through the years," Brantner says. "It is an additional expense to consider, so you may want to select a style that works for other occasions."
You can also keep the jewelry for yourself to use on special occasions. "You can wear the pieces time and time again for more occasions and in that way, you are also investing in your jewelry wardrobe," Landau says.
Of course, the cost is something to consider. "Purchasing jewelry is a lot more expensive than renting jewelry," Landau says. "Weddings can be expensive and if you want to prioritize your budget elsewhere, it makes sense to rent."
There are endless places to shop for your wedding jewelry—which is why we recommend setting a budget first. It will help inform your search and lead you to retailers within your price range. You can also get creative with the different items you're purchasing. For example, perhaps you want to get your necklace from a luxury jeweler but prefer simpler earrings.
Head to Your Engagement Ring Retailer
Another idea? Head back to the jeweler responsible for your engagement ring or wedding ring. "If you are satisfied with how your engagement ring and wedding band turned out, it is a great idea to stick to the same place because you will be guaranteed a certain level of quality and craftsmanship," Landau says. "In terms of aesthetics, working with the same place can help ensure that your wedding jewelry will be complimentary to your engagement ring and wedding band." Plus, if your jewelry needs any repairing or cleaning down the line, you can take it all to one place.
And finally, purchasing your wedding jewelry from the same retailer as your rings builds a lasting connection. "They are familiar with your personal style and can guide you towards items in their inventory that will compliment you best," Brantner says. "There are many more happy occasions to come in the future and it is nice to have a 'go-to' jeweler and continue your relationship with them."