Your No-Nonsense Guide to Self-Tanning for Your Wedding
For self-tanning pros and at-home users alike, we've gathered the best prewedding self-tanning tips you didn't know you needed.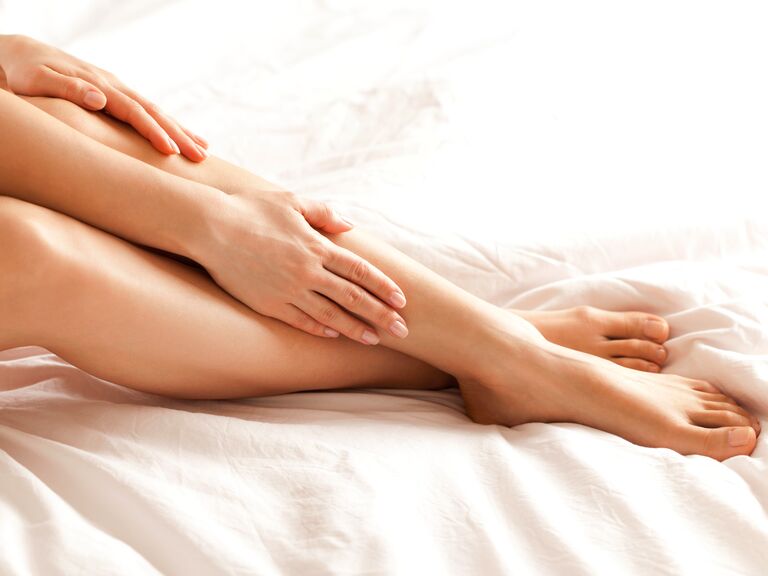 iStock
It's 2018—you don't need to bake in the sun or get naked in front of a stranger for a tan. Getting a gorgeous, golden glow for your wedding is within your grasp from the comfort of your home—it's the DIY project you can, and should, do, if you want. But as longtime users of self-tanners know, glowing is a learning process, and a few hiccups are bound to happen. We asked the experts the tough questions to ensure you end up looking like Gisele—not Garfield—on your wedding day. Here's what they had to say.
One Size Does Not Fit All
Step into Sephora or Ulta and you'll face a million bottles of lotions, oils and mousses all promising to give you the perfect glow. How do you find "the one"? It really depends on your skin type, lifestyle and desired shade. According to Sophie Evans, skin finishing expert at St. Tropez, oils and lotions are great for dry skin, gels are ideal for those with more body hair and mousses work well most skin types. Tanning alone? Add a spray to your cart you can use to reach your back.
Shade Matters
Next, choose your right color and speed. Gradual tanners build up color over a few days while classic self-tanners give you the same amount of color in one application. Express development solutions dry faster and can be a lifesaver if you want color fast or need to get dressed quickly. Evans recommends always taking a patch test to make sure you like the color and speed of tanning. Those with fairer skin can start out with lighter formulas, though this isn't a steadfast rule. You might think a gradual tan is ideal but then find yourself applying it several days in a row to reach your desired tan—in which case, "[You] might as well have used a classic self-tanner to get a subtle, natural glow in one hit, which would also save time and money," Evans says.
Another way to save money is to visit your local drugstore. Self-tanning products have come a long way across the board, and brands like Jergens constantly win awards for their gradual self-tanners.
Go Easy on the Face
Is your bathroom cabinet overflowing with different lotions and serums? The thought of adding another potion to your daily routine may make your head hurt, but today's innovative formulas make adding some color easier than ever. For instance, tanning can be as refreshing as misting your face—clean or with makeup—with St. Tropez Self-Tan Purity Bronzing Water Face Mist. James Read, the brand behind the best self-tanner in The Knot 2018 Beauty Awards, created H2O Tan Drops Face that you can add to your current facial moisturizer to gradually tan your face without disrupting your routine or clogging your pores. Or use something like Vita Liberata's bronzer that gives you instant color, yet unlike most powder bronzers, also gradually tans your skin overtime.
Another route is to make a night of it and purchase a self-tanning face mask or serum that packs color and pampering beauty ingredients. Use it a couple times a week and continue with your regular routine as normal.
Be prepared for your facial tan to fade faster due to more cleansing, but Evans warns not to go overboard with application. "The face has a tendency to develop a little darker due to a higher pH level in the facial area," she says. "It's important to be careful because sometimes having your face too dark can actually make you look a little older." To avoid this, ask your makeup artist not to match your foundation to your tan body and have them go easy on the bronzer.
Practice Makes Perfect
Just like you'll have hair and makeup trials, you should have a self-tanning trial months before your wedding. This way you can nail down your shade, product(s) and, most importantly, your technique. The key to a good application is preparation. Alyson Hogg, founder of Vita Liberata, says it all begins with keeping your skin hydrated by drinking lots of water and eating lysine-rich vegetables like kale, spinach and avocado. Any waxing, shaving or plucking should be done 24 hours in advance and exfoliating should be a regular part of your routine to keep dead skin cells at bay. If you're scheduling a facial, do it a week before tanning.
You can apply product with either your bare hands or a tanning mitt. If you aren't using a mitt, apply moisturizer to your palms before applying the self-tanner, so they won't absorb as much color—nothing is more telling of a self-tan than orange palms. You can also prep other dry spots like knees, elbows and heels with regular lotion. Give your hands a good scrub after finishing the tanning application—but remember to give back some color, so you aren't left with brown arms and white hands. That's James Read's ultimate pet peeve. How? Drop a dollop of product onto the back of one hand and, using the back of your other hand, rub them together to create an even layer. Finish up with a wipe to clean up any excess product around the wrist and cuticles.
If you're wearing an updo for your wedding, don't forget to apply self-tanner to the back of your neck and ears. A clever trick is to use whatever residue is left on your hands after applying all over your body.
The More the Better
We know the bronzing liquid can be intimidating, but don't be afraid to be generous. Evans believes the worst application mistakes you can make are not using enough product and over rubbing. "You can never use too much self-tanner, as the skin can only absorb a certain amount of tanning agent. But lack of self-tan normally will result in the dreaded streak," Evans says. Use enough product so it glides effortlessly over your limbs—and enjoy the next few hours, where you have a reason to avoid the gym, water (sorry, dishes) and any tight clothing. (That's why we love tanning at night, a few hours before bed). Finally, whether you drink red or white while watching The Bachelorette is ultimately up to you, but use a straw so you don't rub off color from your top lip.
Bring Out the Selfie Stick
During your trial run, take pictures (with flash) in something white, so you can see how dark you'll look in your wedding photos. Keep in mind you'll already look slightly tanner when donning all white. And there really is no reason to go full-on tan. If you're glowing, no one will think you should be tanner. On the other hand, if you're orange and uncomfortable, your guests will definitely notice.
Hold Your Horses
Though you want to get comfortable with your self-tanner weeks in advance, you shouldn't start your "final" wedding tan too early. "Don't use self-tanner for two weeks before your wedding. This will ensure you don't have any old self-tanner," Read says.
Experts agree two days before your wedding is the sweet spot. If your day is on Saturday, for example, apply the self-tanner on Thursday night. You'll have a full night for the tan to develop and Friday to wash off the guide color and do any touch-ups. Self-tanners typically have an odor, so the extra day also gives you time to air it out. And the closer to your wedding, the less time for your tan to fade.
In Case of Emergency
Nothing is more horrifying than waking up to one leg darker than the other or a huge streak. Don't worry just yet—there are several tactics to combat an off color or streak. Read's go-to trick is creating a mix of baking soda and either lemon or lime juice and rubbing the paste over streaks with a hand towel. For orange palms, he suggests rubbing your hands with shaving foam or toothpaste. Resting orange elbows on lemon wedges is another trick to get the color out. And if you want to to take the whole tan off, go to a steam room at your gym and use a towel to wipe it clean.
Sometimes it's easier to fix a missed spot than start all over. Use an instant cosmetic tanner like St. Tropez One Night Only Wash Off Face and Body Lotion or Vita Liberata Body Blur (a 2018 Best Bronzer Winner).
Better Safe Than Sorry
No matter how expensive the product or its claims about it leaving no marks, there's still a chance your tan will rub off on your white wedding dress or undergarments. Think about it: The formula darkens the top layer of your skin, and skin cells constantly shed on clothes. Add in shimmying into your dress, hugging relatives and getting down on the dance floor—well, you get the idea.
This color transfer is most likely to happen in the areas where your dress is tightest, so Read suggests putting talcum powder on any skin that will come in contact with the tight fabric. You can also consider having a light hand on the body parts that won't be exposed. Wearing a body-hugging, floor-length mermaid-style dress? Who says you have to go deep on your legs and risk the chance of leaving a brown smudge on the skirt. What your guests don't know won't hurt them.
Keep It Up
So you struck the ideal balance of not too light and not too dark for your wedding, and now you're about to jet off to the tropics on your honeymoon. Don't put down that tanning bottle just yet! Ironically, the best elements of your vacation—sun, sand and water—can wreak havoc on your tan, so you have to balance the fun with some self-tan upkeep. Pack a gradual tanner that's more low maintenance (we know you're busy with other things) but still maintains your glow. St. Tropez makes gradual tanners that can be used either before or in the shower for extra convenience and little down time. For your face, pop on a bronzing sheet mask on the plane or in the hotel room to make tanning feel like über pampering. And be sure to continuously moisturize and protect your skin from the sun. Reach for a spray sunscreen, as rubbing SPF into your skin fades the tan faster, according to Evans. You've worked so hard to reach a gorgeous, healthy glow, and you don't want to lose it now.