Experience Hawaii Without the Crowds on a Kauai Honeymoon
Less popular than some of Hawaii's other islands, Kauai is a breath of fresh air.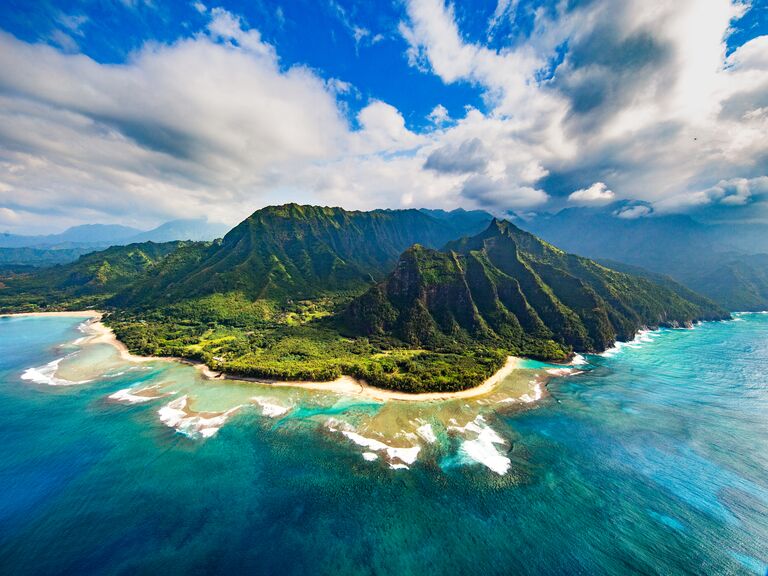 Shane Myers Photography/Shutterstock
We have included third party products to help you navigate and enjoy life's biggest moments. Purchases made through links on this page may earn us a commission.
When you tell people you're going on a Hawaii honeymoon, most would expect that you're traveling to Oahu, the Big Island or Maui, some of the state's most popular islands. But how many people do you know who've been on a Kauai honeymoon?
A little more remote and less crowded than some of the other Hawaiian islands, Kauai is a nature-loving couple's dream come true (its nickname is The Garden Island, after all).
Outdoor activities abound, no matter what level of adventure you and your sweetheart prefer. From zip-lining and hiking to boating excursions and helicopter tours, a trip to Kauai is a welcome change of pace compared to some of the more crowded beach destinations you might be considering for your honeymoon.
Want to find out what else Kauai can offer you? Keep reading for everything you need to know before booking your island getaway.
Is Kauai Good for a Honeymoon?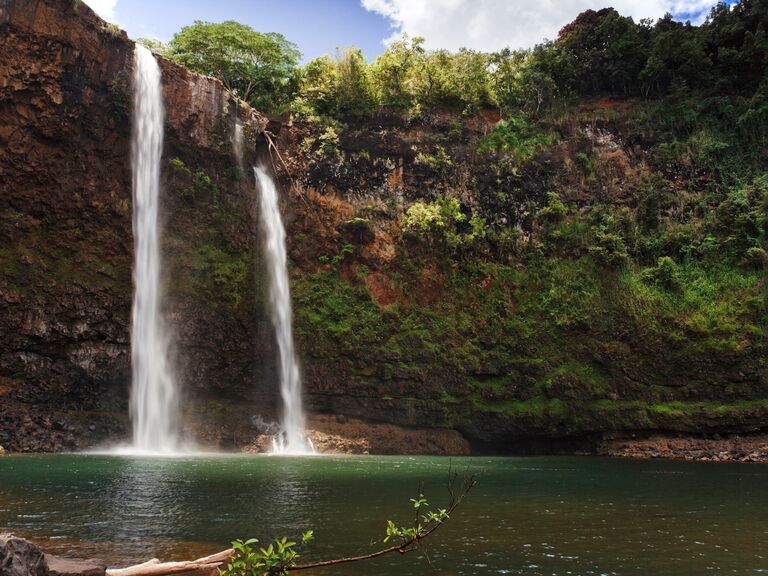 Pros of a Kauai Honeymoon
Kauai will check off a lot of honeymoon must-haves for couples. The destination offers a tropical island setting without leaving the country, and it's easy enough to reach via flights from the West Coast (though East Coast visitors will find they need to set aside at least a day for their travel time). Plus, there are plenty of luxury resorts to choose from, but you won't find the intense crowds you might get in other more popular Hawaii destinations.
Cons of a Kauai Honeymoon
While Kauai does offer a little bit of everything—history, culture, art, a food scene, outdoor activities—the real focus here is on nature. You'll discover that your itinerary might be a little sparse if you're not into outdoor activities like snorkeling, kayaking and hiking.
Additionally, Kauai is on the more expensive side when compared to other honeymoon destinations within the US.
The Best Times of Year to Go on a Kauai Honeymoon for Good Weather
Kauai has two seasons: dry and wet. The dry season is from April to October, while the wet season is from November to March. Most travelers choose to visit Kauai during the dry season, as the wet season serves up daily rain about two-thirds of the time. For a trip to Kauai during the dry season that also avoids peak travel times, plan your honeymoon for September or October.
Things to Do During a Kauai Honeymoon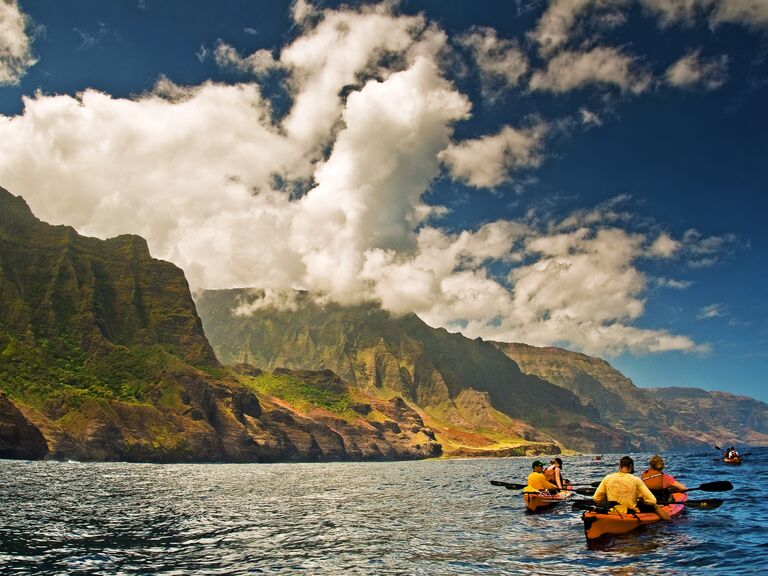 Take a Helicopter Tour of the Island
First things first: Book a helicopter tour of Kauai so you can get your lay of the land before you start exploring. A memorable honeymoon activity, a helicopter tour is easy enough to reserve on Kauai, with offerings from multiple vendors.
The best part about a helicopter tour of Kauai is that it allows you to see parts of the island that you really can't see any other way, as only about one-third of the island is accessible via car or foot. Depending on how adrenaline-seeking you and your spouse-to-be are, you might even opt for a no-doors helicopter tour.
Board a Boat
It's one thing to enjoy Kauai's sandy beaches (which are beautiful and plenteous, for sure); it's another to see them from offshore.
Boating is a wonderful way to spend a day on your honeymoon. You can rent or hire a sailboat or catamaran to take you around the Kauai coast—you'll find a range of rental options, whether you want to go romantic with dinner and drinks or more adventurous with whale watching.
You can also head off on your own for a bit of kayaking. Popular kayak spots on Kauai include the Napali Coast and the Wailua River.
Strap on Your Hiking Boots
If your dream honeymoon getaway includes watching your partner get all hot and sweaty, Kauai offers plenty of options for hiking. Hike up Nounou Mountain (also called Sleeping Giant) to enjoy panoramic views of the Pacific Ocean. Hike downward into Waimea Canyon at Kokee State Park for rainforest treks and swamp traversing. The Awaawapuhi Trail is one of the park's most memorable hiking trails, with drop-off valleys running alongside the trail for spectacular views that aren't for the faint of heart.
Best Hotels and Resorts in Kauai for a Honeymoon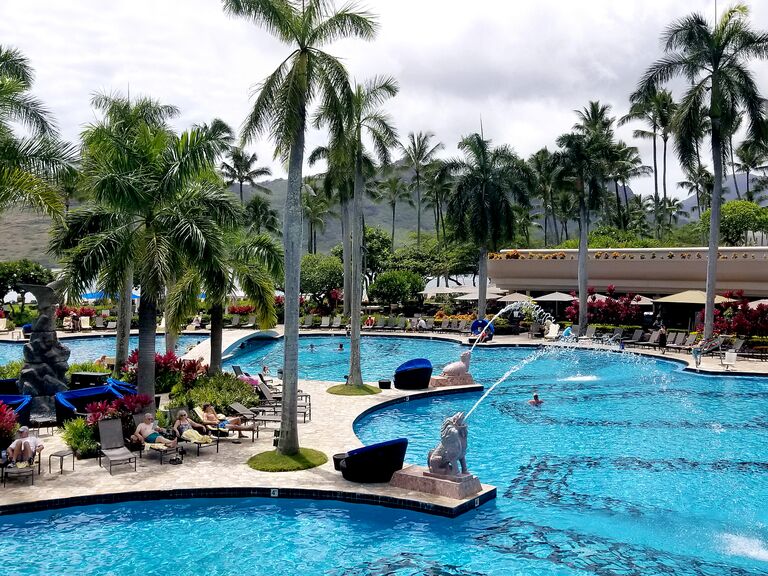 You can't go wrong with an oceanfront honeymoon resort that's been named one of the most romantic in the world. Boutique and intimate, this beachfront property offers everything you need for an excellent honeymoon experience, from a top-notch spa (those couples massages are calling) to a pool with its own bar. It's a great base camp and spot to relax after a day spent adventuring around the island.
For a more private experience, you might want to consider renting your own ocean view villa at Koloa Landing Resort. The privacy continues when you book your own poolside cabana, as well as when you enjoy the quiet and more tranquil adults-only pool. The spa, golf course and stocked kitchens in each villa are just the icing on the cake at this property.
For more budget-friendly accommodations that don't sacrifice quality, look to Marriott's centrally located Kauai beach resort. The expansive property offers plenty of on-site dining options and activities (similar to what you might find at an all-inclusive resort, if that's your preference).
What to Pack for a Kauai Honeymoon
Ready to say "aloha" to Kauai? It's time to start packing for your romantic getaway.
Since Kauai is an outdoor adventure-heavy destination, be sure to pack all your outdoor gear: hiking boots, activewear, sunscreen (reef-safe only), bug spray and water shoes, for starters. Overall, the island has a laid-back vibe, so you'll be safe with casual clothing most of the time, though you may want to bring one or two dressier outfits for dinners. For a more complete packing list, check out our full guide of what to pack for a tropical honeymoon.