What to Pack for a Tropical Honeymoon
Read this before you head out shopping for last minute honeymoon needs.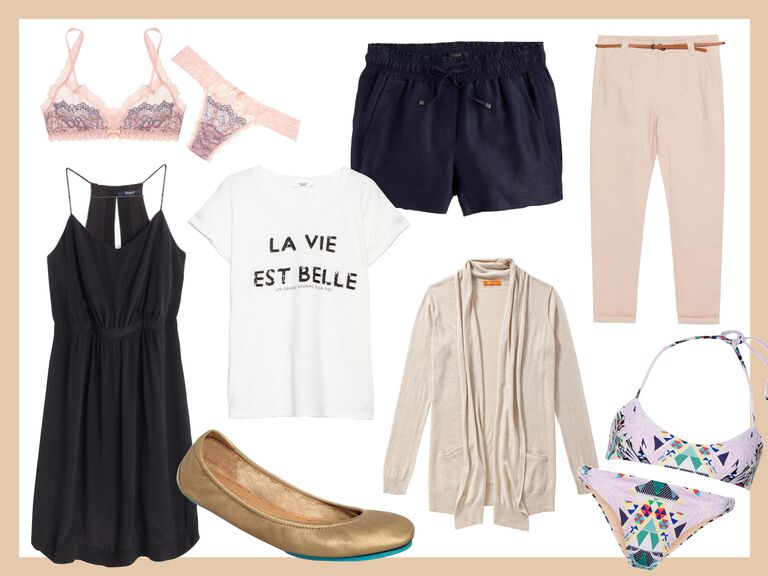 Planning your wedding may seem to consume your every waking moment. But don't worry, the finish line isn't far away, and then you're headed to a honeymoon of rest and relaxation. There is, however, one additional task you will have to accomplish before racing off to that balmy beach resort with your partner: packing.
While your days will probably be filled with sunning, the beach and casual island adventure, you'll surely be dining at a nice restaurant at least once, and perhaps going out dancing, so you'll want to have something appropriate to wear. We've put together some pointers so you can pack for your tropical honeymoon quickly and easily, and end up with a versatile vacation wardrobe you'll love.
Getting Started
If you're headed to the tropics, chances are you'll be living in your bathing suit and coverup, so you shouldn't need to pack a lot. Our suggestion? Stick to just one maximum sized (9" x 13" x 23" on most airlines) carry-on suitcase for yourself. That way you can keep your bag with you, avoid baggage check and claim hassles and eliminate the risk of losing your luggage en route.
Find out what your hotel might provide (shampoo, a hair dryer, etc.) and don't pack duplicates. That leaves you room to fill your suitcase with clothes and personal toiletries. A smart packer can fit 2 pairs of shoes, 2-3 pairs of shorts, 2 pairs of pants, 2-3 skirts or dresses, 2-3 swimsuits and a coverup, 4-5 t-shirts, 2 blouses, lingerie, a hat, a lightweight sweater, sleepwear, and personal toiletries in that single carry on. Consider too that you'll have a whole additional outfit (and shoes!) on your back—your traveling outfit.
Most airlines will let you carry on a second bag; choose a large tote that will double as your daytime purse/beach bag. In the tote, pack your makeup, hair items, that novel you've been dying to read, a small zippered bag with your jewelry and your other standard purse items. Also put a small evening bag in it—one that matches your dressy sandals and has a long strap so you can wear it safely, diagonally across your chest. You can use the smaller bag when you go out in the evening and want to leave the big tote behind.
Finally, remember the cardinal rule of packing: pack light, then go through and take out half.
Dresses and Skirts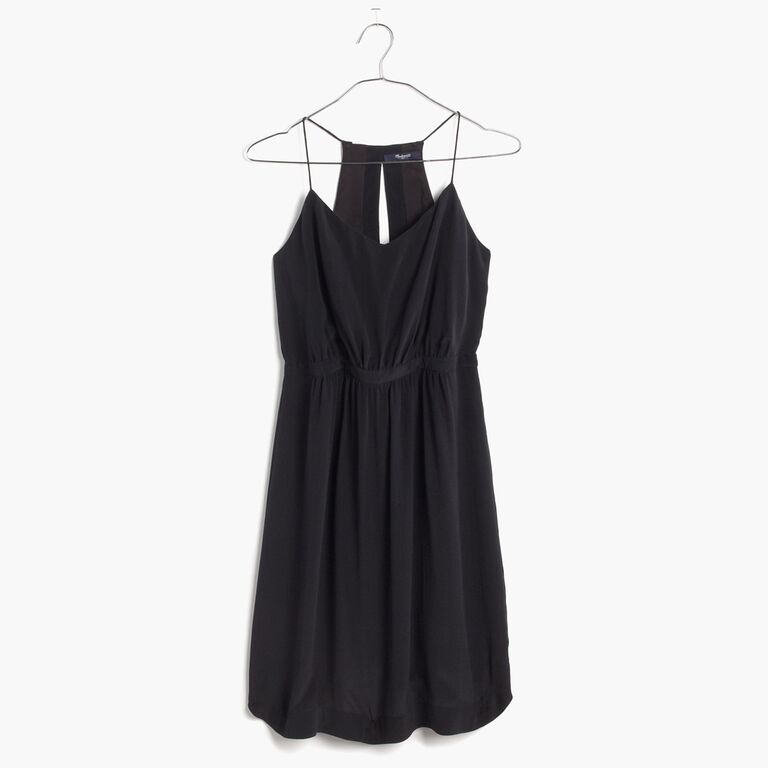 Dress, $145, Madewell.com
The trick here is to pick versatile items that you can dress up or dress down. A little black dress—in a lightweight fabric, with spaghetti straps or minimal sleeves—can be dressed up (perhaps with strappy, heeled sandals and a statement necklace) for evening, or dressed down—with flip flops and a straw hat—during the day. You might consider packing another sundress, probably in cotton or washable silk, for another evening out or a special brunch.
Pants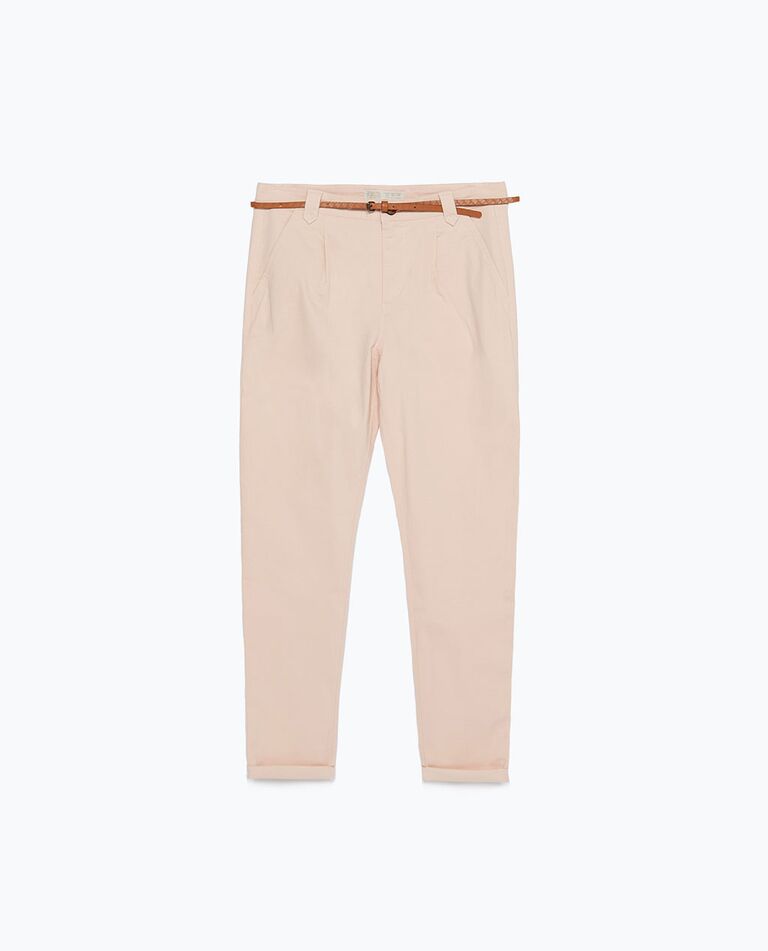 Pants, $40, Zara.com
Even if you wear pants all the time in your regular life, you'll probably find you hardly wear them on your beach vacation. So limit yourself to just two pairs max. Your best options are found among the following:
- Cotton or linen pants, perhaps in white or a natural tone, or a very lightweight denim.
- Stretch fabrics—perfect and cool for the tropics. Keep in mind that cotton spandex wears like cotton but washes and wears like spandex—you can rinse it out and wear it again during the trip; these are easily dressed down with little sneakers or dressed up with a slightly heeled sandal.
If you plan to engage in activities like horseback riding, you might want to pack a pair of jeans, but otherwise, leave them at home—they're bulky in your suitcase and impractical in the tropics.
Shorts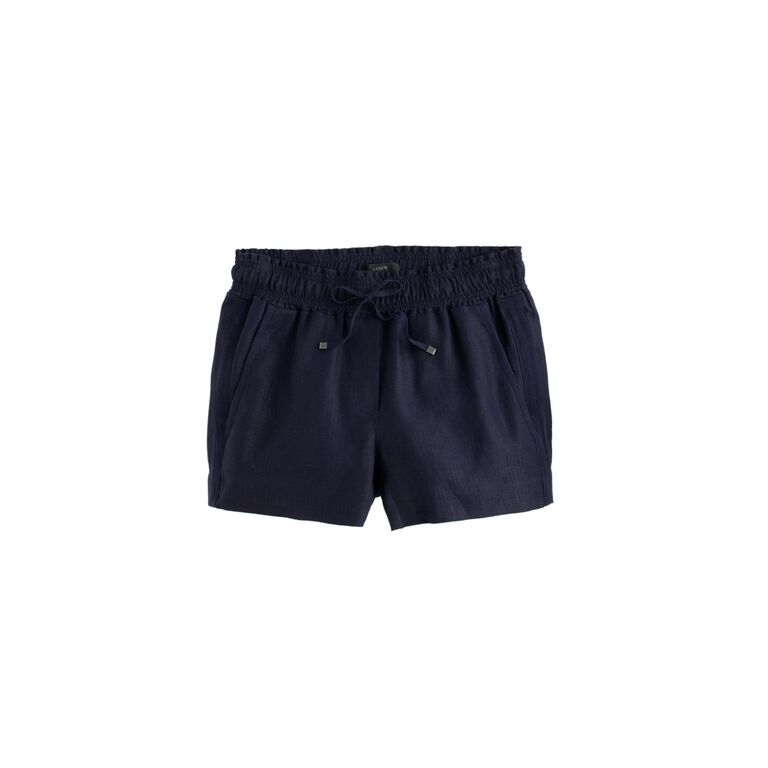 Shorts, $45, JCrew.com
Plan on packing two or three pairs of casual shorts, probably in cotton, plus another pair or a skirt, that is a bit dressier, perhaps in linen or rayon. If you plan to wear one pair for beach-going, decide that ahead of time and keep the other casual pair away from the beach, for when you need something sand and sunblock-free.
Shirts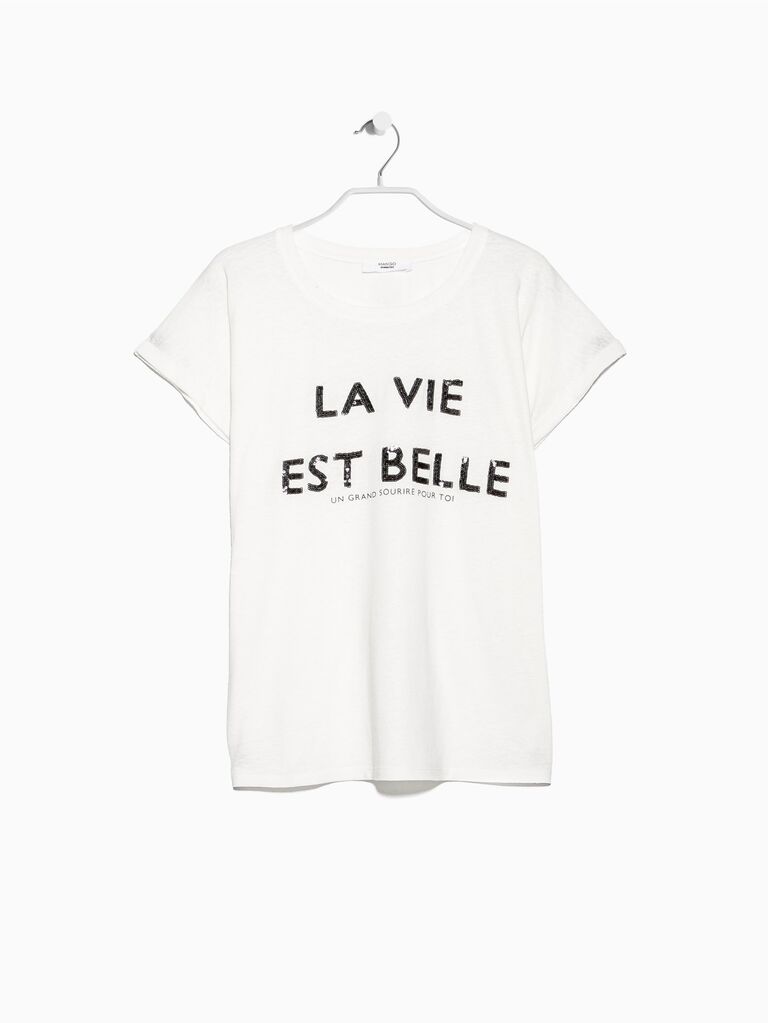 Shirt, $25, Mango.com
Pack several cotton T-shirts. The tropics get, well, tropical and you may need to change your T-shirt more than once a day. Again, cotton/spandex blends can be easily handwashed and worn again later during the trip. Consider also packing a big, cool cotton or linen shirt to wear after a hot day at the beach. A plain linen or cotton shirt can be worn with dressy shorts one evening, then knotted at the midriff and worn over your suit or with a sarong or skirt a few evenings later.
Beachwear
Bikini, $245, Mara Hoffman, NET-A-PORTER.com
You'll probably want to take at least two swimsuits. This way you can alternate them, and you'll never have to put on a wet suit! If you are a bikini-wearer, consider getting two of the mix and match styles, so you can get four looks out of two suits. Most brides pack a two piece and a one-piece suit, favoring the two piece during the day and the one piece for that evening dip in the spa. You'll also want to pack a great beach coverup, so you don't waste your t-shirts and shorts for the short trek to the beach.
Don't forget a hat for when you're in the sun, either the aforementioned straw hat or a baseball hat, and be sure to pack sunblock and lip balm in your toiletries. You'll also want to be sure to bring a pair of sunglasses.
Lingerie and Sleepwear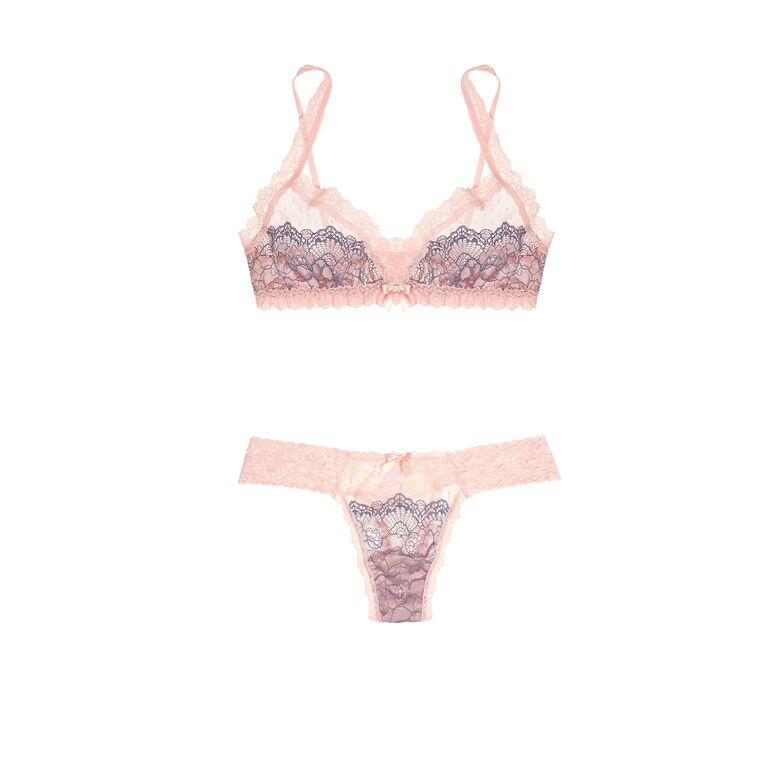 Bra and panties, $95, Hanky Panky, NET-A-PORTER.com
These items usually don't take up much space. In addition to your preferred everyday lingerie, you might want to pack something special for a few of the nights. Be sure to also pack any specific lingerie needed to wear the summery items you are packing, i.e. a strapless bra to wear with that spaghetti strap top. You might want to bring a pair of leggings for lounging in your room, and don't forget cotton socks to wear with your tennis shoes. Your feet will appreciate the pampering.
Keeping Warm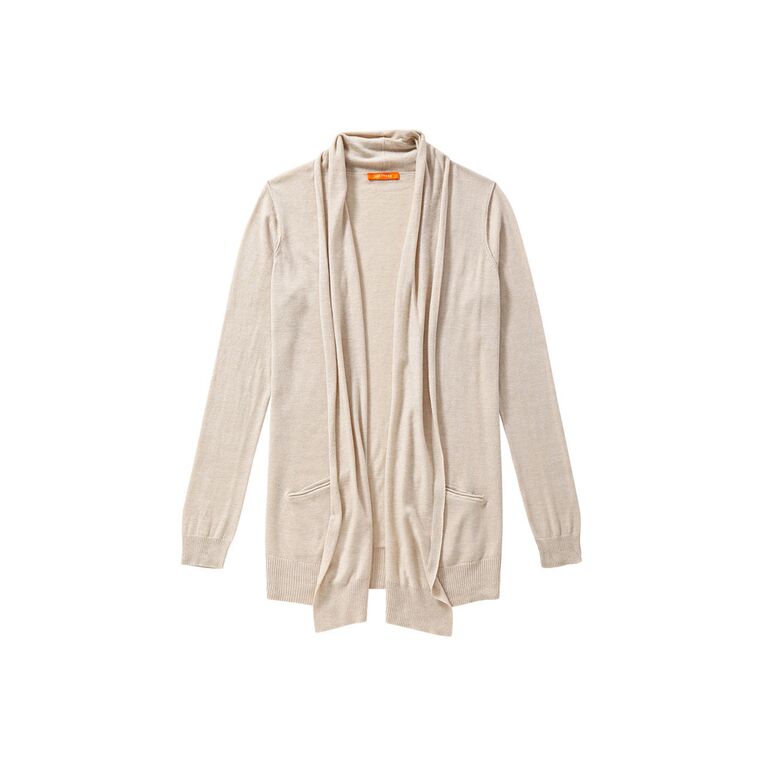 Sweater, $20, JoeFresh.com
It's unlikely that you'll need more than a light cotton sweater for cooler evenings. If a fluke storm blows in and you need more warmth, you can buy it there. The odds are slim that you'll need more and you shouldn't pack for the long-shot.
Shoes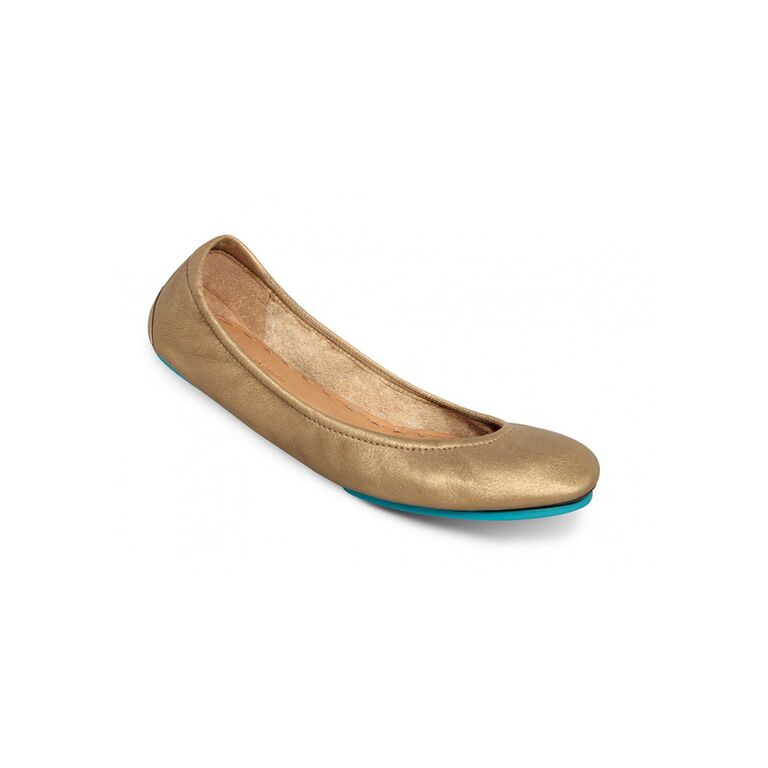 Shoes, $185, Tieks.com
Your best shoe decision is selecting the right pair of sandals. They should be comfortable to walk and dance in, but just dressy enough to wear out at night. Your best choice might be in black, with a slight heel or wedge, which can instantly transform a day look into an evening look. Also pack a pair of flats or tennis shoes. Unless you plan to work out on your honeymoon, pack something lightweight and comfortable like Tieks, since bulky running shoes tend to take up a great deal of space in a suitcase. Finally, you might want to slip in a pair of sturdy waterproof sandals for reefwalking, tide pooling or walking on the beach or in rocky waters. They can also be your casual "day" sandal.
Need more honeymoon tips? Find them here!