Exclusive: Miss America Kira Kazantsev Reveals All the Photos and Details From Her Two Weddings
Kira Kazantsev and Andrew Dixon wedding. September 2019. Sonoma, California. (Credit: Valorie Darling / Valorie Darling Photography)
Picking up an extra shift proved to be fate—and change—for Kira Kazantsev. It was summer 2012 in Washington, D.C., with the future Miss America 2015 interning by day and waitressing at the Thunder Burger in Georgetown by night. At moment's notice, Kazantsev was asked to cover a colleague's shift one evening--and into her section walked a marine-in-training named Andrew Dixon.
"After a few hours and several beers, he came up to me while I was rushing to put in an order," Kazantsev tells The Knot. "And he asked me for my number." The couple enjoyed a summer romance, but eventually went their separate ways. Two years later, Dixon initiated contact again and the timing couldn't have been more favorable for the couple: Kazantsev was on the West Coast already.
Before proposing, Dixon was certain that he wanted the moment to be a reflection of their relationship. "A week before he actually proposed, we had a trip planned for our four-year anniversary," says Kazantsev. "We drove up and down the coast of California. It was romantic and perfect, and I was sure he was going to propose." But the only surprise from that vacation was Kazantsev perhaps getting ahead of herself. ("I was mad at myself for getting so excited about it," she recalls.)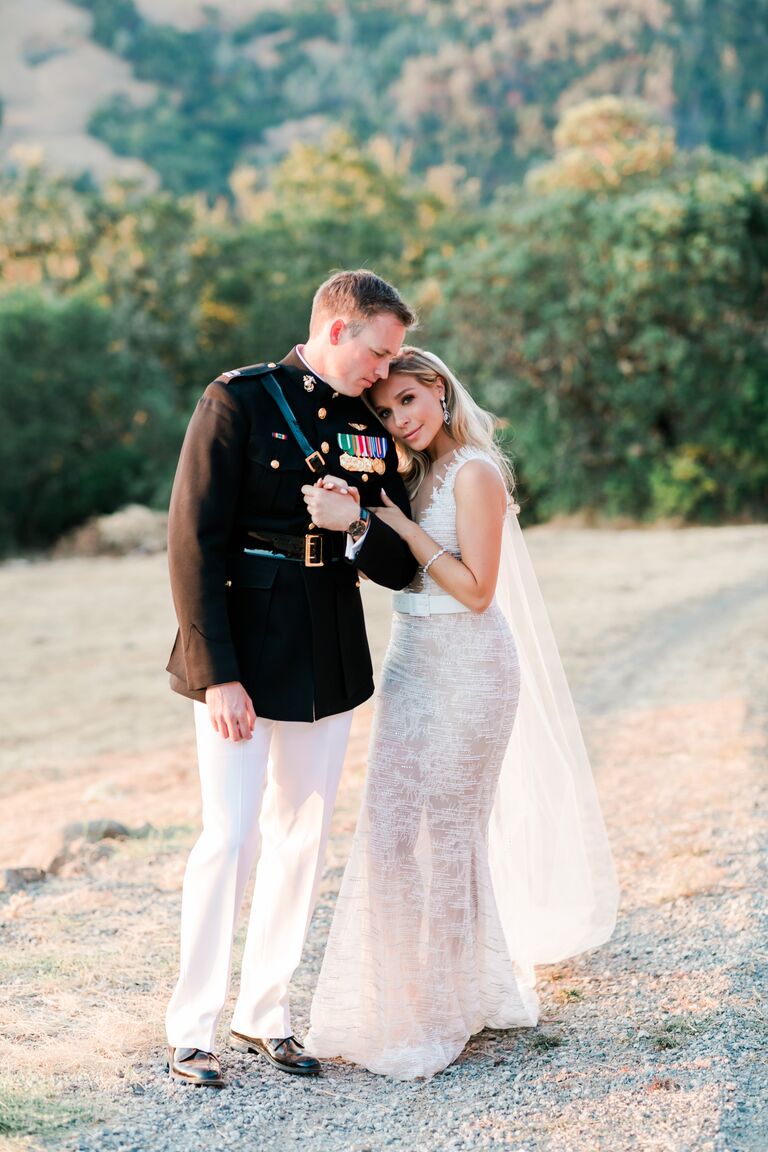 The following weekend, the couple played at their favorite golf course, which overlooks the skyline of San Francisco. "As we walked up to the tee box, Andrew—who hid the ring in his driver headcover—pulled it off, opened the ring box, and got on one knee," she says. "I was in golf clothes, I had no makeup on, and, it was absolutely perfect. Our families were in the club house watching the whole thing and they ran out right after."
The couple had two weddings: a religious church ceremony in San Francisco that Thursday, followed by an outdoor formal wedding at a private ranch in Sonoma several days later. "It was important to us to have a religious Russian ceremony to honor my heritage," says the TV host. "My parents got married in the Soviet Union at a time when you couldn't get married in a church if you wanted to so for us it was important to pay tribute to the sacrifices they made in order to come to America—and give their children a better life."
Photographer Valorie Darling and Cabié Films documented the ranch wedding, which was planned and executed by month-of coordinator Carly Lillquist and her team at All Set Events. As with any wedding, there were some snafus that, in retrospect, were comical. "The Jimmy Choo heels I wore had crystals, and my dress had a fishing wire-type thread on the hem that caught on the shoes. As I was walking down the aisle, the thread got so caught in my shoes that I could barely take a step," recalls the bride. "But, no one really noticed, and we took a knife to the bottom of the dress later."
Below, see all the beautiful details from Kira Kazantsev and husband Andrew Dixon's wedding, which the couple shares exclusively with The Knot.
Kira + Andrew | Wedding Teaser from Cabié Films on Vimeo.
The Church Ceremony
Kazantsev opted for two different types of looks her wedding weekend. The first was a "retro bride" dress by Costarellos plucked from an Anthropologie sample sale—"an incredible deal," she notes—which she paired with a custom fascinator from the Hat Girls, jewelry from Erickson Beamon and electric blue heels. Kazantsev's hair and makeup was specific to the '60s with makeup artist Mikaela South and hairstylist Masha A. executing the overall look.
"The fact that we had two ceremonies was a pretty big break with tradition," she says. "Especially because the Russian Orthodox ceremony is usually followed by a large reception. Instead, we followed it with a Mexican food truck and a mariachi band in Golden Gate Park. My original dream was to get a mariachi up to the ranch, but it proved to be too difficult, so my mom surprised us with the band at the park. We also created some of our own traditions."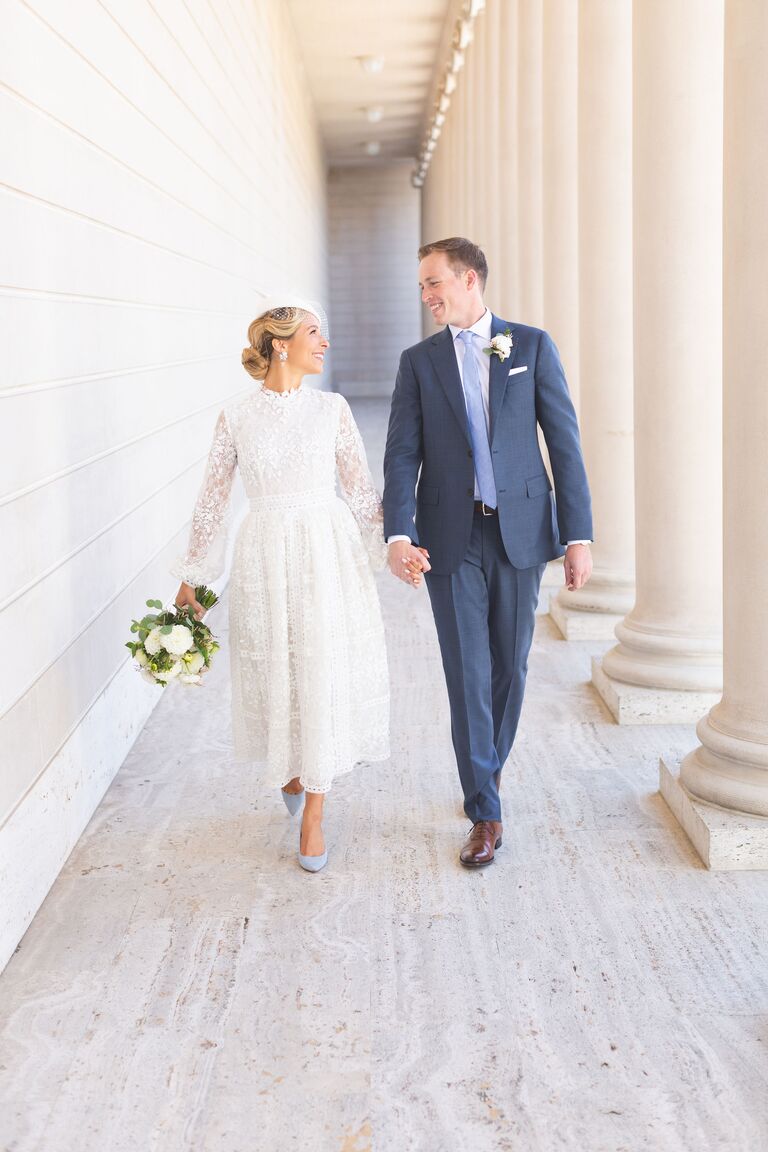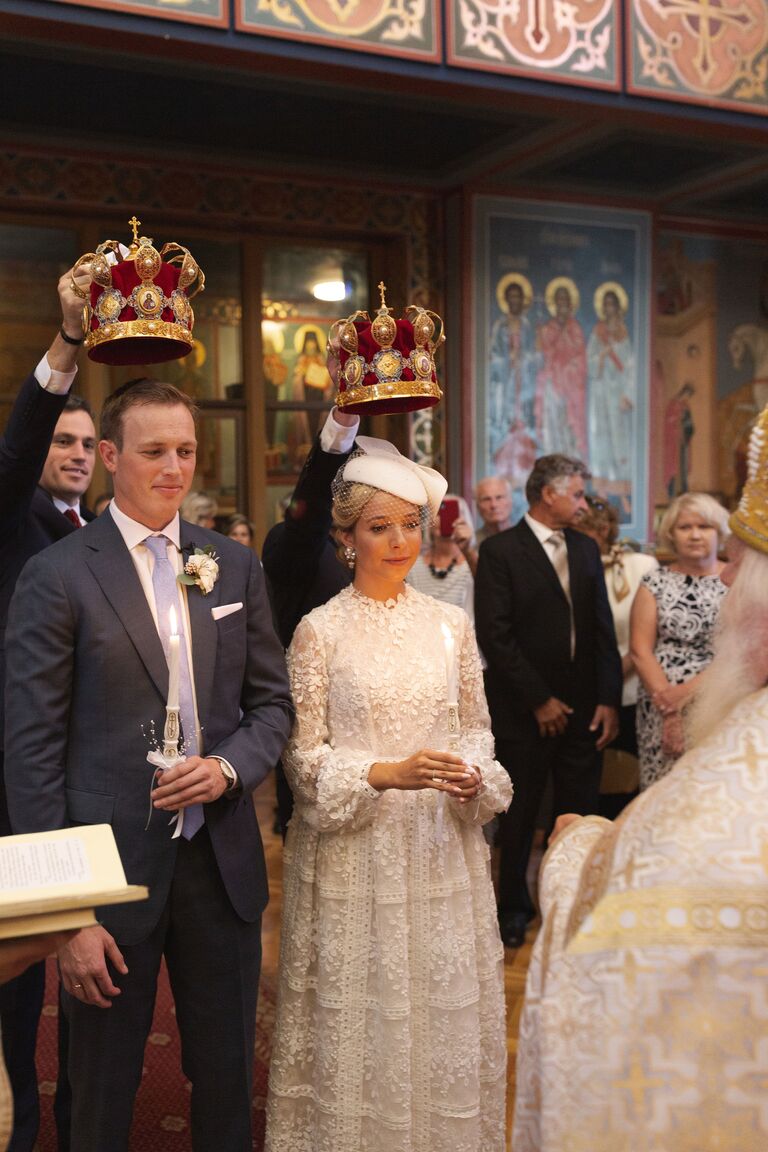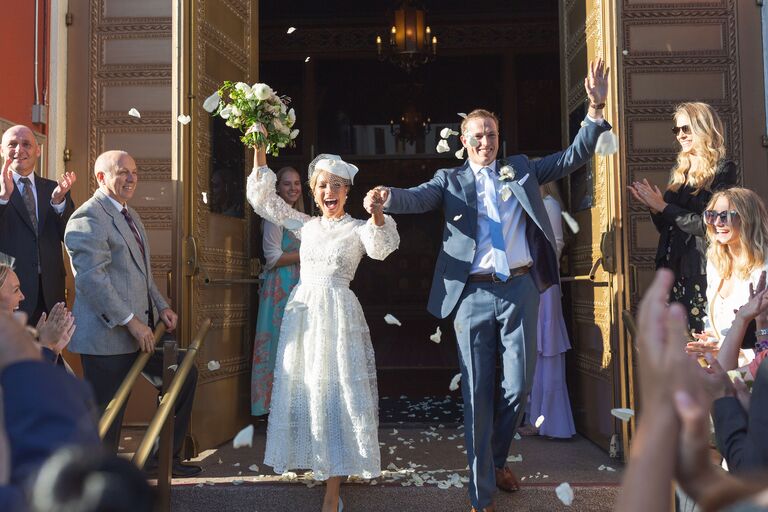 The Golf Tournament and Rehearsal "Roast"
With so many friends in town, the bride and groom decided to honor their love of golf—Kazantsev hosts a show on the Golf Channel—by organizing a tournament for their friends and family members at the Northwood Golf Club. As a gift to her wedding party, Foray Golf created custom outfits for the bridesmaids. "It was my opportunity to force all of my friends to pick up a golf club," the bride laughs.
At the rehearsal dinner, the couple selected 20 loved ones to give speeches. "It turned into more of a roast… and I haven't cried that hard from laughing in a very long time. I certainly got my pre-wedding ab work out that night," she says. "The maid of honor and best men [the groom's brothers] gave speeches too." At the actual wedding, the couple gave toasts, along with the father of the bride.
Kira Kazantsev's Wedding Venue
The pair chose a sentimental spot for their wedding venue: a private ranch in Alexander Valley Wine Country, not too far from their home of San Francisco. "It's a very special place to us and we knew we wanted our ceremony to be in nature," she says. "Honestly, it's just the dreamiest location ever."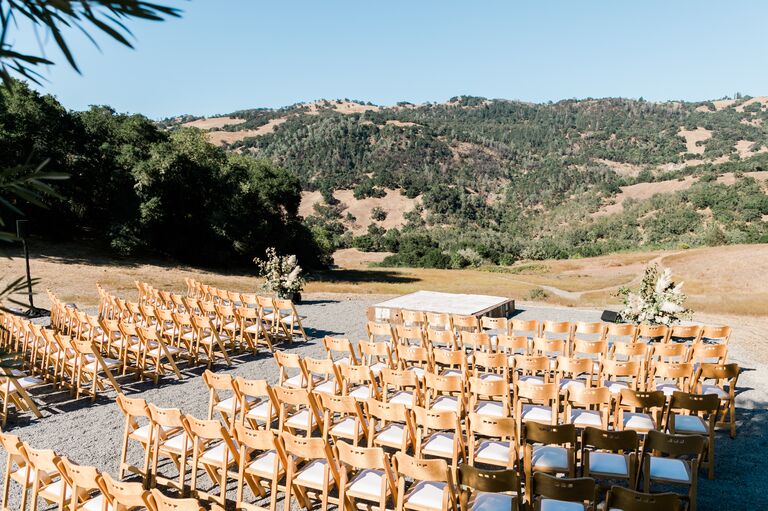 The Planners and Designers
The location, however, came with a unique set of challenges. "When we started working together with All Set Events, Carly said, 'You will be a guest at your wedding,'" Kazantsev recalls. "… And I certainly was. Although I had a clear vision of what I wanted, it still felt like an extra full time job doing all the planning, considering the scale of the event. Since the venue was a private property, we had to bring everything in, down to the last fork and knife."
The couple's team also was tasked with building a mobile kitchen, creating bathrooms, lighted pathways, hiring shuttles and even making sure tents and power generators supplied the raw space. "Not to mention the design, catering decisions, and countless other details that went into it. There was a point three weeks before when I was thinking, 'Why didn't we just do this at hotel or elope?' But looking back, it was worth every single stressful email, phone call and list. It was truly the most epic night of our lives and I would go through that process over and over just to relive it."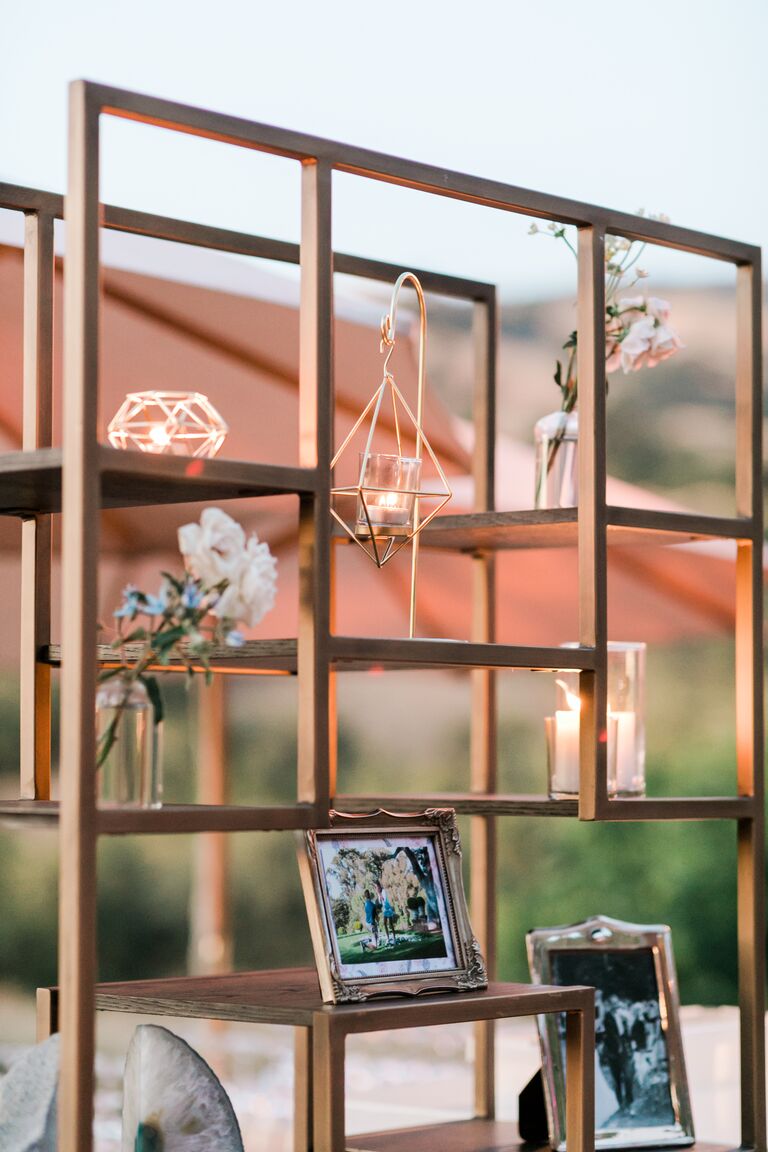 The Dress
While the bride went retro for her church ceremony, the ranch wedding look was more in line with a modern, whimsical theme—with a twist of country. Kazantsev knew she had found "the look" at Kinsley James Couture Bridal: a Lee Petra Grebenau gown that came with an overskirt, belt and veil. The bride's close friend Jennifer Bradford, an "incredible hairstylist," styled Kazantsev's tresses in loose romantic waves, which offset the natural glam bridal beauty constructed by makeup artist Austin Ryde.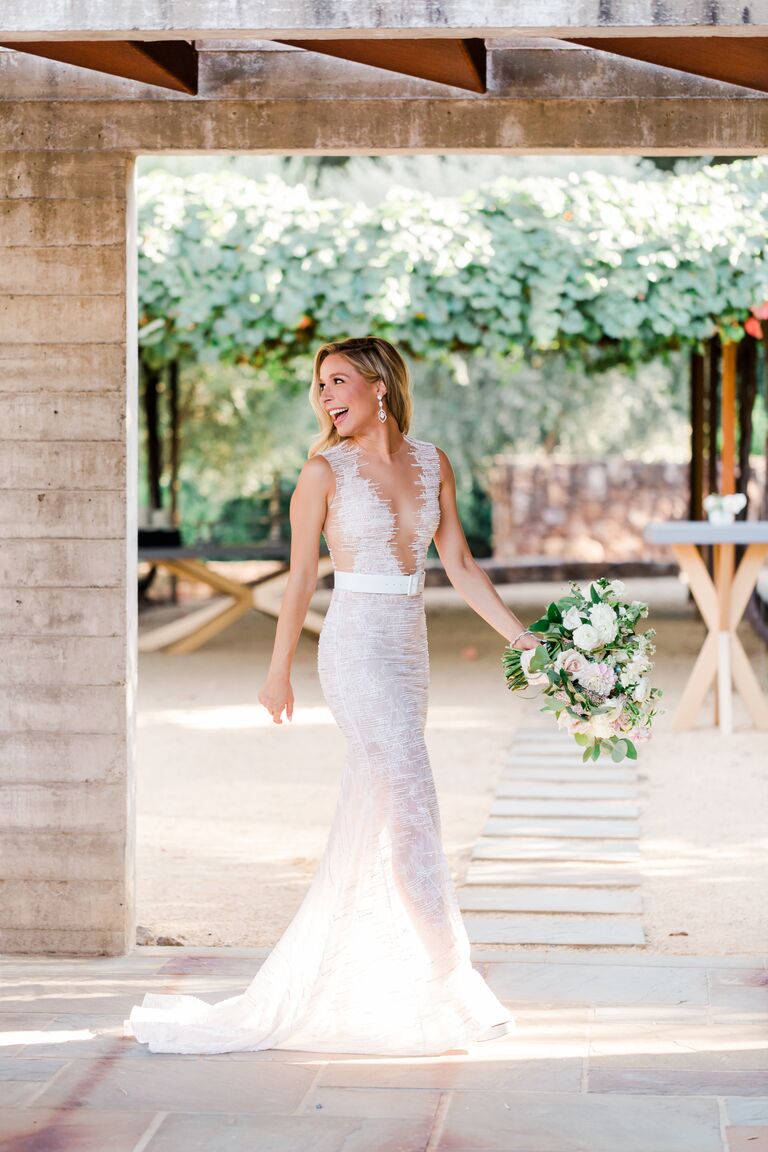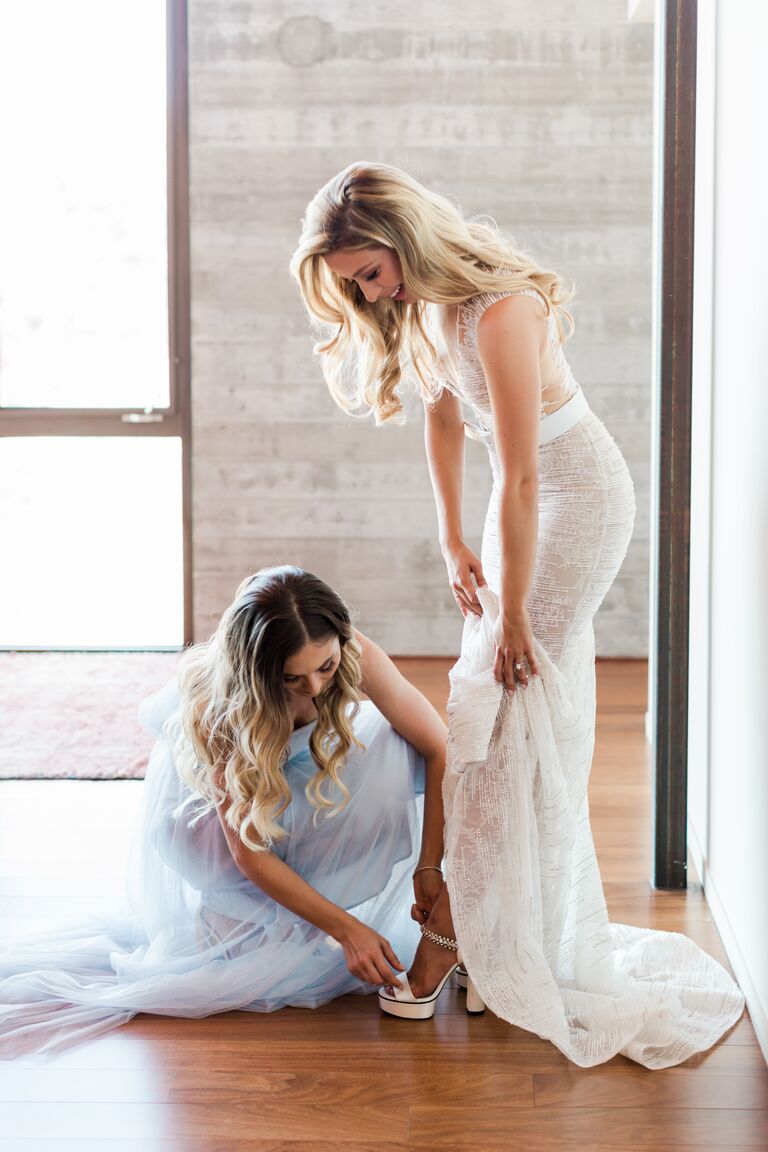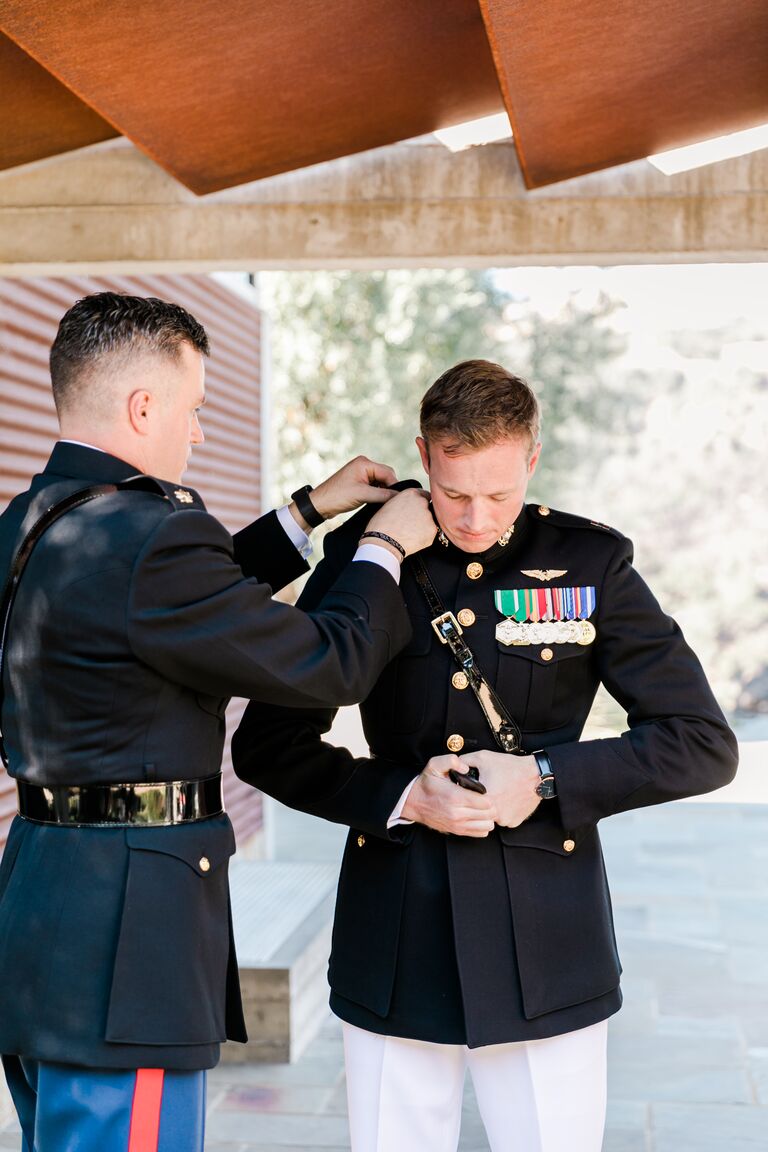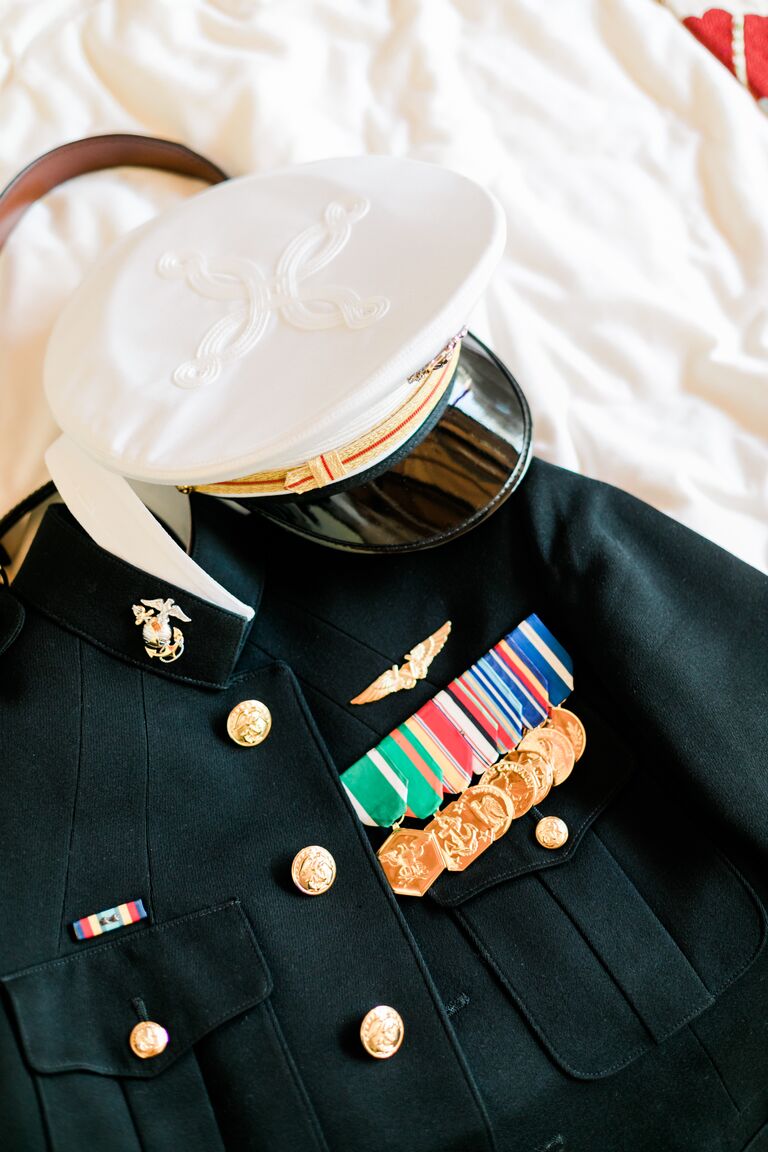 As with many weddings in 2019, Kazantsev changed into an evening reception gown that included a bandeau top, wide legged pants from John Paul Ataker and chunky heels by Jeffrey Campbell. The groom also changed at the reception from his Marine Corps dress blues into a custom tux.
The Rings
Dixon, a tech entrepreneur, went to Emkay Diamonds in San Francisco to source a custom pear-shape diamond, which rests on a split-shank band. "The bar that connects the two bands on the bottom of the ring has an 'A' and a 'K' with a crown above it. Andrew's wedding band has matching engravings," she notes of her husband's ring, which is a rose gold family heirloom. "There is no special meaning to why I chose that design other than I just love it. I had told my best friend what I wanted and Andrew had the good sense to ask her."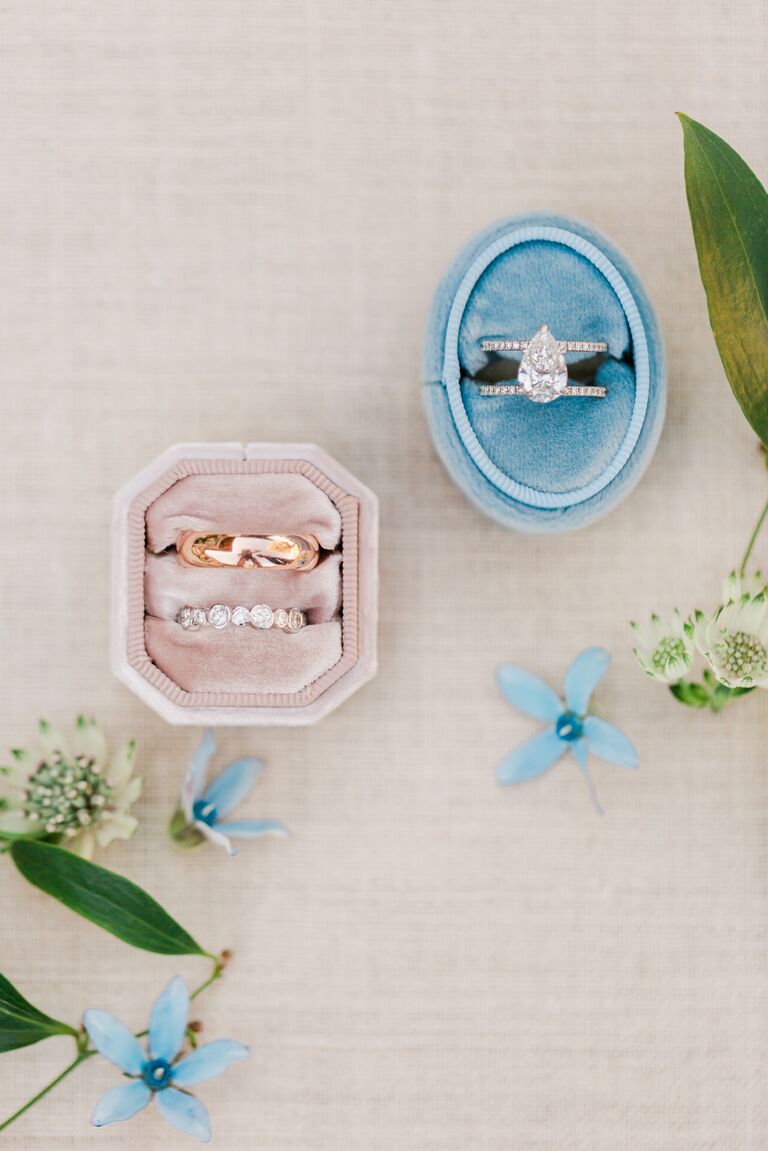 The Wedding Party
Kazantsev wanted her bridesmaids to wear pieces that made them feel good against a specific color palette supplementary to her wedding colors. "After much research, BHLDN was the perfect choice for what I was looking for… These were truly stunning and made with quality," she says. "Everyone chose exactly what they wanted and I think it came together beautifully." The group's tresses were styled by La Perle California, who also did Kazantsev's hair for her church wedding.
The groomsmen, meanwhile, wore a mix of tuxedos and Marine Corps dress blues.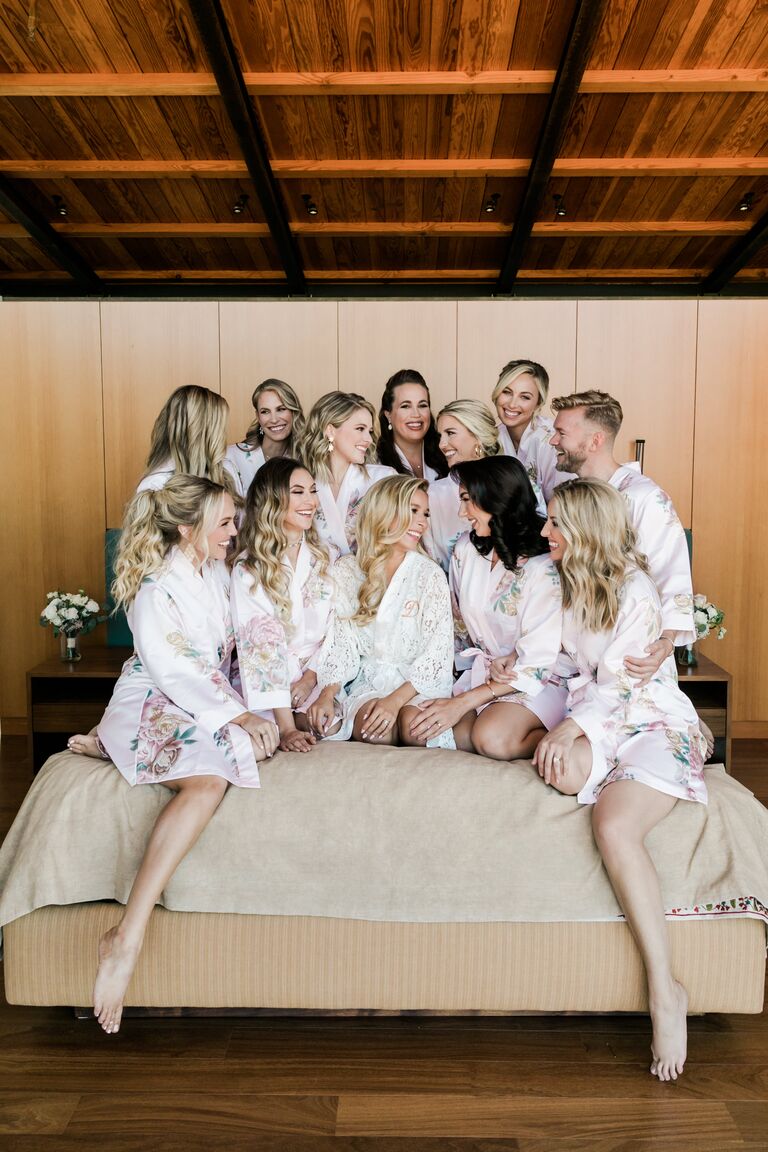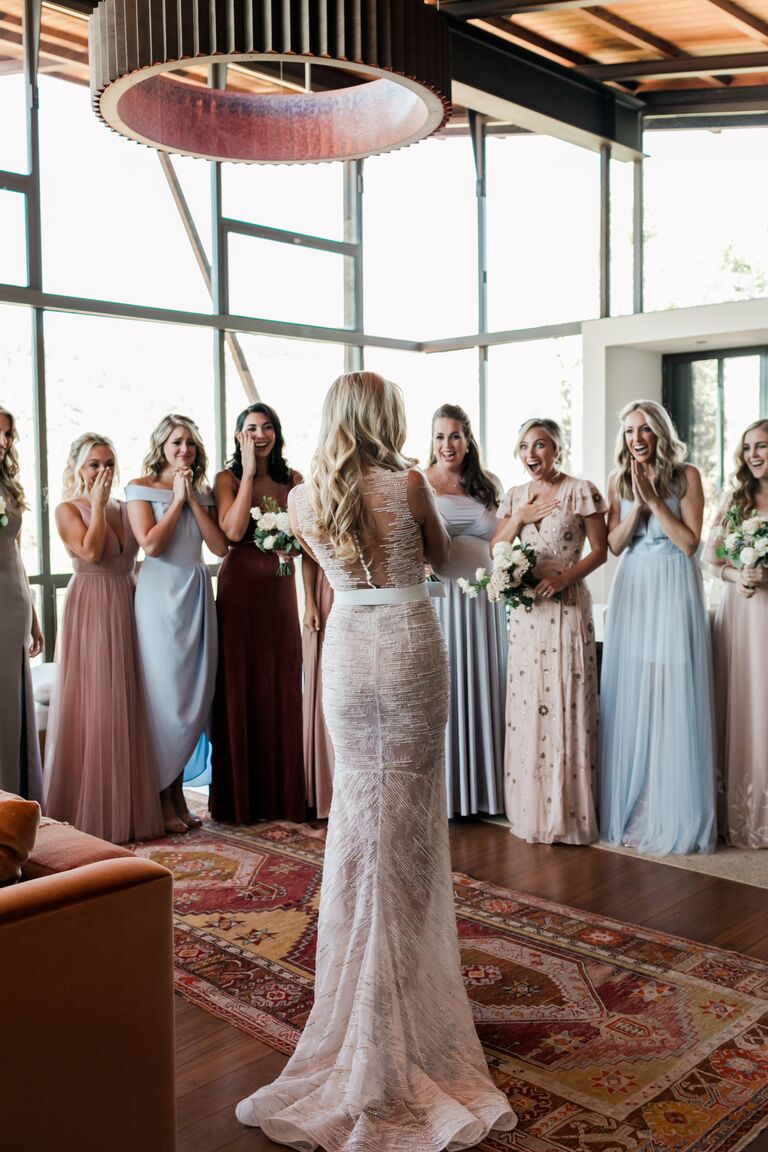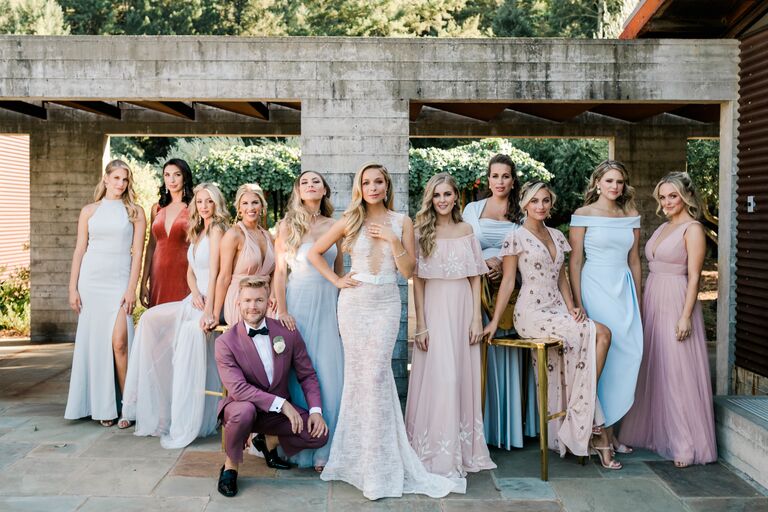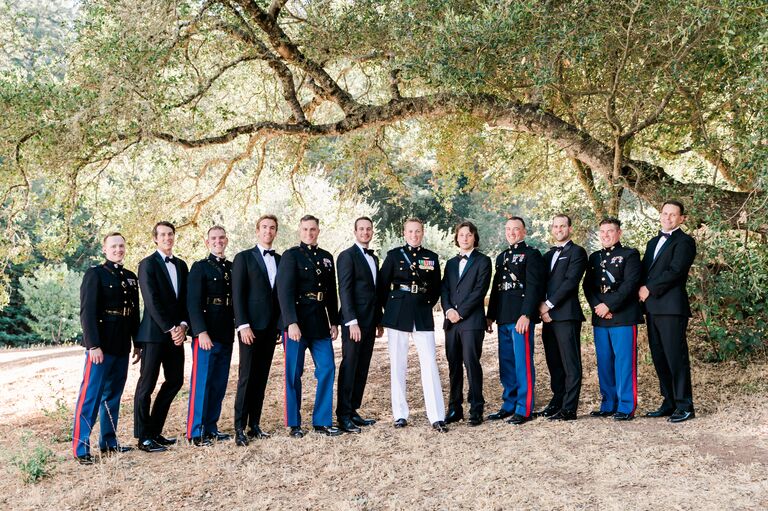 The Ceremony
"Every detail of the ceremony had a special meaning behind it. We didn't want the wedding to feel scripted or copied. We wanted it to be entirely unique to us," says Kazantsev. "We spent a lot of time with our officiant in the year leading up to the wedding. He is a big fan of music and wine. One night when we were indulging in wine and discussing music and of course, the wedding, it somehow came up that the ranch where we were getting married was like a chapel. Then we spontaneously broke into singing 'Chapel of Love,' which stuck so much that we ended up singing it during the actual wedding ceremony."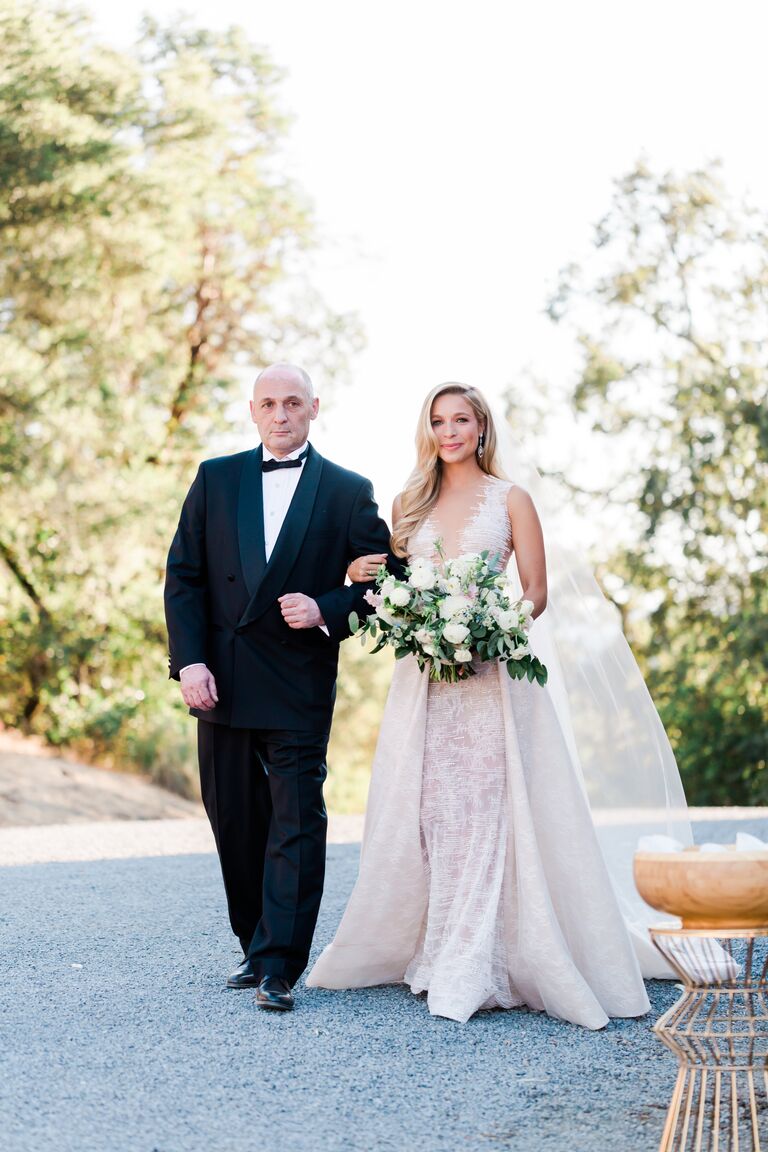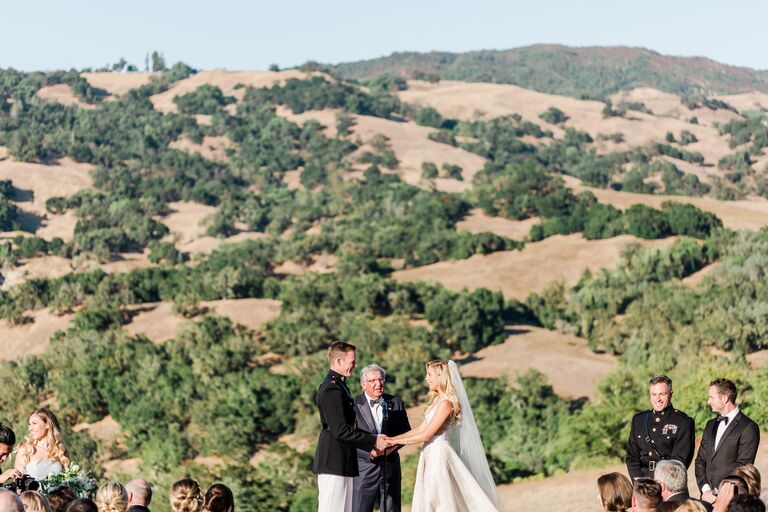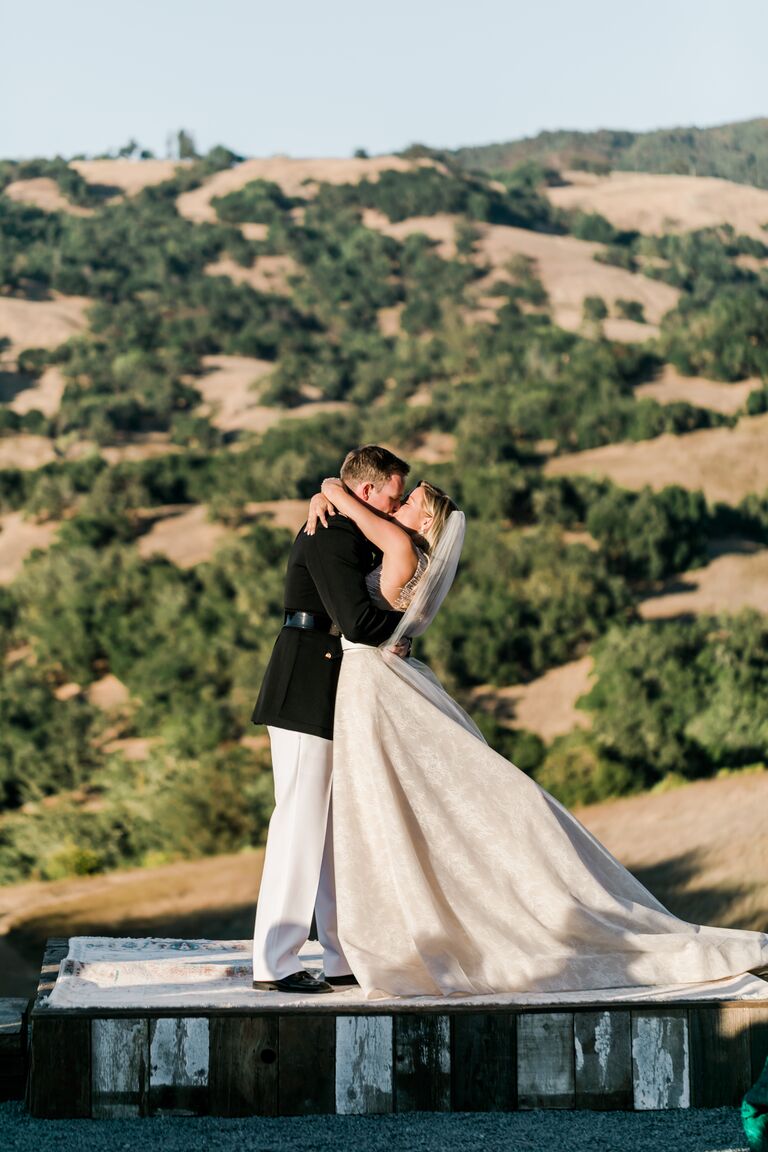 Bypassing the first look, Kazantsev locked eyes with her husband as she walked down the aisle to "How to Solve a Problem Like Maria" from the Sound of Music, an homage to her Russian grandparents with whom she bonded over the musical. The couple delivered their own vows and the readings were equally sentimental with the groom choosing "The Romance" by Shel Silverstein along with an excerpt from "Dr. Zhivago" by Boris Pasternak.
Finally, the ceremony exit was preceded by a traditional Marine Corps sword arch erected by Dixon's groomsmen. "Some of the most special traditions we incorporated were those of the Marine Corps," says the bride. Guests, meanwhile, tossed rose petals.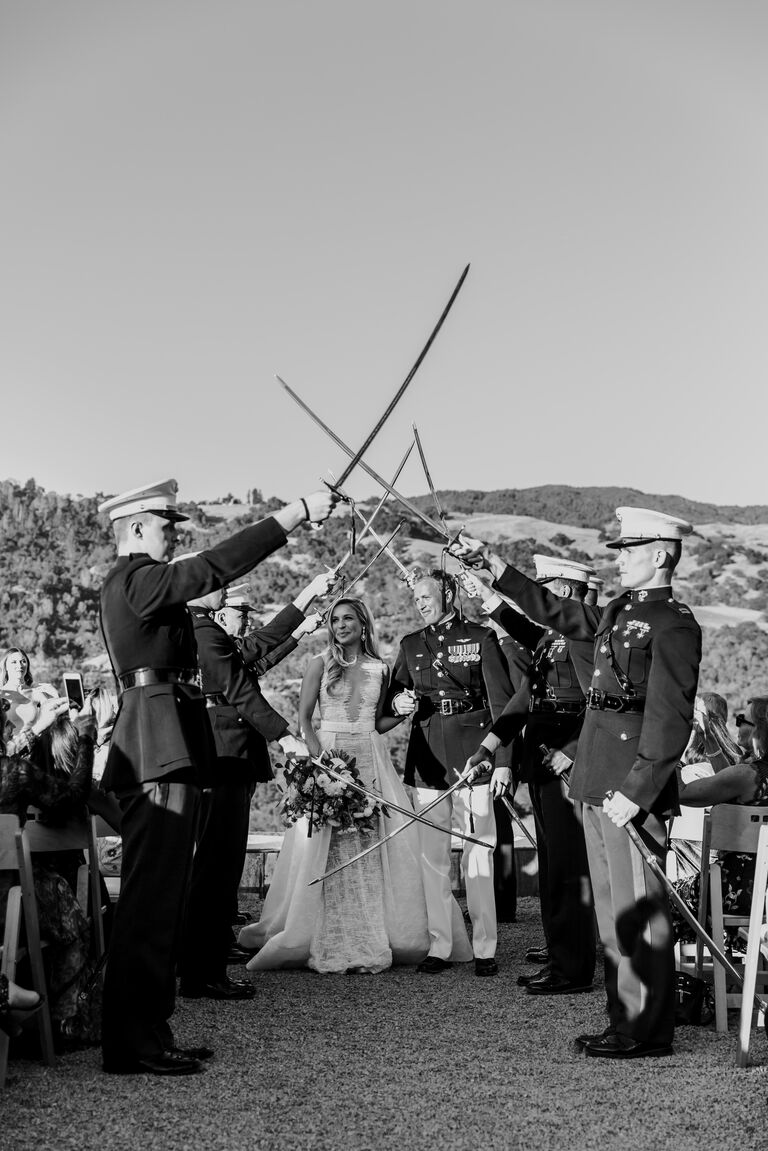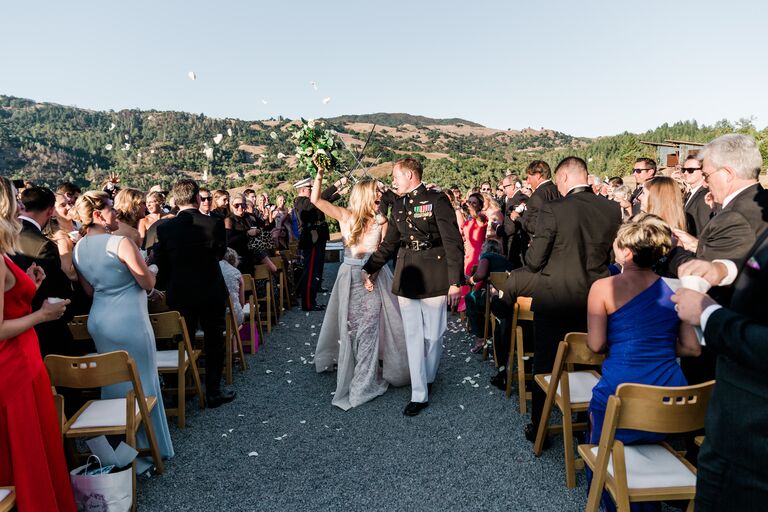 The Florals
Speaking of roses, the official floral provider of the Miss America competition, PassionRoses, offered to help the couple by offering a variety of florals (eskimo, candela, quicksand roses) for the couple's arrangements and centerpieces. The company combined forces with another florist, Willow and Magnolia, to bring various installations to life. "When I won the Miss America competition, I was handed a giant bouquet of PassionRoses. It was an extremely sentimental connection for me, and to see their roses all over our wedding was so special."
Other types of flowers and foliage used throughout the nuptials included butterfly ranunculus, astrantia, dahlia, pampas, hydrangea, branches, eucalyptus and more.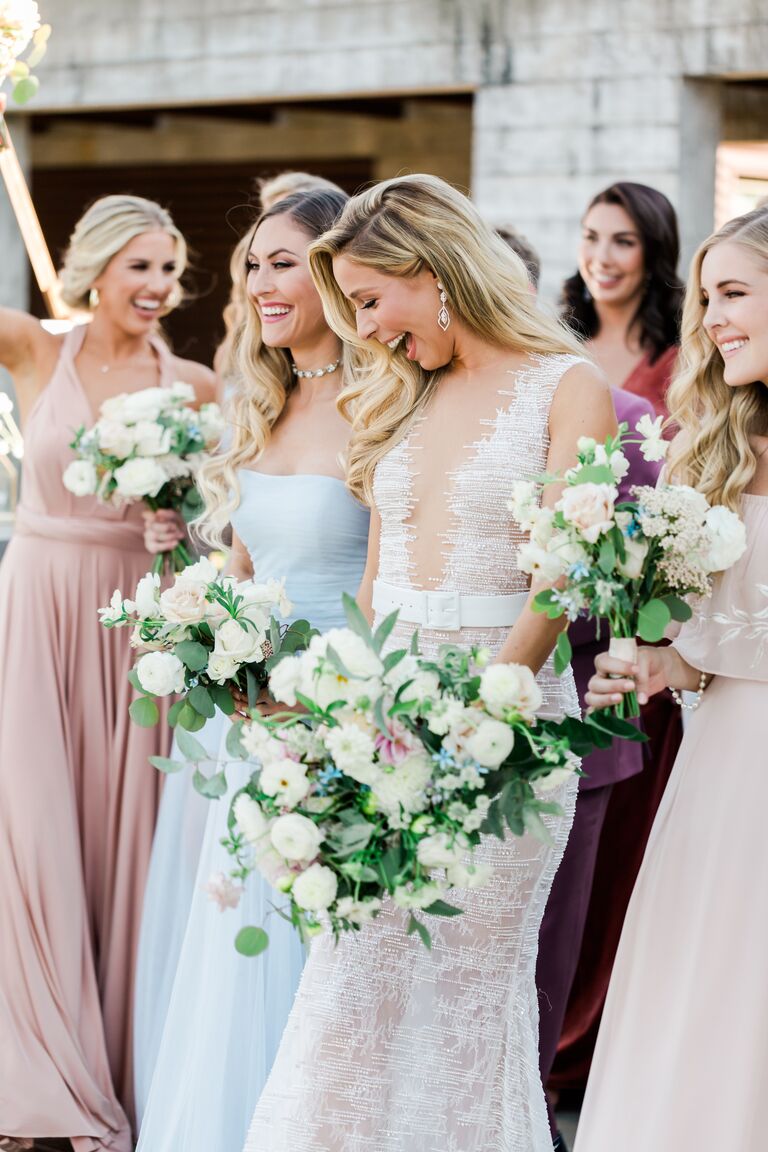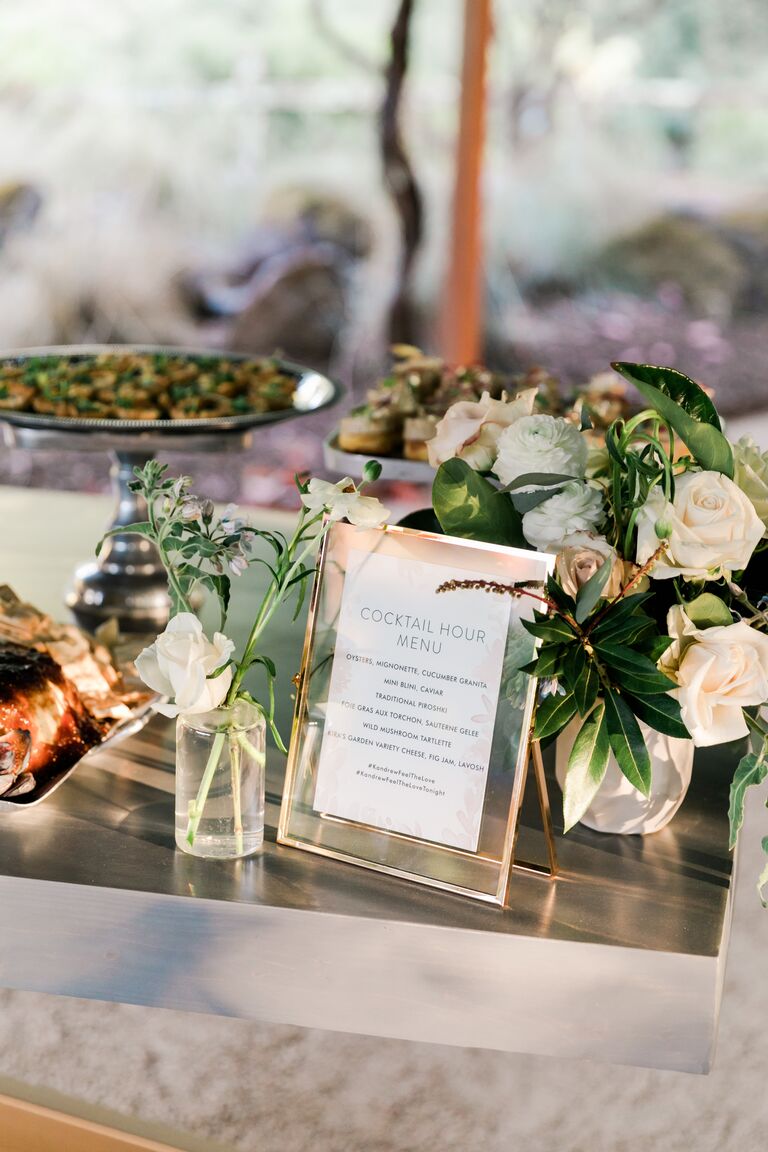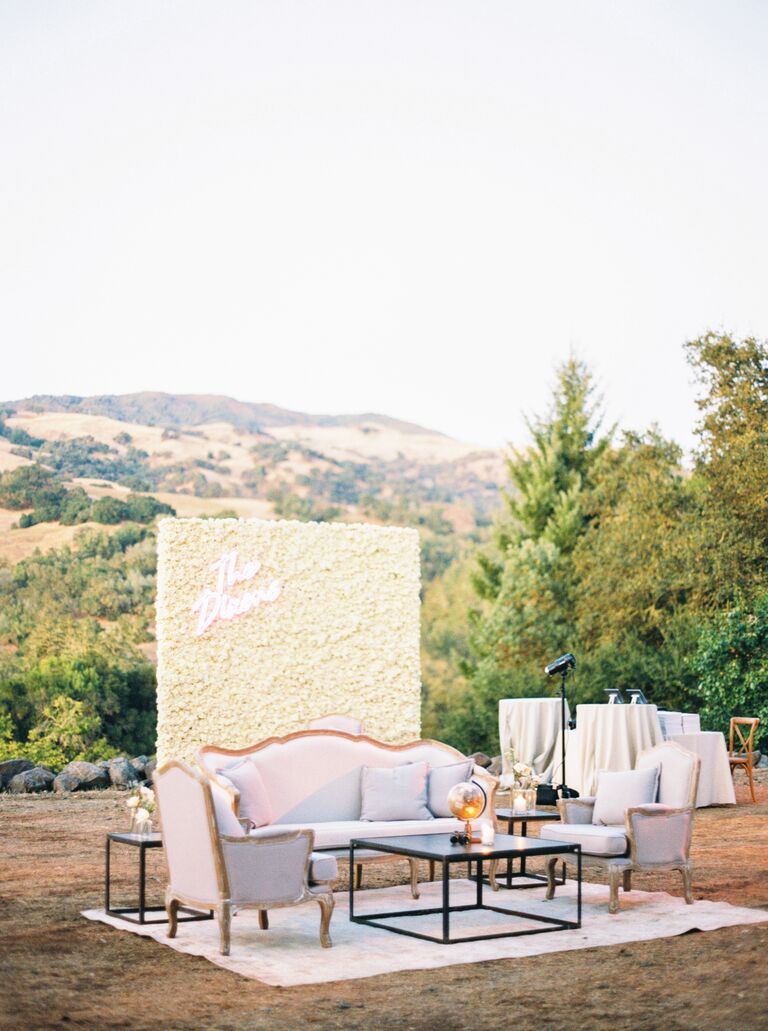 The Decor
Since the landscape in its natural splendor was more than enough, the couple went with a few rental pieces like a few Persian rugs and hydration stations to accommodate guests in the heat. For the reception, the couple wanted something whimsical with statement pieces like a hanging chandelier embellished with greenery.
Another moment of personalization was the couple's place settings, secured by the mother of the bride, who carefully plucked old plate sets from estate and garage sales over the span of 10 months. "They were all beautiful fine china in various color floral patterns and the centerpieces on each table were loose arrangements against a flood of candles," the bride says. "Imagine a scene out of a show like Versailles when all the royals are eating outside late at night on a warm summer evening. That drowsy feeling of love and delight was exactly what we were going for."
The couple also arranged two living rooms outdoors along with a floral wall comprised of PassionRoses that included a neon installation which appropriately read, "The Dixons."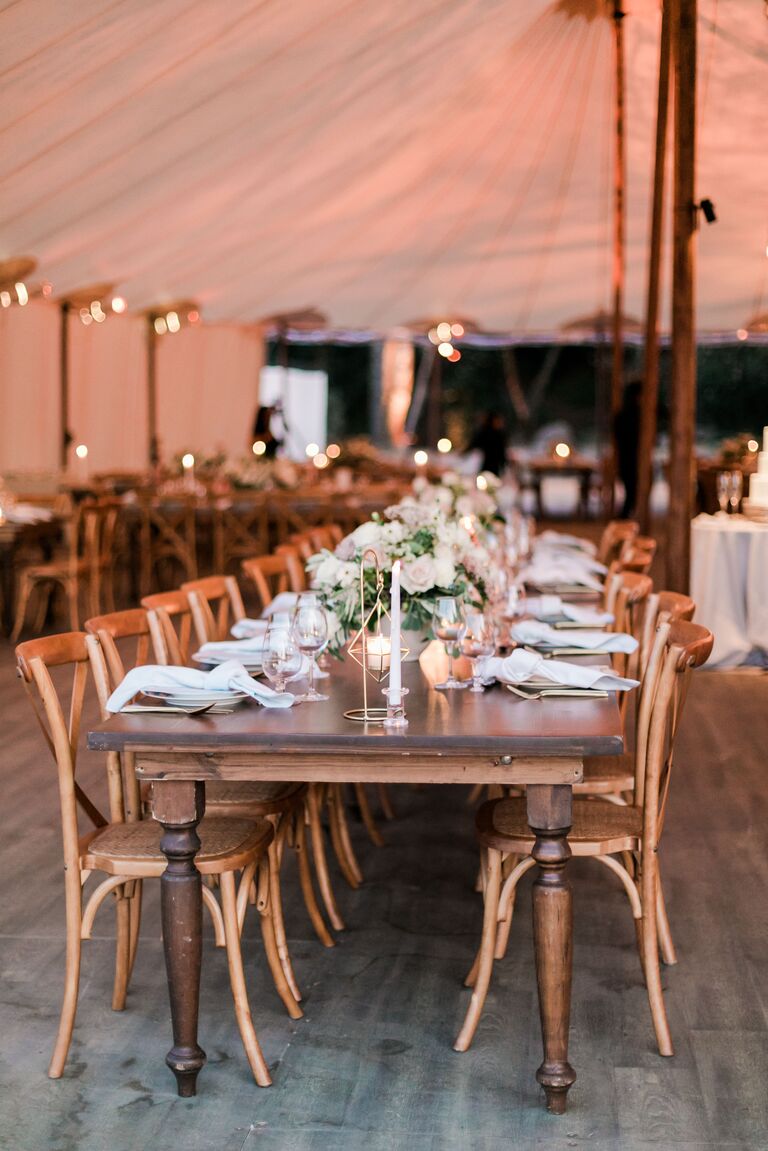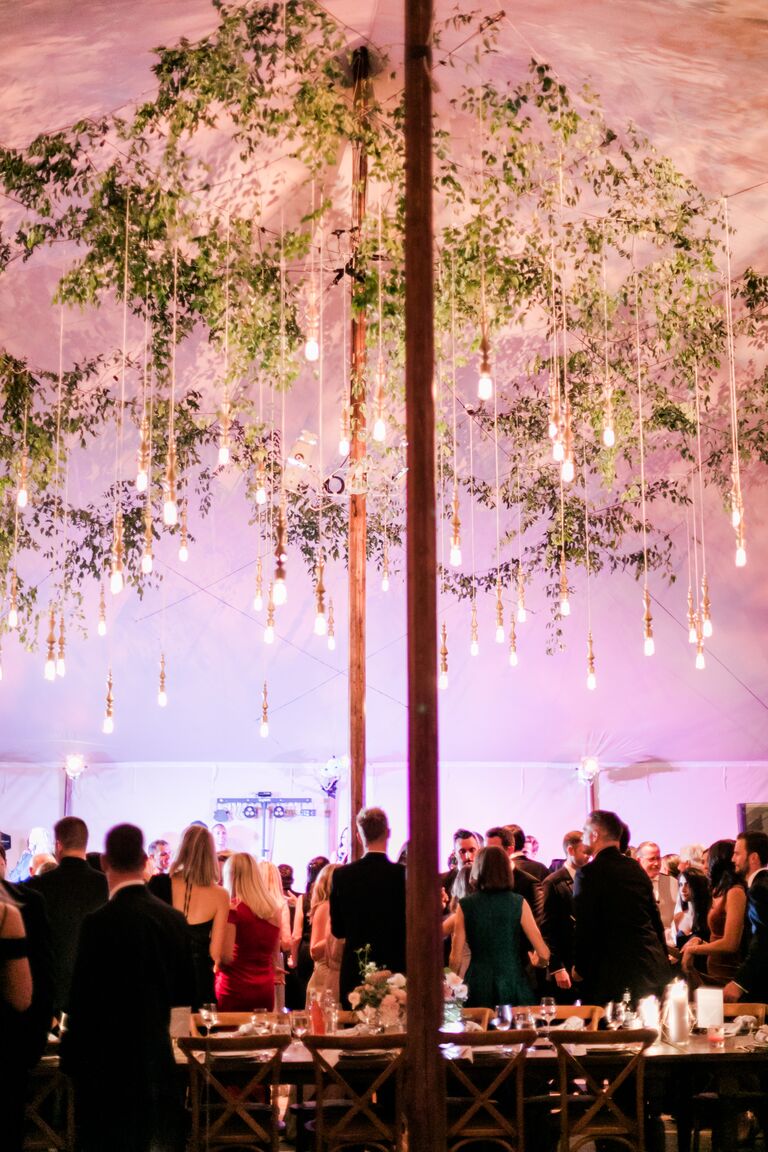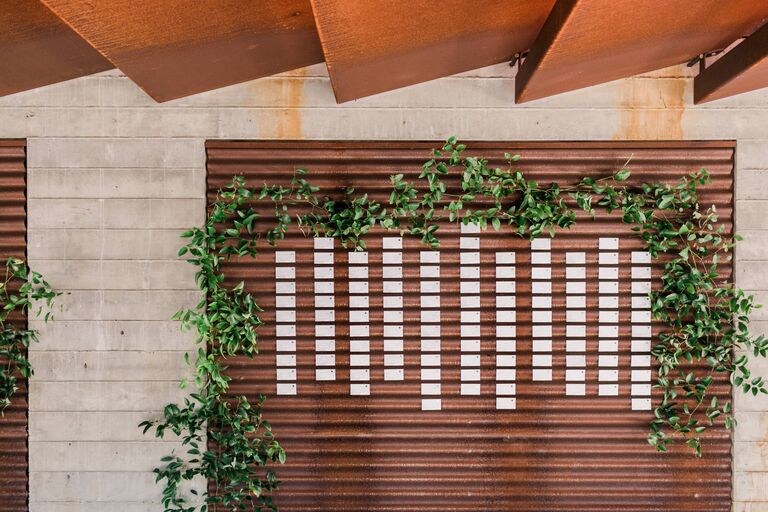 The Stationery
Further along the customization route was the couple's stationery, which started with a silhouette sketch of the ranch venue drawn by the sister of the groom, Gina Dixon. Then, one of the bridesmaids Alexa Rogers of Social Light Design created a full invitation suite. "It was so meaningful to have the invitations created by such important people in my life," she says. "And meant the world to me that they went above and beyond to do it."
For the rest of the stationery and displays used throughout the wedding, the couple tapped Minted Weddings. "Andrew really wanted something that was reflective of the property so we found a design on Minted that featured rolling hills and trees. We went with a dusty blue color to accent the rest of the wedding colors and they really pulled together the whimsy of the evening," she notes.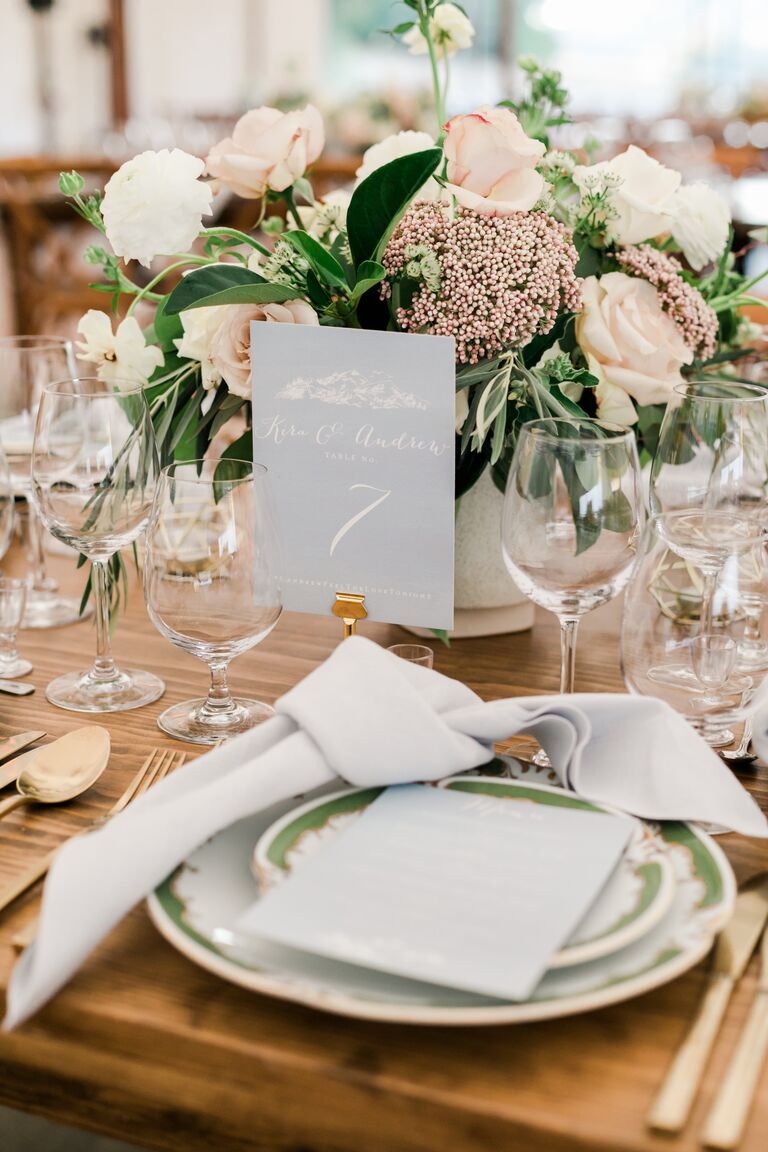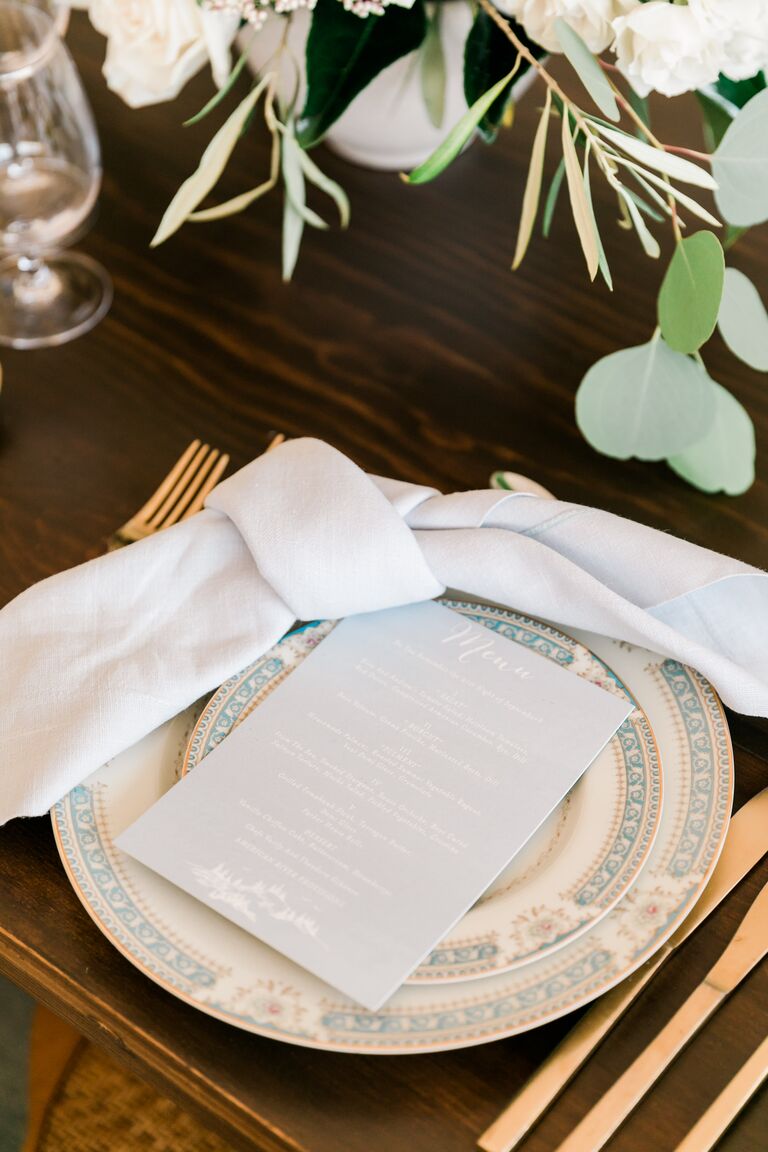 The Catering
The couple hosted their cocktail hour on the pool deck of the property, where a special homemade cheese crafted exclusively for the wedding was unveiled. "It was served with fig jam and lavosh, and I was so happy," says Kazantsev, who also honored her Russian heritage with the menu.
"Russian cuisine has a deep culinary tradition steeped in refined flavor and creativity. That's the side that I wanted our guests to see, many of whom are American and had never had food like this. It was important that our caterer understand this vision," says the bride, who ultimately tasked American River Provisions with comprising a menu that showcases Russian food in a different cultural light. "They made every dream for each dish come true and I was so happy that our guests were able to experience true Russian cuisine," says Kazantsev.
Of course, the couple honored their American roots too with their late-night menu. (The party didn't end until 2 a.m.) "My favorite food is pizza and ranch dressing so our catered towed a gorgeous woodfire pizza oven all the way up to the ranch to make mini pizzas to order for our guests," says Kazantsev. "We also had to have an ode to Thunder Burger, where Andrew and I met, so we had delicious Thunder Burger sliders as well."
The Drinks
Kazantsev and Dixon wanted their guests to have a good time, so they thoughtfully incorporated libations and refreshing beverages throughout the wedding day. The couple hired a vintage mobile bar-truck service called Bubbles & Brews Prosecco Van from Get Cozy Bars.
The couple also equipped each table with its very own bottle of vodka, crafted by the bride's extended family. Flavors included everything from blood orange to horseradish. "Each place setting came with a little shot glass," says the bride. "We added some personal touches to the decor by accenting the outdoor bar with bookcases on either side that we decorated with various trinkets and photos of past family weddings, our grandparents, and our engagement. Because my mom's parents were not able to join us from Russia, I wanted to make sure to pay tribute to them on our wedding day."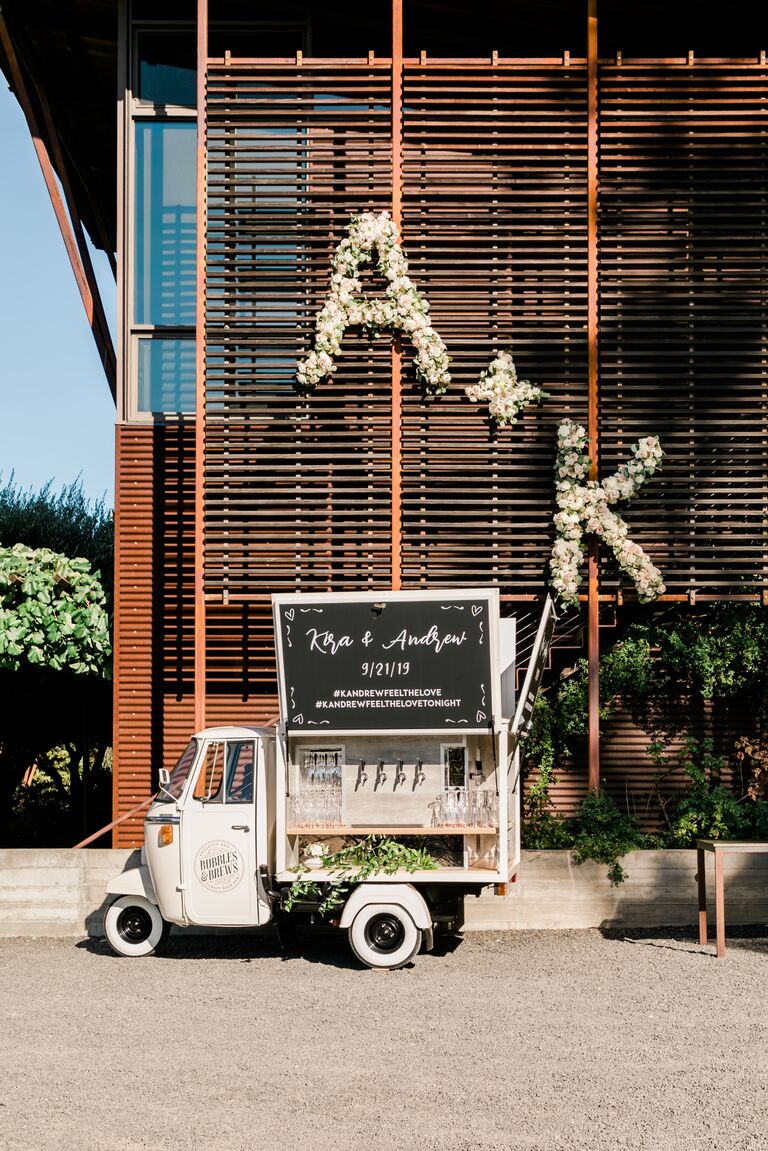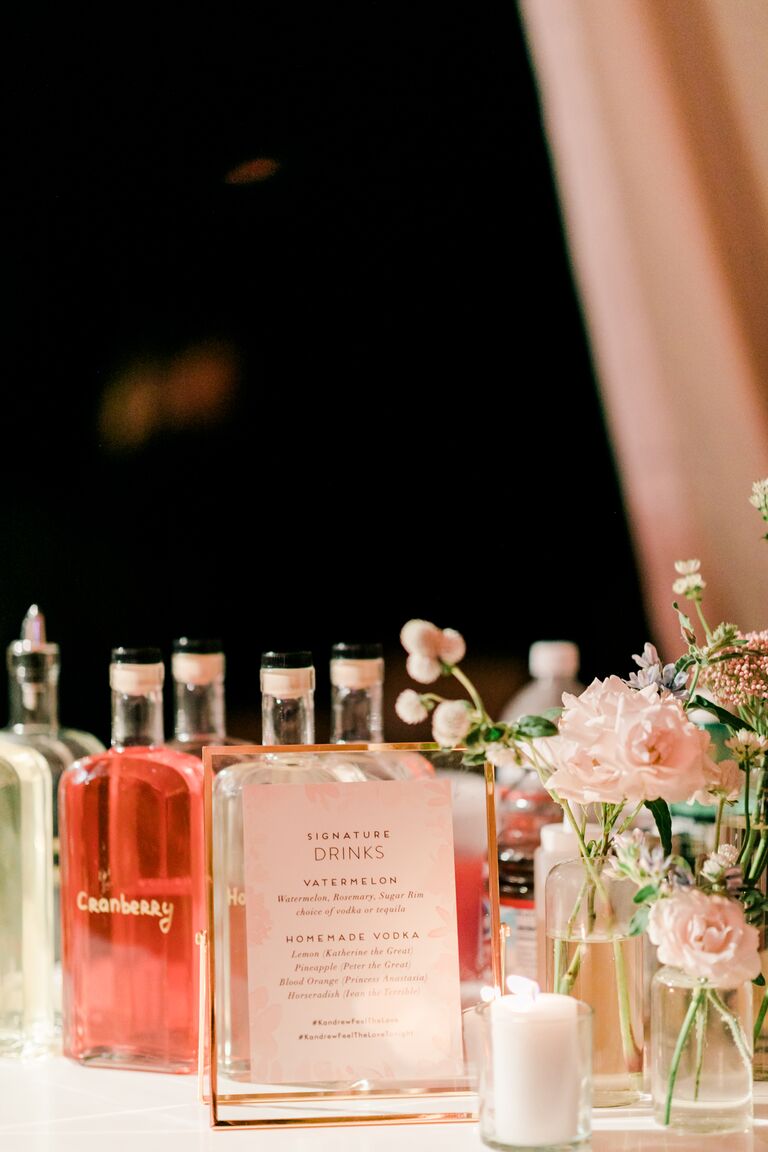 The Cake
The two served a vanilla chiffon cake, alternating tiers of fresh strawberry and buttercream filling. The confection by Freeport Bakery was modeled in a dusty blue fondant and flecked with edible gold.
The Favors
Rather than offering physical favors, the couple decided that an experiential favor would be more meaningful to their loved ones. "We splurged on getting Vanity Portrait Studio to come in and take portraits of all of our guests," she says. "There was a line all night and countless guests told us they are going to frame their photos at home or put them on their Christmas cards. To us, that is a gift that truly lasts."
And, if anyone wanted take-home favors, the pair made sure it was something functional. "We provided flip-flops and pashminas to keep people comfortable and warm," she notes.
The Registry
While the usual dilemma of a registry is receiving the same toaster twice, the couple has been thrilled about their 16 charcuterie boards. "We got some incredible display pieces to host parties with," says Kazantsev. "But honestly, I loved all of the gifts that we got from REI like camping stools and a new tent. Part of our minimoon was camping, and it was so much fun to use the things that people had so generously gifted to us."
The Takeaway
Fusing cultures and families proved to be rewarding for the pair. Rather than one defining moment, the couple had several standout experiences from the wedding that they recommend to other engaged to-be-weds. "When the band was finishing its last few songs, Andrew and I paused in the middle of the dance floor and just looked around to soak everything and everyone in," Kazantsev reveals. "It was so special to see how much fun everyone was having, how great the dancing was, and how much love was in the room.