30 Minted Save-the-Dates We Love
Here are some of our very favorite save-the-date designs from Minted.
We have included third party products to help you navigate and enjoy life's biggest moments. Purchases made through links on this page may earn us a commission.
During wedding planning, a lot of time and energy goes into crafting the perfect invitation. That's all fine and good—and hey, invitations are important!—but save-the-dates are your first opportunity to make a real impression on your guests. Luckily, Minted.com has a giant collection of fabulous save-the-dates to choose from, which makes the whole thing a lot easier. Here are 30 of our favorites.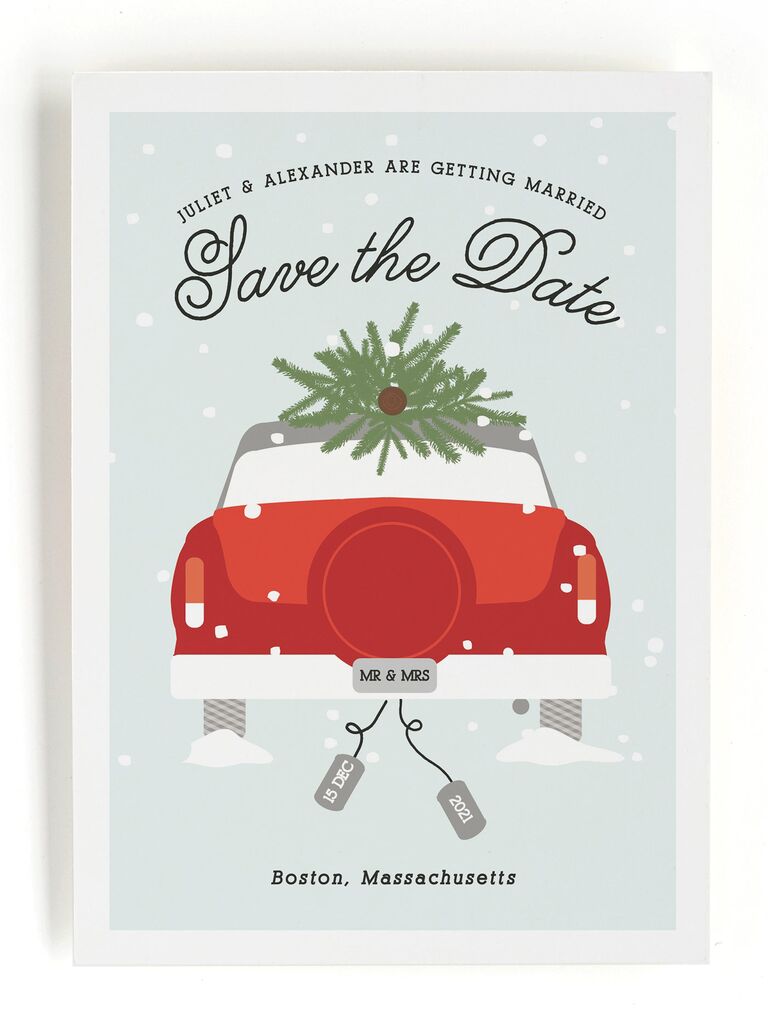 If you've got a winter wedding in the works, you can't go wrong with this Minted save-the-date.

Bonjour Berry Wed In Winter save-the-dates, 100 cards for $192, Minted.com

This Minted save-the-date is bursting with florals and greens—a perfect, festive reminder of your upcoming nuptials.

Lori Wemple Painted Laurel save-the-dates, 100 cards for $192, Minted.com

This Minted save-the-date is the ideal combination of simple, creative and personal.

Owl and Toad Jot It Down save-the-dates, 85 cards for $174, Minted.com

FEATURED VIDEO FROM THE KNOT

Metallics and blues: What more could you want from a save-the-date?

Elly Garden Of Eden save-the-dates, 100 for $248, Minted.com

Gold foil confetti is the universal signal for festivity, so let you guests know just how much fun they're going to have at your wedding with this Minted save-the-date.

Sara Hicks Malone Confetti Splash save-the-dates, 100 for $248, Minted.com

Whether you're having a winter wedding or you just love the slopes, this Minted save-the-date won't let you down.

Nikole Christiansen On The Slopes save-the-dates, 100 for $192, Minted.com

This Minted save-the-date is stunningly elegant.

Petra Kern Hidden Gem save-the-dates, 100 for $248, Minted.com

Keep things simple and classy with this Minted save-the-date.

Chastity Smith Everlasting save-the-dates, 100 for $192, Minted.com

This Minted save-the-date is extra festive with its gold confetti-lined rims.

Carolyn Nicks Confetti Glow save-the-dates, 100 for $248, Minted.com

We're all about Minted save-the-dates that embrace minimalism.

Kelli Hall Calendrier save-the-dates, 100 for $192, Minted.com

Simple and sweet, this Minted save-the-date is perfect in any format, from magnet to postcard.

Pink House Brushed Date save-the-dates, 85 for $174, Minted.com

Twinkly, fun and classy, you can't go wrong with this Minted save-the-date.

Hooray Creative Garden Lights save-the-dates, 100 for $192, Minted.com

We couldn't have said it any better than this simple, yet fun, Minted save-the-date.

Ellis Let's Do This Thing save-the-dates, 100 for $192, Minted.com

Sweet and festive, this Minted save-the-date will be a real crowd pleaser.

Up Up Creative It Was Always You save-the-dates, 100 for $248, Minted.com

This Minted save-the-date has a calming, yet celebratory, vibe that we're all about.

Everett Paper Goods Midnight save-the-dates, 100 for $248, Minted.com

If you're looking for a no-fuss, classy design, this Minted save-the-date is the one for you.

Stacey Meacham Gilded Frame save-the-dates, 100 for $248, Minted.com

Don't want people to forget your wedding date? This Minted save-the-date will take care of that.

My Splendid Summer Big Is Beautiful save-the-dates, 100 for $192, Minted.com

If you've got beautiful engagement photos to display, this Minted save-the-date is perfect for you.

Bethan Oh My Heart save-the-dates, 100 for $192, Minted.com

This Minted save-the-date is ideal for couples going with a lighthearted vibe.

Erin L. Wilson There Will Be Cake save-the-dates, 100 for $192, Minted.com

Simple and graceful, you'd be hard-pressed to find a wedding guest who won't appreciate this Minted save-the-date.

Kate Ahn Olive Bough save-the-dates, 100 for $192, Minted.com

Got houseplants in every corner of your home? Why not take that vibe to your save-the-dates? This Minted one's got you covered.

Fig and Cotton Mod Palm save-the-dates, 100 for $192, Minted.com

This Minted.com save-the-date is perfect for glitter lovers everywhere.

Kelli Hall Sandbar save-the-dates, 100 for $248, Minted.com

Elegant and simple, this Minted save-the-date is a guaranteed crowd-pleaser.

Susan Moyal Orange Blossom save-the-dates, 100 for $192, Minted.com

If you're an adventurous, nature-loving couple, this Minted save-the-date is one of the best.

Elly Adventure Awaits save-the-dates,100 for $192, Minted.com

You can't go wrong with glitter, as this Minted save-the-date proves.

Saltwater Designs Starlight save-the-dates, 100 for $248, Minted.com

Want a save-the-date that stands out in a crowd? This one's got you covered.

GreenInk Design Inked save-the-dates, 100 for $192, Minted.com

If you consider yourself a minimalist, you can't go wrong with this Minted save-the-date.

Sandra Picco Design Modern Minimalist save-the-dates, 100 for $192, Minted.com

If you're a Texas resident, one could argue that this is the only save-the-date for you.

Fig and Cotton State Stamp-Texas save-the-dates, 100 for $192, Minted.com

Give your save-the-date a sweet, unique twist with this heart-shaped design.

Three Kisses Studio In Bloom save-the-dates, 100 for $248, Minted.com

Going for a bubbly vibe? This Minted save-the-date, with its pink background and splashes of gold, is perfect for you.

Lori Wemple Bubbly save-the-dates, 100 for $248, Minted.com