Everything You Need to Know About Getting Married in California
Look to The Knot for local details about getting married in California, from choosing your wedding venue to getting your marriage license.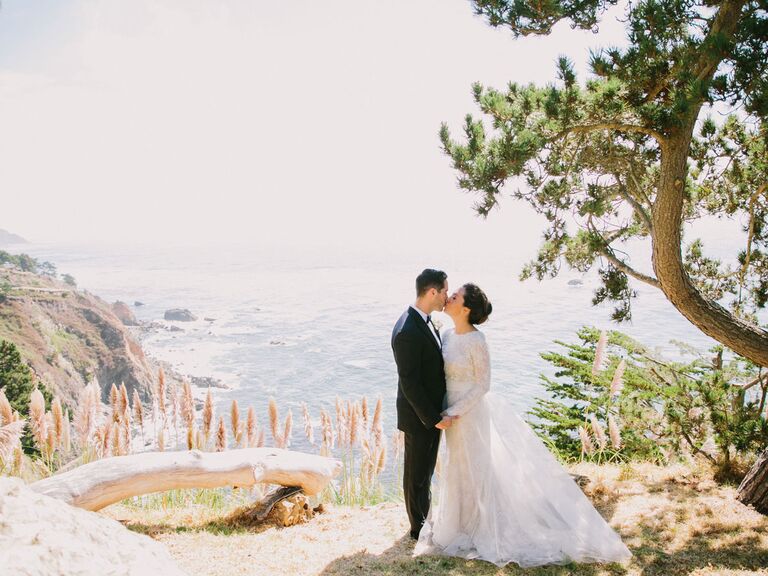 Fondly Forever Photography
We have included third party products to help you navigate and enjoy life's biggest moments. Purchases made through links on this page may earn us a commission.
Ultimate Guide to Getting Married in California
California's ability to delight, surprise and amaze you is succinctly summed up in its state motto. From the glittering skyline of Los Angeles to the Mojave Desert and Sierra Nevada mountains, the diverse geography and vibrant cities provide a nearly endless variety of wedding locations in California.
If the thought of your wedding day has you "California Dreamin," the state offers a wealth of opportunities and locations that suit any wedding style you can imagine. The Golden State's wedding venues include everything from charming country barns with winery views to expansive beaches and beautiful ballrooms. Read our comprehensive guide to California weddings to discover everything from the most popular cities for weddings to finding California wedding packages and locating the ideal California outdoor wedding location to learning how to get a California marriage license and incorporate fun ideas into your celebration.  We have all the best tips on how to get married in California to ensure your big day is everything you dreamed of and more. Take our Style Quiz and follow your wedding checklist to help you plan.
Top Wedding Trends in California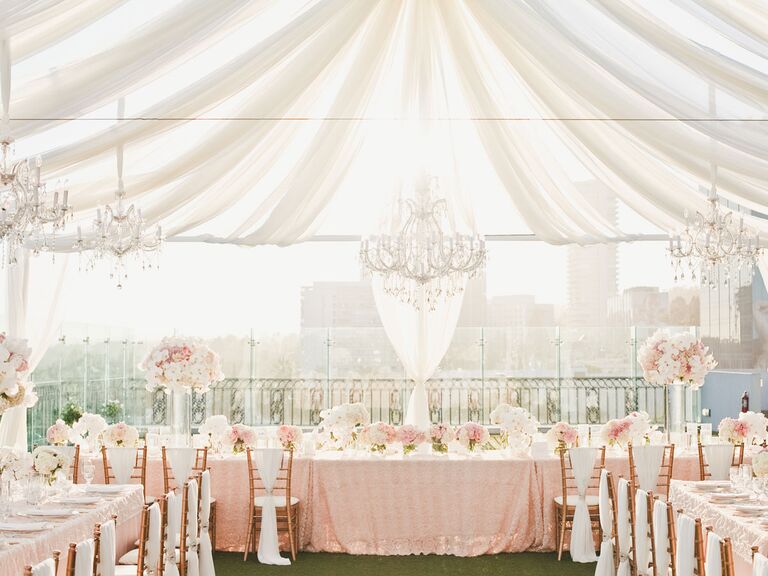 From vineyard vows to cool coastal ceremonies, California wedding venues provide a variety of ways to personalize your wedding. Whether you prefer a barn, boutique, beach or ballroom, wedding locations in California allow you to enjoy the trends and traditions of the state while treating your guests to a memorable event.
California is endlessly diverse in climates and cultures, so it's no surprise that, when it comes to wedding trends, couples in California often put their own unique spin on things. From the vibrant, eclectic metropolitan areas to the gorgeous natural terrain, the state offers up a varied menu of venues that range from black-tie worthy to casual. Statewide, California couples overwhelmingly opt for formal or semiformal events, according to The Knot 2015 Real Weddings Study. For example, 83 percent of couples in the Palm Springs area go semiformal, while 25 percent of Los Angeles couples opt for a black-tie event. Several cities host a large percentage of casual weddings, with at least 20 percent of Santa Barbara and Sacramento couples going rustic chic instead of fancy.
A fresh, farm-to-table ambience is among the top trends in California, with planners seeing an increase in seasonal, free-form bouquets and centerpieces along with plenty of herbs, greenery and family-style receptions that add a homey feel. California weddings typically buck tradition, with many couples opting to create their own traditions or put a new twist on a classic. For example, many California couples opt for a honeymoon or donation registry instead of a traditional gift-based registry. It's also no surprise, considering the miles of glittering Pacific coastline that are easily accessible, that California beach weddings are still a favorite choice for casual couples.
California Marriage Rates and Wedding Costs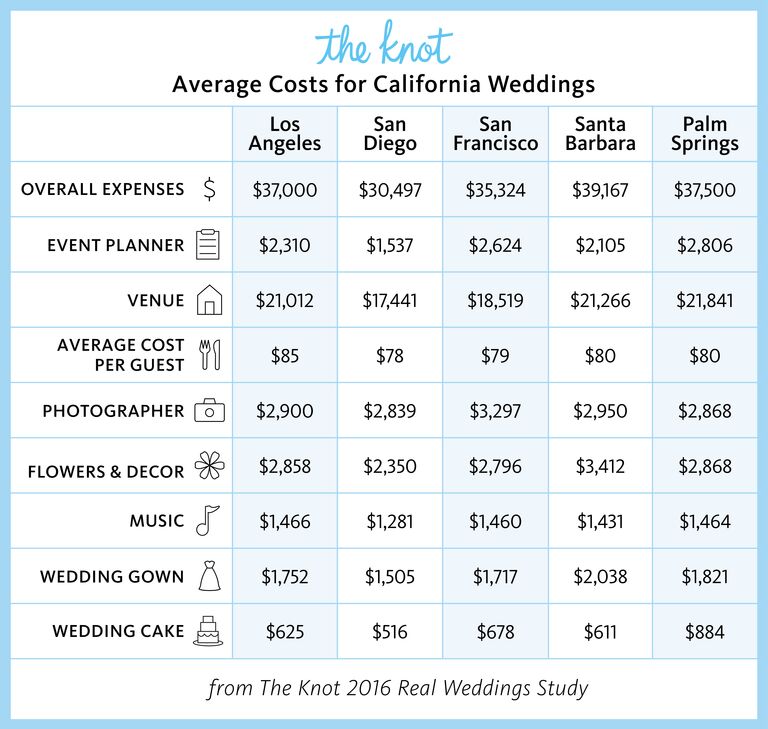 Whether you've dreamed of a big wedding since you were young or you yearn for a simple, rustic celebration, planning your wedding should be fun. But even simple weddings can tally up a hefty tab. Before you get into the details of your California wedding, sit down with your fiancé and set a budget. The Knot Budgeter can help keep you on track with personalized recommendations and a breakdown of what you can expect to spend on different parts of the wedding.
Ultimately, the final price tag for your wedding depends on a variety of factors ranging from the number of guests that attend and the menu you select to the California wedding venue you choose. According to The Knot's 2015 Real Weddings Study, California couples spend $20,649 to $35,682 on average for their weddings. Around 30 percent of Palm Springs couples spend $50,000 or more, compared to only 5 percent of Sacramento area couples spending that amount.
California Marriage Stats
California's marriage rate hovers above the national average, with around 7.8 per 1,000 people getting married. According to The Knot 2015 Real Wedding Study, couples typically wait until their late 20s and early 30s to get married here, with brides averaging 27 to 30 years old and grooms averaging 29 to 32 years old when they get hitched. Most couples are engaged for 13.5 to 14.7 months, and they spend an average of 10 to 12 months planning the wedding.
Breaking Down the Budget

Knowing what to expect in terms of common wedding costs makes it easier to figure out your budget. Check out the table above to discover how much you can expect to pay for most aspects of your California wedding.
Top Cities in California to Tie the Knot

Depending on your location, West Coast trends and venues work toward creating an intimate, romantic and very personal environment for wedding celebrations. From vineyards and barns to ballrooms and beaches, California wedding venues take many shapes across the state, especially in these popular cities:
Make It Legal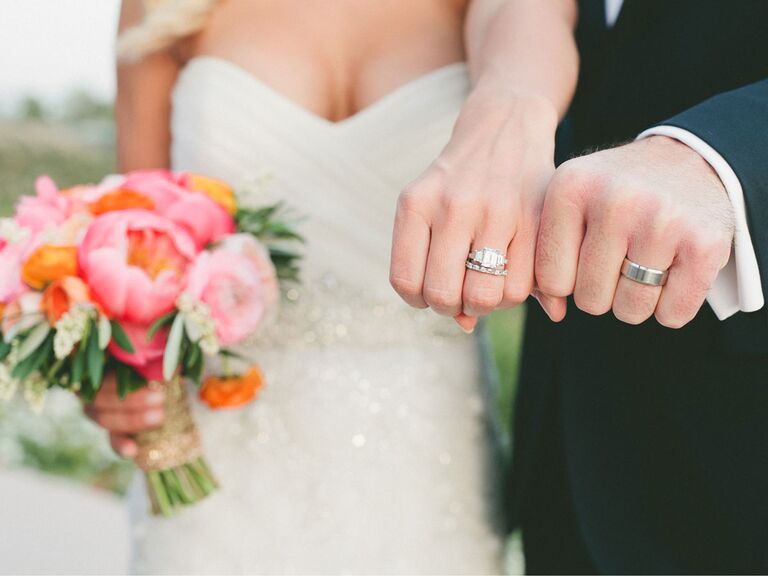 While we hope that planning your wedding feels like it's filled with fun events like cake tastings and finding the perfect DJ or band, there are some strings attached to tying the knot in The Golden State. Understanding the ins and outs of not only getting your California marriage license, but also taking care of details like permits and changing your name(s), is equally important in the weeks and months leading up to saying "I do."
Getting a California Marriage License

Wondering how to get married in California? We have all the information you need to know about getting married in California.
When it comes to planning your marriage in California, we recommend contacting your California County or City Clerk's office to see if you can make an appointment. Doing this in advance could save you from having to line up for hours. 
California couples can choose from two types of marriage licenses: public and confidential. To qualify for a public marriage license, you must be 18 or older or have written consent from one parent or legal guardian along with permission from a California Superior Court Judge. County clerks issue these licenses, which can be used anywhere in the state. Additionally, this license requires at least one witness at the ceremony, and you must file the license in the county in which you first obtained it to be registered at the County Recorder's Office.
Minors are never eligible for a confidential marriage license. To qualify, you must be living with your other half as spouses and you both are required to sign an affidavit confirming that you live together as spouses. Confidential weddings in California don't require any witnesses. Additionally, you and your spouse are the only people able to get a copy of the marriage license. In the state of California, your marriage license is not automatically sent to you, so you or your partner will have to request a copy of it. You can also request a certified copy of it at the County Clerk or County Recorder's Office at any time. 
The above rules and regulations for getting married in California apply to same-sex couples, too. California passed Proposition 8 in 2008, which legalized same-sex marriage in the state. Later, in 2015, the Supreme Court ruled no state could deny a same-sex couple the right to marry. 
Other important rules for obtaining your license include:
Both parties must be single and not married to each other or anyone else.
Both parties must apply at the County Clerk's Office. Bring valid photo identification such as a driver's license, passport or military identification.
To get married in California, you will also need to pay a fee. 
The fee varies from county to county. Some counties charge $45 and others charge upwards of $84. Keep in mind, some counties may only accept cash, so call ahead of time to ensure you have the correct payment information. The good news about getting married in California is that there is no waiting period and no blood test requirements. 
Your license is valid for 90 days; after that time, you need to purchase a new one.Licenses must be signed by your officiant, who is responsible for returning the license to the County Clerk within 10 days of your California wedding ceremony. Examples of acceptable officiants include—but are not limited to—the following:
A minister, rabbi or priest belonging to any religion
A current or retired judge
Commissioner of civil marriages
A United States magistrate
A California congressperson
Permit Information
From the country-wedding wineries in Northern California to the hippest spots to get hitched in Southern California, many private California wedding locations don't require a permit or additional paperwork other than everything that's handled by the venue's internal planners. If you're planning an outdoor wedding, especially in a public place, you typically have to do a bit more legwork. The beaches of Malibu and Bidwell Mansion State Historic Park are just two of the many popular California outdoor wedding locations that require an additional permit to hold your wedding on the grounds. Check with the park, beach, county or town to see what's required to reserve the space. Some beaches don't require permits for elopement ceremonies, while others only require a permit for weddings with 25 or more guests.

Changing Your Name in California

If you decide to change your name after your California wedding, you can make it super easy by using HitchSwitch—a name changing service—or go at it alone by following our guide. First, you need the original or a certified copy of your marriage license. Go to the Social Security Administration (SSA) website to apply for a new Social Security card with your new name. Fill out the application and mail it to your local SSA office.
Once you get your new Social Security card—usually within 10 business days—you can stop by your local Department of Motor Vehicles office to apply for a new driver's license. Bring your current license, your marriage license and your new Social Security card.
If you've completed these steps, the last little bit of housekeeping involves changing your name at your bank and notifying your employer, utility companies, credit card companies, landlord, doctors, insurance companies and schools about your name change.
It's All About Timing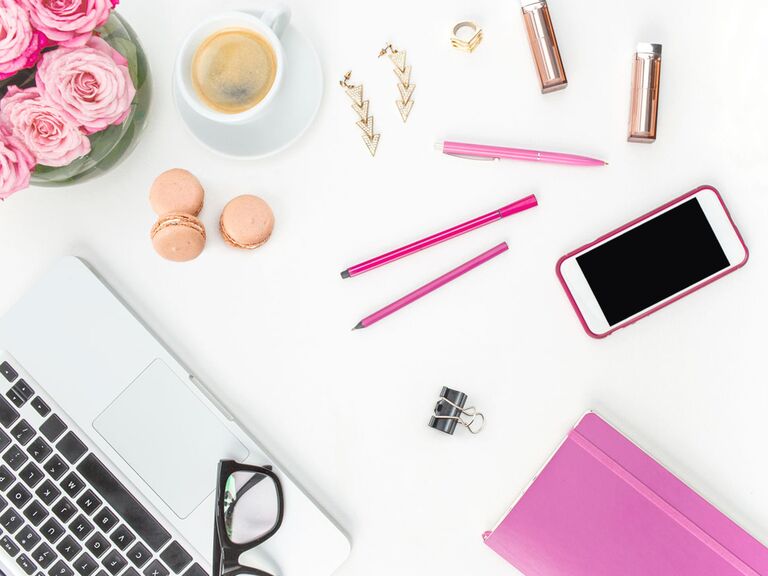 Who needs a summer wedding when the autumn weather is so appealing? Although summer remains a popular season for California weddings, with 9 to 36 percent of couples opting to exchange vows between June and August, the fall is peak wedding season in the Golden State. The Knot 2015 Real Wedding Study reveals that 57 percent of couples in Palm Springs plan their weddings for the period from September through November, while 36 percent of Sacramento couples choose a fall wedding too. Between 19 and 26 percent of California couples prefer spring, and winter weddings are popular among 3 to 17 percent of couples depending on their geographical location.
The Four Seasons in California

California is renowned for its lovely weather throughout all four seasons. Most of the state enjoys a Mediterranean climate with dry, warm summers and mild winters with occasional precipitation in coastal areas. Even so, you might have to shift your expectations for the weather, depending on where you're planning your wedding in California. This geographically large state's weather varies, with temperatures on the coast typically ranging from 70 degrees Fahrenheit to 80 degrees or more in spring and summer and mild winter temperatures that rarely dip below freezing. Expect some fog any time of year if you're getting married along the coast, especially if you're hosting the wedding anywhere north of Monterey.
Inland, you can expect hot, dry summers and cool, wet winters with occasional freezing winter temperatures. Towns such as Kernville, Dardanelle and Truckee, which are located in the highest elevations, typically experience more traditional four-season weather. In these high-elevation areas, you can expect warm summers, crisp fall weather, mild springs and snow and freezing winter temperatures.
California Wedding Dates to Avoid

Depending on where you get married in California, there are some important dates you may want to avoid in order to make sure that your wedding guests are comfortable and can easily find a place to stay. Ask your wedding planner or venue for tips about how to avoid major traffic times or local events that might make your wedding weekend more difficult for guests and more costly for you!.
Unless you're feeling adventurous or you want to give your guests something interesting to do in their downtime, avoid the following busy dates or read more in our comprehensive guide to wedding dates to avoid. It's also a good idea to check with your California wedding venue to make sure there are no conflicting events going on in your town or city. Some major events include:
Academy Awards and Grammy Awards, Los Angeles (Early- to mid-February)
Auto Club 400 NASCAR Sprint Cup Series, Inland Empire (Mid- to late-March)
Coachella, Indio, California (Mid-April)
Castroville's Artichoke Food & Wine Festival, Castroville (Early June)
July 4th Fireworks Spectacular, Hollywood Bowl (July 4)
Los Angeles County Fair, Los Angeles (Early September)
Great Guest Experiences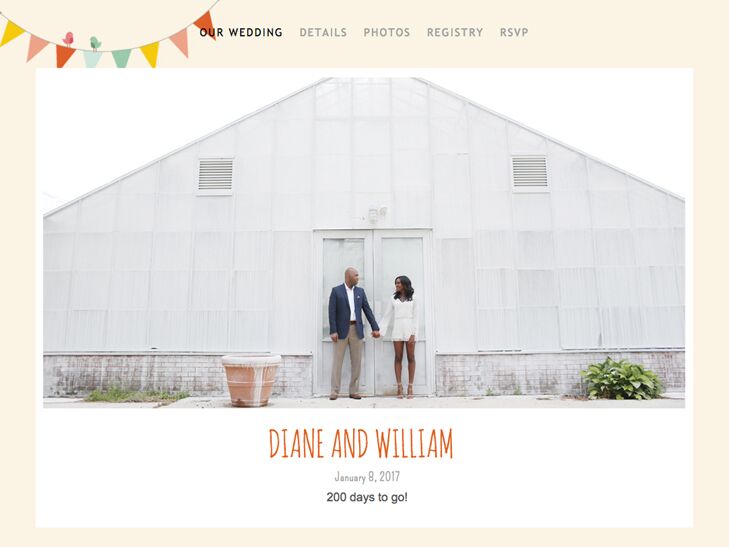 Helping your guests feel comfortable and welcome is one of the key ingredients to wedding success. With such a wide variety of unique wedding venues in California—from quaint vineyards to glittering cityscapes—a highly personalized, once-in-a-lifetime celebration can be yours. No matter where you choose to get married, giving your guests a great experience starts with creating your very own wedding website. It's a great way to keep everyone connected and informed.

Finding Your Way

Getting to and from California should be easy for out-of-towners. The San Francisco Bay area has three airports, Sacramento has one major airport and Los Angeles is home to one of the world's busiest airports. Some of the state's major airports, which provide the most convenient wedding travel options, include the following:
San Francisco International
Oakland International
Mineta San José Airport
Sacramento International Airport
Los Angeles International
Burbank Airport
Long Beach Airport
John Wayne Airport
San Diego Airport
The state is also home to numerous Interstates and State Highways. Scenic drives include the Pacific Coast Highway, Tioga Pass, Route 66, Highway 101, Highway 395 and Interstate 15 among others.
Around Town: What to Do and See in California
Sweeping views of the mighty Pacific Ocean, mountains for hiking and skiing, historic landmarks and hip, bustling cities ripe for exploring—California has it all. With its beautiful weather, lush natural surroundings and jaw-dropping attractions, this state has more attractions than you can ever hope to fit into your wedding weekend. In addition to beautiful beaches, the upscale shopping on Rodeo Drive in Beverly Hills, the studios and Walk of Fame in Los Angeles and L.A.'s famed Griffith Observatory, some of California's most popular attractions include:
Napa Valley wineries (one hour from Sacramento)
The Hollywood sign (Hollywood)
Disneyland (Anaheim)
Yosemite National Park (one hour from Fresno)
Golden Gate Bridge (San Francisco)
Death Valley (Inyo County)
Hearst Castle (San Simeon)
Big Sur Coastline (from Hearst Castle to Carmel)
Sequoia National Park (37 miles from Visalia)
Coronado Island (near San Diego)
Go Local: Foods and Favors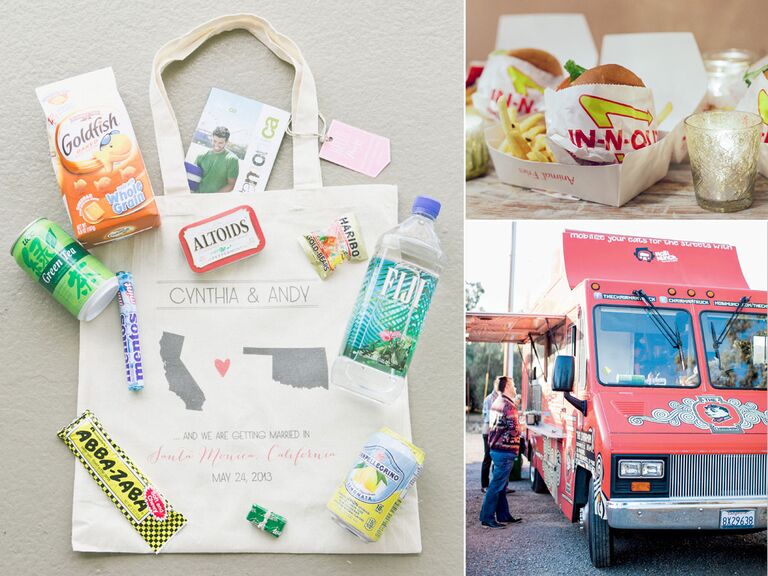 What do grapes, artichokes, seafood, citrus, avocados and sourdough bread have in common? They're all plentiful in California. And whether you crave Castroville's artichokes and Southern California's avocados or sweet Dungeness crabs from the coast, there's no denying that this state is a fresh foodie's favorite. Although sourdough bread has been rising since Ancient Egypt, the prevalence of this tasty baked good in San Francisco during the Gold Rush popularized the tangy bread in America in the 1800s.
In California, fresh is best. The state's health-conscious culture provides an abundance of fresh, locally sourced ingredients that you can integrate into your California wedding menu to give your guests a taste of everything that California has to offer. Mini-California pizzas, In-N-Out Burger sliders or steamed artichokes make a fun and flavorful addition to your hors d'oeuvres menu, while fresh local fruits or avocado mousse make sweet treats for the dessert table.
Do Your Guests a Favor: California-Inspired Take-Home Treats

Including the flavors of the region into your reception is a must, but you can also add a little California charm to your favor table. Whether you root for the UCLA Bruins or you love Napa wines, give your guests a little bit of California to take home with them. Check out The Knot Shop for personalized wedding favors, and here are a few ideas to get you started:
Local flavors, such as Poco Dolce chocolates and CC Made caramels from San Francisco or Holy Honey from Palm Springs
Anything with the state's unique shape—tote bags, favor tags, bottle openers, keychains and can coolers add casual pizzazz to your place settings or beach event
A California-themed wine stopper adds vintage appeal and local charm to any wine-themed reception or one taking place with a vineyard backdrop
California City Guides

From the awe-inspiring Golden Gate Bridge in San Francisco to the bustling streets of Los Angeles, California's most popular cities for weddings offer everything from beach and outdoor weddings to over-the-top theatrical affairs. No matter what your style and theme may be, California's common wedding cities, which include Los Angeles, San Diego, San Francisco, Santa Barbara and Palm Springs, have something to offer every couple. Start your search for the perfect wedding team at our vendor marketplace.
Los Angeles
The City of Angels is the second-largest city in the United States. Its moderate climate and eclectic assortment of neighborhoods let you pull off any kind of wedding you desire, from funky to traditional. Whether you're looking for your own Hollywood ending, a traditional event or an offbeat wedding, Los Angeles is well equipped to deliver. Some of the city's unique wedding venues include the Aquarium of the Pacific in Long Beach, Dodger Stadium, the Wild West backdrop of Paramount Ranch and the classic-but-cool styling of Vibiana, which offers dramatic backdrops and amazing acoustics.
For local Los Angeles vendors, check out:
San Diego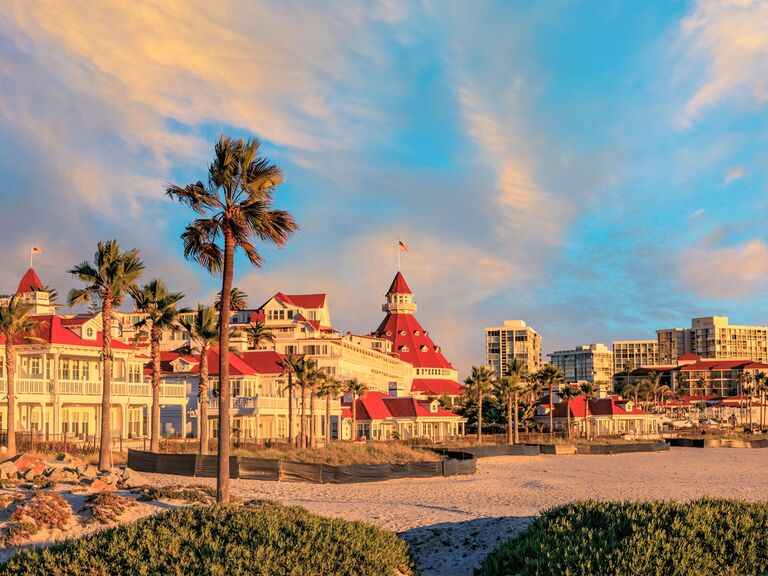 With its sunny skies and relaxing vibe, "America's Finest City" is a standout location for many couples considering a California wedding. This coastal city is near the Mexican border, about 120 miles south of Los Angeles. From the stunning outdoor views at La Jolla Shores Hotel to the lush greenery of Karl Strauss Brewing Company and Heritage County Park, these San Diego wedding venues have a lot to offer you and your guests.
This culturally diverse city specializes in fresh seafood, wood-fired pizzas, carne asada fries and street tacos. Serve up some local San Pasqual Valley, Julian or Rancho Bernardo wines to toast your wedding day alongside your fabulous food.
Find local San Diego wedding pros here:
San Francisco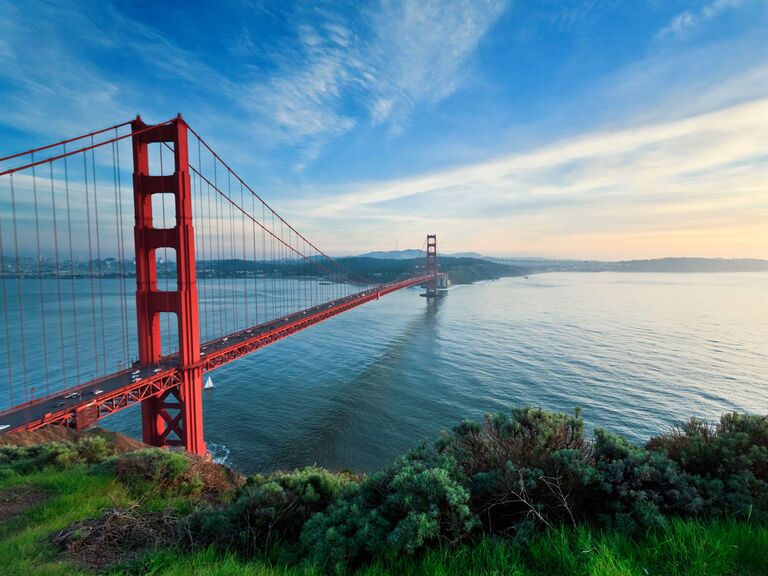 Don't leave your heart in San Francisco—just leave your single days behind you. This city of love offers verdant parks, lovely beaches and sweeping views of the Pacific Ocean. Although The City by the Bay is among the more expensive California cities for weddings, you can find some budget-friendly options here too. Some of the city's most gorgeous wedding venues include Dogpatch Wine Works, Hornblower Cruises and the Fort Mason Center located right next to Marina Green.
In addition to sourdough bread, Fog City's famous foods and drinks include Anchor Steam beer, apple fritters at Bob's Donut and Pastry Shop, Golden Gate Bakery's egg custard tarts and the light, airy Zanze's cheesecakes.
To get started sourcing local San Francisco pros, check out:
Santa Barbara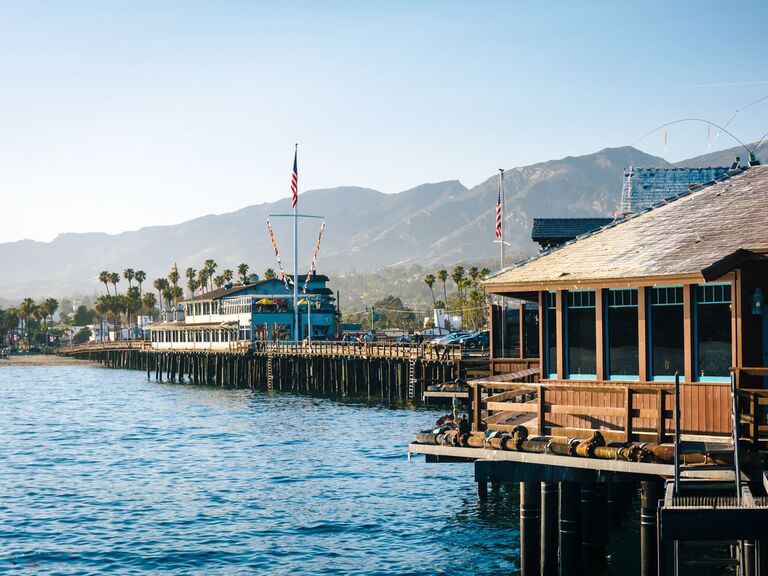 Nestled between the Santa Ynez Mountains and the Pacific Ocean, the city of Santa Barbara offers gorgeous natural backdrops for first look photos and weather so lovely that many locals call the city the "American Riviera." The city's expansive coastline and rich history make it a popular year-round destination.
Whether you're checking out the beaches and boats at the Santa Barbara Maritime Museum or the laid-back ambience at Gainey Vineyard and Ranch, the Santa Barbara area has its own unique charm while retaining its distinctly Californian vibe. Couples interested in a rustic wedding have several options, including Figueroa Mountain Farmhouse and Jalama Canon Ranch and Vineyard. Couples looking for a more traditional feel often hold their California outdoor wedding in historic locations such as Riviera Mansion or hotels such as Canary Hotel Santa Barbara.
For local Santa Barbara vendors, check out:
Palm Springs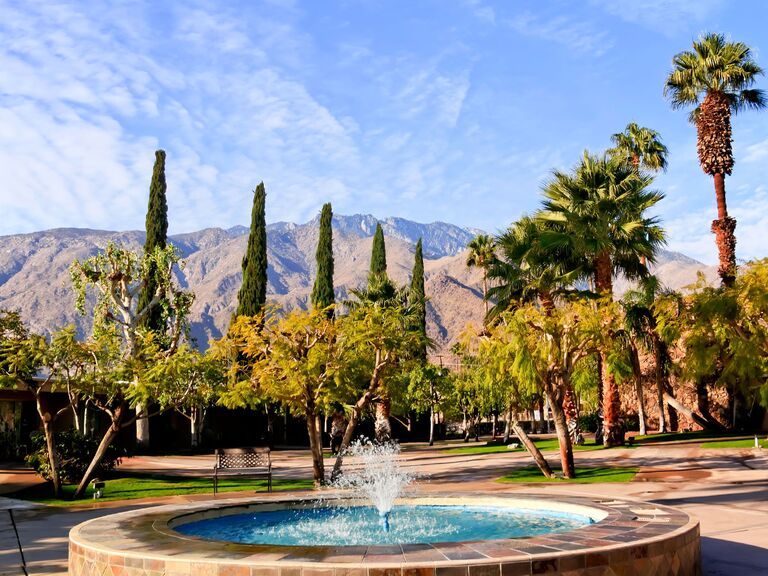 Getting married in "Hollywood's Playground" brings a chic vibe to the event. With its famous Walk of Stars and attractions that include celebrity tours, outdoor adventures and relaxing spa services, this sparkling desert oasis offers a multitude of things for you and your guests to do during your downtime.
It also provides a wealth of wedding opportunities, with world-renowned resorts and venues such as The O'Donnell House and the Willows Historic Inn, which provide breathtaking views. Add a fun twist to your celebration by holding it at the historic Merv Griffin Estate, or go upscale at the Miramonte Resort and Spa, Historic Cree Estate or Desert Willow Golf Resort.
To find local Palm Springs vendors, check out:
Check out more California wedding inspiration here.
Don't forget to download The Knot Wedding Planner app—it's a must-have for on-the-go planning.
From helping you decide on the ideal destination and season to getting married in California to providing you with all the legal ins and outs, you now know all the nitty gritty details about how to get married in California. Now it's time to start planning your dream wedding and you'll be all set to get hitched in the land of California in no time. 
Download for iOS: Wedding Planner App by The Knot

Download for Android: The Knot Wedding Planner