A Lake Tahoe Bachelorette Party City Guide to Plan Your Weekend
Take a nature-filled girls' getaway with tons of outdoor fun.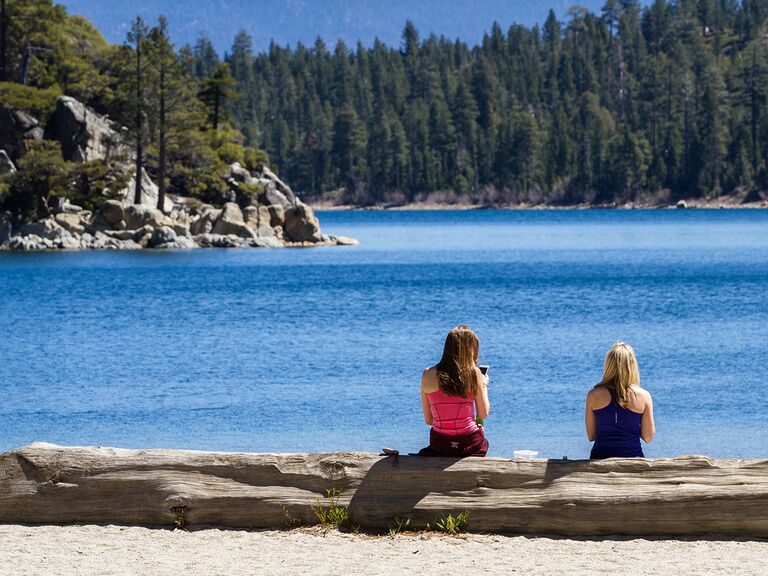 Wollertz/Shutterstock
We have included third party products to help you navigate and enjoy life's biggest moments. Purchases made through links on this page may earn us a commission.
A Lake Tahoe bachelorette party is an all-season getaway for the outdoorsy bride-to-be. The region offers skiing and snow tubing in the winter, and boating and hiking in the summer, plus, plenty to offer when it comes to dining and nightlife. So gather the crew for the ultimate Lake Tahoe bachelorette weekend—this is one you'll want to be Instagram-ready for.
Lake Tahoe Bachelorette Party Planning in this Article:
Lake Tahoe Bachelorette Party Ideas and Themes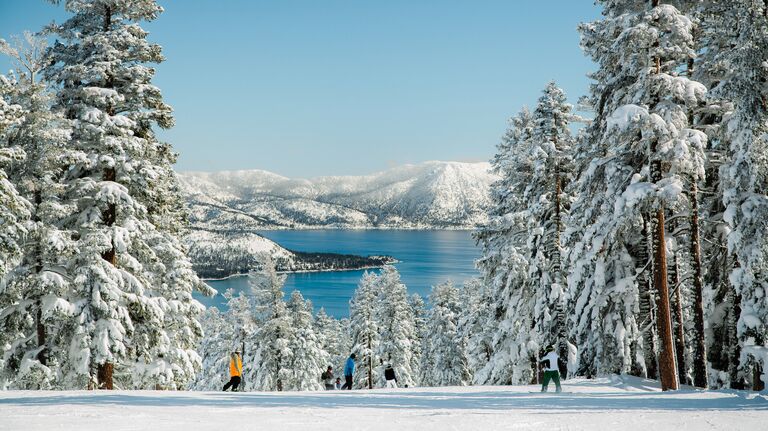 You won't be lacking for adventure when it comes to a Lake Tahoe bachelorette party. If you're there in the winter, you have three ski resorts to choose from, where you can find snowboarding and skiing, as well as other snow activities and apres ski spots. But for most, you'll probably be heading to Lake Tahoe for the summer fun, which includes everything from sailing charters and party boats to hiking, biking, horseback riding and more. Plus, there are tons of wine bars, distilleries, and restaurants to enjoy. And casinos where you can gamble the night away. Whatever you do: Don't forget to outfit your bride tribe in swag from The Knot Shop and consider booking a beachfront photoshoot through Flytographer.
For the Ski Bum
Head to Lake Tahoe in the winter to check out Heavenly, North Star, and Palisades Tahoe ski resorts. You'll also find fantastic apres ski spots, as well as snowmobiling, snow tubing, and more.
For Water Lovers
There's nothing better than some quality time on the lake, you just have to pick your poison: Choose between a sailing charter, party boat, or a sunset cruise on Lake Tahoe. You can also rent paddle boards and kayaks for your own guided fun.
For the Outdoor Adventurers
There's as much to do on land as there is to do on the lake in Tahoe. Choose between numerous hiking trails for a taste of nature, go on a horseback trail ride, or bring on the adrenaline rush with some mountain biking.
For the Laid-Back Gals
Not everything is go-go-go in Lake Tahoe, there are also plenty of opportunities to unwind here, too. Choose from a number of spas for a day of massages, facials, or manis and pedis. Or, opt for a wine or beer tasting at a number of wineries and breweries in the area. And if you want to let your creative side out, head to Atelier, where you can try your hand at painting, cross-stitch, and felting in a group class.
Lake Tahoe Bachelorette Party Itinerary and Activities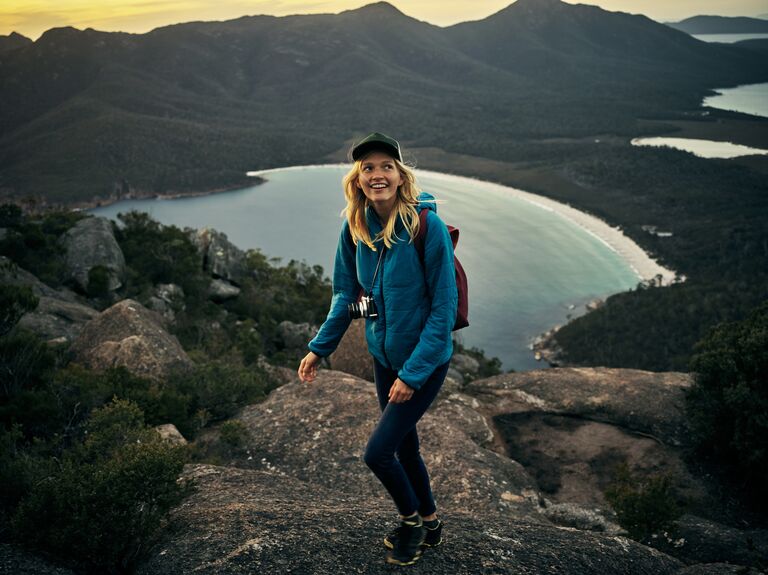 Spend three summer days on a Lake Tahoe bachelorette party enjoying sun, nature, lake, and land—plus so much more. Get it all into one trip with our ultimate three-day itinerary:
Day 1
Morning: Once you've settled into your rental or your hotel, start the weekend with a delicious breakfast at Fire Sign Cafe. Here you'll find breakfast favorites like French Toast, scrambles, pancakes, and waffles, as well as house specialities like crepes, huevos rancheros, and breakfast burritos.

Afternoon: Now that you're fueled up, spend your first day exploring the best that nature has to offer in Lake Tahoe. Consider a loop on the Stateline Lookout Trail, which is an easy stroll for outdoor enthusiasts of all levels. Along the way you'll get the best views of Lake Tahoe Basin, including the Lake Tahoe North Shore. Take time at the lookout spot to enjoy the views, take some pics, and enjoy your surroundings. After making your way back down the trail, head to Uncorked in Tahoe City or Squaw Valley for a wine tasting and light snacks to hold you over until dinner.

Evening: For dinner with a view, you'll want to dine at Christy Hill, which sits 100 feet above the shoreline of Lake Tahoe and offers a panoramic vista of the lake from every table. The menu offers small plates for sharing (think pan roasted gnocchi and smoked Mt. Lassen Trout) as well as entrees like shiitake mushroom "ramen" and bolognese. You can also order a family-style meal for $45 a person to try it all. If you're in town in the summer, head from your table to the Sandbar where you can enjoy drinks right by the lake. Close out your first night just a short hop away at The Pioneer Cocktail Club, where you'll find freshmade drinks and a cozy atmosphere right on the lake.
Day 2
Morning and Afternoon: Today is the day to get out on the lake. Grab a quick bite to eat at Rosie's Cafe, which has been a mainstay in Tahoe for more than 30 years with views of the lake. The restaurant, outfitted in 19th century ski paraphernalia and wood rafters, serves up quintessential breakfast options to get your started for the day. Then you're off to the main event: A party boat on the lake. Charter the 52-foot Lake Tahoe Party Boat for a day on the water that includes sunbathing, swimming, drinks, and snacks—plus live music for dancing. The boat will cruise you around the lake and to beach-front bars where you can hop on and off to enjoy the fun. (For a more relaxed day on the lake, you can charter a sailboat that includes a few hours on the lake, plust charcuterie and wine.)
Evening: Tonight, make the ride to South Lake Tahoe for a night to remember. First, you'll start with dinner at Jimmy's Restaurant, located at The Landing. This mountain-chic spot offers lake views and wood-fired, regional California cuisine including seafood, seasonal vegetables, and a locally sourced menu. You'll also find outdoor spots on their patio by fire pits. A few blocks away, make your way to the Hard Rock Hotel and Casino, where you can choose how to spend the rest of your night: Gamble on the casino floor, head to Vinyl for music headliners and after-hours drinks, or taste local brews at the Alpine Union Bar.
Day 3
Morning: Back on the North Shore, start your day with breakfast at Spindleshanks Restaurant, where your breakfast dish (don't miss the chilaquiles scrambled eggs) is served with prosecco mimosas and gorgeous nature views.

Afternoon: Today is all about relaxation. From breakfast, make your way to the Stillwater Spa & Salon, where you can pamper the bride and her tribe with massages, manicures, and other body treatments. Plus, take advantage of the Stillwater Spa's private beach to enjoy the beautiful weather and time by the lake. If you have time after your R&R, finish the afternoon with a tasting at Pleasant Valley Vineyards, not too far from the spa or at Glasses Wine Bar's patio downtown.

Evening: For your last dinner, head to Wolfdale's, a North Tahoe spot since 1978. This California-focused restaurant serves a variety of cocktails, beers, and wines, along with delicious options like gyoza chicken dumplings, ahi sashimi, seared scallops, fish and chips, and plenty more fresh seafood selections. Then pick a spot for your last night out between Fat Cat Bar and Grill with live music or the cozy patio at Bridgetender Tavern.
Lake Tahoe Bachelorette Scavenger Hunt
Turn your itinerary into a game with a Lake Tahoe scavenger hunt. Distribute a list of activities with points awarded for each completed task and ask participants to provide proof with pictures. Download an editable template to customize the list and include local attractions and sights. Don't forget to give the winner a prize such as a fun souvenir.
Places to Stay in Lake Tahoe for a Bachelorette Party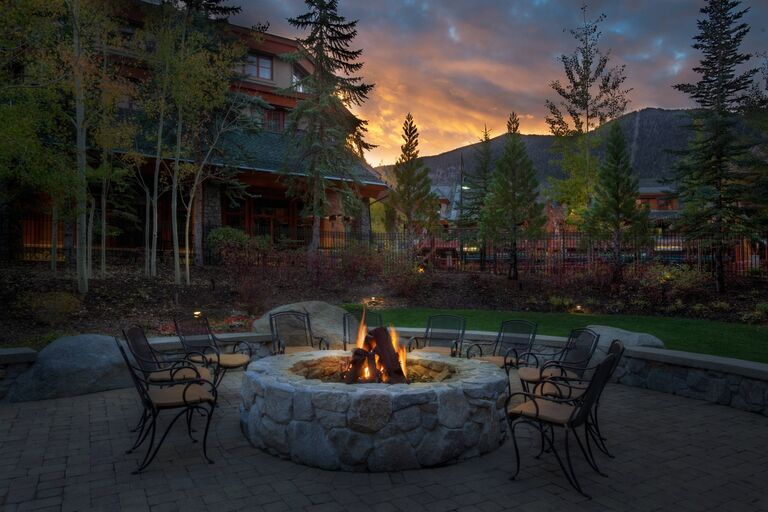 Lake Tahoe is pretty sprawling, so you'll be car-dependent for a lot of what you'll want to do (cabs and services are widely available). There are ton of hotels on the North Shore to choose from as a base station, and plenty of rentals with views for parties who prefer their own space.
Best Lake Tahoe Bachelorette Hotels
Marriott Grand Residence Club: For a luxury stay—and a spot in the bustling South Tahoe area, opt for a stay at the Marriott Grand Residence Club. While a budget-topper, the world-class resort is in the mountains of Heavenly Village, with residence rentals and top-notch amenities, plus a heated pool and hot tub.
Hyatt Regency Lake Tahoe: For a mid-level stay, the Hyatt Regency Lake Tahoe resort on the North Shore offers chic rooms with epic mountain views, the Stillwater Spa, and a casino. Plus other luxury amenities.
Mourelatos Lake Resort: Also on the North Shore, the Mourelatos Lake Resort is a great option for an affordable stay, with a private lake beach and options to book spacious suites with iconic views.
Pro tip: The Knot has partnered with Hotel Planner to help you secure the best group hotel rate and get free hotel advice from an expert travel planner.
Best Lake Tahoe Bachelorette Home Rentals
There are plenty of housing options for a Lake Tahoe bachelorette party, so check out TripAdvisor, VRBO, Airbnb, Expedia, and Hopper Homes.
For large groups (up to 10) looking for luxury lakeside accommodations, a house right on the lake is a great option for roomy digs and great views.
With affordability in mine, a North Shore home with 180-degrees of spectacular views is a great option with plenty of space and easy access to hiking and the beach.
A spacious home with a private deck and a hot tub is great for big groups (up to 14) and is in walking distance to the lake and other activities.
Lake Tahoe Bachelorette Party Nightlife
Lake Tahoe has some truly spectacular views to take in while sipping an ice cold beer, having dinner, or listening to live music. Here are a few of our favorite locations to enjoy an evening out in Lake Tahoe.
Best Lake Tahoe Bachelorette Restaurants
Beacon Bar & Grill: Right on the lake, Beacon Bar & Grill is a pub offering a casual setting in Old Tahoe, and outdoor patio seating. Try one of their famous Rum Runner cocktails while chowing down on dinner before making your way to the bars later in the night.
Cafe Fiore: For Italian food in a comforting environment, Cafe Fiore has a variety of classic dishes. Their Eggplant Crêpes are quite popular, especially with a glass of wine, and their Scampi with Tiger Prawns loaded with fragrant sauteed garlic, veggies, and butter on Cappellini is another great option.
Riva Grill On the Lake: Riva Grill On the Lake has a unique atmosphere and plenty of fresh seafood dishes like the Lobster Deviled Eggs with scallions, white truffle oil, and Meyer lemon aioli, the Dungeness Crab Sandwich on grilled sourdough bread with cheddar and lettuce, or the Seared Diver Scallops.
Best Lake Tahoe Bachelorette Party Bars
Tahoe Cocktail Corner: If you're a cocktail lover, Tahoe Cocktail Corner is the spot to start the night, indulging in a few of their signature drinks.Try the Cucumber Splash with cucumber, mint, lime, Gray Whale Gin, St. Germain, and a little ginger beer or the Salty Racoon with Reposado Tequila, lemon juice, rosemary oleo syrup, fresh smoked rosemary, and a salt rim. A round of Aperol Spritz with fresh mint is another great way to kick off the night.
McP's Taphouse Grill: The classic Irish pub, McP's Taphouse Grill, is the ideal place to enjoy whisky or a round of pints. For cocktails, the pub has plenty of spiked hot drinks or savory options like a spicy, well-seasoned bloody mary for the morning after a fun night out.
South Lake Brewing Company: If the bride is into beer, South Lake Brewing Company has craft beers made in house. The Snow Pils is a light pilsner that's always a solid option, and the Sierra Oro is a crisp, refreshing Mexican Lager. There are a bunch of great choices on tap at South Lake.
Expert Lake Tahoe Travel Tips
For flights from NYC, there are plenty of options with JetBlue, Alaska, Spirit, United, American, and more and for nonstop 1 ½ hour flights from LA, there are options with airlines like United, Delta, Southwest, Spirit, and JetBlue. The best chance of great weather in Lake Tahoe, while avoiding heavy crowds, is in the Spring and the Fall. With Lake Tahoe being quite large with limited public transportation, renting a car is the best option for getting around.