The Ultimate Las Vegas Honeymoon
For excitement and romance, book a Las Vegas honeymoon.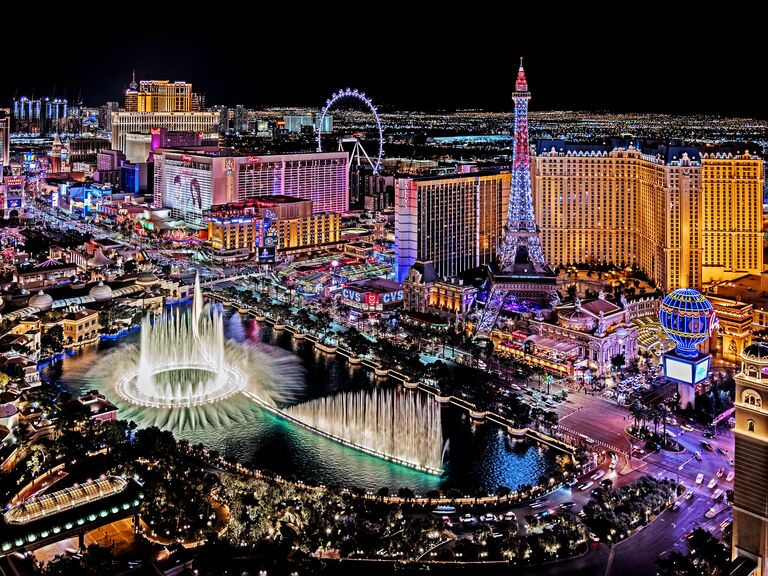 Randy Andy/Shutterstock
We have included third party products to help you navigate and enjoy life's biggest moments. Purchases made through links on this page may earn us a commission.
From high-end restaurants to casinos, pool clubs and boutiques, Vegas offers nonstop entertainment and stimulation. A honeymoon in Sin City means an action- and pleasure-packed romantic getaway, heavy on luxury. Read on to learn how to experience the best of Vegas on your honeymoon.
Is Las Vegas Good for a Honeymoon?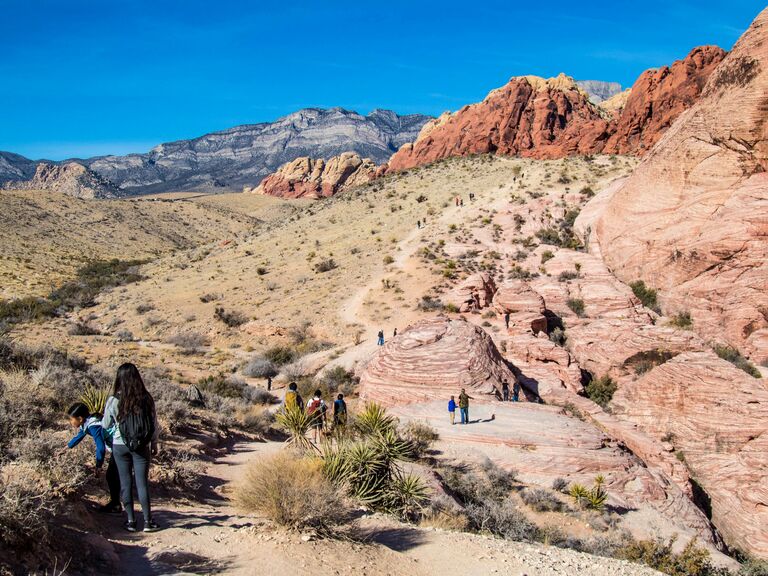 For couples craving a stimulating trip that's all about glitz and glamour, Las Vegas is the ultimate honeymoon destination. However, it offers much more than The Strip, the famed stretch of Las Vegas Boulevard known for its hotels and casinos. In the self-proclaimed Entertainment Capital of the World, you can drink and dance at daytime pool parties, dine at celebrity chef-owned restaurants, shop at high-end boutiques, hike, and go to the circus—all in one day. In addition to never running out of exciting activities, you'll get there easily. In fact, most major airports offer direct flights to Vegas, says Amy Siegal, a New York City-based travel advisor with Valerie Wilson Travel.
Pros of a Las Vegas Honeymoon
Honeymoons in Las Vegas are anything but boring. "There's so much to see and do that one trip is not enough," says Tammy O'Hara, CTA corporate and leisure travel experience creator of Million Miles Travel Agency & Host Agency. "With cultural activities, museums and adventure, Las Vegas is much more than gambling and partying."
Along with the usual partying antics, outdoor daytime activities (such as hiking, kayaking, horseback riding and ATV tours) are also options for couples. Comfort is consistent throughout thanks to a myriad of luxurious hotels and acclaimed restaurants.
Cons of a Las Vegas Honeymoon
Since it offers so much to do, Las Vegas can become very expensive quickly. O'Hara suggests pre-booking activities to manage your budget. The sheer volume of options can also challenge couples who don't share interests and aren't aligned about bedtimes, says Siegal. Since Las Vegas gets really hot during the day, especially from late April through September, it might not be ideal for anyone heat-sensitive, O'Hara adds.
The Best Times of Year to Go on a Las Vegas Honeymoon
Late March through mid-April and October are the ideal months to visit, says O'Hara, since resort pools will still be open, but the weather is much cooler during the day. In the summer months, especially August, the area is quite hot, warns Siegal. That said, you truly can go all four seasons, since you'll be indoors for the most part anyway.
Things to Do During a Las Vegas Honeymoon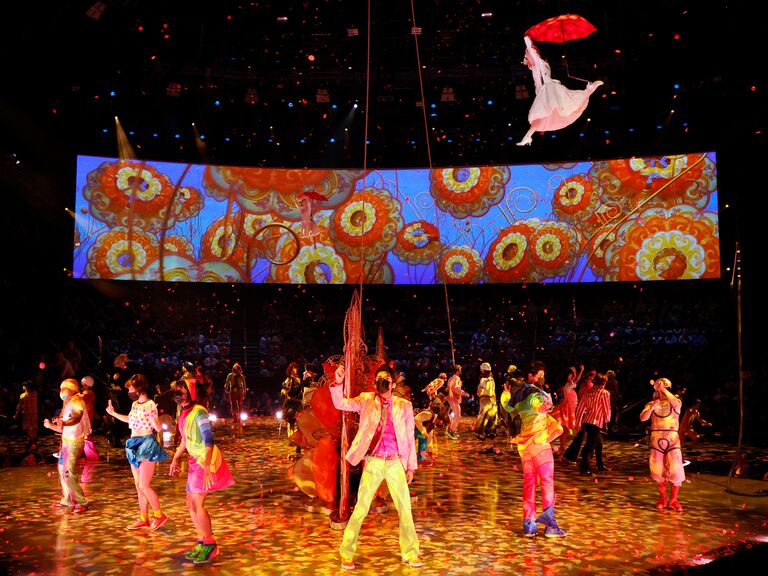 Eat at Acclaimed Restaurants
"Vegas is great for foodies," says Siegal, who points out that many famous American chefs have opened outposts near each other in Vegas. "You can dine at the restaurant of a famous chef from Chicago one night, another from LA the next night, and one from New York City the next." One such experience she recommends is dinner at E By Jose Andres in the Cosmopolitan Hotel, which includes 20 "small, creative, delicious courses." If steak is your thing, don't miss the real Kobe beef at SW Steakhouse at Wynn Las Vegas. Siegal also suggests booking a foodie tour offering guidance on where to eat while in town.
Soak Up Culture
Art-lovers can check out the city's 18-block downtown Arts District via a tour. North of the Arts District, the growing Cultural Corridor of downtown Las Vegas includes The Neon Museum, which traces the history of neon signs in the city. Along with traditional museums, history buffs will enjoy The Underground Speakeasy and Distillery at The Mob Museum downtown. Car enthusiasts can see more than 30 vintage Shelby vehicles at the 15,000-square-foot Shelby Heritage Center.
See Vegas From the Sky
Naturally, thrills abound in Vegas. For panoramic views of the city, zipline on SlotZilla downtown, buy tickets to scale the Eiffel Tower at Caesar's Paris Las Vegas, or take one of the local helicopter tours, such as over The Strip. For an elevated experience, book a hot air balloon ride.
Have an Outdoor Adventure
For the most balanced honeymoon, Siegal suggests taking a day trip and hiking at Red Rock Canyon, Lake Mead or Death Valley National Park. A visit to the Hoover Dam is also within a short distance of the glittering Las Vegas Strip. You can also book an ATV tour or schedule a kayak tour on the Colorado River (don't miss the famous Emerald Cave) or go horseback riding in Red Rock Canyon. If you'd rather stay downtown, take a romantic gondola ride down the Grand Canal at The Venetian Resort.
Watch a Show
From intimate shows to big-name acts and live music to comedy, all types of entertainment abound. Siegal particularly recommends Cirque du Soleil, which offers multiple shows, including The Beatles LOVE, Michael Jackson ONE, Mystere, and O. For a round-up of offerings, check out the entertainment options at Las Vegas hotels, including The Luxor Las Vegas, Caesars Palace, MGM Grand Las Vegas, Mandalay Bay Resort and Casino Las Vegas and more.
Party All Over
For those so inclined, you can party day and night. Begin with a daytime pool party at one of many day clubs or pool clubs in Vegas (to feel like a high roller, reserve a cabana). Although each venue is different, the must-haves include good music, cool pools and delicious cocktails. Then, repeat the revelry at night at the city's many nightclubs, bars, lounges, and strip clubs—from classy to electrifying.
Best Hotels and Resorts for a Las Vegas Honeymoon
This classic and luxurious Las Vegas resort and casino in the center of the Las Vegas Strip boasts rooms with private terraces, three pools, restaurants from several celebrity chefs, boutiques, and a spa and hammam. (O'Hara mentions it's a favorite place to stay.) Get a room with a view of the Fountains of Bellagio at the Italian-inspired Bellagio Hotel next door. Try the hotel's Wraparound Terrace Suite, the ultimate honeymoon suite, featuring a king-size bed and a wet bar.
If you'd rather not stay on The Strip, book a stay at this laid-back Mediterranean-inspired hotel. The property includes pools, gardens, bars, lounges and a casino (of course).
For luxury and convenience, stay at one of these sister hotels-resorts-casinos located on The Strip. With pools, boutiques, casinos, nightclubs, restaurants and spas, the luxury establishments are destinations unto themselves. Honeymooners might never leave, says Siegal.
For couples who'd rather avoid the casino scene, this sleek, modern spot is ideal, says Siegal. The spacious hotel rooms include kitchenettes, meaning honeymooners can have coffee and breakfast in their rooms. For convenience, the hotel is connected by an interior walkway to the Bellagio and an outdoor walkway to Aria.
What to Pack for a Las Vegas Honeymoon
Pack fashion-forward attire (stilettos, trendy jumpsuits and dresses, button-down shirts) if you plan to explore the nightlife, recommends O'Hara. You'll also need comfortable walking shoes, says Siegal, since The Strip is vast and the hotels large. "Even going from the hotel entrance to a restaurant inside could be a 10-minute walk," she explains. If you plan to visit the Grand Canyon (the Western rim is about a two-hour drive from The Strip) or Red Rock Canyon, tote a sweater, since those areas get much cooler than the city. For hot days, you'll definitely need sunscreen, hats, sunglasses and lightweight clothing.