The Definitive List of the Most Romantic Restaurants in Las Vegas for Every Occasion
Viva Las Vegas… and viva romance.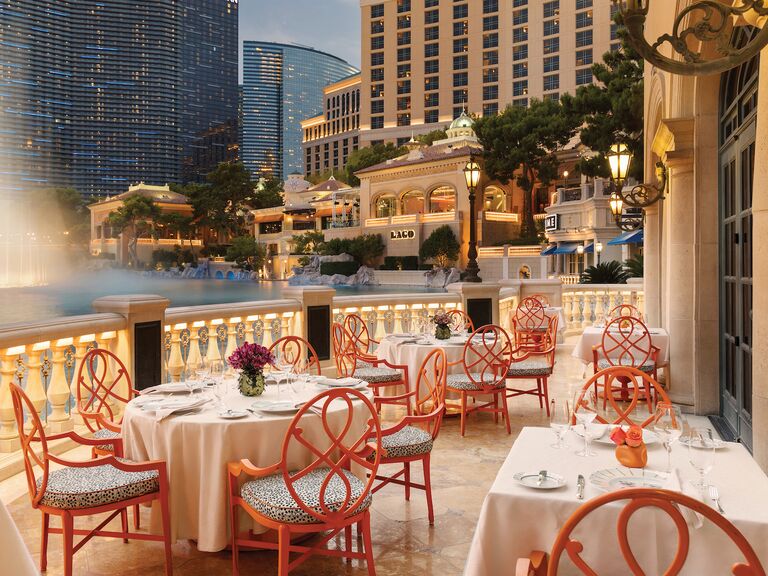 Photo: MGM Resorts
We have included third party products to help you navigate and enjoy life's biggest moments. Purchases made through links on this page may earn us a commission.
Las Vegas has evolved over time, going from the hotspot for celebrities in the 1960s to to an entertainment mecca in the 1990s to the gourmet dining destination it is today. With more than 4,000 restaurants and hundreds owned by celebrity chefs, Las Vegas has proved its food scene is just as impressive as its pool parties, nightlife and casino draws. And the most romantic restaurants in Las Vegas take advantage of the city's over-the-top atmosphere, with some of the most impressive theming, service and food presentations you've ever seen.
Whether you're seeking the most romantic Valentine's Day restaurant in Las Vegas or an affordable and cozy date night spot, you're bound to find it in the city. And if you like restaurants that offer a comprehensive dining experience, you're in luck. Many of the best special occasion restaurants in Las Vegas offer curated tasting and prix-fixe menus, whether you're after Italian pastas, Spanish tapas, French haute cuisine or authentic Japanese sushi.
The Knot's Top Picks for Romantic Restaurants in Las Vegas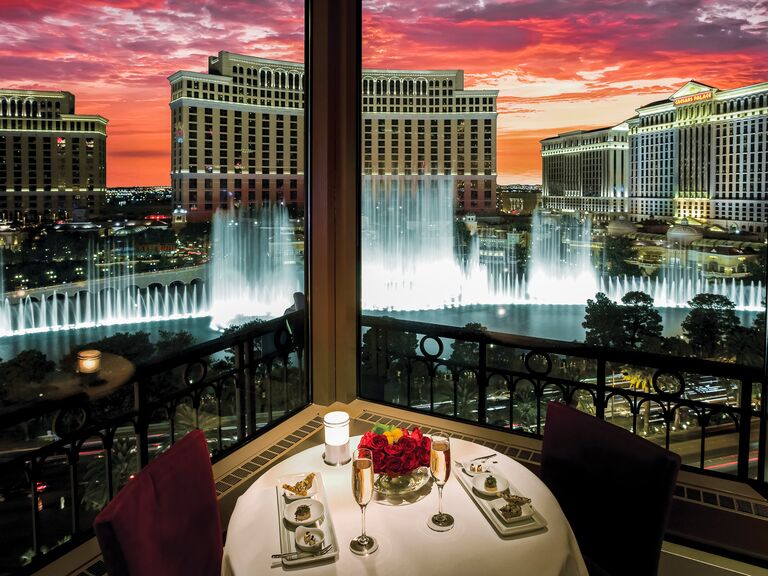 It's no secret that romantic restaurants in Las Vegas aren't exactly inexpensive—but you might be surprised by the variety you can find in terms of pricing and atmosphere, especially if you venture away from the Las Vegas Strip. Several of the restaurants below also have lunch menus, happy hours and cozy breakfast brunch offerings, in case you want to plan a romantic date on a weekend—and going at a time other than dinner can make it easier to snag a reservation, too.
The Most Romantic Restaurant in Las Vegas: Eiffel Tower Restaurant
Favorite Affordable Date Night Restaurant in Las Vegas: Firefly Tapas Kitchen and Bar
Romantic Restaurant in Las Vegas with the Best View: VooDoo Steakhouse
Best Romantic Restaurant Off The Strip: Hugos Cellar
Cozy Valentine's Day Restaurant: Raku
Read on for our complete list of the 17 most romantic restaurants in Las Vegas.
Herbs and Rye, Las Vegas Strip
Herbs and Rye is considered by many to be the best steakhouse in Las Vegas. The extensive cocktail menu is organized by historical eras, featuring drinks from the pre-Prohibition era, post-Prohibition, mid-century and beyond. The restaurant's interior exudes a classic and elegant atmosphere, with dim lighting, leather banquettes and a vintage vibe that feels like glamorous New York in the 1920s. This ambiance, combined with impeccable service, makes it an excellent anniversary or Valentine's Day restaurant in Las Vegas.
3713 W Sahara Ave, Las Vegas, NV 89102
NoMad Library, Las Vegas Strip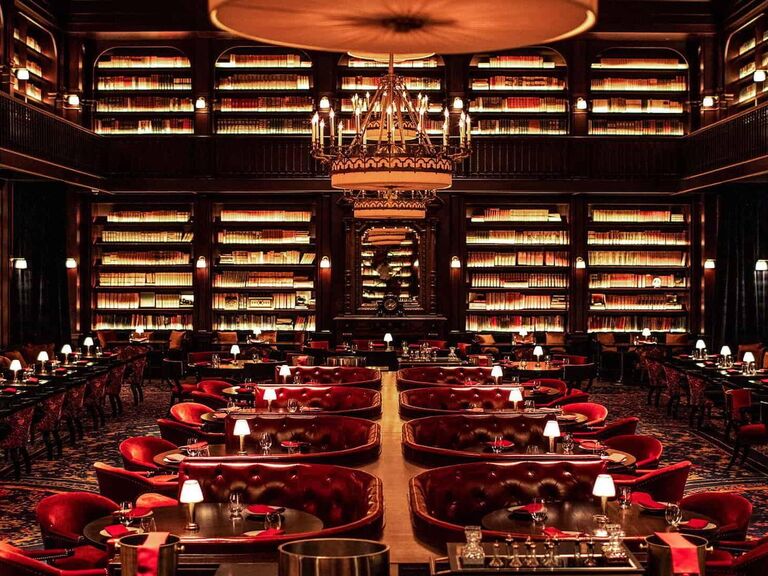 NoMad Library is a unique dining experience located within NoMad Las Vegas at the Park MGM. This intimate Las Vegas restaurant is known for its distinctive ambiance—namely the fact that it's reminiscent of an old-fashioned library in a sprawling estate. It's furnished with floor-to-ceiling bookshelves filled with vintage books, creating an elegant and warm atmosphere. What makes it even better for a date night in Las Vegas is that all the kitchen's signature specials, as well as most of the desserts, are sized for two.
3772 S Las Vegas Blvd, Las Vegas, NV 89109
Picasso, Las Vegas Strip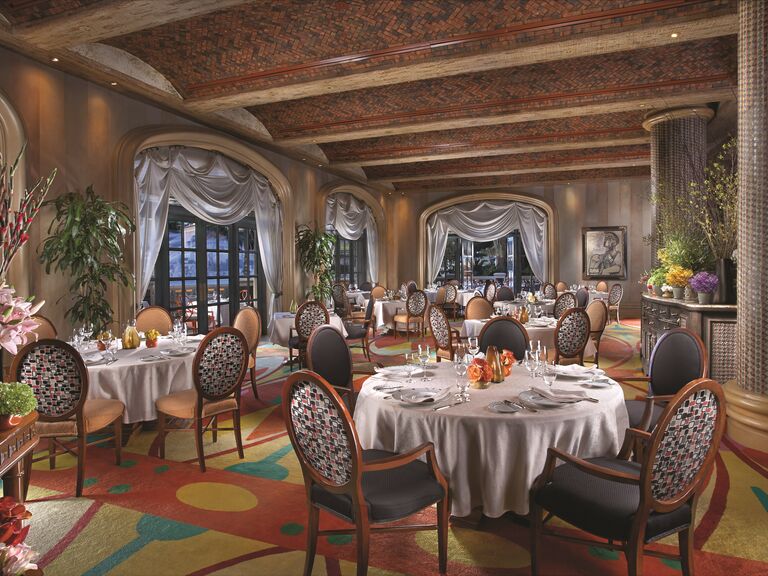 While Picasso doesn't have the sky-high views offered from loftier restaurants, it does have potentially the best views of any romantic restaurant in Las Vegas that isn't atop a hotel. The dining room of the two-Michelin-starred restaurant feels a bit like dining in a formal Spanish estate, with colorful ceramics and art from the cubist master gracing the walls. For amazing views, reserve a seat on the 16-table patio, which has unobstructed vistas of the famous Bellagio fountains. Choose from a chef's dégustation menu, or opt for the prix-fixe courses instead.
Bellagio Hotel & Casino, 3600 S Las Vegas Blvd, Las Vegas, NV 89109
La Cave, Las Vegas Strip
La Cave has multiple dining experiences, ranging from the flower-covered "garden lounge" with the feel of a Parisian garden party to the rich red bar area next to the restaurant's wine cave. The menu is focused on small, shareable plates and a lengthy wine menu, making it an ideal date night restaurant in Las Vegas. Selections start at just $11, so it's a great low-to-mid-priced selection for a light dinner and drinks.
3131 S Las Vegas Blvd, Las Vegas, NV 89109
Sparrow and Wolf, Southwest Las Vegas
Sparrow and Wolf is one of the most romantic restaurants in Las Vegas off the Strip, with a menu focused on American cuisine over the last 200 years. Some of the restaurant's cooking methods date back to the 18th century, making it a great date night restaurant if you want something a little unexpected. It also offers a tasting menu so you and your partner can experience something new together, ranging from wood-fired harissa octopus to chocolate and espresso flan.
4480 Spring Mountain Rd #100, Las Vegas, NV 89102
Sushisamba Las Vegas, Las Vegas Strip
Sushisamba isn't just one of the most romantic restaurants in Las Vegas—it's downright sexy. The fusion restaurant brilliantly combines Japanese, Brazilian and Peruvian culinary influences, with an interior decor as eclectic as the menu. Thanks to a reliance on design elements like swoops, curves and rounded corners (plus a faux maple tree ceiling), the restaurant feels almost alive; it'd be nearly impossible to have a dull moment here. Go to Sushisamba with an open mind, and you'll experience some of the best international food the city has to offer.
3327 S Las Vegas Blvd, Las Vegas, NV 89109
VooDoo Steakhouse, Southwest Las Vegas
Some of the best views in Las Vegas are found from inside VooDoo Steakhouse located in the Rio Las Vegas, just off the Strip. The restaurant exudes old-school romance, with candlelit tables and floor-to-ceiling windows that afford excellent views of the Las Vegas Strip from the restaurant's 50th floor vantage point. The menu focuses on steaks and entrees with a cajun twist. There's also a multi-course chef's menu and an intriguing, cajun-themed cocktail menu, with options like the Pappa Midnight with smoke-infusion and reposado, or the Mysterious Mango with sweet heat and mango puree.
3700 W Flamingo Rd, Las Vegas, NV 89103
Raku, Southwest Las Vegas
Whatever you do, don't let Raku's strip mall facade fool you. With an intimate interior space, a chef nominated many times over for prestigious restaurant awards, and even an endorsement from the late Anthony Bourdain, Raku is the best cozy restaurant for Valentine's Day in Las Vegas. And it's not just because of the decor akin to a Japanese home. The menu includes two high-end omakase (chef's choice) tasting menus, making what may seem like a nondescript eatery a memorable discovery experience for two.
5030 Spring Mountain Rd, Las Vegas, NV 89146
Restaurant Guy Savoy, Las Vegas Strip
For a truly five-star romantic restaurant in Las Vegas, book a table at Restaurant Guy Savoy. The celebrity chef-owned restaurant offers exceptional French cuisine and is one of the most highly rated restaurants on the Strip. Two offerings make it especially perfect for date night: it's home to the intimate caviar room (five-course tasting menus are available) and the country's only Krug Champagne room, where a 10-course tasting menu is offered at the private chef's table.
3570 Las Vegas Blvd S, Las Vegas, NV 89109
Hugo's Cellar, Downtown Las Vegas
Ask anyone what the most romantic restaurant in Las Vegas is on or off the Strip, and many people will give you the same answer: Hugo's Cellar. It's old-school Las Vegas luxury, with deep reds, exposed brick and candlelit tables. Service is impeccable, the sommeliers are extremely knowledgeable, and many of the most popular dishes are prepared tableside. Hugo's opened in 1969 and is still one of the highest-rated steakhouses in the city. It's a perfect Valentine's Day or special occasion restaurant in Las Vegas.
202 Fremont Street Experience, Las Vegas, NV 89101
Delilah, Las Vegas Strip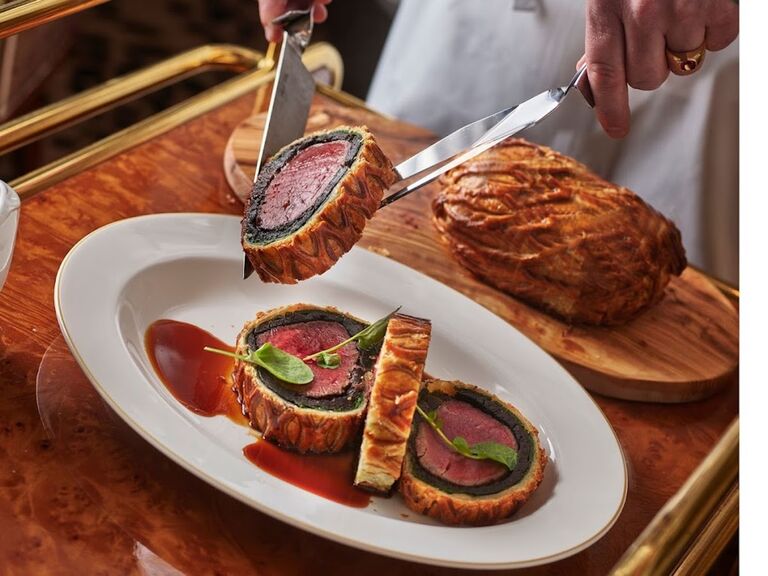 Delilah isn't just one of the most romantic restaurants in Las Vegas—it's one of the prettiest, too. With a glam and gold decor scheme inspired by the Vegas of the 1950s, it's the perfect place for a fun date night with a bit of a lounge-type atmosphere. It also has an excellent late-night menu. For an extra-special date night, book a table on Sunday to take advantage of the restaurant's elegant Sunday night jazz performances.
3131 Las Vegas Blvd S, Las Vegas, NV 89109
Firefly Tapas Kitchen and Bar, University District
There are two Firefly Tapas locations in Las Vegas, and while both are great, the original outpost is probably the more romantic of the two. Firefly is a fun date night restaurant, serving up five-star Spanish tapas and small plates at two-star prices—don't miss the manchego mac and cheese and rosemary shrimp skewers. For a cozy vibe, try to snag one of the two-person tables in the corner of the green room, surrounded by velvet chairs and gold chandeliers. Firefly also hosts Latin Nights every Friday, making for a perfect date night activity (and an excuse to get extra close).
335 Hughes Center Dr, Las Vegas, NV 89169
Restaurant Joël Robuchon, Las Vegas Strip
Reminiscent of a French manor house and featuring truly decadent cuisine, Restaurant Joël Robuchon isn't for penny pinchers—but those willing to splurge will likely find it worth the output. With rich, deep colors, an intimate seat count of only around 50 guests, and multiple tasting menus (including a 12-course vegetarian or traditional French dégustation menu), it's an incredibly romantic place for a special occasion or anniversary meal in Las Vegas. Expect five-star service from start to finish.
MGM Grand, 3799 S Las Vegas Blvd
Le Cirque, Las Vegas Strip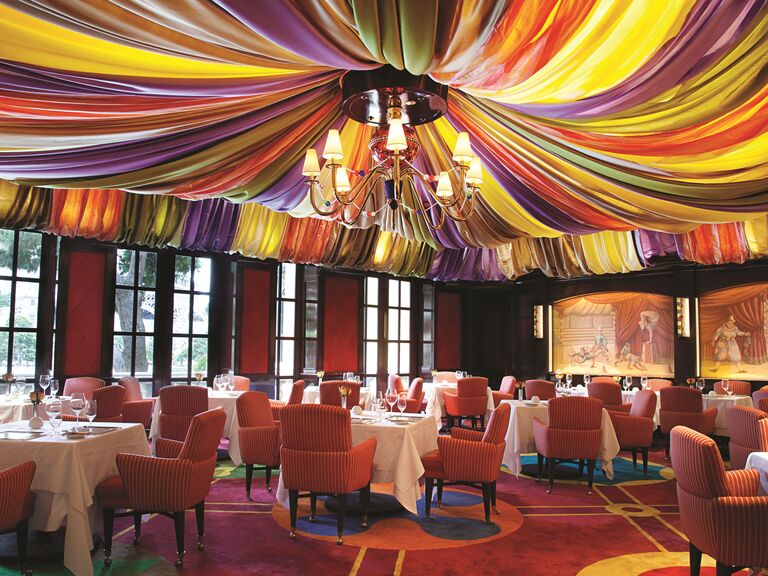 Le Cirque at the Bellagio is circus-themed, but not in the modern sense of a big-top circus. It draws inspiration from the elegant, high-class theatrics of 19th century Paris, bringing magic to the menu as every dish is a work of art. Surrounded by opulent decor and richly colorful furniture, you'll taste your way through one of several multi-course menus with dishes like scallops with black truffle and sauce Périgourdine or rabbit with crispy spätzel and a Dijon riesling sauce. If the optional wine pairings don't pique your interest, there's a 900-bottle menu to choose from instead.
3600 S Las Vegas Blvd, Las Vegas, NV 89109
Eiffel Tower Restaurant, Las Vegas Strip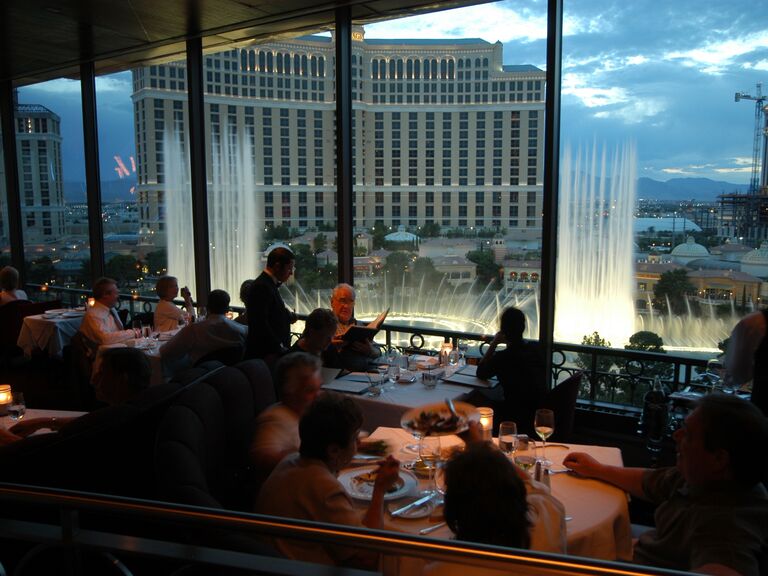 The Eiffel Tower Restaurant is a perennial date night favorite and will forever be one of the best romantic restaurants in Las Vegas. Its pièce de résistance, romance-wise, is undoubtedly the breathtaking views it offers from 100 feet above the vibrant Las Vegas Strip. (Request a window table for views of the Bellagio fountains.) Inside, the restaurant is all about Parisian elegance, with crystal chandeliers, soft lighting and intimate tables for two. The menu is focused on elevated French cuisine, led by an award-winning chef, and complemented by an extensive menu of European wines.
3655 S Las Vegas Blvd, Las Vegas, NV 89109
Sinatra, Las Vegas Strip
Sinatra has two strong selling points that make it one of the best romantic restaurants in Las Vegas. One, it's chic and decadent, akin to the kind of luxury suites Old Blue Eyes himself probably stayed in before taking the stage. And second, the menu focuses on dishes beloved by Frank Sinatra himself, making it a fun date spot for any fans of the Rat Pack crooner. The current Michelin-rated chef even used to cook for Sinatra in New York. The menu of classic Italian favorites is served indoors or out, and be sure to dress to impress—the guests here are as chic as can be.
3131 Las Vegas Blvd S, Las Vegas, NV 89109
Rivea, Las Vegas Strip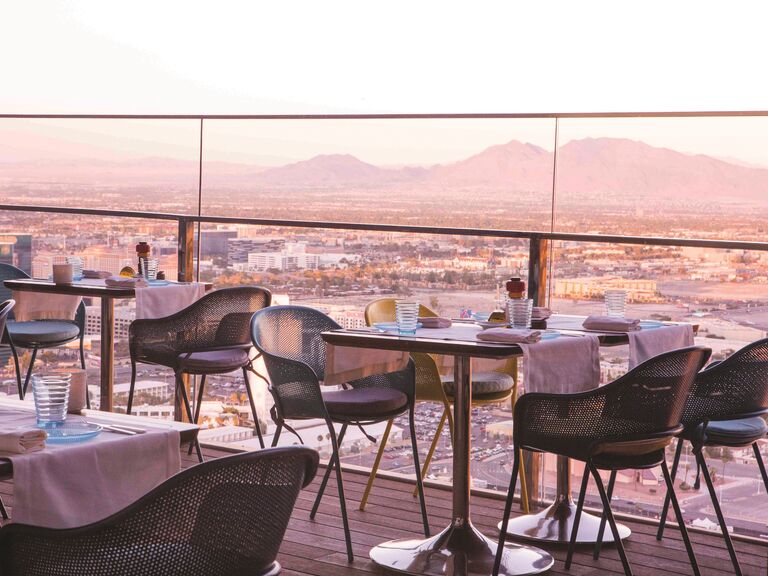 Rivea is a fresh and modern fine-dining restaurant in Las Vegas with gorgeous views of the sprawling Mojave Desert. Details like hanging white bubble lights and large, unadorned windows make it feel very distinct from Vegas' more moody and lavish restaurants, meaning it's a great choice if you want a slightly different date night restaurant. The menu is highly rated, with a focus on Mediterranean and French Riviera cuisine. There's also a small but mighty cocktail menu—you can't make a bad choice here.
3940 S Las Vegas Blvd, Las Vegas, NV 89119