The Best Linen Suits and Where to Buy Them
When it comes to spring and summer weddings, linen suits are the look of the season! Here's everything you need to know about how to best wear it to your wedding.
We have included third party products to help you navigate and enjoy life's biggest moments. Purchases made through links on this page may earn us a commission.
Spring and summer mark the most sacred months of the year in suiting: Linen Season. There's no fabric you'll feel flyer suiting up in during the hotter months of the year. Linen is breathable and helps you stay cool during hot days, sure, but it also looks incredible. It provides a lightweight, unstructured vibe to a suit that will have you looking like you belong in the South of France or the Amalfi Coast, even if you're just wearing it to a wedding in your hometown. It's great for grooms and guests alike, and totally on trend for some of our favorite suiting vibes in 2023. If you don't already have one lined up for your summer wedding, you've come to the right place. Read on for everything you need to know about where to buy linen suits and how to style them.
In this article:
Best Linen Suits for Weddings
A linen suit is a killer look for a wedding no matter what role you're playing. Maybe you're the one reciting your vows or maybe you're just trying to look your best for a loved one's special day. In either case, a linen suit will have you looking your best during spring and summer weddings.
The Best Linen Suit for Turning Heads: Banana Republic Nolan Linen Suit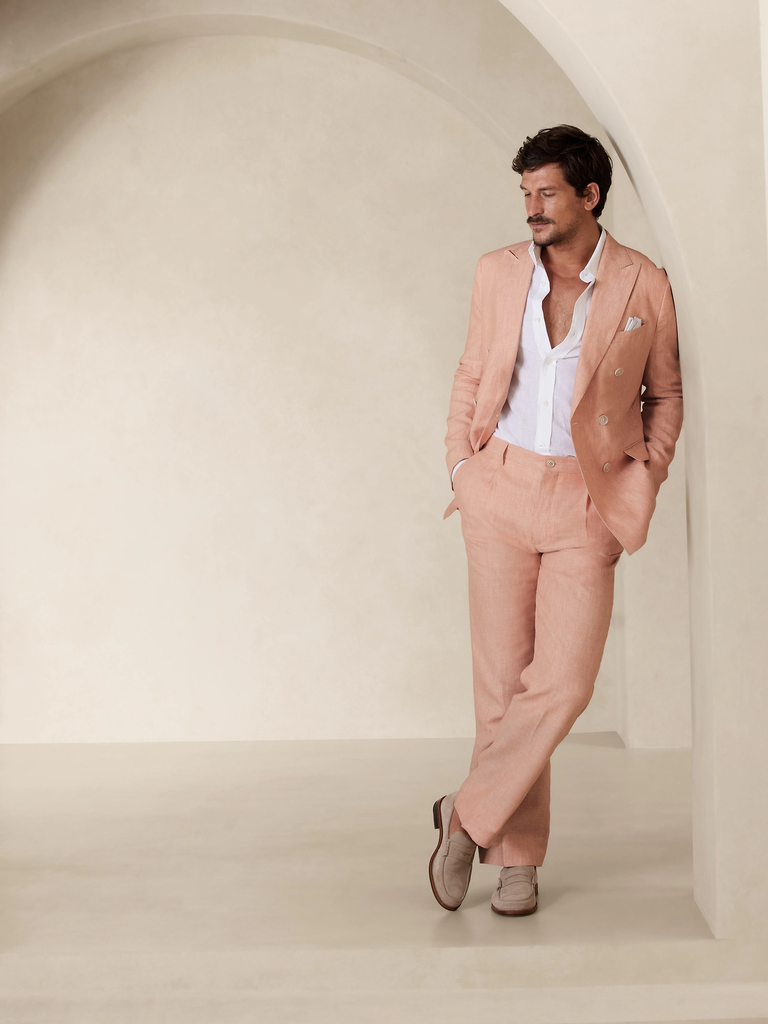 As long as you aren't afraid of a little pink, Banana Republic's Nolan will have you looking and feeling your absolute best at a spring or summer wedding. It's got a flowy cut and a soft pink color that's sure to make you stand out.
The Best Linen Suit for Beach Weddings: Suitsupply Sand Havana Suit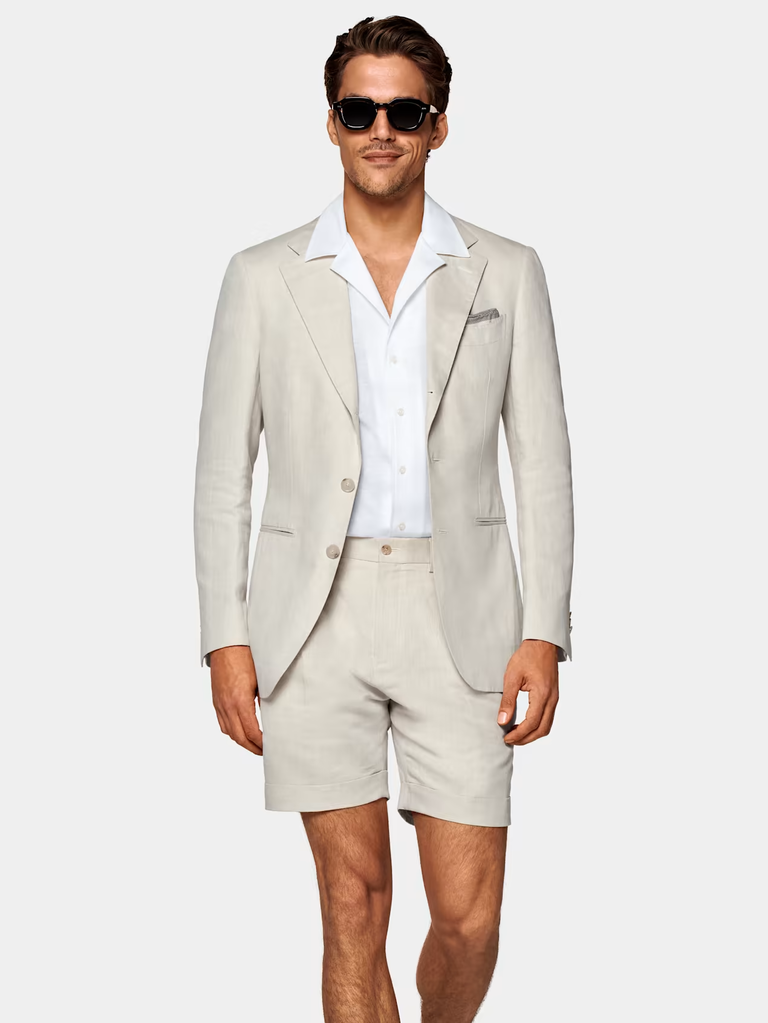 A suit with shorts? If there's any time to try it, it's the hottest months of the year at a beach wedding, and if you're gonna do it you need to make sure both the jacket and shorts are made from a breathable linen. On that front, Suitsupply has you covered.
The Most Versatile Linen Suit: Percival Linen Suit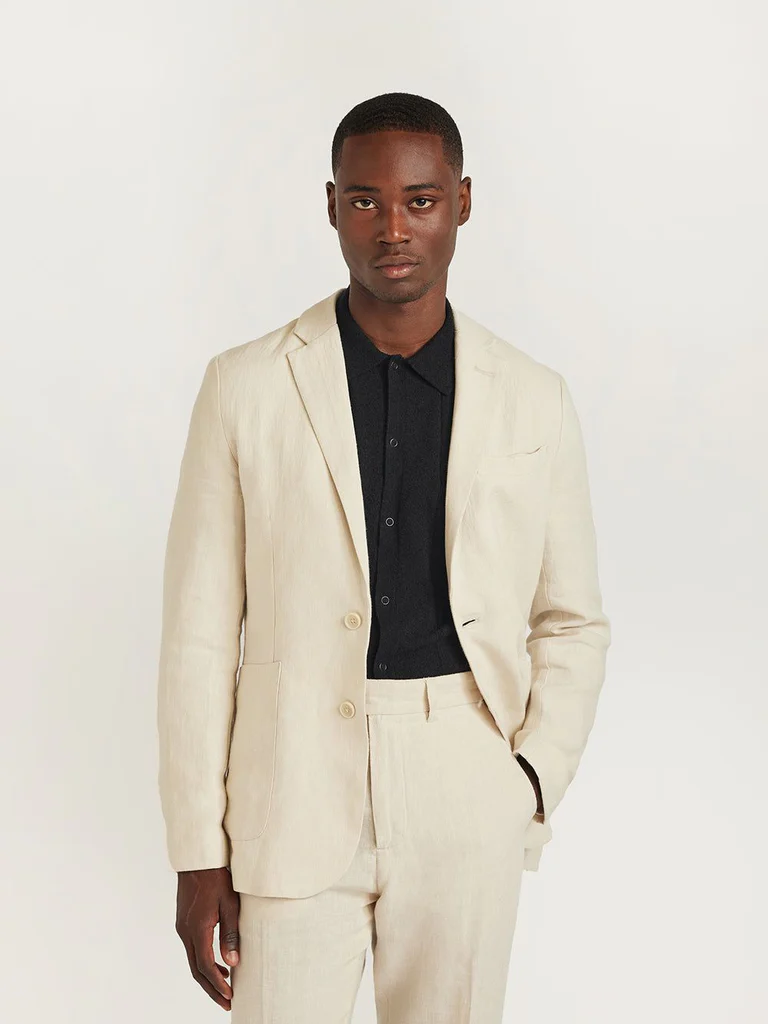 Percival's slim linen suits are like a Swiss Army Knife. They're adaptable, durable, and can suit almost any occasion–plus they come in a ton of different colors, so they're easy to style and don't cost an arm and a leg to pick up.
The Best Linen Suit for Women: White House Black Market Cropped Linen Suit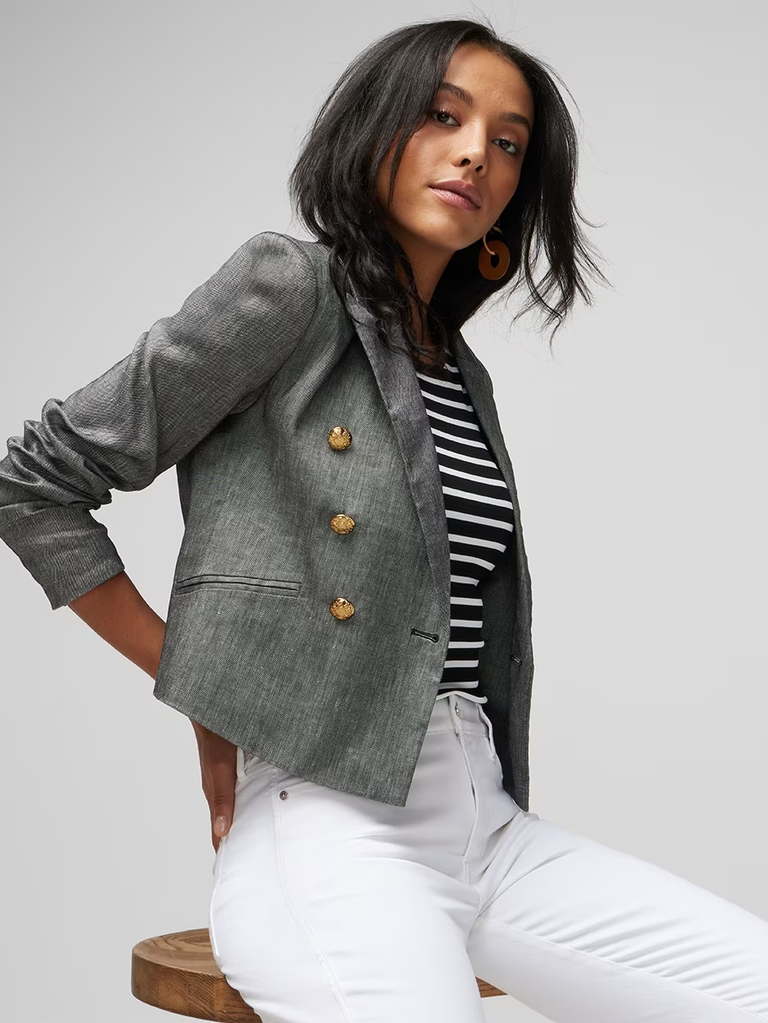 White House Black Market's cropped linen suit brings Wall Street chic to the wedding reception's dance floor. It's a great way to stand out at a wedding and also serves as the kind of fit you may be able to find an excuse to wear a couple of weeks after the I Dos.
The Best Affordable Linen Suit: Lauren by Ralph Lauren Navy Suit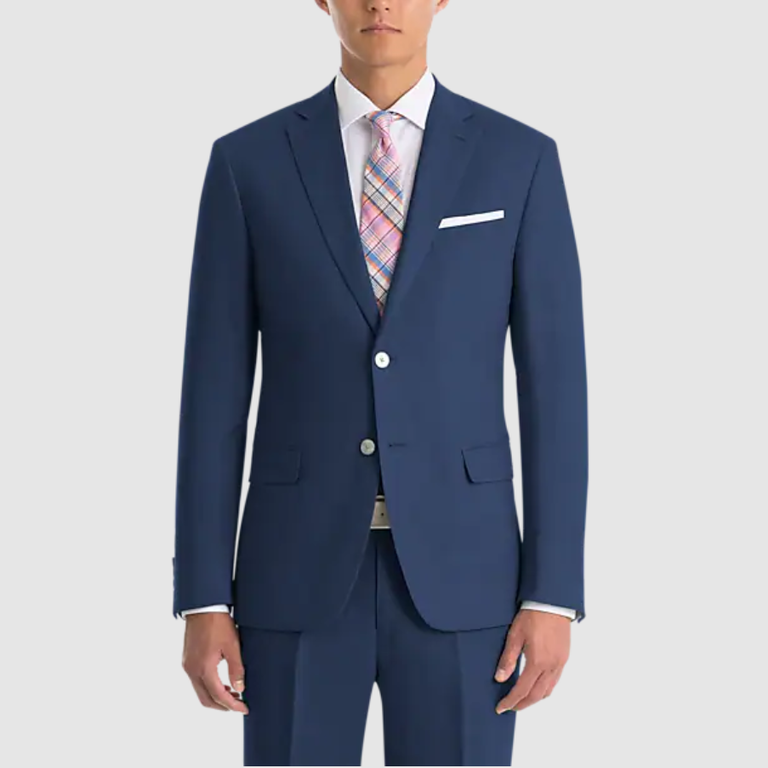 For high quality suiting at a super affordable price point, look no further than Lauren by Ralph Lauren. Their standard linen suit in navy is every bit the classic its more expensive counterparts are. This is a suit that will take you all the way from the early days of spring to the dog days of summer and have you looking great all the while.
The Best Linen Suit for Bigger Builds: State and Liberty Unstructured Linen Blazer
State and Liberty, a brand that specializes in shirting and suiting for guys with broader builds, crushed it with their take on the classic unstructured linen blazer. It's a staple of classic Americana and is the sort of wardrobe piece you can dress up for a formal wedding or down for a dressy-casual one.
The Best Fashion-Forward Linen Suit: Corridor Linen Suit in Navy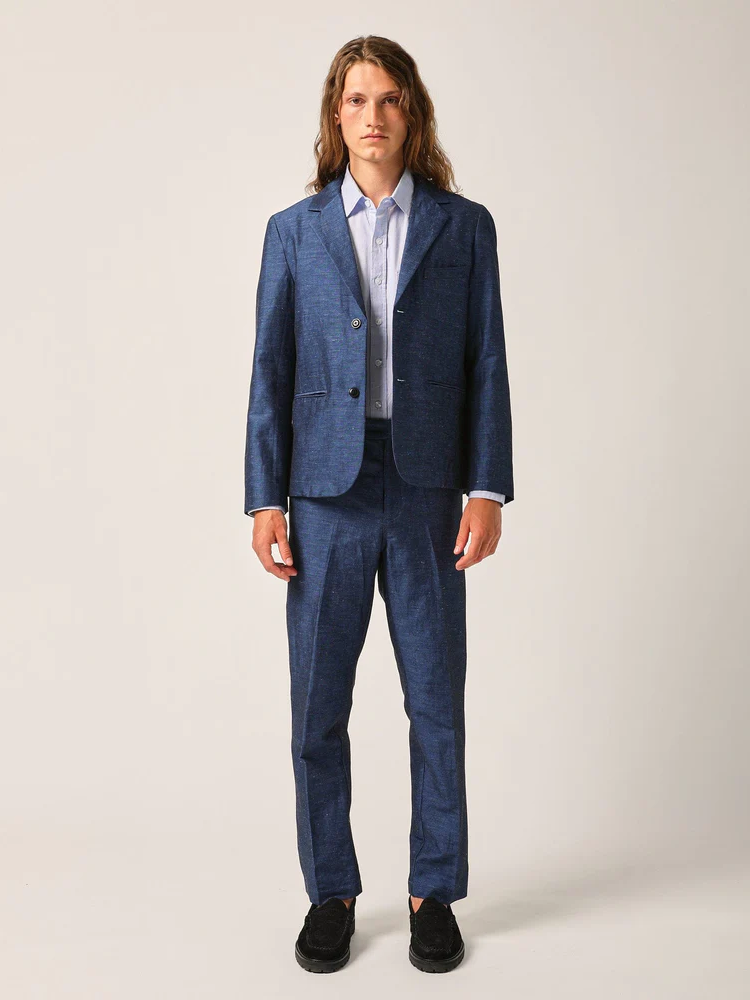 Corridor has been one of the hottest names in menswear for the last few years thanks to their wild, wavy cardigans and shirting. Their suit game is pretty top tier too, though, especially this navy linen number that's perfect for spring and summer weddings.
The Best Preppy Linen Suit: Brooks Brothers Regent Linen Blazer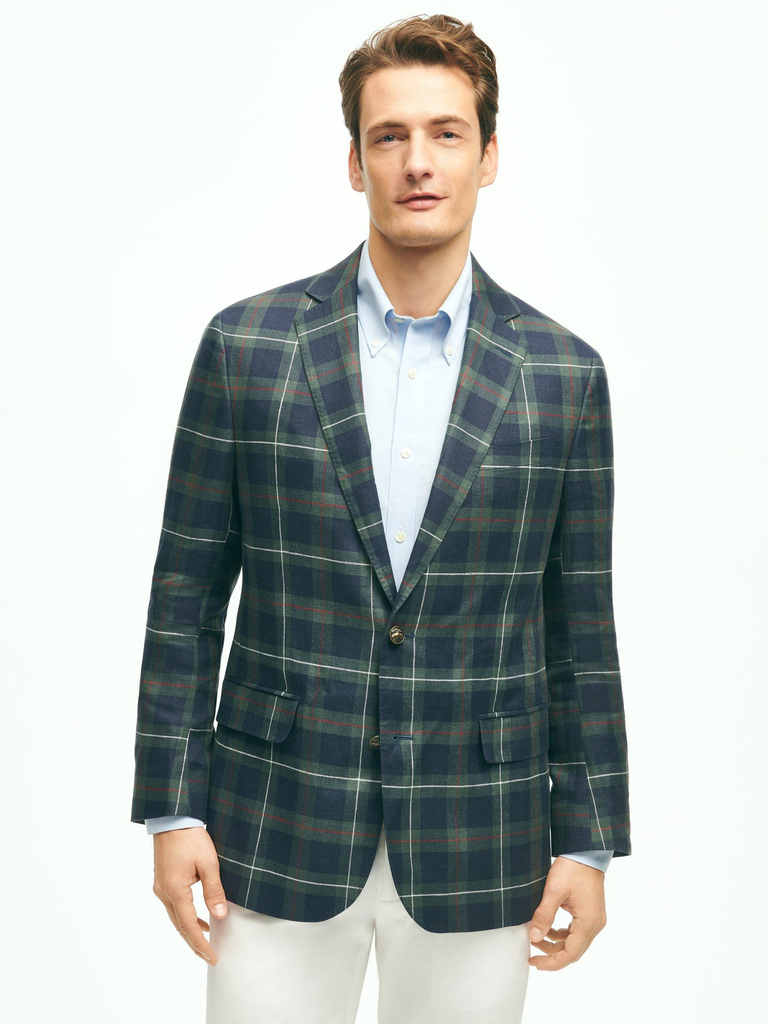 Brooks Brothers' plaid linen blazer is ripped straight from the old-school country club playbook. It's a timeless look that'll pair great with some breezy linen pants or a reliable pair of chinos at a wedding this season.
The Best Linen Suit Money Can Buy: Todd Snyder Madison Suit in Italian Linen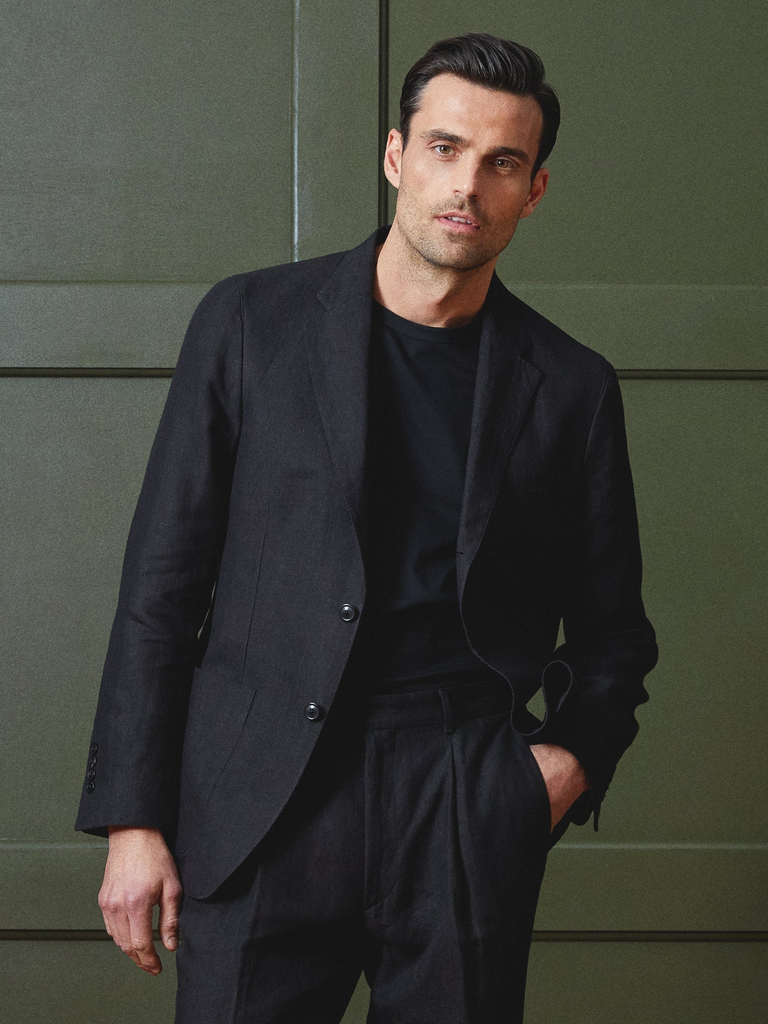 If we're awarding Best in Show here, top honors go to Todd Snyder, a brand that reliably does just about everything in menswear as well as any other brand can lay claim to. Their Madison linen suit is well cut, well made, and will last you a lifetime of spring and summer weddings.
The Best Unconventional Linen Suit: J. Crew Garment Dyed Linen Blend Chino Suit in Navy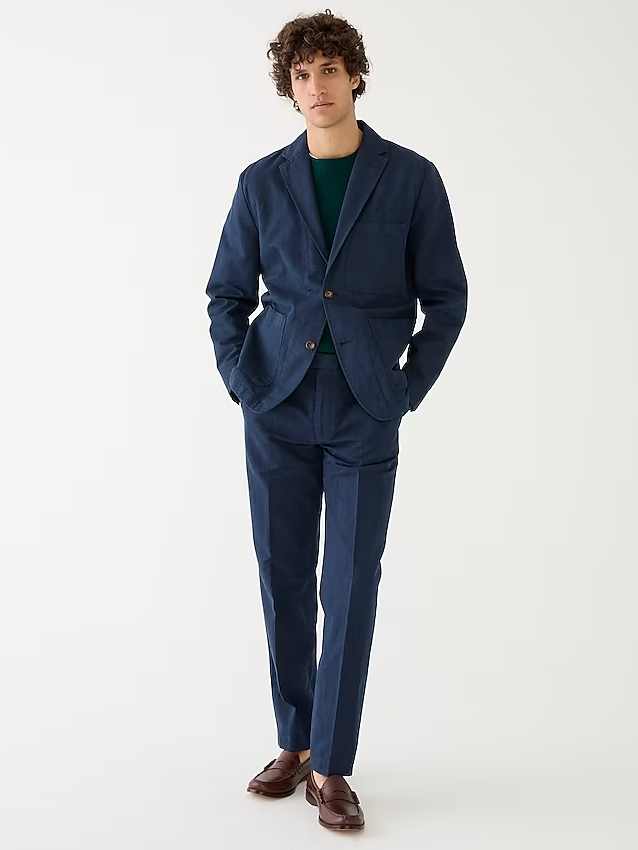 J. Crew's garment dyed linen suit is a refreshing take on a summer staple, constructed for casual wear and drawing elements from a traditional French chore coat. The result is something that might not look quite right for formal occasions but will absolutely crush a semi-formal or dressy-casual wedding. You can probably wear it out for coffee the next day with a tee shirt underneath and look just as good.
Where to Buy Linen Suits
If you're looking for linen inspiration (linspiration?) rather than a specific suit, you should hit up some of the coolest retailers in the suiting game who have great seasonal linen selections. Some of these designers have a wide range of linen fits while others just specialize in a single design or two and doing it well. Whichever it is you're looking for, the best linen suit shops we've found to date are a great resource for learning more about how you can suit up in linen for your wedding.
Percival
Percival's signature linen suit is one of the most affordable and accessible on the market these days. They stick to a simple cut in a lightweight unstructured fabric and produce it in a wide range of colors. This is a great suit if you're new to the linen game and looking to figure out how to best wear and style it. If you end up digging it, like I said, it comes in plenty of colors.
Size Range: Jackets XS-XXL, Pants 28-38
Prices Starting At: Jacket for $330, Pants for $195
Banana Republic
Banana Republic made linen suiting a substantial piece of their recent rebrand, bringing big, flowy linen suiting cuts to their line that would look right at home on a boat off the Amalfi Coast. They'd also look great as your next wedding fit.
Size Range: 34-50
Prices Starting At: Jackets for $380, Pants for $180
Suitsupply
When it comes to made-to-measure, nobody does linen quite like Suitsupply. From boxy double-breasted suits to broad-lapeled numbers they're the place to go when you want a linen suit and feel like building it out yourself.
Size Range: Made to Measure
Prices Starting At: $598
Proper Cloth
Proper Cloth made their name in made-to-measure shirting but their suits are pretty top-tier as well. The brand's linen collection is especially stunning, from their standard Bedford suit to their beautiful double-breasted variation in white linen.
Size Range: Made to Measure
Prices Starting At: $645
J. Crew
When in doubt, go with the Ludlow. J. Crew's signature suit cut revolutionized accessible suiting in the 2000s and it hasn't missed a beat in the time since. Their linen variation is available in a range of colors and sizes that makes for an easy fix when you need a linen suit that you know is going to look good at a wedding.
Size Range: 34S-50R
Prices Starting At: Jacket for $248, Pants for $168
When to Wear a Linen Suit
The short answer to this question is simple: when it's hot out! Linen is a lightweight and breathable fabric, making it perfect for warmer weather. If we're getting more specific, it comes down to (as it so often does) dress code. Linen is near impossible to pull off at black-tie weddings so stick with your standard tux for those (it'll be a little cooler in the evenings, I promise). Beginning with black-tie optional and cocktail attire, linen suiting is far more acceptable, with the sweet spot being semi-formal weddings. They're also perfect for beach and destination ceremonies.
How to Wear a Linen Suit
Wearing a linen suit is easy stuff–seriously, it does the heavy lifting for you in a sartorial sense. Everyone looks good in one. Still, there are definitely a few ways to best go about styling your linen suit to bring the most out of it. Here's how to wear a linen suit not the right way, but rather the best way.
What Shoes to Wear With a Linen Suit
As far as what shoes to wear with a linen suit, your options are pretty open. The color of your shoes is going to be far more determined by the color of the suit itself (though I'll personally say that brown shoes go pretty well with just about any linen suit). It's the socks where things get tricky, namely whether or not you wear them. For more formal occasions you may want to make sure to pull on some socks before slipping on your shoes. However, given the laid-back vibe of a linen suit and the average temperature spring and summer weddings tend to come with, you may want to consider going sockless if the dress code of the wedding (semi-formal is about right) permits it. Linen suits also go great with loafers, which are a definitive no-sock shoe.
What Shirt to Wear With a Linen Suit
I'm personally always inclined to say you can go ahead and double up on the linen when it comes to shirts. Linen suits over linen shirts are a great look and totally appropriate for any wedding to which you're already getting linen-ed out. That said, most other dress shirts (oxfords, cotton, twill, etc.) are appropriate and will still look great.