A Los Angeles Bachelorette Party City Guide to Plan Your Weekend
Go totally Hollywood on an iconic Californian girls' getaway.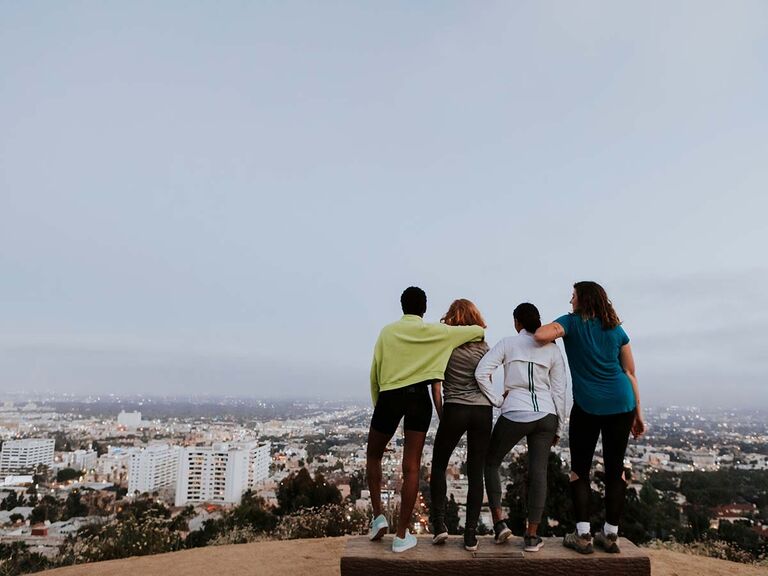 Rawpixel.com
We have included third party products to help you navigate and enjoy life's biggest moments. Purchases made through links on this page may earn us a commission.
The City of Angels comes with quite the reputation as the home of celebrities, Hollywood, and some of the most expensive zip codes in the country. Of course, you can experience all of that on a Los Angeles bachelorette party weekend—but there's also a ton more to consider, including the dining scene, epic nightlife, and beachy vibes of this California mega-city.
What Are Some Los Angeles Bachelorette Party Ideas?
When it comes to LA, there's something for everyone. You'll find dining options that range from luxury high end to on the corner food trucks. You'll see picturesque Santa Monica Pier and the eccentric Venice Boardwalk. There are also museums, shopping, and spas to consider, as well as a nightlife scene that ranges from posh nightclubs to speakeasy-style lounges. Whatever you do: Don't forget to outfit your crew in swag from The Knot Shop. And capture your favorite memories with a photographer who will make you feel like you've found your own paparazzi.
For the Beach Lovers
While the water may be too cold to swim (at least without a wetsuit), Santa Monica offers a wide expanse of sand for sunbathing and beach volleyball, as well as a visit to the rides and attractions on its iconic pier. Venice Beach has a more hippy meets hipster vibe, with great people watching, an iconic skate park, and eccentric shops along its boardwalk.
For the Foodies
There's a fantastic restaurant scene throughout LA that ranges from top-of-the-line sushi to tacos and burritos of food trucks. You can certainly make a weekend just eating through the city. Plus, don't miss out on the growing craft beer scene making its way throughout Los Angeles neighborhoods.
For the Luxury Lovers
This is the home of Rodeo Drive and the Hollywood Walk of Fame, so you won't be hard pressed to treat your bride to a weekend of luxury. That can include everything from a day at the spa to iconic shopping destinations with designer brands (hey, she has a wedding weekend and honeymoon to dress for, right!?).
What Do You Do at a Bachelorette Party in Los Angeles?
Spend your Los Angeles bachelorette party getting to know the city—from Santa Monica to Hollywood to Beverly Hills—with our three-day itinerary to get in a little of it all.
Day 1
Morning: Start your trip to LA with a favorite breakfast spot: Eggslut. Head to the Venice Beach location, since you'll be spending your day in this area, to dine on tasty breakfast sandwiches (try the Fairfax with eggs, chive, cheddar, onions, and sriracha mayo on brioche) and cold brew coffee. The head to Boneshaker where you can rent an electric bike for the day to get your exploring started.
Afternoon: Ride your bikes along the Venice Boardwalk, where you can take in the famous skate park, Muscle Beach, and all the eccentricities available at the stores along the way. You can also stop for a bite or drink at many of the cafes. The boardwalk will take your right to Santa Monica beach if you're up for the ride. Park your bikes and find a spot for sunbathing on the shore—or head over the iconic Santa Monica Pier where you can find other bars and restaurants, as well as the pier's rides and attractions that will let the kid come out in you.
Evening: Don't worry about changing for your night out! Instead, stay in Santa Monica and head to The Bungalow where you'll find a Baja-lifestyle inspired spot with a bar, outdoor beachside dining, and a back garden to drink the night away in. First, start with dinner, which ranges from trailer nachos and ceviche to burgers, tacos, and salads. Then spend the rest of the night enjoying the bar out in the open breeze, and cozying by the fireplaces if you need to warm up a bit.
Day 2
Morning: For brunch today, head to Las Palmas for a rooftop spot with great fare. Choose from dishes like avocado toast, belgian waffles, and breakfast burritos. You'll also find a frozen cocktail menu, beer and cider, and wine. From here, you're about a mile away from the Hollywood Walk of Fame if you want to go find our favorite celeb's star. Or you can head to Rodeo Drive (about a 20 minute drive) to do some shopping—Pretty Woman style.
Afternoon: It's worth the drive—and the traffic—along the Pacific Coast Highway to see a bit of Malibu while you're out this way. For starters, make your way to Rosenthal, where you'll find a fantastic wine bar and patio on the gorgeous vineyard estate. Enjoy a tasting of some of California's best. On the way home, stop at iconic Malibu Seafood for gorgeous views and fresh seafood bites, before taking a quick hike in Escondido Canyon Park for a bit of nature and gorgeous scenery.
Evening: Tonight, hit the town. First, start with happy hour at Mama Shelter's rooftop, where you'll find signature cocktails and a live DJ. Though you won't want the fun to end here! Next, make your way to Delilah's. A celebrity-favorite, this chic spot, dripping in chandeliers, offers tasty dinner options (think everything from crab cakes and grilled cheese to shrimp linguine and baby rack ribs) in a roaring 20s setting. If you want, spend the rest of the night here sipping cocktails (don't skip the Drake's Spritzer) and treating yourself to bottle service. Or make your way to Harlowe, an equally glamorous spot for cocktails and often live music.
Day 3
Morning: Start your day with brunch at Manhattan Beach Post, a playful spot with artisan plates that include bacon cheddar biscuits, deep-fried chimichanga burritos, and cinnamon rolls.
Afternoon: Check the calendar at the Ace Hotel downtown for one of the epic Sunday pool parties. You'll find a small pool here, but that's not the point. What you'll take in are incredible views of LA, the city's top DJs and live bands, and fantastic cocktails.
If you'd rather something more low key, try a cooking class with Hipcooks, that takes advantage of California's fresh cuisine and shows you the ropes to making impressive dishes that will impress everyone back at home.

Evening: Happy hour tonight is at Perch, a rooftop bar with perfect views of downtown LA from a 16th-floor setting. From happy hour make your way to Catch, a quintessential LA spot for fresh seafood, including delicious sushi and classics like lobster mac and cheese and herb-roasted branzino, in a chic setting where you might spot a celebrity or two.
After dinner make your way to the Hollywood area for the epic nightlife scene. Close out your weekends with options like Poppy, a high-fashion nightclub that feels right out of a story book; Murano, for a quintessential night club experience (table and bottle service options are available; the Surly Goat for craft beers and a great outdoor patio; Tiki Nola for beachy cocktails; or Pump, for all the Vanderpump Rules fans looking to spot a Bravolebrity or two.
Where Should I Stay in Los Angeles for a Bachelorette Party?
You're going to be taxi or Uber dependent in Los Angeles, and the city is notorious for its traffic. Staying in the heart of downtown is great for those craving being close to the nightlife action—but if you want to be closer to the water and chiller vibes, a stay in Santa Monica might be more your speed.
Best Los Angeles Bachelorette Hotels
The Dream Hotel in Hollywood gets you close to the nightlife action, and comes with its own fantastic amenities including a rooftop pool and lounge, and onsite restaurants like Beauty & Essex and TAO.
For a luxe stay within walking distance of Santa Monica Beach, book the JW Marriott Santa Monic Le Merigot, which offers upscale rooms, an outdoor pool, and onsite French restaurant.
For a more affordable stay, consider the Gateway Hotel Santa Monica, which is less than two minutes from the pier but offers a more budget-friendly option with coastal vibes and modern rooms.
Best Los Angeles Bachelorette Home Rentals
Large groups with a good budget should consider a stay at a Los Angeles Home that feels right out of a celebrity handbook. Though a little out of the way in Sherman Oaks, the house sleeps 16, offers panoramic views of downtown, and has a basketball court, pool, and jacuzzi.
A Beach Penthouse is perfect for groups of 8 or less looking to be close to the beach with a modern vibe. Including a hot tub, the penthouse also offers an outdoor dining area and firepit, as well as two patios and a rooftop deck for enjoying that amazing LA weather.
Located in Brentwood, not far from the Hollywood area, a five-bedroom Family Estate is great for big groups (up to 12) looking for space, privacy and comfort while being close to downtown (note: it's for those with a larger budget!). The stay includes a pool and spa, outdoor fireplace, and is in walking distance to many restaurants and shops.