The Complete Guide to a Whimsical Marrakech Honeymoon
Beautiful gardens, luxe hotels and unforgettable adventure await.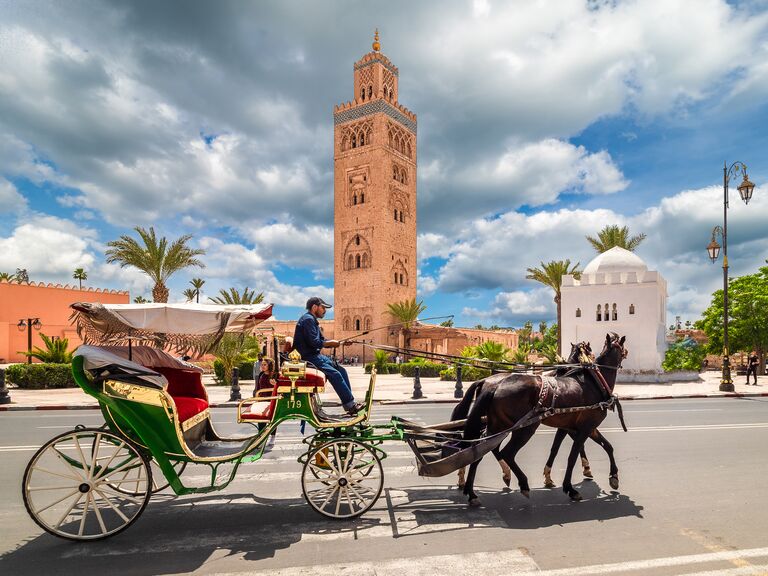 Balate Dorin/Shutterstock
After an unforgettable big day, some newlyweds are simply eager to turn the page without closing the book on a fairytale adventure. It means finding a honeymoon destination that's whimsical, elegant and completely gorgeous. A Marrakech honeymoon checks every box.
The one-time imperial city in western Morocco is full of colorful souks (marketplaces), opulent residences and charming gardens. Honeymooners can browse the souks for one-of-a-kind souvenirs and statement items for their homes. Sightseeing adventures might include a tour of the grand Bahia Palace and Jardin Majorelle, where the beauty of art meets Mother Nature.
There's no shortage of things to do in Marrakech, also known as Marrakesh. But couples can also take time to bask in their newlywed glow. The city is home to numerous five-star hotels. They offer garden views, spa treatments and breathtaking interiors.
Couples will want to monitor ongoing restrictions to Morocco as flights have routinely been suspended into the country. When reopened, travelers from New York can expect up to a 15-hour flight. It takes 20 hours or more to fly in from San Francisco. Couples traveling from Atlanta should plan for up to a 20-hour trip. You may initially fly into Casablanca, another Moroccan city. From there, it's about an hour-long flight to Marrakech.
Is Marrakech Good for a Honeymoon?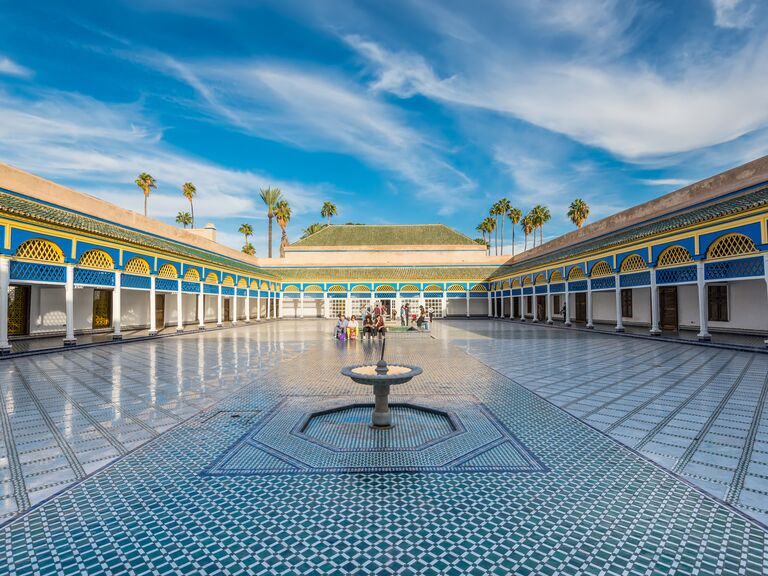 Pros of a Marrakech Honeymoon
Legendary designer Yves Saint Laurent traveled to Marrakech so frequently he bought a home there. Not enough to convince you? The city is one of the best honeymoon locations for people who want to experience architecture, nature, romance and relaxation all at once. Couples can view the beauty of the Atlas Mountains in the distance. The palaces and boutique hotels offer stunning interior and exterior designs. There are also opportunities for intimate experiences, like sipping mint tea with your loved one or taking cooking classes.
Cons of a Marrakech Honeymoon
The flight to Marrakech is a long one. Couples not looking to dedicate so much time to travel will want to find a closer honeymoon destination. Though Marrakech is beautiful, it has its share of thieves. You'll want to keep your valuables in the hotel and be aware of your surroundings.
The Best Times of Year to Go on a Marrakech Honeymoon for Good Weather
The temperatures in Marrakech are mildest in the spring and fall. From March through May and September through November, honeymooners can expect to experience pleasant 70-degree weather, which goes up to the 90s in peak summer.
Things to Do During a Marrakech Honeymoon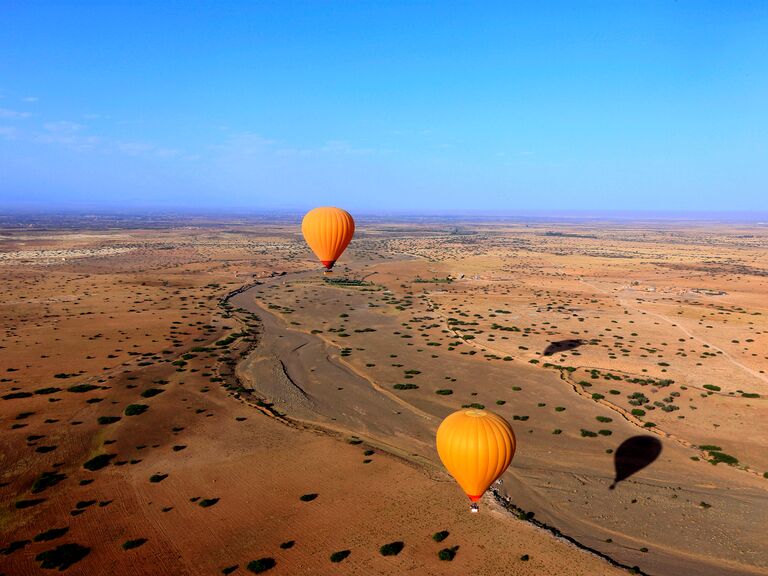 From gorgeous gardens to unique souks, a Marrakech getaway can be eclectic. But many couples enjoy the variety and chance to do something new every day. Consider these adventures for your itinerary.
Explore the Souks
These marketplaces are full of color, one-of-a-kind finds and delicious cuisine. Marrakech is home to more than a dozen of them, each offering something a little different. Souk Semmarine is a bustling hub for Morrocan rugs, leather goods and cookware. Souk Cuisine is known for its cooking classes, a fun experience for couples who plan on enjoying meals at home together for years to come. They typically start with a trip to the market to find ingredients and spices and then instructions on making the dish. After, couples can often taste it together along with some Moroccan wine.
Take in Medina Quarter
The Medina Quarter, also known as the "Old City," is a UNESCO World Heritage site full of bustling markets, which you can explore on a private tour, and popular attractions. You can Kasbah at the southern end of the quarter. Once a citadel, it's still home to Dar al-Makhzen, where the King of Morrocco stays when he's in the city, and the historic Kasbah Mosque. The Koutoubia, the city's main mosque, is also in the quarter. It's a Moorish beauty with large archways and gorgeous tiles. You need to be Muslim to go inside, but visitors of all faiths are welcome to peruse the gardens and plaza. From there, head to Jemaa el-Fnaa. The city's bustling main square and marketplace has a food court and array of street performers.
Relax in Jardin Majorelle
These two-and-a-half-acre gardens are an oasis in the middle of the city. Jardin Majorelle is an ideal spot to take a breather in the middle of sightseeing or after scoring a sweet deal at a lively souk. Dreamt up by French painter Jacques Majorelle and restored by fashion designer Yves Saint Laurent in the 1980s, the gardens are full of cacti, sculpture and tranquility. The villa is also home to Yves Saint Laurent Museum and the Berber Museum, the latter of which once served as Majorelle's studio.
Marvel Through Bahia Palace
Bahia Palace, or Palais Bahia, is a lavish structure built in the late 19th century and now serves as a museum. Couples can go inside and explore Marrakech history and many of the 150 rooms. While inside, take in colorful stained-glass windows and intricate tiles. The expansive Court of Honour, located outside the palace, is an ideal spot to soak up the sun and rest weary legs.
Enjoy a Hot Air Balloon Ride
Marrakech is beautiful from the ground, but it's possible to have an elevated adventure. Hot air balloon rides for two allow couples to see Marrakech's souks, landscapes and mosques from above. Couples will also see the Atlas Mountains as they sail through the air at sunrise, a romantic and memorable experience for newlyweds. Some of the private tours include breakfast and spa treatments like Moroccan massages.
Best Hotels and Resorts in Marrakech for a Honeymoon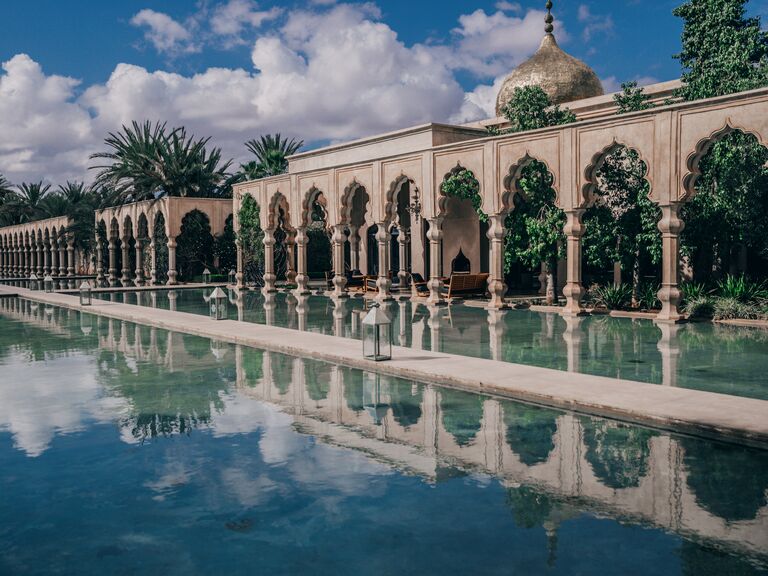 Royal Mansour
Royal Mansour, a gorgeous luxury hotel, offers easy access to Jemaa el-Fnaa and five-star accommodations. The hotel boasts 53 three-story private riads in lieu of suites or guest rooms. Some have plunge pools and fireplaces. The spa offers an array of treatments, including a hammam. Soak in the pristine white marble bath as fountains provide a gentle soundtrack to your Marrakech honeymoon.
Selman Marrakech
Selman Marrakech is a five-star luxury hotel with a unique twist: It's home to Arabian horses. Though horseback riding isn't part of the package, guests can visit the beauties in the stable. There's also a sparkling pool and a chance to book golf experiences. The rooms, villas and suites are refined but warm with soft, luxe linens. Some are neutral tones, while others have magenta and orange accents. All are perfect for resting after a day of adventure (and free internet makes it easy to upload photos to social media).
La Mamounia
Once a royal estate, La Mamounia dates back to 12th-century Marrakech. It's a hop, skip and a jump from Jemaa el-Fnaa market square and Koutoubia Mosque. Spare-no-expense couples will want to splurge on one of the three riads, which have a heated swimming pool and patio terraces. The rooms are nothing to shake a stick at, either. They're comfortable and windows give way to views of the pool and gardens. The on-site spa has hammams for added relaxation.
Hotel La Maison Arabe
Hotel La Maison is not far from popular spots like Jemaa el-Fnaa square Jardin Majorelle, but it also offers plenty to do on its grounds. Guests can take workshops at the cooking school or indulge in self-care at the spa. The hotel also arranges experiences, like full-day trips to coastal gem Essaouira and hot air balloon rides. Couples can also take the "Instagram tour," where a photographer will follow them as they explore some of Marrakech's most photogenic spots. The 37 king-size rooms offer plenty of room to rest when your adventures are done for the day.
Four Seasons Resort Marrakech
Four Seasons Resort Marrakech lives up to the Four Seasons reputation. The rooms are chic and airy, with large windows that let the natural light pour through. Some boast private terraces with Atlas Mountain vistas. Amenities include a pool and fitness center. The hotel is about three miles from Jardin Majorelle and the Bahia Palace.
Kenzi Menara Palace & Resort
This Marrakech resort is brimming with beauty and luxury. The lawns and gardens sparkle in the sunlight, and the citrus groves of the Agdal Royal Gardens offer a special touch. Each room at Kenzi Menara Palace & Resort has its own private terrace, so couples can enjoy a sunset or glass of wine in peace. The spa boasts jacuzzis, a leisure pool and sauna. Once rejuvenated, guests can head to Koutoubia Mosque, about three miles away.
Riyad El Caldi
Located in the heart of the old city, Riyad El Caldi has a romantic honeymoon package. The staff will decorate a couple's room with rose petals, and they'll arrive to a basket of local citrus fruits and wine. Guides can help you make the most of your stay and book fun excursions, including Essaouira. But it's also not far from closer attractions, including Jemaa el-Fnaa square—a seven-minute stroll.
What to Pack for a Marrakech Honeymoon
Marrakech days can get sunny, so you'll want a good pair of sunglasses and SPF to keep your eyes and skin safe. Walking shoes, T-shirts and long pants or shorts will keep you comfortable during day trips. Since the temperatures can vary, pack layers, like cardigans.
You'll also want some cute outfits for nice dinners. Think long dresses, nice pants, collared shirts, sandals and dress shoes. A backpack to stash layers and travel books will also make life easier while sightseeing. Luggage locks and a safe will keep valuables secure at your hotel.