Escape to North Africa on a Morocco Honeymoon
See why so many couples are choosing to honeymoon in stunning and unique Morocco.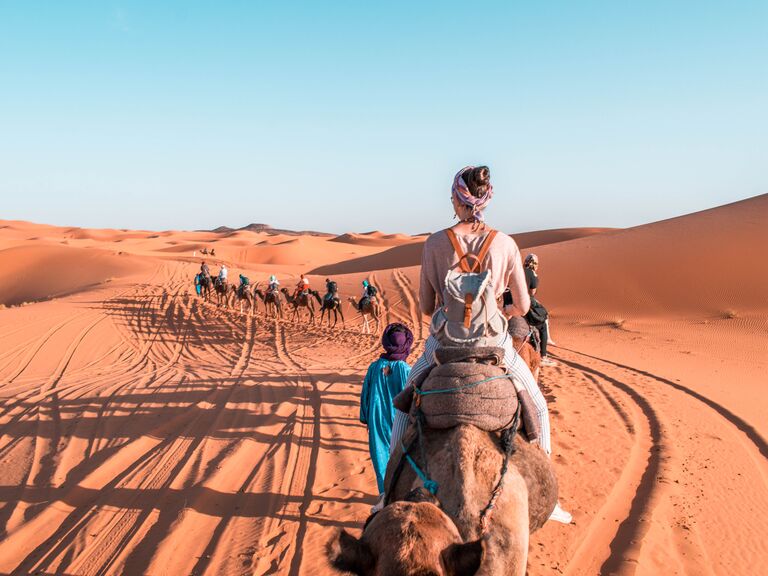 Aurelia Teslaru / Shutterstock,Location: Sahara Desert
We have included third party products to help you navigate and enjoy life's biggest moments. Purchases made through links on this page may earn us a commission.
Morocco honeymoons are growing in popularity, and for good reason. This dreamy North African locale is filled with fascinating culture, mouthwatering cuisine and spectacular scenery. It's an incredibly romantic destination for a honeymoon, particularly if you and your spouse-to-be have already visited some of the more popular honeymoon destinations in the Caribbean and Europe.
Sure, visiting Morocco will require a bit of extra planning versus jetting off to an all-inclusive resort, but the work is well worth it to see, experience and taste all this country has to offer. And don't just hang out in Casablanca or Marrakech, the country's most popular destinations; you'll want to travel further afield to fully immerse yourself in everything that makes Morocco a favorite destination for many globe-trotters.
Need a little help planning a perfectly romantic honeymoon? That's exactly what we're here for.
Is Morocco Good for a Honeymoon?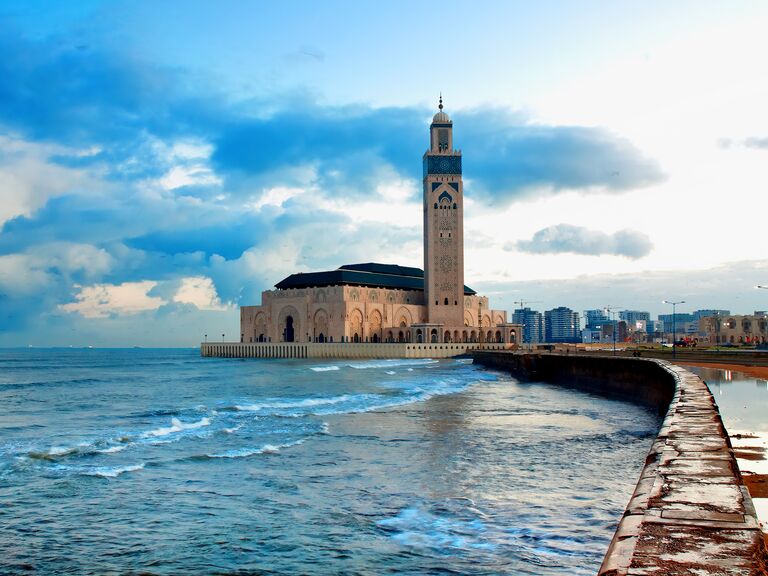 Pros of a Morocco Honeymoon
There are so many wonderful pros that come with a Morocco honeymoon. The destination is breathtakingly beautiful, from the desert to the mountains to the cities. It's also relatively affordable, at least for the level of luxury you can expect from its hotels and experiences. Plus, you can now find direct flights to Morocco from a handful of major US airports.
This is also a honeymoon destination where you'll easily find plenty to fill your itinerary; you certainly won't grow bored of just lying around on the beach all day. To top it off, there's something to do and enjoy for just about every couple, whether you're the adventuring type or you're more low-key and prefer museums over midnight desert rides.
Cons of a Morocco Honeymoon
The cons of a Morocco honeymoon are relatively few. However, if you want a honeymoon that's incredibly easy and convenient with minimal planning and a free and clear itinerary, Morocco may not be a good fit for you. Planning is necessary in order to enjoy Morocco to the fullest, and you'll want to keep a relatively busy pace of sightseeing and exploring, unless you plan on spending a few weeks in the country.
The Best Times of Year to Go on a Morocco Honeymoon for Good Weather
You'll want to plan your Moroccan honeymoon for either spring or fall (March to May or September to October). These months provide milder temperatures, and spring offers lush natural settings as the flora comes into bloom. Harsher temperatures are the norm in the summer and winter, so unless you're OK with either extreme heat or cold rains, you'll want to steer clear of these seasons.
Places to Visit in Morocco for a Honeymoon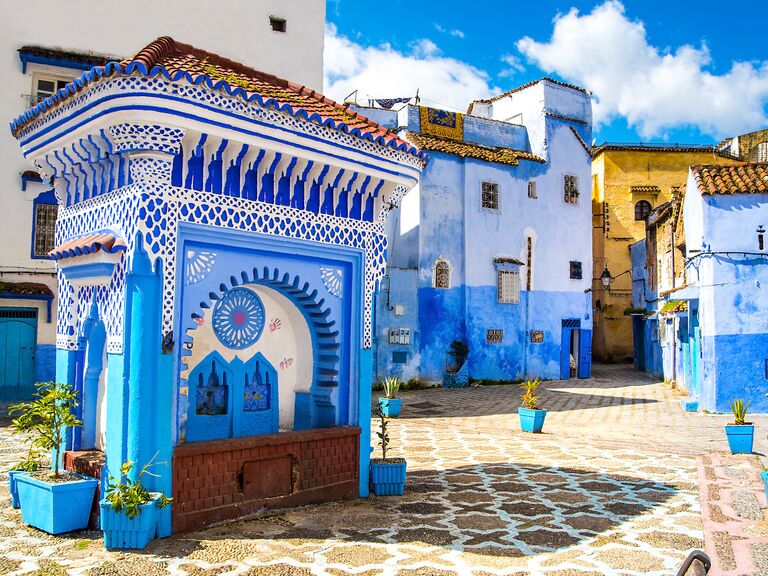 When you fly into Morocco, you'll either land in Rabat, Casablanca or Marrakech, the former being the capital city and the latter two being the primary centers of tourism in the country. All are worth a few days of your trip and are filled with romantic settings, Instagram-worthy architecture, delicious dining and fine hotels and resorts. However, traveling beyond these cities comes with benefits.
Fes (or Fez), for example, is filled with history and culture, and boasts the largest and oldest medina, or ancient city, in the world. The Blue City, also known as Chefchaouen, is also worth a visit, if just for its picturesque streets and brightly hued buildings (that are, you guessed it, blue).
Day trip-worthy destinations include Essaouira, a small fishing village on the Atlantic coast with a beautiful beach and lots of shopping, as well as the Sahara Desert.
Things to Do During a Morocco Honeymoon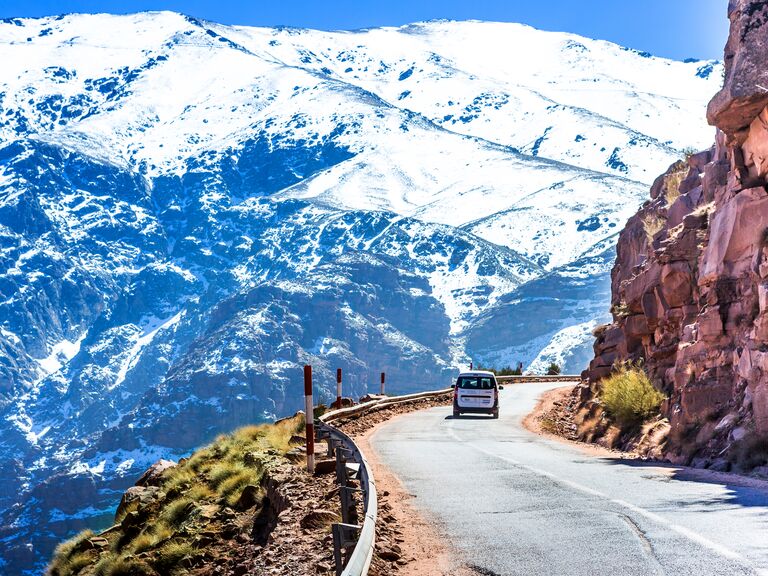 Explore the Different Landscapes
Morocco's geography is a study in contrasts, from its Mediterranean villages to the Sahara Desert and the High Atlas Mountains, the highest mountain range in Africa. See a bit of it all during your trip.
The High Atlas hill country offers spectacular scenery and abundant opportunities for trekking (and even some skiing if you visit during the right months). You can book a plethora of Sahara Desert guided experiences and tours, from camel rides over the sand dunes to hot-air balloon rides and stargazing at desert camps (what's more romantic than lying beneath the stars with your sweetie?). Visiting the Mediterranean coastal destinations, like Essaouira, will give you a glimpse of yet another Moroccan landscape.
Hunt Down a Bargain at a Souk
If you'd rather shop than stargaze, Morocco has you covered with its vast, crowded and somewhat overwhelming (but in a delightful way) marketplaces, or souks. Look for handicrafts to take home—authentic rugs (if you have room in your luggage), soaps, spices, Berber baskets and bags. You're sure to find something you love.
Taste Your Way Through Moroccan Cuisine
Morocco is renowned for its food and dining culture. Look for rooftop restaurants and cozy cafes throughout Marrakech. A few items you'll want to add to your must-try list of foods before leaving the country? Tagine, a Moroccan staple made in a special clay pot and similar to a meat-and-veggie stew; mint tea, Morocco's national drink; zaalouk, an eggplant-and-tomato dish; and fish chermoula, which is popular around the coast.
Best Hotels and Resorts in Morocco for a Honeymoon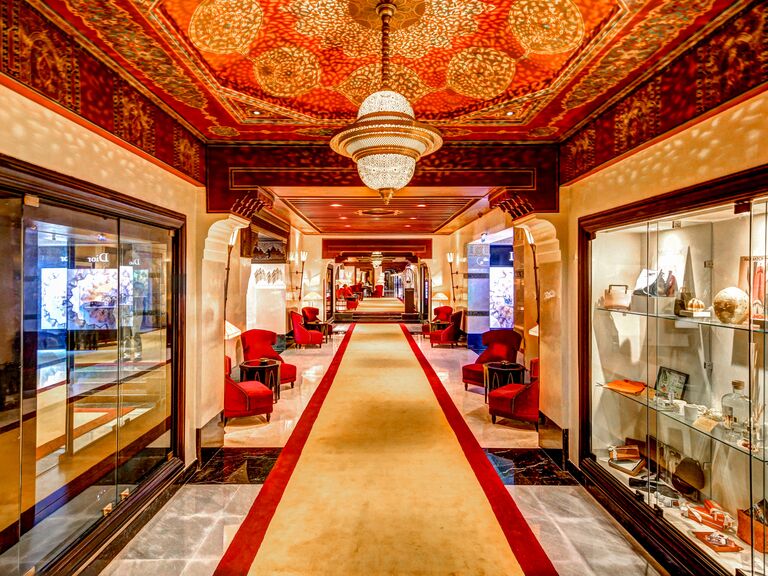 Easily the most well-known luxury property in all of Morocco, Royal Mansour in Marrakech is like a dream come true for any honeymooning couple who just wants to be pampered after months of wedding planning. Commissioned by the Moroccan king, the exclusive property offers plunge pools, a huge spa, suite-style riad (Moroccan palace) accommodations, three restaurants and gorgeous architecture everywhere you look. It's the perfect honeymoon resort.
If you want to get out of the city for a bit, Kasbah Tamadot from Virgin delivers luxury in the Atlas mountains. The award-winning boutique hotel includes fewer than 30 guest rooms—for a more intimate feel—and is surrounded by mountain views, lush gardens and bright bursts of color incorporated into the decor. Of course, there are all the amenities you might need during your romantic getaway, including a spa, a fitness center, a pool and a scenic rooftop terrace.
For a star-studded stay, follow the examples of celebrities and international politicians alike and book a suite at La Mamounia, another one of Marrakech's most well-known luxury hotels. The property has it all—more than 10 restaurants, bars and tearooms, a huge spa and a gorgeous pool area—so you never need to leave (though we have a hunch you'll take advantage of the great location to explore).
What to Pack for a Morocco Honeymoon
In addition to your honeymoon basics, when packing your bag for Morocco, you'll want to take the local culture into account. This means choosing clothing items that are more on the conservative side, such as loose linen trousers and flowing skirts (versus shorts or short dresses), as well as shirts that cover your shoulders. You'll also want to pack a few light layers to accommodate the changing temperatures.
While it might not be the most romantic thing to think about, you'll likely want to bring some travel-ready toilet paper, as most Moroccan public bathrooms don't provide it (or they charge a fee for it).