The Complete Guide to Planning a Destination Wedding in Bermuda
Suddenly, packing for a destination getaway just became way more exciting.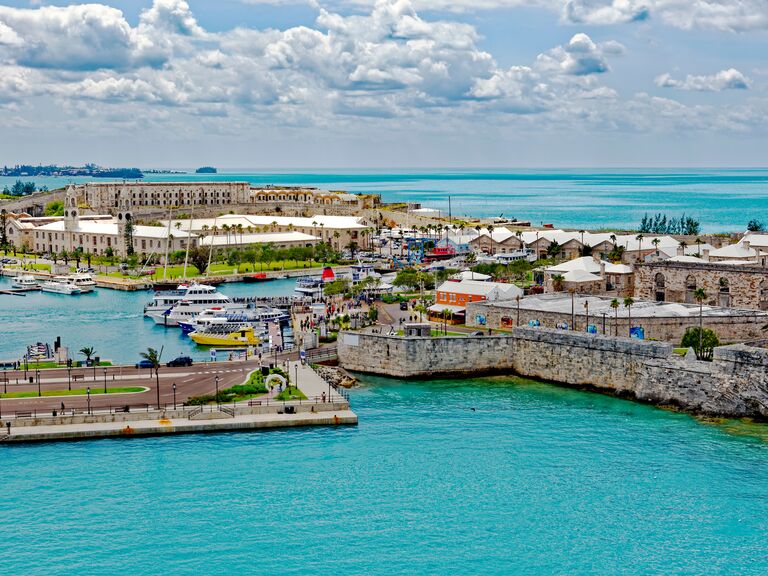 Barnes Ian/Shutterstock
Thinking about planning a destination wedding in beautiful Bermuda? In this guide, we cover everything you need to know about your big day in Bermuda. Whether you're wondering about wedding venues, wedding packages, wedding planners or marriage licenses, we have an answer for you.
Why Couples and Guests Love Bermuda
Known for its close proximity to the US, Bermuda's idyllic setting makes it an attractive destination for many couples flying in from the East Coast. Event planner JoAnn Gregoli, whose expertise falls in destination weddings, says many couples pick Bermuda as a wedding spot due to the ease of getting there—and its famous pink sand beaches. While Bermuda is a small island (20 miles of area), its stunning wedding venues are well-known and one-of-a-kind.
The Best Places to Get Married in Bermuda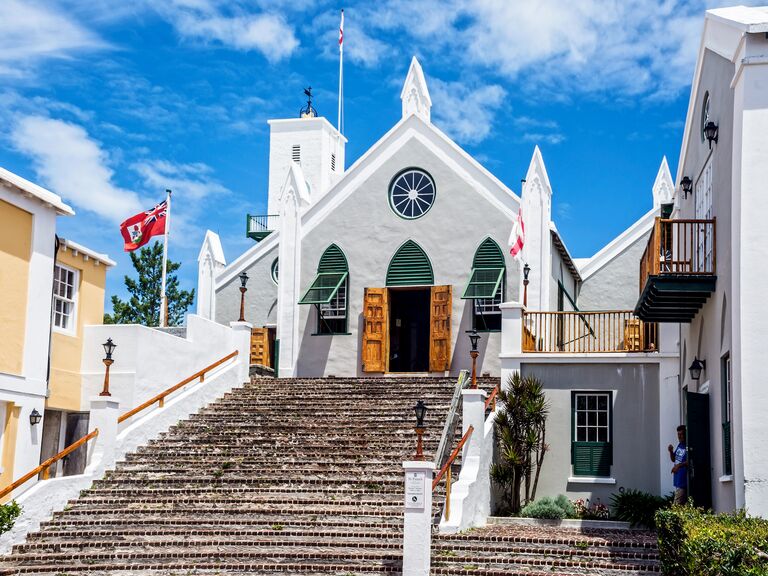 Even though it's a tiny island, Bermuda is home to distinct regions, as well as a plethora of wedding venues. Whether you're looking for a small hotel or a large estate, this country has the perfect wedding location for your special day.
Eastern End
The eastern side of Bermuda is home to St. George's, a UNESCO World Heritage Site. This tiny city has brick streets and historic buildings, transporting guests and couples to another time. If you're looking to combine a tropical vibe with stunning history, this is a great area of Bermuda to consider.
Gregoli says she loves the Rosewood Bermuda on this part of the island, a hotel on the shores of Castle Harbour. She also recommends The Loren at Pink Beach for couples desiring a smaller and decadent hotel. If you opt to have your special day at this intimate hotel, Gregoli says couples buy it out completely, making the property exclusively theirs.
Central Bermuda
Head to Central Bermuda for its capital city, Hamilton, and its famous pink beaches. Hamilton, a small, yet bustling city, is full of restaurants, museums and shopping, making it a perfect city for you or your guests to spend some time. On the southern part of Central Bermuda is Elbow Beach, a spot known for its fantastic snorkeling. One of the most popular spots in Hamilton Parish is the Hamilton Princess & Beach Club, a hotel adorned with pink paint. Another fantastic venue option is the Azura Bermuda, located on the shores of Bermuda's southern Coral Beach.
Western End
Like the eastern part of Bermuda, the western end of the island is full of historic markers. The Royal Navy Dockyard, a former naval base, is now full of shops, restaurants and places to explore. Additionally, the western part of this Atlantic island is home to the famed Horseshoe Bay on the South Shore. Next door to Horseshoe Bay is the Fairmont Southampton, one of Gregoli's favorite wedding venues for large weddings. Other great venue options on this side of the island include the oceanfront Pompano Beach Club and The Reefs Resort & Club, a spot known for its stunning beach views.
Bermuda Wedding Legal Requirements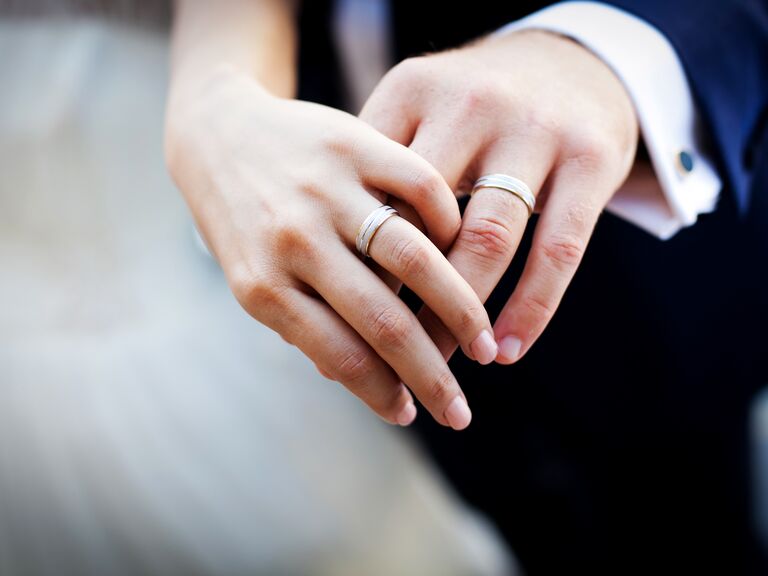 Getting married in another country can feel stressful—but it doesn't have to be. In this section, we cover all of the legal requirements you need to know about before tying the knot in Bermuda.
Legal Weddings vs. Symbolic Weddings
Gregoli says many couples have their legal wedding in the US before traveling to Bermuda for a symbolic ceremony. By doing this, you can avoid the legal requirements of tying the knot in Bermuda—and the potential costs associated with doing so.
Required Legal Documents
In order to say "I do" legally in Bermuda, you'll need to fill out the country's Notice of Intended Marriage form, which you can download from the Internet or request from the Bermuda Government's Registrar General's office. If you or your partner was previously married, you'll need to include the divorce decree or the death certificate of the former spouse with your form.
Legal Marriage Timeline
To get married in Bermuda, you'll first need to mail in the Notice of Intended Marriage form. After sending in this document, your 15-day waiting period starts. Following this waiting period, you'll be issued a marriage license. Note that your license is valid for three months after the date of issuance. Legally, Bermuda civil ceremonies can only be held in a handful of locations. You'll want to make sure that your marriage ceremony location is aligned with these approved locations. At your ceremony, you'll need to hand your marriage license to your registered marriage officer (someone a wedding consultant or wedding planner can help you find). Additionally, Bermuda requires you to have two witnesses present at your wedding ceremony.
Legal Marriage Cost
There are a few different fees you'll want to keep in mind when planning your Bermuda wedding. When you send in your Notice of Intended Marriage form, you'll need to pay a fee of $418. If you choose to participate in a civil ceremony on the island, you'll need to pay another fee of $450. It's important to note that this fee must be paid at least 14 days prior to the date of your wedding ceremony. If your wedding is not able to be held outside due to inclement wedding (and needs to be relocated to the island's Registry General), the fee for your civil ceremony will be lowered to $245.
Bermuda Wedding Planning Tips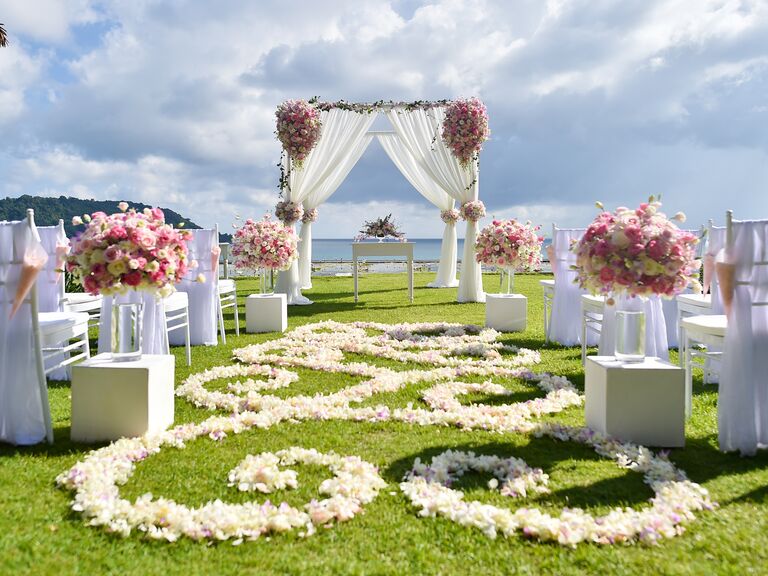 From figuring out how to get there to where to celebrate your dream wedding as newlyweds, these are all of our tips for planning your big day in Bermuda. No more random Internet searching—we've got you covered with this comprehensive section.
How to Get There
One of the reasons why Bermuda is such a popular wedding destination spot is the ease of travel there from the US. Many cities on the East Coast offer direct flights to the island, including New York, Philadelphia, Atlanta and Boston. Some of these flights are even under two hours. Once on the island, you can rent bicycles (including e-bikes), scooters or mopeds. Since the island is so small, all of these are relatively easy ways to travel around. Not your thing? The country also has buses, ferries and taxis.
Bermuda Weather
If you're hoping for a beach wedding, it's important to be mindful of the weather patterns in Bermuda. Since Bermuda is further north than the islands of the Caribbean, temperatures tend to be a bit lower, especially in the winter months. Gregoli says the best time to get married in Bermuda for warm weather is between May and September. However, she says it's important to be mindful of hurricane season, which runs from June to November. When booking your wedding package, you may want to inquire about the venue's policy around hurricanes and inclement weather.
Choosing Your Venue and Vendors
When selecting your wedding location and your vendors, Gregoli suggests asking about different policies surrounding time limits and cancellations. This type of information is critical when selecting the perfect Bermuda wedding package for you and your needs. If you're looking for some potential Bermuda wedding venues and vendors, head to The Knot's Marketplace for a comprehensive list of people who specialize in destination weddings.
Budgeting Tips
One Bermudan dollar equals one US dollar, making currency exchange rates relatively easy. Additionally, many businesses on the island will accept USD as currency. Depending on the Bermuda wedding venue and wedding package you select, rates can vary drastically. Since the island is small and popular, you'll want to book well in advance to get an optimal rate. Looking to save some money on your destination wedding in Bermuda? Rates during the off-season (the winter) are typically a little bit lower in the summer.