A Bermuda Honeymoon Guide for Perfect Beaches and Sunsets
To enjoy pink sand beaches and luxurious accommodations, head to Bermuda for your honeymoon.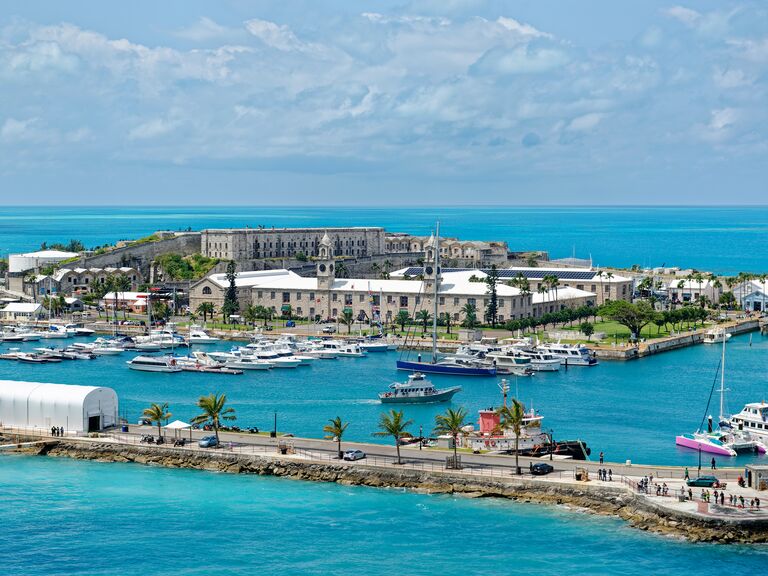 Barnes Ian/Shutterstock
We have included third party products to help you navigate and enjoy life's biggest moments. Purchases made through links on this page may earn us a commission.
With its iconic beaches, teal blue water and colorful buildings, Bermuda is a postcard-perfect honeymoon destination for couples who want a refined and luxurious getaway. The destination offers everything from scuba to sailing, plus pink sand beaches that you've seen on screensavers. Round out a day in the sun by sipping cocktails on a terrace during a romantic Bermuda honeymoon.
Is Bermuda Good for a Honeymoon?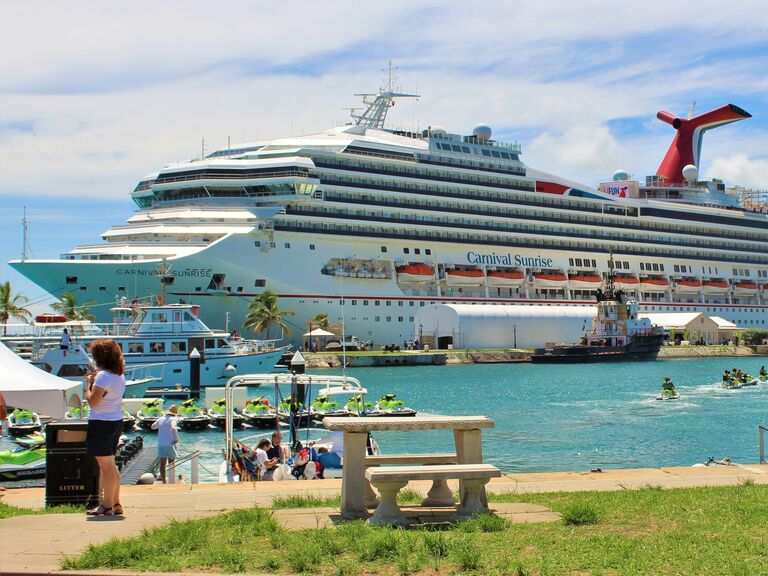 Although it's technically not in the Caribbean, this British island territory in the North Atlantic Ocean is renowned for its beaches, resorts and tropical feel. In addition to the beauty of its pink sand beaches and azure waters, Bermuda boasts coral reefs and a wealth of shipwrecks. Newlyweds can balance relaxation on the beach with active adventures, like scuba diving and snorkeling.
Pros of a Bermuda Honeymoon
For a beach vacation with "old world travel glamour," honeymooners should venture to Bermuda, suggests Louisa Gehring, luxury travel advisor of Gehring Travel. Like Palm Springs, California, Bermuda has a bit of a "retro" feel to it, she explains. Plus, anglophiles will appreciate that Bermuda is a British territory—with the pubs to prove it.
Off the coast of North Carolina, Bermuda is a two- or three-hour flight from most parts of the East Coast, including Miami, New York and Charlotte. "Many East Coast hubs have nonstop flights and if you live in a smaller town or farther afield, it's an easy connection," Gehring adds.
For even more convenience, Bermuda offers Customs Preclearance. "Even if you connect on the way home, you can clear Customs in Bermuda and connect as if you were making a regular connection on the way home. Only a handful of airports in the world have this status," she says.
Cons of a Bermuda Honeymoon
Unlike the Caribbean, Bermuda isn't warm all year long. So, if you're envisioning a beach vacation, you'll want to visit during the summer.
Since flights to Bermuda typically leave in the morning, coming from the West Coast often requires a redeye flight or a stopover in Miami or New York, says Gehring. Most trips to Bermuda span four or five nights, making a long journey might not be worthwhile.
Also worth noting: tourists aren't allowed to rent traditional cars, so you'll mostly navigate Bermuda in taxis or electric two-seaters. "Since Bermuda is a big cruise port, look at the port schedule when planning your daily activities," Gehring concludes. "Especially if you don't like thousands of people interrupting an activity."
The Best Times of Year to Go on a Bermuda Honeymoon
Unlike the Caribbean, peak weather is in the summer, says Gehring. That said, by vacationing in the fall, you'll avoid crowds and higher rates. Just remember that Bermuda does have a winter, so "don't expect to go in December or January and get a tan," she adds. "The weather is most similar to the coastal Carolinas, only a bit more tropical."
Places to Visit in Bermuda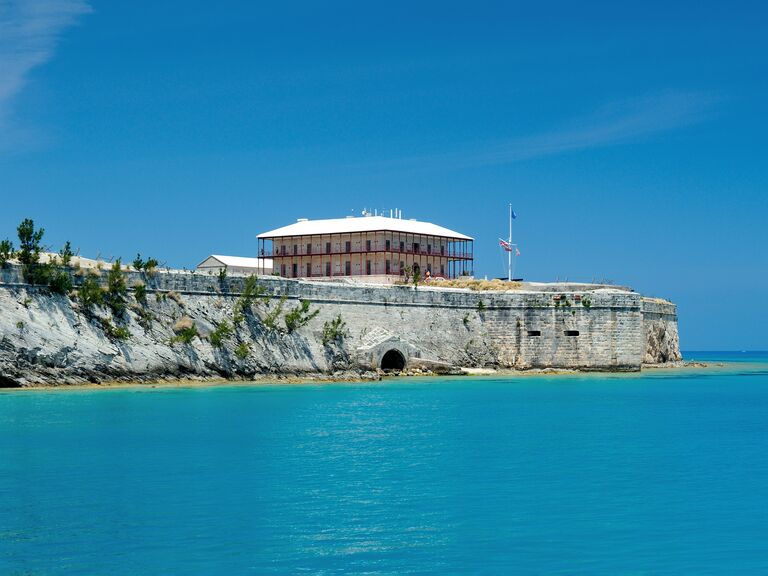 A historic military site, this landmark spot is now home to art galleries, shops and museums. Among them, The National Museum of Bermuda is worth visiting to see gold bars and jewelry discovered at shipwrecks. Afterward, couples can visit nearby South Shore beaches.
Walk or bike this 18-mile trail, which follows an abandoned railbed. The path extends from St. George's in the east to Somerset in the west.
Stop by Bermuda's oldest pub for lunch and its national drink, the Rum Swizzle. This combination of rum, fruit juice (lime, orange and pineapple) and grenadine is believed to have been invented here.
Things to Do During a Bermuda Honeymoon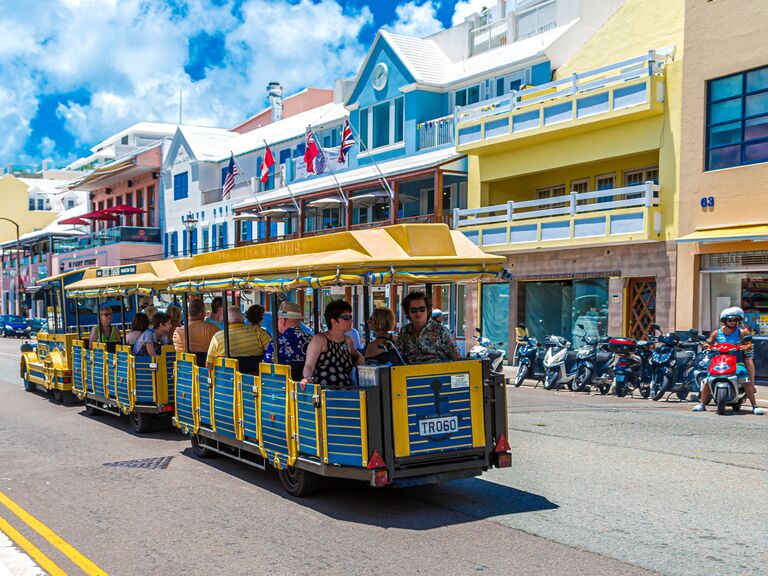 Shop
Visit stores in Hamilton, Bermuda's colorful and charming capital, suggests Gehring. Head to Front Street, the town's waterfront promenade, on a Wednesday night during the summer for the weekly Harbour Nights Festival. For more shopping, don't miss The Royal Naval Dockyard, though be aware that when cruise ships disembark there, the area can get very crowded.
Sail
Bermuda is known for its sailing heritage and regatta, Gehring explains. "Newport-Bermuda, Annapolis-Bermuda and the annual Bermuda Gold Cup are all races worth watching if your trip happens to coincide with them," she says. Since the odds of that happening are slim, instead take a sailing class at the Royal Bermuda Yacht Club (set this up in advance of your trip).
Scuba Dive
With more than 300 shipwrecks, Bermuda has been called the shipwreck capital of the world. Scuba dive to explore these ruins as well as the island's many coral reefs. If you can, visit North Rock Nature Preserve, home to the largest coral reef in Bermuda. Also experience The Aquarium, where the reef features underwater arches you can swim through.
Head to the Beach
The island is famous for its pink sand beaches, including Elbow Bay and Horseshoe Bay Beach. Head to Bermuda's South Shore to explore these and other photogenic examples.
Best Hotels and Resorts in Bermuda for a Honeymoon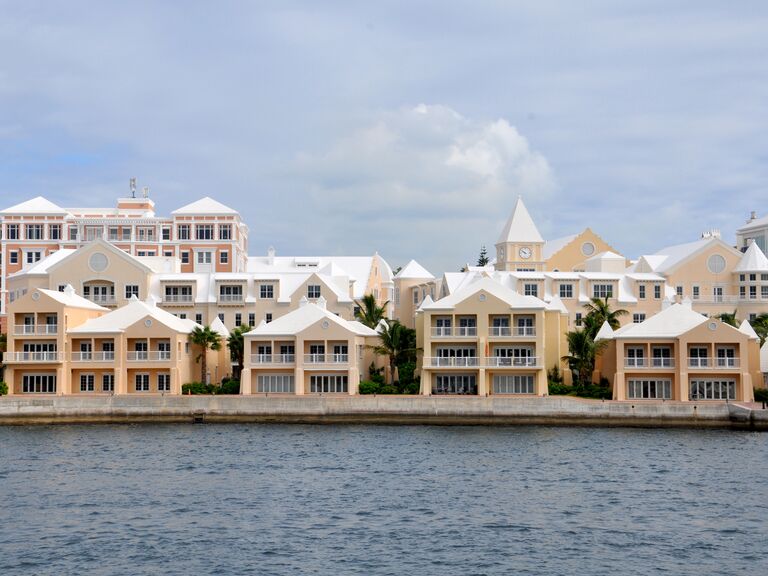 The newest and hottest hotel, according to Gehring, the oceanfront St. Regis offers a casino, two pools and private cabanas. In the historic town of St. George's, the resort is also steps from St. Catherine's Beach, where couples can relax and tan.
Located on Tucker's Point, this luxury hotel boasts an "old world Bermuda" feel, says Gehring. All rooms include deep soaking tubs, with suites also providing private balconies.
This sleek, modern hotel on the Atlantic Ocean opened a few years ago. On the site of the former iconic Pink Beach Club, the five-star property is both stylish and luxurious.
A family-owned, casual resort, the Pompano Beach Club is located on Bermuda's southwest coast. In addition to ocean views from every guest room, the property boasts a shallow waterfront and proximity to the territory's public Port Royal Golf Course.
One of the most iconic properties in Bermuda, the Hamilton Princess is also referred to as the "Pink Palace." The hotel is situated on a marina, making outings accessible. Venture on a deep-sea fishing trip, charter a private boat, or rent a Boston whaler boat.
Founded in 1923, this pink resort offers private beaches, natural coves and an infinity pool. For the ultimate in privacy, stay in a suite or cottage.
Conveniently located five minutes from the L.F. Wade International Airport, this oceanfront resort in Baileys Bay features two private beaches, a freshwater pool, plus an underground swimming cave. Take a guided tour through the crystal caves and marvel at their stalactites and stalagmites.
For a boutique hotel experience, this family-owned spot is a blend of Colonial and Bermudian architecture. Located just a ten-minute walk from the city of Hamilton, it features a pool, tropical garden and formal English courtyard.
What to Pack for a Bermuda Honeymoon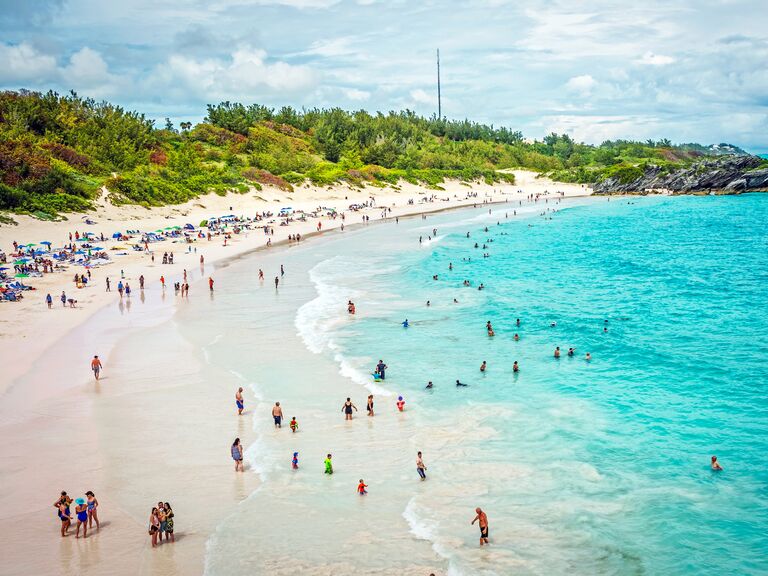 For dinners, bring casual—but not too casual—island wear, like a sundress for women and Bermuda shorts and high socks for men, says Gehring. Also, couples will want to pack bug spray to keep the mosquitos at bay.