How to Change Your Name in Minnesota After the Wedding
Get our guide to officially morphing your moniker in the North Star State.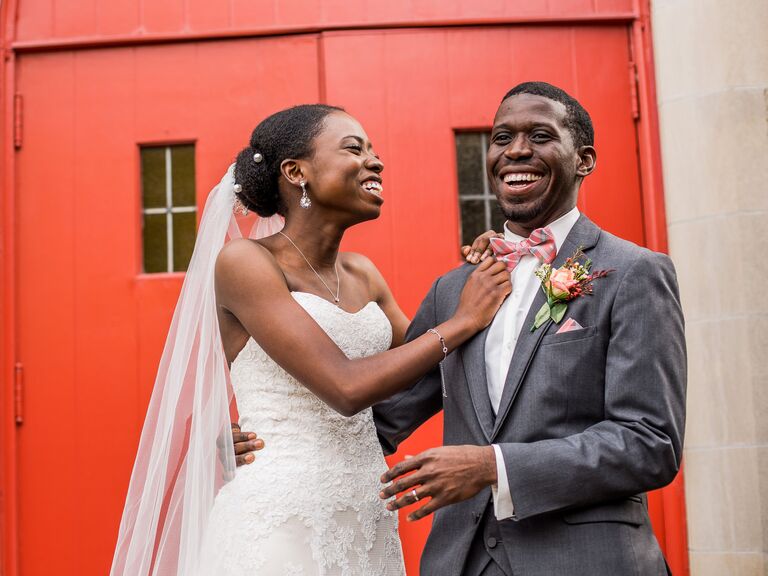 Kelsey Lee Photography
We have included third party products to help you navigate and enjoy life's biggest moments. Purchases made through links on this page may earn us a commission.
Changing your name and planning a wedding have a lot in common: Neither is exactly an easy endeavor. In fact, a name change in MN involves a series of steps, and you'll have to pay close attention to the details to make sure you're doing them all correctly.
Want a little extra help? One of our favorite services, HitchSwitch, simplifies the name change process, boiling it down to just one questionnaire you'll fill out. The service then gathers and auto-fills all the official name change forms you personally need for you, and also provides straightforward instructions for submitting them. In essence, it eliminates a bunch of steps for you. (And that's exactly why we love it.)
To help you decide if a service is worth it (many, many couples swear it is), you should know exactly what's involved in your state. So, we've created this nifty guide that breaks it all down. Here's how to change your name in Minnesota.
In this article:
Getting an MN Marriage License
The first step to making a legal name change after marriage in MN happens before you even get married: It's filling out a marriage license application. That's because you'll need to note your new married name on the application—yes, it's best to know exactly how you're changing name before the big day. Minnesota name change laws require this, so if you don't note your desired married name on the license, you'll have a harder time later, most likely having to change your name through the court system, which is a longer, more involved process.
How to get a marriage license in MN? You and your fiance should visit a local Vital Records Office—it doesn't matter which county, as long as you're getting married in the state. (But note that postwedding, it has to be returned to county where it was purchased.) Having a destination wedding? In that case, you'll actually want to look up the requirements in that location instead—you get your marriage license wherever you're tying the knot.
What documents do you need?
Most importantly: the marriage license application. The good news is, in participating counties, you can pre-complete it online. This will save you some time—you'll just have to sign it in person when you visit the records office. Check this list to see if the perk is available at your location.
Either way, it's best to call ahead to see what else might be required. At the very least, plan to have to show ID.
How much does it cost?
How much is a marriage license in MN? $115. But, the price gets knocked down to $40 if you complete at least 12 hours of premarital education. To take advantage of those savings, you'll need to submit a notarized or sealed statement from an educator confirming that you've done those 12 hours. For more information, visit the Minnesota Legislature's website.
Important things to remember:
After your wedding ceremony, have your officiant file your marriage license with the county registrar within five days. From there, you'll get a marriage certificate (your legal ticket to change your name) and you can request certified copies (which you'll want to have on hand).
Getting an MN Name Change Petition
If you didn't write your name change on your marriage license application, you'll want to petition for a legal name change in MN. See the Name Change page of the Minnesota Judicial Branch website for more info on how to do this, as well as more details on Minnesota name change laws. Tip: When you're applying for your marriage license, ask your Vital Records Office if the certificate will permit the name change you desire. If it doesn't, you'll need a court order to serve as your legal name change document.
Getting an MN Social Security Name Change
Once you get your marriage certificate or name change court order, you'll be ready to legally change your name through the Social Security Administration. This is your next step, since it's required to be done before you can change your passport or driver's license. FYI: A Social Security name change in MN is really the same process as it is in the rest of the country.
What documents do you need?
A completed Form SS-5, the official application for a Social Security card. You can find info on how to complete it online. Mail or bring the form to a nearby SSA office, along with:
Your legal name change document (your marriage certificate or court order)
Proof of identity (such as your current driver's license)
Proof of citizenship if you haven't already proved it to the SSA (such as your birth certificate)
Get more info by checking out the SSA's instructions for getting a corrected card.
How much does it cost?
It's free!
Important things to remember:
The SSA won't accept photocopies of your documents. If you're worried about submitting originals, you can request certified copies from the appropriate entities (usually for a fee).
Getting an MN Passport Name Change
A passport name change is important, especially if you're planning on traveling any time soon. Plus, it can take longer than updating a driver's license, so you might as well get the process started early.
What documents do you need?
To change your name on your passport, you'll need one of these three forms:
1. Passport correction form: Form DS-5504
Use this form if you're requesting a name change within a year of receiving your current passport. You'll also mail in:
Your current passport
Your certified name change document
A color passport photo (HitchSwitch can help you get one with its most popular, $99 package—just one of the perks of hiring a service to assist you)
2. Passport renewal form: Form DS-82
Use this form if you have a current passport that's still in good shape, you've received it when you were at least 16 years old, and it was issued within the last 15 years. Mail these items in:
The form
Your current passport
Your certified name change document
A color passport photo
3. Passport application: Form DS-11
Apply for a passport if you don't fall into either of the above categories. Unfortunately, the standard passport application requires a visit to a Passport Acceptance Facility (or a Department of State Passport Agency for expedited service). Bring:
Proof of identity, as well as a photocopy
Proof of citizenship, as well as a photocopy
Your certified name change document
A color passport photo
How much does it cost?
Passport correction: $0.
Passport renewal: $110 for a passport book and $30 for a card.
New passport: $110 for a passport book, $30 for a card, plus $35 in extra fees.
In a hurry? For an extra $60, you can expedite your service.
Important things to remember:
If you're traveling soon, make sure your name on your plane or train tickets match the name on your passport. If you're headed off on your honeymoon and you booked using your maiden/original name, you'll want to wait until after you get back to update your passport.
Getting an MN Driver's License Name Change
Next up? Changing your name on your driver's license. Make a trip to any MN Driver and Vehicle Services Office to make this switch—it will either be a renewal or a duplicate license, depending on the status of your current license. (Find your nearest location here.) Before you go, you can complete a pre-application, which may help the visit go a little quicker.
What documents do you need?
Bring your current MN driver's license and your certified marriage certificate or name change court order. Know that if you have or want to get an Enhanced Driver's License (EDL), you may need more ID. Here's more info about EDLs.
How much does it cost?
A new Class D MN driver's license costs $32. A duplicate costs $17. If you want an EDL, it will cost an additional $15. If you need your new license fast, you can expedite the process for an additional $20.
Important things to remember:
Minnesota name change law requires you update your driver's license within 30 days of a legal name change, so get this step done soon after doing the Social Security update. For more information about an MN driver's license name change, visit the MN DVS website.
Completing an MN Name Change
As follow-ups to your legal name change in MN, you'll have to take a few more steps. In fact, MN legally requires some of them—learn more here. The Minnesota Judicial Branch recommends you update:
The County Recorder of each county where you or your family claim interest in land
Voter registration documentation
Employee records
School records
Insurance policies
Doctor, dentist and pharmacy records
Bank and investment accounts
Utility companies, such as gas, electric and phone
State and federal tax agencies
There's more too—really too many to list here. But know that all important accounts and records should reflect your new name. Thankfully, HitchSwitch can help you out with this part too. The service provides its customers with personalized checklists and guides for making their name change not only official but 100 percent complete.
Here's to the new you!