How to Plan a Budget-Friendly Bachelorette Party
Planning a bachelorette party doesn't have to require an expensive itinerary—all it takes are a few creative ideas.
by The Knot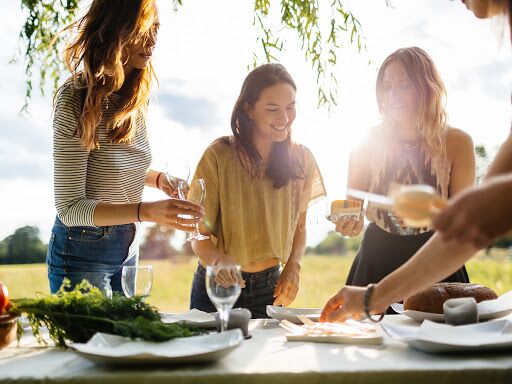 You want to throw the bride-to-be a fabulous bachelorette party, but the group is working within limited means. No problem—you don't have to drop a lot of cash to throw an unforgettable event. (Remember, there's no rule that says bachelorette parties have to be an entire weekend—it's completely fine to have one day or night of fun.) Here are our best bashing-on-a-budget ideas.
Slumber Party
The Scene: The ultimate girls-only gathering, a slumber party, is a good way to get in touch with your roots—especially if you and the bride are childhood friends. Pick someone's home to crash for the night who has the most space, or rent an Airbnb or affordable hotel room.
Activities: Take this opportunity to not act your age. Watch horror movies that scared you senseless in high school, or classic wedding chick flicks. Bring along all the necessary supplies and give each other manicures and pedicures during the party. Order pizza and have plenty of junk food on hand, and pick a signature drink to make while playing games and telling funny stories about the bride.
Bar or Winery Crawl

The Scene: Just because you're on a budget doesn't mean you can't enjoy a night on the town. Pick a few local bars in the same area of town (they should be within walking distance). Even two bars will do the trick—and remember, the smaller the bar, the more attention your group will get. Set yourselves apart from the crowd by wearing feather boas, matching hats, sashes, tiaras, leis or T-shirts, and carrying personalized koozies. If everyone knows you're celebrating, your evening is bound to include a few free congratulatory rounds. And if you prefer the atmosphere of a winery as opposed to a bar, schedule tastings at vineyards in your area—even better if they have a food menu and some kind of entertainment, like live music. 
Activities: Don't underestimate the hilarity of a bachelorette scavenger hunt if you're doing a bar crawl. Create a checklist of tasks for the bride to complete, from the simple (get a guy to buy you a Sex on the Beach cocktail) to the creative and almost impossible (find a guy who has your first name tattooed on his body and take a photo). Don't forget to take photos along the way, and arrange for a designated driver or car service after a long night of barhopping or day drinking. 
Dinner Party
The Scene: Play hostess and invite the group over for a gourmet dinner. Look for tasty recipes (find the perfect one on TheNest.com ) that fit a certain cuisine or theme the bride loves, then stock your kitchen and get cooking. You could even hire a private chef to cook for the night or a bartender to make sure everyone's glass is always full. 
Activities: If there are enough of you, break into groups to cook each course—one group grills, another assembles the appetizers. And don't forget the wine! Set the table and enjoy the fruits of your labor. You could even invite the groom and his guys over for dessert—or better yet, include them in the cooking and make it a competition.