8 Premarriage Counseling Questions Every Couple Should Talk About
"For me, it meant I could discuss concrete things in our future without bringing it up myself—or freaking him out."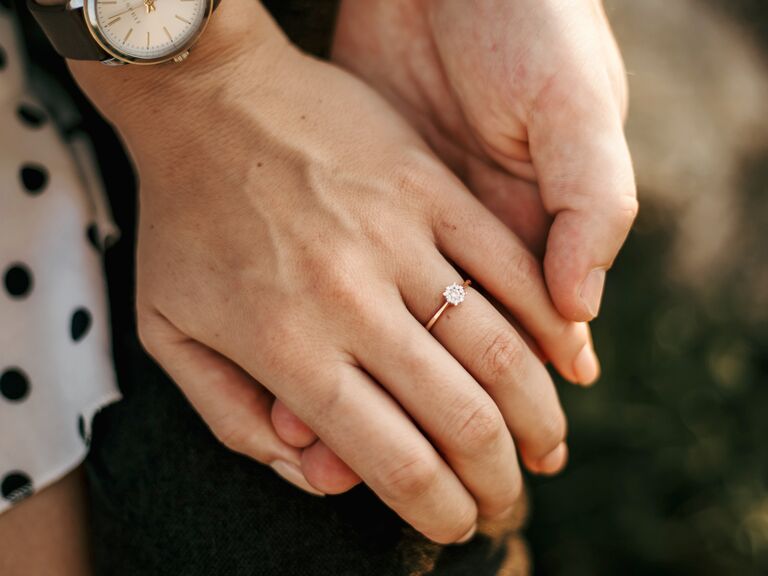 Photo by Oana Craciun on Unsplash
My husband and I were together for eight years before we got married. You would think we would have known everything about one another by then. We thought we did too. That is, until a middle-aged man grilled us on every aspect of our future marriage, from babies to death.
We chose to be married in the Catholic church, so Pre-Cana (a premarital counseling course and consultation for couples) is mandatory. We knew this was the case, and I was actually pretty excited about it. For me, it meant I could discuss concrete things in our future without bringing it up myself—or freaking him out.
If I'm being honest, I think I also secretly harbored dreams of the aforementioned middle-aged man telling us we've done it—we have the perfect relationship! We would leave with baby names and a certificate that read "Your Marriage Is Guaranteed to Last Forever." A little over a year into marriage, I now realize: There's no such thing as perfect or guarantees, but there is such a thing as being as prepared as you can be. I can't think of a better reason to be the latter when the stakes are love, happiness and, oh you know, the rest of your life.
Here are some of the premarriage counseling questions we discussed that will make you hit pause on the wedding planning for a talk with your fiancé. After all, it could have an effect on the decades after "I do."
1. In which areas would you like to help your fiancé improve?
Oh yeah, they start you out with just straight up critiquing your significant other. Only you have to communicate it delicately and truthfully, which is a lesson in itself.
2. What are some matters about which the two of you have different opinions?
What?! You can discuss the elephants in the room, and your entire relationship won't disintegrate?!
3. Who will manage your family finances?
This one was a little easier for us.
"Kayla…."
"I'm not good with money. You do it."
"Perfect."
I realize money talks are not easy for everyone and that it can be really uncomfortable to bring up. That was part of the beauty of this whole exercise. You don't have to feel like a Negative Nancy for bringing up things about marriage that aren't all butterflies and rainbows. In premarital counseling, they bring it up for you.
4. If both have careers, whose job determines where you will live?
Whoa. That's a doozy. We tackled this one with less of a definitive answer (think: "my job determines where we'll go") and decided this would be something we would face together and would involve weighing several other factors.
It felt more like a lesson in teamwork. A lot of the premarriage counseling questions had a side benefit to them. After this one in particular, we both felt we could conquer something like this together and agreed, at that moment, to do so.
5. What do you usually fight about and when do you usually fight?
Somehow I never really saw the pattern until we answered this question, but it was there all along. There were some pretty stupid things I was getting mad about, and usually it was when these little things built up over time that the fights happened.
Just realizing this has helped eliminate issues that could've ended up causing a real strain on our relationship. Dumb arguments will always be a thing as long as I am a part of any relationship, but at least now my husband sees them coming and can identify the solution quickly.
6. If you should be unable to have your own, would you adopt a child?
Nothing is off-limits in premarital counseling. Instead of shying away from topics like infertility, you face them head-on, which alleviates much of the tension and fear on the topic.
If you think that was a hard one...
7. On your deathbed, what would sum up your life as worthwhile? What would give meaning to your life?
Being someone's partner is so much more than just "you cook; I clean." It's lifting them up and helping them have a fulfilling life. What I learned in premarriage counseling:
First step: Admitting you're not the ultimate fulfillment for your fiancé's life.
Second step: Finding out what else is and doing everything in your power to give that to your partner.
Third step: Be on the receiving end of step one and two.
8. What do you intend to do to stay in love?
Turns out Netflix and chill is only a piece of the formula to permanent, lasting love. Our counselor told us that his wife and him dance together every day. Even when they're furious at one another, they spend five minutes dancing in their kitchen. It reminds them of why they married one another in the first place. It sounds like it's straight out of a Nicholas Sparks novel, but I swear it's what he said!
Instead of waiting around and hoping that "staying in love" happens, premarriage counseling made us start planning on how to stay in love—while we were still engaged. Hard conversations and trying times will always be something we face, but after just a few hours in front of a counselor, we felt more equipped to face them. More importantly, we felt more confident that we can face them together.
If love is a battlefield, why not wear all the armor you can?
Kayla is a lifestyle blogger at KaylasFiveThings.com, sharing her favorite fashion trends, beauty products, décor ideas, entertaining tips and wedding planning advice.
And for more guidance, try Lasting, a science-based app backed by The Knot dedicated to improving the health of your marriage or relationship.