12 Questions to Ask Potential Cocktail Hour Musicians
Here are a few points to cover with possible pros before signing a contract.
by The Knot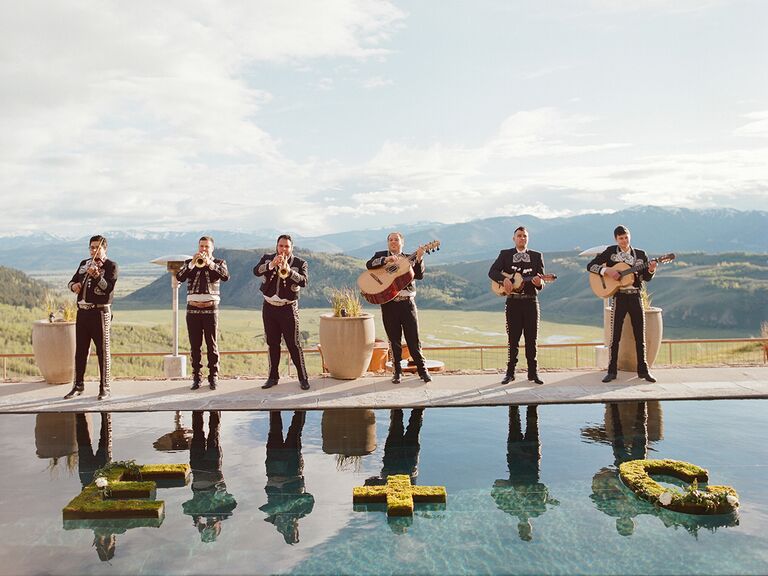 Your cocktail hour musicians have the important job of setting the right mood. Before you book anyone, ask them these questions to make sure they're right for the gig.
1. How would you describe your style?
Why you want to know: Your cocktail hour is prime chatting, mingling and photo-taking time for you and your guests, so you'll want to choose a musician or group that knows how to keep things low-key (think: a jazz trio, quartet or acoustic guitarist). An ensemble that describes itself as AC/DC meets Lady Gaga (whatever that means), might not be your best pick. In other words, save the rocking out for later on the dance floor.
2. Have you played many weddings or cocktail parties?
Why you want to know: You want to make sure they have ample experience working professional events in general, and, in the same vein as the above question, that they know how to achieve the right cocktail hour vibe. Ask to speak to some of their previous couples who can to tell you honestly about their experience working with them.
3. Can we hear you perform either publicly or privately? Can we listen to a demo of your work?
Why you want to know: Nothing compares to hearing and seeing musicians perform live—it will give you the best idea of what your cocktail hour entertainment will actually sound and feel like. If you don't have an opportunity to check them out in person, ask if they can send you a sample of their work.
4. Do you have another event before or after ours?
Why you want to know: If they're booked somewhere before, ask what will happen if the other event runs over. On the other end, you don't want them cutting out early and leaving your evening in silence to make their next gig.
5. Will you require equipment, or will you provide it all yourself?
Why you want to know: Most pros provide their own equipment—music stands, microphones, speakers and so on—but you never know. Find out exactly what equipment they bring, and what you need to rent (or borrow from the venue). Although cocktail hour entertainment is usually more low maintenance than, say, a reception band, you might need to hide cords or speakers to keep the event space clean.
6. How much room will you need?
Why you want to know: How many musicians there are and how much equipment they require will determine how much space is needed. The sooner you find this out, the sooner you can pick a spot for them to set up based on the venue layout and acoustics.
7. Are you familiar with the music we want, or do you need us to supply sheet music?
Why you want to know: It's not wise to assume your musician knows exactly which rendition of "Fly Me to the Moon" you want to hear over champagne and passed hors d'oeuvres. Chat about your preferences so everyone's on the same page.
8. What do you typically wear?
Why you want to know: A potential musician will usually have several professional choices for you to choose from, such as a tuxedo, or simple coordinated outfits, like black shirts and pants.
9. How much setup time do you need and who will do the setup?
Why you want to know: If it's just one or a few musicians with instruments, they'll probably be able to manage setup themselves, but ask about their plan just in case.
10. What's your sick-day policy?
Why you want to know: If a key member of the ensemble comes down with the flu the morning of your wedding, they should have a reliable replacement (and you should meet them prior to your event too).
11. What's your cancellation policy?
Why you want to know: What are the repercussions if you change your date or change your mind on your music?
12. What is your fee for a wedding cocktail hour (probably about two hours of work)? Do we need to pay travel expenses too?
Why you want to know: Get a sense of the all the costs up-front—cost per hour, travel expenses, overtime fees, cancellation fees and so on.
Start your search for a cocktail hour musician right here.
Want cocktail hour inspiration? We've got everything you need here.
Need some sound advice? Don't make any of these wedding music mistakes.