The Ultimate Wedding Cocktail Hour Guide
Think of your cocktail hour as a souped-up version of your favorite happy hour. Here, some basic cocktail hour must-haves, plus a few extra-genius ways to wow your guests.
It's early in the evening and all your loved ones are together in a stylish and romantic atmosphere, complete with your favorite drinks, food and music. There's really nothing better. Here's what you need to pull off a fabulous cocktail hour at your wedding.
Knockout Signature Cocktails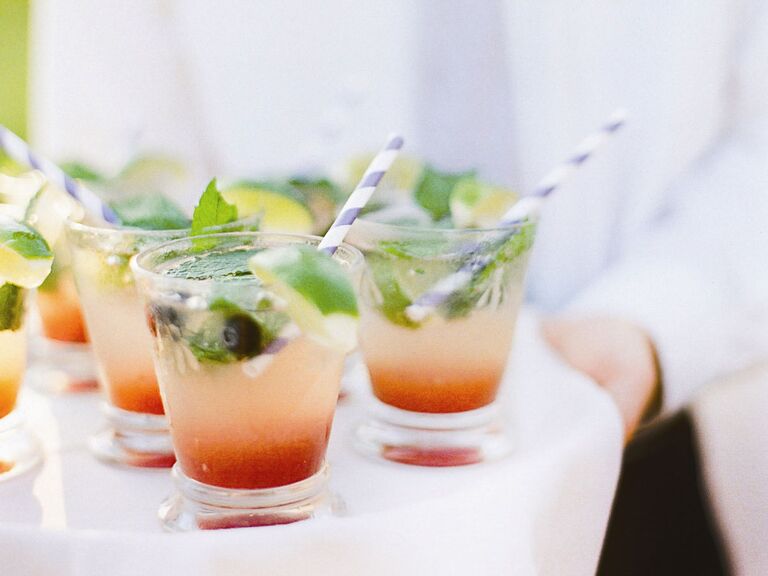 Whether it's a classic or totally new, you can match your signature cocktail to your color scheme, let it reflect your personalities (as a couple or individual) or honor your favorite hometown or cultural flavors. Maybe your go-to sip is whiskey lemonade, while your fiancé's is gin and tonic. Feature both cocktails on the menu and give them creative names to reflect your personalities. And why stop at just one? Name drinks after your bridal party or serve favorite cocktails from both sets of parents.
Comfortable Seating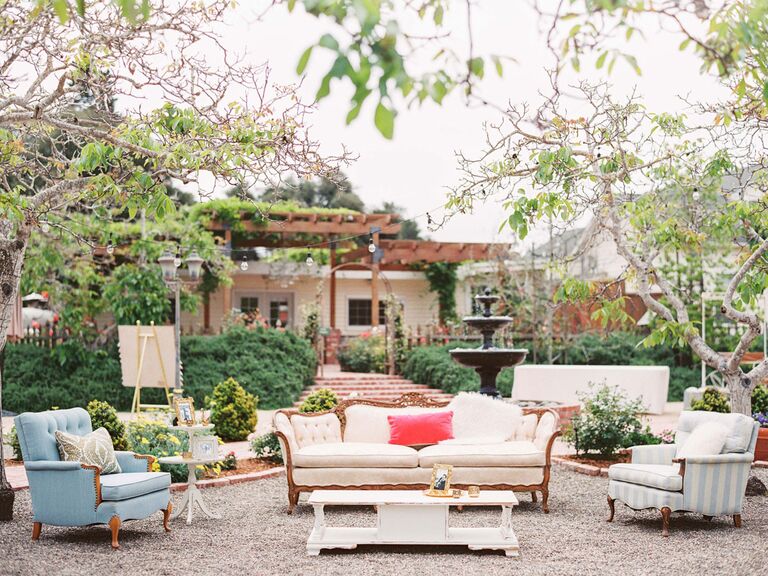 You'll want to give people room to mingle easily, so don't crowd the room with chairs. Instead, provide enough seating so your older guests have a comfy place to rest and anyone who's wearing high heals can take a break. A combination of low chairs, coffee tables and higher tables with bar stools will give your cocktail hour a different feel than your sit-down reception dinner. Want a cozier vibe? Build a virtual outdoor living room with armchairs, rugs and vintage end tables.
Mood Music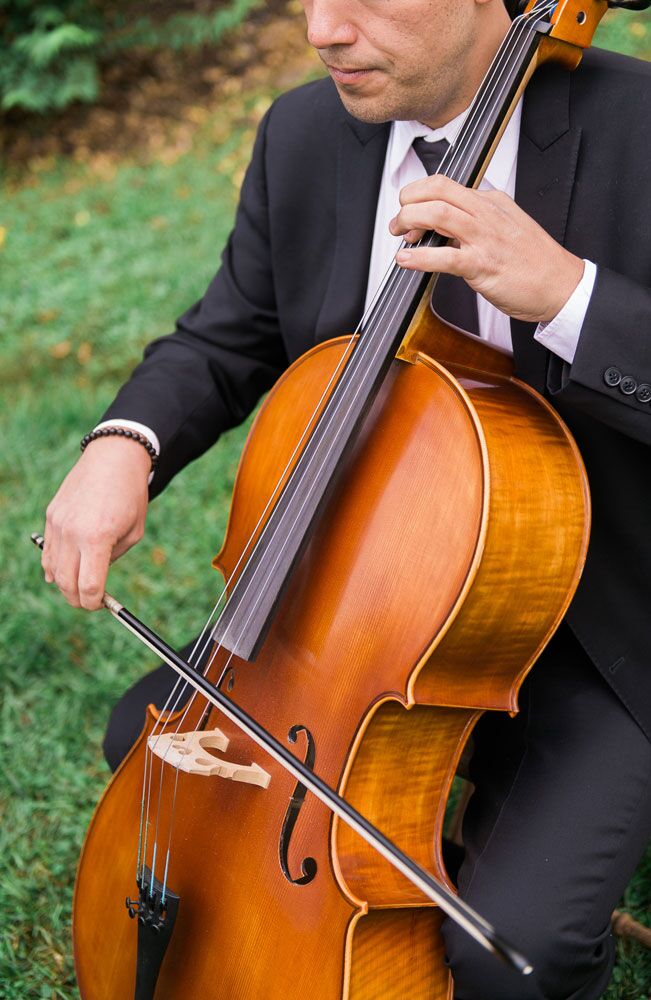 Since you're not at the dance party yet, keep the volume turned down and the vibe mellow so people can chat with ease. This doesn't mean you have to play cheesy elevator music, but matching your music to the mood is a good idea. Maybe you've planned a lively DJ to keep you dancing throughout the reception, but for the cocktail hour, slow it down. Hire a jazz trio, quartet or acoustic guitarist to set a distinct mood.
Stylish Setting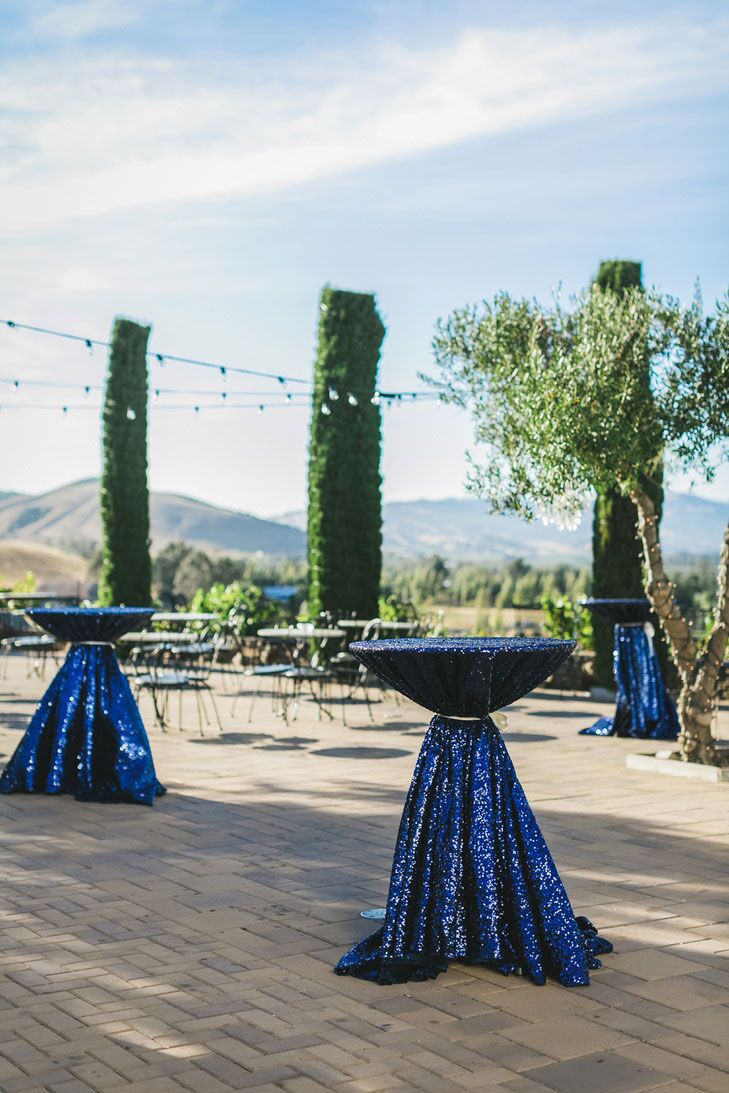 Sure, you've spent ages choosing your reception décor, but don't let the cocktail hour go by the wayside, especially if it's in a separate space. Small centerpieces and extra votive candles can be a great way to finish off the room. For example, if your cocktail hour's outside, but your reception will be inside a ballroom, don't be afraid to vary the décor. Take advantage of the natural foliage and string wide ribbons and colorful banners with lights from the tree branches, or set up floral installations near the entrance.
Décor Theme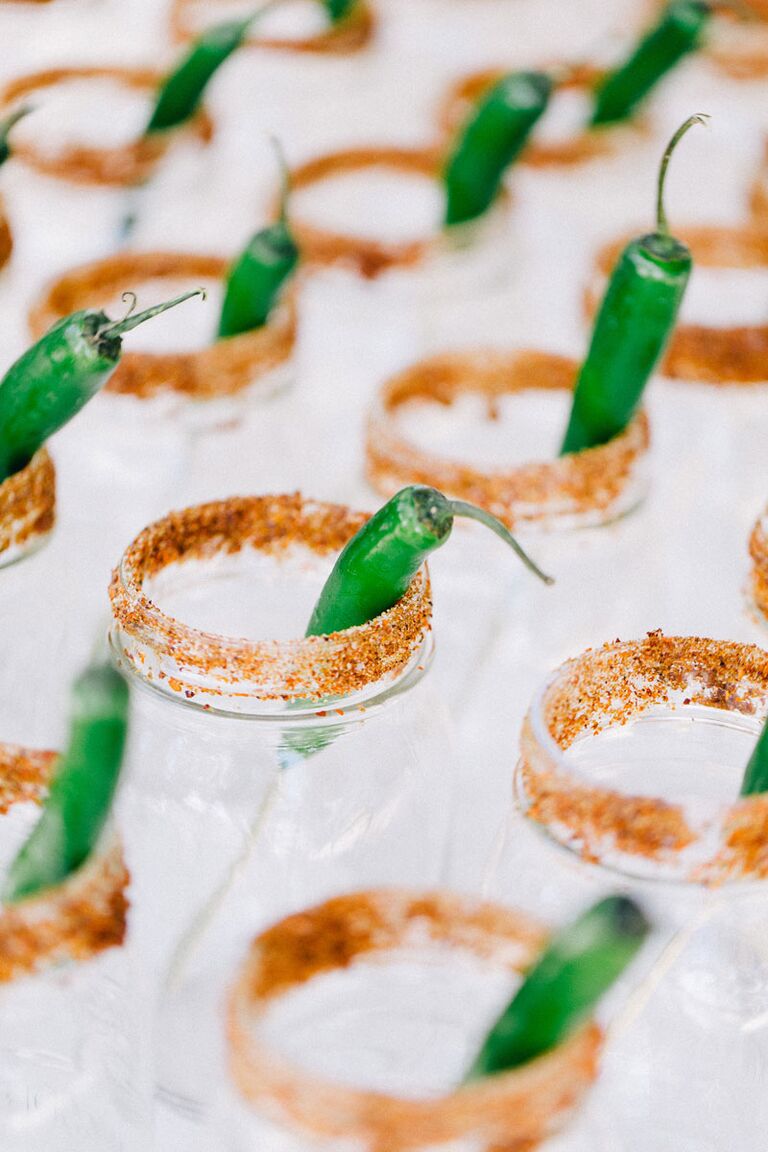 Your centerpieces and table settings will set the theme for the reception, but if the cocktail hour is held in a separate room or outside, maybe try something different. You don't need to make your guests wear leis and Hawaiian-themed shirts, but you could serve tropical cocktails out of coconuts, and chips with fresh papaya and mango salsa. Take your theme to the next level by expanding it to your music and décor. Hire a mariachi band and set up handmade guacamole and churro stations. Or have a jazz pianist and singer perform and decorate with art deco–style chandeliers and a bold black-and-white color palette.
Open Bar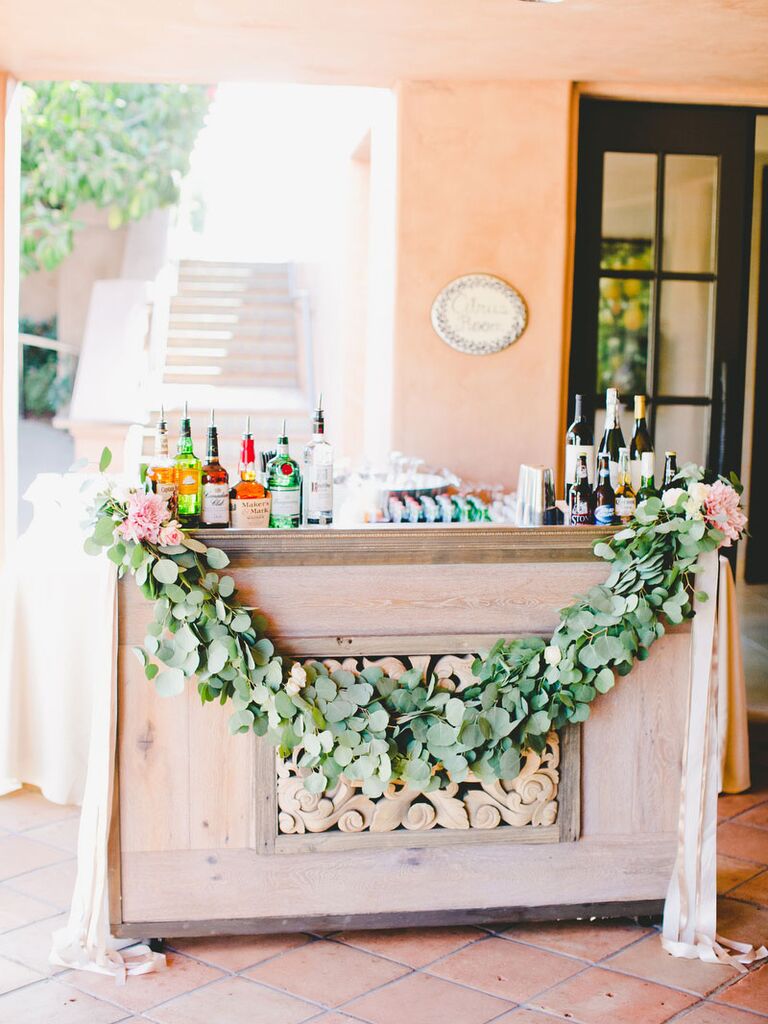 We've said it before and we'll say it again: Having a cash bar at your wedding is not a good move. If you're on a tight budget, skip pricey liquor and serve only beer and wine, or simply offer one signature drink. Looking to liven things up? Set up a specialty bar, like a cognac, microbrew, bubbly (with sparkling wines) or tequila bar. Ask your caterer about keeping an expert on hand during cocktail hour to give suggestions and tasting tips.
Scrumptious Bites
We know it's your menu, but make sure it's diverse enough so all of your guests can enjoy at least one appetizer. If you're at a loss for where to begin, touch on the major tastes: Serve something slightly salty, sweet, bitter and savory, and provide several dishes to complement to your signature cocktails. Don't forget to ask about any special diets or allergies ahead of time to ensure everyone has something to enjoy (and so anyone with allergies knows what to steer clear of). Something you might not have considered is to go ahead and give your guests something sweet before they even sit down to dinner. You don't want to spoil their appetite for what's to come (so save the chocolate ganache for later), but offering a seasonally sweet treat, like a fruit tart or lemon sorbet, could be the perfect palate cleanser before dinner. You can also forgo typical utensils entirely by offering all bites on edible spoons or in mini crispy cones.
Personal Touches
Little extras, like monogrammed napkins or barware, can go a long way in making your wedding feel totally personalized. Plus, stemless wine glasses with your wedding date or initials make an instant keepsake for guests. Fun tip: Don't wait until the end of the night to give out your favors. Instead, have a special wine or beer brewed ahead of time in honor of your wedding that you can serve during cocktail hour. Let guests sample it and then offer them each a bottle to take home at the end of the night, complete with a customized label.
Nonalcoholic Options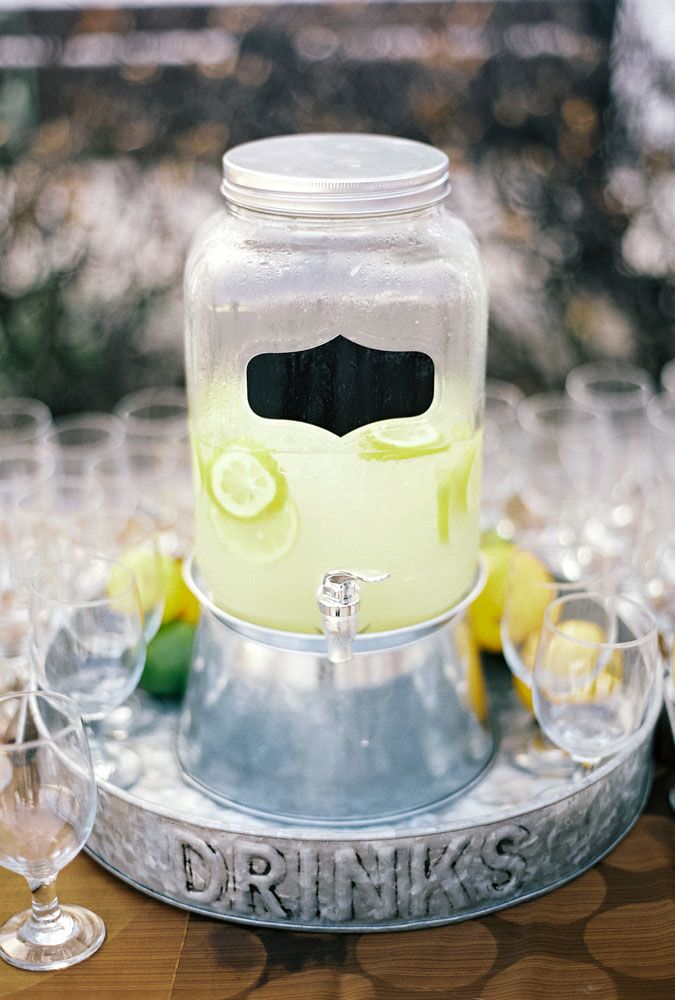 Make sure you've got a few drink selections for non-drinkers, especially if it's an outdoor summer wedding. For hotter months, try water infused with cucumber, melon and mint—with lots of ice. During cooler months, serve something cozy and seasonal, like hot apple cider with cinnamon sticks. Give guests more than just water and soda by having at least one mocktail on the menu. Work with your caterer or mixologist to come up with something inventive like a mix of grapefruit and orange juices, or a little coconut milk and a small scoop of orange sherbet on top.
Games and Activities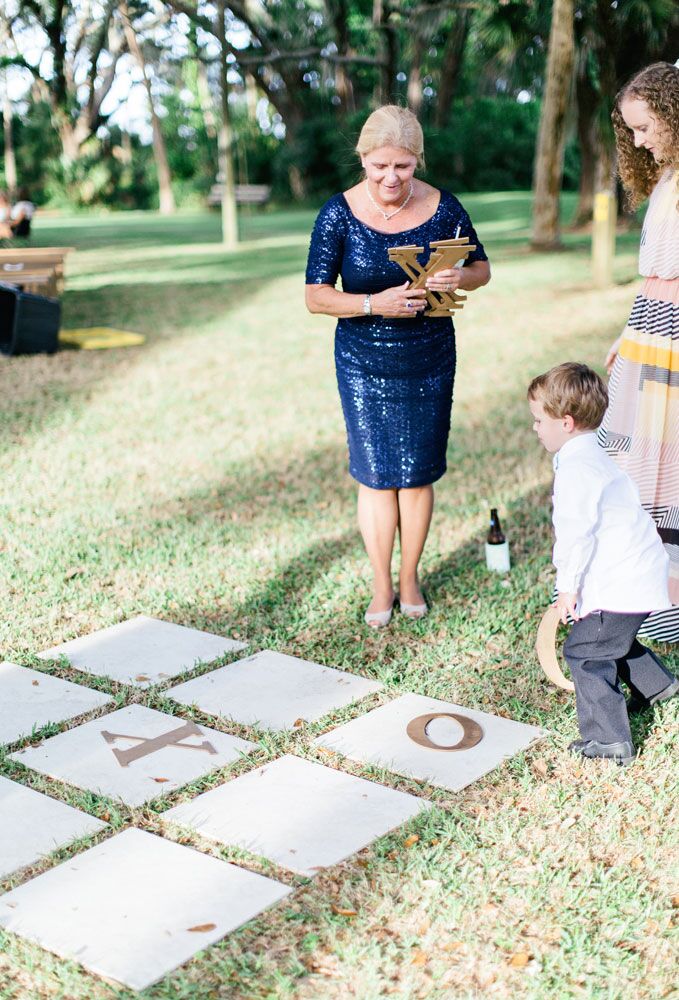 Give your guests something extra to do during the cocktail hour, even if it's just breaking out the guest book a little early to give them plenty of time to sign it. If your wedding is outdoors, set up lawn games like bocce ball, lawn croquet or a beanbag toss. These types of games are also a great idea if you'll be having lots of kids at the reception. You could also rent a photo booth and provide fun props for guests to pose with.
Want more cocktail hour inspiration? Of course you do!
> Summer Cocktails Your Guests Will Love
> 15 Rosé Wines You Have to Try This Summer