Outdoor Wedding? Yes, You Need a Backup Plan
Follow advice from these planning experts and fickle Mother Nature won't ruin your wedding day.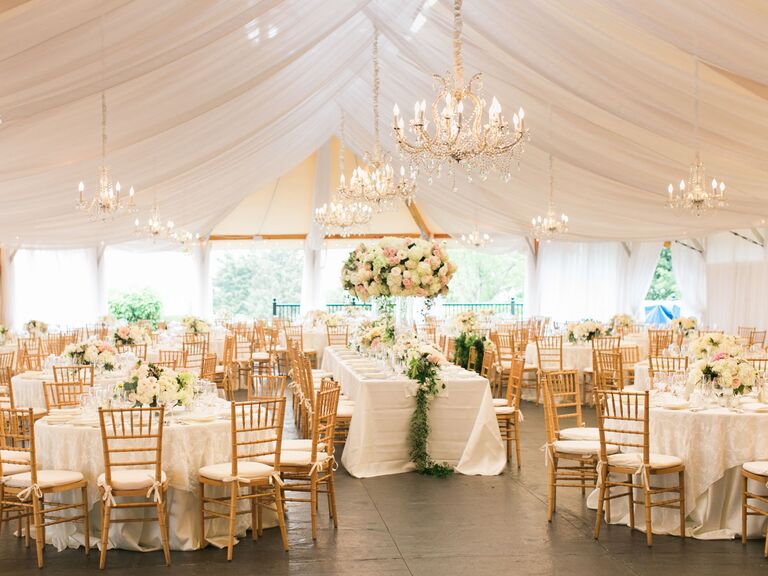 Rebecca Arthurs Photography
Getting married under sunny blue skies may be the dream, but quite often rain showers or chilly, windy weather is the reality. You could skip the whole idea and run for cover before ever selecting a venue. Or you could plan for the outdoor wedding you've always wanted, but keep a plan B waiting in the wings if the weather doesn't cooperate.
"After working for a venue with two large outdoor spaces for nearly 20 years, I'm a big believer in plan A, B and possibly even C," says Heather Jones, associate sales director at Wente Vineyards. "During the planning process, we work with the couple to formulate backup plans in case of rain or cold weather. This helps eliminate any additional stress on the day of the wedding. We just convert to the next plan that works best for the situation."
Take It to the Tent
One common backup option is to put up a tent on the grounds, giving you outdoor surroundings with plenty of coverage from the elements. To go this route, check with the venue to make sure a tent is allowed on the property, and whether or not you need to work with a specific vendor.
"Make sure to receive a quote from the venue or tenting company, and then add the backup plan cost into your budget," says Jones, who notes it's also important to find out when you'll need to let the tenting company know if you want to use their services.
While a tent might not be quite what you had in mind, it can be a versatile option acting as a blank canvas to meet your theme and achieve the outside vibe you want. Tents also come with clear side and top panels, allowing for unobstructed, breathtaking views. "And if you don't need to use them because of clearing weather, they can be pulled back and tied to the poles, making it look like part of the overall décor plan," says Dana Briggs, owner of Elegantly Yours Events.
Indoors and Outdoors
Some venues, such as golf courses and hotels, have indoor options for your wedding should weather not cooperate. It might cost extra to reserve an extra space, but if it means keeping you and your guests dry and warm, then it's well worth it.
The good news is that backup plans aren't all or nothing. If looming rain isn't forecasted to fall until late into the evening, a backup space means you can still take advantage of clearer skies, holding a portion of your event outdoors, such as your ceremony and cocktail hour, and then move the dinner and dancing inside when wet weather strikes.
Stall to Keep It Outside
As is often true in the summer, rain showers can move out just as quickly as they move in. "If the prediction is that the showers will pass shortly after your ceremony, talk to the caterer and have a preceremony reception with hors d'oeuvres and beverages to start the celebration instead," Jones says.
Passing rain may mean a wet lawn too slick and sloppy to stand on, but Jones says another easy backup plan is to have the venue repurpose an outdoor dance floor to use as the wedding aisle runner or beneath the cocktail area to keep feet dry and the bride's gown clean of mud.
Turn Up the Heat
Another great way to keep the outdoor party alive is to simply warm things up. Unexpected cold snaps happen, but that's no reason to head indoors. Jones suggests bringing in outdoor heaters to warm the area and creating fire pits for casual guest seating. Add some mugs of hot chocolate as a late-night treat and guests won't even notice the nip in the air.
Be Protected
Predicting the weather is difficult to do, even for professional meteorologists. Backup plans are a must, but added protection is good to have too. "Consider getting event insurance," Briggs says. "If there are areas within the day that just can't stand up to Mother Nature, then it's possible some of the costs can be recouped."
Find your perfect Plan A, and Plan B venues here.