Your Complete Wedding Decor Checklist, From Ceremony to Reception
We've outlined everything you could possibly need in one place.
It's no secret that your wedding decor plays a huge role in the look and feel of your event. You probably already know some of the obvious things you'll need—centerpieces, dinner plates, table linens—but the details don't end there. We know that there's a lot to keep track of, so consider this wedding decor checklist as your handy guide to all of the items big and small. From optional add-ons to wedding decor must-haves you might have forgotten about, keep this wedding inventory list at the ready as you're finalizing the details.
In this article:
Wedding Ceremony Decor Checklist
Choosing the right ceremony decor will help set the stage for a memorable and personalized vow exchange. From decorative details like altar arrangements and signs, to practical items you may need during the ceremony, here are a few things to add to your wedding decoration checklist.
Wedding aisle markers
Small flower arrangements, bows or other decorations that are displayed at each row of ceremony chairs, pews or benches. The aisle markers can be placed on the ground, displayed on hooks or stands or tied to the seats.
Wedding aisle runner
A long piece of cloth that is placed on the floor along the length of the ceremony aisle. Alternative wedding aisle runners include flower petals, vintage rugs or ropes.
Wedding altar decorations
The wedding altar decor can include flower arrangements, rounded wedding arches or square arbors and canopies, such as a chuppah or mandap.
Wedding ceremony items
Depending on your cultural traditions or your chosen unity ceremony idea, you may need things such as candles, sand, greenery crowns, food and drinks or other symbolic items.
Wedding flower girl basket
The flower girl traditionally carries a basket of petals or confetti to scatter along the ceremony aisle. Flower girls can also carry small bouquets, pinwheels, banners or ribbons.
Wedding programs
Small booklets that outline the order of ceremony events, including names of wedding party members and the titles of songs or readings. In lieu of individual ceremony programs, you may choose to outline the information on a ceremony sign instead.
Wedding reserved seating signs
Immediate family members, such as parents and grandparents, typically have reserved seats during the wedding ceremony. Use signs to reserve special pews or chairs in the first two or three rows.
Wedding ring bearer pillow
The ring bearer carries a pillow or box containing the wedding bands and delivers them to the best man at the altar. For very young children, consider using faux rings to avoid the actual rings getting lost.
Wedding vow books
Small booklets or journals containing your handwritten wedding vows. Vow books are often photographed in detail shots and saved in a keepsake box after the wedding day.
Wedding welcome sign
A decorative sign with your names, initials, wedding date and optional greeting message. The sign should be displayed out front of the main ceremony entrance or nearby to point guests in the right direction.
Cocktail Hour Decor Checklist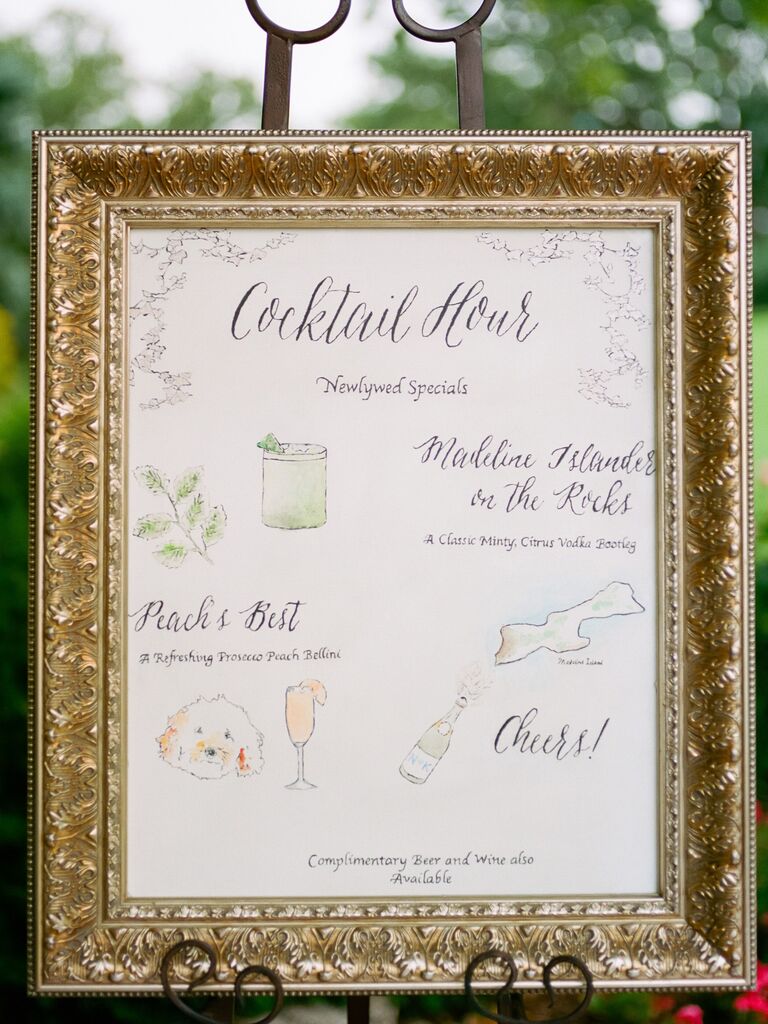 Since this part of the day only lasts for a short span of time, you don't need a ton of cocktail hour decor (you can save the major details for the reception). Here are a couple of basic items to consider.
Wedding bar sign
A list of the signature cocktails, beer, wine and other beverages you're serving during cocktail hour or the open bar at your wedding. This can also be repurposed for the reception.
Wedding lawn games
Keep guests entertained and encourage mingling during cocktail hour with the help of lawn games like cornhole, horseshoes, croquet and more.
Wedding lounge area
Use high top tables, upholstered sofas and other rental furniture to create a space for guests to wait and hang out in between the ceremony and reception.
Wedding welcome sign
A sign that greets guests as they arrive at the wedding. It can be repurposed from the wedding ceremony and reused later on at the reception.
Wedding Reception Decor Checklist
It's time to party—and time to go all out with decorations, flower arrangements and small details. Use this wedding reception decor checklist to finalize what you'll need for the main event.
Wedding bathroom baskets
A basket of basic toiletries, such as mouthwash, bandages, floss and mints. While not necessary, stocking the restrooms with bathroom baskets is a nice gesture for your guests.
Wedding cake + topper
Your wedding cake or dessert table is an ideal place to incorporate decorative elements, such as flowers, a cake topper, candles or a fancy wedding cake stand.
Wedding card box
A box or basket where guests can securely drop off gift envelopes and cards. The wedding card box is usually displayed alongside the guest book and seating chart.
Wedding cnterpieces
Decorations that are placed in the center of your reception tables, often featuring fresh flowers, candles or greenery. Wedding centerpieces can be low or high and can vary from table to table. Glass vases, brass compotes and ceramic vessels are some of the most popular centerpiece vase types.
Wedding chairs
From classic Chiavari chairs to farmhouse-style benches, there are so many different types of wedding chairs to choose from. Most chairs add decorative flair as-is, but you can also dress them up with slipcovers, flowers and signage.
Wedding dance floor
You'll need to supply your own dance floor if it's not part of the wedding venue or if the reception is taking place outdoors. Check local event rental companies for vinyl, checkerboard, wooden and even light-up dance floor options.
Wedding drinkware
The drinkware can include everything from wine glasses and champagne flutes to water goblets, coffee mugs and self-serve drink dispensers. Ask your wedding venue or caterer about the items they're able to provide.
Wedding escort cards
Individual cards that include the guest's name and corresponding table number.
Wedding favors
Small tokens or gifts that guests take home at the end of the wedding. Popular ideas include edible wedding favors and unique items like custom portraits or mini cocktail kits.
Wedding gift table
Also called the wedding welcome table, the gift table often includes a card box, guest book and space for guests to drop off tangible presents.
Wedding guest book
A book, binder or alternative guest book where guests sign their names and share well wishes for the newlyweds.
Wedding lighting
Functional and/or decorative lights, such as uplights and pinspots, dance floor gobos, string lights, candles and more. Coordinate with your venue to determine the exact types of wedding lighting you'll need and can add to your event space.
Wedding menu sign
A sign (or signs) for buffet weddings and food stations informing guests of their meal options. For plated, multi-course meals, you can opt to provide individual meal cards at each seat.
Wedding place cards
Individual cards that tell guests exactly where to sit upon arriving at their assigned table.
Wedding seating chart
In lieu of escort cards, you can design a wedding seating chart that lists guests' table assignments alphabetically or by table number.
Wedding send-off items
Sparklers, bubbles, confetti, lanterns or other items you'll need for your wedding exit following the reception. If your send-off involves a getaway car, you can personalize it with a 'just married' sign or similar decoration
Wedding tables
Round, square or long rectangular tables where guests are seated for the reception. Many wedding venues include tables as part of their rental equipment, but you may need to source them from other event vendors depending on the situation.
Wedding table linens
Tablecloths (either round, rectangular or square fabric) that fully cover your reception tables. Consider additional table linens, such as table runners, placemats and cloth napkins to add even more detail to the tablescapes.
Wedding table numbers
A number or alternative table name that identifies each reception table and is displayed along with the centerpiece. Table names can be simple pieces of paper or turned into more elaborate designs.
Wedding tableware
Plates, bowls, utensils, salt and pepper shakers and other functional items that guests will need for their meals. Think of the place settings and tabletop decor as an extension of your wedding style.
Wedding tent
A temporary, movable structure that can be used for outdoor wedding ceremonies and receptions. Wedding tents vary in size and design, from waterproof polyethylene (plastic) tents to glamorous clear-top tents, elegant sailcloth tents and draped fabric structures.