A Comprehensive Checklist for Every Wedding Vendor You Need
Wondering who you should hire for the big day?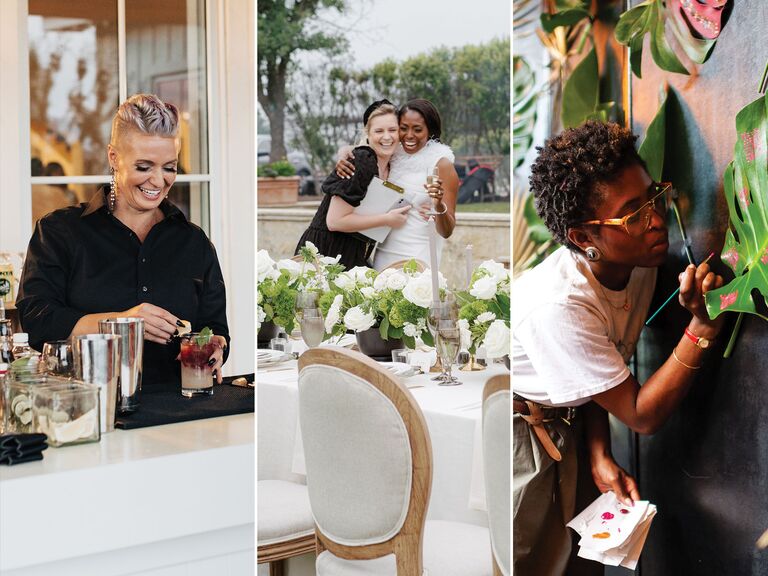 Photography from left to right: Nicole Aston Photography, Dana Fernandez Photography, Petronella Photography
The first big question, "Will you marry me?" has been answered, but that's not the last question you'll need to answer during your wedding planning journey. What vendors are needed for a wedding? What types of wedding vendors should you hire? How do you find the right wedding vendors? Is there a wedding vendor list to keep in mind? Don't fret, to give you a jumpstart on your planning journey, we're diving into the ultimate wedding vendor checklist so you understand all the wedding vendors available to you.
According to our internal research, couples hire an average of 14 wedding vendors for their big day. As you and your partner set about planning a wedding that is authentic to you, that might mean hiring some businesses from the list of vendors below and not others. Ultimately, this is a wedding vendor list template meant to be customized to your needs—it's key that you curate a strong team to make your dream wedding a reality. Keep this wedding vendor checklist in mind as you hit the ground running with reaching out to prospective wedding businesses.
In this story:
Tour Wedding Venues
The availability of your wedding venue affects what date you can select for the wedding. As such, touring wedding venues and booking your favorite one should happen early in the wedding planning process. While on a tour, ask your wedding venue questions to make sure they're the best fit for the event.
Find a Wedding Planner
A wedding planner is another key vendor that's it's best to bring on early in the process so they can offer input and direction when it comes to sourcing the rest of the businesses on this list of wedding vendors. Before hiring a wedding planner, ask a prospective planner a few questions to see how they align with your wedding vision.
Connect With a Wedding Photographer
Who is going to photograph the big day so you can cherish for years to come? It's not a good idea to leave this task to your Uncle Joey who happens to own a nice camera. Hiring a professional wedding photographer is a reliable way to ensure you walk away from the wedding with quality images that portray the breadth of details from the event. If you're wondering what questions to ask a wedding photographer before booking them, here's our guide.
Research a Wedding Videographer
From your partner crying as you recite your vows to the moving speech your parents give during the reception, there are some memories that deserve to be captured both on photo and video. A wedding video adds a beautiful additional layer to the archival process. Pick this: It's a few years from now, your anniversary rolls around, you pop some popcorn, snuggle up on the couch and watch your wedding video. How is that for the perfect date night? To get started, research wedding videographers and ask prospective videographers questions to find the best fit.
Search for a Wedding Caterer
It's generally expected that you'll serve wedding guests food on the big day. From hors d'oeuvres to dinner and dessert, a great caterer is the key to having food wedding guests rave about. Additionally, your caterer will handle staffing the event with servers to make sure everything goes smoothly. Before booking a pro to handle your wedding food, interview possible wedding caterers to get a feel for the menu and service they can provide.
Consider a Wedding Bartending Service
Whether you have a full bar or just a few signature cocktails, you'll need a vendor to handle all bartending needs. Some catering companies also offer bartending services, but there are also many wedding bartenders you can hire specifically to take care of the drinks for the big day.
Schedule a Tasting With a Wedding Cake Baker
Once you have the food and drink needs of the wedding taken care of, it's time to consider dessert. Are you interested in serving cake at the wedding? Take some time to research wedding cake bakers and make sure to ask your baker questions before you book.
Look into Wedding Rentals
It's not everyday that you host an event for hundreds of loved ones. Where will everyone sit? How about plates and cups for all the guests? That's where a wedding rental company comes in. Rental companies have all the supplies you'll need for the big day so you don't have to buy hundreds of items just for the nuptials. Before committing to a vendor, make sure to ask your prospective wedding rental company a few questions to decide if they're a good fit for your event.
Pick Your Wedding Florist
Bouquets, boutonnières, centerpieces—there are generally flowers involved in almost every elements of a traditional wedding. Professional wedding floral designers are an important vendor to hire because they can help make your wedding vision a reality. Not only do they know how to design beautiful floral arrangements, but they also know where to source flowers affordably and what will be seasonally available on the big day. As part of the research process, ask your prospective wedding florist a few questions to get to know them before booking.
Hire a Wedding Decorator
What is a wedding decorator? Wedding designers, stylists, and decorators are vendors focused on just the decor of the event. While some wedding planners also offer decor services, there are many companies that will focus just on decorating your event. Before booking a wedding decorator, sit down with your partner to discuss what decor needs you have. Do you want more than just flowers? If you envision an event with lots of linens, draping, specialty lighting and more, then an event designer or decorator is a must-hire.
Find a Hair Stylist and Makeup Artist
It's time for glam. You want to look your very best on the wedding day and a professional team of hair and makeup artists is a great way to ensure you shine on the wedding day. Can't decide who to hire? Ask hair and makeup artists a few questions before booking to see if they'll be a good fit for the nuptials.
Try on Wedding Attire
What are you going to wear for the wedding? Will you commission custom wedding attire or buy designs you've seen on runways? Before you can get shopping you need to answer these questions about wedding dresses and wedding suits.
Get Your Groove on With Musicians
Once you exchange vows and are pronounced married, you're going to want to really let loose and celebrate. That's where entertainment comes in. Whether you hire a wedding DJ or a live band for the wedding reception, music is a wonderful way to get the party started. To help you know exactly which musicians to hire, we're gathered up a few lists of questions to ask prospective vendors. Here's what you need to ask wedding DJs, live bands, ceremony musicians and even potential cocktail hour musicians.
Commission a Stationer and Calligrapher
How are you going to communicate with your attendees? From your mailed wedding invitations to day-of signage and paper goods like wedding programs, there are quite a few paper elements traditionally included in the wedding. As you're researching potential wedding stationers, make sure to ask these questions.
Speak With an Officiant
Who is going to actually marry you and your partner? While some couples opt for a friend to be an officiant, it can be a good idea to hire a professional wedding officiant to ensure the wedding ceremony goes smoothly. As you're interviewing candidates, ask a potential wedding officiant these questions.
Work With a Jeweler
Let's talk about bling. From the wedding rings you and your partner exchange to any other accessories you might rock on the big day, jewelry is one category not to be overlooked. Not sure what you need to know before buying an engagement ring or wedding ring? Here are our comprehensive lists of what you should ask a jeweler before buying an engagement ring and wedding ring.
Source Transportation
If you have a lot of out-of-town guests, if your ceremony and reception aren't in the same place, or if you're worried about guests drinking and driving, transportation is a vendor you should definitely consider booking. Even if you don't book transportation for your wedding guests, you might want to book a special getaway car for you and your spouse for the end of the night. As you search for transportation companies, ask these questions to find the best transportation wedding vendor for your wedding.
Consider Additional Entertainment
Want to know the secret to having an epic wedding reception? Curating a great guest experience through amazing entertainment that extends beyond just music. From live wedding painters to drag queens, there's an entertainer out there for every couple and every style.
Book Rehearsal Dinner and Prewedding Vendors
While most of the vendors you hire will be for the wedding, it's important that you don't overlook any prewedding or wedding-adjacent events, like a rehearsal dinner or welcome party. Here are some great questions to ask a rehearsal dinner venue you're considering.