6 Important Questions to Ask When You're Engagement Ring Shopping
Trust us—you don't want to come to your appointment unprepared.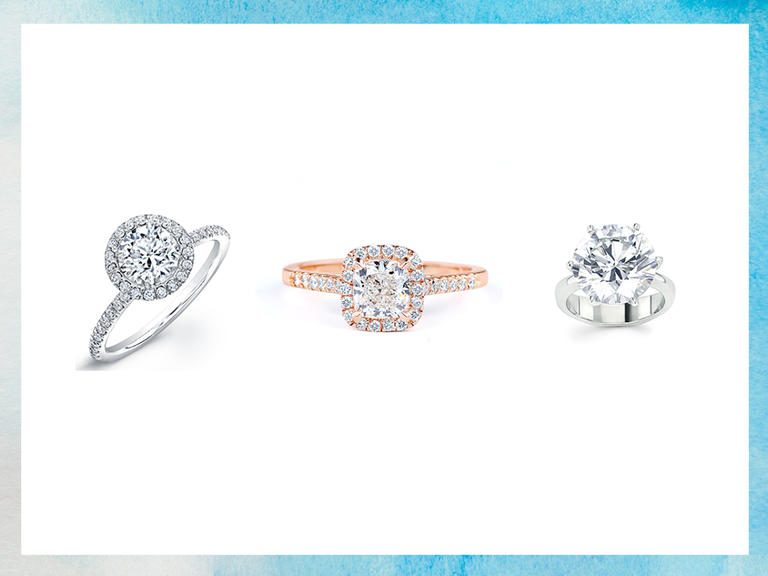 When you go engagement ring shopping, your jeweler will definitely have a few questions for you before you start the process, such as: What's your budget? How involved does your partner want to be in the process? And maybe most importantly, did you make an appointment? (This usually isn't something you can casually drop in for.)
All in all, the process of finding the perfect ring can be an overwhelming experience—both emotionally and financially. It could very well be the largest purchase you've ever made, and you never want to feel taken advantage of or in the dark the whole time. While it's very important to do your research and find a reputable jeweler in your area, plus do your due diligence by brushing up on the 4 Cs, it's also vital to ask questions of your own that could definitely impact your decision. To make you feel more confident and informed about what those questions should be, we spoke to Forevermark diamond expert Kristen Lawler-Trustey about what you should ask your jeweler before you open your wallet.
1. Are there any trunk shows coming up?
Why you want to ask: If a certain jewelry brand is having a trunk show at the shop (which many do), they may offer a discount if a purchase is made during the trunk show.
2. Is the diamond completely natural?
Why you want to ask: This means that the diamond hasn't been treated in any way to fill in cracks or enhance the color (which could be the case with vintage rings). If it's not completely natural, this will effect the durability, appearance and long-term value over time.
3. Do you offer a warranty?
Why you want to ask: If you lose smaller diamonds in your ring or need basic repairs done, a store warranty will help if natural wear and tear occurs. But keep in mind that a warranty with the store isn't the same thing as getting ring insurance, which you absolutely should do in case of loss or theft. (To get ring insurance, you'll also need to get your ring appraised—based on the 4 Cs, your stones and setting will be appraised at a certain value.)
4. Is there an in-house jeweler?
Why you want to ask: If you ever need ring maintenance done, it'll save you time over the years if you're able to go to your shop every time. You don't want to be without quick service.
5. What's the origin of my diamond?
Why you want to ask: It's always a great thing to know your diamond is responsibly sourced. You can make sure that integrity was maintained throughout the entire chain of ownership of the diamond, from when it was cut and mined to when it was shipped to the store, like Forevermark guarantees.
6. What does choosing this diamond compromise, if anything?
Why you want to ask: Depending on your budget, you may have to make a few compromises when selecting the diamond. A well-cut diamond will sparkle more and refract light more, so a smaller carat can appear larger because it's cut so well. But you may also find that you want to zero in more on carat size, which could lower your color grade depending on how much you want to spend. Just know that each decision varies with personal preference and that every diamond is different.