This is the Best Time to Buy an Engagement Ring, According to Experts
The answer might shock you.
If you're reading this, you've likely decided that you're ready to propose to your partner. (Congratulations!) In order to take your relationship to the next level, you'll be faced with two key tasks: buying a ring and picking a proposal date. Both are equally important, and their timelines are actually woven together. Regardless of whether you have a specific proposal date in mind yet, you might be curious to know the best time to buy an engagement ring.
When you need to buy the engagement ring depends on a number of factors, including the kind of sparkler you want (like a pre-designed ring or a bespoke piece), your proposal plan, and the specific retailer you'd like to work with. So, to help determine the best time to buy an engagement ring, we tapped two jewelry industry experts to reveal everything you need to know about planning your ring purchase before you start shopping.
When is the Best Time to Buy an Engagement Ring?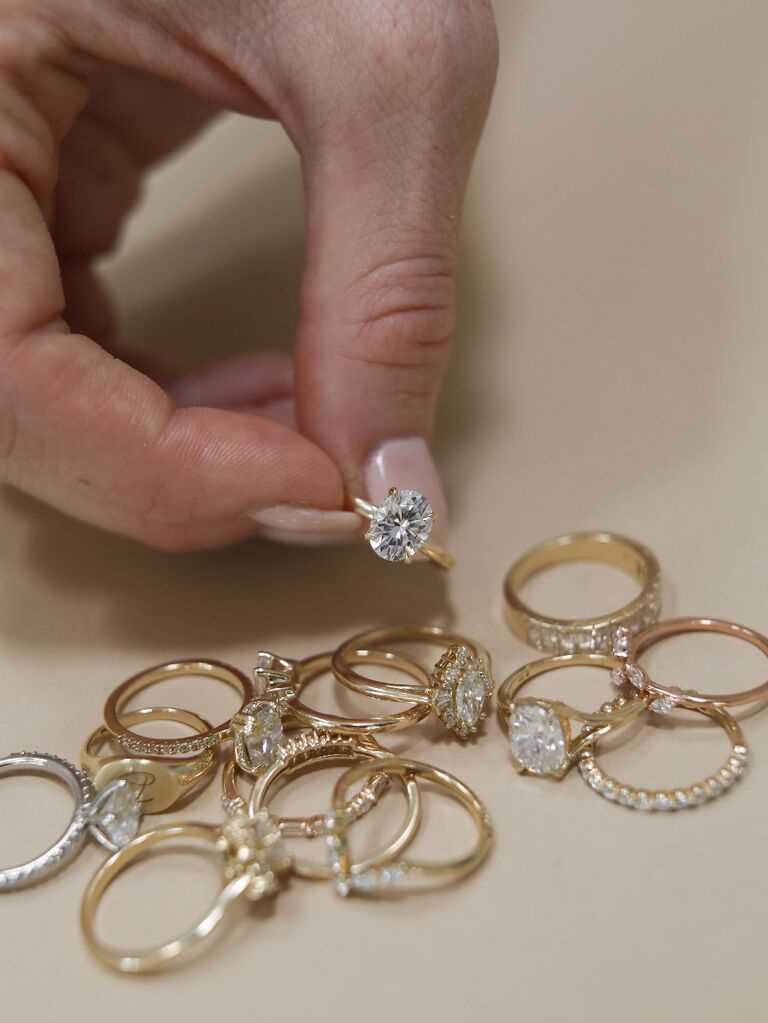 If you're wondering whether or not there's a good time of year to buy a diamond engagement ring, the answer is a bit complicated—and ultimately, the "right" time is up to you. "The timing for purchasing an engagement ring all depends on the timing for the couple," says Kayla Searle, founder of Olive Avenue Jewelry. "There is no right or wrong time to start shopping or to purchase because the timeline of finding your dream engagement ring is different for everyone. "
While the jewelry industry doesn't necessarily have a prime purchasing season, engagement ring shopping can be affected by the holidays. If you have a strict price point and are looking to get an engagement ring for a discount, you might consider shopping during the holiday season. While retailers don't often offer major discounts on high-quality diamonds, Black Friday and Cyber Monday jewelry sales are definitely a thing. So, while you might not find largely discounted diamond prices as you would for clothing or home appliances, you can certainly get great perks like expedited shipping, free high-quality gifts with your purchase, or discounts on additional factors of the ring style, like the setting.
But, even though this time of year can sometimes offer better prices, it is significantly busier for jewelry stores and private sellers. "If you're not planning on a holiday proposal, waiting until after the new year can be wise instead of getting started in November or December when jewelers are busy and inventory might be more limited, with longer lead times," says Boston-based private jeweler Hannah Florman. "The holiday season from October through New Years' is incredibly busy because clients are also competing for attention with those designing fine jewelry as gifts." So, while shopping during the holiday rush can deliver great prices, it can also take longer to get the perfect ring. And if you're envisioning a Christmas Eve or New Years' proposal, it's better to start the process earlier.
Another consideration to keep in mind is that the jewelry industry is still recovering from supply chain issues caused by the pandemic, which can increase the time it takes to deliver your ring. "The reality is that the jewelry industry is experiencing longer lead times for materials—even the traditionally 'accessible' ones, which translates to higher cost of goods for the consumer and longer wait times," Florman explains.
That's not to say you need to start shopping months in advance, though. Many retailers and jewelers are equipped to deliver your ring as soon as possible—this is simply helpful to know for your own planning purposes. Because, when it comes down to it, the best time to buy an engagement ring depends on when you actually want to pop the question.
When to Buy an Engagement Ring, Based on Your Proposal Date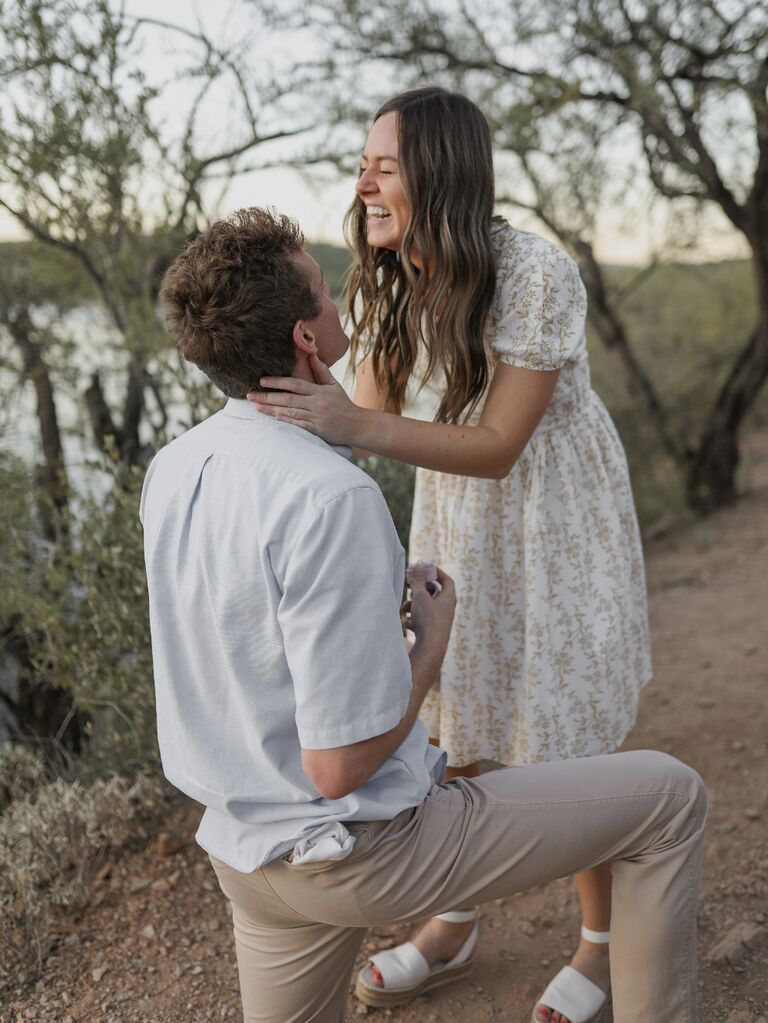 With this knowledge in mind, experts recommend using your proposal date as a guide for deciding the best time of the year to buy your engagement ring. It'll be helpful for your jeweler to have a general idea of when you want to get engaged, like if you're envisioning a Valentine's Day proposal or if the moment will happen on a planned summer vacation.
It's also crucial to know if you'd prefer a pre-designed ring or if you'd rather go the custom route, as these have different production timelines. Because of this, it can be beneficial to give yourself plenty of lead time when shopping for the ring. "For all rings currently listed on our website, our customers can plan on receiving their rings three to four weeks after placing their order," Searle explains, noting that custom pieces tend to have a longer turnaround time.
If you want a bespoke, fancy-cut diamond center stone with a high carat weight, for example, it will likely take more time to source than a pre-designed ring you can purchase from an online retailer. "The custom process begins with a consultation and evolves to the stone selection and designing the setting," Florman says. "Most clients can expect that their custom engagement ring design could take anywhere from three weeks to eight weeks, depending on how complex the design is or if they'd like rare diamonds that need time to source demand. That said, most rings can be brought to life in about six weeks, which gives clients just enough time to plan the engagement festivities to come."
While there isn't a steadfast formula to follow when picking the best time to buy an engagement ring, here's the bottom line: Aim to buy a pre-designed ring at least one month before your intended proposal date, while two months minimum should be allotted for custom diamond jewelry. Keep in mind that specific timing details will vary among retailers, so it's always best to check shipping timelines on the store's website or make an appointment with an experienced gemologist.
Ultimately, it'll never hurt to give yourself plenty of lead time. "Having time on your side will always feel like a great asset when you're talking about such a significant financial investment," Florman says. "The timeline of your engagement ring design will depend on your level of clarity and communication of needs and preferences along the way. Trust in the experts and you'll get a beautiful ring just in time."