The Knot's Definitive Ranking of The Most Iconic Movie Wedding Dresses
From Toula Portokalos to Bella Swan and, yes, even Carrie Bradshaw.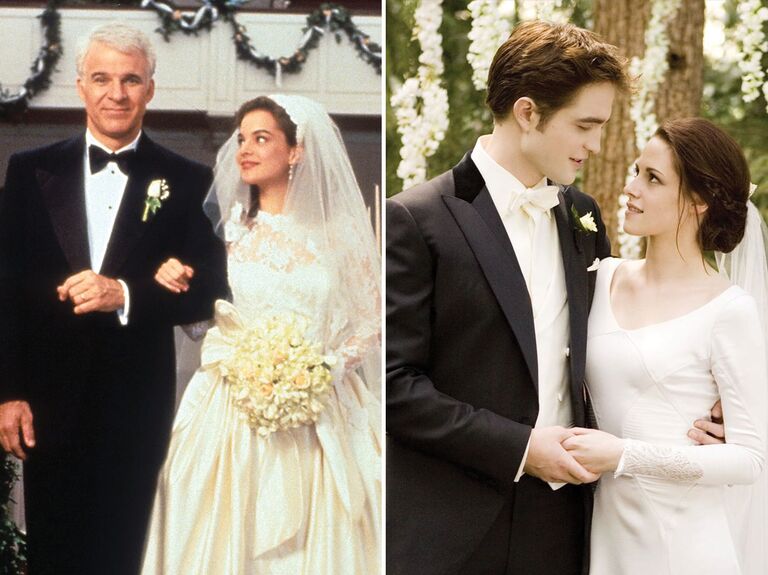 Wedding dress inspiration can come from just about anywhere—especially the big screen. We've grown up watching weddings unfold on our televisions, and for some, an obsession with nuptials may very well have begun in the age of Disney princesses and cartoon characters. Plenty of incredible movie wedding dresses have taken center stage over the years, from Maria Von Trapp's timeless gown in The Sound of Music to Carrie Bradshaw's trendy frock in Sex and the City. While it's hard to pick the best of the best, there's no denying that some famous movie dresses stand out from the rest. As self-proclaimed wedding movie aficionados, we've taken the liberty of creating a definitive guide to the best wedding dresses from movies ever. Relive our favorite looks below, and see which standout gowns landed honorable titles, like "Most Iconic" and "Most Nostalgic."
The Knot Celebrity Editor's Favorite Movie Wedding Dresses
Carrie Bradshaw's Wedding Dress in Sex and the City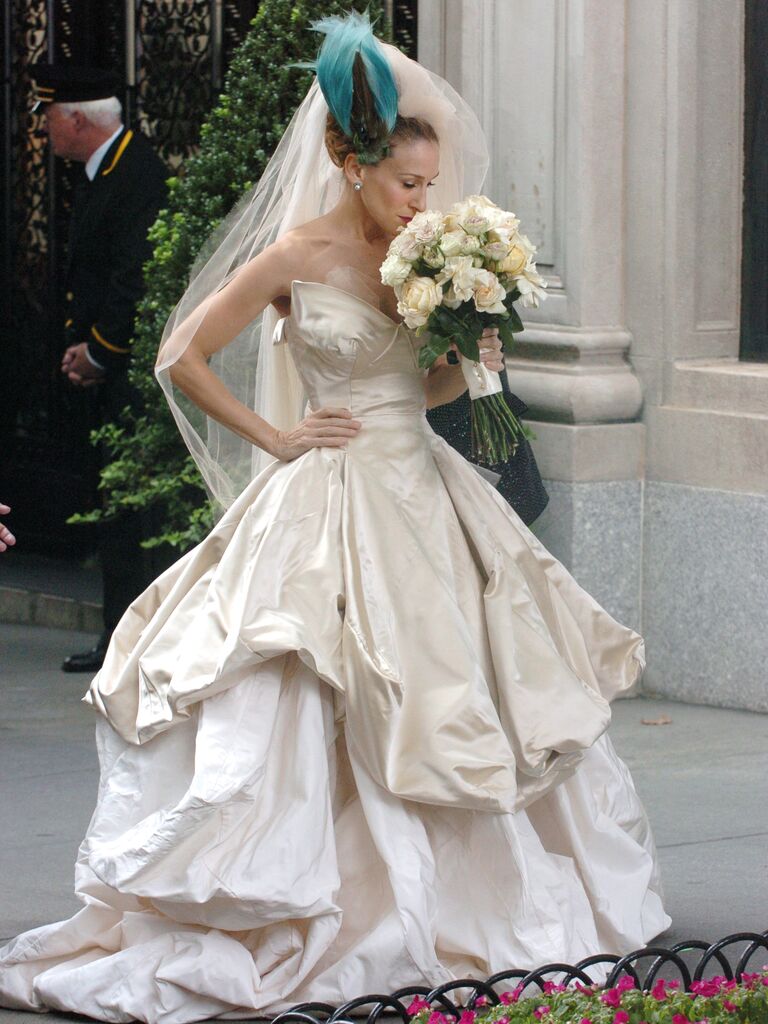 As we sat here pondering the most iconic movie wedding dresses of all time, we couldn't help but wonder: Which one would we name the most iconic? That esteemed title belongs to none other than Sex and the City's Carrie Bradshaw. Played by Sarah Jessica Parker, the lovesick writer navigating NYC's dating scene in the 1990s instantly became a cult style icon—so by the time she finally put on a wedding dress to marry Mr. Big in the hit series' spin-off movie, we knew it was going to be good.
Carrie Bradshaw's movie wedding dress was nothing short of showstopping. The bride wore a Vivienne Westwood design for the momentous occasion, which featured the brand's signature angular strapless neckline and a voluminous skirt with pickups. It was styled with an equally-lavish tulle veil and a teal feathered headpiece, along with metallic heels. Sadly, this gown never quite made it down the aisle (#spoileralert), but that doesn't take away its status as one of our all-time favorite wedding dresses in movies.
Toula's Wedding Dress in My Big Fat Greek Wedding
When it comes to the most memorable movie wedding dress, don't we all picture Toula Portokalos' voluminous ball gown? My Big Fat Greek Wedding is one of the most beloved wedding movies of all time—and just like its title, the bride's gown was anything but minimal. For her intercultural nuptials to school teacher Ian Miller, Toula donned an over-the-top lace gown with every single stylistic detail imaginable, from puffed sleeves to a full tulle skirt, lace gloves, a pearl choker and a trailing veil. (Oh, and a crown that belonged to her grandmother.) In the Big Fat Greek Wedding cinematic universe, more is always better. And for that reason alone, we love this movie wedding dress.
Sophie's Wedding Dress in Mamma Mia!
If you don't rewatch Mamma Mia! every summer, are you even a rom-com fan? This beloved movie-musical set to the tune of ABBA's iconic discography is the ultimate comfort film, and it's not hard to see why. (Meryl Streep? Amanda Seyfried? Pierce Brosnan singing? What more could you want in a movie?) By the time Sophie's wedding day arrives after a series of surprises and flash mobs set on an idyllic Greek island, she wears one of our all-time favorite movie wedding dresses. Perfect for a beachy ceremony, Sophie's bohemian design features a breezy A-line silhouette with gauzy tulle overlay across the neckline, minimal ruffled details around the skirt and delicate blue embroidery all over. The bride completed her look with a full tulle veil and a gold flower crown, which looked incredibly apropos for the Greek ceremony.
Araminta's Wedding Dress in Crazy Rich Asians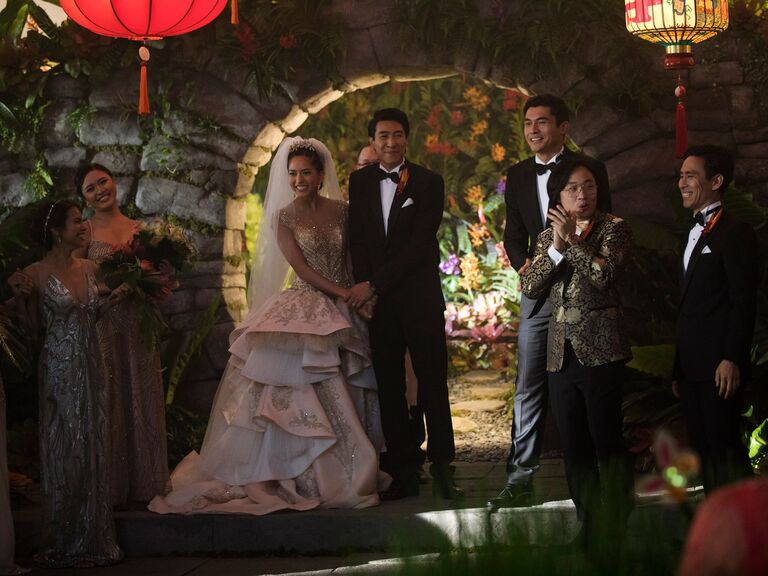 What's the best movie wedding of all time? According to author Kevin Kwan, it's the one in the big-screen adaptation of his book Crazy Rich Asians. "The wedding scene in the movie—and I'm not being biased—I'm speaking as someone who loves watching weddings on-camera and in movies… I love a good wedding," Kwan previously told The Knot in an exclusive interview. "This was the most beautiful wedding scene ever shot in the history of cinema. How it emotionally wraps you up with the moment of nerves. And when [Araminta] steps onto the water and everything goes quiet… That's when I lost it."
In the book, this lavish wedding was referred to as a $40 million affair that would be known as the "royal wedding of Asia" across Singaporean high society—which means the production team had their work cut out for them. The spectacle we saw on-screen was nothing short of a masterpiece. The nuptials featured a water-filled aisle, lush greenery surrounding the seating arrangements, and floating lanterns that covered the greenhouse in a romantic glow. What we were truly captivated by, though, was the bride's wedding dress. Araminta donned an ornate high-low gown that was, in a word, breathtaking. The unique design featured a sheer bodice covered in shimmering gold beading, and its tiered skirt had layers of juxtaposing tulle ruffles and pink embroidered satin. Complete with a cathedral-length veil and a royal-worthy tiara, this gown was unlike anything we'd seen in films before, earning it a spot as one of our all-time favorite movie wedding dresses.
Bella Swan's Wedding Dress in The Twilight Saga: Breaking Dawn Part 1
Whether or not you were (or still are) a #TwiHard, there's no denying that Bella Swan's wedding dress was one of the most beautiful on-screen designs. She married vampire Edward Cullen in the franchise's fourth installment, Breaking Dawn Part 1, and the woodsy forest wedding is still regarded by many as one of the best to hit the silver screen. Carolina Herrera designed Bella's famous movie dress, which featured long satin sleeves and 152 buttons down the back.
"I was of course inspired by Stephenie's description of the gown in the book, but I added the touch of Herrera and also took into consideration the personality and the style of the bride," the designer told Vogue UK of the gown. "A wedding dress is both intimate and personal for a woman—it must reflect the personality and style of the bride. Bella's dress is romantic and filled with timeless sophistication, very similar to the character. In a way, this dress served as a symbol of the character's coming of age and introduction into womanhood."
Annie Banks' Wedding Dress in Father of the Bride
Annie Banks' wedding dress in Nancy Meyers' 1991 version of Father of the Bride was the true embodiment of 1990s bridal style. The bride was escorted down the aisle by her loving father, George (famously played by Steve Martin), wearing a long sleeve lace ball gown with a sheer bodice and a cupcake-esque veil, easily making this one of our all-time favorite movie wedding dresses.
Giselle's Wedding Dress in Enchanted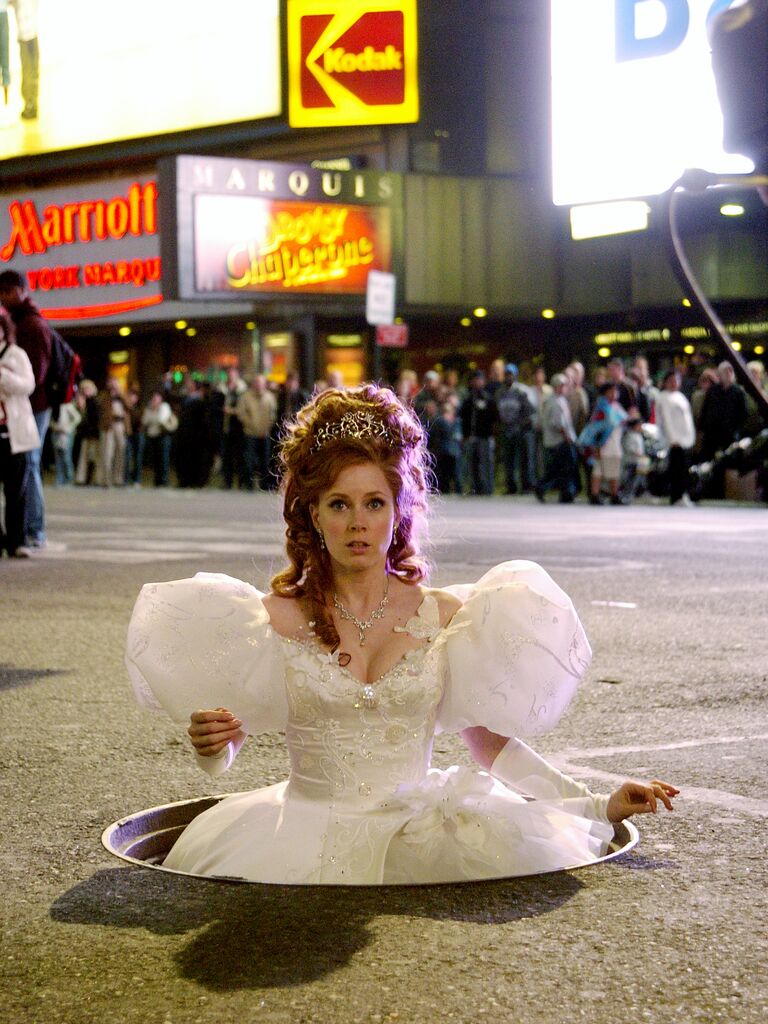 It doesn't get more whimsical than this. Amy Adams starred in the 2007 musical/fantasy flick Enchanted, which follows Giselle, a cartoon princess who gets banished to real-life New York City by her evil stepmother just before her wedding day. When Giselle arrives in Manhattan, she pops out of a sewer drain in the middle of the street in her wedding dress: an unforgettable sparkling puff-sleeve ball gown with glitter, sequins, and butterfly appliqués. In an interview, Adams once said the 45-pound dress was "grueling" to wear, but we commend her for sticking to the bit, because this princess dress is one of the best we've ever seen in a movie.
Vivian's Wedding Dress in Book Club: The Next Chapter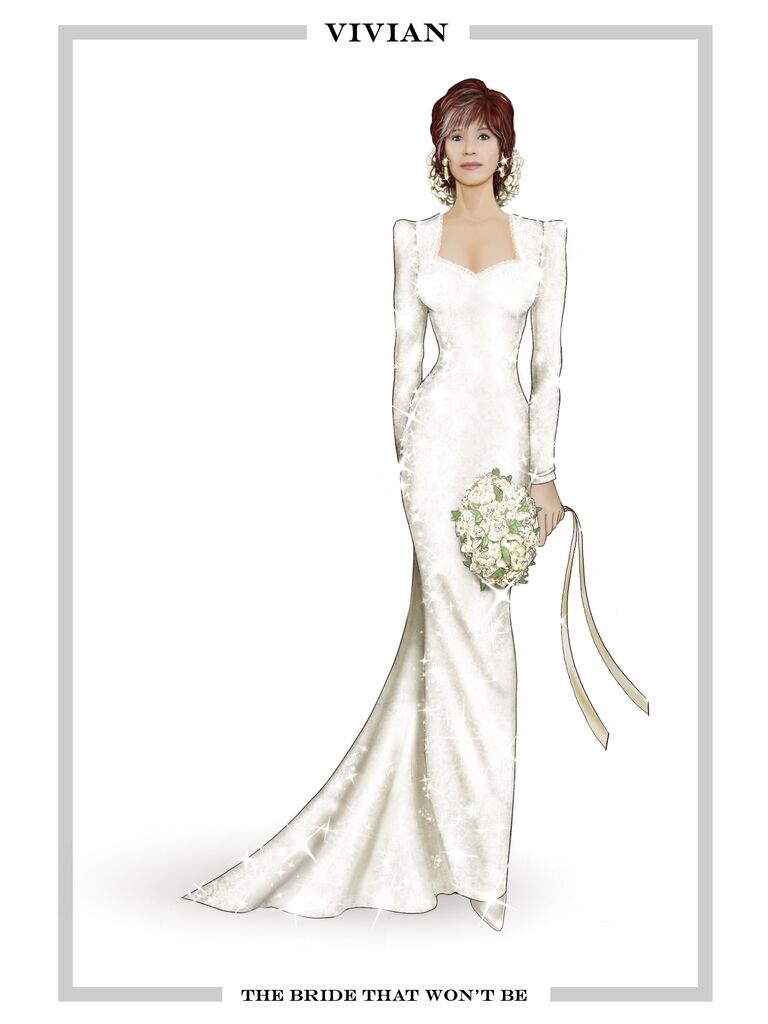 Jane Fonda had the unique challenge of channeling the role of a bride-to-be in the 2023 film Book Club: The Next Chapter. She opened up to The Knot about the unexpected character, saying, "I got a kick out of it because I'm 85. The idea of stepping into the bride role at this age seemed cool to me. I liked it, it was fun." The sequel to its 2018 predecessor follows Vivian (Fonda) as she embarks on an international Italian bachelorette party alongside her best friends (played by Diane Keaton, Mary Steenburgen and Candice Bergen).
One of the film's most heartwarming scenes follows the foursome as they shop for wedding dresses in Italy. The montage features all four women trying on wedding dresses (with prosecco in hand) before Vivian finds the one: a structured long sleeve lace gown with a Queen Anne neckline and glittering embellishments.
Tracy Lord's Wedding Dress in High Society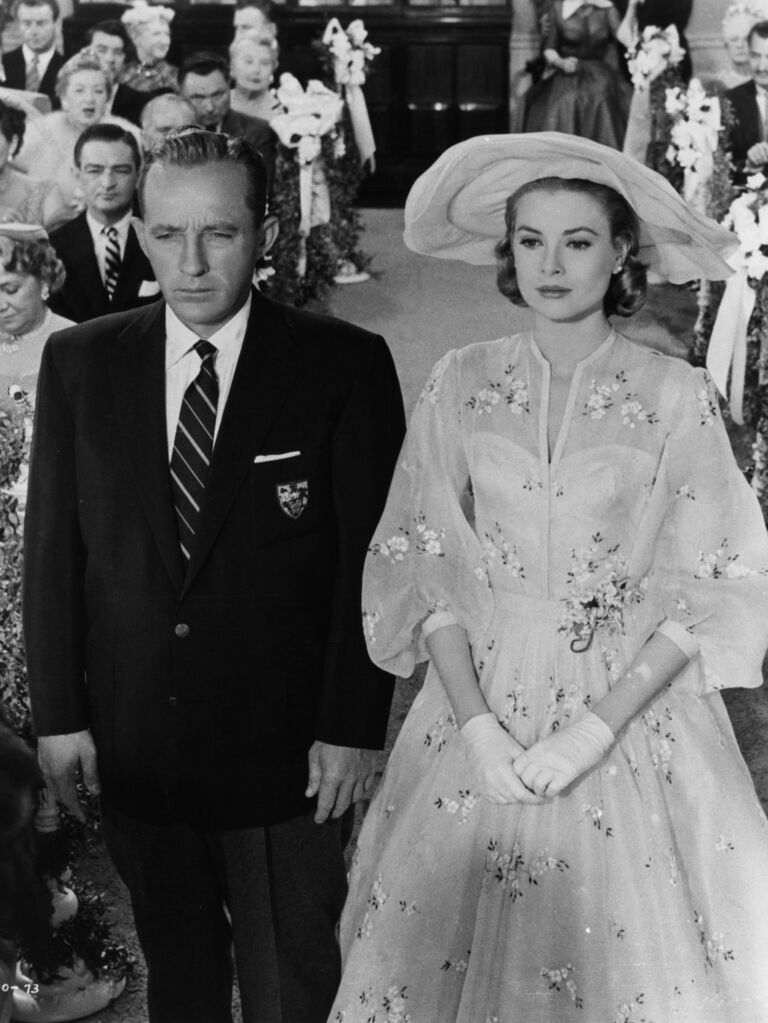 Grace Kelly is the epitome of timeless and classic style, both on-screen and in real life. The elegant lace gown she wore to marry Prince Rainier III of Monaco is easily one of the most iconic celebrity wedding dresses of all time, but we can't forget her movie bridal looks too. Helen Rose, a costume designer who created Kelly's wedding dress, also designed the gown she wore to get married as Tracy Lord in High Society. The unconventional frock was a sweetheart-neckline tea-length gown with a sheer overlay atop the bodice, which featured a V-neckline and puffed three-quarter-length sleeves. Perhaps the most charming detail, though, was the whimsical botanical floral embroidery covering this pretty movie wedding dress.
Maria Von Trapp's Wedding Dress in The Sound of Music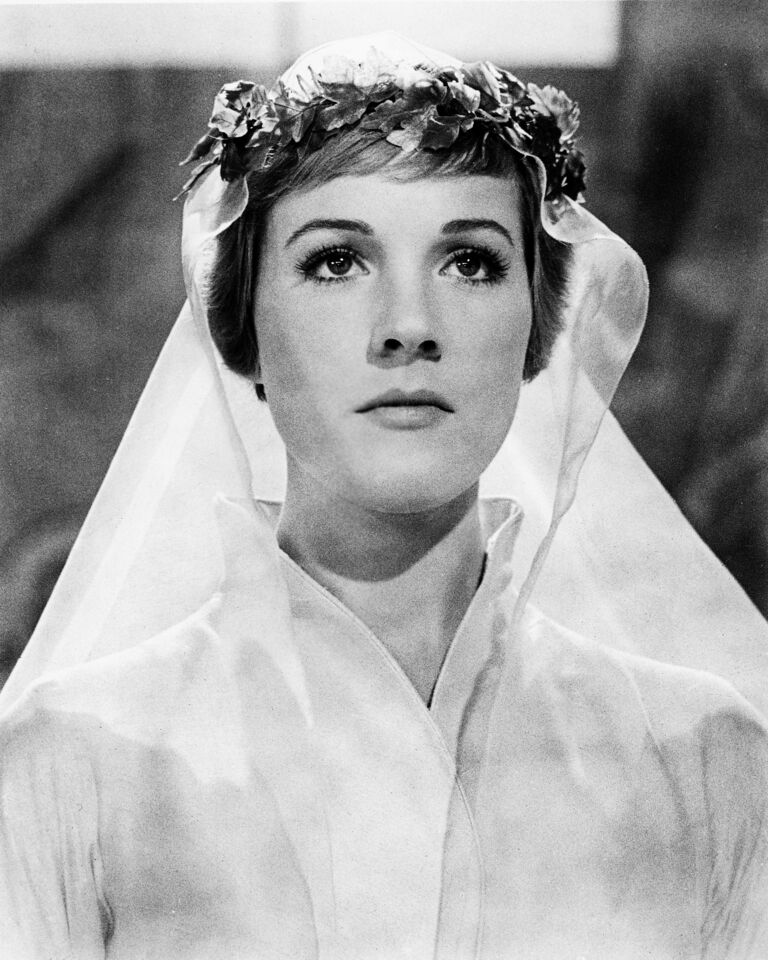 Maria Von Trapp's wedding dress in The Sound of Music just happens to be one of our *favorite things.* For her on-screen wedding to Captain Von Trapp, Julie Andrews' beloved character wore an exquisite fitted gown made of silk shantung. With a neckline reminiscent of Grace Kelly's wedding dress, the long sleeve gown had a fitted bodice and exposed buttons down the back. When this famous movie dress went up for auction in 2013, it sold for just over $23,000.
Buttercup's Wedding Dress in The Princess Bride
Perhaps the most nostalgic movie wedding dress is the one Buttercup wore in The Princess Bride. Rob Reiner's 1987 film is considered a modern classic, particularly because it's full of memorable quotes couples love using in their wedding vows to this day. We'd be remiss not to include Buttercup's wedding dress from the movie in our roundup, which was a lovely pale blue long sleeve satin gown with ornate beading and embroidery, topped off with a dazzling blue crown.
Sofia's Wedding Dress in Father of the Bride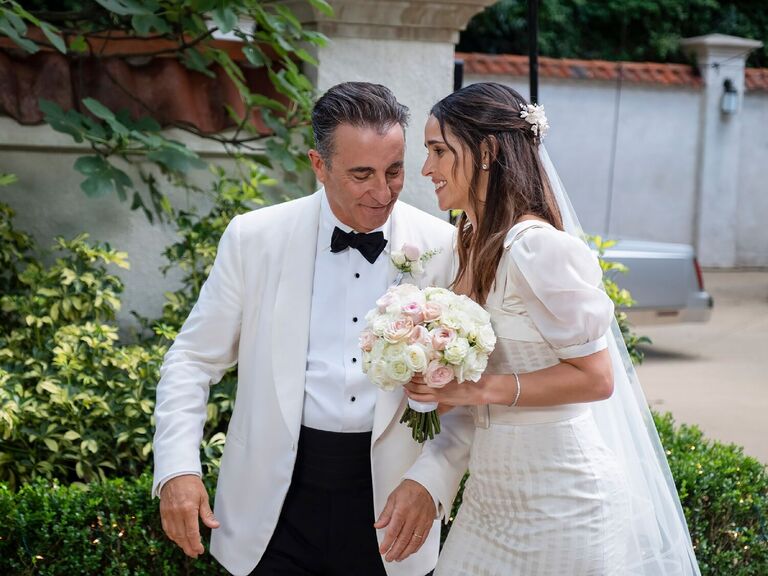 As much as we love the wedding dress from Nancy Meyers' Father of the Bride film, the 2022 remake deserves a special shoutout too. Warner Bros. and HBO Max teamed up for a fresh take on the classic story, this time highlighting what it's like to plan a wedding in the modern era. Starring Gloria Estefan and Andy Garcia as estranged spouses tasked with planning their daughter Sofia's wedding, the heartwarming movie is thoughtful, sentimental and laugh-out-loud funny. We loved Sofia's modern movie wedding dress, which had a fitted bodice and puffed short sleeves—a sweet look for her Miami nuptials.
Darcy's Wedding Dress in Shotgun Wedding
We can't make a list of the best movie wedding dresses without including one worn by Jennifer Lopez. The queen of wedding rom-coms has shined in plenty of incredible designs throughout her film career, but we were especially intrigued by the tulle gown she wore in the 2022 action-comedy Shotgun Wedding—notably because it was what she wore to fight pirates who crashed her destination wedding. This movie wedding dress was created by Galia Lahav, and in an interview with The Knot, head designer Sharon Sever opened up about the detailed process it took to create a dress for such unique circumstances.
"This high-octane action-comedy required dozens of copies of the same dress to be made," Sever explained. "We meticulously constructed 28 dresses in just one month using special techniques and fabrics so the gown could be modified, ripped and transformed into a uniform suitable for a glam action hero."
Kat's Wedding Dress in Marry Me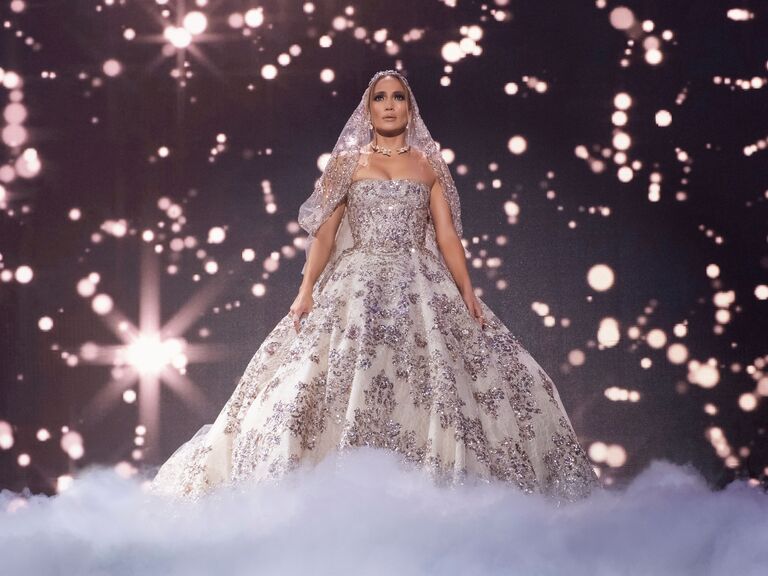 And one more Jennifer Lopez movie wedding dress for good measure. The Knot sat down with costume designer Caroline Duncan to get the inside scoop on the incredible gown JLo wore in her 2022 rom-com Marry Me. The film centers on superstar Kat Valdez (Lopez) who appears to have it all from the outside. But when the bride-to-be discovers her famous fiancé Bastian (played by Maluma) has been unfaithful with her assistant, she elopes with a fan holding a "Marry Me" sign mid-concert while wearing a lavish Zuhair Murad ball gown.
"It had to feel like a dress for a pop star's wedding and also for a televised concert that was also a wedding," Duncan told The Knot. "It's a bit of a Cinderella moment… layered with the expectations we have for a pop star. It could've gone so many ways and we could've gone slinky and Vegas. But, the director and Jennifer wanted it to be classically romantic, and over the top."
Katniss Everdeen's Wedding Dress in The Hunger Games: Catching Fire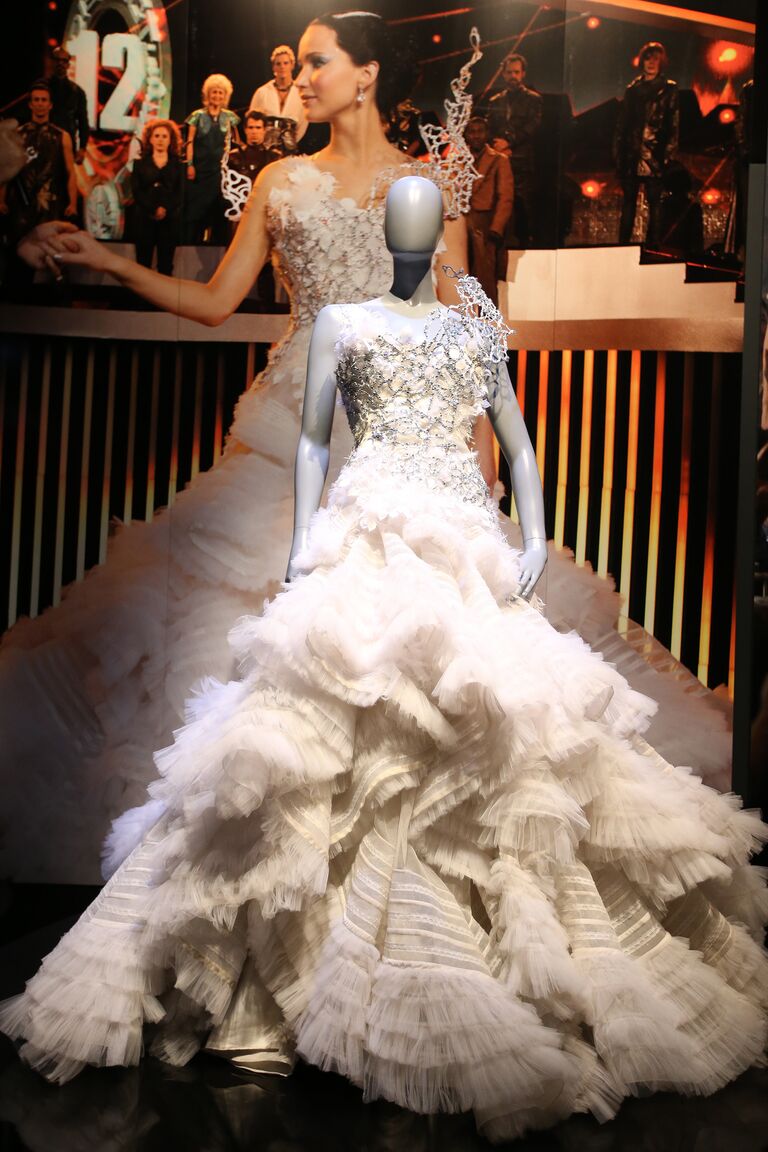 Panem fashion is unlike anything else—just reference Katniss Everdeen's wedding dress for proof. The second movie of the wildly-popular Hunger Games franchise finds Katniss (Jennifer Lawrence) and Peeta (Josh Hutcherson) setting into life after surviving the 74th Hunger Games. Ahead of the next round, Katniss is ordered to wear a wedding dress for interviews, which her stylist sneakily transforms to include a hidden Mockingjay symbol as a sign of protest.
Katniss' wedding dress, which featured a metal cage around the bodice and an opulent ruffled skirt, was inspired by a gown created by Indonesian designer Tex Saverio for his Spring 2011 collection. In an interview with The Hollywood Reporter, the film's costume designer Trish Summerville broke down how she and Saverio transformed the original design for the movie. "We did several Skype calls with sketches to work together in designing the wedding dress," she said. They added a Swarovski crystal organza corset underneath the case, which had metal pieces rising up to signify fire and flames. Additional layers of feathers at the waist and shoulder were added as the hidden Mockingjay reference. She noted that the organza and chiffon skirt was "very important for the twirling and spinning Katniss does onstage, per Caesar Flickerman's request."